Spinnaker Dumas On The Wrist For A Week
I never get tired of being surprised
I didn't see this coming. I was wholly prepared to hate this poor man's Ploprof — I was almost looking forward to it. But then something happened. Something I hadn't expected. The Spinnaker Dumas, for all its patent weirdness, charmed me into submission.
I'm still a bit annoyed about it, to be honest. Although it's true that I never tire of being surprised, I don't much like being wrong. And I was really wrong about this one. This is by no means a perfect watch, and it's not likely to dislodge my stalwart Omegas, Breitlings, Laventures, or Aquadives from my wrist, but it is something worthwhile. It is most definitely not the dead-ended avenue I thought it was when I first saw it. Why? Because for what you have to pay to get a Spinnaker Dumas on your wrist, you can't ask for much more.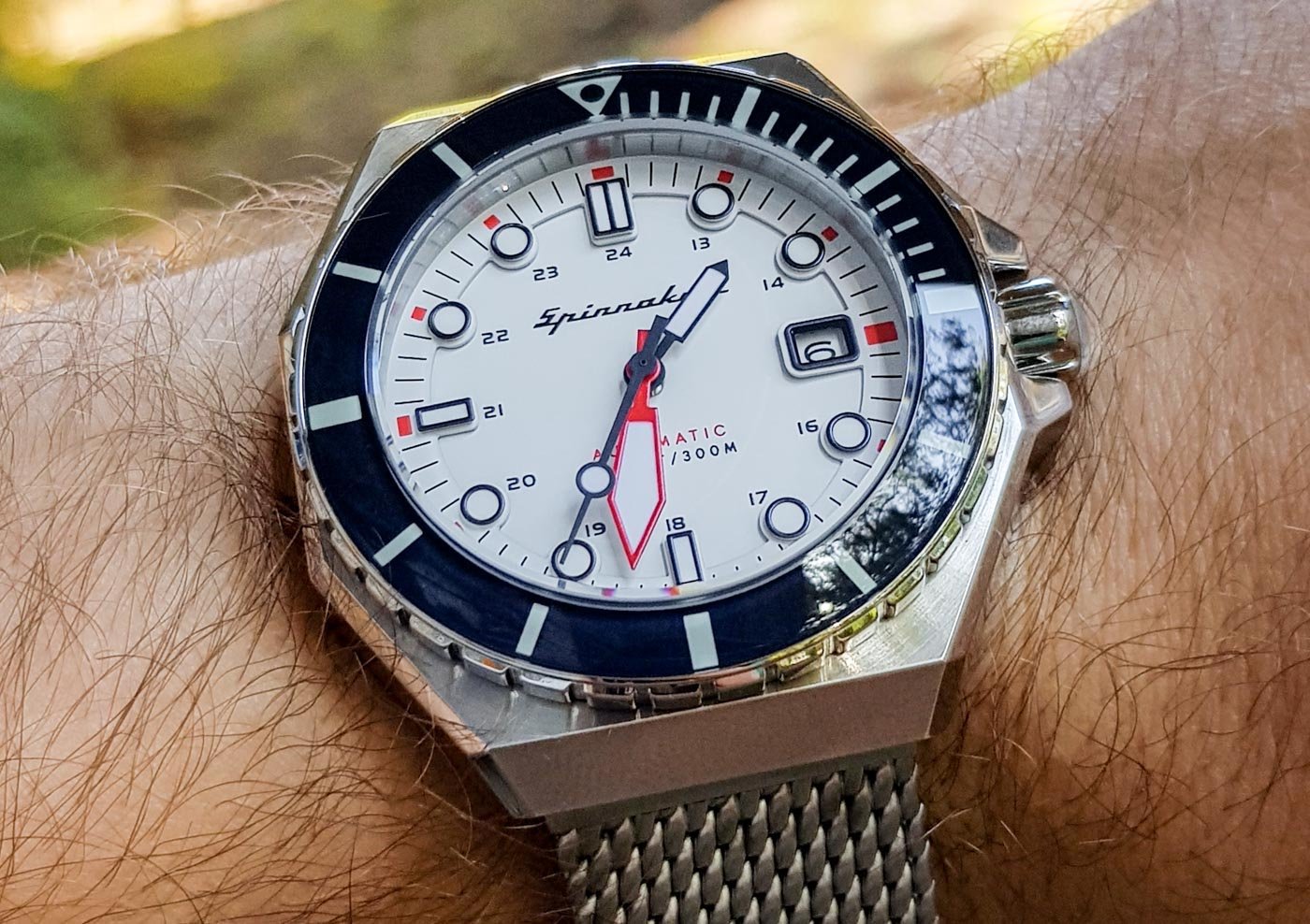 The weak spot
So the weak spot has to be the movement. It's a barely-modified Japanese tractor caliber that began life as an off-the-shelf NH35. It's fine. There's not much more to be said about it. Do I like the way Spinnaker decorates its rotors with a black and white transfer? No. No, I do not. I do not like it at all. But I rarely buy a sub-€500 watch to marvel over its movement. Would I have closed the case back on the Dumas had I been designing it? You bet I would.
You can absolutely justify closing the case back from a functional perspective…
Here is, in my opinion, the one missed opportunity with this model. Why not blow the budget on a truly awesome case back design? Nobody cares about the movement in this model. And, more to the point, whenever you're talking about a divers' watch, you can absolutely justify closing the case back from a functional perspective. It makes perfect sense. If you were wondering whether Spinnaker has the ability to do that and do it well, check out the brand's new Piccard model. But hey, one missed opportunity among a whole host of smart decisions isn't so bad.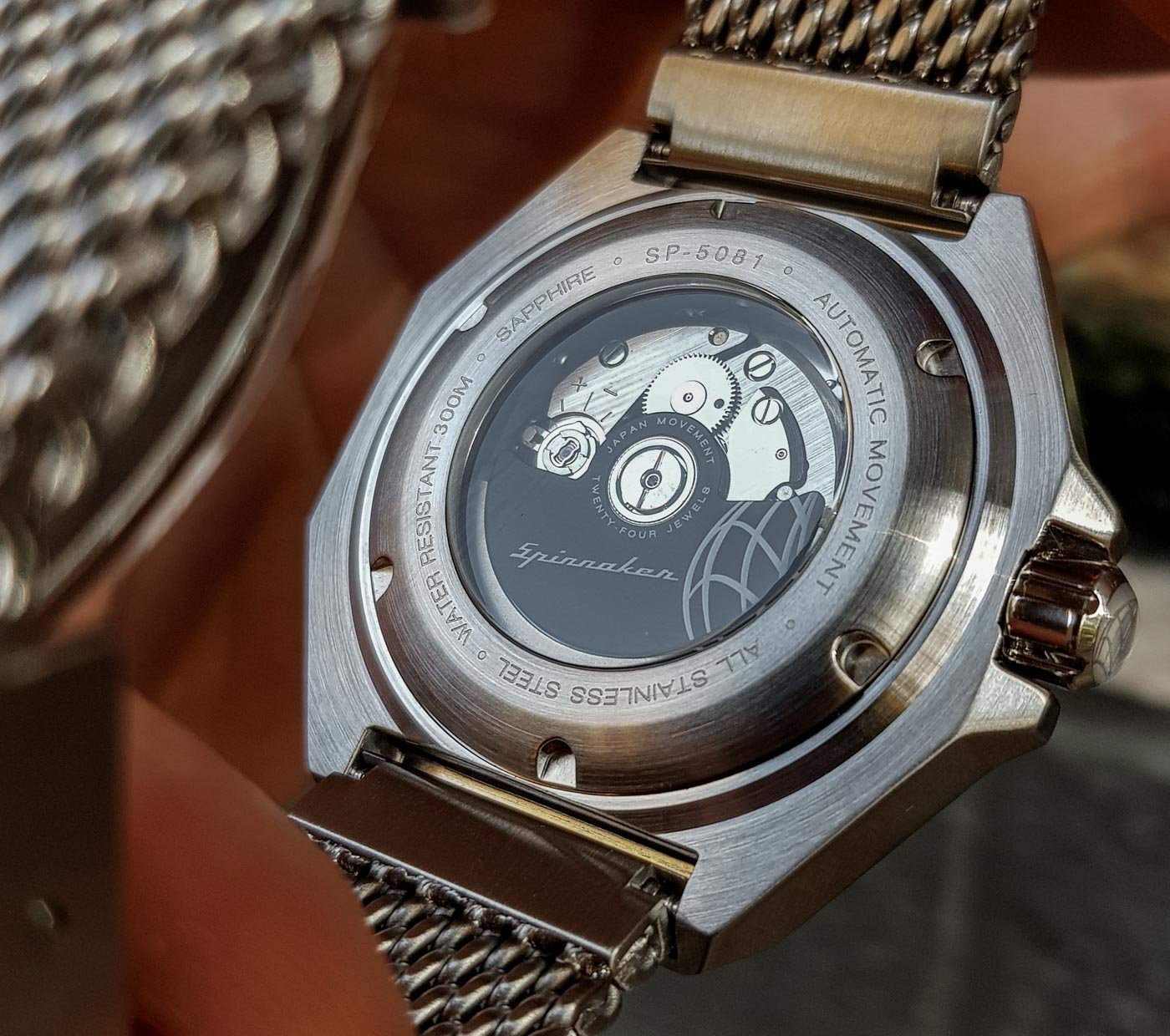 Those smart decisions
The Spinnaker Dumas comes in four different colors. I plumped for the white dial version. I'd assumed — incorrectly — that the mineral crystal bezel insert surrounding this unusually crisp display was black. I was (you guessed it) wrong again. It's actually a really (really) dark blue. Notch that one up as the first of those smart decisions. It's much more obvious on the website (the page in question wasn't live when I made my decision) than it is in real life. It turned out to be a pleasant surprise when I opened the box.
The effective, considered use of color, however subtle, can make or break a watch design…
What this blue does, is add depth and warmth to the incredibly bright white dial. A black bezel wouldn't have been able to do the same. Instead, it would have made this piece ice-cold — sterile and unappealing. The deep navy blue of the bezel insert, hour marker surrounds, and hour and seconds hands was a masterstroke. It proves once again that the effective, considered use of color, however subtle, can make or break a watch design.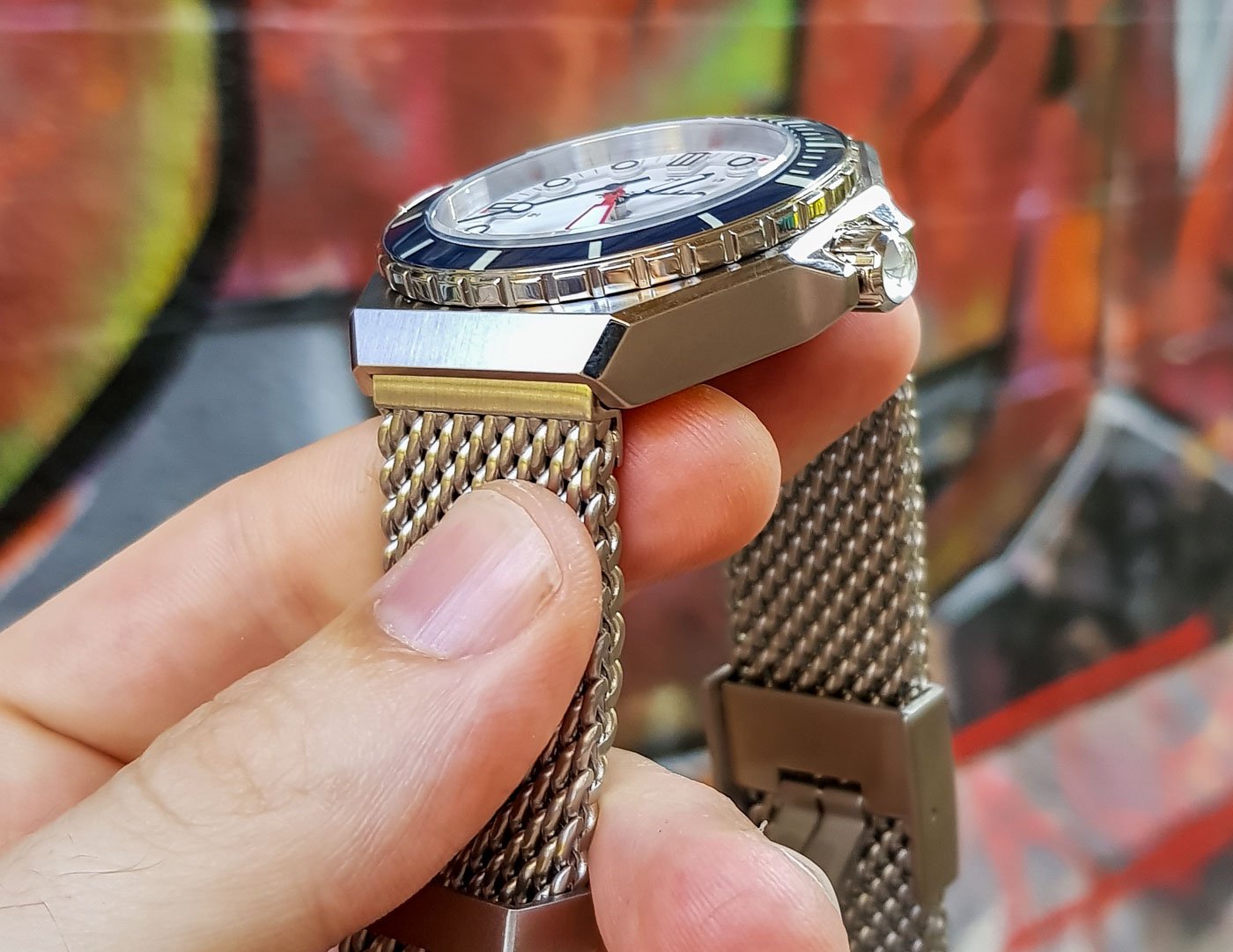 That red
The red (how can you miss that red) brings the display to life. Against the stark white backdrop, it is a welcome flash of vibrancy, and when paired with the blue it has a nuance that would've been blunted by a marriage with black. The simple colorway blended with the astute use of levels (of which there are three on the dial alone) makes for a highly legible and visually engaging appearance. That's what you're aiming for as a watch designer.
The deeply recessed date wheel (which once against highlights the depth of the dial) ties in nicely with the rest of the display. Thanks to the black Spinnaker wordmark there was no need to make the text blue to match the bezel et al. The advantage? The date wheel is a stock component, which saves on the build cost without detracting from the design. So many budget watches treat the date wheel as a functional afterthought. It is rare that it consciously integrated into the design. Notch this element up in the win column for the Spinnaker Dumas.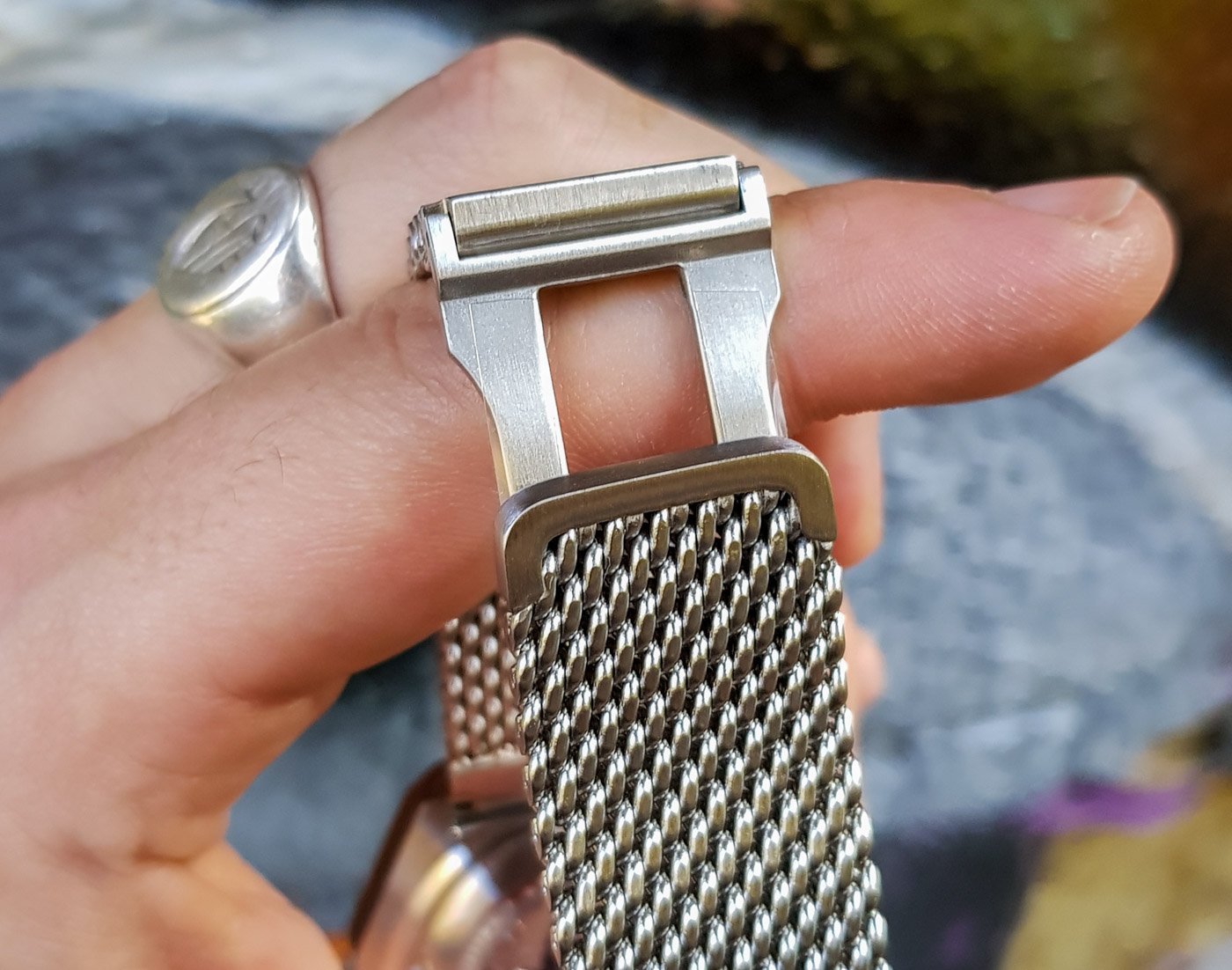 The bracelet
Perhaps one of the most immediately striking things about the Spinnaker Dumas dive watch is its brutal shark-mesh bracelet. Interestingly, this bracelet is not affixed to the wrist via a traditional foldover buckle that would require the bracelet itself to be adjusted. Instead, we have a sliding foldover clasp that can be set easily out of the box. Once that's done, you can slide this watch on and off with ease. The tail-end of the bracelet can be tucked into a stainless steel keeper so it stays put. It's a heavy set-up, but the visual presence of the watch head balances it out very well. Could the machining of the tail-end tip have been better? Truthfully, yes, but, again, you're looking at a very affordable watch that does a lot right considering its price bracket.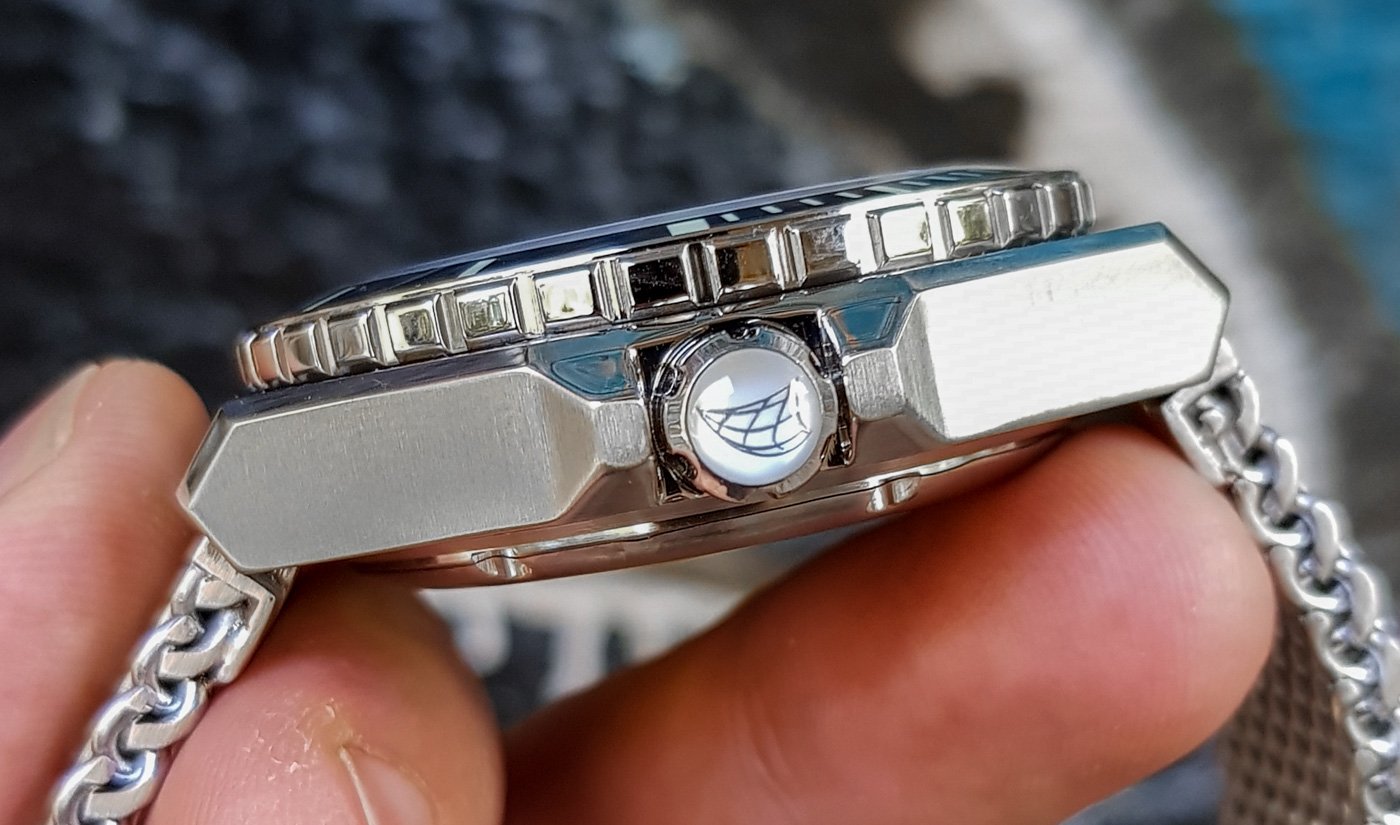 Conclusion
In conclusion, I would say I am distinctly impressed by the overall package. Manufacturing costs have been considered at every stage to offer the consumer a lot of bang for their buck. The box is a throwaway cardboard carrier, which is just fine by me when it comes to a timepiece of this value. I don't like having to keep boxes anyway, so having an excuse to either chuck it, or stash it in the back of a cupboard with no care as to its preservation suits my preference.
If the Dumas ever gets an update, I'd like to see the crown, along with the case back, revised.
I'm not a huge fan of the crown design. I've never liked these stick-on "jewels" emblazoned with a brand's logo. I don't even like enamel inserts. I see them as accidents waiting to happen — especially on a rugged sports watch that is likely to spend its life getting battered from here to kingdom come. Again, Spinnaker has displayed the ability to engrave crowns very satisfactorily, so if the Dumas ever gets an update, I'd like to see the crown, along with the case back, revised. All in all, for $400, you can't go far wrong. There are no airs and graces about this product and no self-aggrandizing PR to stomach. It's tough. It's unapologetically styled. And it's crazily affordable for something that offers a different look that's likely lacking from most collections. Learn more about Spinnaker and the Dumas here.
Watch specifications
Case Material
316L Stainless Steel
Case Dimensions
44mm wide, 16mm thick
Crystal
Sapphire lens, mineral crystal bezel insert
Case Back
Mineral crystal display back
Water Resistance
300 meters
Strap
22mm Stainless steel shark mesh
Functions
Time and date with a unidirectional timing bezel
Warranty
2-year international warranty