Squale at Baselworld 2015
On the morning of Day Two at Baselworld, team member Blaise and I broke off from the rest of the Fratello crew and ventured into Hall 2 to meet with a brand that enjoys a true cult-like following: Squale. Both of us were interested to meet with the brand that produces fairly priced dive watches that have changed little design-wise from their heyday in the 1960's. The result of our meeting was a fun, casual discussion over doppio espressos and some great information about the brand's future.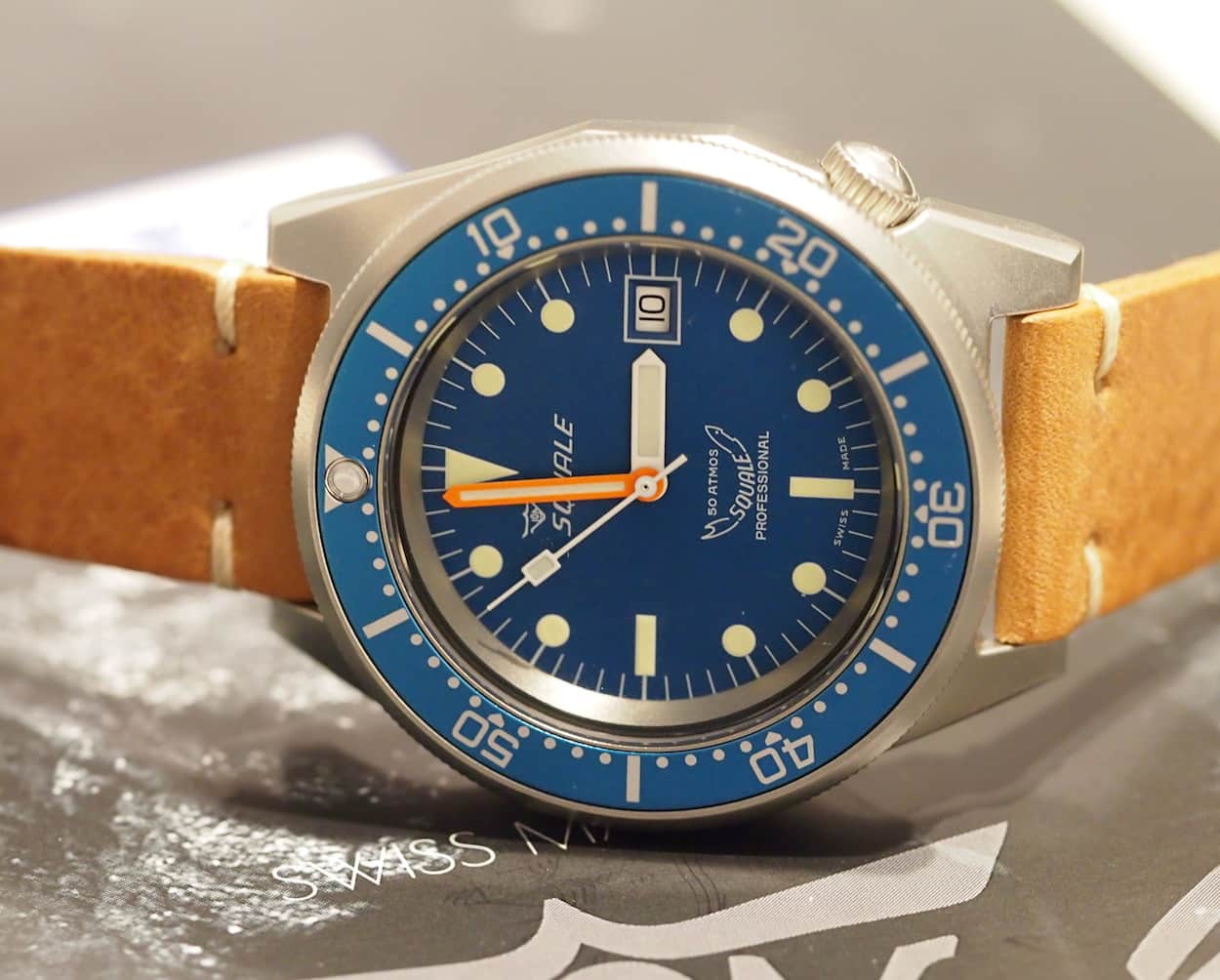 First, let's review a little history about Squale because it's impossible to ignore. I say this because the small team that Squale employs is so passionate about the lineage of the brand to the point that they carry a tablet loaded with photos from collectors with their vintage pieces from all over the world. Squale was founded by Charles von Buren in Neuchatel, Switzerland in 1946 and largely produced diving watches and watchcases for other brands. Squale, a French word for shark, is symbolized on the dial with the famous shark icon. The other symbol seen on Squale dials and crowns is a crown itself with the word "von" underneath. This, of course, is a symbol for the founder. Smaller brands used the Squale name on the dial in addition to their own as a sign of quality and robustness.
Squale later began producing their own watches with only their name on the dial. If you've read enough vintage watch articles, including our own #TBT series, you'll know that the Swiss watch history was famous for sharing cases and movements with each other to lower capital investment. Squale is a prime example of this and was basically a supplier that also used its own name. I've seen plenty of vintage Squale watches with all manner of co-brands on the dial. Many are diving equipment companies and some are diving associations. Throughout history, Squale has even provided cases and watches to companies such as Blancpain, TAG Heuer, and Auricoste.
Today, the von Buren family no longer owns the brand, but it is now the Maggi family that privately holds it. As mentioned previously, there is a lot of passion from the ownership about the brand. This passion flows down to owners and would-be owners. However, this, in my opinion, has always been a weak point of the brand; namely, getting to see one in person before buying is nearly impossible. You see Squale has basically existed as a brand with only an online sales platform. The big news in today's article is that all of that is about to change.
Squale has been monitoring its own website and sees a lot of traffic from the USA but when buyers are considering spending over $700 for a watch, they generally want to hold it. Squale informed us that they were about to enter into an agreement with a US-based distributor to begin offering Squale in higher end jewelry stores in the USA. Furthermore, a reputable 3rd party in the name of Squale will carry out after-sales service stateside in order to reduce transit, cost and time. It seems that Squale had been working on this arrangement for some period of time but the recent Swiss Franc revaluation has put added motivation on creating a customer-friendly buying experience in the US market. It also seems that similar arrangements will occur in Europe.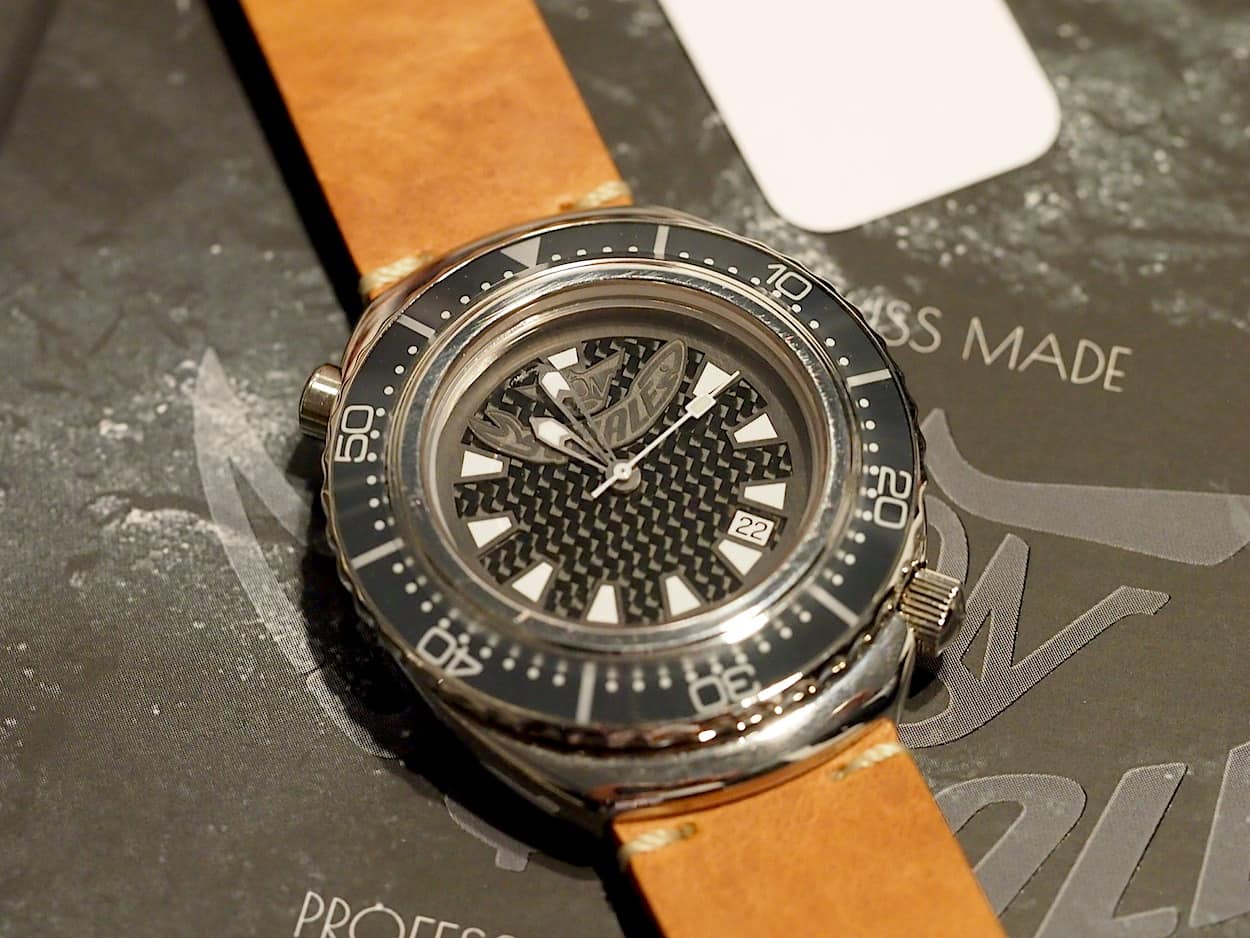 Regarding new models, we were able to see a few different things.  Some we can show you and some we can only speak loosely about for now. First, we saw some new dials for the Professional 2002 series that feature a more prominent Squale logo and materials such as carbon fiber. These look interesting and we are interested to see the final products!  Second, and truly exciting in my opinion, we saw a true prototype (made by the CNC process out of resin) of a very vintage-inspired piece that featured an amazing crystal. I won't say any more about it other than the team is laser-focused on getting it right and appealing to the Squale faithful while creating a highly capable dive watch. If Squale is successful in introducing this piece, I think we'll be talking about it in the same breath as other successful vintage-inspired pieces such as the Tudor Black Bay or the new Oris Sixty-Five. Furthermore, Squale showed us some beautiful leather straps on some of today's pieces and is committed to working with small artisan companies to source some great pieces. The same can be said for their rubber straps. Stay tuned!
We enjoyed our discussion with Squale and found the candid talk refreshing; the Squale folks even asked what we thought about certain design cues! While delays can happen within small companies, you can't help but to "pull for" the small companies to be successful with their ideas. Also, coming back to the discussion on design cues, you can also see how decisions can be made very quickly and nimbly with such a small management team. Squale seems to be a company that is interested in listening to its fan base.
To tide you over until the new pieces hit, let's briefly run through a few of today's pieces.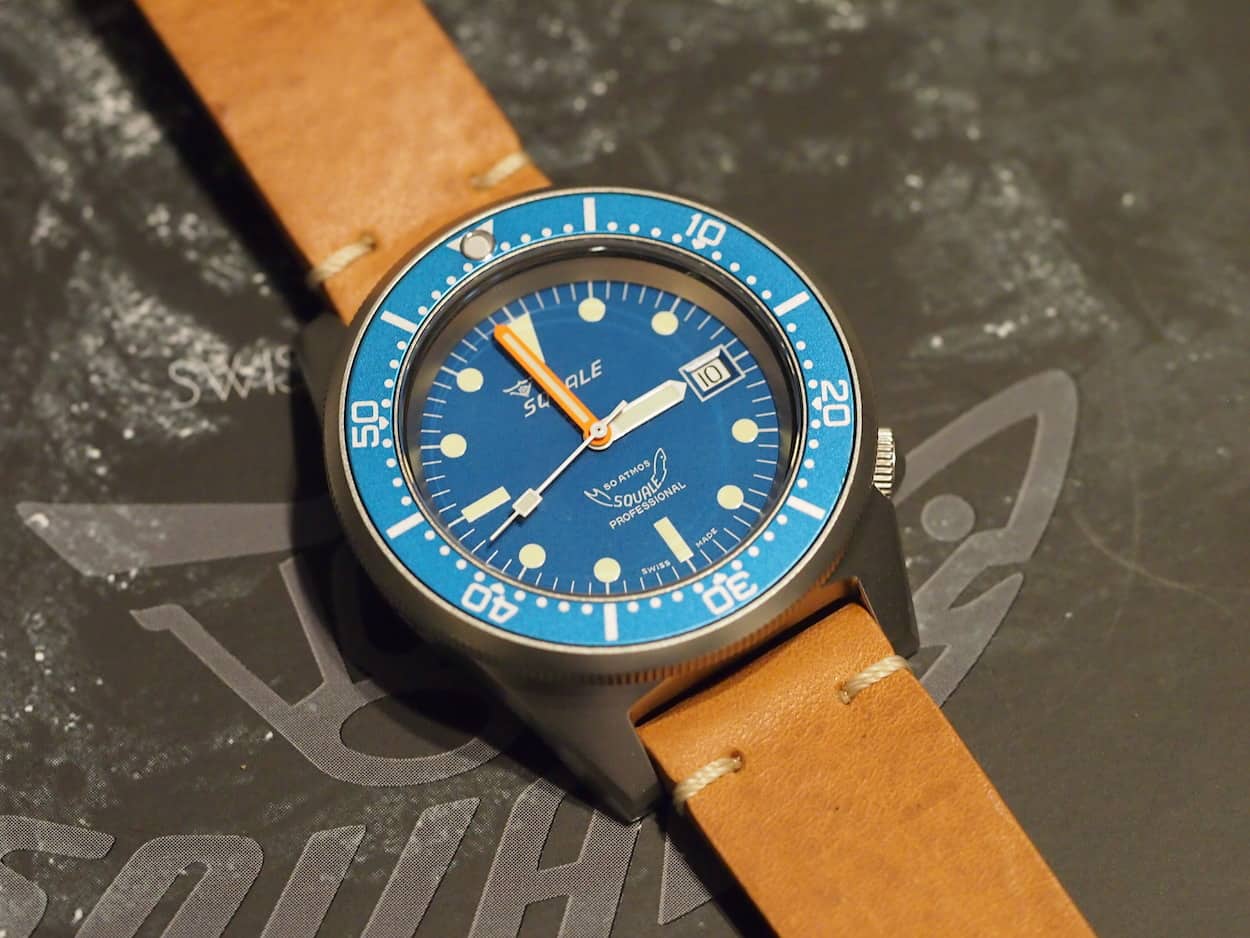 Squale Professional 1521 Ocean

The Squale Professional 1521 is the company's "bread and butter" watch. It's affordable, well built and serves its purpose as a true diver's watch. The case design is familiar Squale with its flat sides and it contains the company's familiar logo on the dial in the appropriate place. It also contains nice touches such as the orange minute hand and classic thick, white hour hand. The sweeping hand has a squared pip before the needle end. Bezel remains an aluminum inlay to provide a nice vintage look and a nice square date window adds to functionality at 3:00. Of course, the model is available with a blue dial. However, whereas previous models were only available with a polished stainless steel case and shiny dial, Squale showed us some new matte finished models.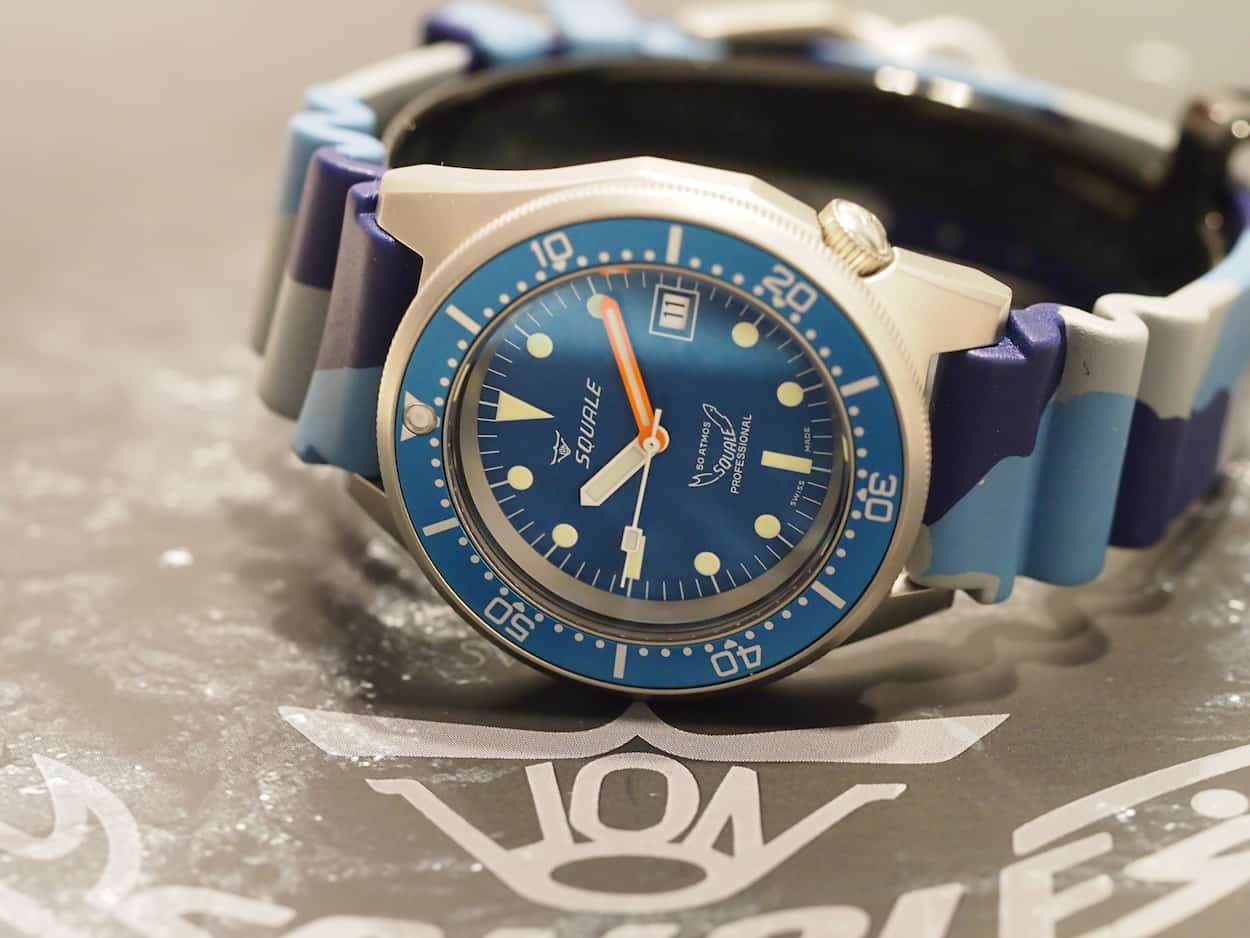 Like the polished pieces, the matte Squale Professionals are 42mm in diameter and are water resistant to 500m. The watches feature an ETA 2824 automatic movement and screw down crown and case back. The bezel is unidirectional and the crystal is flat sapphire. Strap options are rubber, camouflage rubber or leather.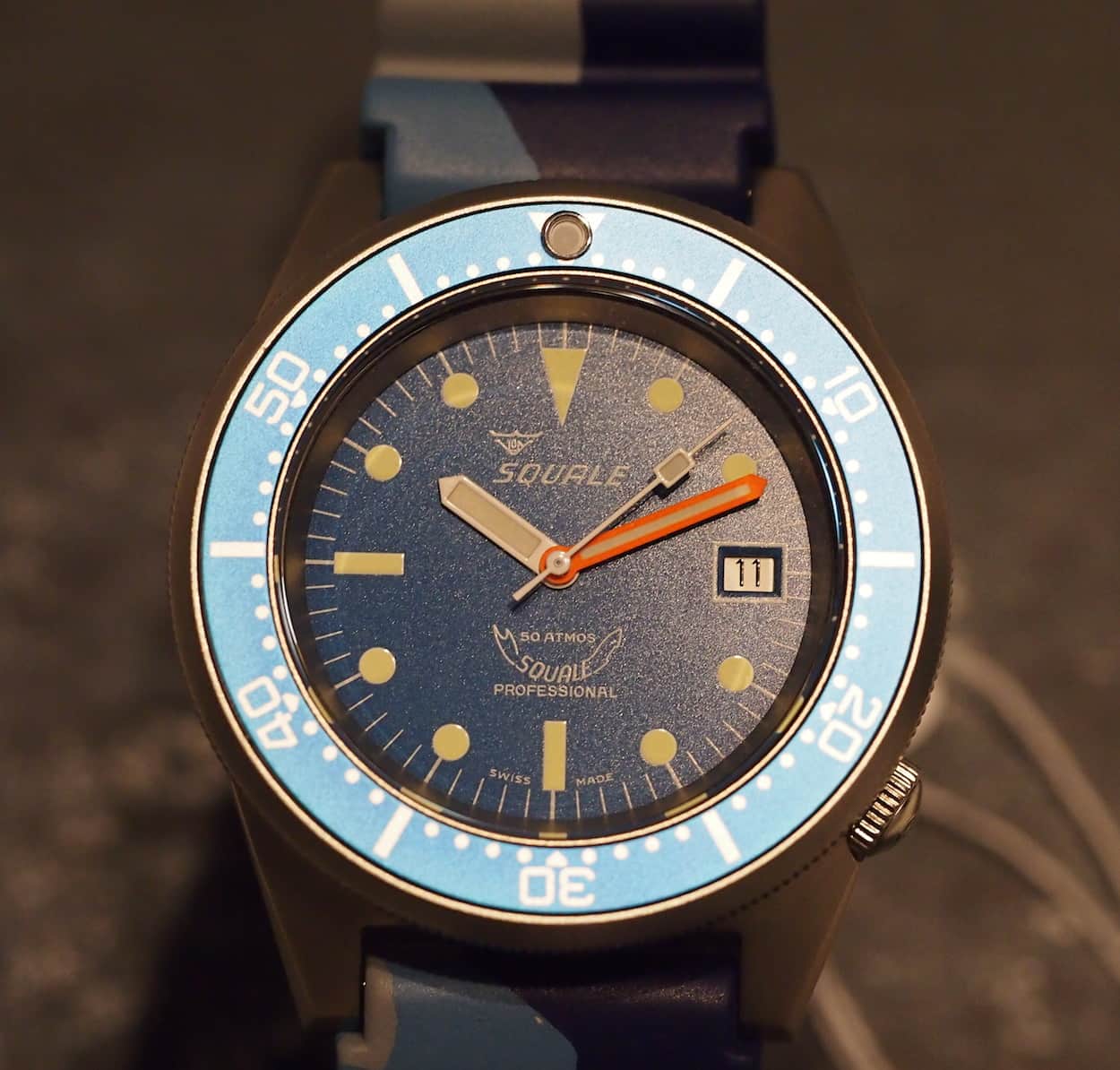 The new bead blasted stainless cases look great and provide a slightly more tactically look to the Squale Professional. Furthermore, it's coupled with a matte dial that, when chosen with the blue dial, really "pops". By the way, when talking Squale, the iconic blue dials (matte or shiny) receive the "Ocean" nomenclature. Squale showed us this model on a funky, multicolored, almost camouflage, rubber dive strap but the watch can be ordered in a number of strap configurations including a very attractive, simple tan leather. Note that the blasted case is also available with a matte black dial. Pricing, whether you choose a matte, PVD or polished version is 790 Euros to Germany. Check out their online store and you'll see that pricing differs depending on the receiving country.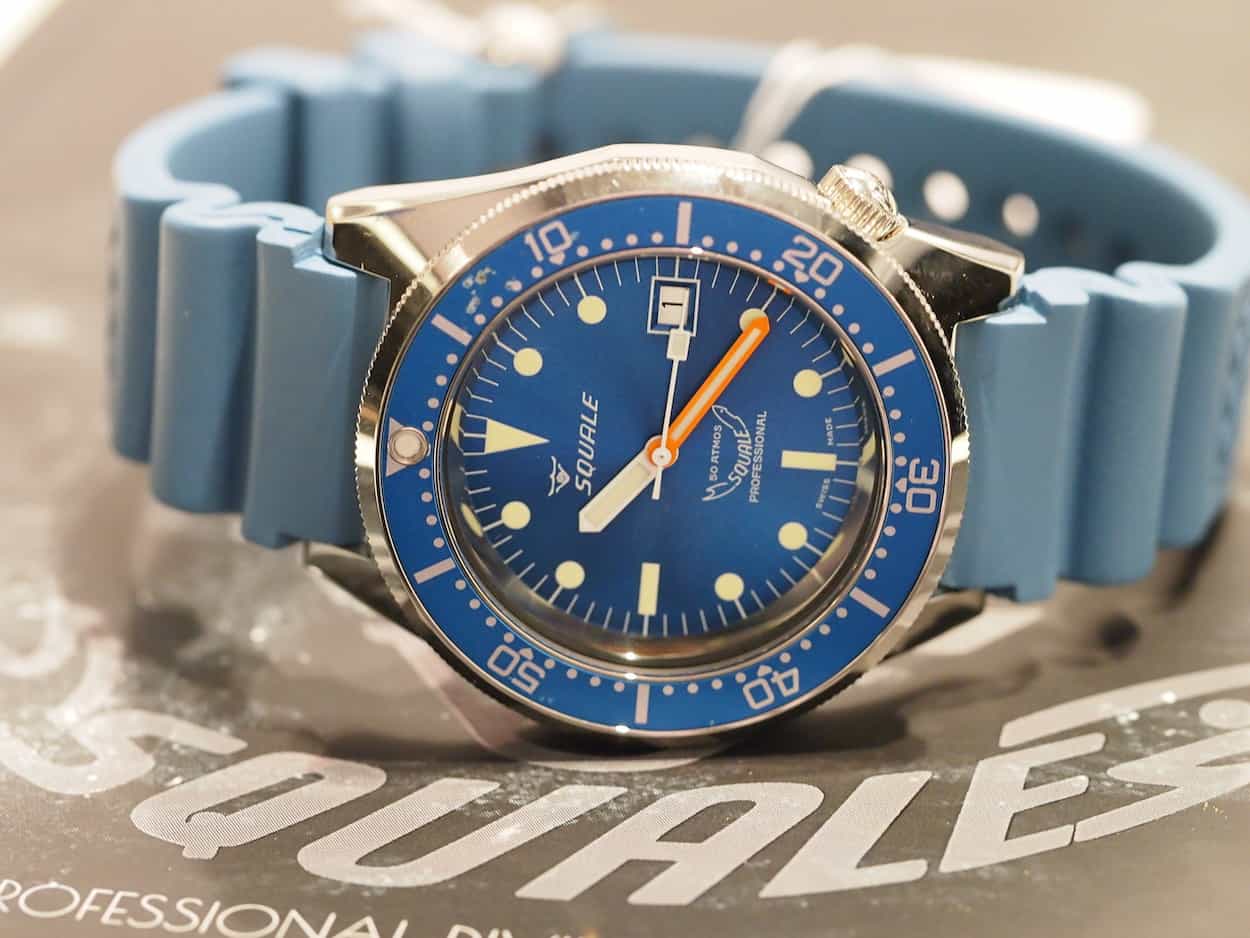 By the way, I took photos of a used Squale Ocean owned by one of the team members, so that's the reason for some bezel wear. Still, it looks great and well worn!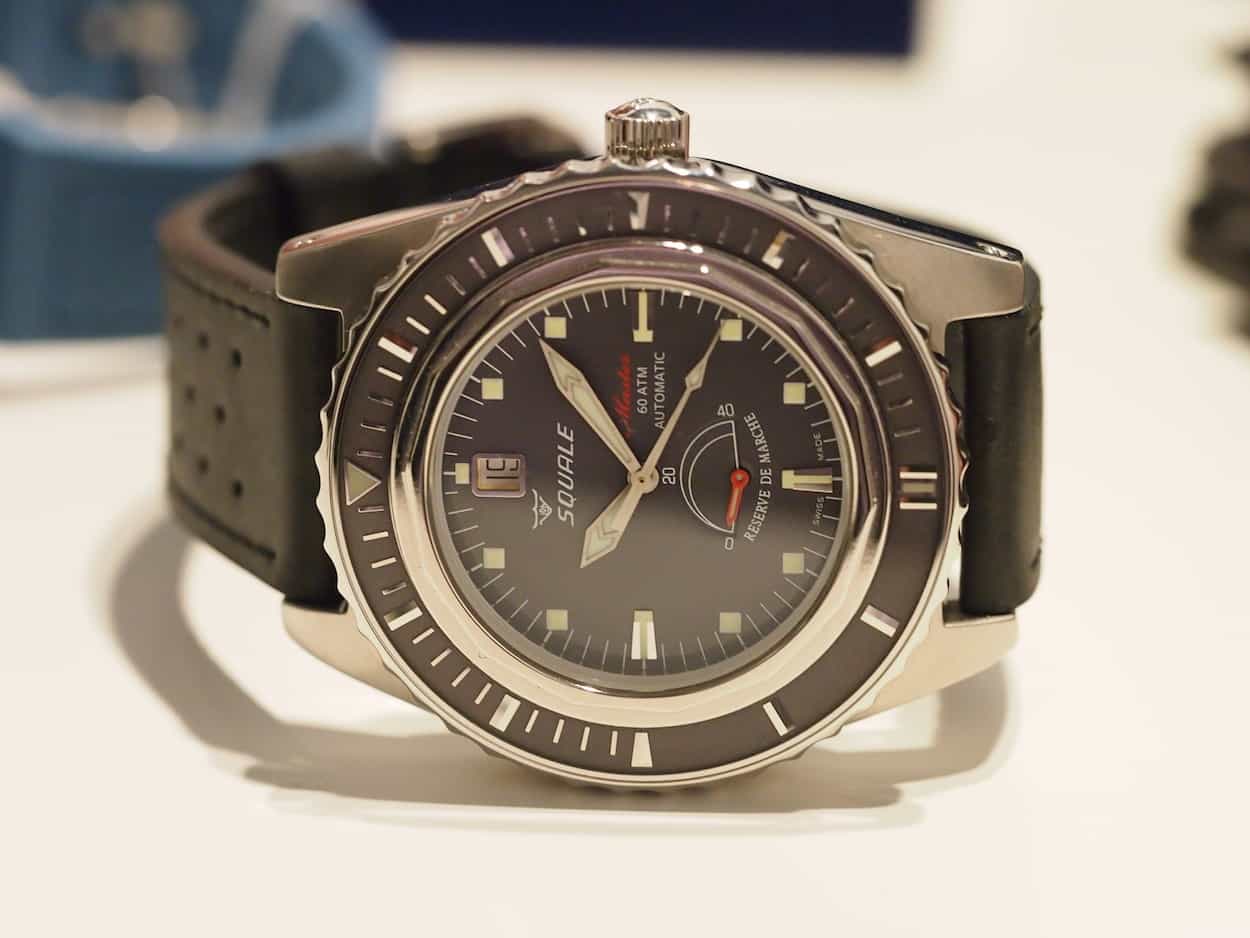 Squale Master

The Squale Master was the next watch that we reviewed. It's not a new release but it was the first time I got to handle it. While the style isn't for everyone due to a power reserve function on the dial and interesting 12:00 date window, it's fine as Squale is only making 300 of each version. In total, there are 4 different dial colors of the matte and polished stainless steel case version: black, blue, green and gray. For the brass case, there are two dial choices: green and black. The unique push-to-operate unidirectional bezel comes in the same color as the dial.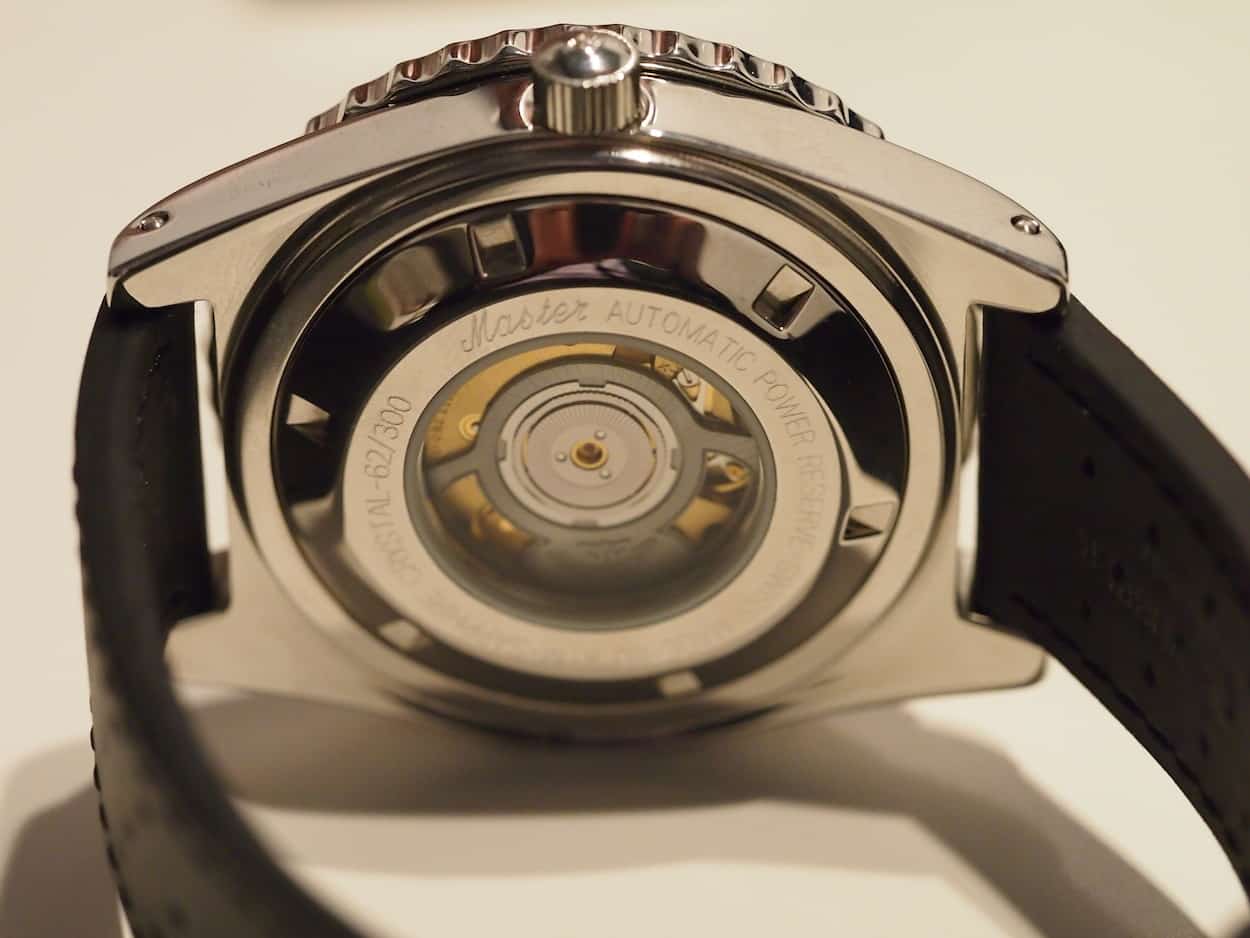 Other facts about the Squale Master are that it comes in a 44mm diameter, is water resistant to 600m and features a really nice sapphire display back with beautiful Cotes de Geneve finishing. Inside sits a modified ETA 2892-2 with power reserve function. The watch is available with either a Tropic-style rubber strap or on leather.
While the Master is too large for me, the finishing is impressive. It is decidedly a unique choice for someone who enjoys water sports and wants something different while likely being surrounded by friends wearing watches from the "big" brands. The price for the Squale Master is 2300 Euros in steel and 2600 in brass.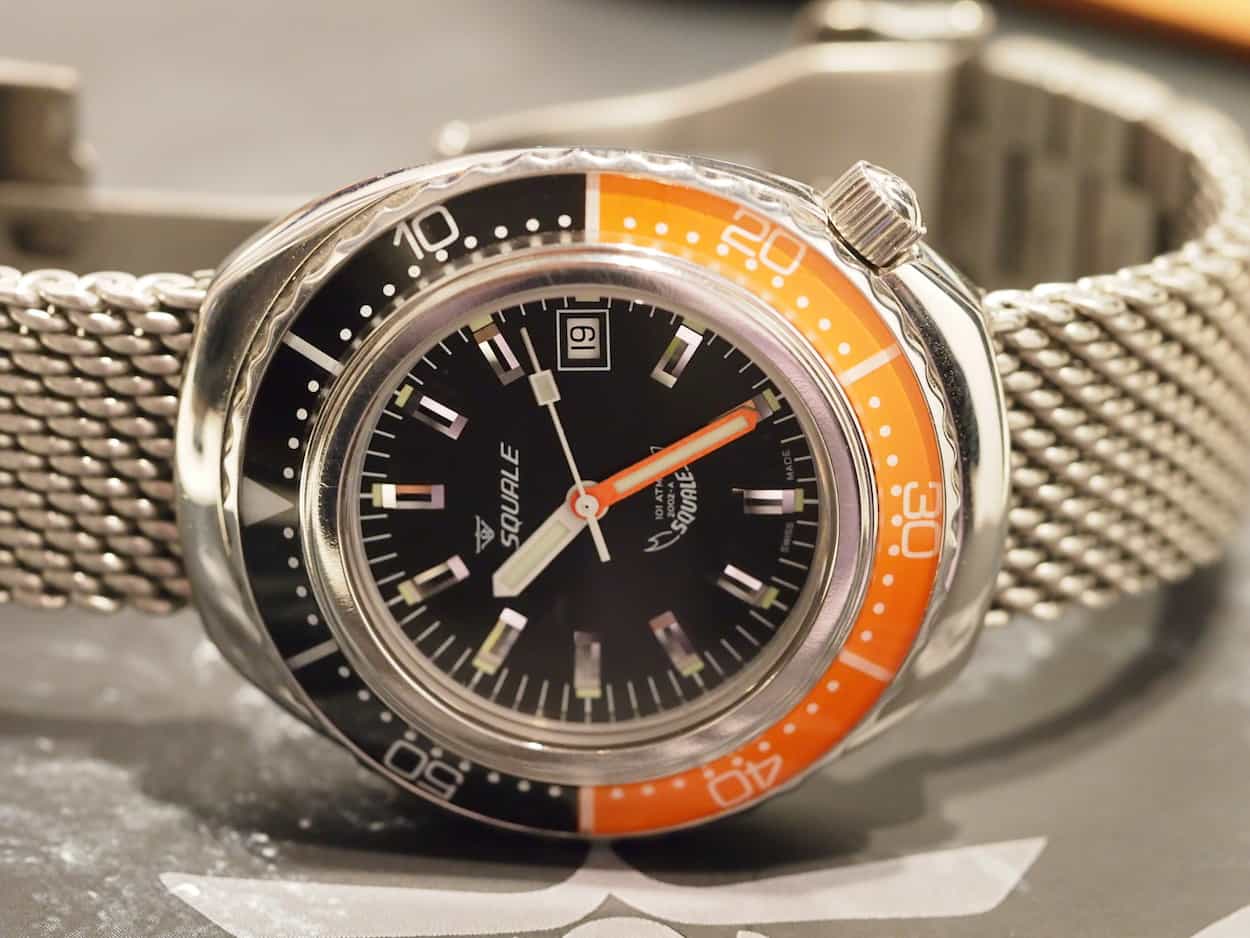 Squale 2002

The next Squale we viewed was the 2002. This is Squale's 1000m professional dive watch. It's a neat piece that really stands out namely due to its hand-applied Bakelite unidirectional bezel. Plus, it's quite customizable on the Squale site with 5 different dial colors, multiple strap choices and different bezels. The piece straddles the line well between modern and retro looking. Again, as in the other models, I was very impressed with the overall finishing.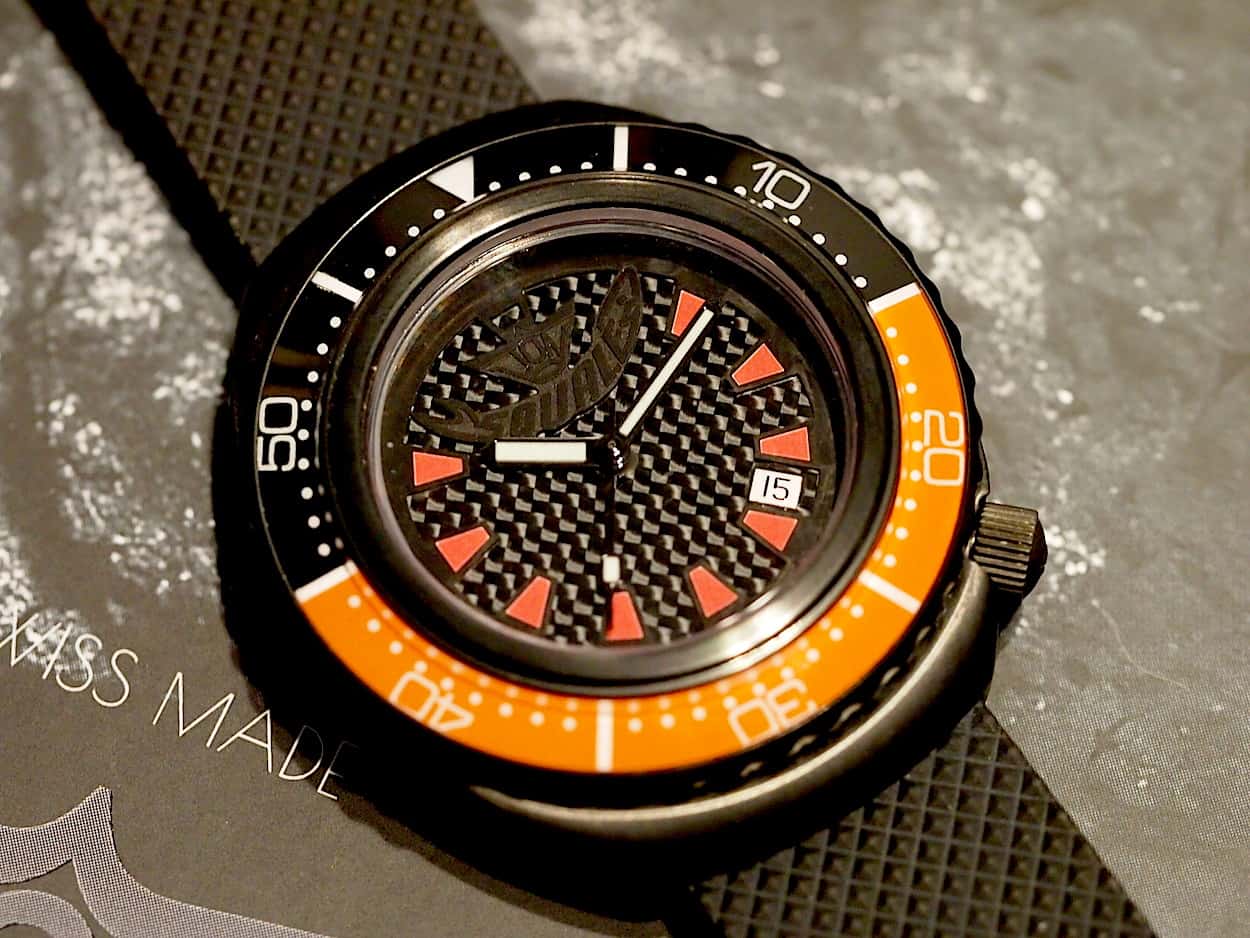 Size-wise, the Squale 2002 comes in at an interesting 43 x 53mm but it doesn't wear so large due to the hidden lugs. The movement is the ETA 2824-2 and contains a date function. Case options are satin-finished stainless steel or black PVD. Pricing begins at 1290 Euros, which seems quite reasonable for such a capable piece.  We will see how the prototype pieces price once they are released in final form!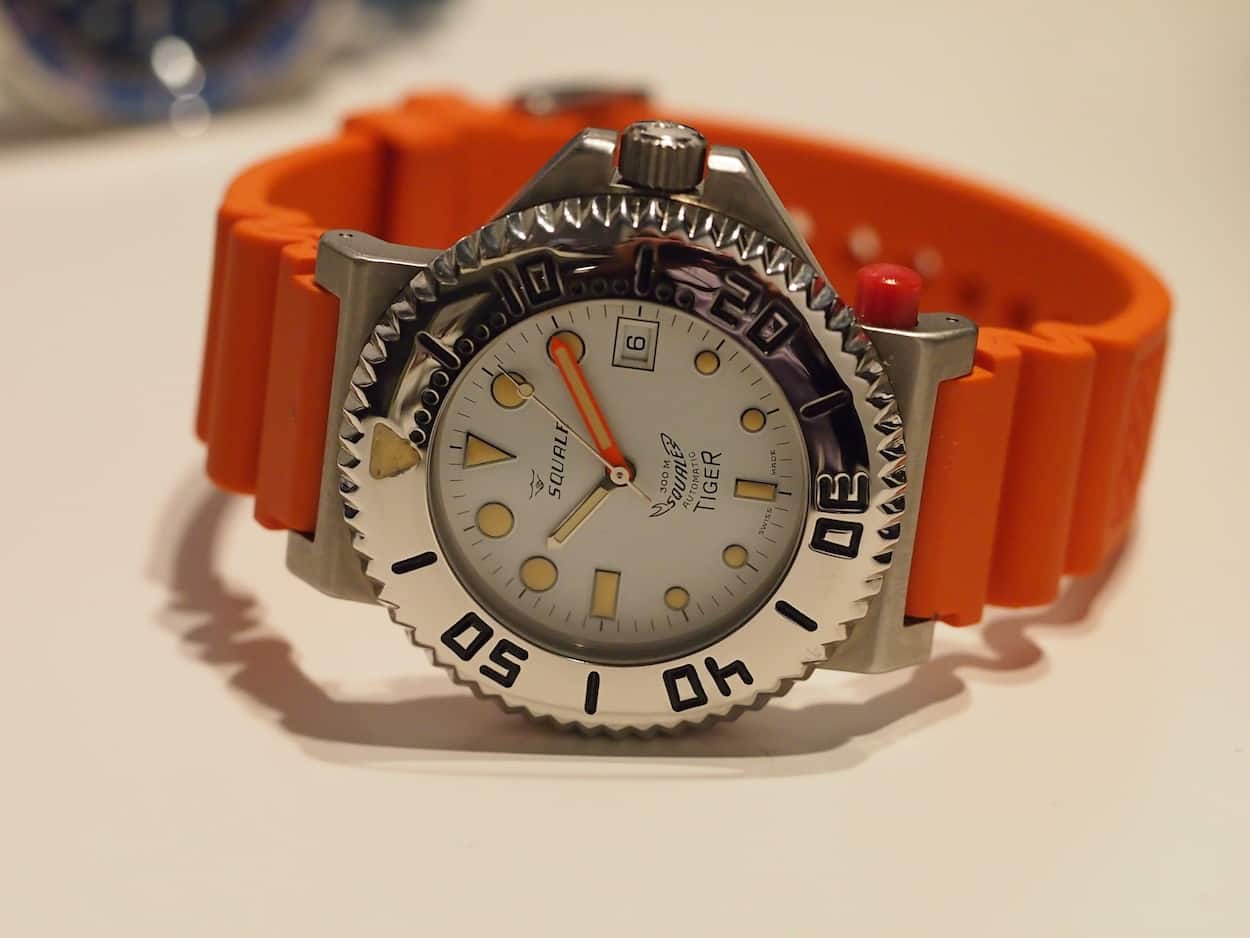 Squale Tiger
We now move on to the final Squale piece and one that likely won't be around for too much longer. The Squale Tiger is a really unique looking dive watch and is completely 1970's/1980's NOS aside from its new ETA 2892. Essentially, it uses a button-locking feature for its dive bezel that is similar in concept to Omega's original Ploprof. It's a wild looking watch that is great in the metal. The polished 70's-looking bezel with painted tritium triangle is super cool as are the big blocky bezel numbers. The dial, with its orange hand and yellowed hour markers, is perfectly legible.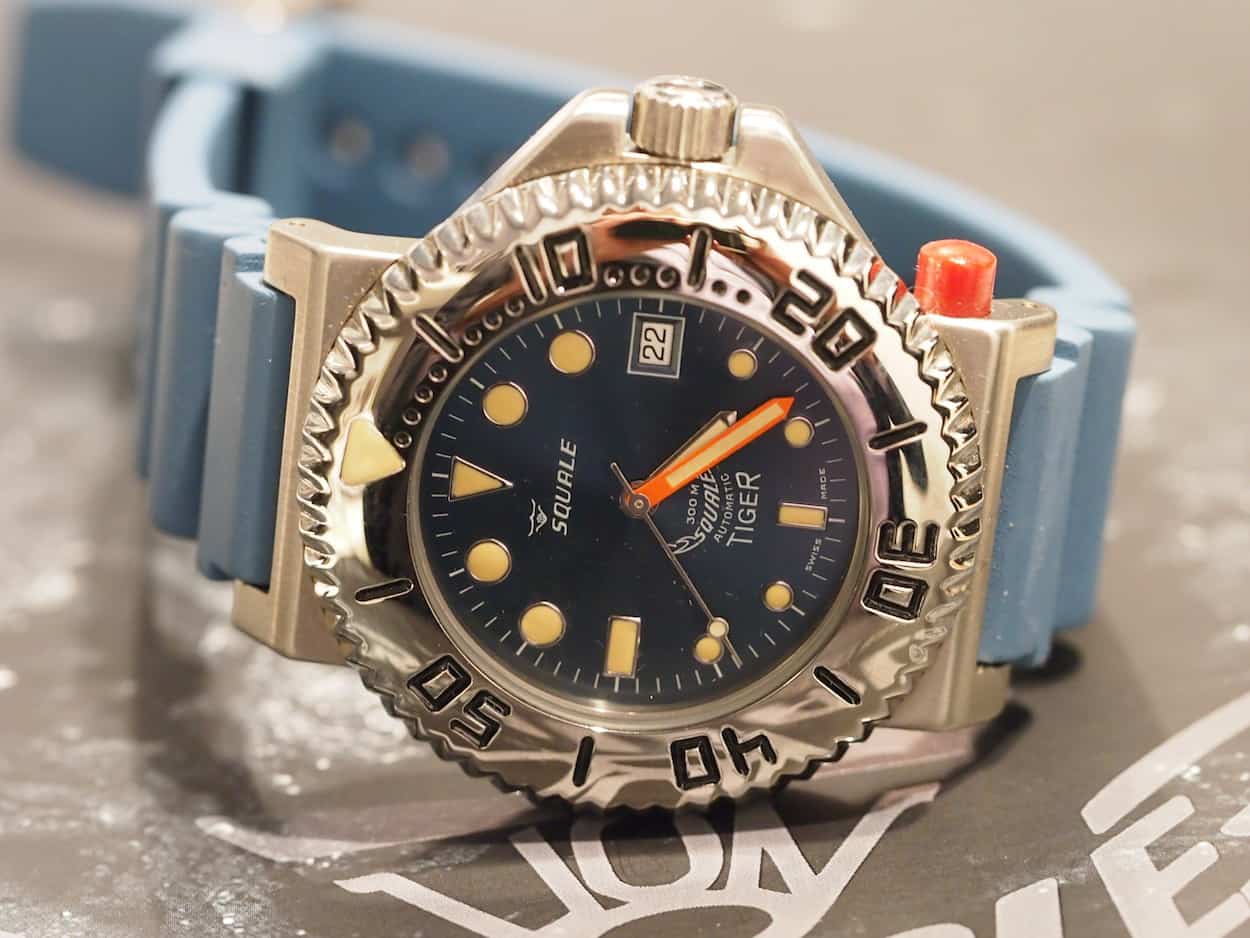 White, black and blue versions of the Tiger are available and different strap options exist. The case sits at a relatively sedate 44mm and it's a rather thin watch. In this case, mineral glass is used instead of sapphire and water resistance is a capable 300m. Pricing for this retro beast is 750 Euros. I'll let you in on a secret: I have one of these on order!
We hope you enjoyed this brief look at Squale. We expect to get our hands on more pieces in the future and to give you a better feel for how the watches wear during everyday life. We think Squale, with its upcoming entry into US stores, will fare well. As mentioned, prices are reasonable for these colorful yet capable watches. Plus, if the brand is successful in releasing some of the prototypes we laid eyes upon, I predict even further success! Let us know what you think about Squale and if you have pictures of yours, new or old, feel free to share with us!