Stage 8 Of The Tour De France With Tissot — The Green Flash Prevails
A stunning spectacle saw the green and yellow jerseys finish shoulder-to-shoulder in a blazing sprint finish
The Tour de France, 2022: A bolt of green emerges from the accelerating pack. Hitting a top speed of 54km on the gradual incline towards the finish line, the beguiling Belgian Wout Van Aert sits up in his saddle, head tilted towards the sky, eyes closed. His arms stretch out behind his torso as he arches his back to touch the line with his chest. It's a glorious celebratory pose. Like an Eagle flexing for flight, he sits proudly atop the mountain. Another stage win. His lead in the Green Jersey competition extended. Ten bonus seconds for his irrelevant placement in the GC. A hard day. A good day. And most certainly, a job well done.
By this point, I am on the top deck of a VIP spectators' area. I am showered and changed into (vaguely) civilian clothes (having swapped my Team Tissot jersey for a retro Italian Champion's top instead). With tired legs and a bright red face, I know I've pushed my body to its limit. My torn calf is humming quietly underneath the neoprene support that managed to keep me on the bike, but I don't feel the pain. Stage 8 of the Tour de France from Dole to Lausanne provided the kind of memories that make up for all kinds of discomfort. As I watch the last dregs of the peloton (which means "platoon" in English, would you believe), cross the line, I turned to Alan Seymour, a fellow writer, and smiled, "What a life, eh? What a life…"
A privilege and an honor
Despite a relatively early night on Friday (in bed just after midnight and not particularly squiffy), I felt groggy in the morning. Breakfast did little to help and, as the caffeine I'd forced into my system started to take hold, I began to feel sick. Was I nervous? I'm not used to being particularly scared, but I must admit there was significant doubt in the back of my mind that I would be physically able to complete the 47km+ mini-stage, even though the first 42km were mostly downhill…
I tested my leg by putting my weight on it. The pain was present but bearable. Having not dared do anything with it since I injured it a week before, I had no idea whether riding a bike would be easier or harder than walking. I had to assume, based on previous experience, that the lower impact of cycling would be a good thing. One thing was certain, though: there would be no standing up on the pedals for me!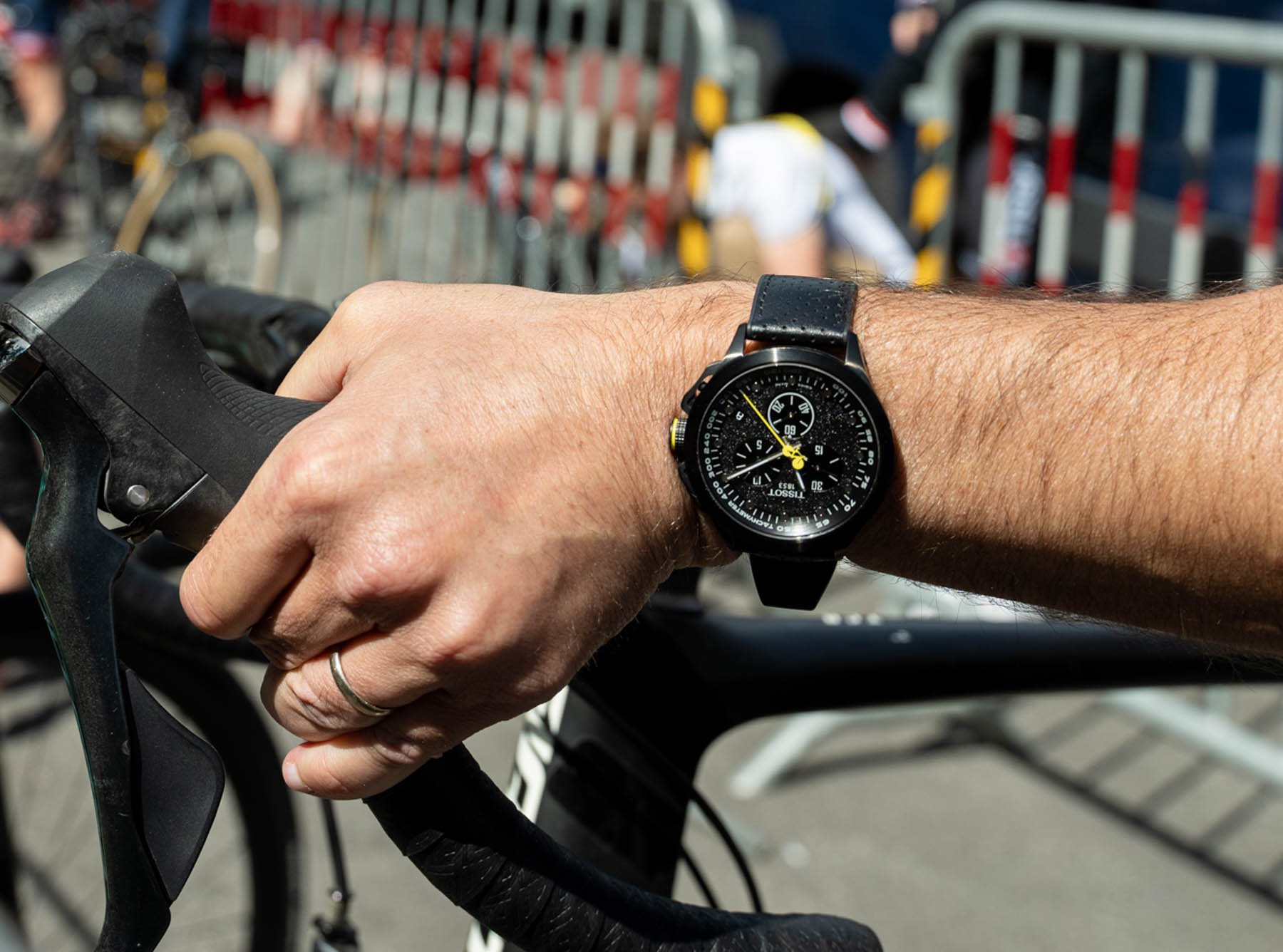 That did pose a potential problem. While the first 90% of the mini-stage course is a nerve-jangling descent into the foothills of Lausanne, the last five kilometers were brutally steep. In my youth, when I had been a keen rider, I was known for standing up on the pedals at the earliest opportunity and bouncing around the outside of bends, just like my hero, Richard Virenque. That strategy would not work today, so I looked to another marred legend of the controversial '90s era I grew up enthralled by for inspiration.
German by name…
Jan Ullrich was the first (and thus far, the only) German to win the Tour de France. He did so in 1997, following up his second place from the year before, and retaining the white jersey for the best young rider (which he achieved again in '98 along with his second of five second-place finishes). Ullrich's career would, soon after, run into difficulties. Injuries, ballooning off-season weight issues, doping implications, and, well, Lance Armstrong's existence, denied him glory on at least three more occasions. Despite Armstrong being removed from the history books, Ullrich's name has not been elevated from the second position to the first, with all editions of the TdF between '99 and 2005 recorded as having no winner.
But all that is beside the point. Throughout his career, Ullrich was known for remaining in his saddle, aggressively targeting the apex of every hairpin bend sent to slow him down. His motor was unlike any other rider's, possibly before or since. The fact the hulking Rostocker won just one Tour de France is shocking. However, the sight of Ullrich seated, turning a crazy gear while his lighter-weight peers skipped around in an upright position is one of the most enduring of that era, and the excitement felt at Ullrich's sudden emergence in the wake of Indurain's career was something I remember to this day.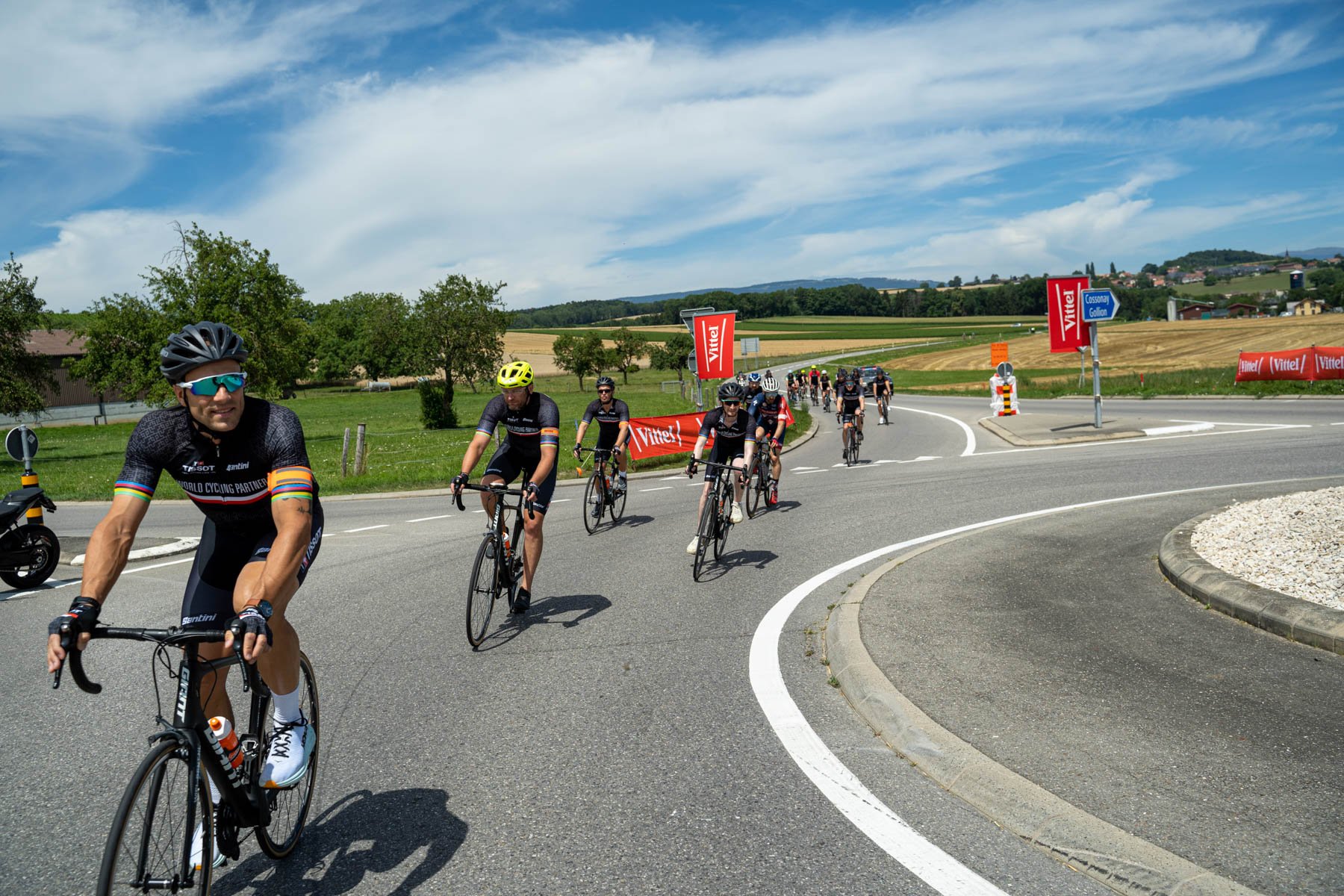 With my calf heavily strapped, I knew the same tactic was my only option (minus the crazy gear selection). I just had to pray that the last stretch, which included a hellish 12% incline, wouldn't be too much for me. With that hope in my heart, we readied ourselves for the departure.
All about timekeeping…
So, why are we even here? What's the point of this madcap adventure? Well, Tissot is the official timekeeper of the Tour de France. The brand is, quite understandably, very keen to share with us exactly why it deserves that role. Every year, the proud member of the Swatch Group invites a group of journalists, bloggers, and influencers to take part in this TdF experience. The format of the event is simple: on either side of the chance to ride the last 50km or so of a stage, we have the opportunity to explore the timekeeping secrets behind the scenes of the finishing area and at the brand's manufacturing plants around the country.
The day before the race, we visited one of the Swatch Group's most prized manufacturing plants. There, we learned some astounding things about the production of watch hands. The many processes each hand has to go through to make the grade required for use on a Tissot watch are truly mind-blowing.
You've got to hand it to them!
Let's take a seconds hand as an example. Hands start life as a long strip of metal. In most cases, that metal is brass, but it can be steel, gold, or something else too. First, a wide channel is milled out of the back of this metal strip, which ensures the counterpoise is thicker and heavier than the rest of the hand. If you thought those little tail-end pieces were just for show, think again! They are an integral part of a hand's design and its ability to function well for long periods.
Next, the entire strip of metal is painted (assuming the hand will be colored). This fascinated me. I had always been under the impression that hands were painted after their form had been cut or stamped out, but this is not the case at all. Following the spray-painting process, the metal strips (which are over one hundred meters long, by the way), are wrapped up in coils once more, with their freshly-painted surfaces separated from one another by a clever, multi-level carrier track. Those coils are then placed in an oven and the paint bakes into place. Once that's done, the hand's details can be applied by an automatic pad printer, and then the form is finally defined by an automated punch.
An eye-opening experience
If that sounds like quite the ordeal already, you'd be right. But there's more! Following the hand's form being outlined, the tube that attaches the hand to the third wheel must be riveted in place. Even more amazing is the fact that this tube is then re-drilled by an almost microscopic drill bit to guarantee that the hole is exactly the right diameter to ensure a proper friction fit when fitted to the watch. And then, after all that, the hands are organized into boxes of fifty and shipped off to the assemblers. Seeing all that firsthand (pun intended) was a treat and incredibly eye-opening.
The Tour de France chronograph itself
Ultimately, Tissot is keen to present the rather fetching TdF chronograph. This quartz-regulated timekeeper (€595) is an homage to all things cycling. Little nods to bike components (like tires, brake levers, grip tape, and so on) mesh with an asphalt-inspired dial background to create a very wearable (and incredibly comfortable) watch on the wrist. Some of us in the Tissot peloton had the chance to wear it while riding, and, I must say, it was more than fit for the task.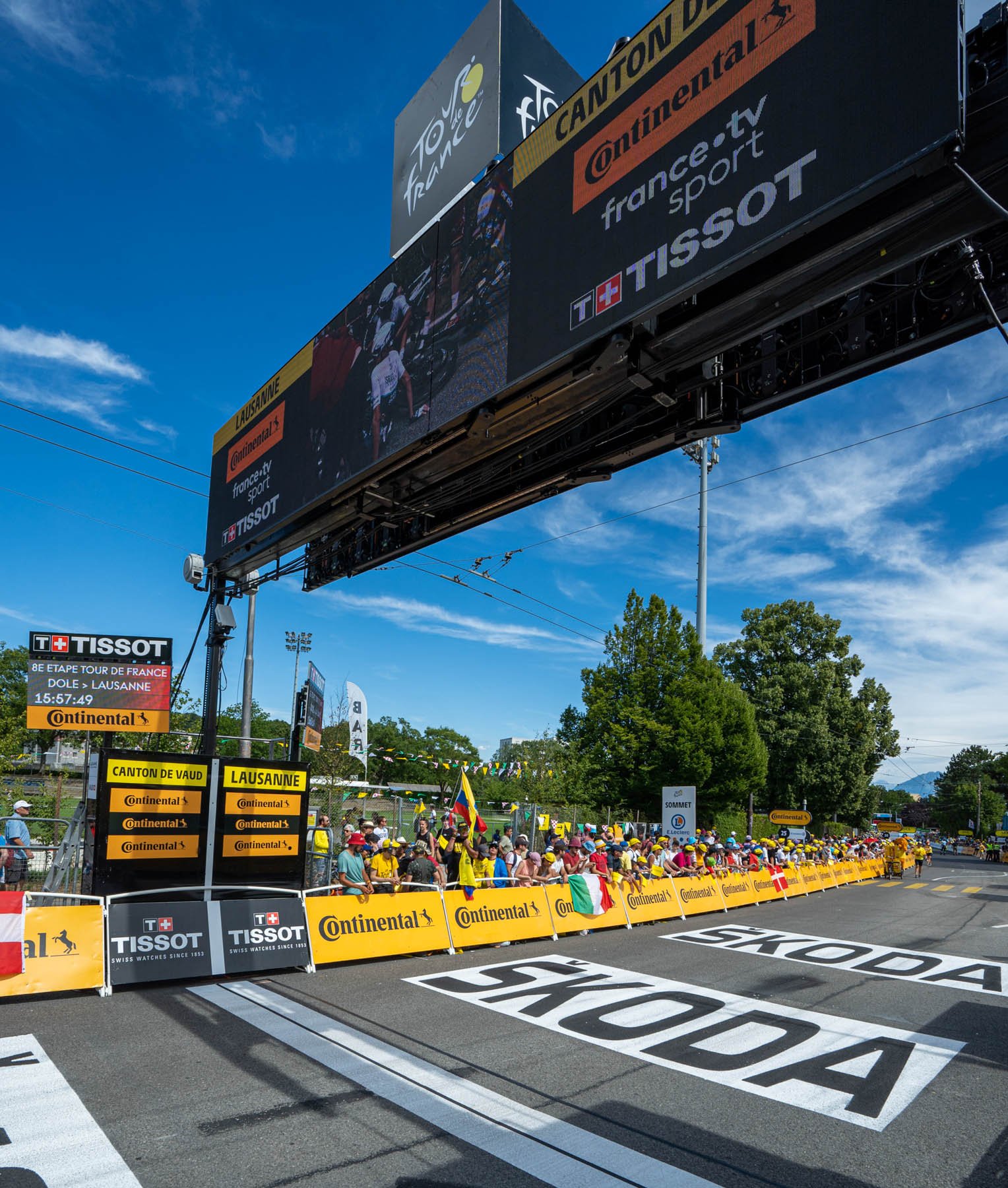 Aside from the chronograph pushers (which I love), my favorite thing about this watch is actually the case design. At first, from the top down, it isn't very interesting, but when you observe it from the side, its subtle complexity comes to the fore. Similar to a Bremont Trip-Tick construction, the bezel and lugs seem to hover above a central "capsule". The lugs are slimmer and more aggressively styled than you'd expect to see on a Bremont, however. They recall the drop-down handlebars of racing bikes. Furthermore, they speak to speed and decisiveness thanks to their jutting form and sharp angles.
ETA G10.212
Within the case "capsule", the quartz module resides. As one might expect, the watch is, thanks to its ETA G10.212 quartz regulator, highly accurate. It is, in fact, expected to keep time to around ±1 second per day. The estimated lifespan of a battery for this caliber (a Renata 394 as standard) is 38 months. Of course, if you left the chronograph running constantly, that would be likely decrease. Under normal usage conditions, however, a three-year plus run time is pretty decent for a multi-function quartz module.
A memorable trip
Of course, we had a blast. As extravagant an experience as this was, I really advocate these trips as a way for brands to get their messages to stick. Yes, it was a huge logistical effort. Yes, flying in journos from all over Europe can't have been cheap. But I'm more likely to remember the things I learned because of the surrounding experience. I always say context is everything in watchmaking. It turns out it might be true for press events also…
My new obsession with hand manufacturing looks likely to linger for a while.
It's been a few months since the world's borders started to open up again, but this trip felt different. This was a sporting spectacle like few others and a chance to mingle with colleagues in a very intimate setting. Friendships were made and memories were forged. I saw things I'd never seen before in the watchmaking industry. My new obsession with hand manufacturing looks likely to linger for a while. And the memories of the green flash emerging from the pack to snatch victory will live long in the mind's eye… Here's hoping events like this continue to take place and that we're all able to travel freely again soon. In the meantime, "Allez, Pogačar!"
Learn more about Tissot and the brand's partnership with the Tour de France by visiting the official website here.
Follow me on Instagram @robnudds