Starting A Watch Collection With €5,000: Lex's Picks From Grand Seiko, Omega × Swatch, And Isotope
Browsing Chrono24 for a Spring Drive, hunting for a MoonSwatch Mission on Earth, and scooping up one of the last Hydrium Blue Nights
To my great surprise, this was an easy article to write! I tried to stay out of the "Starting a watch collection with €5,000" carousel for as long as I could because I thought I had no idea what to do with €5K. Watch-wise, I mean. I know I want a new road bike, and a nice, long tropical vacation would be nice too. But I seriously didn't think I could come up with three watches. And yet, I did in a very short period of time. I want a Spring Drive-powered Grand Seiko to keep my quartz model company. After seeing the sea green and blue Speedmaster MoonSwatch Mission on Earth in the metal — sorry, Bioceramic — I think it would complement my denim wardrobe perfectly. And the fashion angle led me to the sinister-looking Isotope Hydrium Blue Nights with its black enamel dial. Starting a watch collection with €5,000 is a go!
Of the dozens of watches I saw during Watches And Wonders, only a few made a lasting impression. However, Grand Seiko's Spring Drive-powered Evolution 9 GMT SBGE285 "Mist Flake" certainly did. The problem is the price that is €3,500 too high to fit into the given budget. But the memory of the "Mist Flake" set in motion a search for an affordable Spring Drive "GS" with a 44GS case, the source of inspiration for the new Evolution 9 case.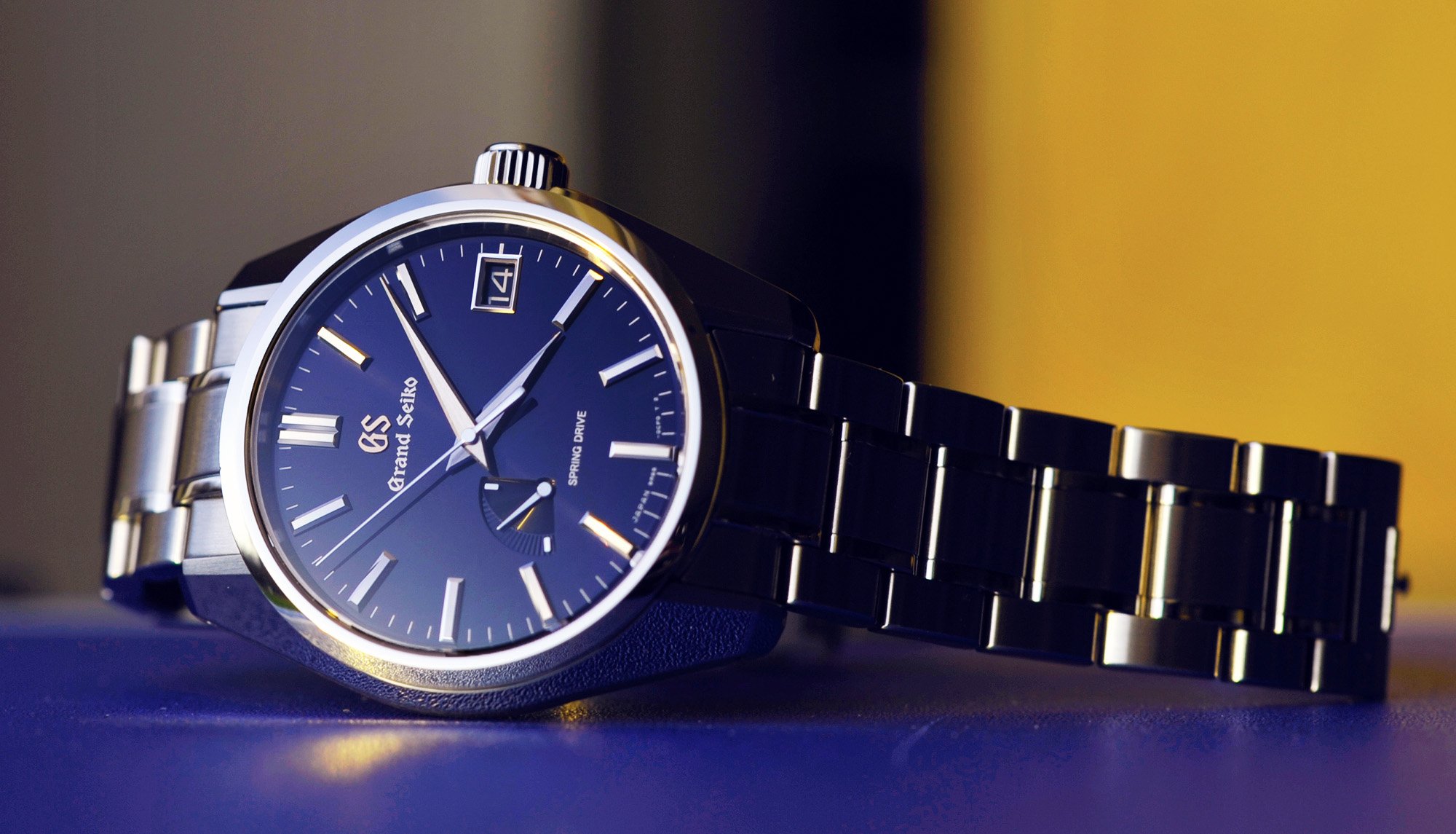 Starting a watch collection with €5,000 is a go!
My search quickly led me to the SBGA373G with a champagne dial. Yes, it's very nice, classy, and all that, but it's not a color that I warm up to in this setting. And by "setting", I mean a 40 × 12.5mm steel case with a lug-to-lug length of 46.2mm and forever-modern 44GS lines. Luckily, there's also a blue version around — the SBGA375. And I found one. A brand new one within the budget!
Grand Seiko Spring Drive SBGA375 — The perfect choice
On Chrono24, I found a new SBGA375 made in 2021 from a trusted seller for €3,900. The watch is new and is situated in Japan. For the sake of keeping things simple, I'm not going to add shipping and customs to the sales price, okay? This deep blue GS costs me 3,900 virtual euros and not a penny less or more. What you get is bang for the buck. Let me give you a brief summary. The SBGA375 has a see-through case back that allows you to see the unique 30-jewel 9R65 Spring Drive caliber. This movement has a claimed accuracy of ±15 seconds per month and a three-day power reserve. And there's also a dual-curved sapphire crystal with an anti-reflective coating on the inner surface that allows a crystal-clear display of the mesmerizing blue dial with its characteristic power reserve indicator.
A can-do-all and will-do-all kind of watch
Apart from the power reserve indicator — some can't get over it, while some, like me, consider it a delicate show of technical uniqueness — there are, of course, crisp indexes and hands to complement the rich blue tones of the dial. The steel three-link bracelet is nowhere near as outspoken as the dial, but it's definitely solid and well-made. And the same goes for the folding clasp with its push-button release. For just under €4K, you can buy a watch with a remarkable and timeless design that is both sporty and classic. On top of that, it's outfitted with an incredibly innovative hybrid mechanical movement. And it's also a most practical watch since it is water-resistant to 100 meters. This is a can-do-all, will-look-good-anywhere kind of watch, and it is the perfect choice. Ship it!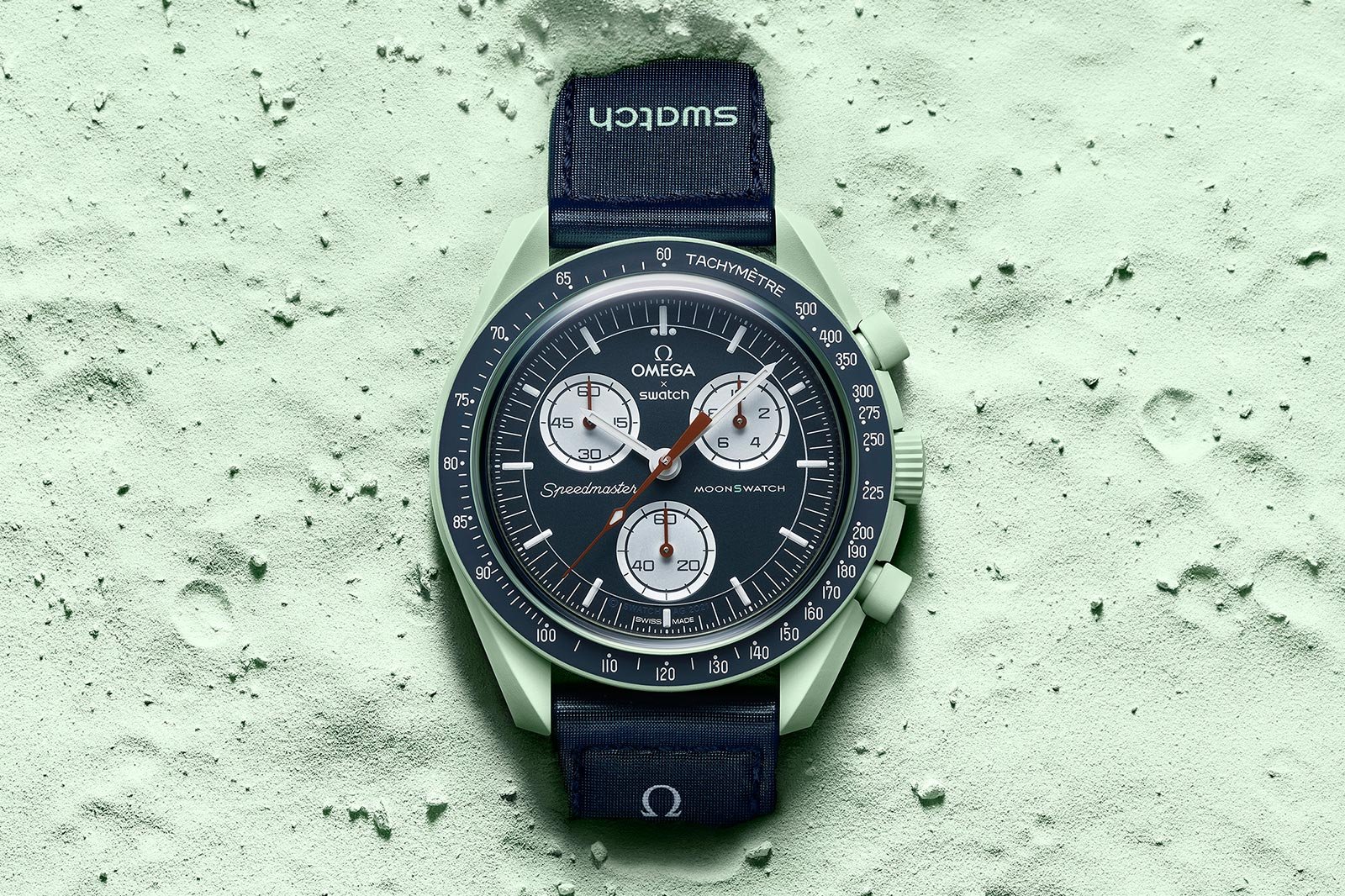 Omega × Swatch Speedmaster MoonSwatch Mission on Earth — The fun and fashionable choice
After splurging €3,900 on the GS, I "only" have €1,100 left. Now what? Well, I was thinking of finding a watch as cheap as possible. Cheap but fun and good-looking, that is. Coming up with a watch that ticks both boxes was easy. Getting one, however… not so much. And that's because I want the Omega × Swatch Speedmaster MoonSwatch Mission on Earth. Spending €250 is a problem because you don't know when the right MoonSwatch will hit the Swatch boutique closest to you. I tried buying the Mission on Earth in Amsterdam, but also in London and in Rome when I was there for business and pleasure, but so far, no luck. Persistence, stubbornness, and stamina are what you need to get your hands on one.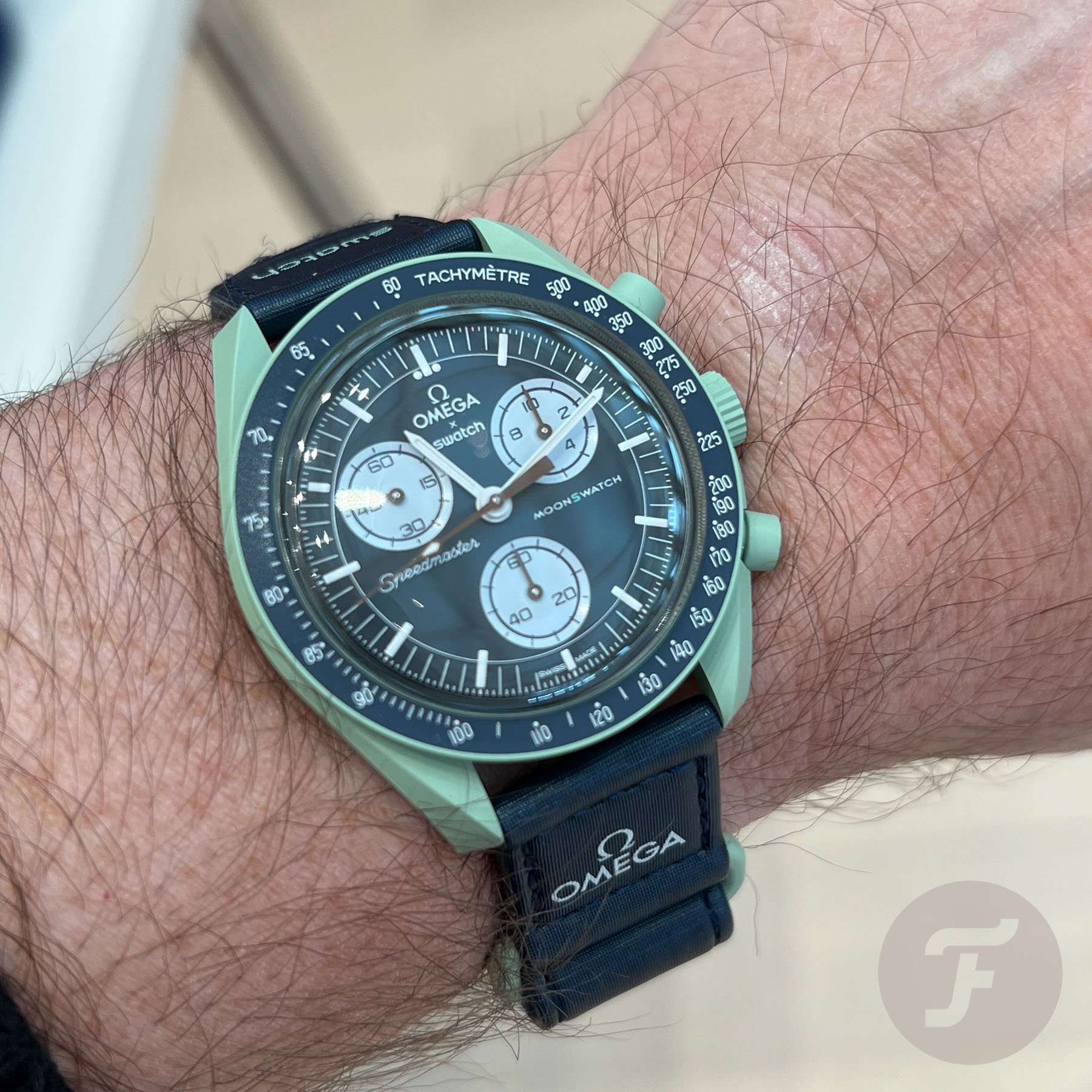 The treasure hunt
The hunt for a MoonSwatch should be fun, according to Swatch's big boss Nick Hayek. It should be an adventure, a treasure hunt with the possibility of a rewarding result. I haven't had my Indiana Jones moment yet, but, at least virtually, I just bought the Mission on Earth. Oh, you want to know why I want the sea green and blue Mission on Earth? Because of the one I saw and tried on a while back. I was tempted to make a run for it, but I kept it together. The watch really did look fabulous. And hearing and reading RJ's fascinating story about the production of the MoonSwatch also reignited my interest in the most controversial watch of late.
No matter how furiously anti-MoonSwatch some of you seem to be, that doesn't affect me at all. I think the concept is genius and the watches are seriously good fun and fashionable too.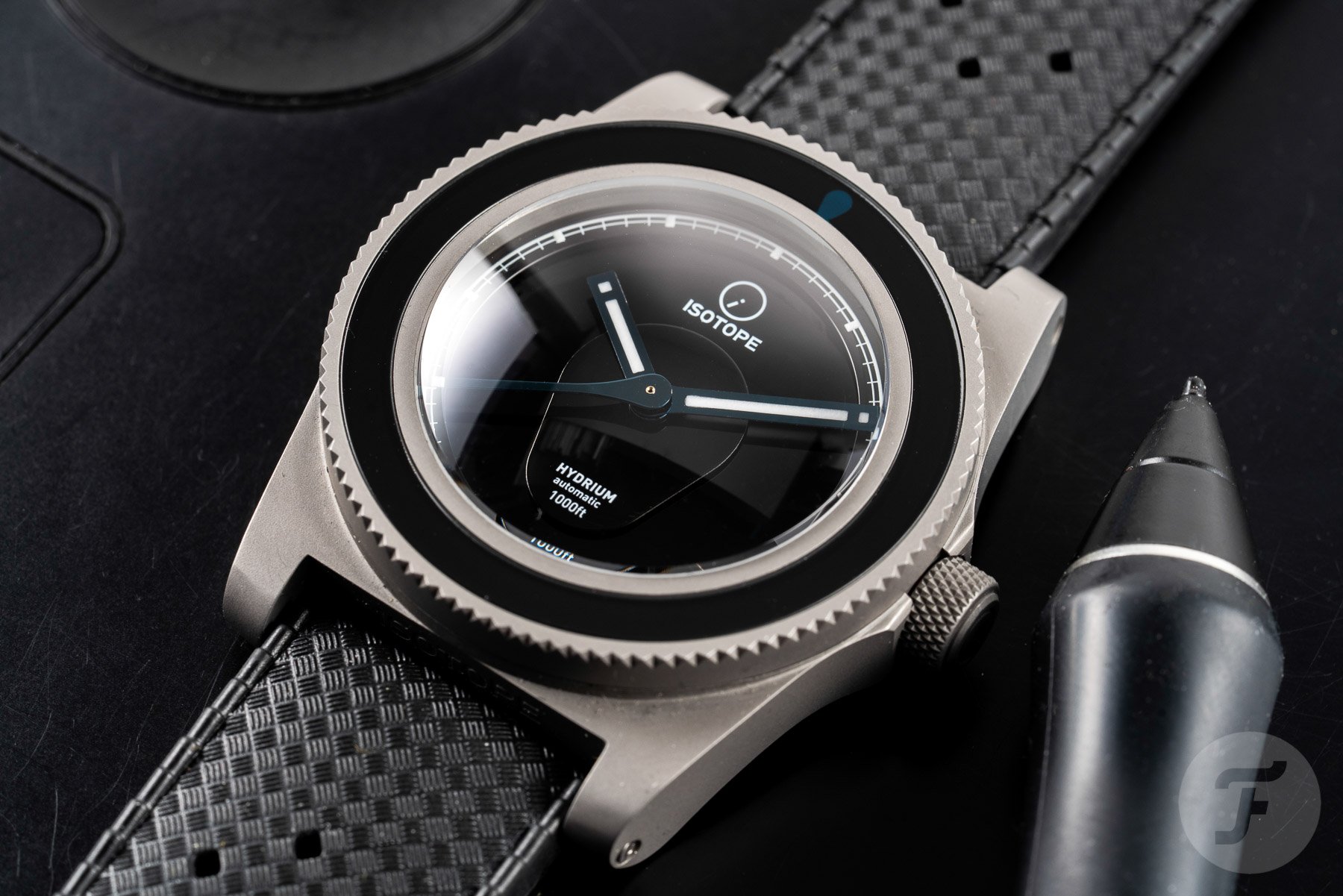 Isotope Hydrium Blue Night — The design choice
Finding the first two watches was relatively easy. Spending the last €850 proved to be a bit more difficult. After Spring Drive and quartz, my third pick would have to be mechanical. Recently, the team was discussing the demise of affordable luxury watches from traditional Swiss brands due to the rise of passion-driven microbrands that know and feel what modern-day watch enthusiasts need and want. This led me to Isotope and, in particular, the limited-edition Hydrium Blue Night. The heart of the watch is the automatic Landeron Caliber 24. It's a 4Hz movement with 25 jewels and a 40-hour power reserve. That ticks the box marked "Mechanical".
But the Hydrium Blue Night also ticks the box labeled "Design". The immaculate, clean, and intriguing design is a bonus. It's a watch that makes you look twice.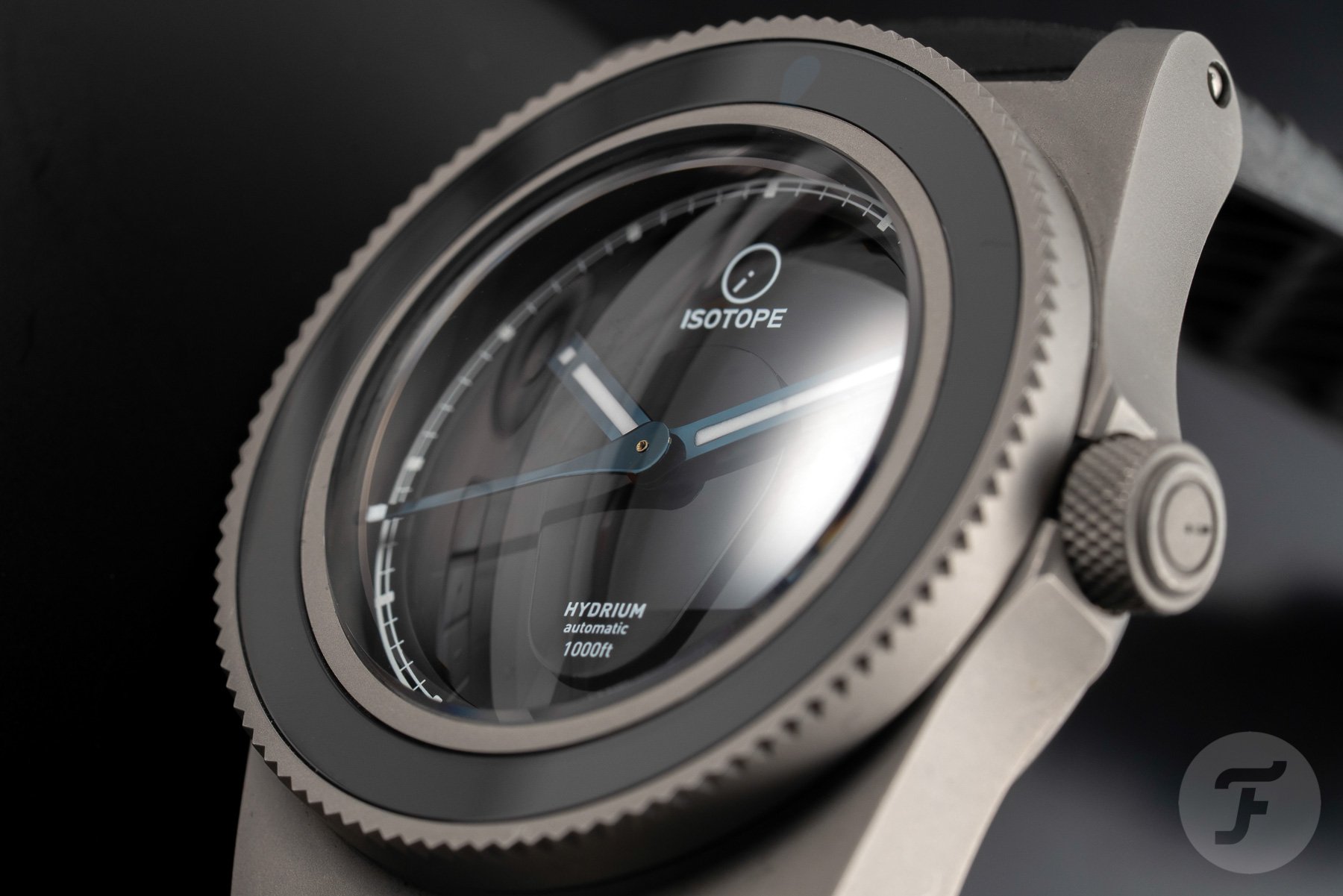 Limited but (still) available
The €718.83 Isotope Hydrium Blue Night is a limited edition of 100 pieces. I found out on the brand's website that not all of the watches are gone yet. Can you imagine the virtual joy I experienced after my failed attempt at hunting down an elusive MoonSwatch? Anyway, the Blue Night has a steel micro-blasted case that measures 40 × 14.9mm and has a lug-to-lug length of 48mm. Matching the look and feel of the case is a black rubber tropical-style strap. And now we get to the most interesting part of the watch — the dial.
The idea behind the Hydrium Blue Night was to create a dress watch that doubles as a tool watch. It is water-resistant to 300 meters, which is pretty tool-like, and the shape and matte surfaces of the case are functional. The flame-blued hands and black enamel dial, however, are very stylishly dressy.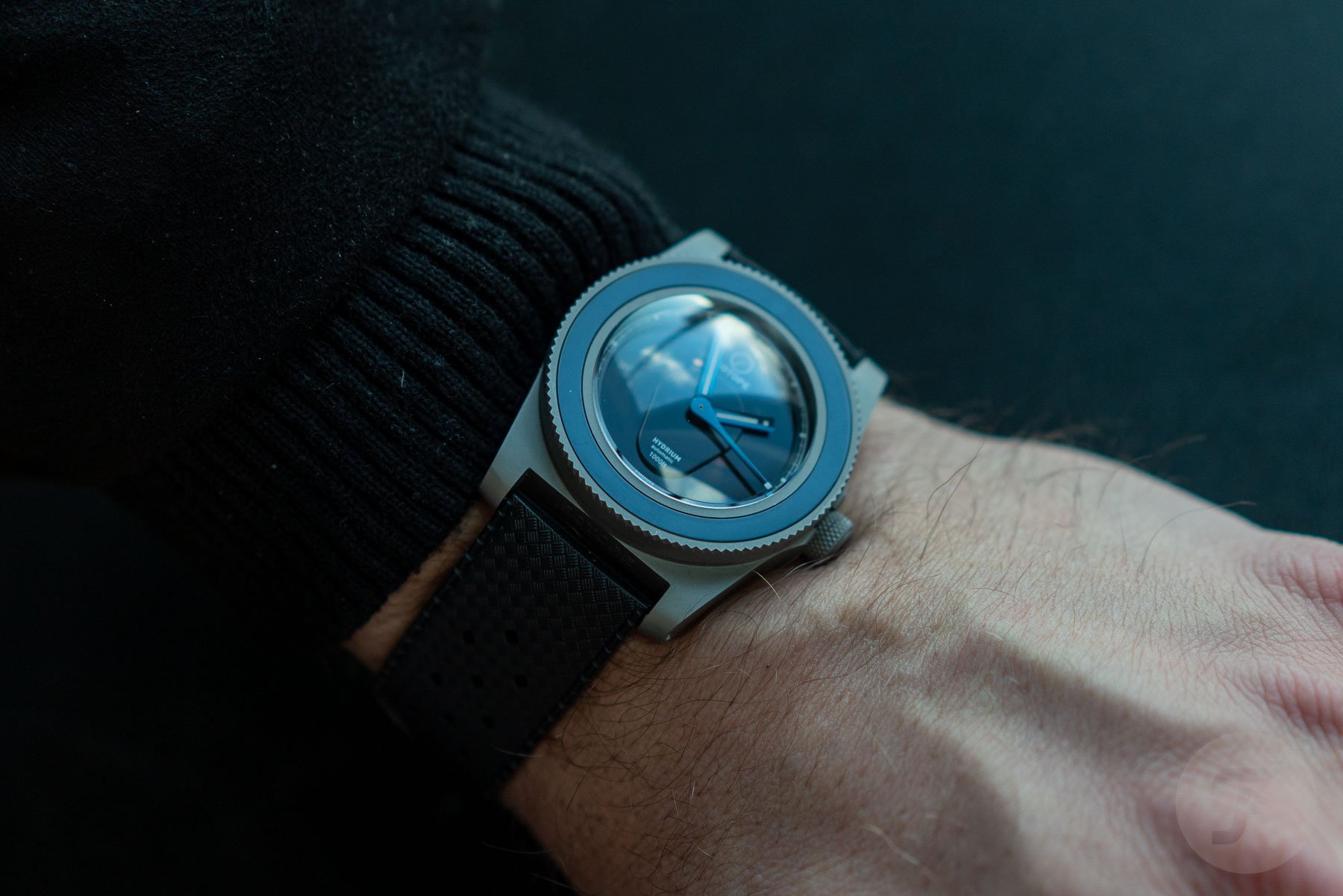 Opposites really do attract
The mixing and matching of rugged tool-watch looks with suave, sophisticated details like a deep black shiny enamel dial creates tension. It is true in the case of the Hydrium Blue Night that opposites attract. And they also complement each other. You can clearly see that a lot of thought has gone into this watch. Only a true love for watches, the desire to create something outstanding, and a mind that hasn't been compromised by Excel sheets can come up with a daring creation like the Hydrium Blue Night. Well done, and shopping done! Oh, wait, not entirely. I still have €131.17 in change.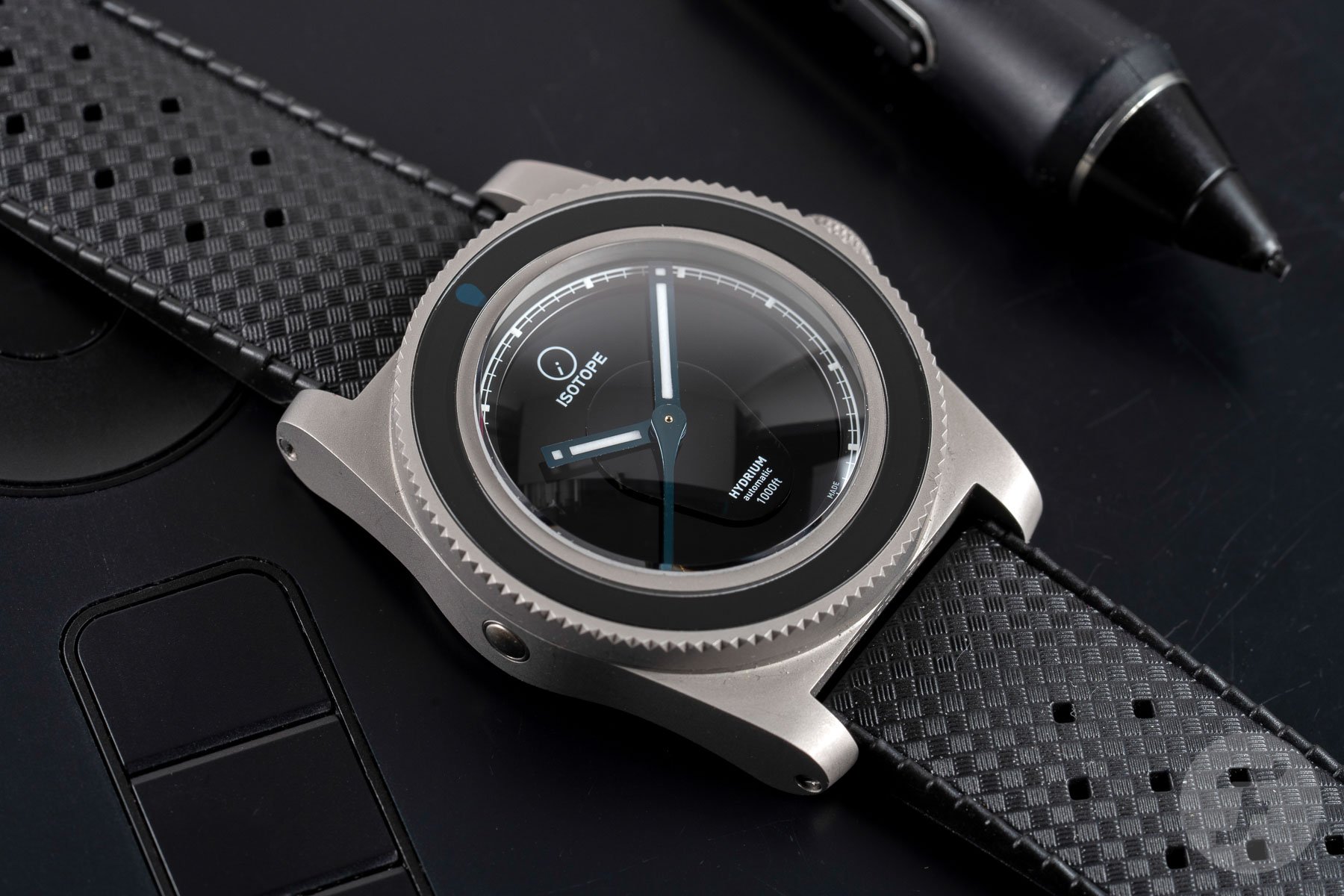 I still have €131.17 to burn!
With the €131.17 that I have left, I will get myself an extra 19mm leather strap for the Grand Seiko. I'm thinking lizard or ostrich, maybe in a gray or a brown shade, or maybe even a canvas strap to make the GS summer-ready. A dark blue NATO strap for the MoonSwatch Mission on Earth is something I must have lying around somewhere, so that's covered. I enjoyed my virtual shopping with €5K in my pockets, I really did. And of course, I hope you enjoyed the little article and the watches in it too. Yes, I had fun, but hey, I'm living in the real world, and now I crave a real shopping spree. So come on, RJ, show me the money!
Please find and follow me at Lex Stolk • Instagram