Strap Check: The Perfect Rubber Camo Strap For My Seiko Sumo
Cheapest NATO Straps offers the perfect option to add some military style to the first-generation Sumo
Welcome to Strap Check, a column on Fratello where our editors showcase their favorite watch/strap combinations. We all know the feeling. When you've been wearing a watch for weeks on the same strap, there comes a time when the excitement starts to fade a little bit. Maybe that's the time when you start looking. But looking for what? A brand new watch? Sometimes the answer lies not in the watch, but the strap on which you wear it! From the classic to the unique. From cheap NATOs to bespoke leather and special bracelets. This is where we get excited about perfect combinations that make you feel like you've got a brand new watch on your wrist. So tune in every week for a new Strap Check. Are you in a watch rut? Change your strap, and the rest will follow.
The team at Fratello is not afraid to spice up their watches with the perfect strap. This week, Jorg explains why he chose a rubber camo strap for his first-generation Seiko Sumo SBDC001. It's a pixelated digital multi-scale camouflage that looks to be inspired by the Canadian Disruptive Pattern (CADPAT). The strap comes courtesy of Cheapest NATO Straps. As it turns out, it has drastically changed the look of the watch and solved a practical problem. Let's find out more.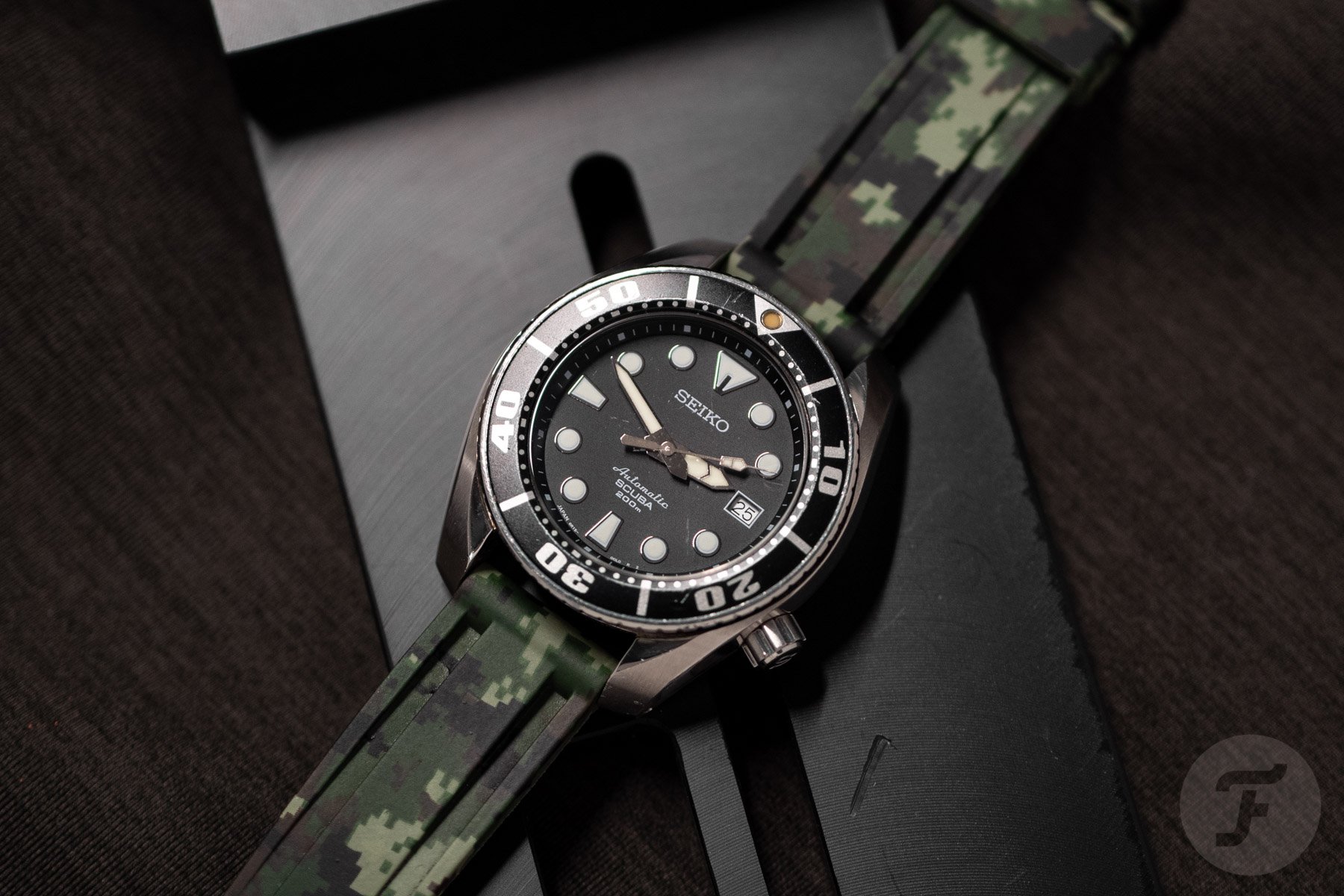 Strap check for my Seiko Sumo SBDC001
My first-generation Seiko Sumo means a lot to me. It's the watch that I probably wore the longest as my daily wearer some years back. I particularly love the Sumo because it is one of the best modern Seiko divers that is not a re-issue or a modern interpretation of one of the iconic Seiko divers from the past. While it has a very distinct Seiko signature, it is different from many other Seiko divers out there. Certain elements about the watch make it such a standout from the crowd. The watch features a 45mm stainless steel case that is 13.5mm thick. While that may seem huge at first, the watch wears very comfortably thanks to the curved lugs.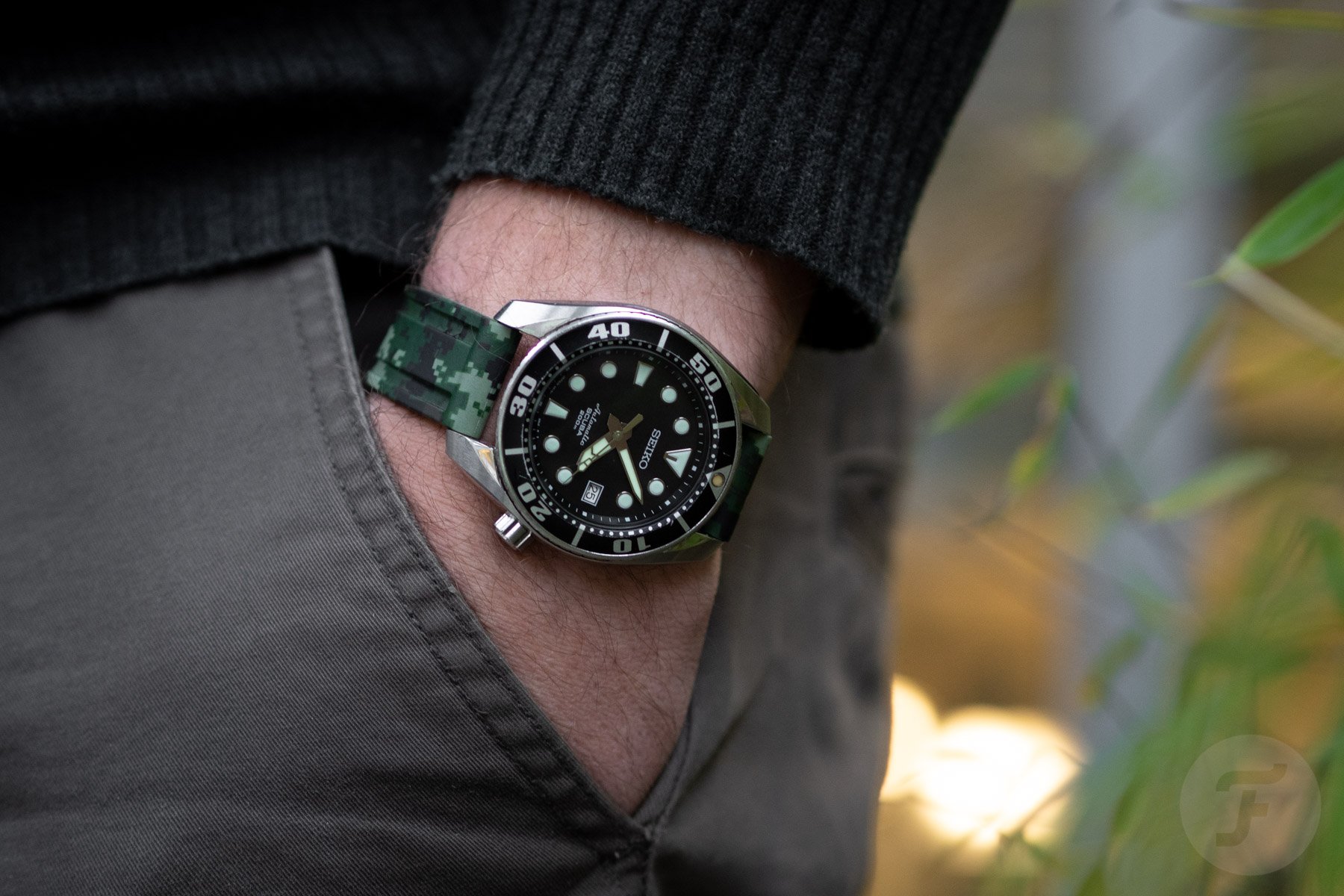 Granted, it doesn't make it a small watch, but it works perfectly as a daily wearer. And over time, more people that have tried the watch on have been pleasantly surprised by how well it sits on the wrist. But you need a good bracelet or strap to balance the weight. Over the years, I have worn the Sumo on three different straps. You might question why I haven't worn it on its bracelet. As you might know, the quality of Seiko's bracelets has been questionable at best in the past, and the first Sumo came with a bracelet that was not the best. That's why I preferred wearing it on a black Seiko rubber strap for a long time. While Seiko makes great silicon straps, the strap that I used was a stiffer rubber strap that came with the Marinemaster.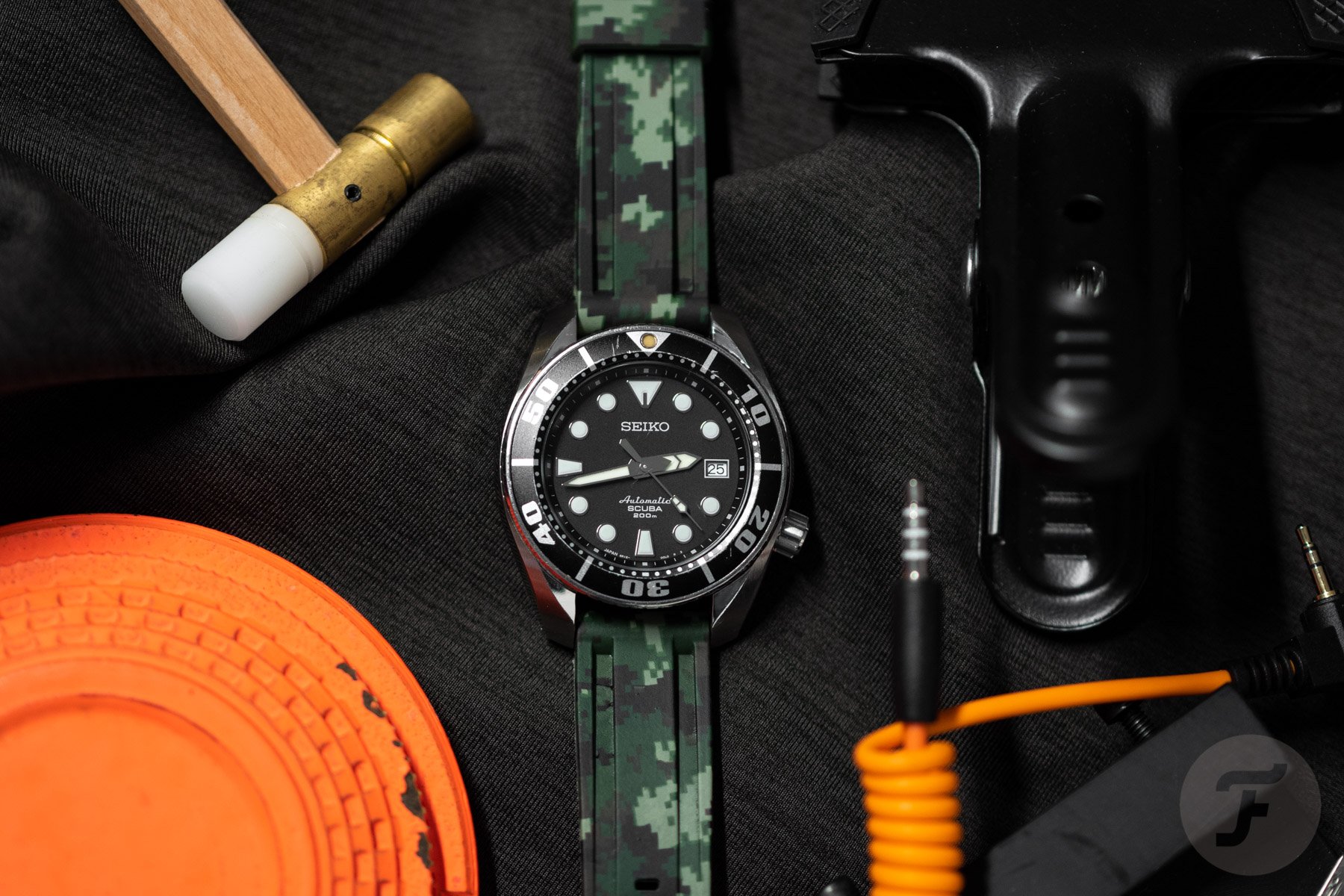 A great balancing act
The main reason for that is very practical. As most Sumo owners will tell you, the watch's lug width is generally considered too small for the case size. The chunky 45mm case could have benefited from a 22mm lug width instead of the current 20mm. Therefore, you need a sturdy strap to balance out the weight of the case on your wrist. While the Seiko rubber strap did that perfectly, it was not the most comfortable strap. That's why I changed it to a curved-end rubber strap by Crafter Blue, specially made for the Sumo (CB02). That's what I wore the watch on for a long time, and I have to say, it was a perfect fit. But after some time, I added more watches to my collection, and the Sumo started getting less and less wrist time.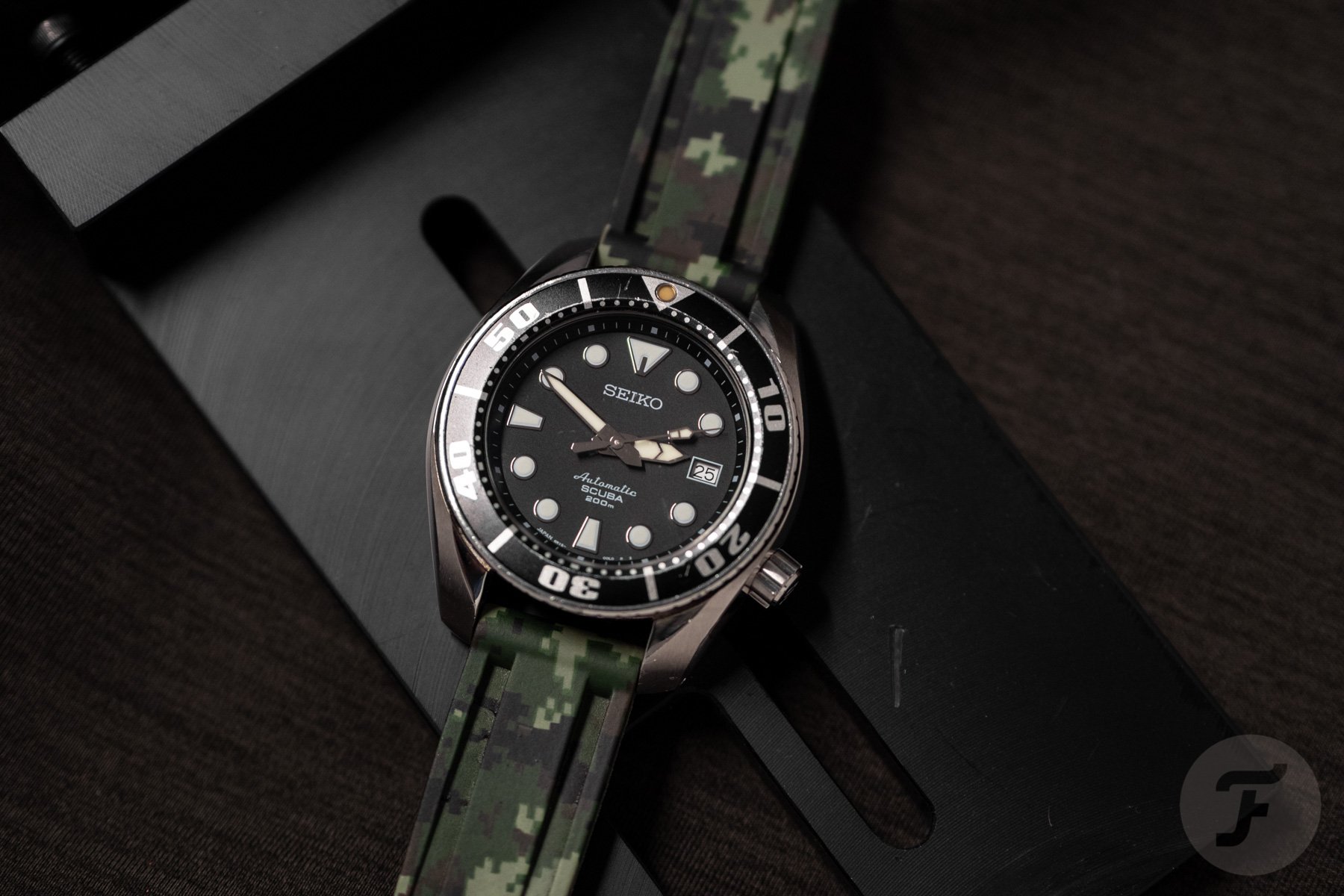 That changed when I got a sand-colored suede strap from Straps by Fleur as a birthday gift from Robert-Jan and his wife. The material and color proved to be a great change-up from the black-on-black colorway on which I had been wearing the watch. But there was also one big disadvantage — balancing out the watch on the wrist both visually and practically. It would be best if I had a thick leather strap to take care of both. As a result, I sometimes wore the watch, but it was safely tucked away in a drawer more often.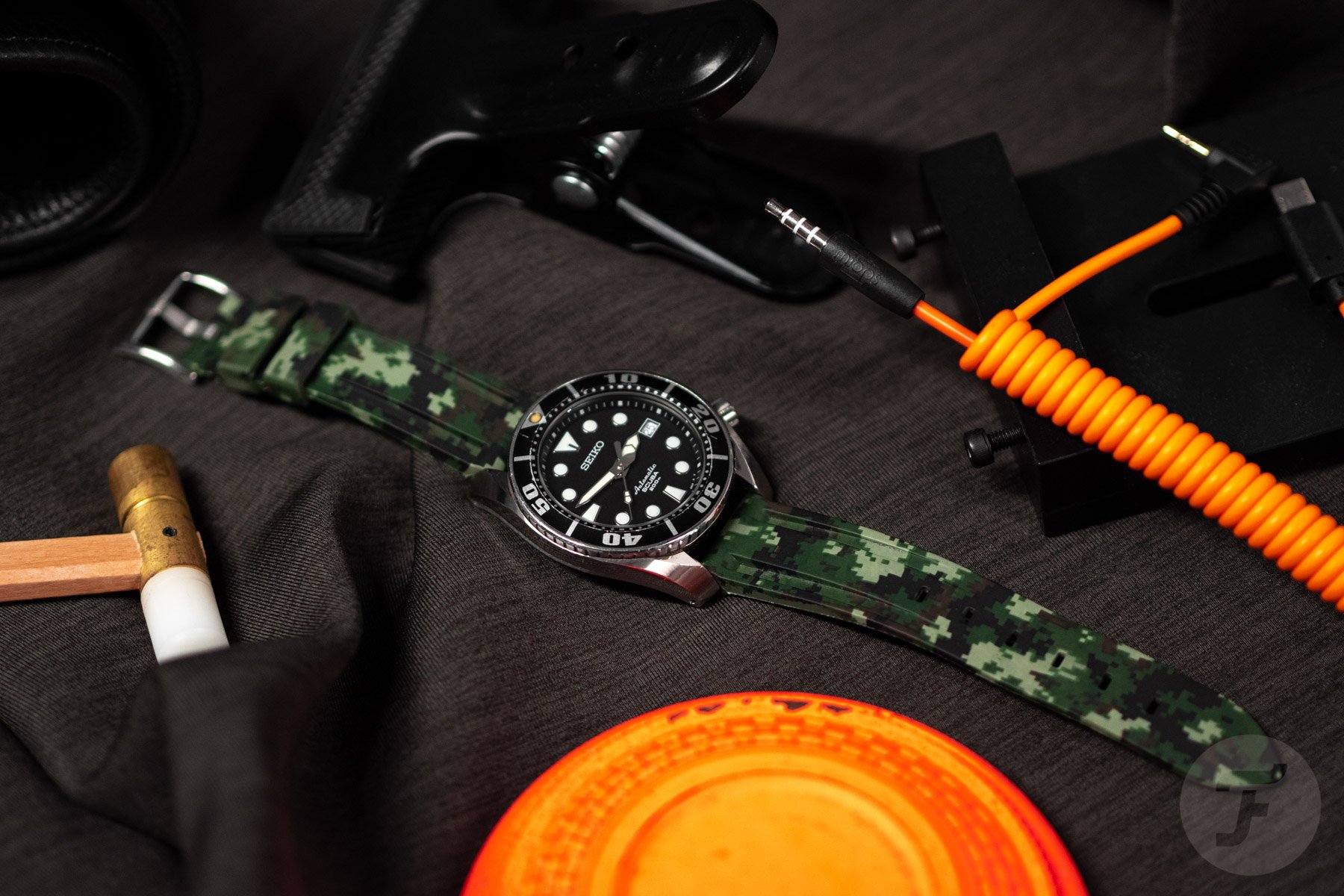 Finding the right strap for the Sumo
Overall, I would not call myself a big strap guy, and that is why I never thought to be part of the Strap Check series. I love it when a brand does its homework and delivers a watch on the best option possible. It's why a strap and a bracelet are fundamental parts for me when considering buying a watch. Plenty of watch fans will automatically think, "Great watch, especially if I put such a different strap on it." I'm not one of those people. Sometimes I wish I were, to be honest. But with the addition of Nacho to the Fratello team, my perception of strap-swapping began to change. It started when I took the Sumo to the office to show it to Nacho, and I recognized why it still is such a great watch.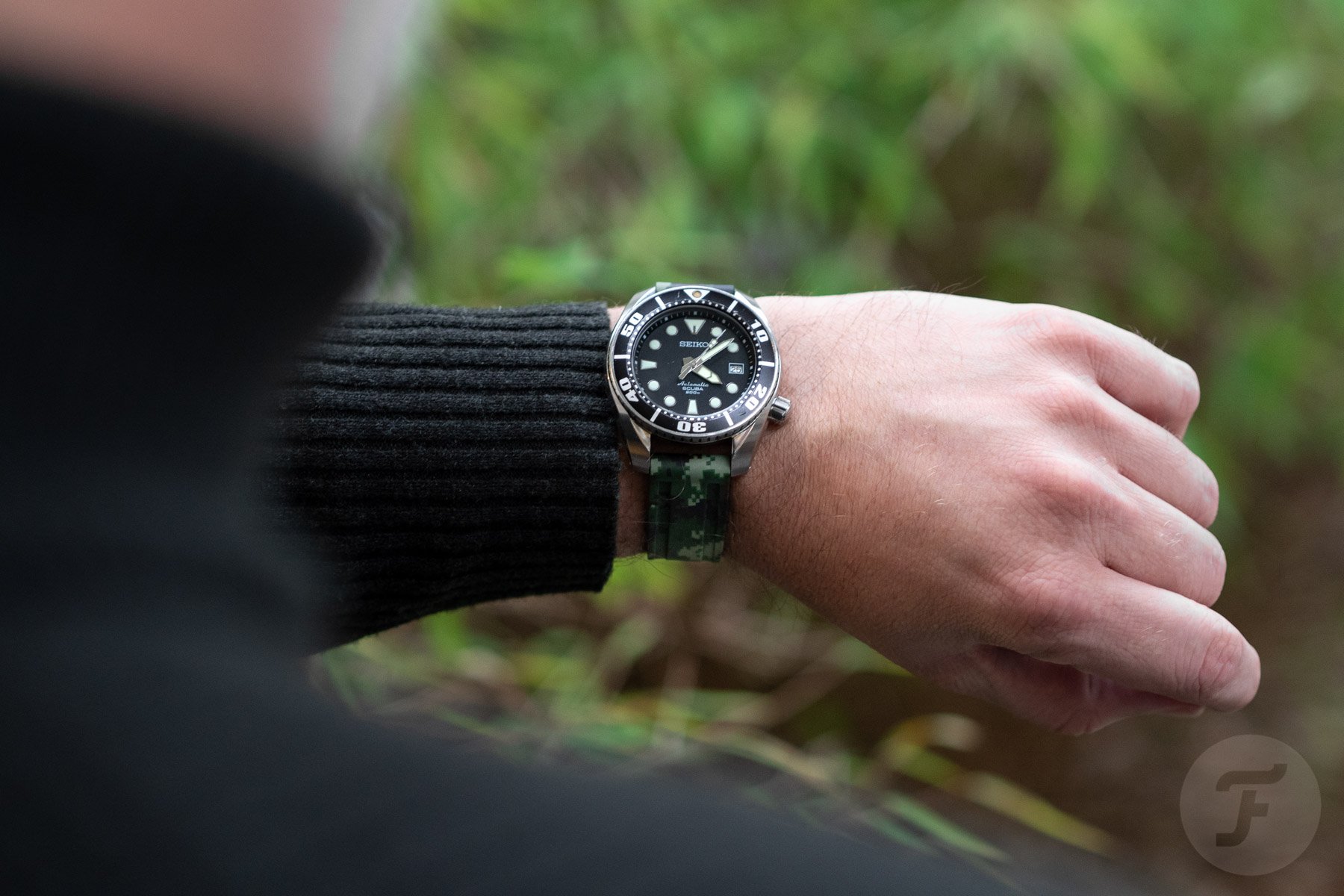 Over time, I had looked into buying an Oyster-style bracelet from Strapcode, but for some reason, I never pulled the trigger. And I also looked at other options sporadically, but as I said, I am not much of a strap guy. But our Nacho is very much that strap guy. After seeing the Sumo and understanding my issues with the thin suede leather strap, he suggested finding a good strap for it. We started looking at different options for the Sumo and some other watches at Cheapest NATO Straps. Sofie Björklund, who runs the company out of Stockholm in Sweden, offers great affordable options, and there are plenty to choose from. And by plenty, I mean a lot! In the end, I decided to order a bunch of straps, including leather and nylon Zulu and NATO straps. I decided to go with this rubber strap that comes with a 20mm digital camo design for the Sumo.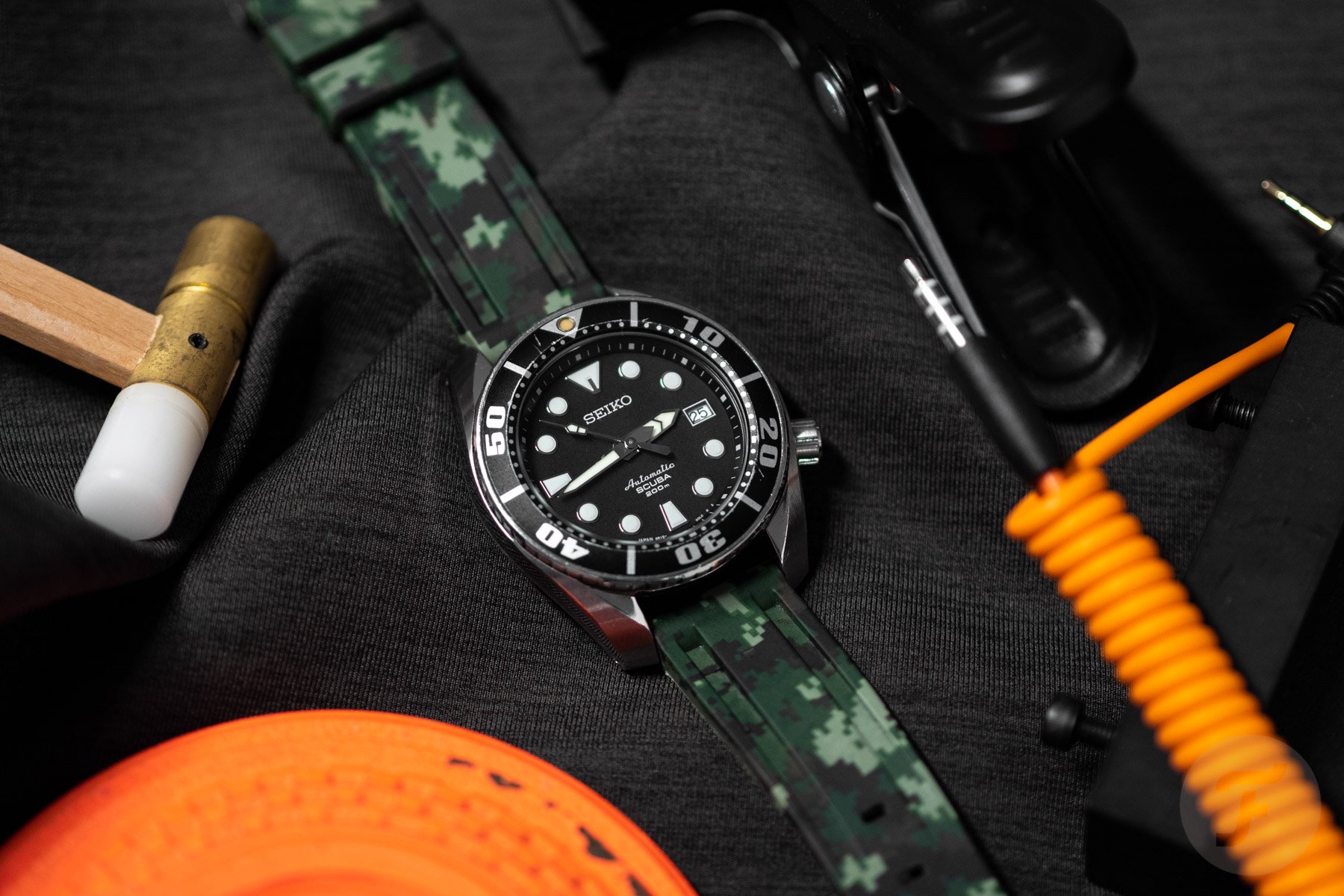 Choosing something a bit different
The reason for this pick is simple. The colors of the digital camo pattern match the light green hue of Seiko's LumiBrite perfectly. On top of that, I like the look of the strap a lot. I am far from traditional when it comes to picking straps, so I don't mind a good camo pattern. Lastly, I hoped the camo strap would also be able to balance out the weight of the watch. When the strap arrived at the Fratello offices, I was happy to find out that the design and the colors perfectly match the Sumo's lume color. The only thing I had my questions about was the thickness. While the strap felt like a decent-quality strap, especially considering its price, it also needed to balance out the weight.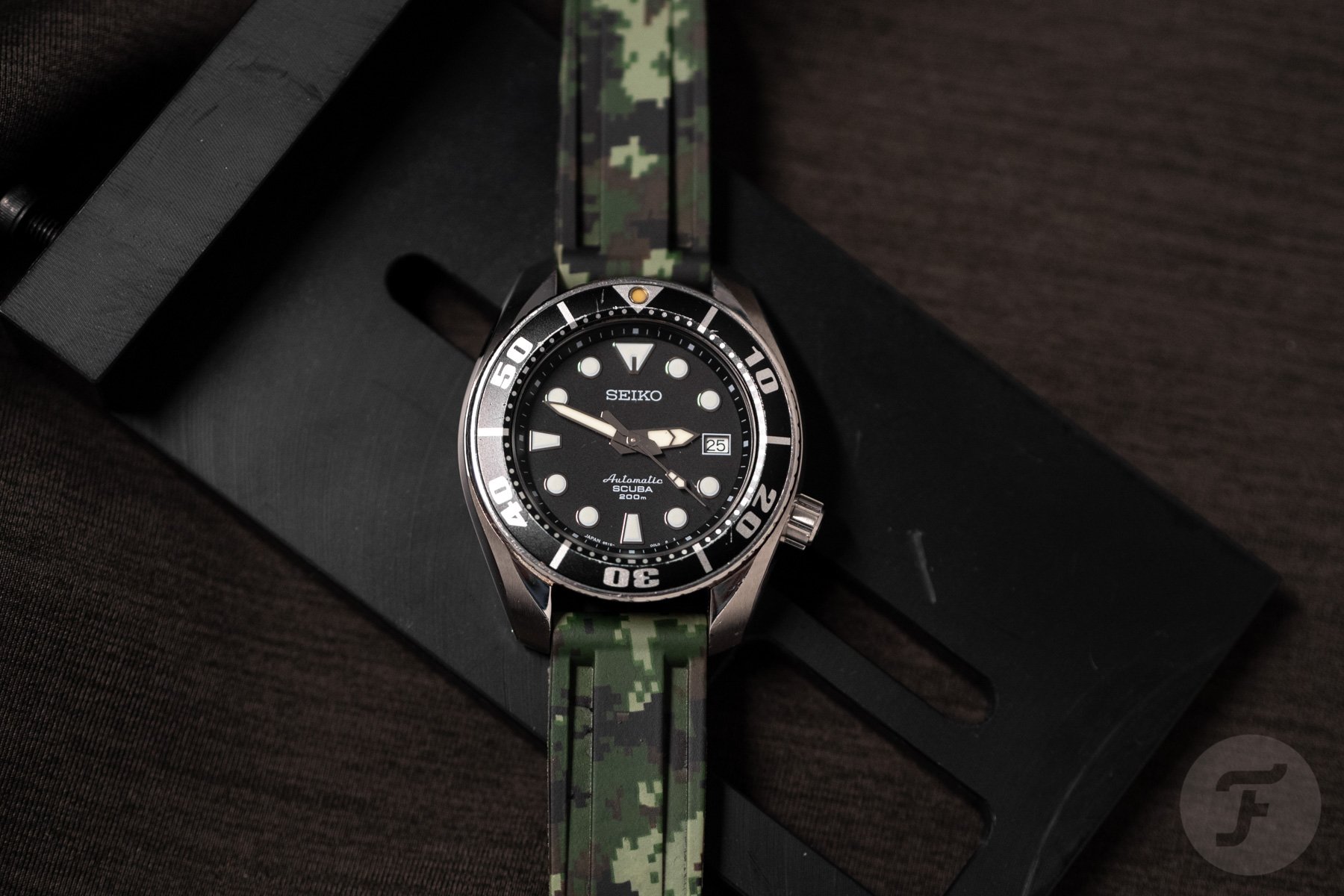 After putting the strap on the watch, I was happy to find out that it is the perfect match for my Sumo. The overall change in aesthetics is drastic, but it's a look that fits the Sumo well. Not only does it look great, but the supple rubber is thick enough to carry the weight of the Sumo. The strap tapers from 20mm down to 18mm. It makes this pixelated digital multi-scale camouflage strap the absolute best way for me to add some much-needed pizzaz to the watch. And on top of that, I just love wearing it. The strap length is perfect, and in combination with the satin-brushed buckle and two rubber keepers, it's easy to put on the wrist and a joy to wear.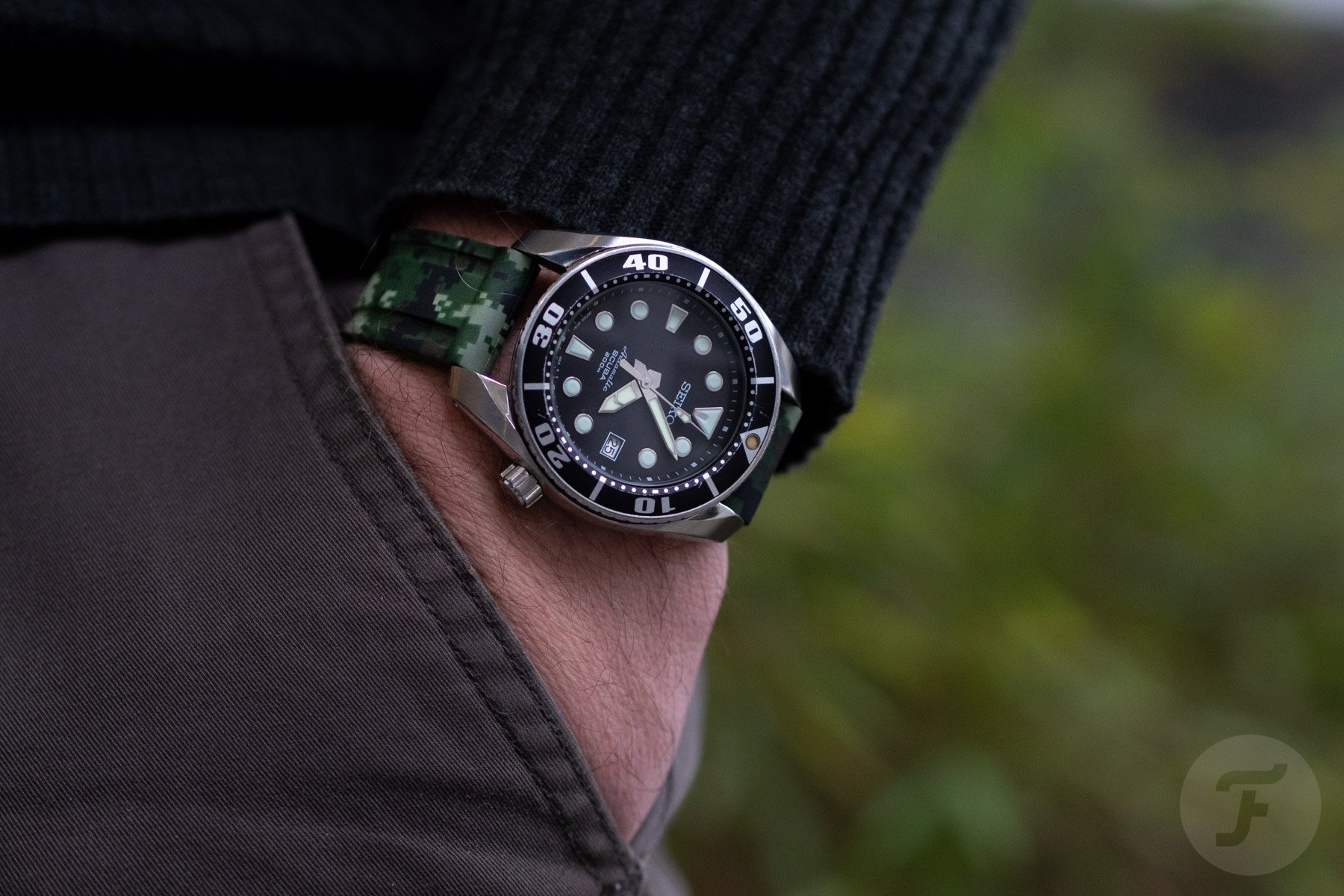 Final thoughts
Overall, I am really happy how this Cheapest NATO Straps rubber camo strap has injected my Sumo with some new flair. I started wearing the watch more and remembered why it is such a great watch to own. Besides the standout design and the great comfort of the strap, the best thing is its price. The regular price is $15.95, and this one was on sale for an unbelievable $5.95. If that doesn't fit the Dutch spirit, nothing will! But at these prices, anyone can become a strap guy. So expect to see more from my side in this weekly Strap Check column.
That's it for this week's Strap Check! Please tune in next week on Thursday for our next installment. Will it be a Seiko on rubber? A funky bracelet for the Speedmaster? A handmade alligator strap for a dressy vintage piece? Or a lovely tan suede for a modern all-around watch? Find out next week on Strap Check. For now, please share with us some of your favorite watch/strap combinations in the comments below.