Strap Check: The Perfect Two-Stitch Vintage Leather Strap For My Omega Speedmaster
An under-the-radar offering from Rios1931
Welcome to Strap Check, a new column here on Fratello where our editors showcase their favorite watch/strap combinations. We all know the feeling. When you've been wearing a watch for weeks on the same strap, there comes a time when the excitement starts to fade a little bit. Maybe that's the time when you start looking. But looking for what? A brand new watch? Sometimes the answer lies not in the watch, but the strap on which you wear it! From the classic to the unique. From cheap NATOs to bespoke leather and special bracelets. This is where we get excited about perfect combinations that make you feel like you've got a brand new watch on your wrist. So tune in every week for a new combination. Are you in a watch rut? Change your strap, and the rest will follow.
The team at Fratello is not afraid to spice up their watches with the perfect strap. This week Nacho shows off one of the most recent additions to the strap arsenal. It's a black vintage-style strap from Rios1931, which he has paired with his trusty Omega Speedmaster, creating a combination that's as timeless as the watch itself. Though the Speedmaster suits almost anything you put on it, there's something really special about a nice leather strap. Especially one that ticks all the boxes. That new watch feeling is guaranteed!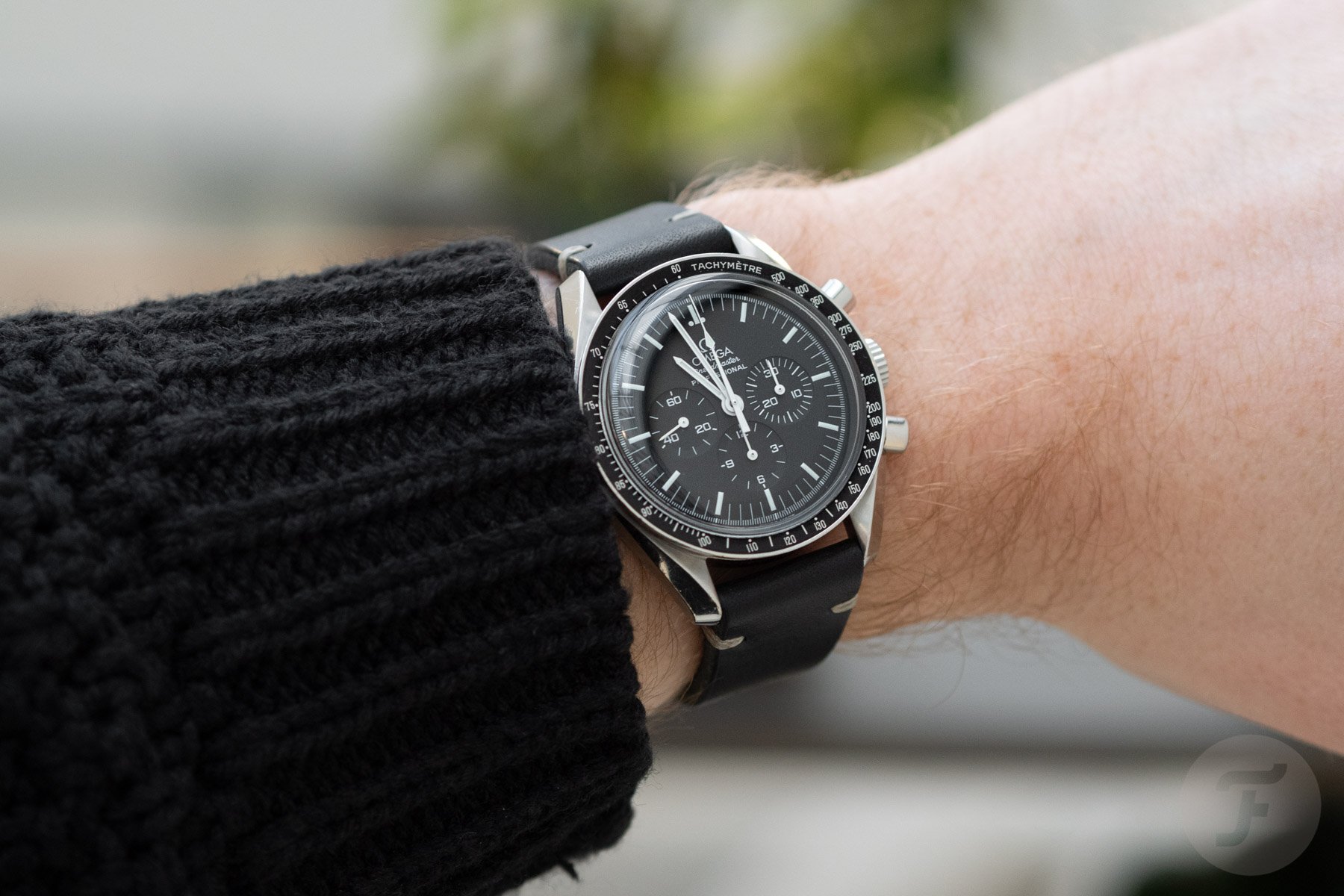 Omega Speedmaster Professional on a two-stitch vintage leather strap
What better way to kick off Strap Check than with a "very Fratello" pairing with an Omega Speedmaster? The strap of choice is a classic design that has come to be known as the "vintage" or "two-stitch". In this case, it's made of black calf leather, measuring 20mm at the lugs and tapering down to 16mm at the buckle. The taper is everything when it comes to this strap. I find straps with significantly less taper to be a bit too clunky, whereas the 20/16mm taper gives the strap a more old-school appearance and a more elegant profile. In the case of this strap, the white stitching has taken on some of the colors of the strap, making it look more of a gray/white that suits the aesthetic. This also reduces the contrast between the black leather and the white thread.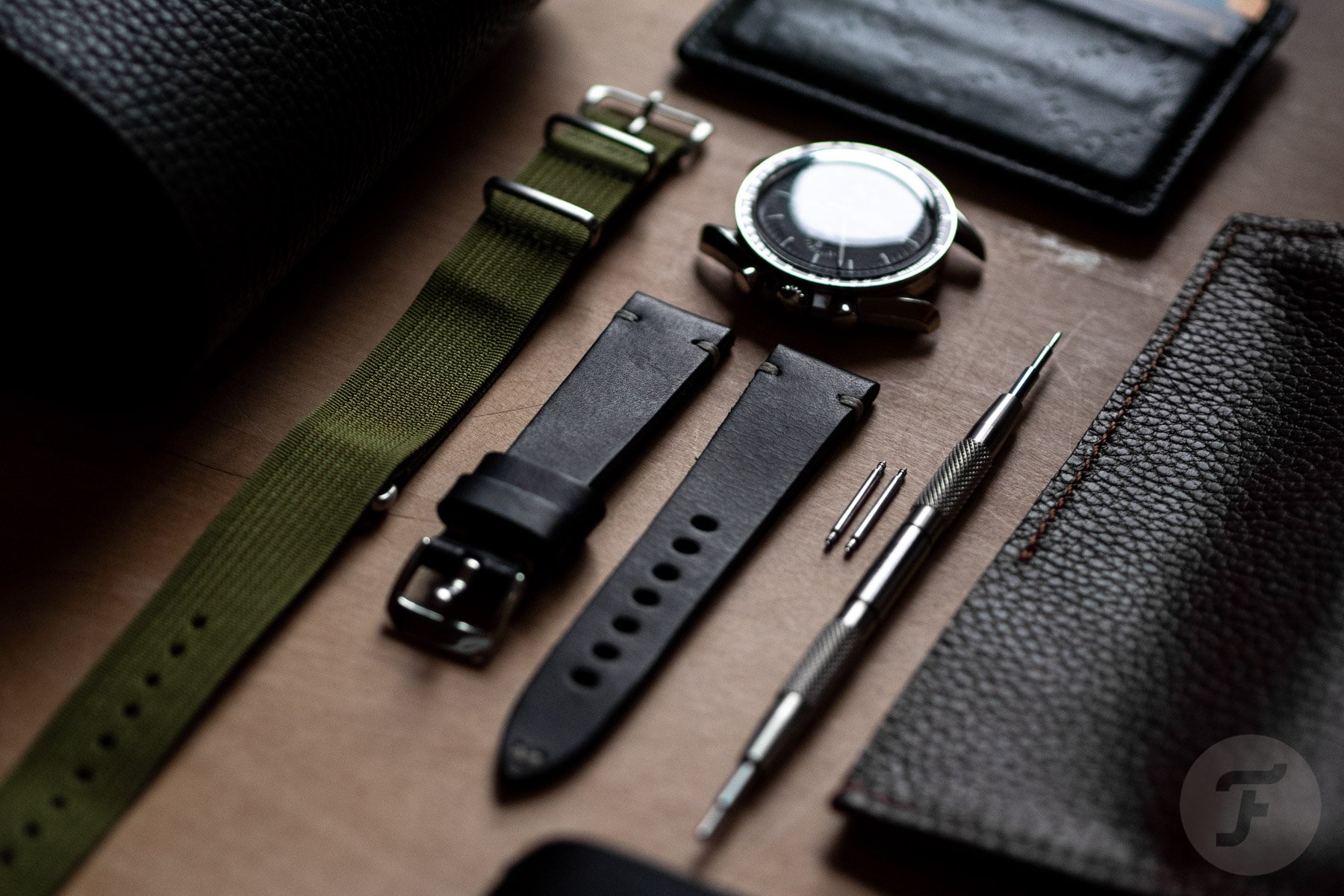 Now, a black and white watch like the Speedmaster naturally suits a black and white strap. And though Omega offers this particular watch on an OEM black alligator strap, I don't think that combination could be further from what truly suits the watch. Another feature of the strap that I feel suits the watch particularly well is its 4mm thickness. The Speedy has a decent size and weight to it, but the thickness of the leather removes any top-heavy feeling. The leather is of high quality, and it's supple and comfortable to wear from the very first day. This particular strap is made by the brand Rios1931 in Germany. Though buying straps directly from the brand is not an option as an individual, its offerings can be found on other websites. Rios1931 is more a wholesaler of straps but is also responsible for creating OEM straps for a number of brands.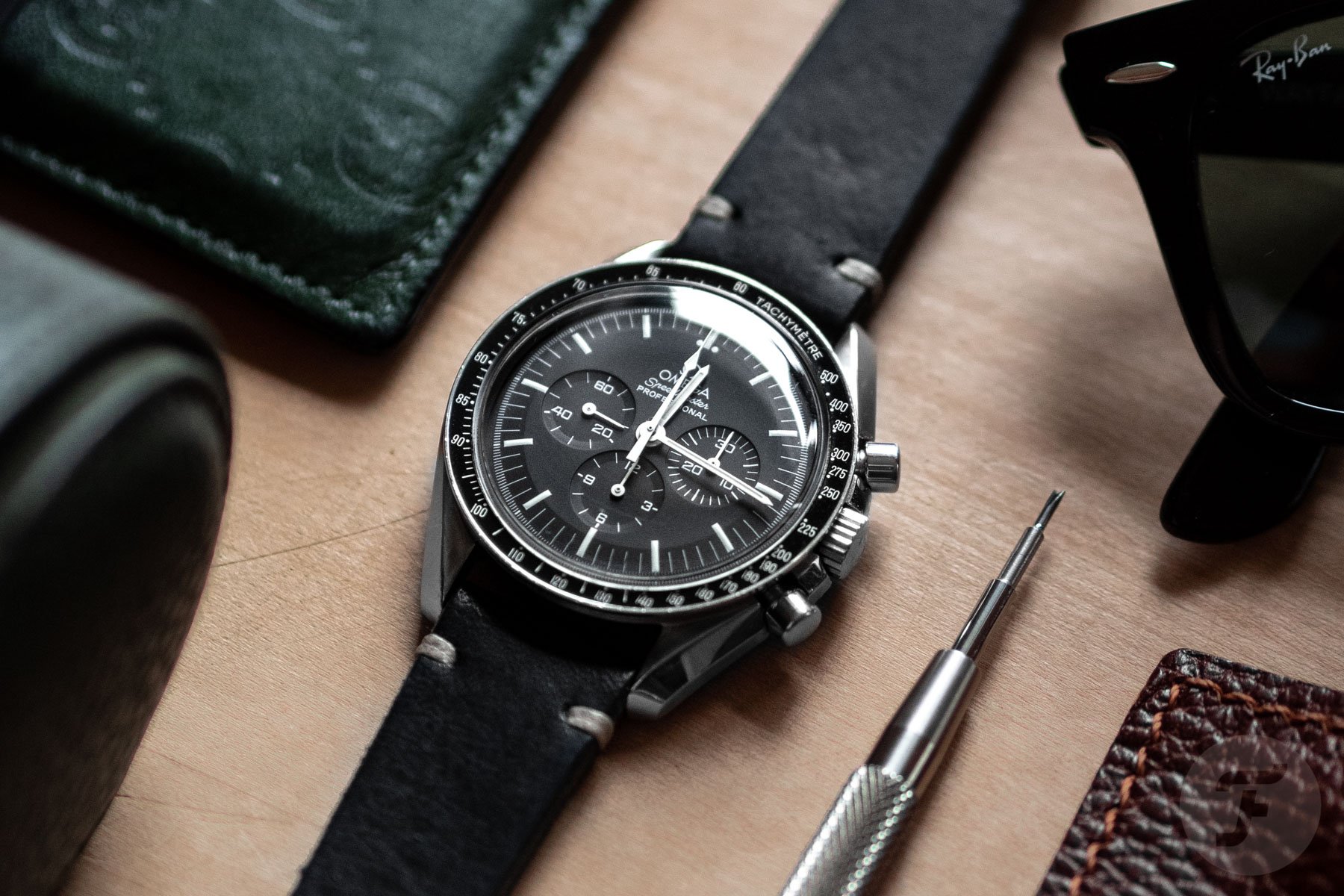 Why I love this combination
I must admit that I don't have any trouble wearing my Speedmaster. It's a watch that I enjoy no matter what strap I put it on. Even the bracelet, though somewhat polarizing, I find to be comfortable enough. Though the Speedy has a reputation of being a "strap monster", something which I won't deny, there's something so perfect about this simple combination. It looks great and feels perfect on the wrist. And for just €33, you really can't go wrong. If there's one thing I could criticize, it would be the buckle, and more specifically, the pin. The buckle is solid enough, but the flat pin is something that I feel cheapens the strap a bit. I wish it was a little bit more solid. That said, the buckle is drilled through, so swapping it out for something a little more solid shouldn't be too much of an issue.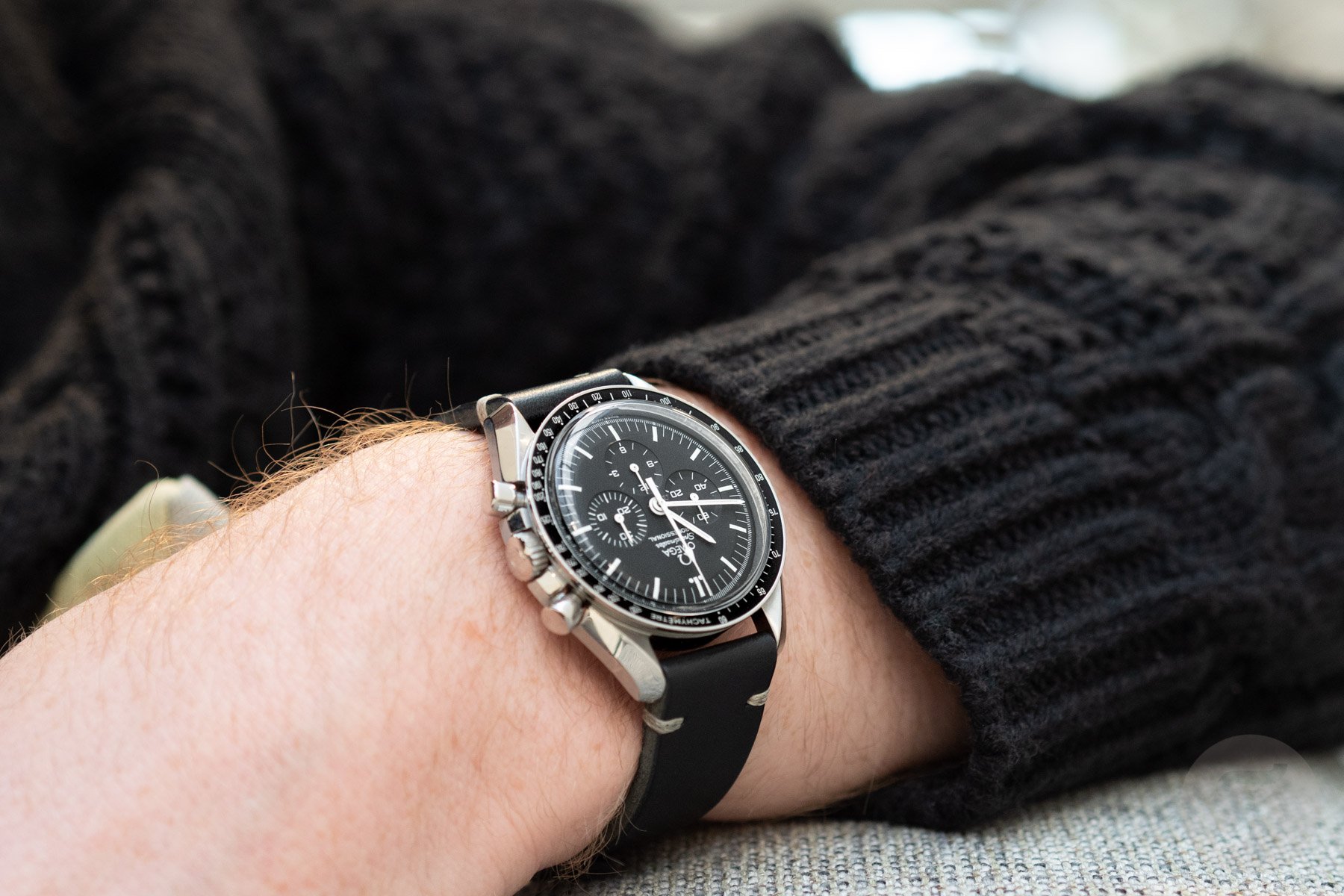 But I must admit that this was more my initial impression. Having worn the strap for the better part of three weeks now, I must say, the buckle really doesn't bother me nearly as much as I thought it would. Something else to note is the fact that these straps have "unfinished" edges. I believe that only a very slight bit of burnishing work is done. This gives the strap a more rugged appearance, which matches the texture of the matte finish. I absolutely love the natural imperfections, creases, and wrinkles. Subtle, yes. But you certainly don't forget that this is a real piece of high-quality leather. As I mentioned before, a tool watch doesn't call for a high-gloss alligator. This strap comes in perfectly between a more refined vintage style strap (such as the Omega OEM for the Bronze Gold Seamaster 300), and the rougher take on the style out there.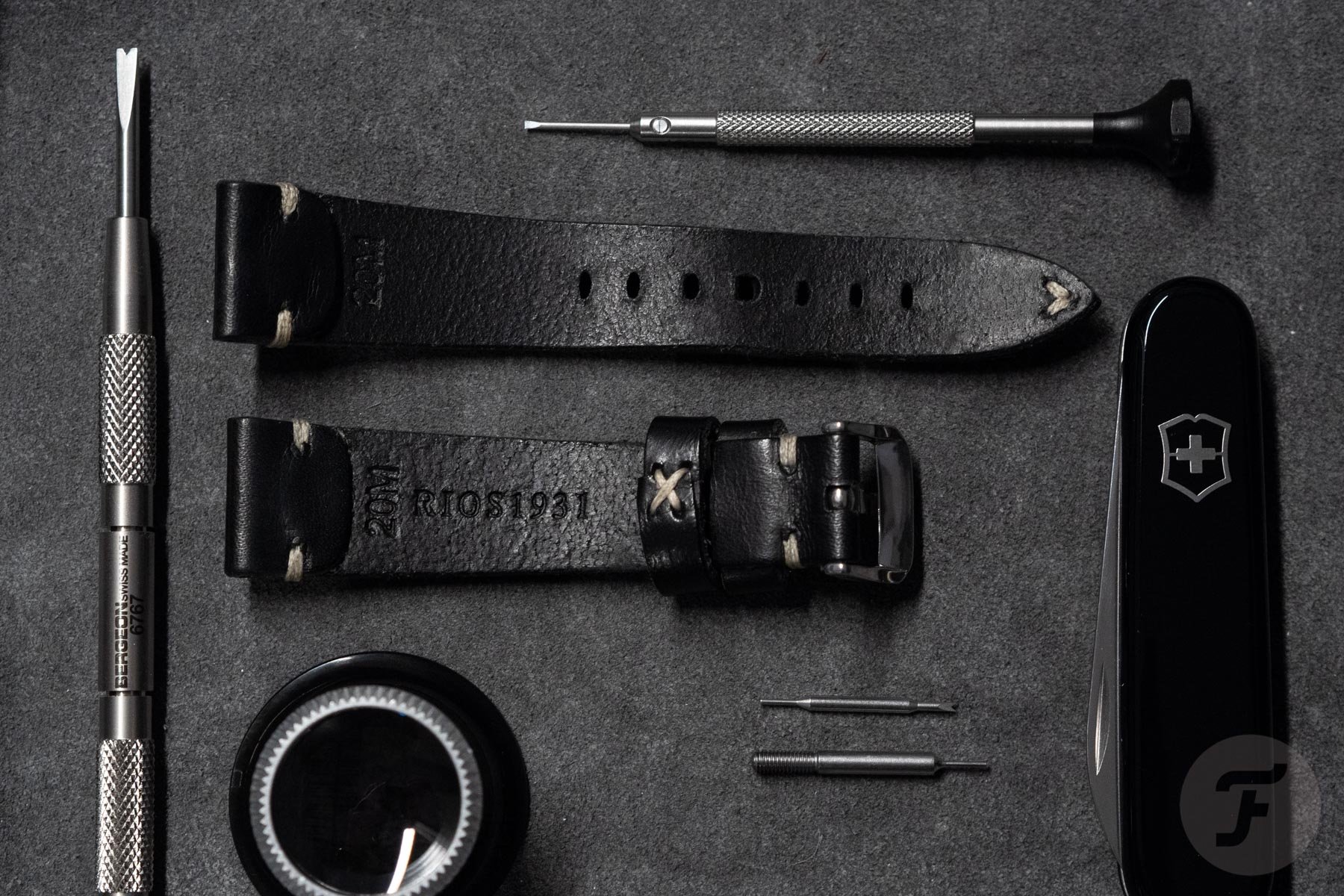 Final Thoughts
Are you looking for the ultimate "vintage" strap for your Speedy? I was too until I found the perfect one, which just so happened to be this offering from Rios1931. It's as good as it gets in the sub-€50 price range, and this is one I am happy to recommend to anyone in the market for this kind of strap. That said, be careful when buying, as usually, the taper is 20/18mm. Make sure you get the 20/16mm tapering strap for the ideal old-school look. I found mine on Amazon in Germany, but I'm sure you won't struggle to find a retailer somewhere online (WatchObsession would be one place to look.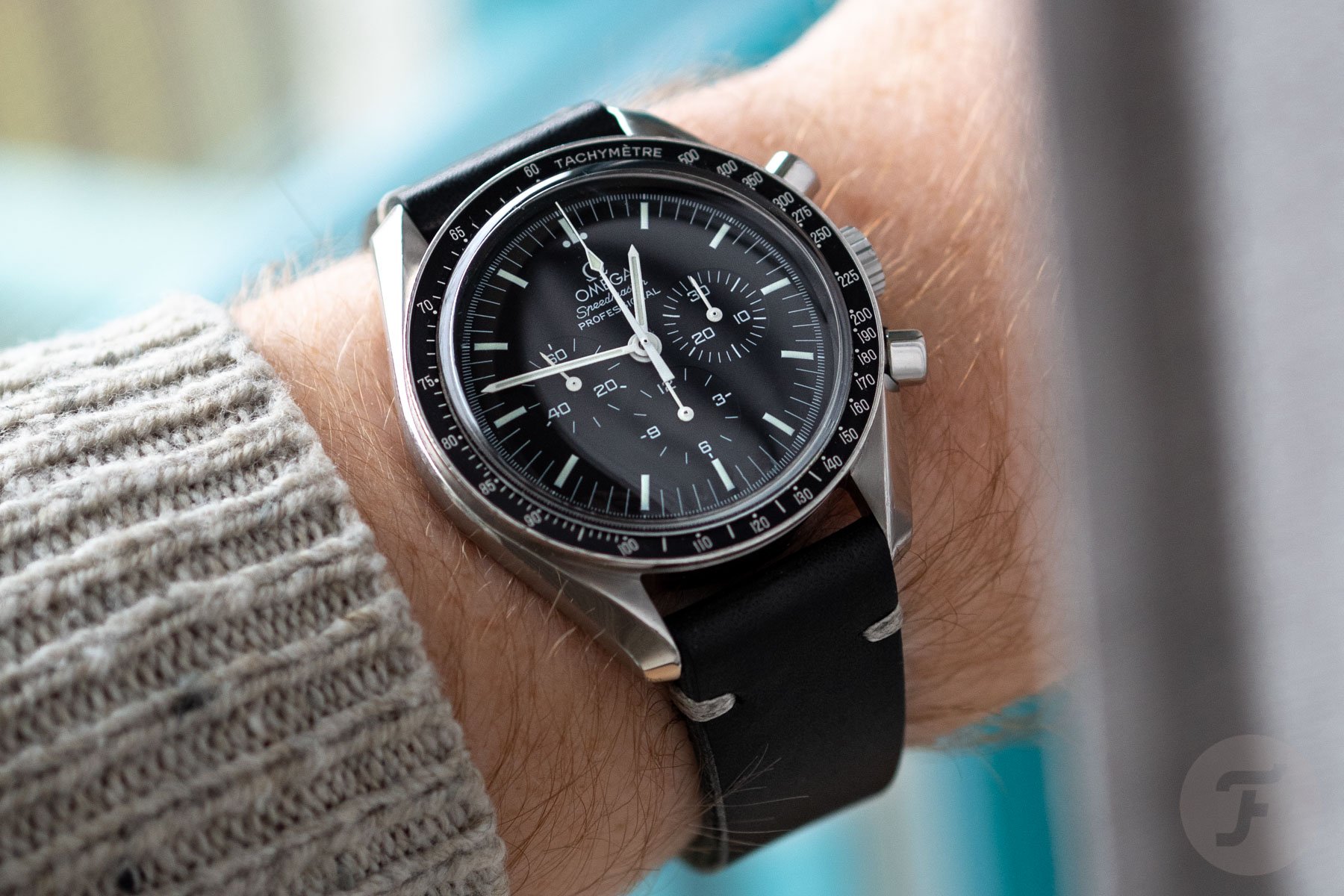 That's it for this week's Strap Check! Tune in next week on Thursday for our next installment. Will it be a Seiko on rubber? A funky bracelet for the Speedmaster? A hand-made alligator strap for a dressy vintage piece? Or a lovely tan suede for a modern all-around watch? Find out next week on Strap Check. For now, share with us some of your favorite watch/strap combinations in the comments below.