Strap Check: Vietnam-Era Camouflage Ripstop On A Vintage Speedy Pro
An Instagram-follower favorite
Welcome to Strap Check, a new column on Fratello where our editors showcase their favorite watch/strap combinations. We all know the feeling. When you've been wearing a watch for weeks on the same strap, there comes a time when the excitement starts to fade a little bit. Maybe that's the time when you start looking—but looking for what? A brand new watch? Sometimes the answer lies not in the watch, but the strap on which you wear it! From the classic to the unique. From cheap NATOs to bespoke leather and special bracelets. This is where we get excited about perfect combinations that make you feel like you've got a brand new watch on your wrist. So tune in every week for a new combination. Are you in a watch rut? Change your strap, and the rest will follow.
Oh boy, not another Speedmaster combo. Although I hear you guys, and I even agree with you to a certain degree, this is not my fault. As a matter of fact, you chose the article topic, albeit unintentionally. One of the reasons I love Speedmasters is their versatility. You can wear one on a bracelet and pair it with a suit or with a shirt and flip-flops, and it will look equally fabulous. But, if you are up for a change, throw that metal band off and look for a strap alternative. Now, I'm not a Speedy-on-rubber type of guy. Wear it with a leather strap or a NATO, no problem, but rubber would just never be my choice. A vintage Speedmaster on a vintage Tropic strap is the "best" I can (and actually did) do, but that's about it. When it comes to leather, however, the options are endless.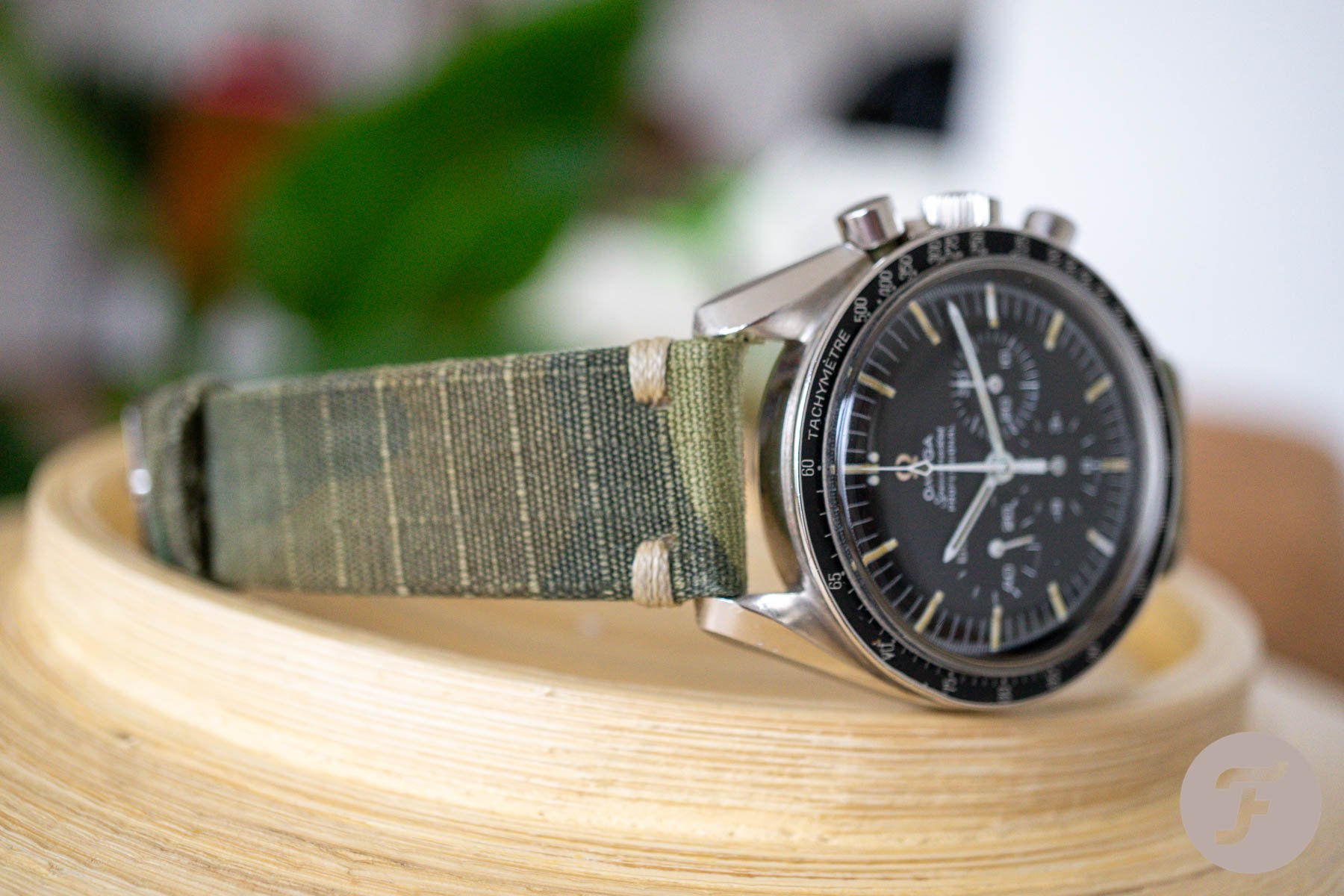 Leather, nylon, and the rest
My Omega Speedmasters often serve as models for various straps in my Watch Strap Review articles. As such, you've probably seen them on an array of colors and types of leather over the years. Furthermore, from time to time, when I get a NATO strap for a review, the Speedy is often the watch I pick to showcase the look. However, the strap or combo I'm featuring today has nothing to do with leather or NATO straps. It might not even be my favorite strap. Undoubtedly though, this strap-and-Speedy combination works. What we have here is a Ripstop strap by G.L.C. I first reviewed this strap a good a few years ago, but at the time, it didn't make a huge splash. The strap was a terrific alternative to suede, crocodile, or vintage leather straps, but perhaps the Ripstop did not become my favorite due to its color or material.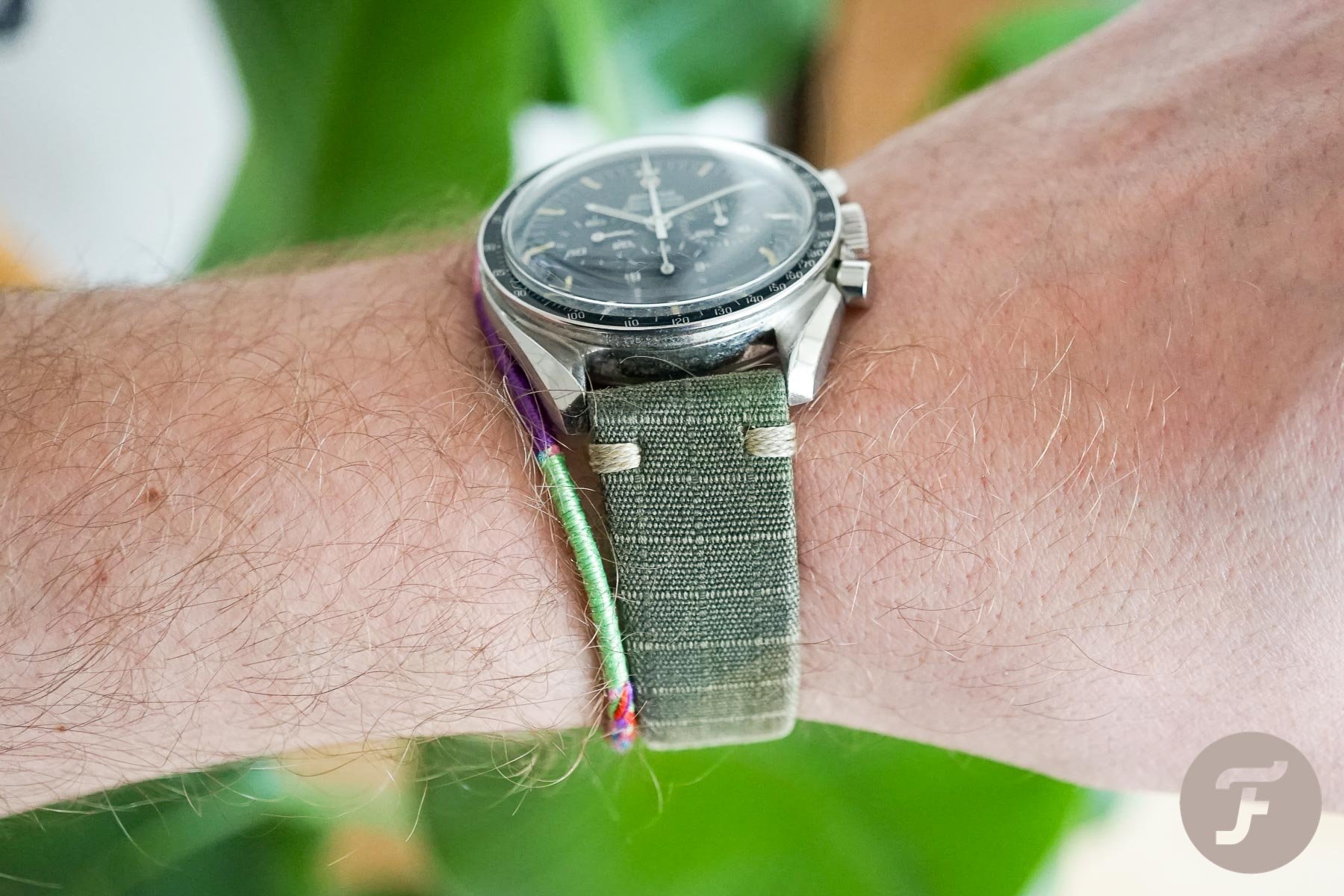 I often swap the straps on my watches. I want to try different colors on different timepieces. On the one hand, it's cool to see how a tone works with a specific case material. Also, a particular strap style can make or break the visuals of a watch. What I do is take out my watches and a few dozen straps and start pairing them up. During one of these sessions, I threw the Ripstop on the Speedy. Due to the material, Ripstop straps are flexible and comfortable but not the thinnest. After a few days, I realized that it's not only super comfy on the Speedy, but looks pretty bad*ss too. So, the combo remained and became an instant sensation on my Instagram profile. Every time I posted the Speedy with the camouflage Ripstop, I was flooded with DMs asking about the maker or a link to their webshop.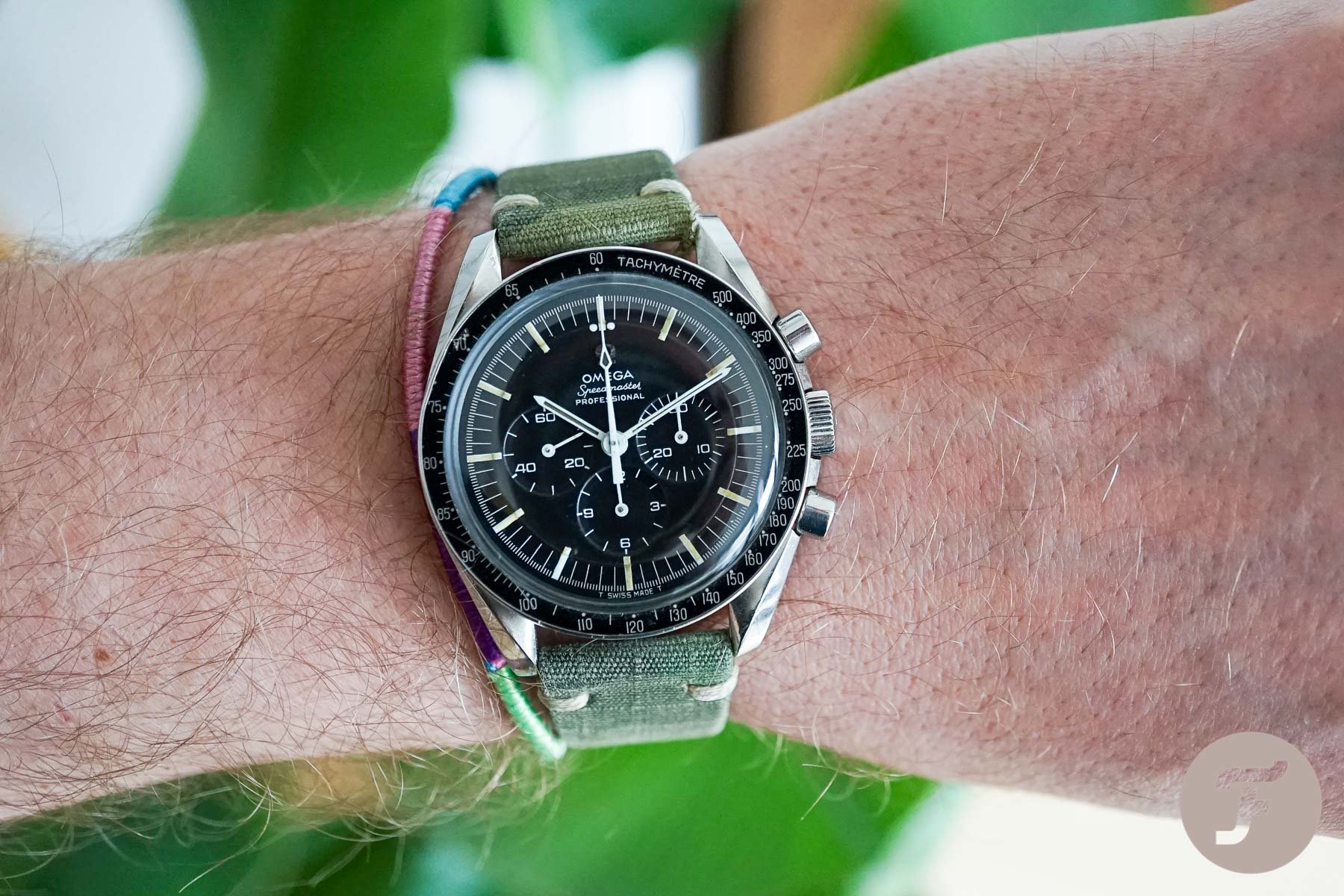 Ripstop
But what is Ripstop after all, and why is it such a big deal? Well, as its name suggests, it is a material that resists ripping and tearing. The project to develop a fabric for military purposes started during the Second World War. The U.S. Army needed a sturdy material for its uniforms, while the Air Force searched for a new fabric to replace silk parachutes. DuPont delivered the solution in the form of a sturdy synthetic thread called nylon. In Ripstop material, nylon threads are placed in the weave of the fabric at specific increments. This interlocking crosshatch strengthens the material and stops it from tearing after the first square. G.L.C. uses the jackets and trousers of Vietnam War-era uniforms to get this excellent camouflage vintage material.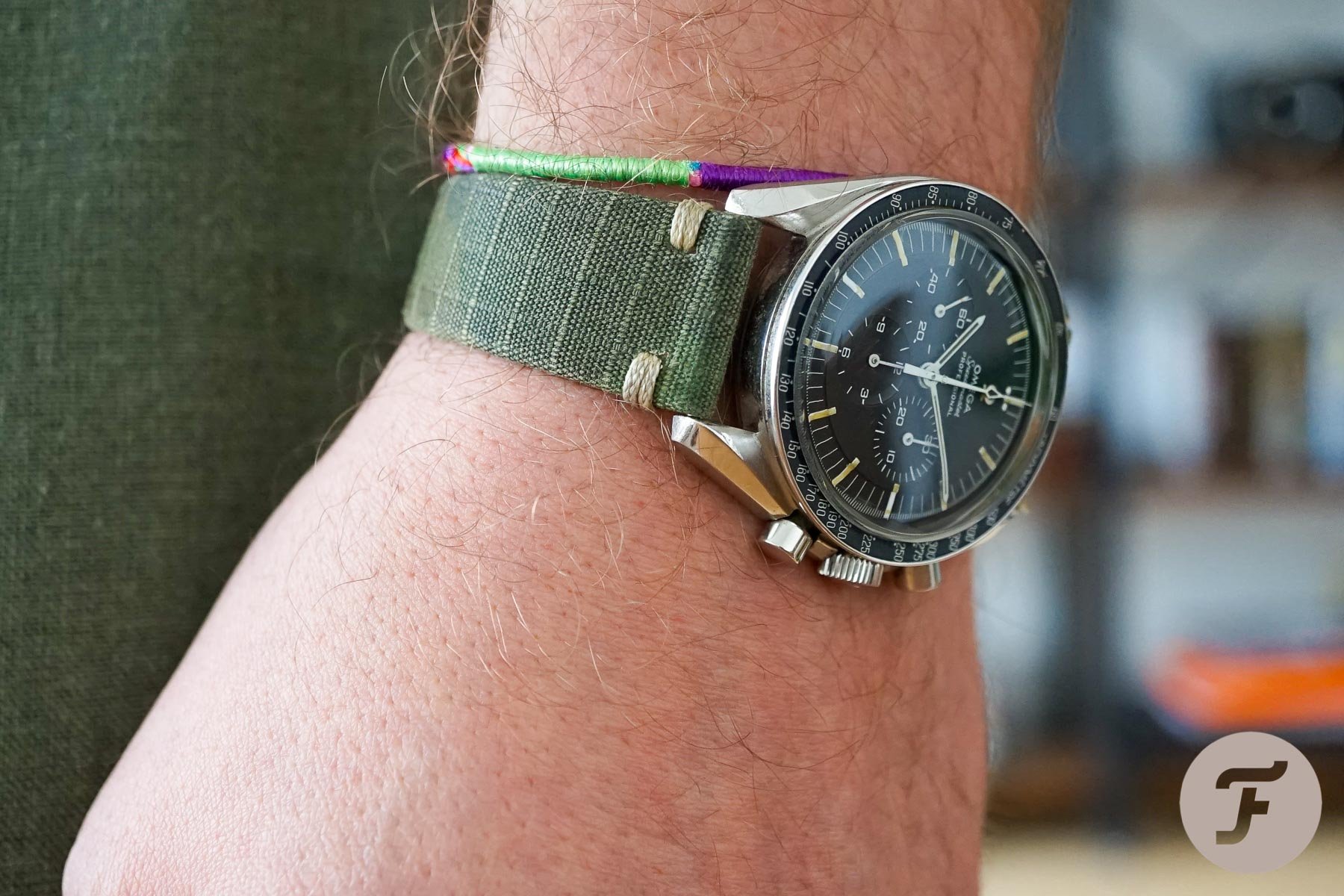 Camouflage
Right, camouflage. Perhaps the match-up does not only work because of the Ripstop. Maybe it's the military feel of camouflage that skyrocketed this pairing on my Instagram feed. I'd love to think that it's everything combined. The vintage style, the side-stitching, the Ripstop, and the camouflage pattern all matched with the Speedy spoke to many of you. I can't blame you for that; it's a sweet look. I usually don't like heavy patterns or colors on a strap. Camo, however, just seems to work when added in small doses. For example, camouflage pants are a no-no for me. But a camo pattern on socks? I can live with that. Whatever the reason is, the G.L.C. Ripstop strap on my vintage Speedy is a hit and a perfect summer look.
Want it? Get it!
I'm not sure if there are any other companies making similar straps. If there aren't yet, after this article, they might consider it. The good news is that G.L.C. offers a large variety of Ripstop straps. If you are not into side stitching, you can get it in another design. G.L.C. even provides Ripstop NATO straps, though that type would not be my personal choice. I also think that Ripstop camo straps might not be the perfect fit for your vintage 1950s chronographs. Those have slimmer cases and much more elegant profiles. But choose any chronograph or perhaps military watch from the late '60s onwards, and you are good to go.
Have you ever tried a Ripstop strap? Do you dig the look and the material? Let me know in the comments.