A Closer Look At A Submariner Big Crown Four Liner 6538
This is a Rolex you won't see every day: the Submariner Big Crown Four Liner 6538. Four Liner refers to the four lines of text on the dial that not only indicates the model name (Submariner), depth rate (200 meters / 660 feet) but also that it is an Officially Certified Chronometer.
Submariner Big Crown
Although it is definitely related to today's Rolex Submariner, this reference 6538 chronometer model is something else! With a diameter of 'just' 37.5mm, it looks very distinguished and the big crown (8mm diameter) gives you immediately the feeling of having a proper vintage tool watch on the wrist.
A 1957 Reference 6538
In the early days of the Submariner (introduced in Basel in 1954), things were a bit messy with the references and models. It clearly shows that Rolex was still 'prototyping' with their professional divers watch in those first few years. References 6200, 6205 and 6205 were available with quite some variation in the dials. You'd even see one with the 'Explorer' set-up regarding the dial. With the later 6536(/1) and 6538, the way was paved for the later 55xx series, but they still came with quite some variation. The 6536(/1) was rated 100 meters water resistance and the 'Big Crown' 6538 200 meters. The Submariner Big Crown 6538 was in production from 1954 to 1959. The watch we have here dates back to 1957.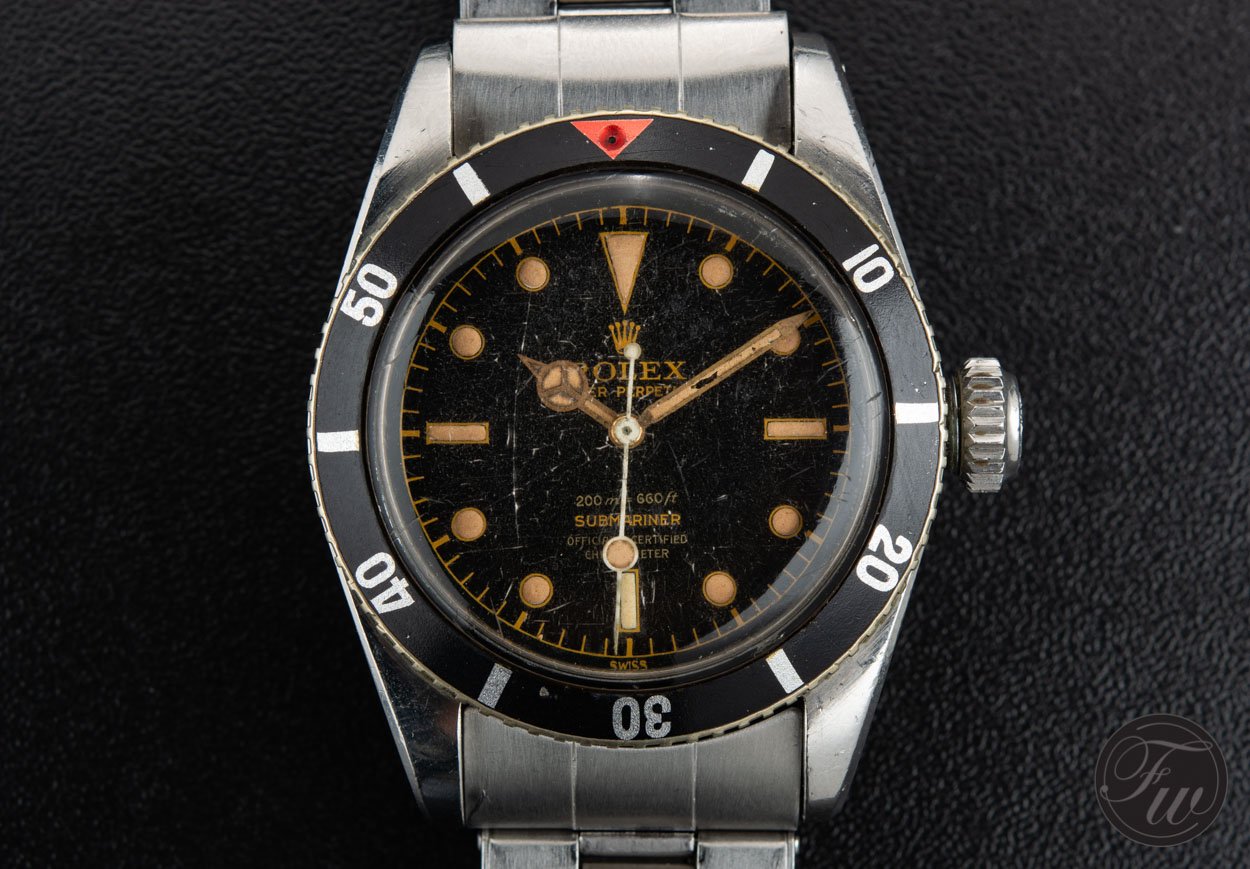 Big Crown – James Bond
Although many vintage Rolex Submariners (here is our article on the history of Submariners) are being referred to as 'James Bond' watch, only the reference 6538 with big crown has been used in 007 films Dr. No, From Russia with Love, and Goldfinger. The earlier reference 6200 and later 5510 also had big crowns for example, but it was exactly the reference 6538 watch that was featured in these movies. The crown has been signed with 'Brevet', which is the French indication for a patent.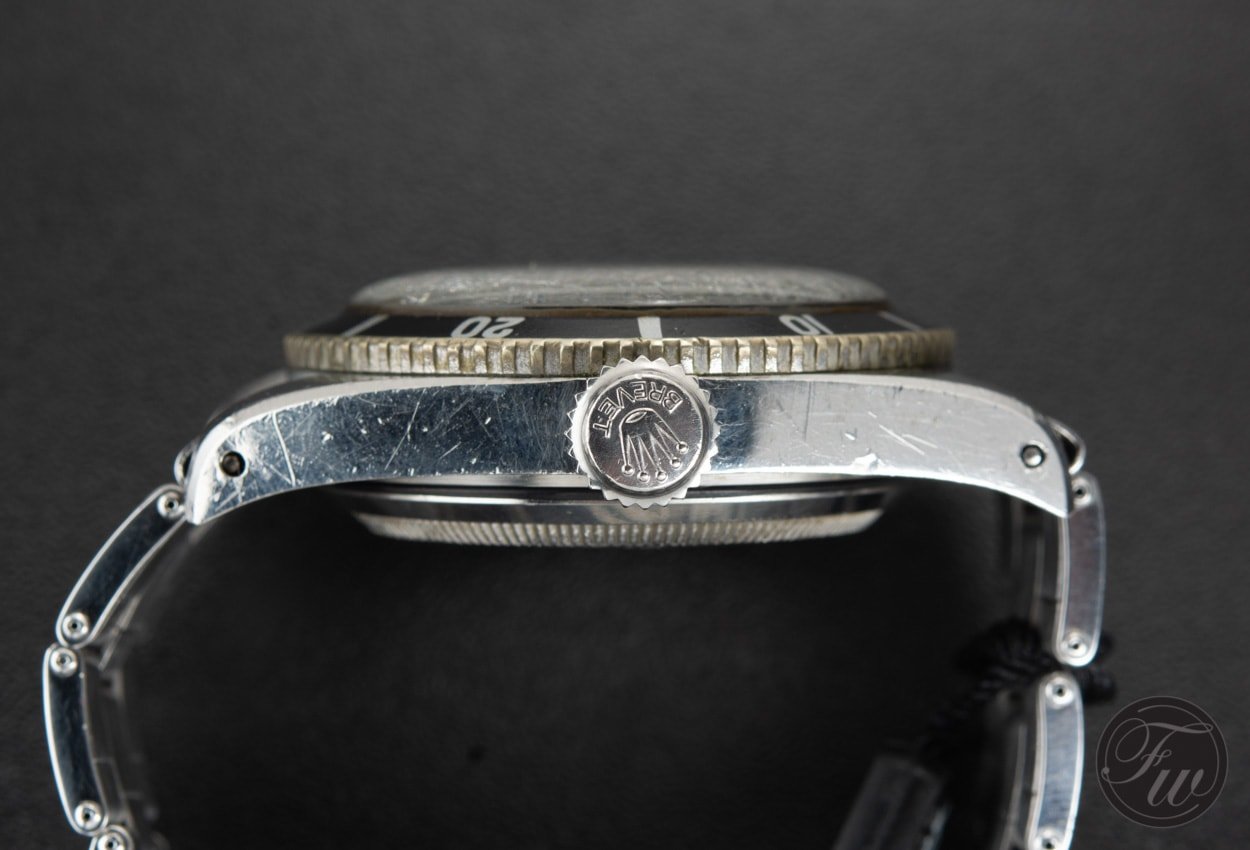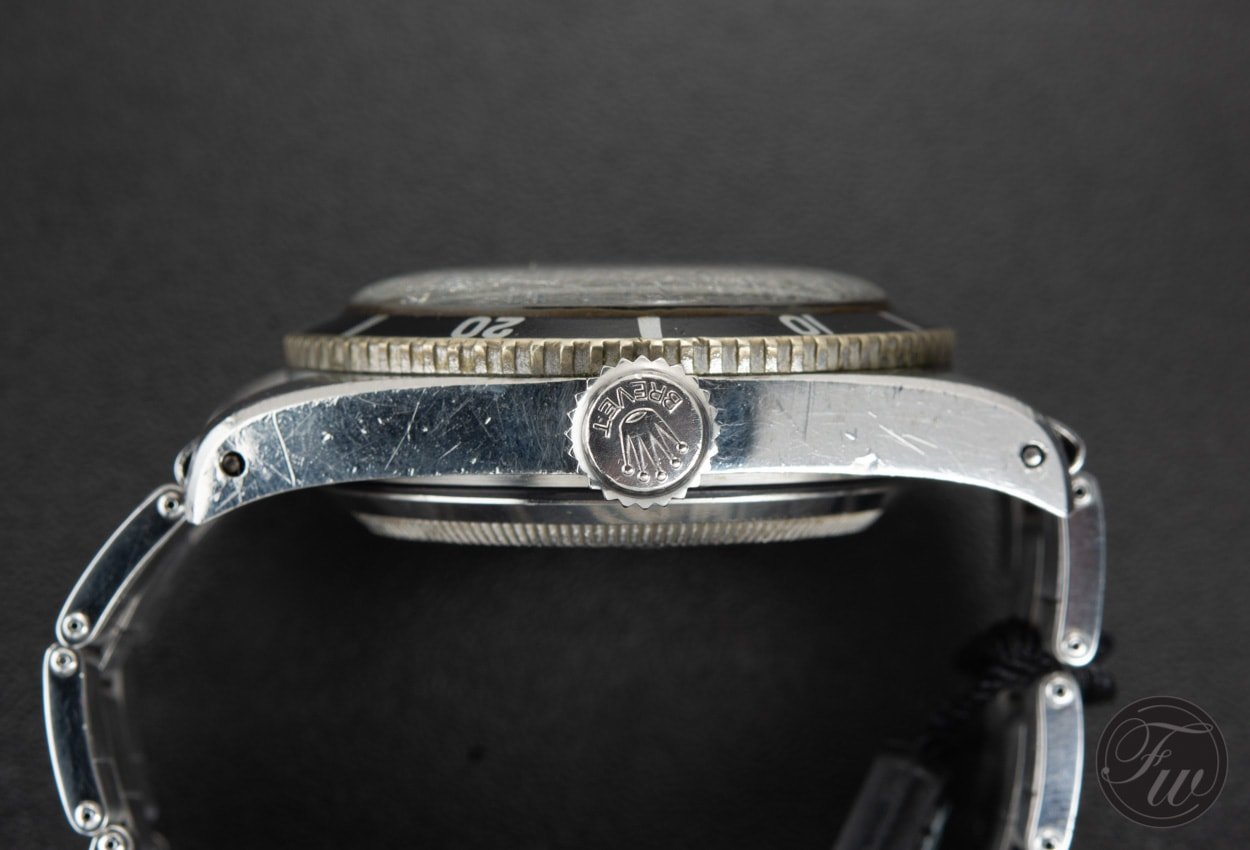 Chronometer Cal.1030 Movement
New for the 6538 (and 6536/1) was the caliber 1030 movement in 1956. The 6538 references prior to 1956 also had the caliber 1030 movement, but without the chronometer certification. Of course, Rolex needed to express this certification and did so on the dial with the famous two additional lines of text: Officially Certified, Chronometer. So this explains the 'four liner' designation. There are a number of variations again in this printing, as later on, Rolex added 'Superlative' in front of 'Chronometer'.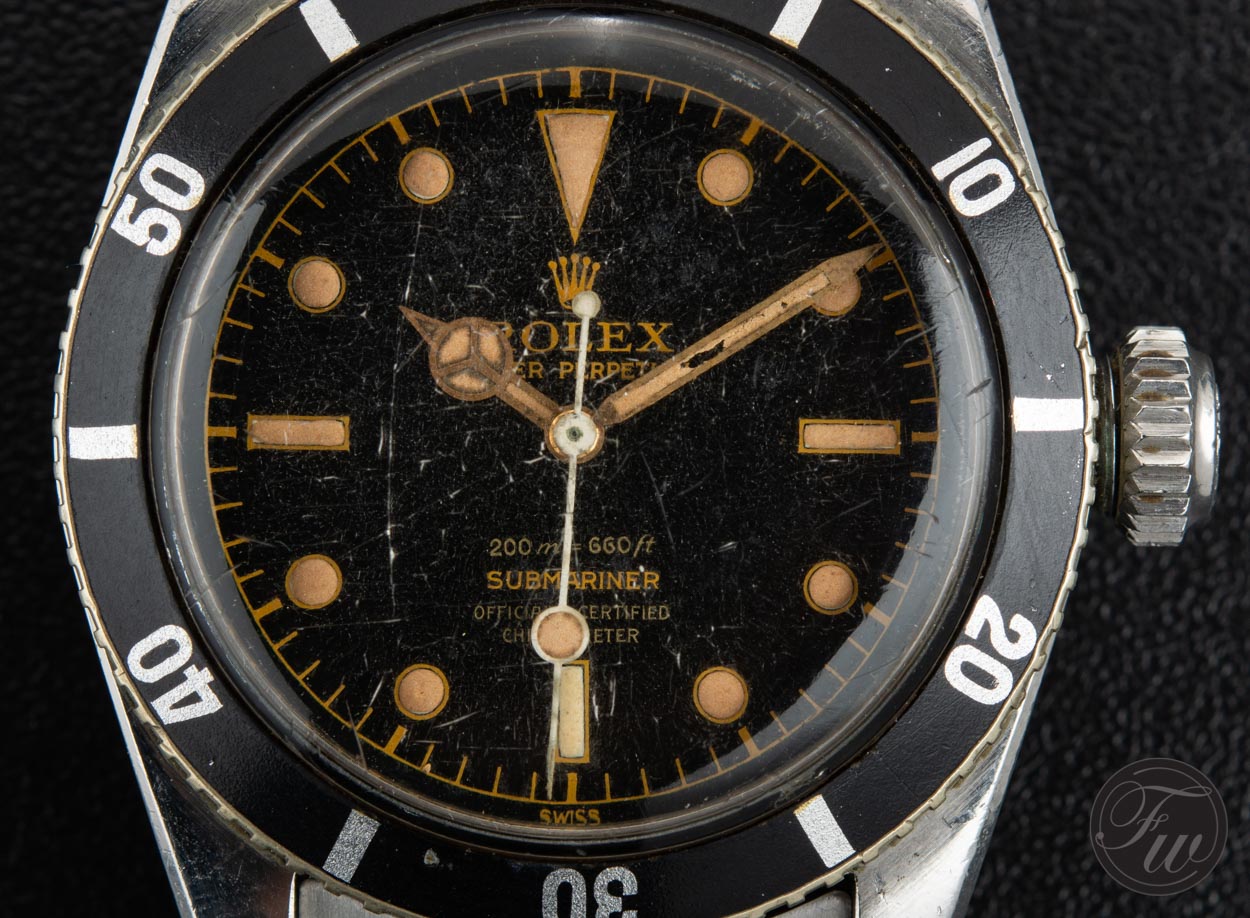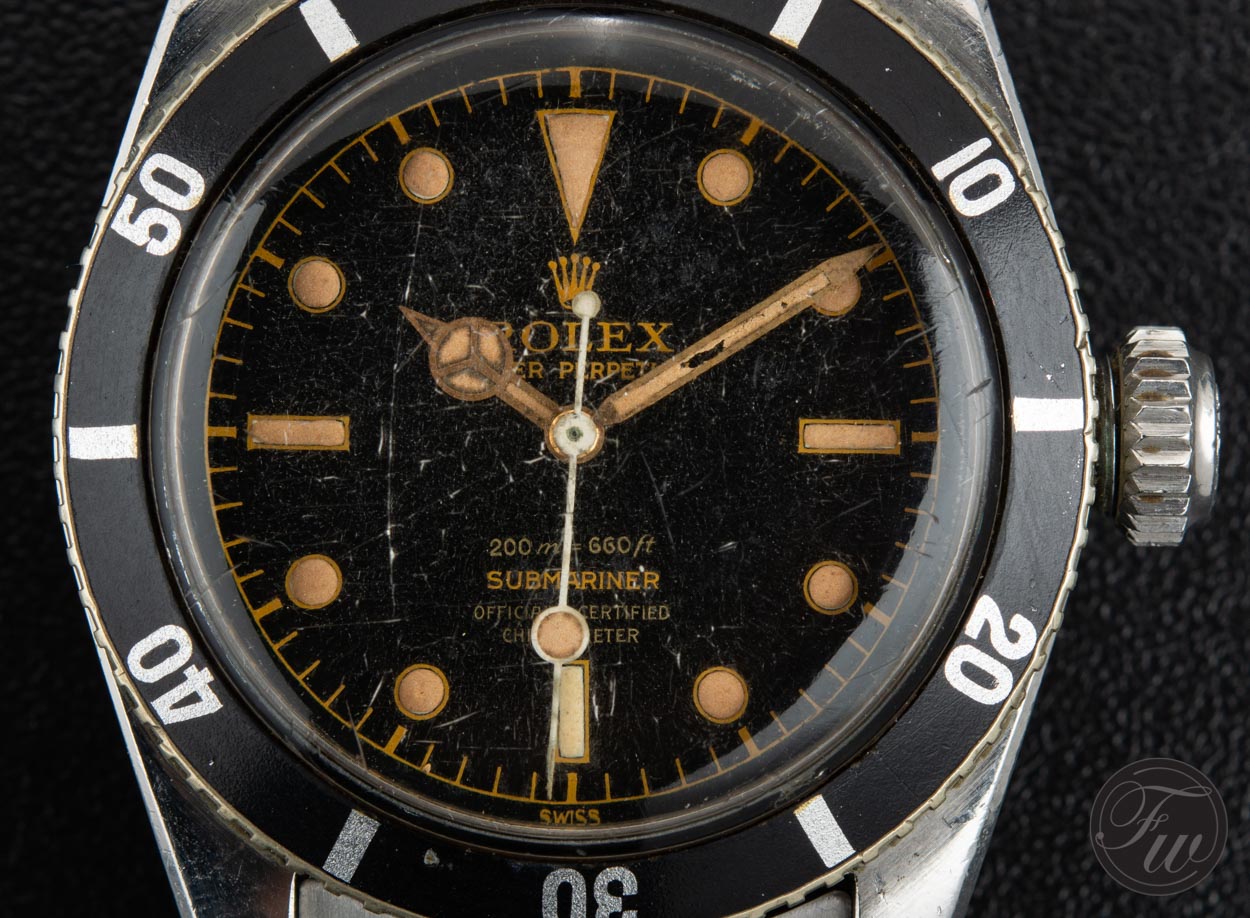 Sought After
The Rolex Submariner Big Crown is a highly sought-after model, especially this ref. 6538. Phillips showed me this Big Crown Four Liner during their viewings in Geneva last month, and this particular watch will be auctioned on December 5th 2018 in New York. The original chronometer certificate from 1957 is also part of the lot, just like the box and original guarantee paper.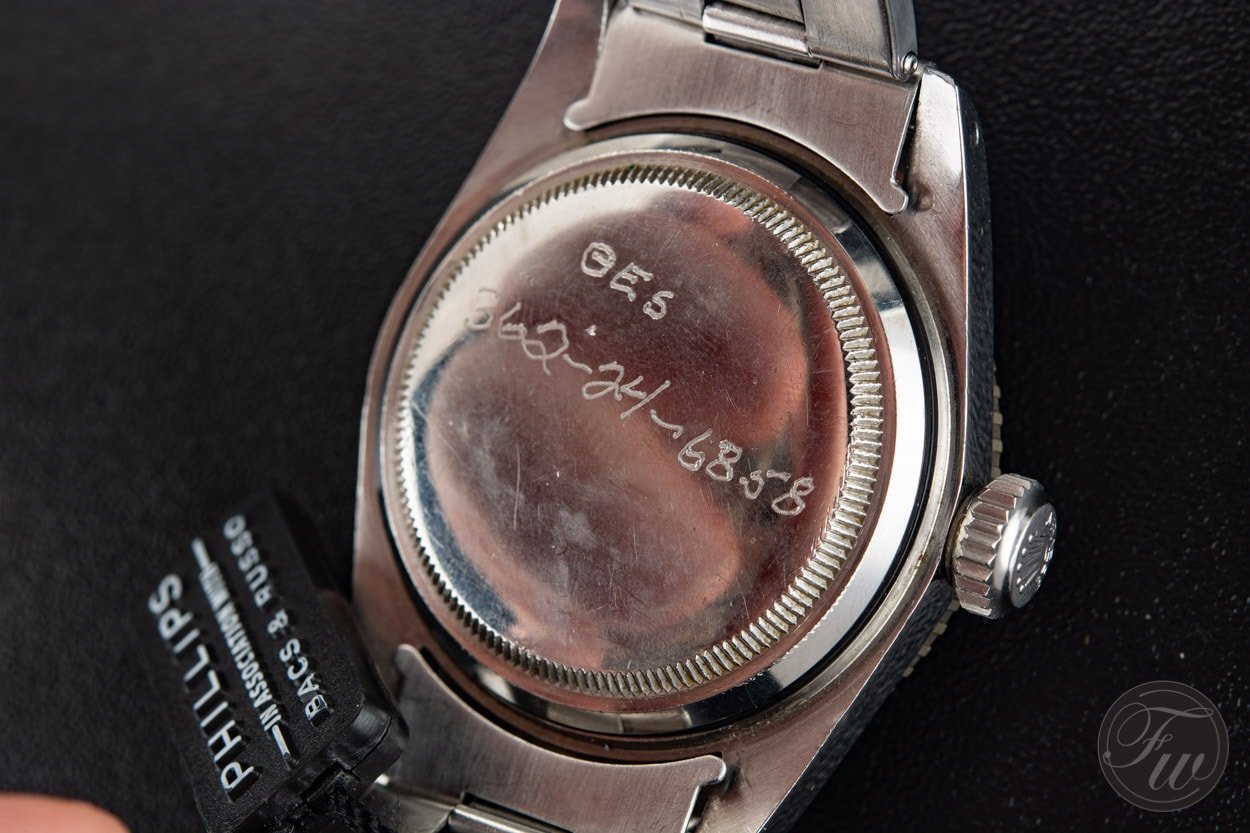 On the case back, there is this engraving that reads "GES 362-24-6858". It is to be believed by Phillips that it refers to one of its previous owners by the name of George E. Stoddard (1924-1997) and that this person had his initials and social security number inscribed. According to the auction house, this was done in case of loss (and particularly relevant if Stoddard served in the military).
Bezel
Phillips indicates the bezel of this watch to be exceptionally rare, also referred to as the Mk2 bezel. A red triangle, no minute divisions (normally until the 15-minute marker), drilled and no lume pearl. I had never seen this one before, but I am surely not a Submariner expert.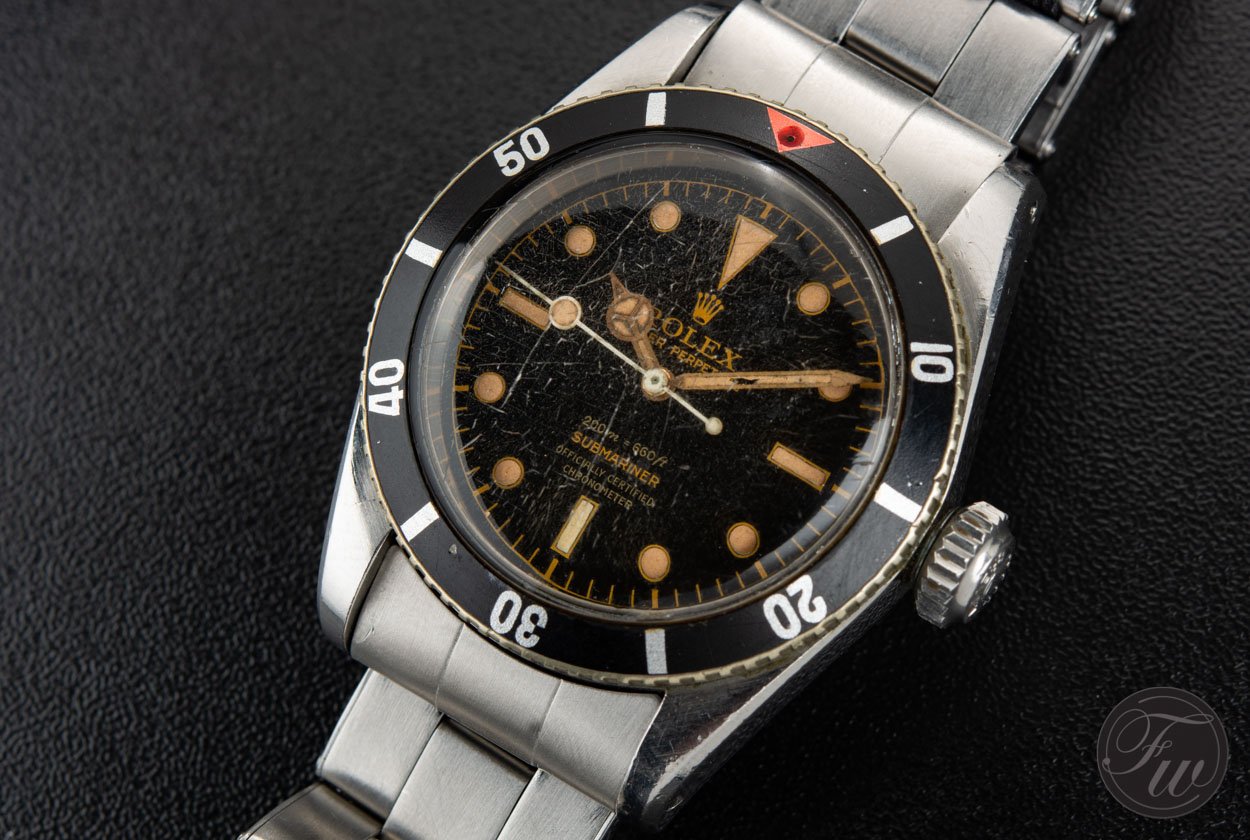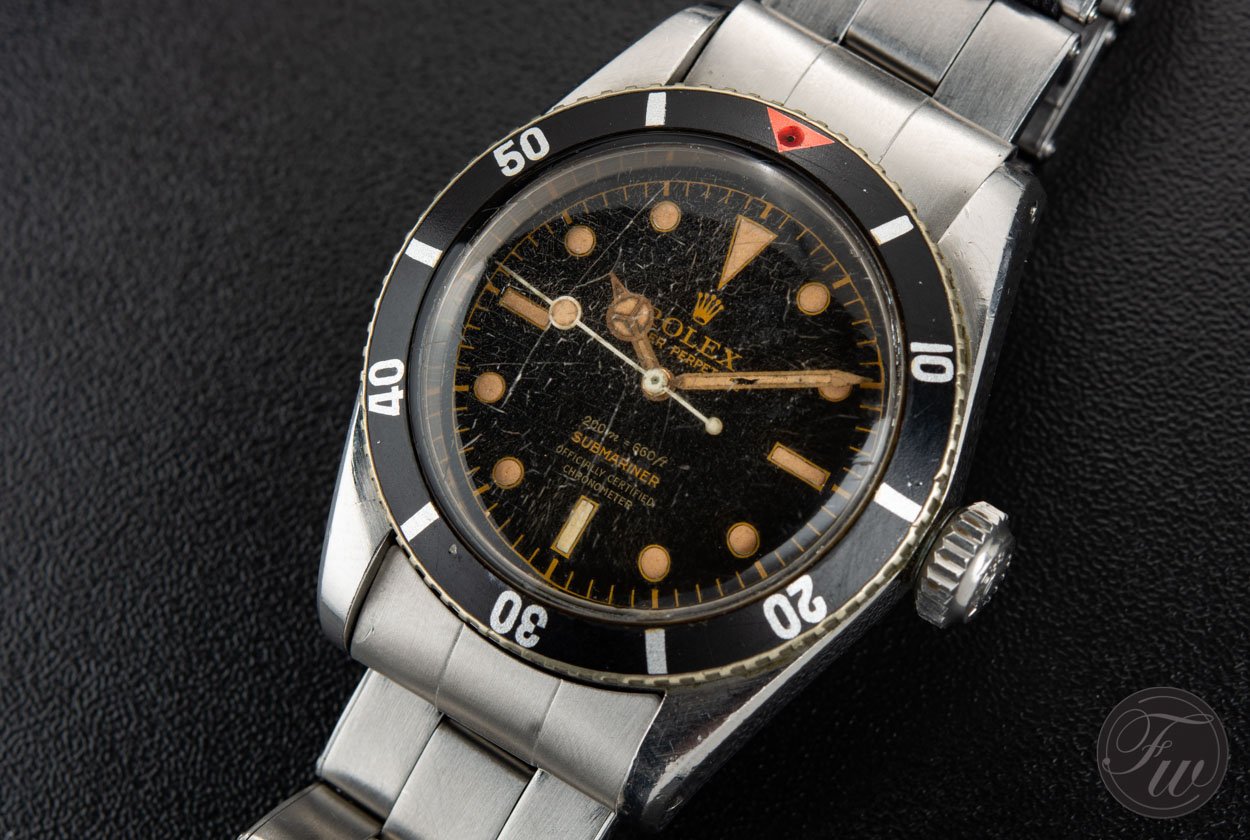 Phillips Auction
This Rolex Submariner Big Crown ref.6538 has been estimated between $300,000.- and $600,000.- USD (€261,000-521,000) which shows that expectations are high. It is definitely a rare piece, but I don't feel the love myself. The superlatives (to keep it in style) used by Phillips in their catalogue description of this watch are breathtaking, spectacular, and fascinating. What the last watch auctions in Geneva showed is that collectors are definitely willing to spend on pieces, as long as they are of high quality. A good trend, if you ask me. I am no soothsayer though, I have no clue where the bids on this Submariner Big Crown 6538 Four Liner will end. It is definitely rare and sought after, and perhaps the reference to own if you are into collecting Rolex Submariner watches.
The auction lot can be found here.