Summer Splash — Round 1: Thor's Doxa SUB 300 Divingstar Vs. Daan's Autodromo Group B Aqua
Which of these colorful summer watches will take the first win? Vote now!
All right, here we go. Grab your sunglasses, get yourself an ice-cold drink, and get ready for round one of this year's Fratello Summer Splash! The rules are simple: pick your favorite brightly colored watch and let it go head-to-head with your opponent's summer watch of choice. Today, Thor and Daan will bite the bullet first, and at the end, you'll decide who takes the win! Will it be Thor's very own Doxa SUB 300 Divingstar that prevails, or will Daan claim the victory with the Autodromo Group B Aqua? Let's find out!
This year, the only physical requirement for a watch to participate in the competition is that it has to be colorful. That means no black, white, or gray dials this time. Other than that, basically, anything goes. It doesn't need to be water-resistant or a dive watch per se, and in terms of pricing, there's also no minimum or maximum. The watches, however, should all be readily available for anyone to buy. So, discontinued, waitlisted, and vintage watches are out. And remember, there are prizes to win here for you as well! Make sure to read how at the end of this article. All right, is everything clear? Good, then I think we're ready to go! Take it away, Thor!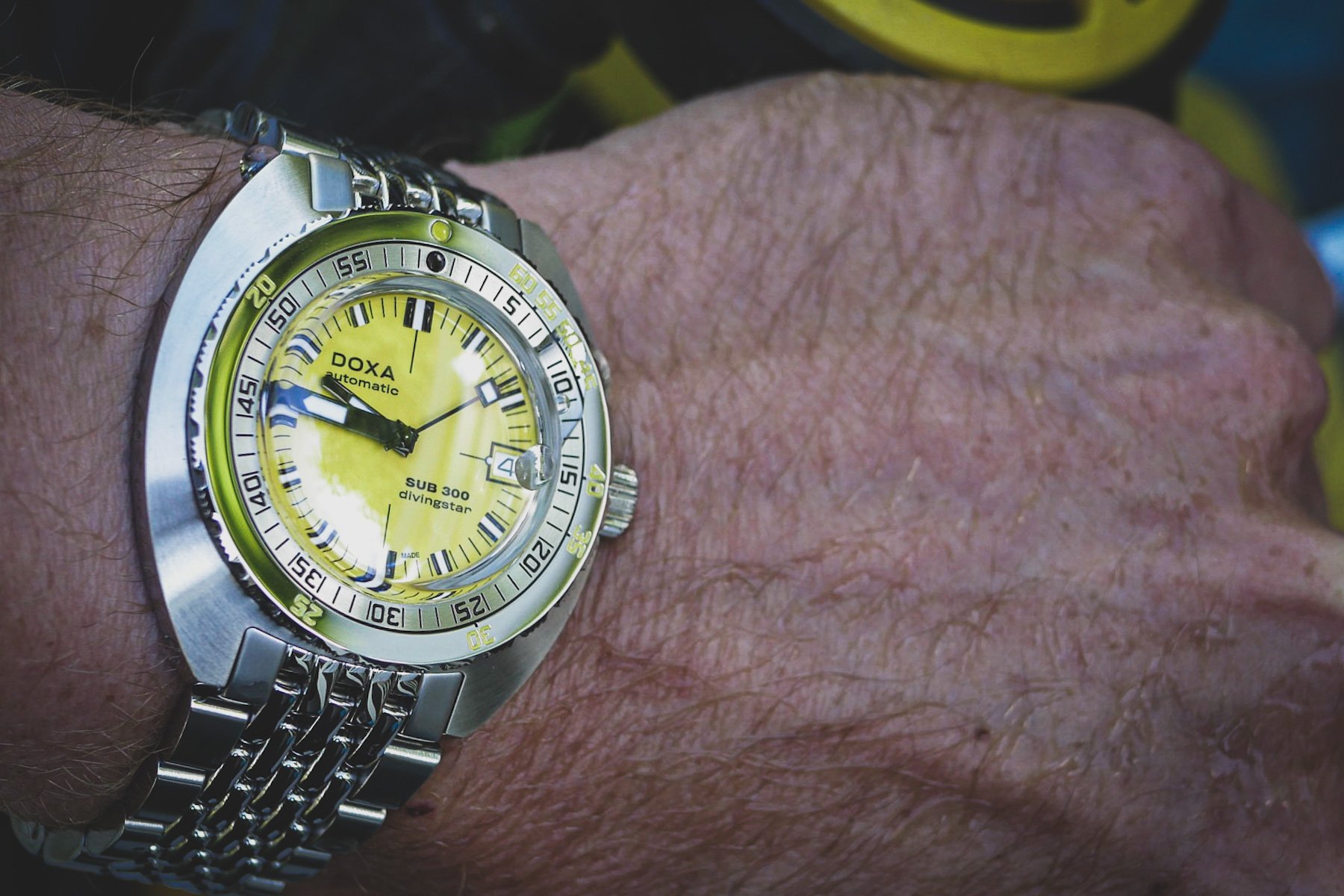 Thor's pick: Doxa SUB 300 Divingstar
I know, the Autodromo is a cool watch if you're into cars, but no matter how good your sales pitch is, it doesn't stand a chance against the lemon-popping freshness of the Doxa SUB 300. And to make this even more unfair, I have the brightest, yellowest dial on the market, the Divingstar. I have had many watches come and go, but this is an absolute fave, and it's staying. I mean, it's worth it for the life-affirming effect alone. On any given day, whether the weather is gray or not, when my task list swamps me or my wife is mad about something, this is the cure. As banal as it sounds, it's a smile-inducing tool, and the fact that it represents the birth of SCUBA diving and Jacques Cousteau is a sweet bonus. You'll feel like you're time-traveling back to the swinging '60s, while only a quick glance at the sunshine on your wrist will make your day.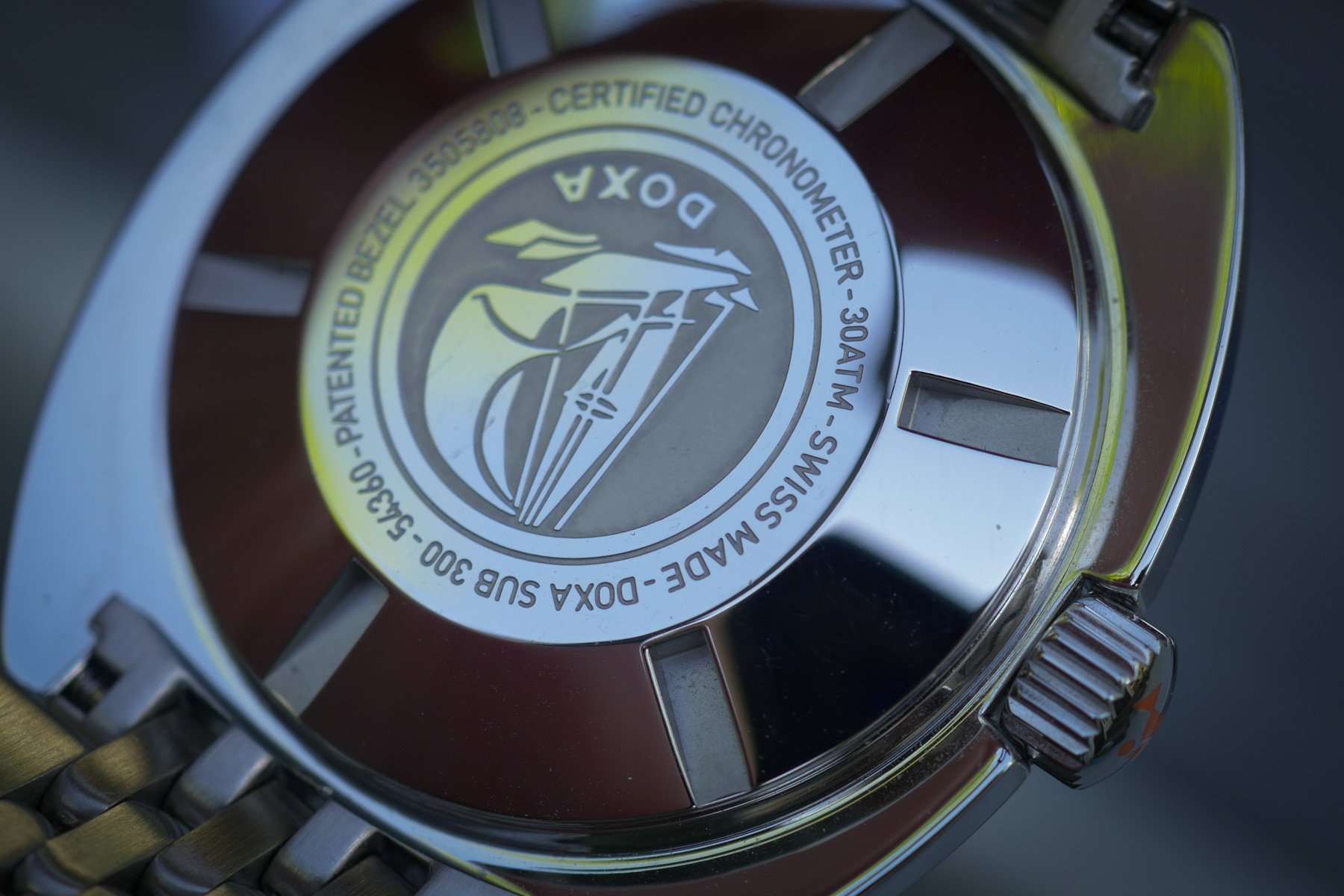 An unexpectedly blingy tool
I'll be honest here, Daan. The SUB 300 has such a massive presence that I've had to mute the yellow slightly in my shots, but even then, it's not a fair fight. The lemon-popping SUB 300 gets me wondering every time I put it on. No 42.5mm watch has any right to feel this small. The scalloped back of the UFO-shaped case does wonders for the wearability, while the polished sides make it glint temptingly in the sun. It sits super flat on the wrist thanks to its curving shape, and visually, it does a clever trick. It has a big presence thanks to its color, but the mad busyness of the no-deco bezel and dial shrinks it. The dial itself is smaller than the dial in one of my 38mm watches, with a crazy diameter of about 28mm. But it will wow you, and it is intensely legible with those glossy candy-licorice hands. The only downside is pretty poor lume, but it is still a retro dive tool if you have a wetsuit.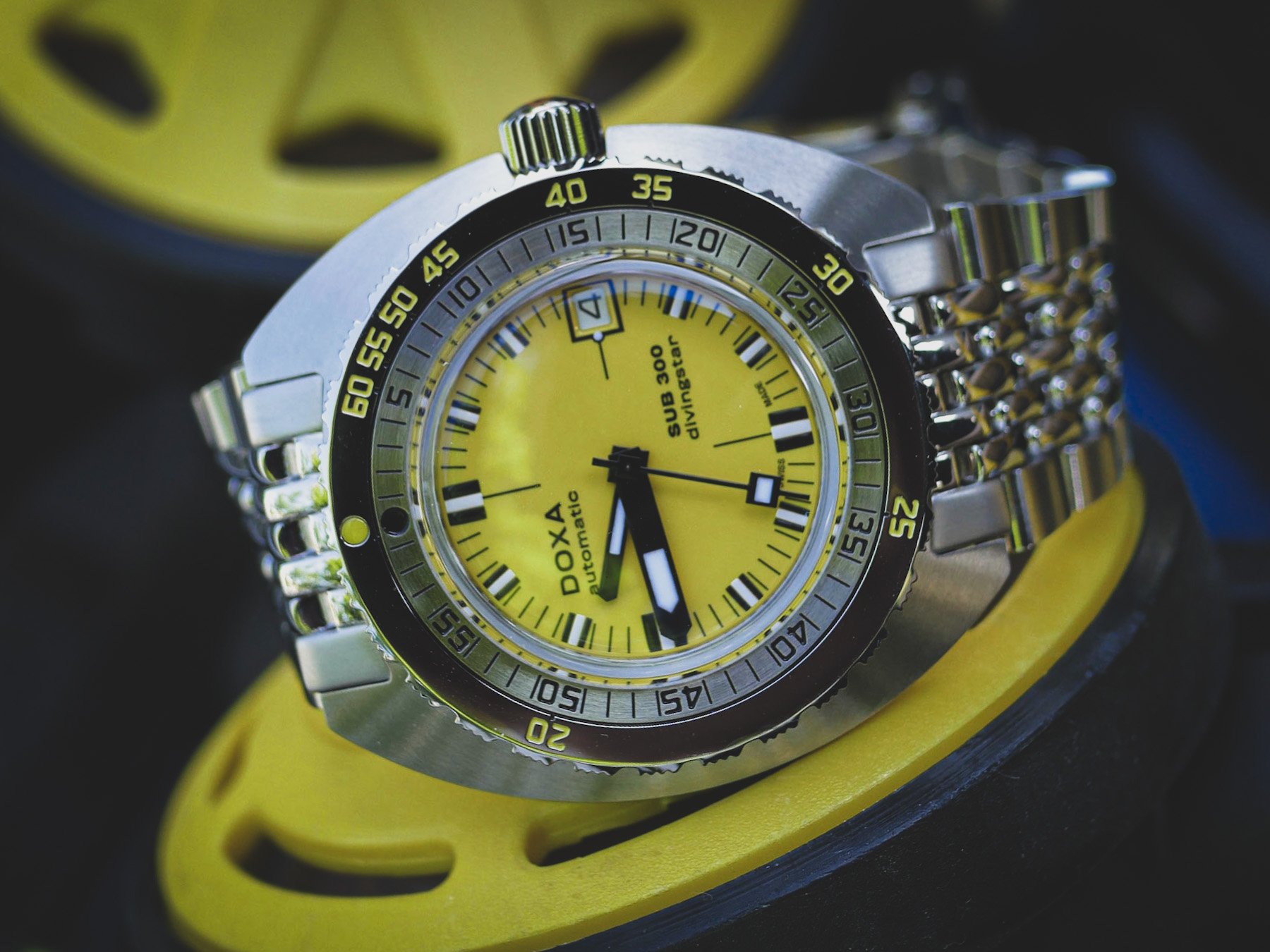 A delicious blend of period perfection with added accuracy
The nature of the Doxa SUB 300 is comprised of juxtapositions, and those very contrasts make it a winner every time. Wear it next to a guy with a Rolex or another piece of Swiss horology at a party, and it's the SUB 300 that will entice people to ask questions, not the everyday grails. And due to its slinky wearability, it can even be a perfect cheeky twist to that suit you never wear anymore. It is even louder on the matching rubber strap, but I couldn't resist the Beads of Rice bracelet. It belongs to the Doxa and cements its '60s provenance.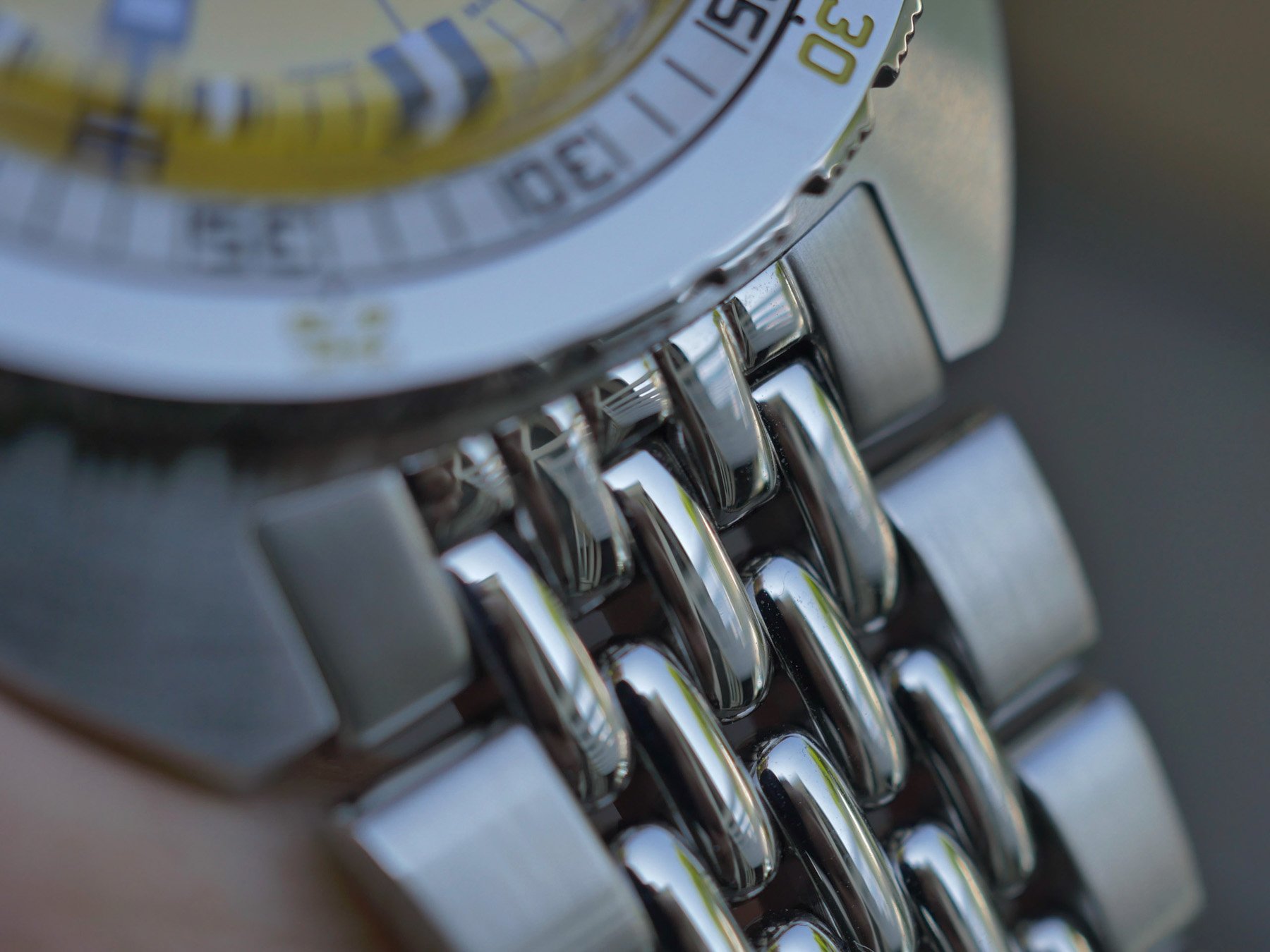 The period perfection is perhaps taken too far with the rather thin clasp, but once it's on the wrist, wow! The softness and polished center section of the bracelet feel as soft on the wrist as the bracelet is reassuringly weighty. I have a feeling I'm winning, so I probably don't even need to mention the movement… But the ETA caliber in the SUB 300 — whose case is depth-rated to 300 meters, by the way — is chronometer spec, COSC-tested, and it beat my Black Bay Fifty-Eight in the accuracy game. Mic properly dropped.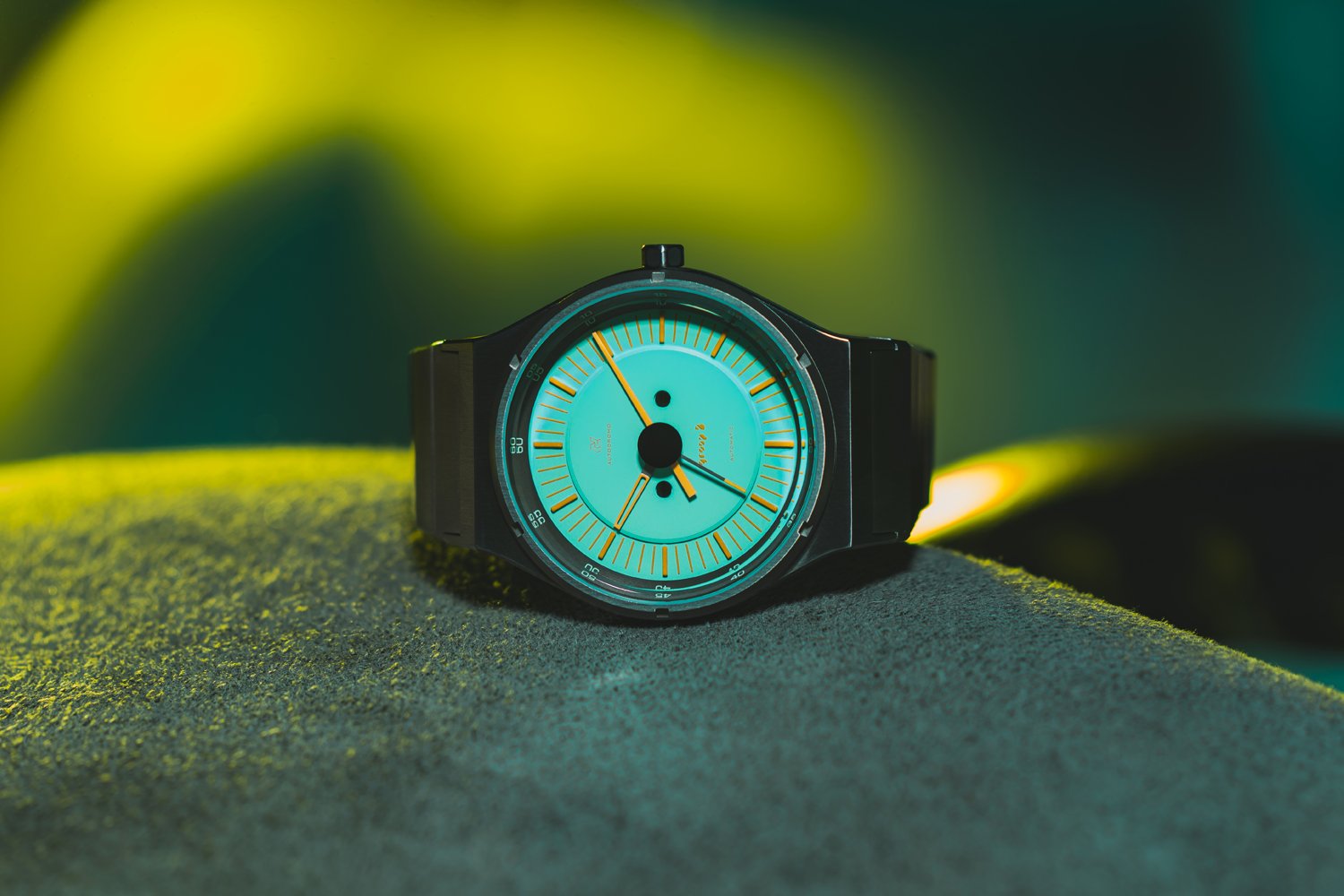 Daan's pick: Autodromo Group B Series 2 Aqua dial
Oh, wow, Thor… The overestimation is dripping off the walls here, and it looks as nasty as the toned-down banana dial in that Doxa of yours. I guess it's got the history, the impressive water resistance, and high accuracy. But does that really matter when the thing is strapped around your wrist? As you already mentioned yourself, it looks more like a UFO than a professional diver's watch. I've worn the SUB 300 Searambler for a while recently, and at first, it's a fun and different piece on the wrist. But after a while, it just starts to feel out of proportion with that tiny dial and the huge overhanging stainless steel wings. No, no, I'd rather wear something sleeker. Even if it has less impressive history and features, at least it's a more original piece and not another re-edition of a heritage diver.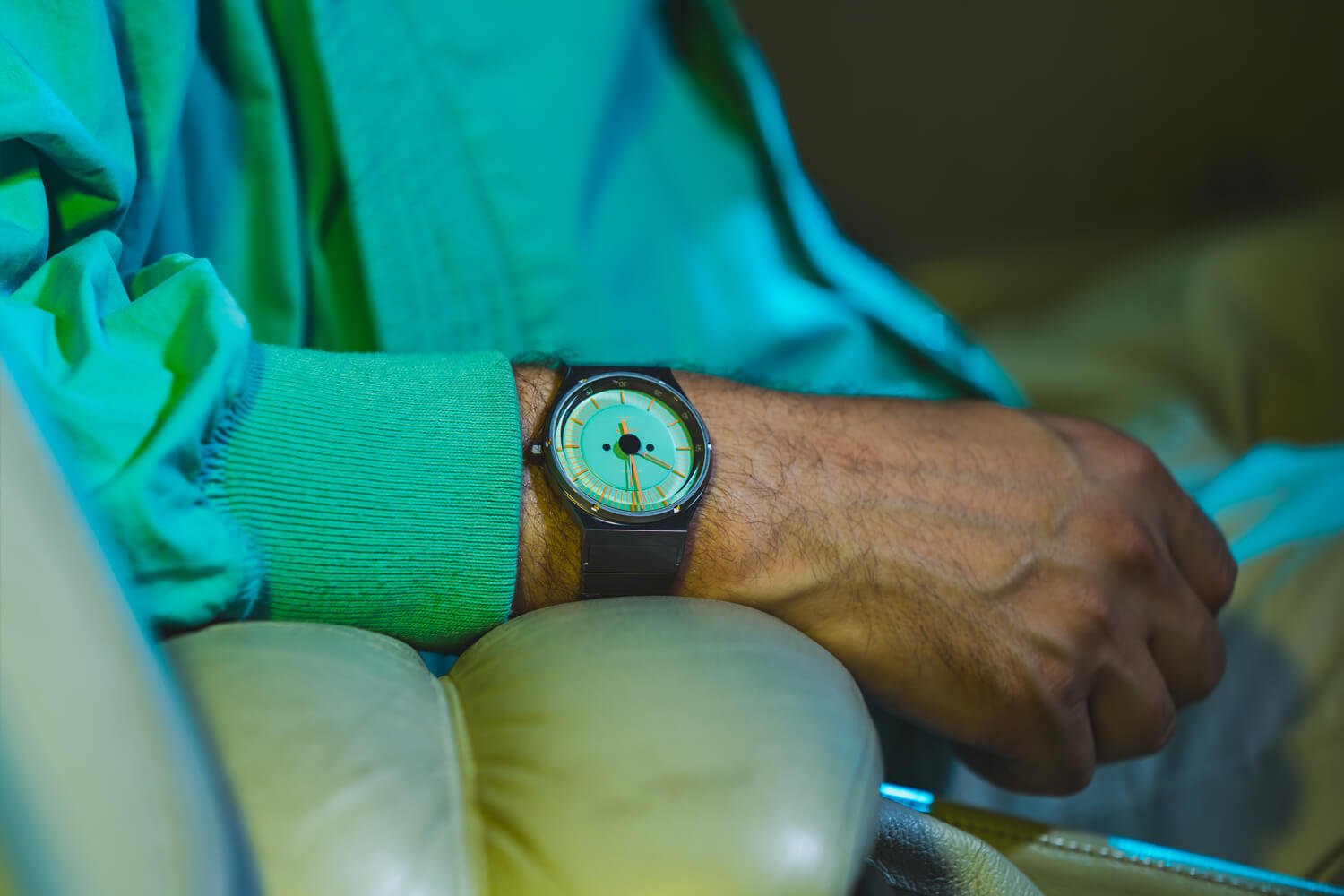 Enter the Autodromo Group B Series 2 with its beautiful aqua dial, which is at least as bright as the yellow dial on that SUB 300. I immediately knew which watch to pick when this Summer Splash competition came up during one of our weekly meetings. Autodromo is a brand that deserves a lot more attention, in my humble opinion. Founder Bradley Price is able to design very original watches that ooze '60s, '70s, and '80s motorsport. I own the brand's Intereuropa, a watch with yet another beautiful Nassau Blue dial. It totally makes me feel as if I'm driving an old convertible through the French Riviera!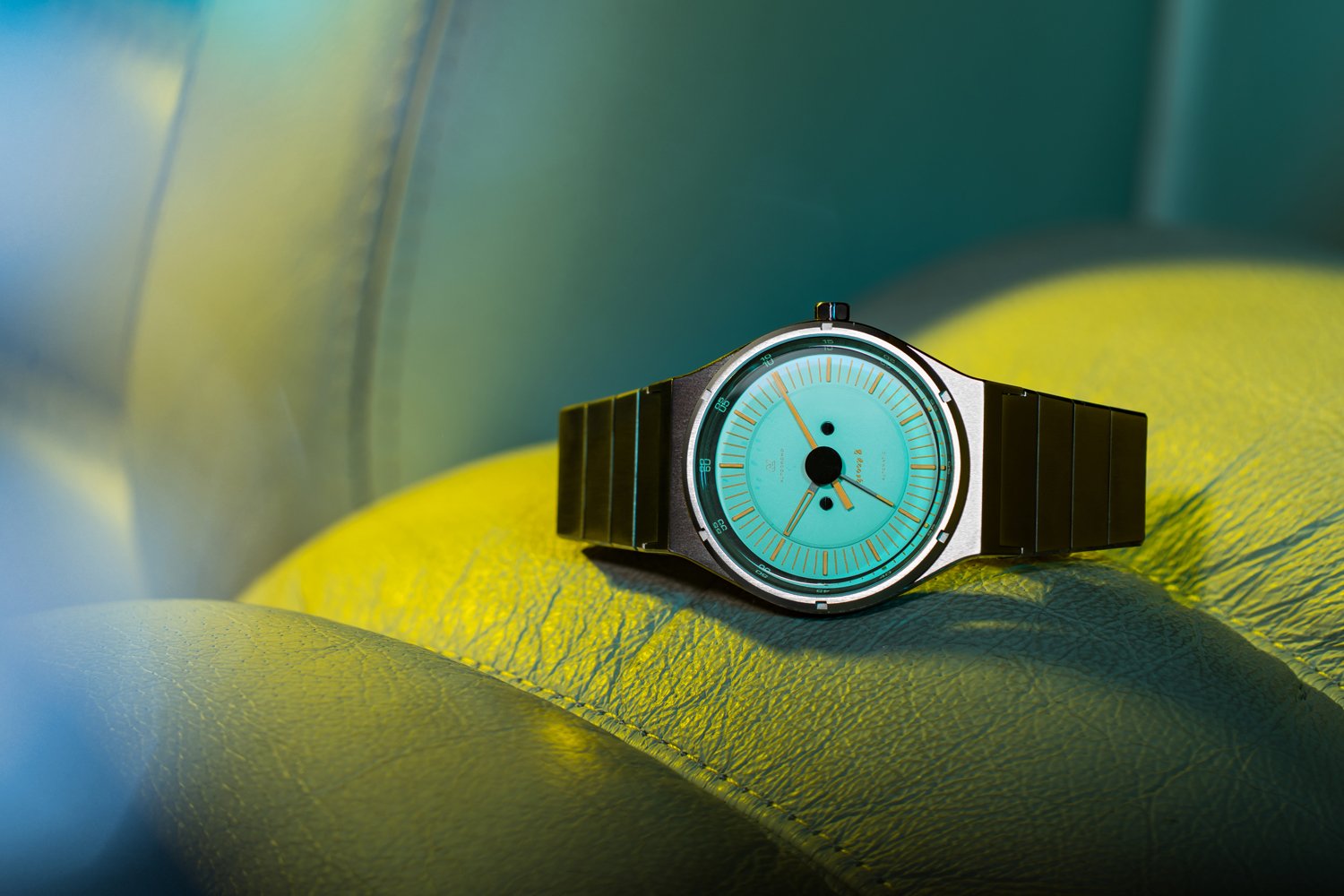 Get ready to rally!
But today, it's all about the sharp angles of the Group B. It looks exactly like those boxy, fully tuned rally cars from the '80s, the time in which the Group B races took place. Cars of that era had a very functional design, and so does the watch. There's the integrated bracelet together with the flat case, which holds a large, legible aqua-blue dial with orange accents. The two screws and the overlapping circle in the center of the dial totally remind you of the speedometer on a car's dashboard. It looks so simple, but it's done so well!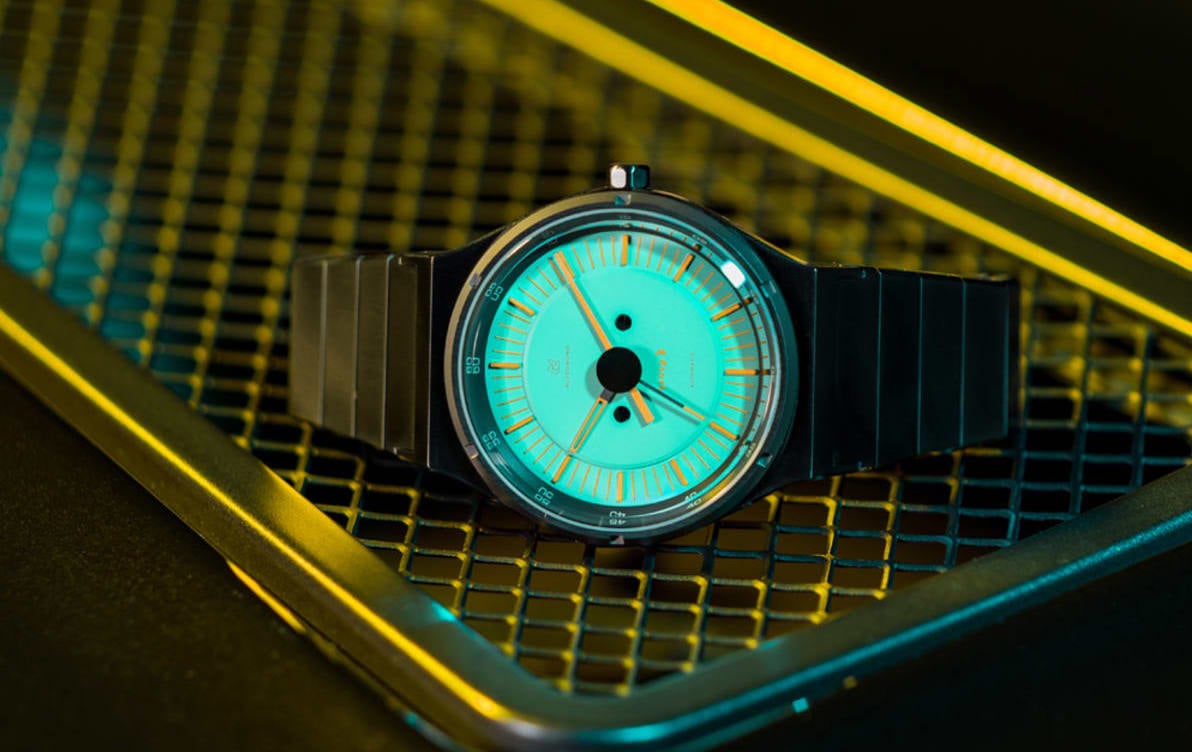 It features a reliable automatic Miyota 9015 movement, and it's water-resistant to 50 meters. Despite what others may tell you, this is more than enough for hanging out around the swimming pool and on the beach. And the case is made out of a combination of stainless steel and titanium to keep it nice and light. Adding to the wearer's comfort are its perfect proportions. The case is 39mm wide and only 9mm thick — or should I say "thin"? I mean, isn't this the perfect combination? Lightweight construction, unobtrusive dimensions, and that bright and beautiful aqua blue and orange dial… To me, that really sounds like the perfect summer watch. I'd take that over a UFO-lookalike-diver with a weight problem any day of the week!
Now it's your turn!
All right, Thor and Daan have made their cases now for the first round of this year's Summer Splash. Now it's up to you, dear Fratelli, to tell us which one of these colorful watches should take the win! Will it be the yellow Doxa with a UFO complex? Or will you go for the aqua-blue Autodromo, which, in a previous life, was actually a speedometer? Vote now, and please let us know in the comments why your favorite should make it to the next round!
And don't forget, there are prizes to be won here! We have gotten our hands on three Casio G-Shock DW-5610DN-9ER watches, and whoever makes the best suggestion in the comments for the competition's wild-card summer watch will receive one of them. The second one will go to one of our most engaged commenters on the site, and the final one will be given to one lucky Instagram follower (check out the stories for more details). So, you have multiple chances and ways of winning! Good luck to you all, and see you in the next round.
Doxa SUB 300 Divingstar Vs. Autodromo Group B Aqua