Summer Splash — Semi-Final 2: Nacho's Serica 5303-3 Vs. Thomas's NOMOS Club Campus Future Orange
The blue boss from Paris takes on the orange overlord from Glashütte
All right, we are down to the second semi-final match of our 2022 Summer Splash contest! We are closing in on the freshest, brightest, most fun watch to take on your sunny adventures. Today's contestants are Nacho with his Serica 5303-3 and Thomas with the NOMOS Club Campus Future Orange. The Serica left RJ's Oris ProPilot X for dead. The NOMOS made short work of Ben's Oris Aquis. This, then, is the epic battle of the Oris killers.
Cast your votes once more to put your favorite in the finals of Fratello Summer Splash 2022.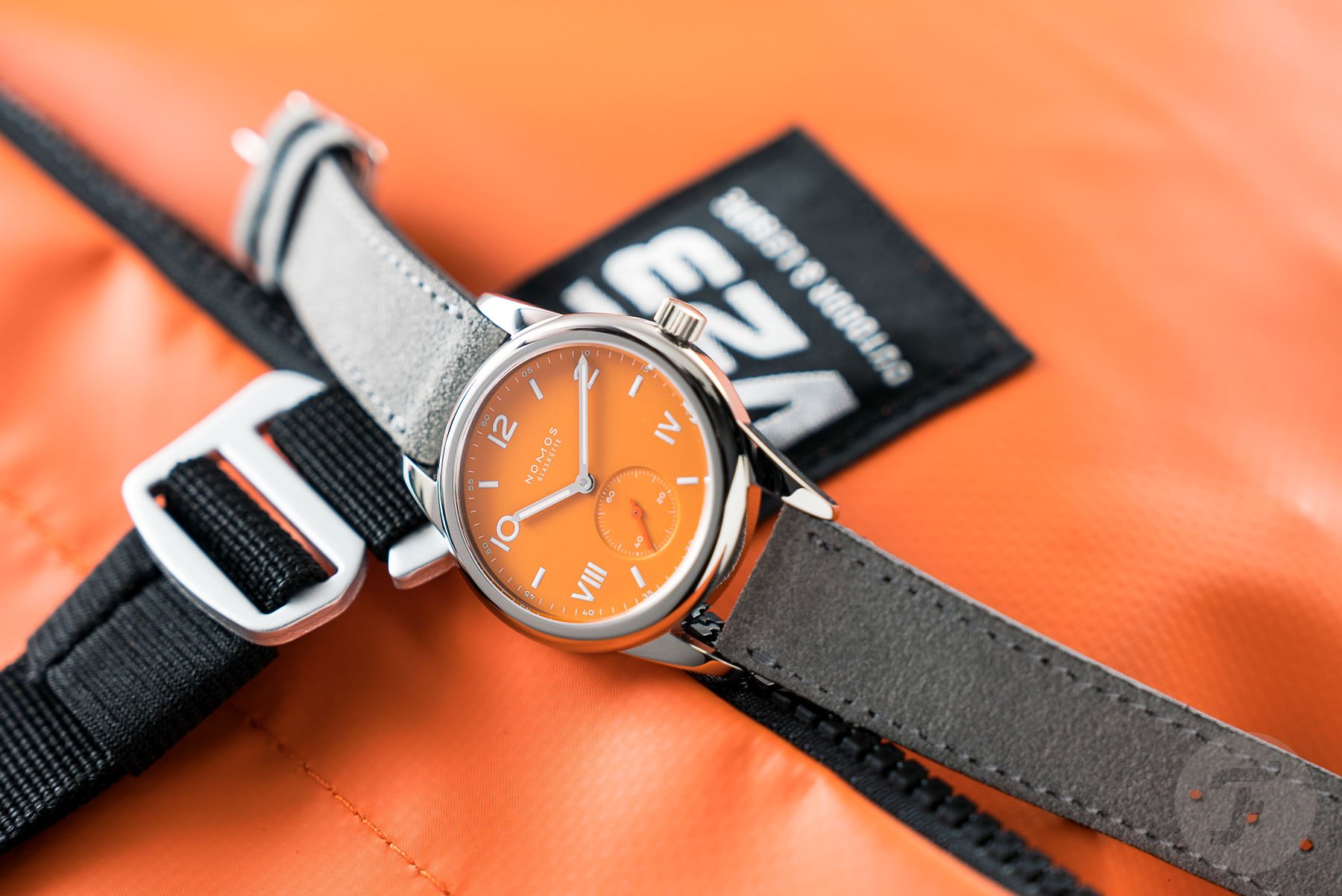 Thomas: NOMOS Club Campus Future Orange
I don't like to come to a fight unprepared, so I requested my candidate Club Campus from NOMOS to give it some wrist time in real life. It came too late for the prelims, but just in time to up the ante for the semi-finals. I had experienced the Club Campus before, but this was the first time wearing the Future Orange version. And boy, it is something!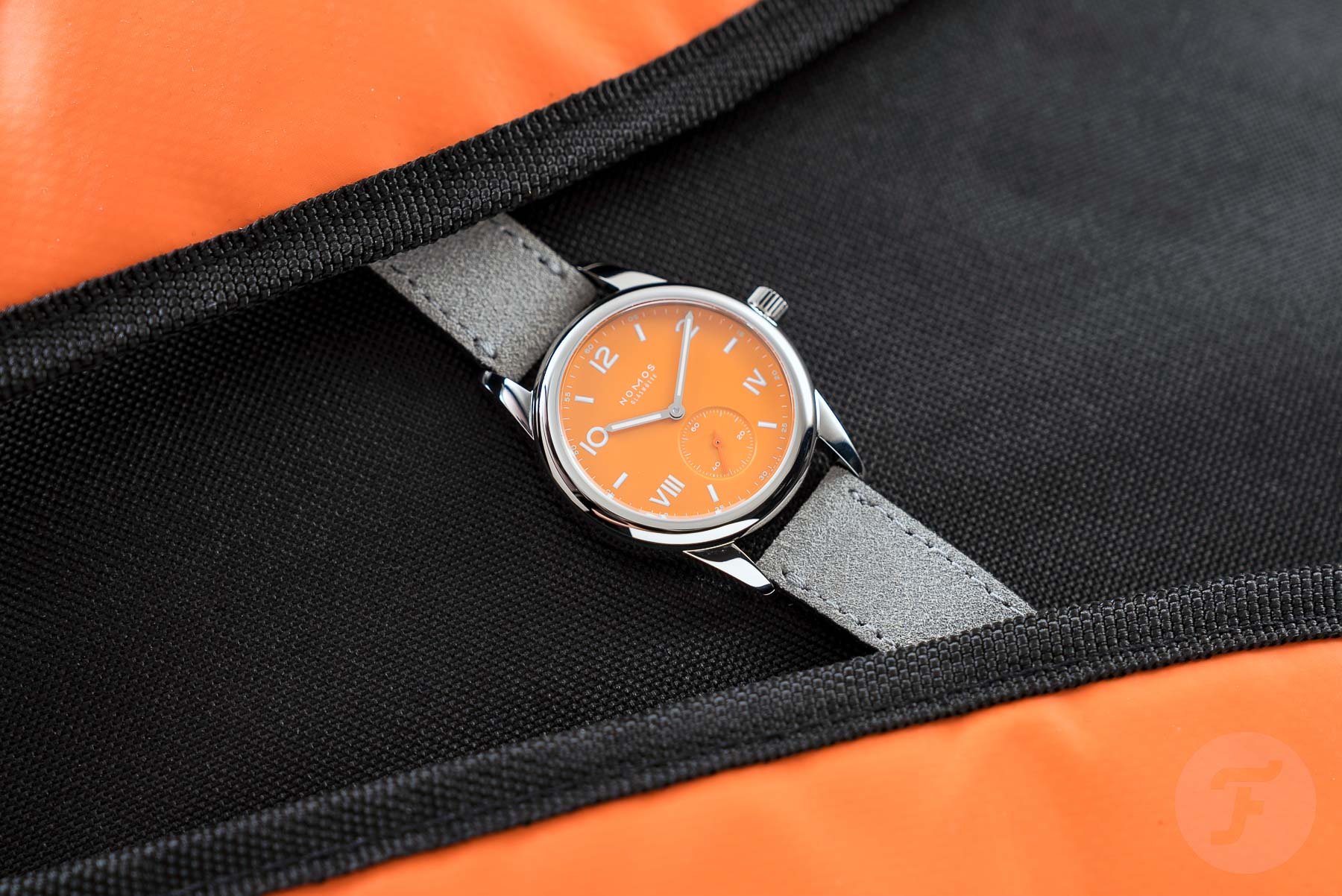 Being a subtle, small watch, is completely out of tune with being as in-your-face orange as this is. This is like a little scotch bonnet pepper — an innocent package with such a huge punch. It is like a tiny lap dog that is fiercely aggressive to the mailman. Seriously, it is wrist presence distilled to its most potent, focused spirit.
It is hard to convey in photographs, but the dial is just a tad less saturated than your typical tangerine. It is like tangerine with an ever-so-slight white filter over it. This gives the watch an absolutely unique character and pulls it out of tacky territory. It is somehow both in-your-face and sophisticated. And that, my watch friends, is just cool.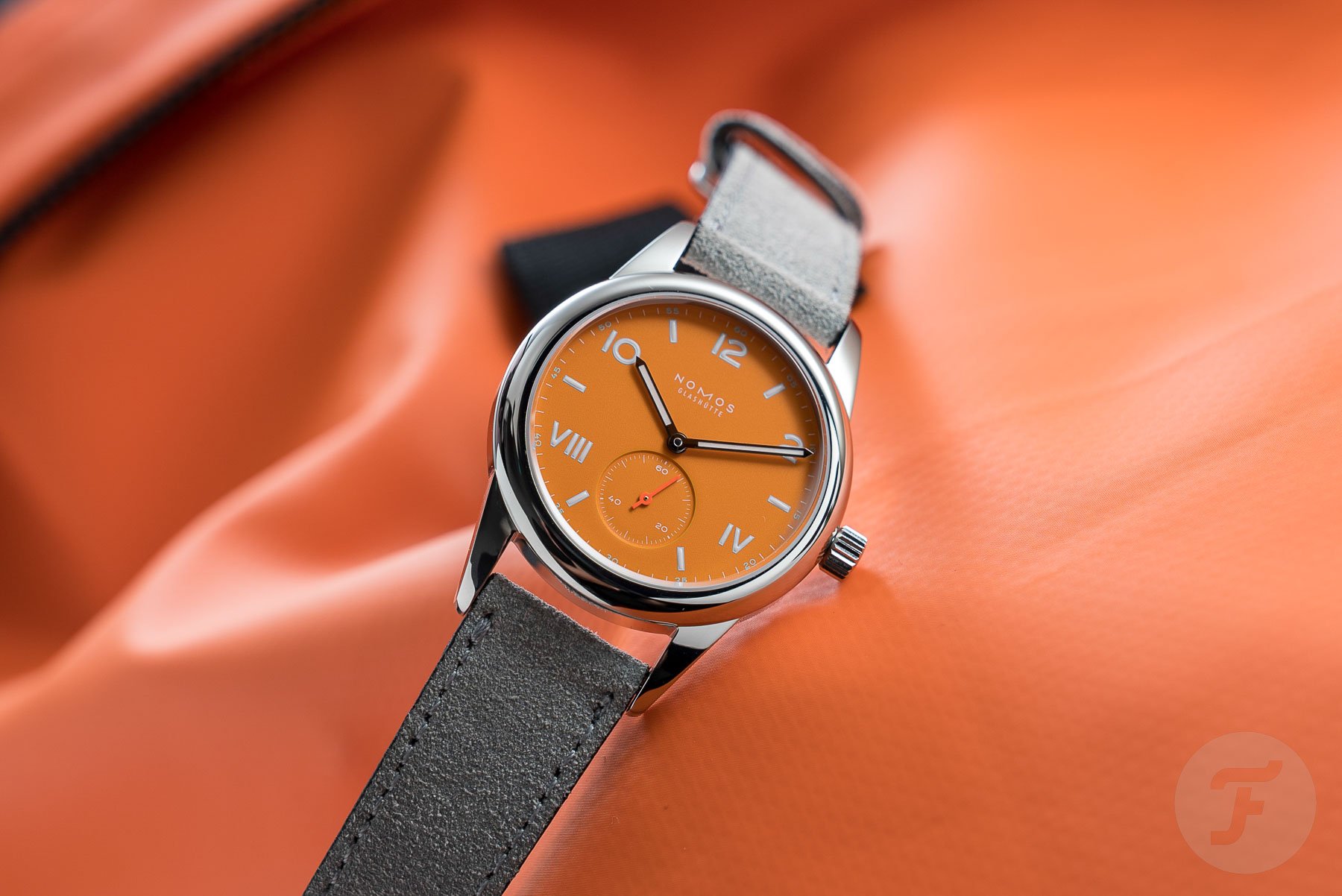 Daddy long legs
I learned from B-Rabbit in the 2002 film Eight Mile that if you diss yourself, you leave the enemy without ammo. Let me address the biggest point of critique, so Nacho can't: yes, the Club Campus does have rather long legs. Lugs… I mean lugs.
However, if you pick a size under your normal choice, you will find that the watch wears just fine. If you like a 38mm watch, get the 36. If you like a 40mm watch, get the 38. And if you like it bigger still, get a Doxa. You will love the fit. And may I suggest swapping the Club Campus's suede strap for a NATO? This solves the long lug gap issue and enables you to enjoy that 100m water resistance more readily.
More fun for less
Put up your hand if you are going deeper than 100m underwater this summer. Yeah, I thought so. Other than superfluous water resistance, the Serica holds nothing against the NOMOS. This watch is fully in-house-made in Glashutte, including an in-house-produced caliber. No generic parts in sight here. Honestly, it could command double its current price. But it is actually more affordable than the Serica. Seriously… how?
And let me address the elephant in the room, just as a final nail in the coffin. The Serica might be a bit of a looker, it is not exactly summer fun, is it? We said no black dials in the Summer Splash. This is pushing it a bit! The 5303-3 is so dark blue that you can hardly make it out. And the bezel is then so pale aquamarine that it barely qualifies as color. Turn down the saturation on the photos by 5% and you have a monochromatic watch. Do the same on the NOMOS and it will still leave you seeing orange spots when you close your eyes. Now that, my friends, is a summer watch!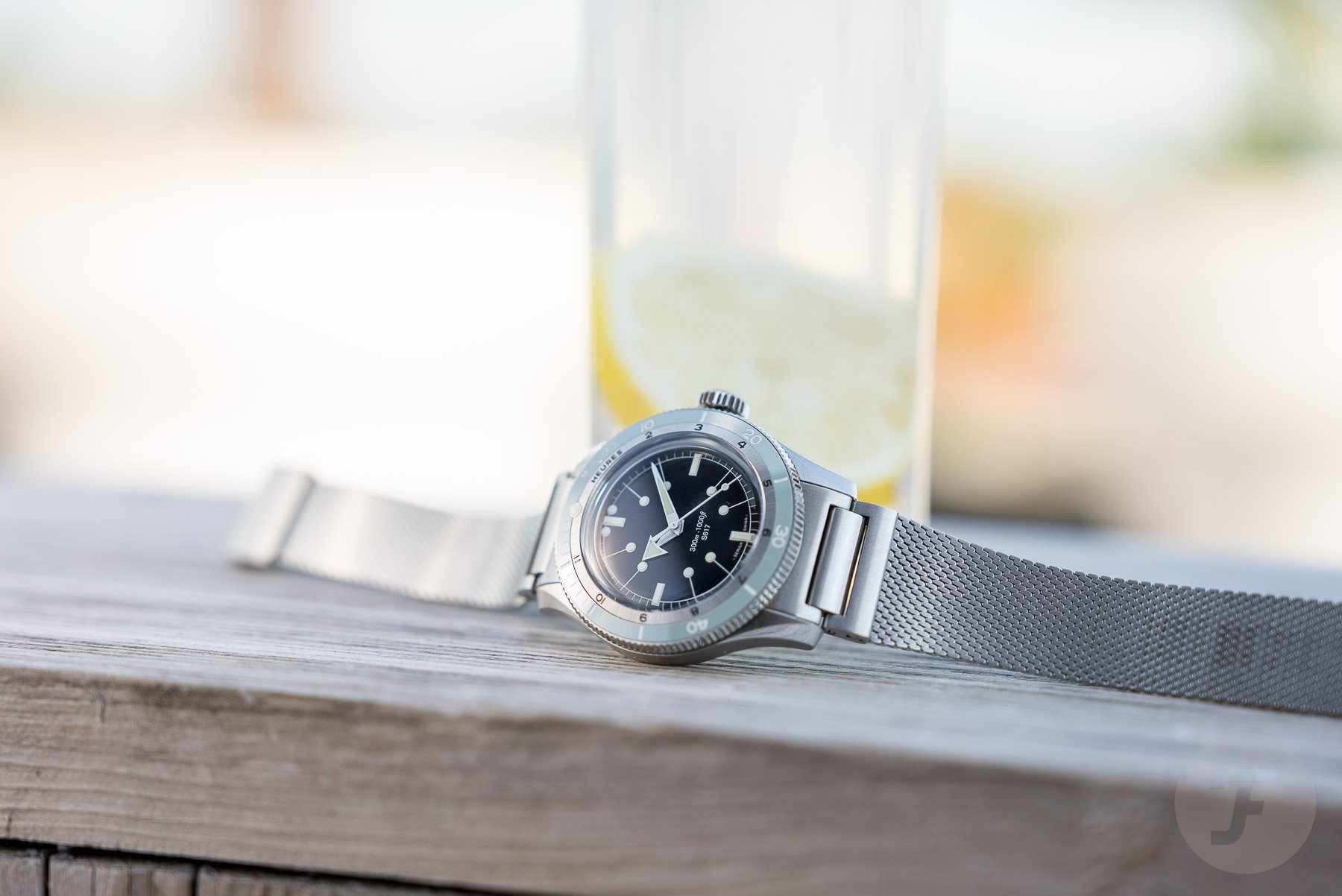 Nacho: Serica 5303-3
Thanks, Thomas! This is definitely not a duel I was looking forward to, as the NOMOS is an undoubtedly brilliant watch. Does it really get more summery than that orange dial? The Club Campus is definitely one that deserves to take a Summer Splash crown at some point, but I somehow don't think it will be its year. Why? It's simple. Let's take a look at how the competition has been advancing so far. On the other side of the bracket, the Tudor FXD (a blue-dialed and blue-bezeled dive watch) continues to dominate. And on this side of the bracket, even the most colorful Oris model wasn't good enough to turn the tide. It seems that in the end, people do love their dive watches, regardless of how deep they're planning on going.
Personally, I think that settling for just one watch doesn't make much sense. When I look ahead to my summer holiday this year, I see myself taking two watches at least. One will certainly be a dive watch for days at the pool or at the beach. But the other watch will likely be a smaller, dressier piece for warm evenings watching the sunset with a glass of wine, some good food, and even better company. That said, if one of the two had to stay home, it would have to be the smaller dressier piece. It's a matter of form and practicality. One hundred meters of water resistance sounds like a lot, but without a screw-down crown, you get no guarantee. On the other hand, a proper dive watch will shrug off even the most intense of water-related activities.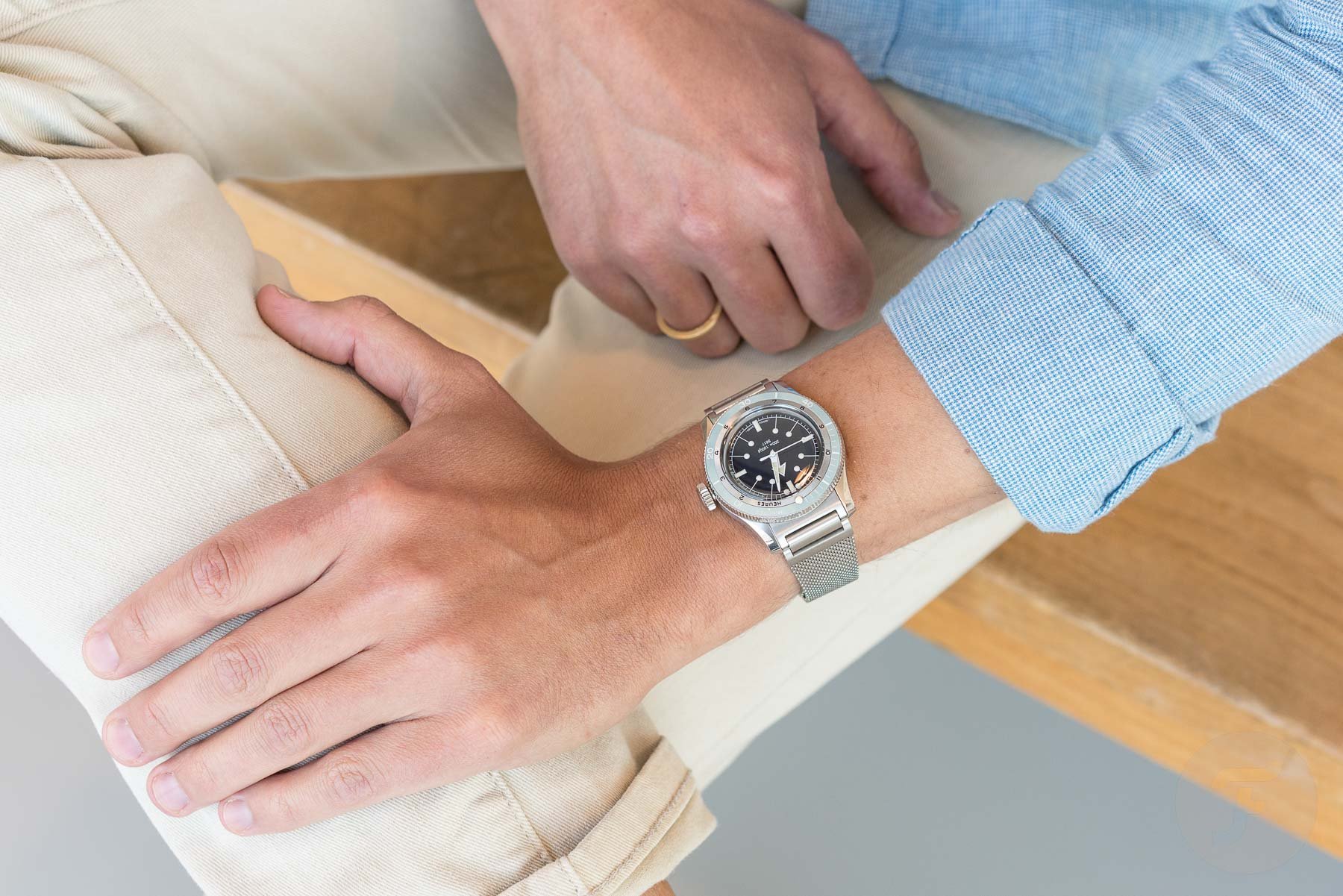 Fifty shades of blue
As Thomas said, the Serica is not the most colorful of watches. However, it still comes in within the parameters set for the Summer Splash, which only excluded black, white, and gray dials from competing. And though the midnight-blue dial certainly is dark enough to come across as black, as soon as you walk out into the bright summer sun, you can't miss the deep blue shade. The tasteful combination works so well that two of our colleagues here at Fratello have already ordered theirs. Plus, Sinara is also keen, and judging by a conversation we just had, Thomas, you might also buy one for yourself! Talk about putting your money where your mouth is. Serica has struck a chord, and it's definitely no lightly-plucked F sharp. It's a powerful E chord, ringing through a full Marshall stack, distorted, and shaking our eardrums.
Now, you might be thinking, "What about you, Nacho? Aren't you getting a Serica?" And my answer would be, "Yes, but not just yet. Watch this space and get excited for what's yet to come." Now, I think the Serica 5303-3 speaks for itself. If the black- and white-dialed versions launched last year didn't convince you, then this new summer-ready take on the brand's dive watch is sure to make for a perfect summertime companion. And should you decide to take the plunge and go diving (something I'll be doing later this year), then a dive watch should always be the way to go, not a dressy and delicate 36mm NOMOS with only 100m of water resistance and no screw-down crown. But I'm sure you guys and gals will make the right decision in the voting down below!
Time to vote!
All right, Nacho and Thomas have gone at it in this second round of the semi-finals in this year's Summer Splash. Now it's up to you, dear Fratelli, to tell us which one of these colorful watches should go on to the final. Will it be the lovely Future Orange NOMOS? Or will you go for the Crystal Blue Serica 5303-3? Vote now, and please let us know in the comments why your favorite should make it to the final round!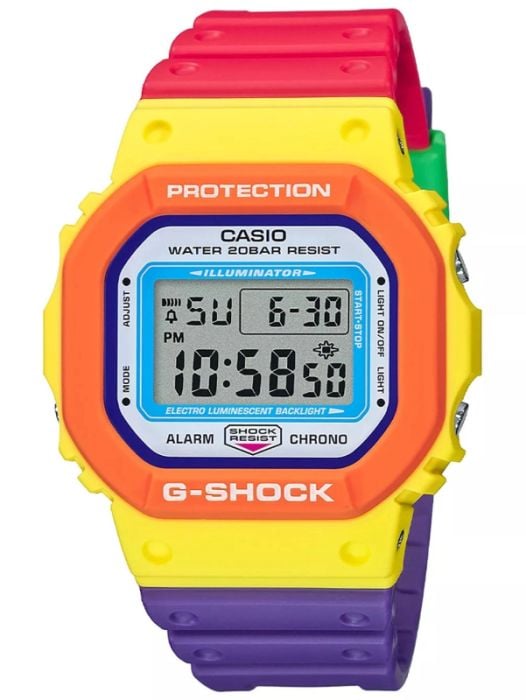 And don't forget, there are prizes to be won here! We have gotten our hands on three Casio G-Shock DW-5610DN-9ER watches, and whoever makes the best suggestion in the comments for the competition's wild-card summer watch will receive one of them. The second one will go to one of our most engaged commenters on the site, and the final one will be given to one lucky Instagram follower (check out the stories for more details). So, you have multiple chances and ways of winning! Good luck to you all, and see you in the next semi-final!
Serica 5303-3 Vs. NOMOS Club Campus Future Orange