Sunday Morning Showdown: A Two-Handed Battle — Breguet Classique 5157 Vs. A. Lange & Söhne Saxonia Thin
Which rose gold stunner does "the dress watch" better?
It's no secret that we're falling back in love with dress watches here at Fratello lately. Maybe it's because we're getting tired of the constant barrage of new tool watches, or maybe it's simply because the holiday season and occasions to dress up are quickly approaching. Regardless, dress watches are on our minds these days, so why not organize a battle between two of the finest examples out there? This week's Sunday Morning Showdown is between the Breguet Classique 5157 and the A. Lange & Söhne Saxonia Thin. Both feature only two hands and a rose gold case. But don't worry, there's still more than enough that differentiates these two beauties from each other.
"Why these two?" you may ask. Well, as I said, dress watches are on our minds these days, and last weekend, I went to a get-together where I saw a beautiful Breguet Classique 5907. I thought to myself, "That could very well be my grail dress watch," but then when I came into the office on Monday, RJ quickly convinced me that the 5157 would be the reference to go for. And I think he's right (I'll try to explain why shortly). But then Thomas jumped in and said that he preferred the A. Lange & Söhne Saxonia Thin. So here we are for another Sunday Morning Showdown! But first, let's take a look at what happened in last week's battle.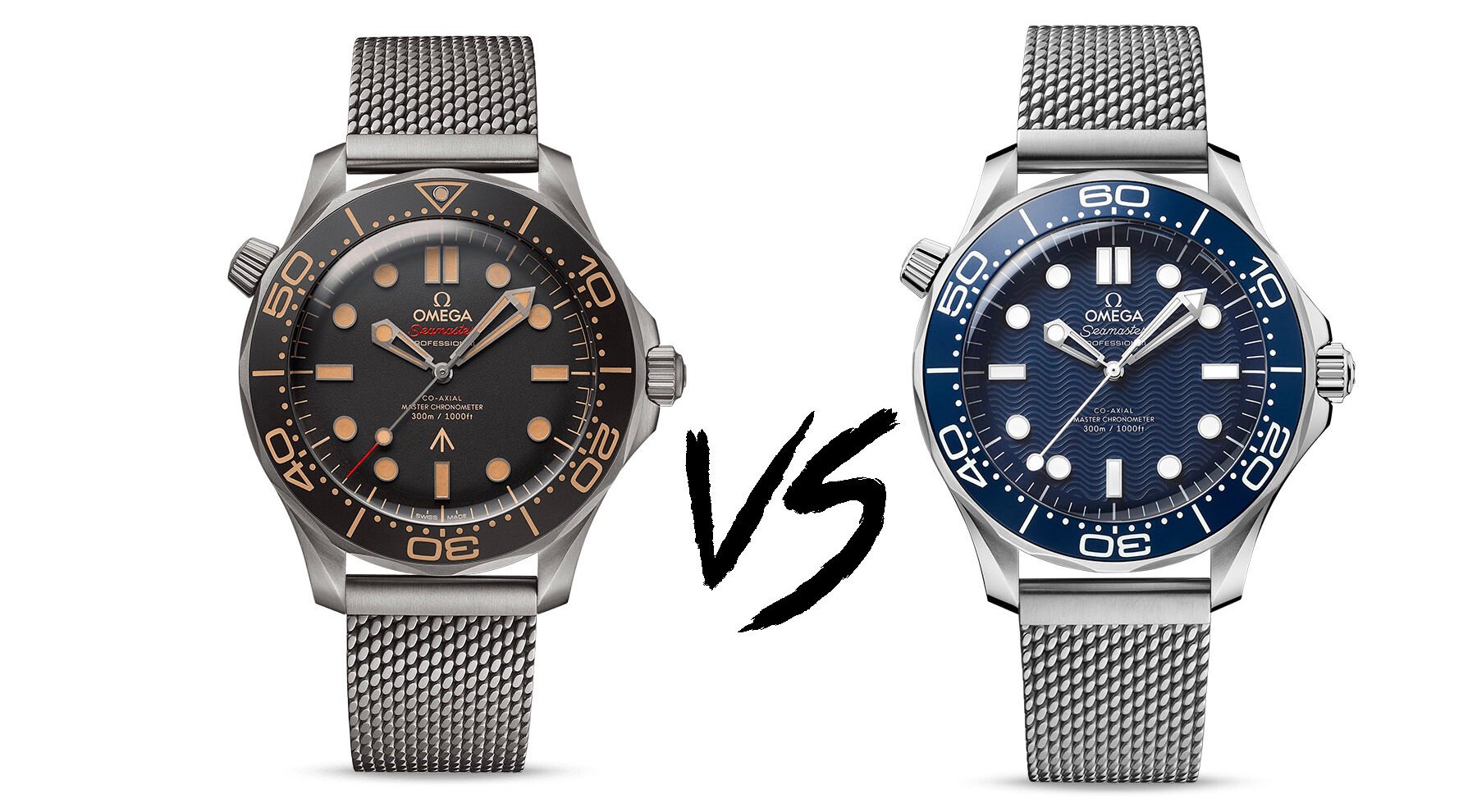 Bond vs. Bond
It was the titanium Bond Seamaster against the stainless steel Seamaster with a Bond animation on the back. And by looking at the votes and the comments, you can see it was a very close race. Some preferred the titanium case of the version from No Time To Die, and others chose it because it was actually featured in the movie. But there were also a lot of people who appreciated the nod to the original Bond Seamaster from GoldenEye with the wave pattern of the new Bond 60th Anniversary Seamaster's dial. In the end, the NTTD version won with 52% of the votes. But what this result really tells us is that Omega has something incredibly valuable in its stable with its James Bond connection. All right, over to this week's dress watches!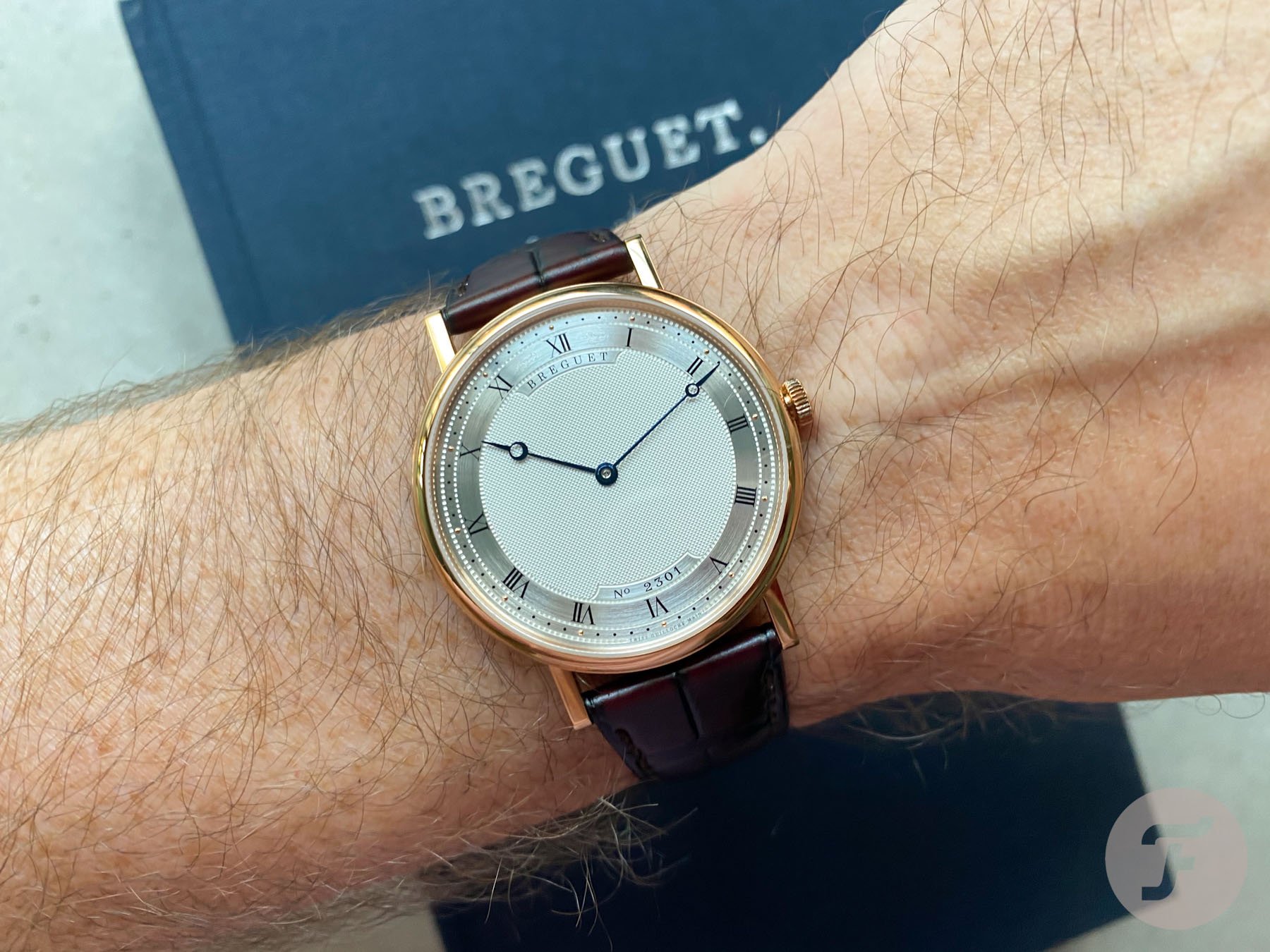 Daan: Breguet Classique 5157
This will not be a history lesson on Breguet, at least not from my side. I simply don't know enough about either of these brands to use it as ammunition. But I can recommend that you listen to Balazs's conversation with Lex about Breguet. In doing so, you'll really be able to get a feeling for where the admiration for the brand comes from. In my case, I simply adore the designs, especially those from the Classique line. Breguet's designs really show you — and other watch brands, for that matter — what a watch is supposed to look like. You see, even though Breguet timepieces might look fairly straightforward, there is a power in them that makes them stand out from the rest.
And that's exactly what happened last weekend when I saw that beautiful Breguet Classique 5907 in white gold. The whole room was filled with sports watches, including the usual suspects from Rolex, Patek Philippe, and Audemars Piguet. But the watch that immediately caught my eye was the Breguet. Especially in its white gold case, it could have looked like any old stainless steel dress watch. But that's the thing: it didn't look like anything else. It stood out, even among all those more popular heavy hitters. I guess it's because the sleek and classic design is recognizable from afar.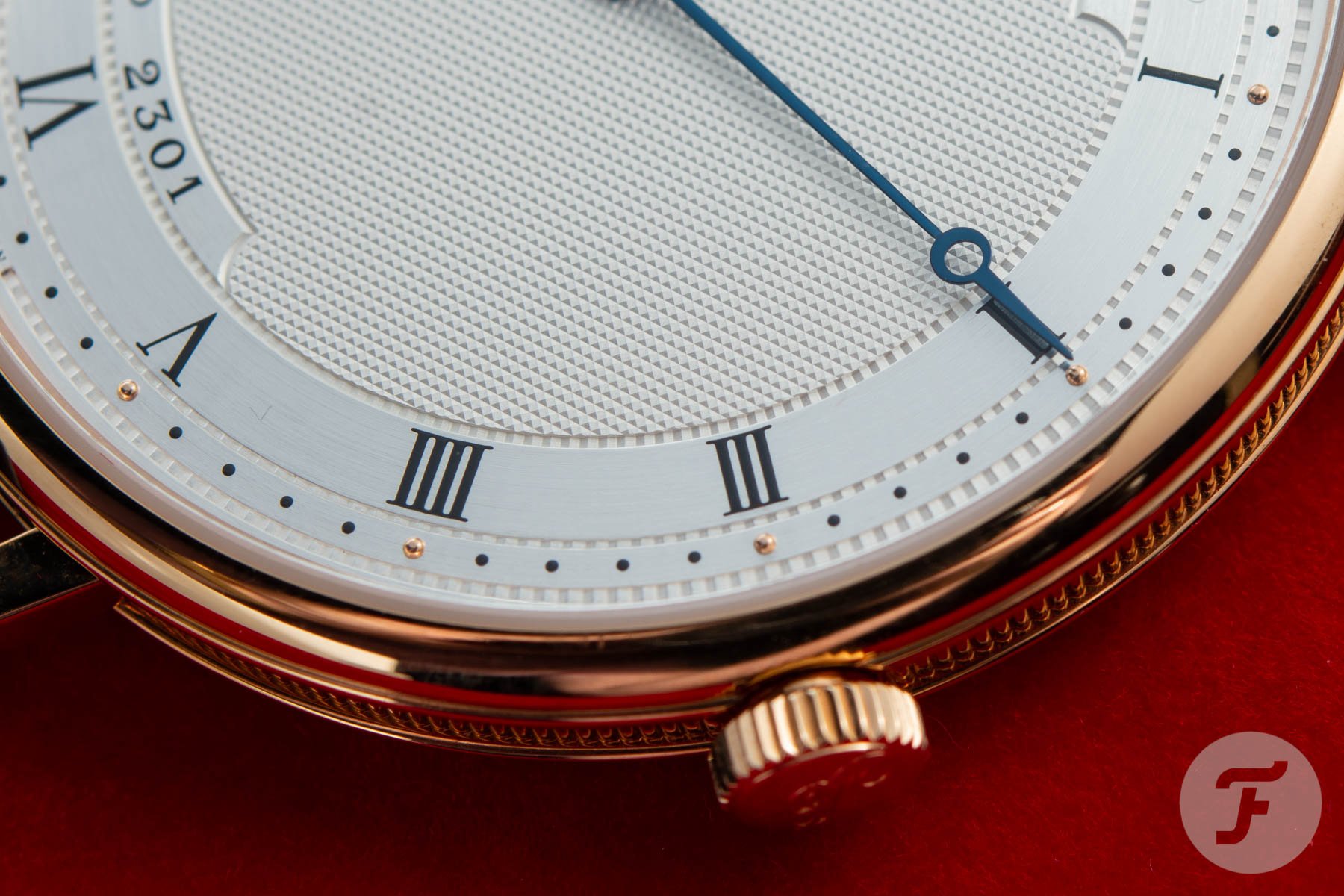 Hymn to guilloché a main
But it's also because of the perfect finishing and beautiful details on the case, dial, and movement. And that's something you can only truly appreciate when you pick up the watch and examine it closely. The rose gold 5157 has a mesmerizing and finer-than-fine guilloché pattern on the silvered gold dial. Then there's the brushed silver band around it with tiny golden dots to indicate the hours. And even in between the two silver bands, there's another ring with a guilloché pattern. Just as RJ said in his review of this watch, it all looks so simple in a way. But it's when you realize that these patterns were all applied by hand that you just can't stop looking at them.
The same goes for the case. It seems fairly straightforward — a 38mm coin-edge case with four straight, simple lugs. But again, in person, it looks truly breathtaking. Anyone else wouldn't even bother with a particular finish on the side of a case that measures just 5.4mm thin. But Breguet did with its coin edge, and in doing so made sure that the super-slim case still has a lot of presence on the wrist. But the outstanding finishing doesn't end there. A look at the movement through the case back is just as awe-inspiring as looking at the dial on the front of the watch.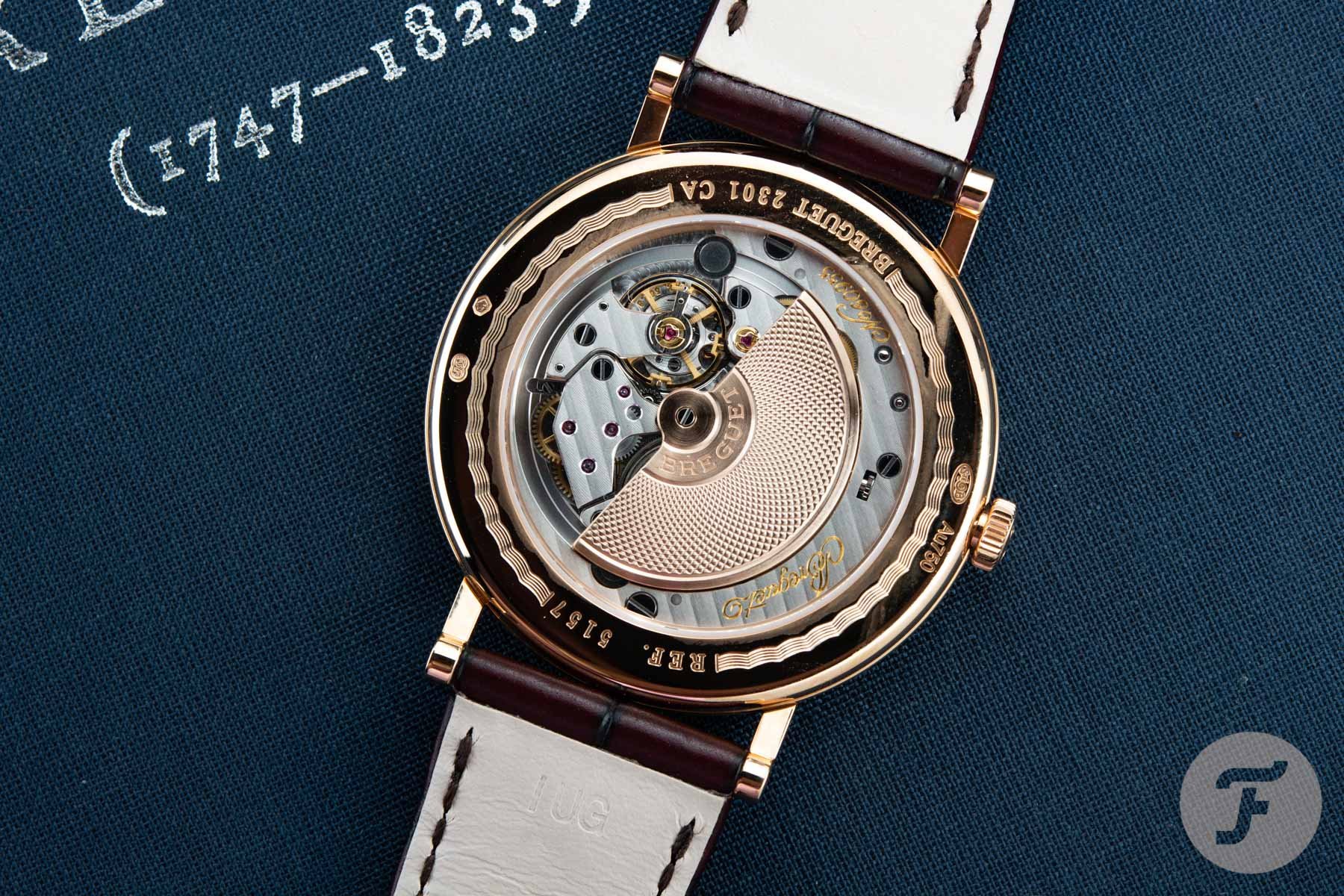 Yes, it's an automatic
That's right, the guilloché isn't just present where you can always see it. It's even there on the components that are usually facing your wrist. Just look at that pattern on the 22K rose gold rotor. Additionally, the fact that the rotor is just a bit off-center and recessed makes the whole movement so much sexier to look at. Now, I do understand the people who argue that a proper dress watch should be hand-wound. But in this case, with a rotor that's this good-looking and the fact that the watch is still as thin as can be, I can only appreciate the added convenience that the automatic caliber 502.3 has to offer.
Up to this point, I haven't even mentioned the noble, blued moon-tip hands and the classy Breguet signatures between 11 and 1 o'clock. After all, doing so would just mean an immediate knock-out for Thomas and his A. Lange & Söhne Saxonia Thin. Don't get me wrong, the Saxonia Thin is a beautiful watch. But at roughly the same price (€20,100 for the Breguet and €21,400 for the Lange) I think you get so much more craftsmanship from the 5157. Yes, the Breguet might look a bit more old-fashioned, but I'm sure that's nothing a strap change and the right outfit can't fix. Take it away, Thomas!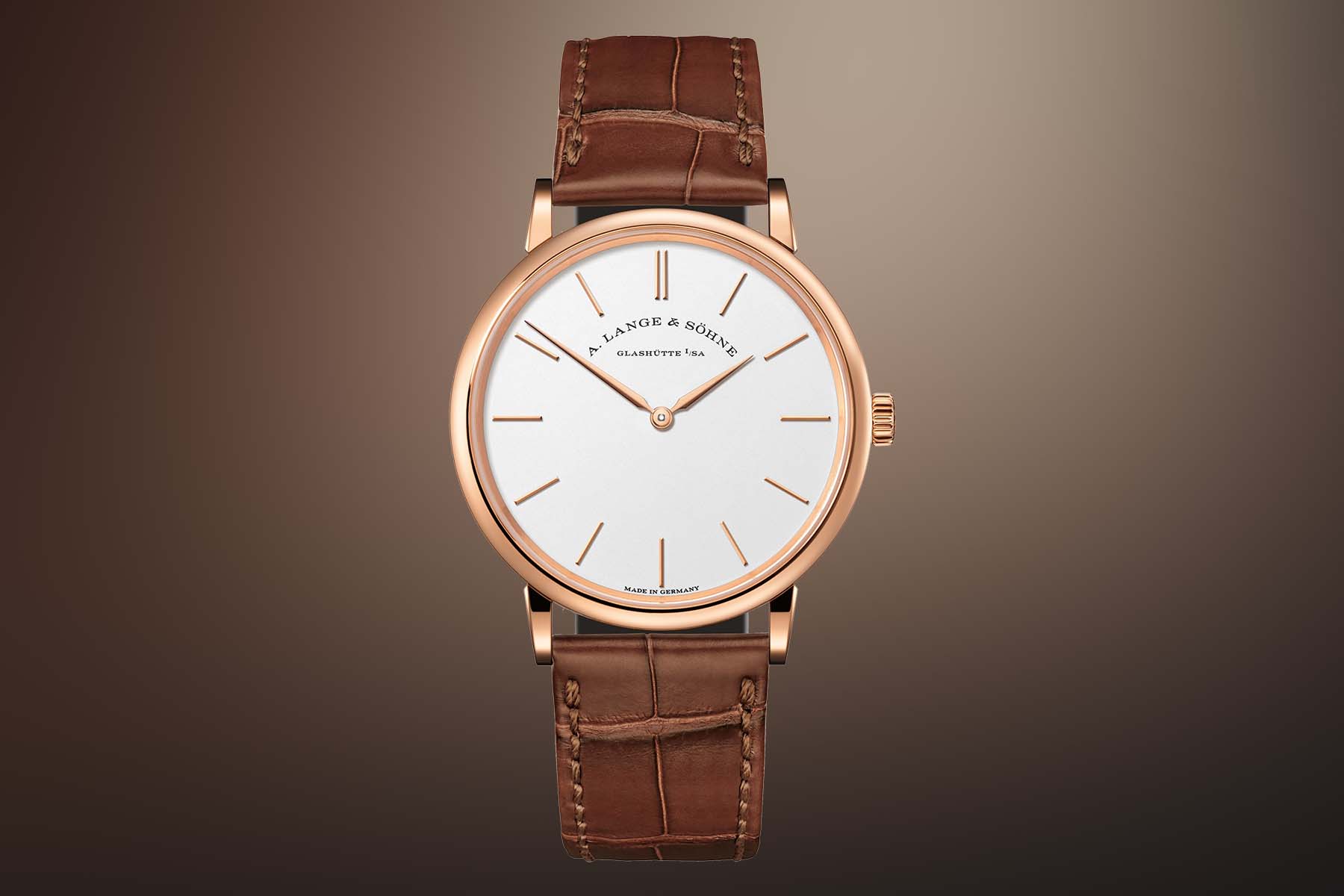 Thomas: A. Lange & Söhne Saxonia Thin
Okay, okay, shots fired. To be fair, Daan, I love your Breguet. I would happily wear it if given the opportunity. But my A. Lange & Söhne Saxonia Thin is just a little bit better still. Your Breguet might be nice in an old-world kind of way, but the Lange is a better design. Let me elaborate.
The Saxonia Thin is a masterclass in restraint. To a layperson's eye, it might even look a little lazy. But if you have ever tried your hand at designing something, you will understand how hard this is. A. Lange & Söhne truly masters the ratios and placement of every single element. It shows particularly clearly on a simple watch like this. The design is butt-naked, so to speak, so there is nothing to hide behind.
This is where the Breguet Classique falls apart in comparison. As much as I love the hand-guilloché work, it does cover up some weird aesthetics. Just looking at the dial, the elements are pushed outward too far. This is emphasized by the Breguet logo that is shoved all the way up against the numerals. And your beloved moon tip on the minute hand is also pushing all the way up against the numeral track. It has no optical room to breathe. I can just feel my eyes and mind relaxing when I shift my gaze from the Breguet to the Lange.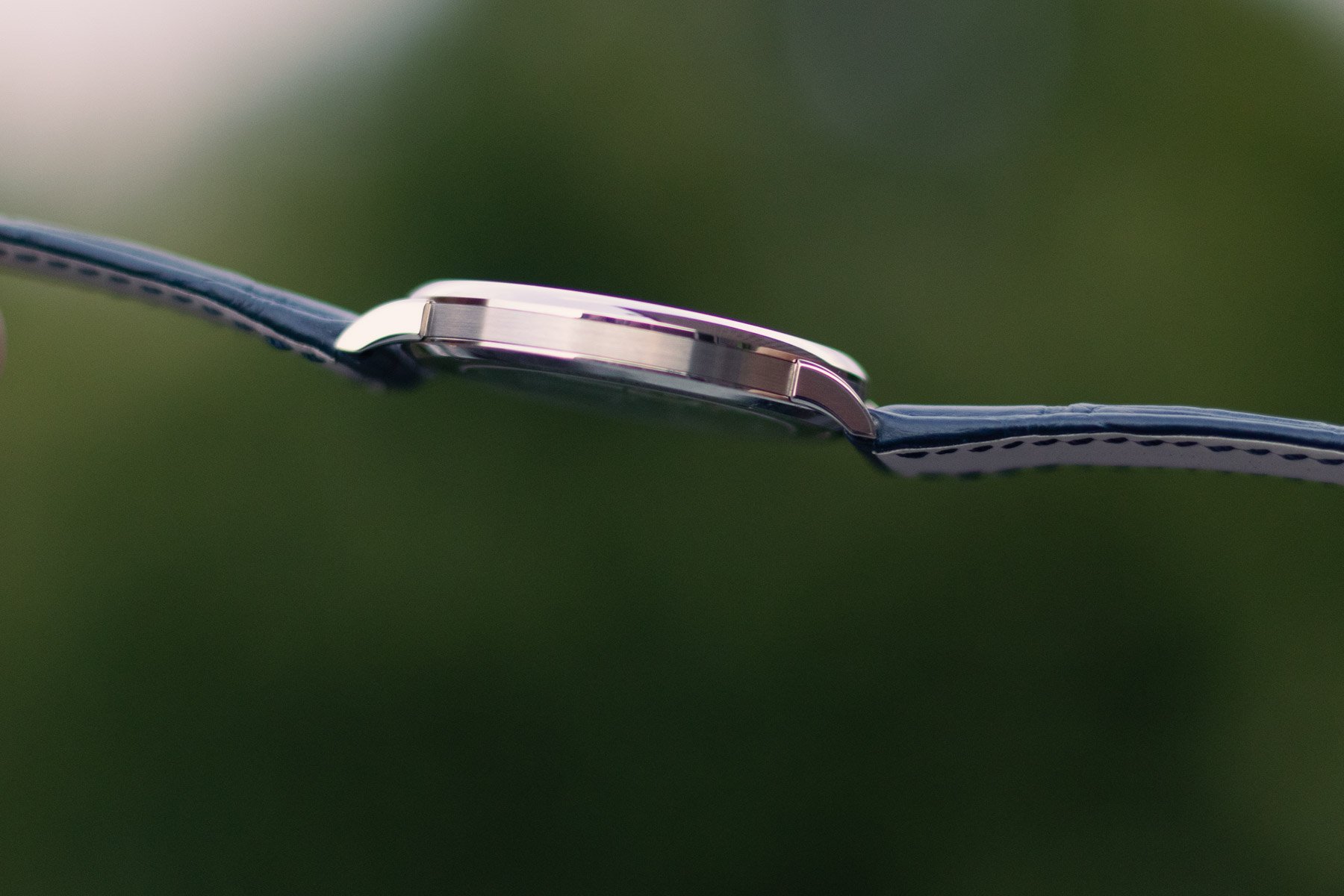 The Saxonia Thin is more versatile than the Breguet Classique
You mentioned that your Breguet is automatic, which, in purists' terms, is wrong for a dress watch. Honestly, I do not care much for such ridiculous forced standards, so I will not hold it against you. In fact, while I am kicking against norms, let me make a case against the term "dress watch" in general. There is absolutely no need to consider these watches "for formal/dress use only". In fact, before the advent of dive watches and other task-specific watches, these were just watches. This is the archetypal shape of a watch as a kid would draw it. 
So if you are fine taking off your watch before diving into the pool or hitting the gym, these are perfect everyday watches. And in that regard, my Saxonia Thin is better. It is, stylistically speaking, more versatile. Sure, it looks great with a suit, but picture this with an army-green overshirt and some faded jeans. Perfection. The Breguet is just a bit too far down the "old-world intricate craftsmanship" rabbit hole to be as versatile.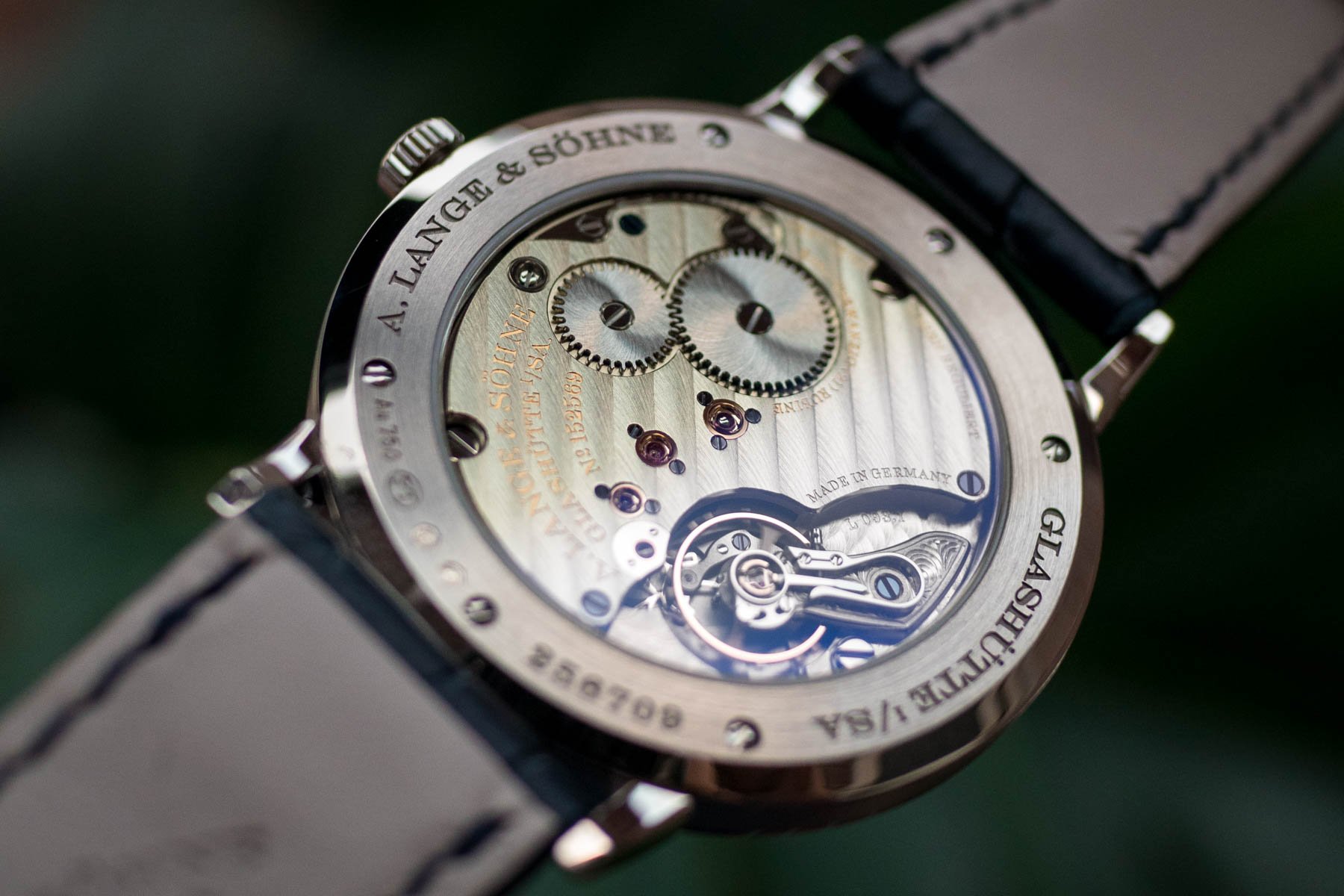 Take your pick — Breguet Classique or A. Lange & Söhne Saxonia Thin
So there you have it — two beautiful rose gold treasures pitted up against each other. It is probably good to note that these are quite similar in size. The Lange is a touch smaller at 37mm versus 38mm. The Breguet is a hair thinner at 5.4mm versus 5.9mm. But let's face it, anything after the decimal point is splitting hairs. The case shape and ratios have much more of an impact than half a millimeter does. 
Which would you rather have? Vote for your favorite below, and tell us what drove your decision in the comments. 
Breguet Classique 5157 Vs. A. Lange & Söhne Saxonia Thin