Sunday Morning Showdown: Dogfighting Pilot Chronograph Watches
Blancpain Air Command Vs. Breguet Type XXI
In our Sunday Morning Showdown, two of our writers go head-to-head in an epic showdown for the ages. Strong opinions and hysterical hyperbole are welcome (so feel free to join in with the fun in the comments section below). And don't forget to let us know which watches you'd like to see torn to shreds/effusively exalted next week. We'll try and feature as many of our readers' choices as we can. After a month out, we return. Re-energized and ready to take to the skies with the Blancpain Air Command Vs. the Breguet Type XXI.
It has been a while since our last Sunday Morning Showdown. And that is for a good reason. At the beginning of each edition, just like above, we ask for suggestions from our readers for future Showdowns. In that time, we have been scouring the messages and comments to select our contestants. For this week, Fratello reader, Greg, sent in an email suggesting two Pilot Chronograph's go head-to-head. But not the Breitling Navitimer nor IWC Pilot Chrono that you may expect. Instead, we are going upmarket, tasting rarefied air with the Blancpain Air Command and Breguet Type XXI.
Before the battle commences, we are more than aware that these timepieces may have served a purpose for pilots in a time gone by, but not necessarily on a mass scale. Even more so, is that these watches will hardly be finding their way to modern cockpits — commercial or otherwise. Commercial airline pilots might wear anything from the Rolex GMT-Master to the Timex Mickey Mouse. Or today, more likely an Apple Watch or nothing at all. We won't kid ourselves, but then that is what anachronistic mechanical watches are all about.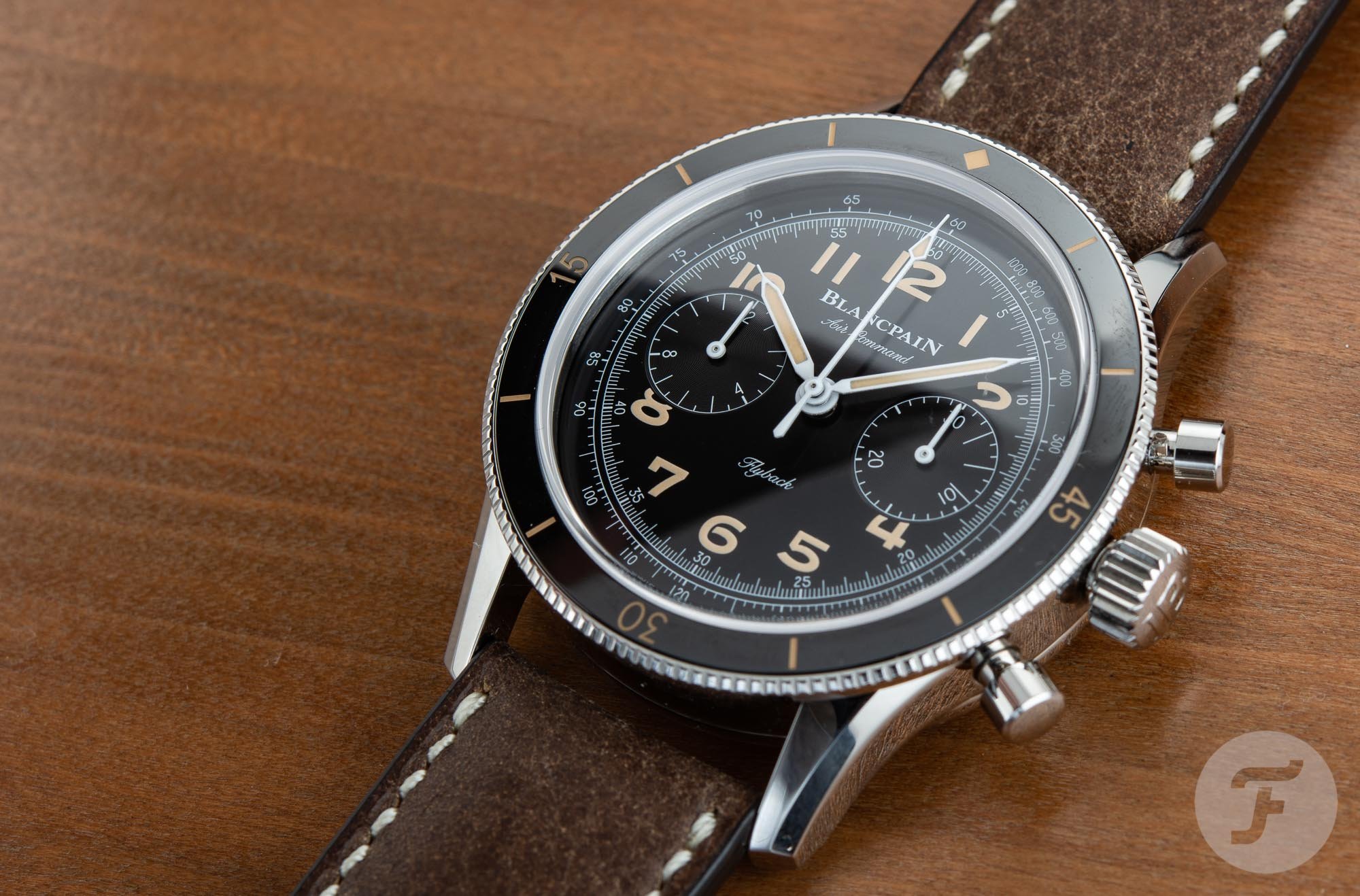 Ben — Blancpain Air Command Chronograph
And when we say "rarefied air" above, that is not just a silly pun. The original Blancpain Air Command Chronograph was only a twelve-piece proof of concept delivered to the US Army via Tornek in the late '60s — making the watch exceptionally rare. The pilot's chronograph by Blancpain never got off the ground, but the remaining pieces found themselves in exchanges in military bases, mostly in Europe. It is for this reason that these watches eventually found their way to civilian owners. When a Blancpain Air Command does come up for auction, the prices quickly soar to nearly €100,000. Mike pointed this out in his initial review last year where an original hammered that high in 2016. Following the launch of the Air Command in 2019, you can imagine the prices are close to doubling that now.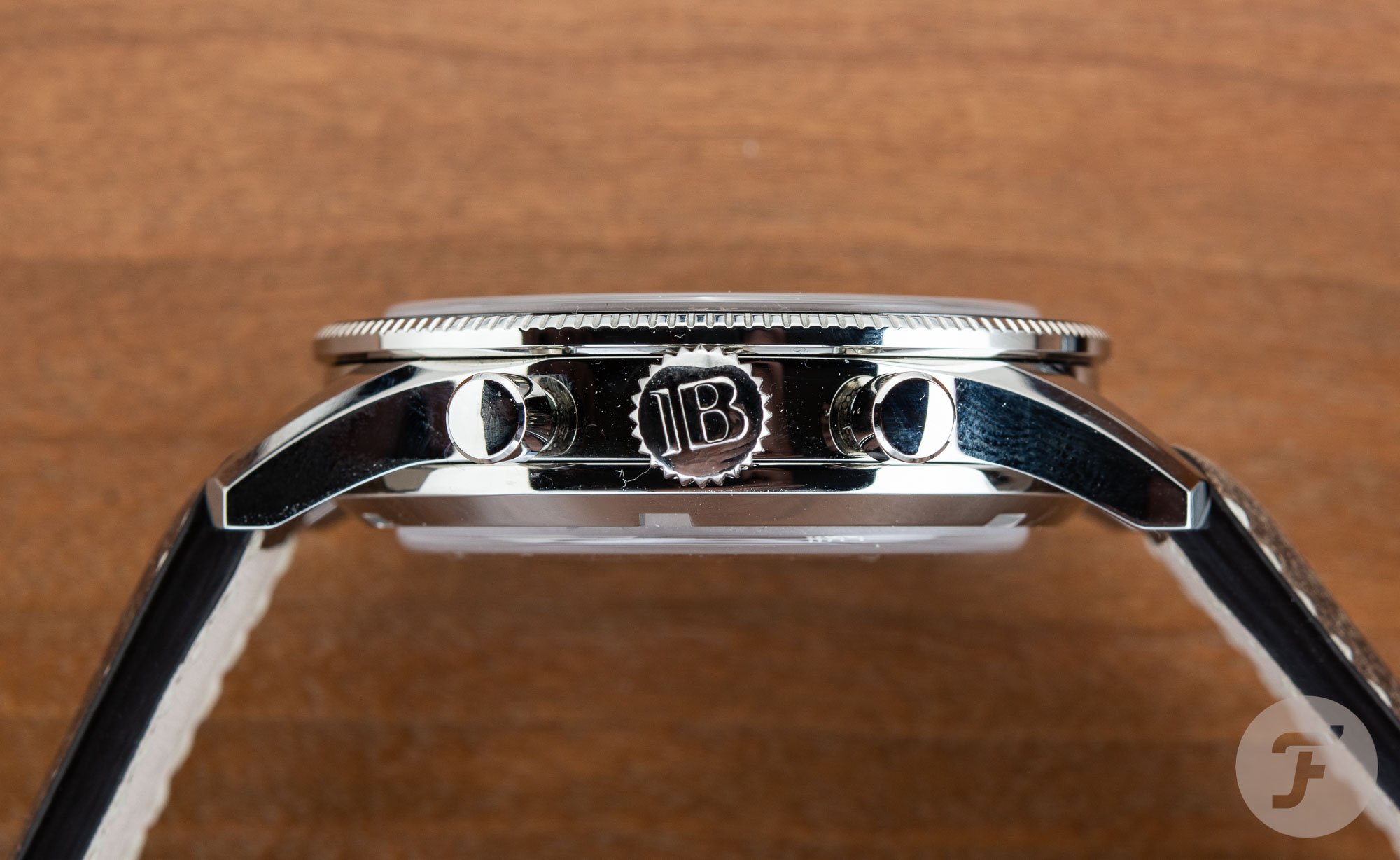 So now I have you warmed up, I feel a little more comfortable mentioning the cost of the 21st Century Blancpain Air Command. It is €18,000. Well, I should say it was, as all 500 examples sold shortly after release. Yet it fails to dilute the initial shock of a seemingly straight-forward, stainless steel, compur chronograph with bi-directional ceramic bezel for €18k. It is only when you get a sense of the details does the Blancpain show its worth. The exhibition case-back has a boxy sapphire glass that protrudes. This type of sapphire is hard to produce, and Blancpain deploys it for the first time in one of its watches. The advantage it gains is the entirely unimpeded view of the flyback chronograph movement. And here lies another area the Blancpain shines.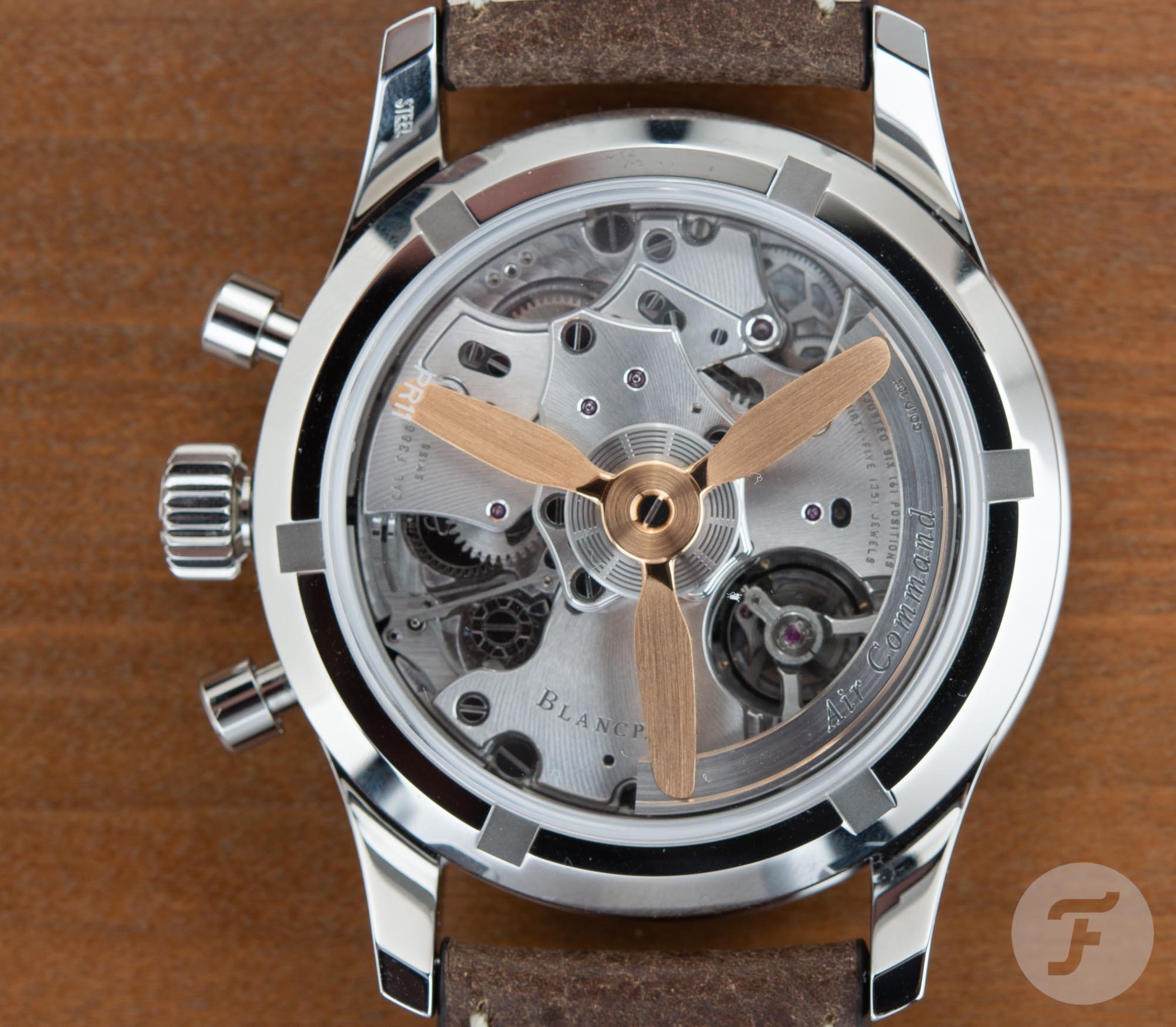 A new spin
The Caliber F388B is a variation on the 385 in-house Blancpain flyback chronograph movement. The F388B keeps the high-frequency 5Hz, vertical clutch and column wheel layout, but targets slimness. This svelte steel case counteracts that protruding sapphire while still maintaining a proportional case height of 13.77mm. Mike may have lamented the lack of a genuinely authentic manually-wound caliber in his Blancpain Air Command review, ala the Breitling Navitimer Ref. 806 Re-edition. But I rather enjoy seeing the three-spoke propeller rotor in red gold spinning away, exaggerating the aviation theme.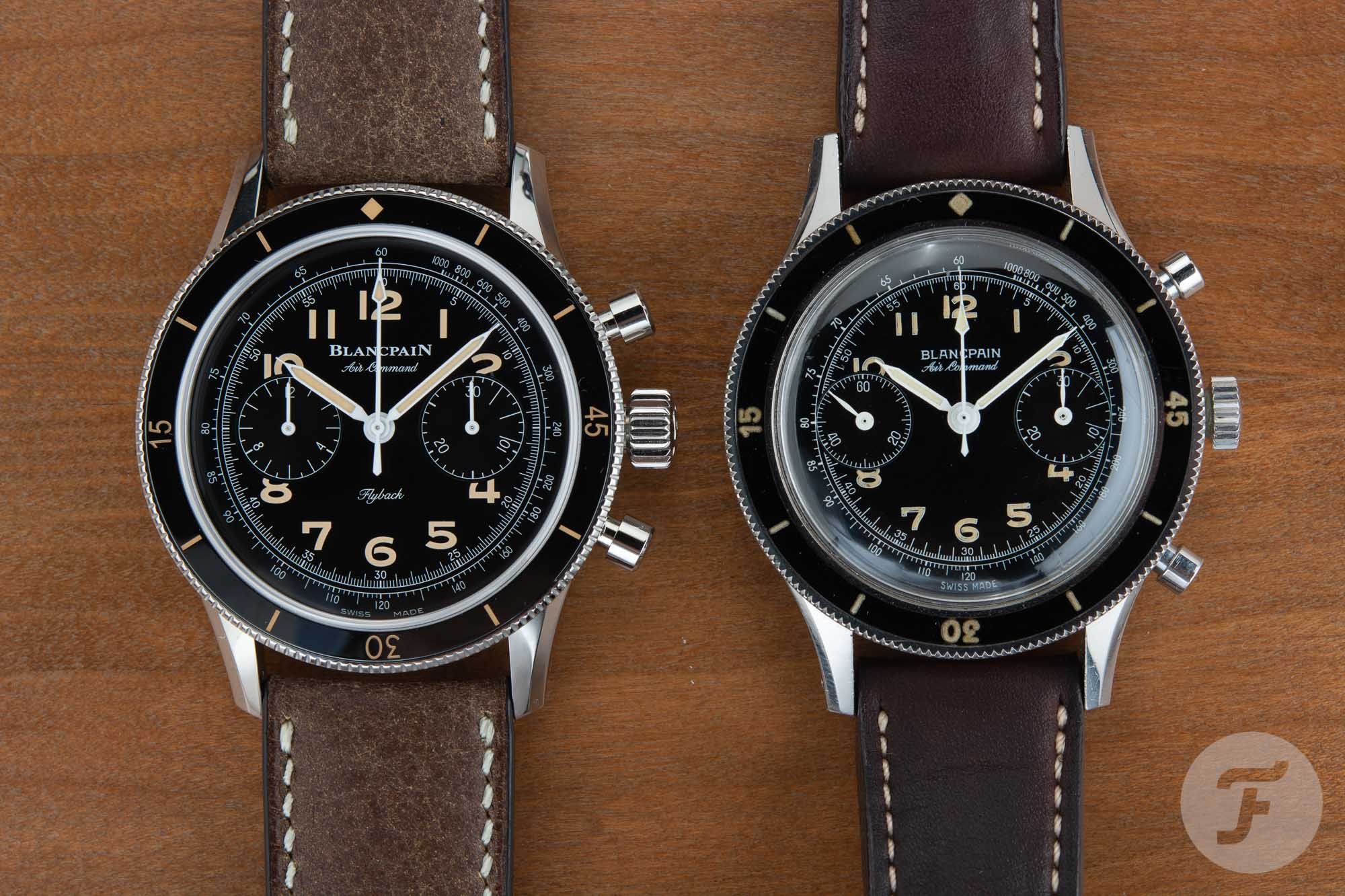 Flipping the watch over to see the dial side provides an immediate comparison to the original watch. With a 42.5mm diameter, the proportions remain mostly unchanged to the '60s prototype. However, the bezel is slimmer, and the dial has a greater expanse. This aids legibility of the dial functions alongside the distortion-free sapphire that is readable in more angles than the original's domed acrylic glass. Gentle sunburst brushing turns the all-black dial to a soft grey and dark brown in various lighting conditions. Paired with the Super-LumiNova numerals that have a radium-like hue, the dial of the Air Command exudes luxury while keeping the spirit of the watch that forms the inspiration.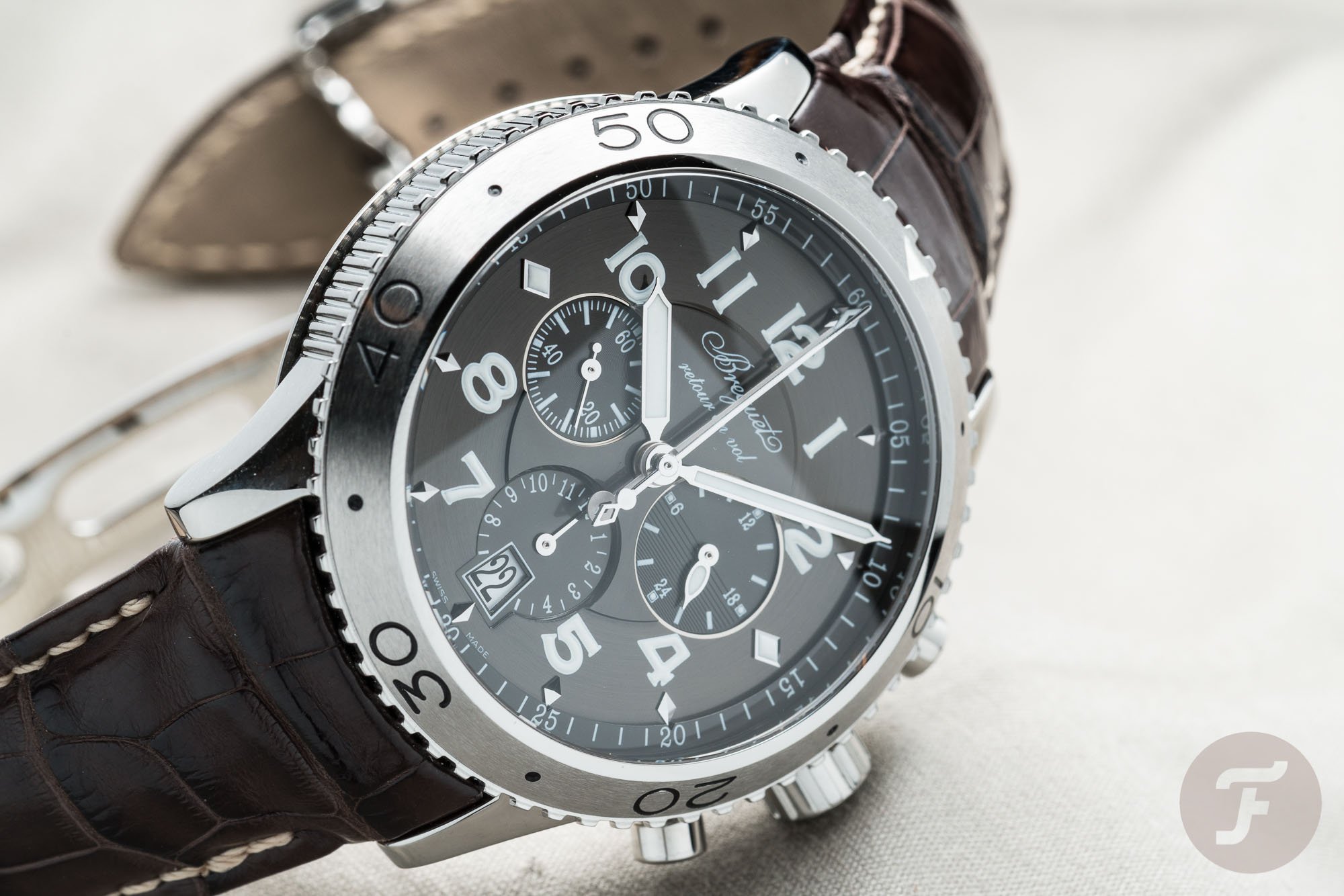 Jorg — Breguet Type XXI
After a short break from our Sunday Morning column, it's good to be back. And you are right, Ben. It's time for a pair of distinguished Swatch Group gentleman to commence battle. En garde!
As Ben rightfully mentioned, these two watches are probably not the first that comes to mind when thinking of pilot's watches. Although the Brequet Type XX series will be the top choice of some enthusiasts. Nevertheless, Breitling and IWC have successfully claimed aviation-inspired timepieces as their territory. But there is no shock in a statement that the Breguet Type XXI has more current-day relevance than the limited edition Blancpain Air Command Chronograph. I do, however, realize that overall relevance doesn't guarantee a clean win in today's Sunday Morning Showdown.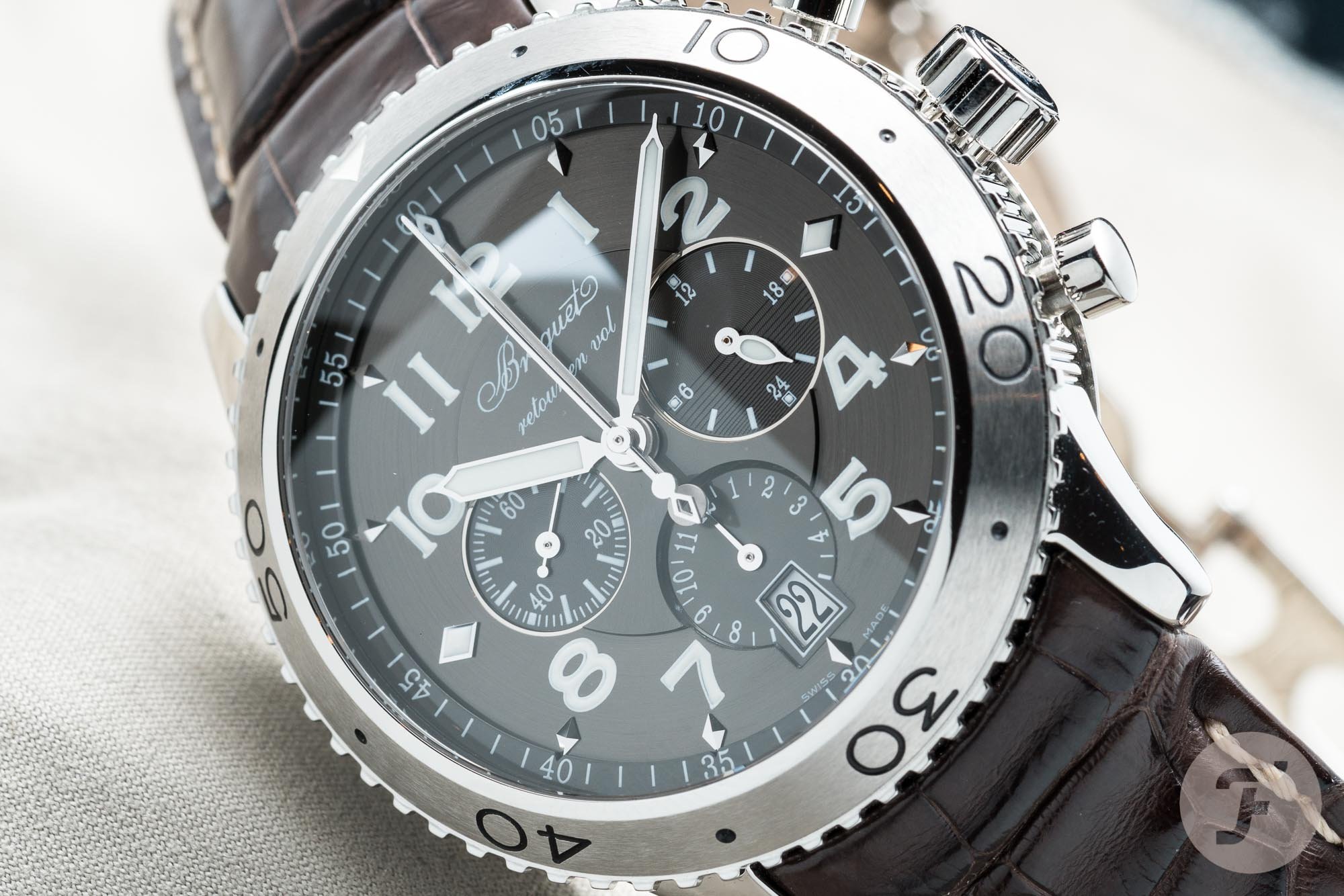 A gentleman's connection
For years, my connection to Breguet used to be somewhat distant and mainly based on respect and tradition for what the brand has contributed to the world of watches. Let's call it a respectful nod of recognition rather than a hearty hug with a friend. For me, the Type XX series seemed like the most relevant line of watches in its collection. But after wearing some of the new timepieces in the Marine collection, I have warmed up to the brand's suite of exceptional timepieces quite a bit. The respectful nod has now turned into a powerful embrace at this point. But with some distance because of the required budget. And that is where the Type XX series plays an important part.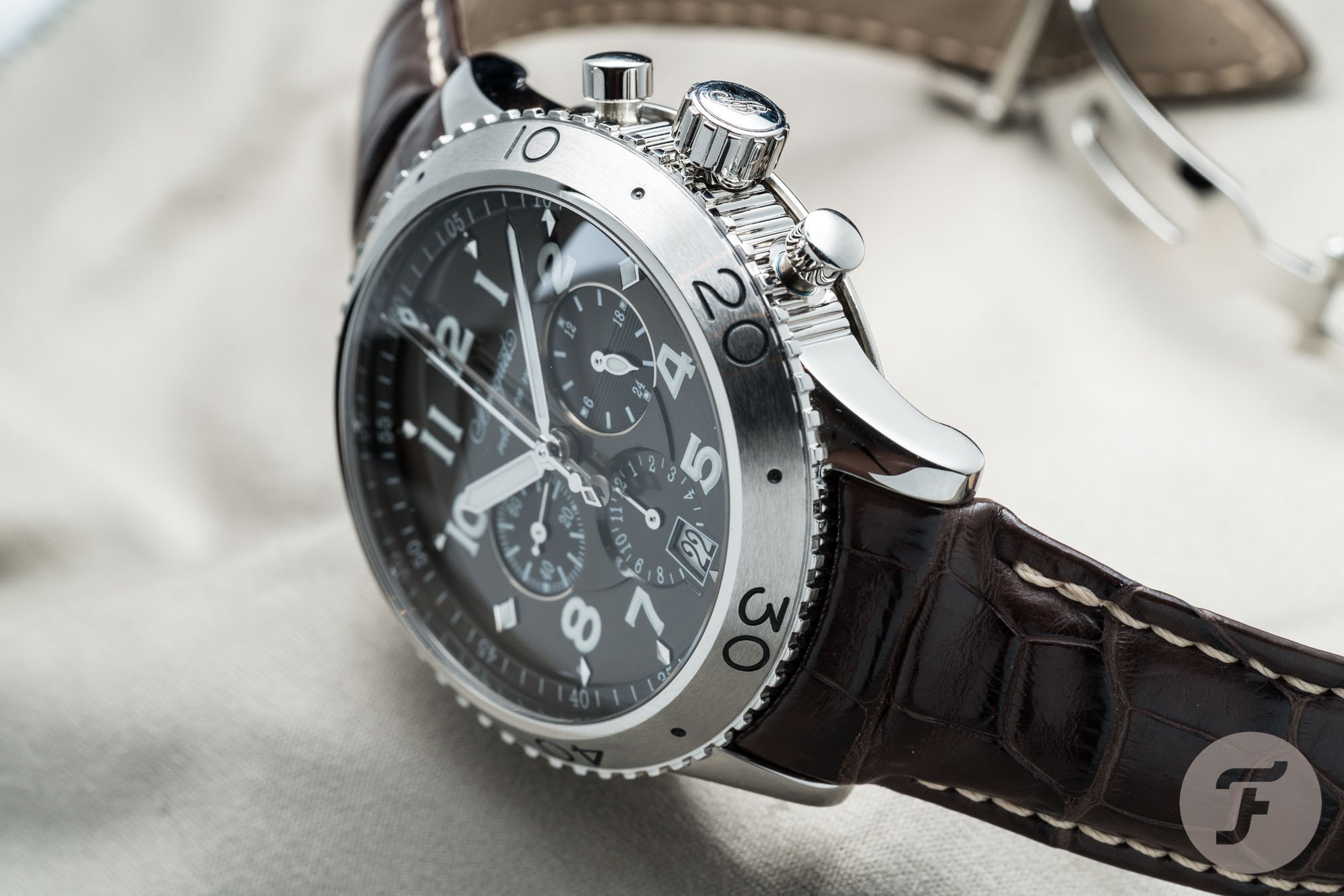 A symbol of French aviation
The Type XX series represents the brand entirely and is also a lot more affordable than many of the brand's other offerings. So in Breguet not becoming an abstract reality for the happy few, the Type XX series has a pivotal role for the brand. The first of the Type XXs were introduced back in 1994 and were modeled after the 1950s Type 20 military pilot chronographs that Breguet — along with five other manufacturers — produced for the French Military. This showdown is too short to get into the entire history of the Type 20 watches. Still, I suggest you read two great Springbar articles that give an excellent overview of the military and civilian Type 20 watches that were issued.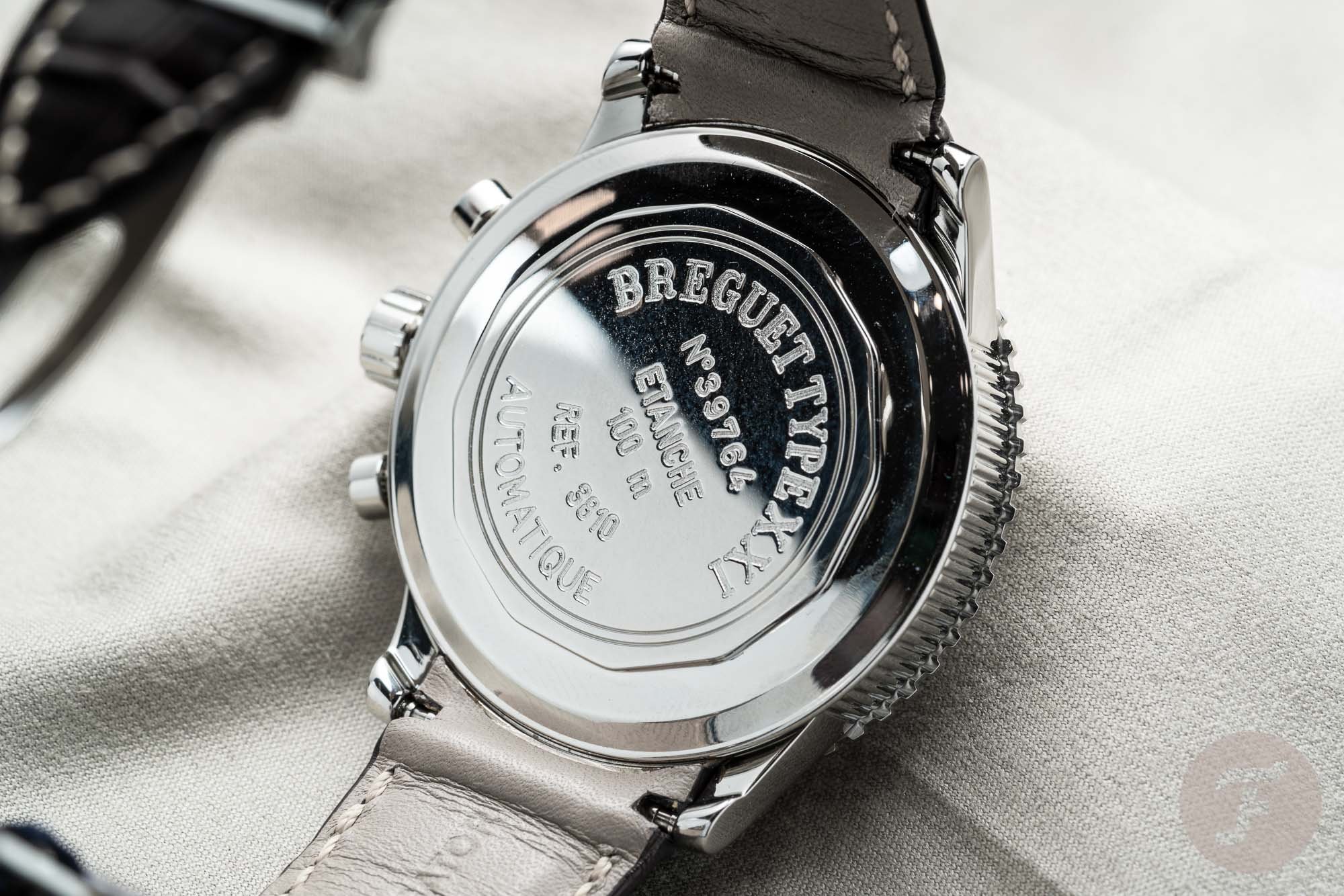 The Breguet Type XXI
Ten years after the introduction of the 39mm Type XX, Breguet introduced the Type XXI (ref. 3810) in 2004. Type XXI features a more significant 42mm case that brought it more up to modern standards in terms of sizing. Besides that, it features an improved movement in the Lemania based Breguet Calibre 584Q. The 4Hz cam operated flyback chronograph movement features central chronograph seconds and minutes hands and a 24-hour indicator in the 3 o'clock sub-dial next to the usual running seconds counter at 9 o'clock and a 12-hour totalizer at 6 o'clock. On top of that, the Type XXI features a date indication at 6 o'clock.
All is relative in love and watches.
The flyback function is also known in French as "retour en vol" and made the Type 20 watches incredibly popular in the 1950s. It's why the Type XXI has those words so proudly written on the dial below the Breguet logo — not just for marketing! At 42mm in diameter and 15.2mm in thickness, the Type XXI has more wrist presence than the Type XX and Ben's Blancpain Air Command above. For some, it might come across as a bit chunky, but the watch is exceptionally comfortable due to its curved lugs.
Its size is also why it is perfect to battle it out against the 42.5mm Blancpain Air Command Chronograph. And the best thing compared to the Blancpain? With the steel model on a leather strap coming in at €11,600 it is substantially cheaper than the Blancpain — still no bargain, but all is relative in love and watches.
The Type XXI ref. 3817
I can't just hand it back over to Ben without mentioning the Type XXI with reference 3817 that was introduced at Baselworld 2016. It's a slightly updated version of the Type XXI that features; a different slate grey dial color, updated simpler dial layout with larger numerals, and an overall greater vintage appeal. Also, by using extra retro-inspired lume and a different style leather strap gives it that bomber flight jacket aesthetic.
On top of that, Breguet introduced the Calibre 584Q/2 which is essentially the same movement, except featuring a so-called "inverted in-line Swiss lever" silicon escapement compared a metal straight-line lever escapement in the Calibre 584Q. For the first time, the movement is visible through the sapphire display case back. As you would expect from Breguet, it is a joy to observe. And at €13,600 the updated 3817 is still a lot cheaper than the Blancpain.
Currently, Breguet offers both the ref. 3810 and the ref. 3817. No matter what your preferred Type XXI is, for me, to me, it is an absolute no-brainer. Compared to the Blancpain Air Command Chronograph, the Type XXI is the obvious choice.
With that said, Ben, I am curious why you would choose the Blancpain?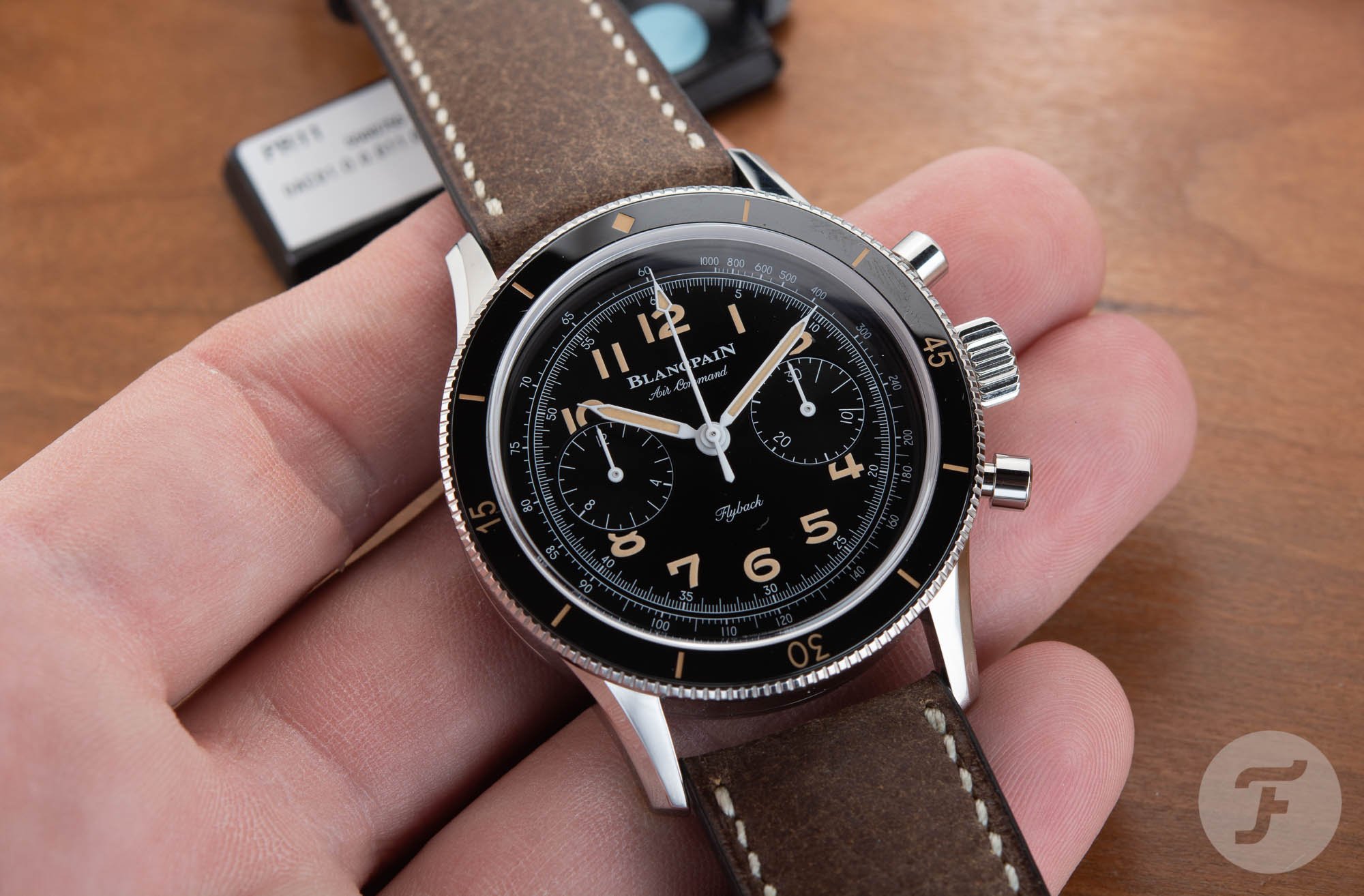 Coming in to land
Ben: Before that, give it up for Greg, everyone! Readers have called us out in the comments that our choice of Showdown watches may have similarities, but can differ wildly from price to functionality. We do appreciate those comments, by the way, so keep them coming. But this time, Greg has given us the suggestion of two watches that are so closely matched, that even I am struggling to choose following Jorg's excellent rebuttal.
I liken the Blancpain Air Command to the Tudor Black Bay P01, which also originally only existed as a prototype.
But I am no glory chaser. I stick by my sports teams through the highs and lows. Therefore, there is no way I'm dropping the Blancpain Air Command now when it needs me most! While the history may not be as well-established as Jorg's Breguet — I wish these were our actual watches, by the way — the design is immaculate. I liken it to the Tudor Black Bay P01 that I feverishly defended to no avail in an earlier Showdown. The P01 also had a rather undistinguished background by only existing as a prototype. But to me, both the P01 and Air Command nail the blend between modern and vintage opening up the opportunity to own one for a new audience.
Just look at the clean dial of the Air Command and compare with the frankly fussy Type XXI. Take, for example, number four on the Type XXI above. I lost count of the variations. You have; flat fours, pointy fours, curvy fours, narrow fours, broad fours from the bezel, to dial, to sub-dials and date. It may seem like nit-picking, but the effect sub-consciously leads to a sense of chaos. Is that what you want when timing manoeuvres in the cockpit? Conversely, the Blancpain is wonderfully uniform yet does not lose its stylish flare. Even the scripting of "Flyback" maintains consistency with the "Air Command" above. Without a date window, the Blancpain lends authenticity to its inspiration too.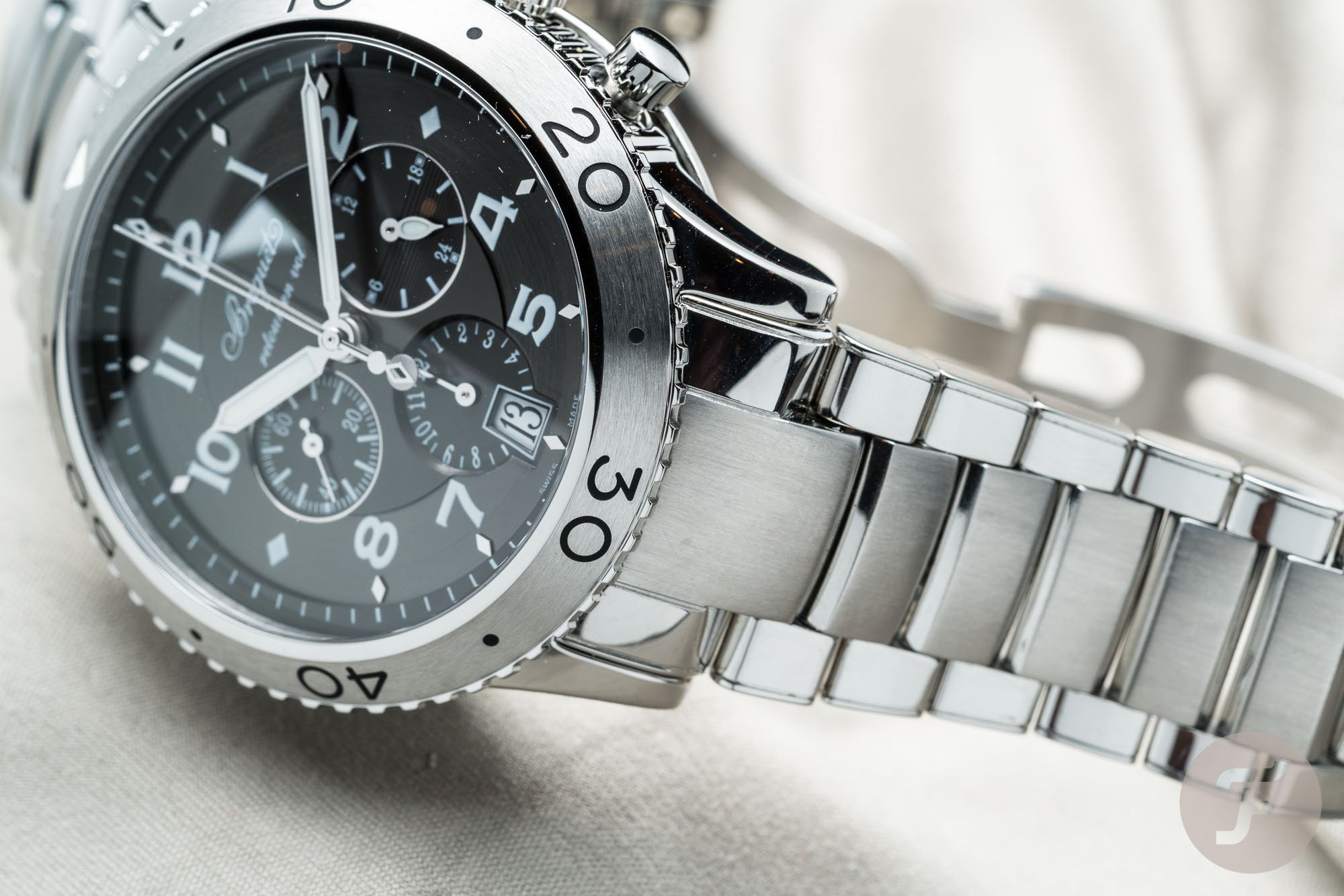 Two well-respected chronographs
Jorg: I agree with you Ben that it's a tough one and we have to compliment Greg on his suggestions. And in return, I have great respect for the Blancpain Air Command Chronograph. As it only fitting for a showdown featuring two well-respected brands. This is not a showdown of low blows and verbal obscenities. The Air Command Chronograph looks very nice and has all the features of a very attractive retro-inspired flyback chronograph with a beautiful 36,000 vph in-house movement. And I wouldn't mind seeing it as a permanent part of the Blancpain collection. But then again, would it survive in a highly competitive category of pilots' watches? A category where the Type XXI has become a recognized icon.
There aren't a lot of details I do not like about the Air Command Chronograph.
When it comes to your remarks about the typefaces, I have to agree with you. Breguet uses a mixture of fonts on the Type XXI. But in all honesty, it wasn't until you pointed it out that I noticed. And still, it does not really bother me. In return, there aren't a lot of details I do not like about the Air Command Chronograph. The biggest problem I have with the dial design are the heavily cut off numerals as a result of the placement of the sub-dials. It's a detail that is off-putting every time I see it. But also not a detail that is unique to the Air Command Chronograph as we see it all the time. Although it would be a reason for me not to buy it, in the grand scheme of things, it is futile.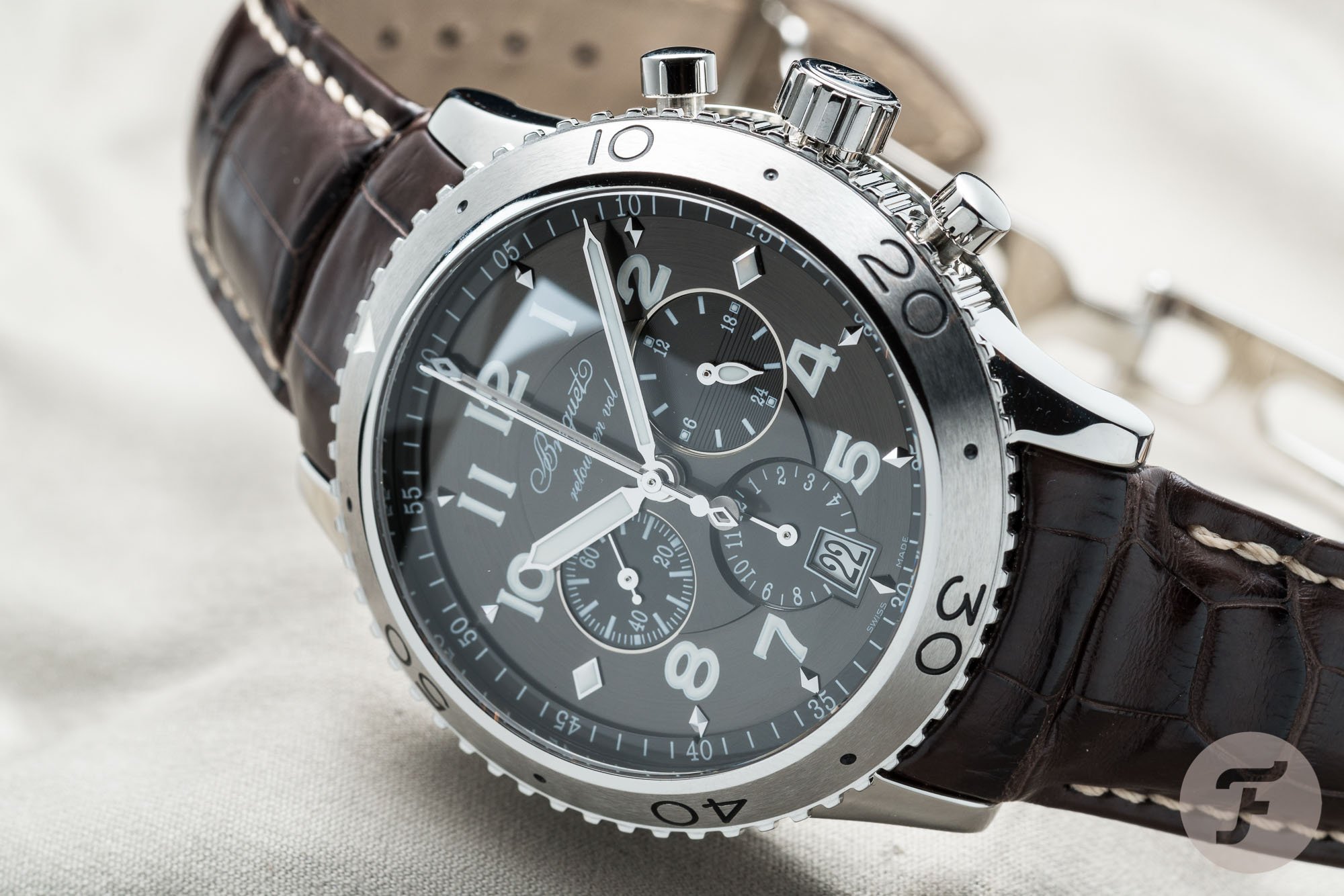 A battle for relevance
Jorg: No this Sunday Morning Showdown for me comes down to relevance. I keep coming back to the question of why would I pay €18K for a Blancpain chronograph based on a flimsy 1960s story of an obscure prototype? I guess you recognized that flaw as well when you needed to warm up our readers to its steep list price, Ben.
Ben: Guilty. 
Jorg: And while writing this I guess there is a big difference between the two watches despite competing in the same category.
It has the story to back it up and a list price that doesn't have you gasping for air.
Jorg: The Blancpain Air Command Chronograph is an expensive one-off re-issue of 500-pieces of an obscure prototype. Its relevance can mainly be found by collectors and I guess we have to compliment Blancpain for recognizing that. The Breguet XXI on the other hand is the entry-level offering for any watch enthusiast into the world of one of the world's most celebrated and well-respected watch brands. On top of that, it has the story to back it up and a list price that doesn't have you gasping for air. As I said before, it's an obvious choice.
Ben: I understand the justification, but I an emotional man who buys on lust rather than reason. But a quick scan on Chrono24, shows the Air Command is trading at a premium.
Jorg: Perhaps not so obvious, and we have seen before that the Fratello community can surprise us with which watch comes out on top. So I guess it's time to let out readers have a final say in which of these two watches they prefer. Let us know by voting and posting your comments in the comment section!
Blancpain Air Command Vs. Breguet Type XXI