Sunday Morning Showdown: Rolex Oyster Perpetual Vs. Omega Aqua Terra Shades
Which of these go-to models from two of the watch world's biggest brands gets your vote?
Oyster Perpetual
Aqua Terra
We've done a lot of Sunday Morning Showdowns by now — 130, to be exact. So we almost couldn't believe it when we saw that we had never put the Rolex Oyster Perpetual and the Omega Aqua Terra up against each other before. These are more or less the go-tos from these brands when you're in the market for a simple sports watch that you can dress up or down. Both are offered in a wide variety of colors and sizes. Clearly, these natural competitors are long overdue for an appearance on the sands of the Sunday Morning Showdown arena. Let's see which one takes home the majority of your votes.
A few months ago, Thomas went hands-on with the new Omega Aqua Terra Shades collection. For today's showdown, we'll put that colorful bunch up against Rolex's 36mm Oyster Perpetual. We feel that these watches are similar enough to make them natural competitors. But they're certainly also different enough to make sure you have a clear choice to make. Before we let Nacho and Daan make their cases, though, we'll take a quick look at what happened last week.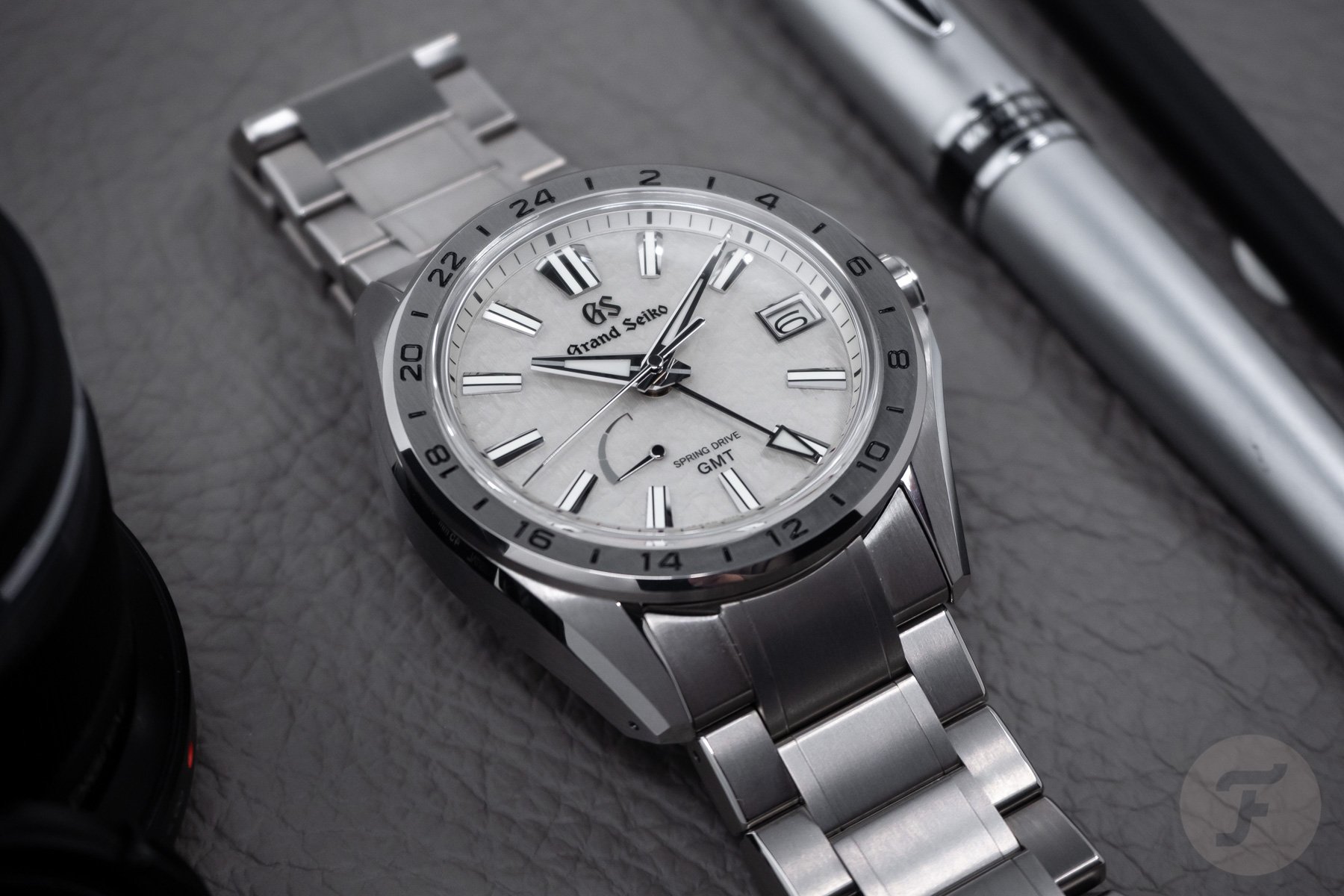 A surprising win for Grand Seiko
It was a battle between two watches with a brushed stainless steel 24-hour bezel and a fourth hand. But that's about it when it comes to their similarities. In almost every other way, these watches are very different. The Rolex Explorer II ref. 226570 is the more classic reference when it comes to GMT watches. The Grand Seiko Evolution 9 GMT is the more modern-looking Sping Drive counterpart. In the end, it looks like the Grand Seiko earned more respect and, thus, votes (55%) with its very accurate movement and its more daring design. That is something we wouldn't have put our money on upfront.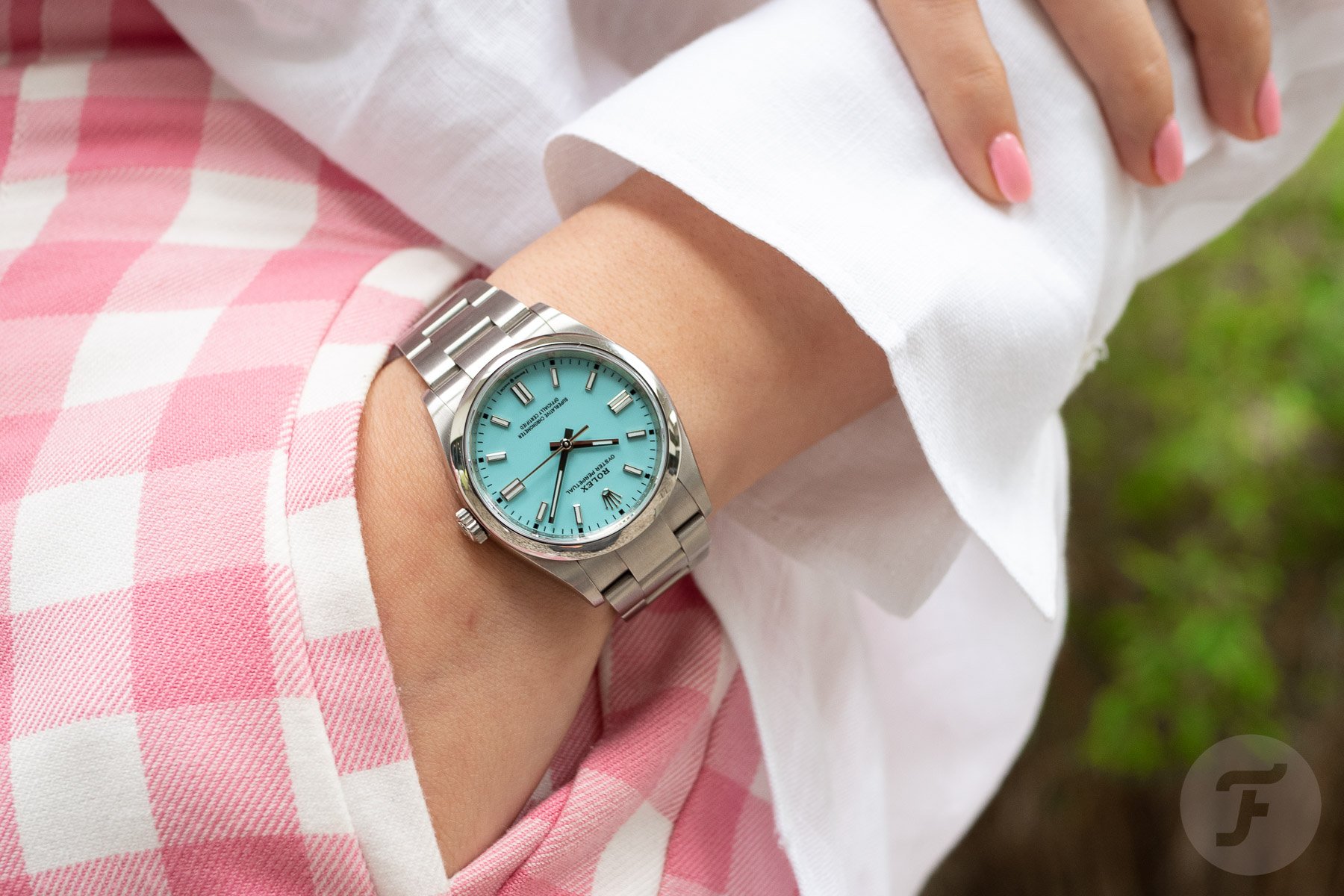 Daan: Rolex Oyster Perpetual 36
Technically speaking, I own a Rolex Oyster Perpetual myself. It's officially called a Rolex Explorer ref. 114270, but other than the numerals at 3, 6, and 9 o'clock, it's almost the same as an Oyster Perpetual. That's why I got the chance to defend the OP against the Aqua Terra today. But honestly, I feel that the Aqua Terra is no competition against the OP. The Rolex Oyster Perpetual is simply the watch for me. Just look at it. Is there really anything about it that you'd like to change?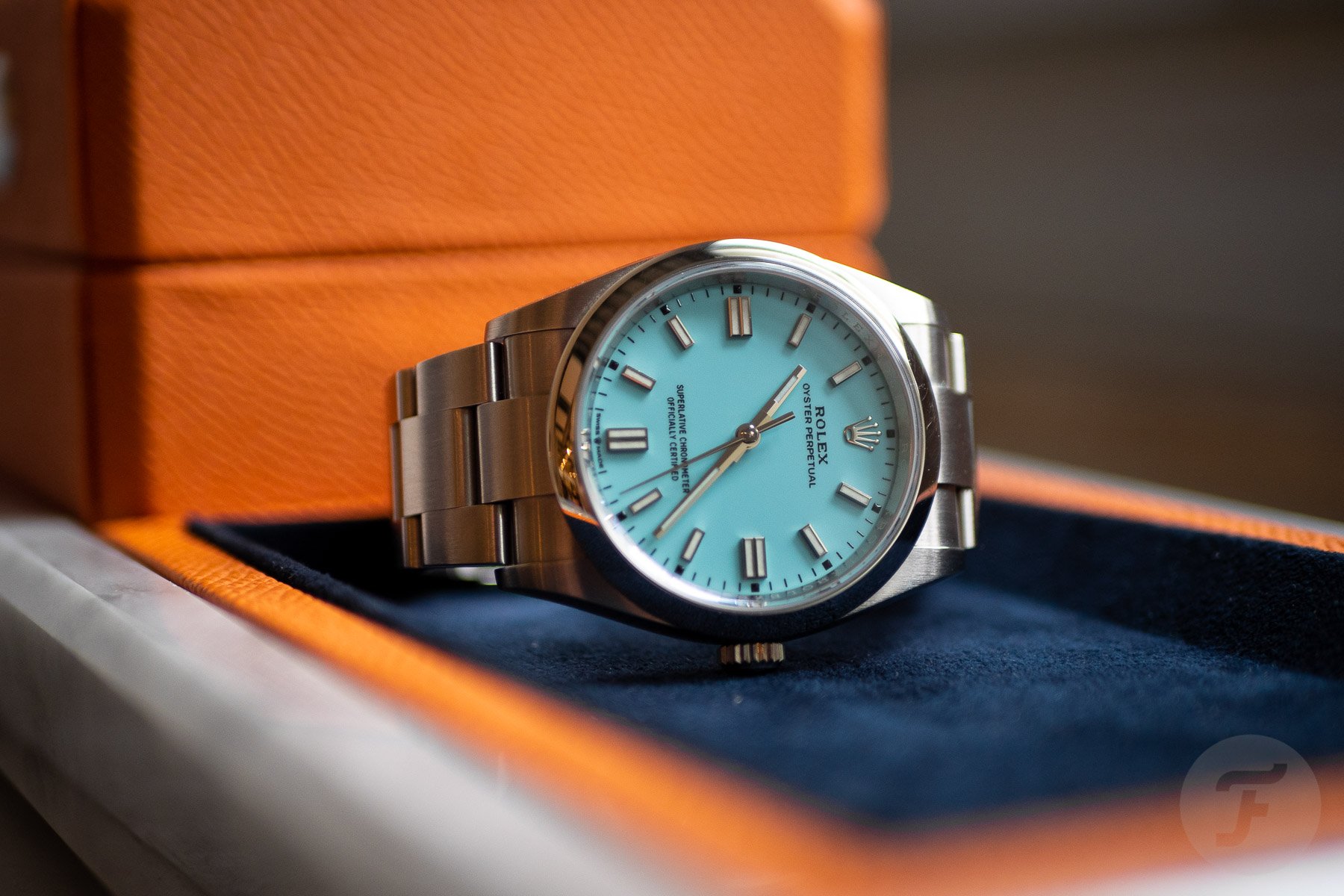 Indeed, Rolex's Oyster case hasn't changed much over the years. You could hold that against it and say it's a very lazy way of making money. On the other hand, you could also say that it's a truly timeless design that still is one of the most beautiful watch cases that has ever existed. The slender and curvy Oyster case is the perfect combination of elegance and sportiness. It works great on a strap, but it works even better when it's paired with an (all-brushed) Oyster or (brushed and polished) Jubilee bracelet.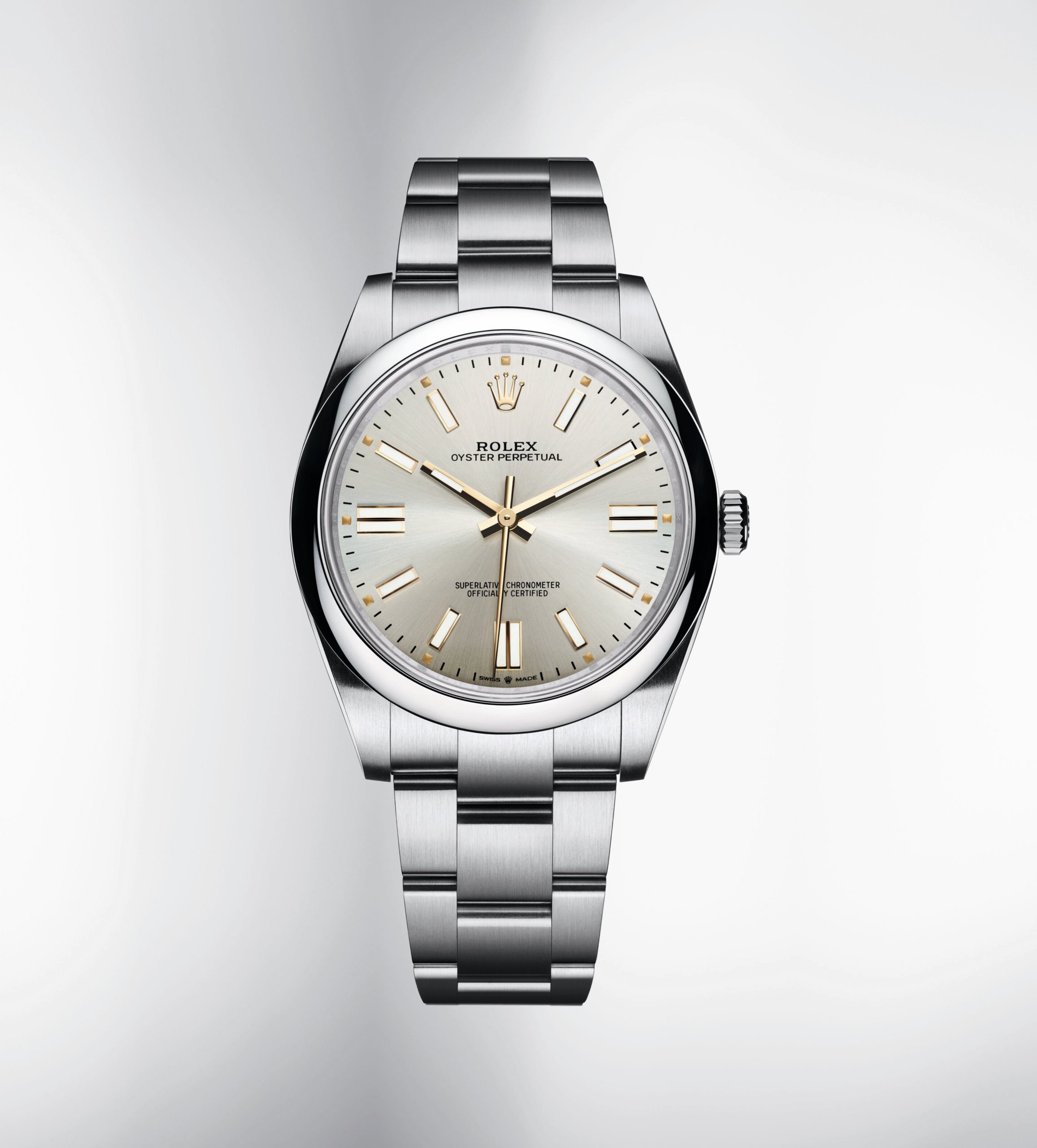 Simplicity perfected
When I look at the configurations that Rolex currently offers, there's only one that really stands out to me. That's the one with the silver dial and the yellow-gold indexes and hands. I think that one best brings out the simplicity and perfection of the time-only dial. But I also wouldn't have any problem wearing an Oyster Perpetual with a Rolex Racing Green dial or any other color, for that matter. The applied stick hour markers look so simple yet so balanced and impressive. Just like the amount of text on the dial and that Rolex coronet at 6 o'clock, everything has exactly the right size and proportions.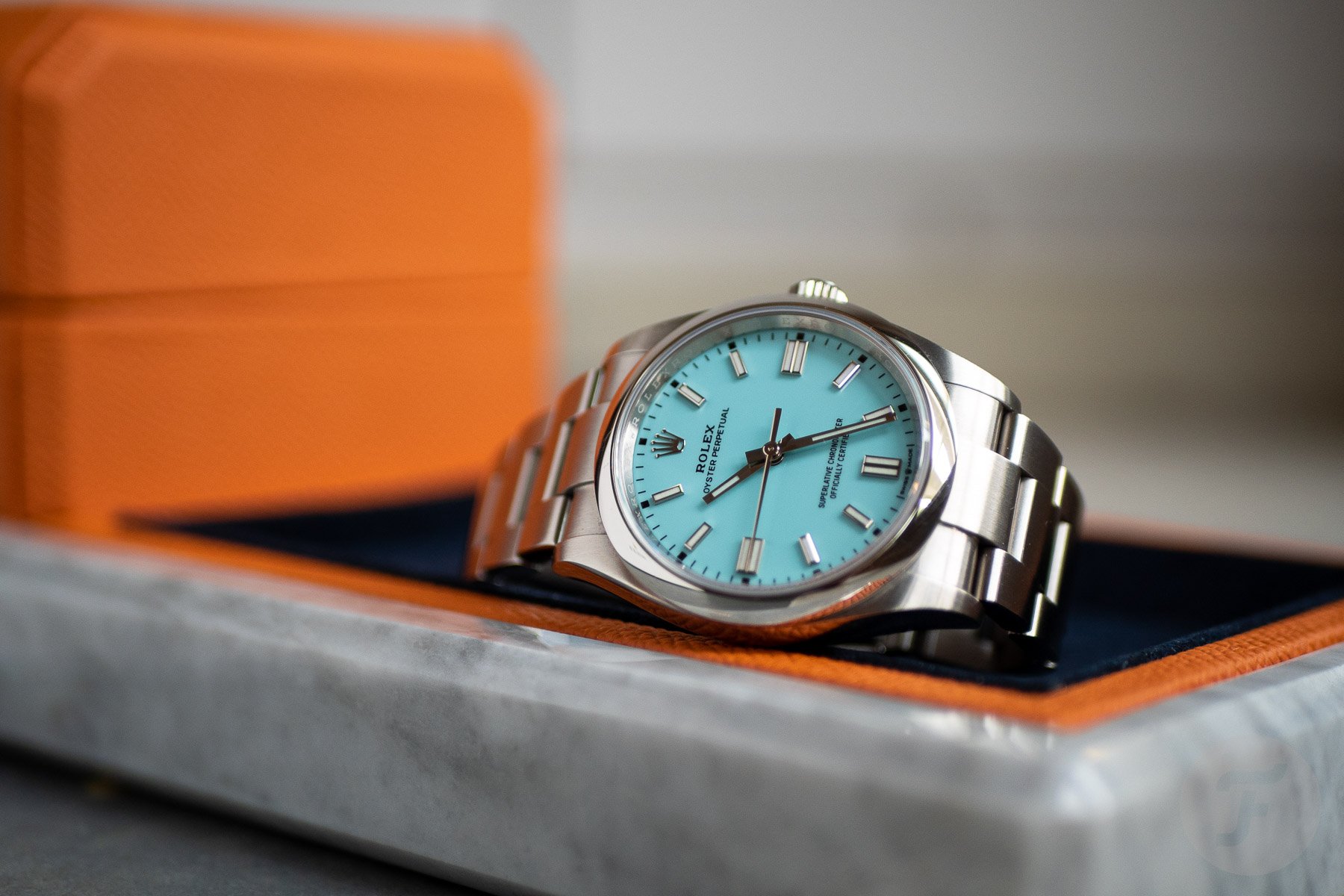 There's only one thing I'd change about the current Rolex Oyster Perpetual, and that's the convex shape of the bezel. On my Explorer, the bezel is simply beveled, and I much prefer that look. It makes the watch look a little sportier and gives it a little more attitude. The domed bezel of the current model makes the watch look a little too friendly if you ask me, and I prefer the bezel shape of the Aqua Terra. But there are some other things about the Aqua Terra's design that annoy me a little bit.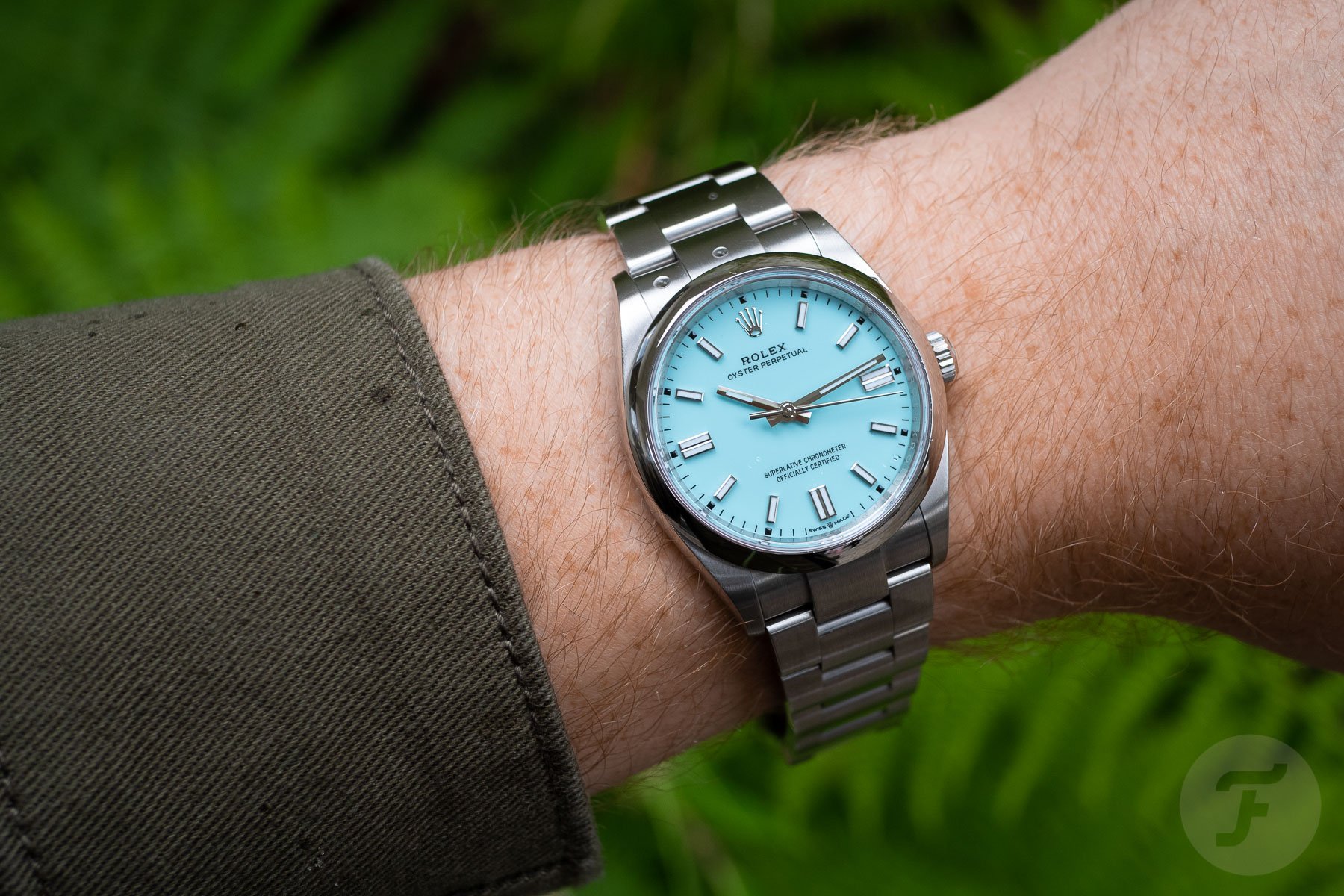 The Aqua Terra is trying too hard
I'll start with the bracelet. Quality-wise, it feels good, but it's no match for the Rolex Oyster bracelet. I'm also not fond of the polished center links. When it comes to Aqua Terra's case, I don't have anything bad to see. With its twisted lugs, it's "very Omega," and it works great in the 38mm size. Then again, I'm not a big fan of the crown and its tapering shape. Also, the dial layout isn't my favorite. The pointy hour markers look like they're small versions of the hour hand. And although the date window is executed well, it's in the wrong spot.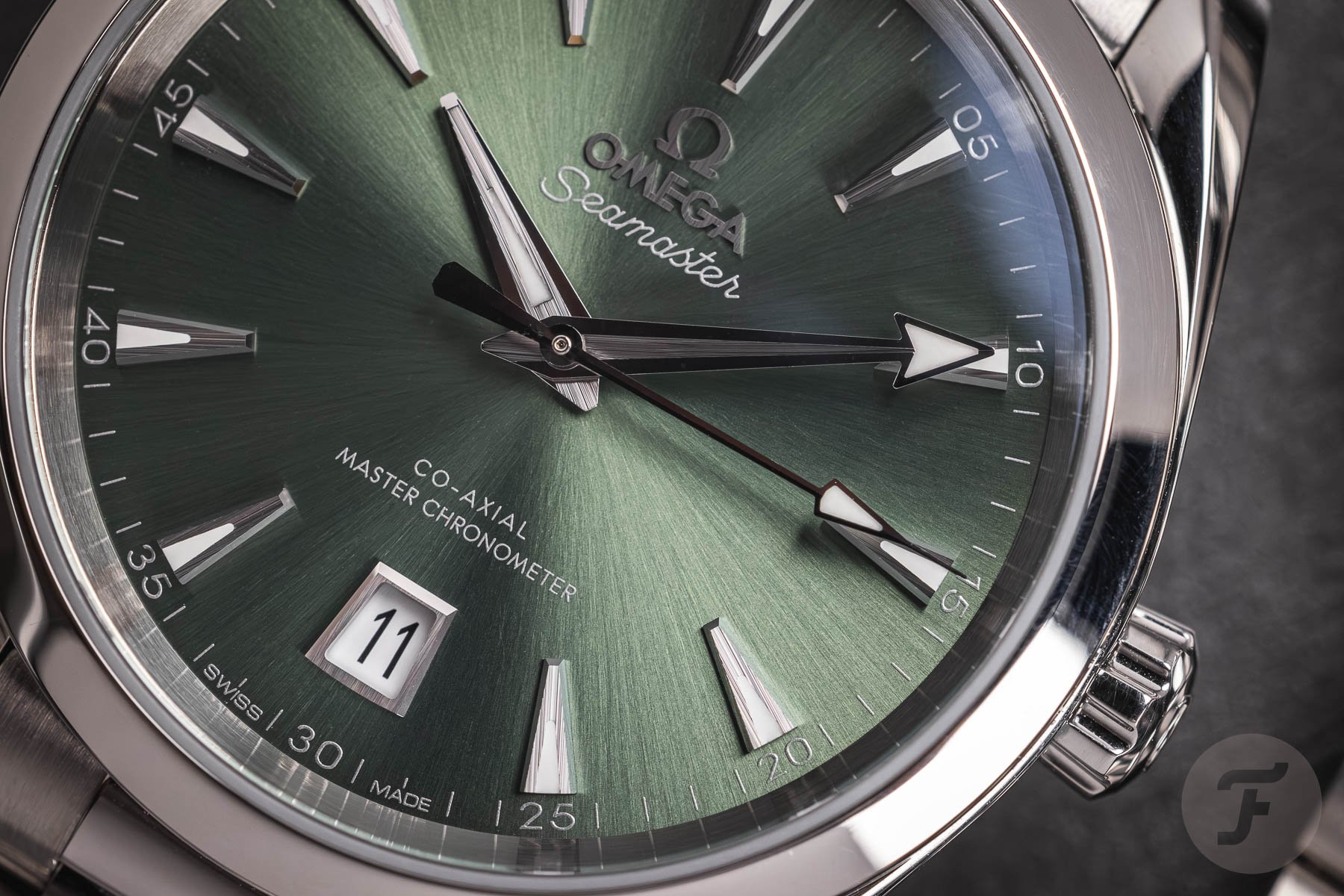 As you can see above, the date window is positioned way too high. It's completely out of alignment with the other hour markers. I would've much preferred a no-date version instead of this botched version with a date. Now, admittedly, I do think the applied logo at 12 o'clock and the minute numerals are good additions. However, I feel the Omega designers pushed the Aqua Terra's design a bit too far. I think in terms of simplicity, they could learn a lot from the dial layout of the perfectly balanced Oyster Perpetual.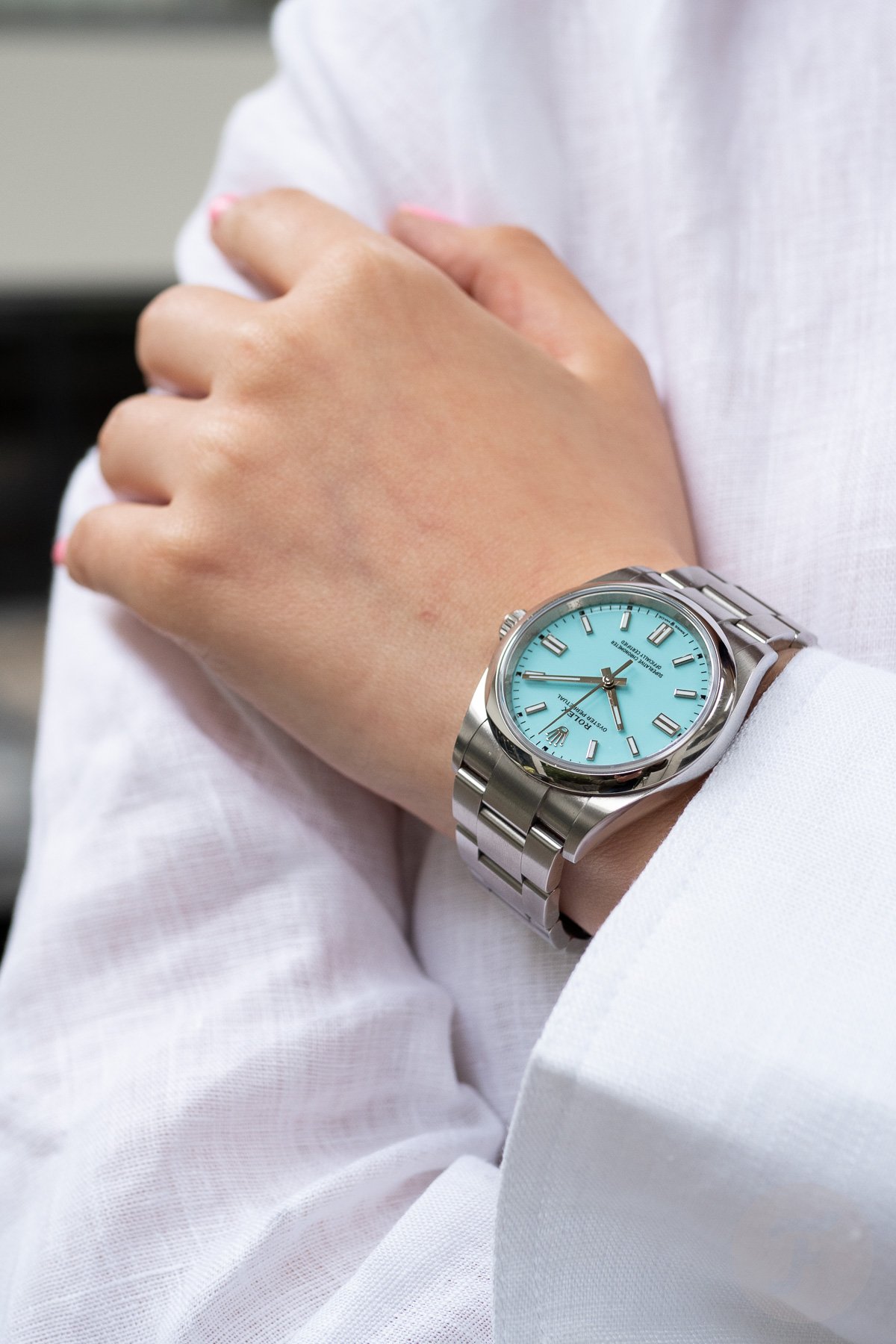 Price and availability
But this battle isn't only about looks. Especially when you're talking about Rolex, the price and availability are important aspects to include in the discussion. When I looked at the list prices of both these watches, I was quite surprised that the Aqua Terra was more expensive. It costs €7,300, whereas the Oyster Perpetual comes in at €6,100. Of course, you get a date function for that extra €1,200, but other than that, I feel the Aqua Terra is pushing it here in terms of price. And many commenters seem to agree with me. However, the advantage is that you'll probably be able to buy it when you walk into a store.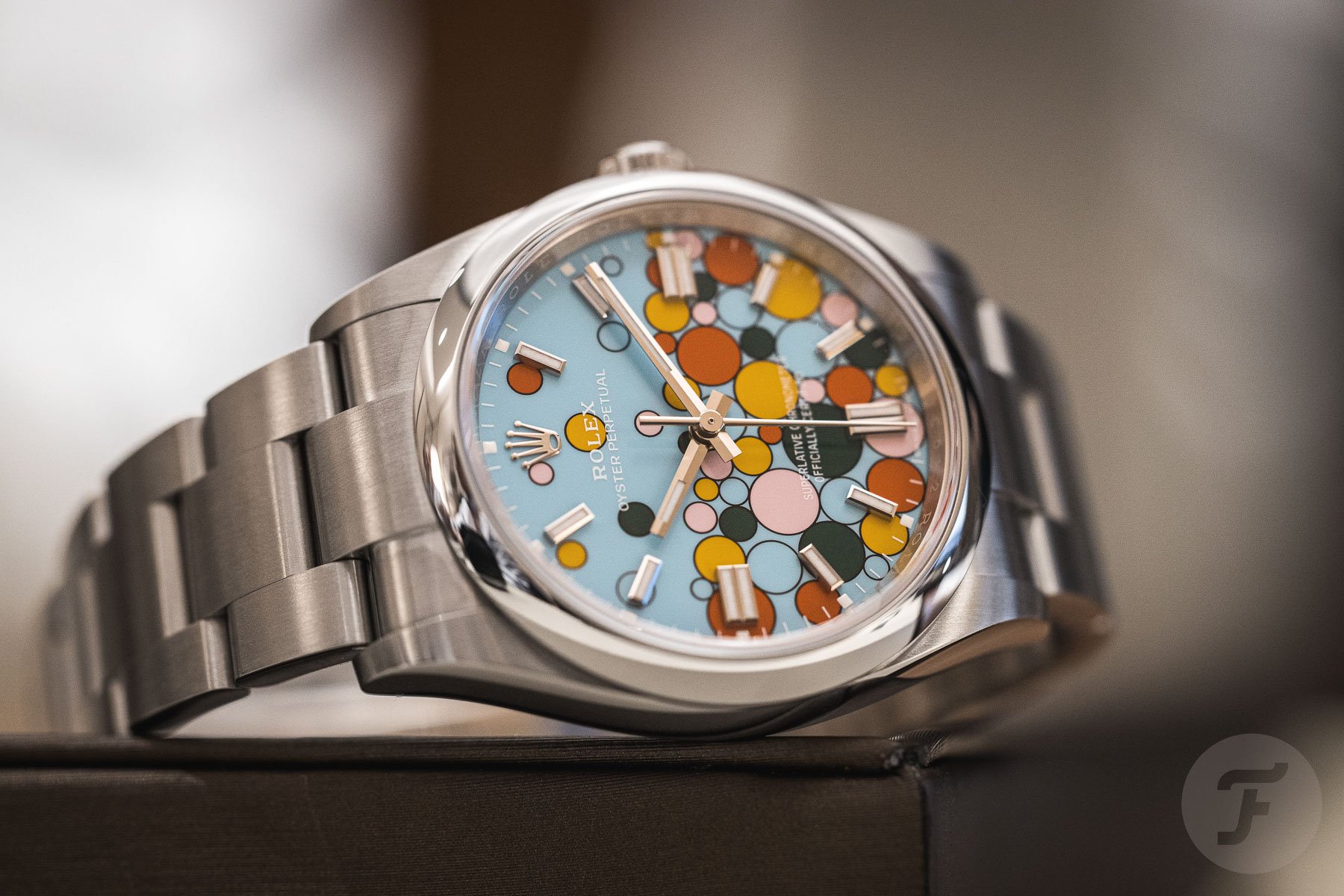 With the Oyster Perpetual, that's a whole different story. That watch probably won't be available right away in a store near you at that lower price point. But I quickly checked Chrono24, and it looks like you can still get yourself a pre-owned or practically brand-new OP for less than the Aqua Terra's list price. I feel that's a premium I'd be willing to pay if I were in a hurry. And if you aren't, then you probably already know that the call from your Rolex AD is coming sooner than you think. All right, Nacho, over to you.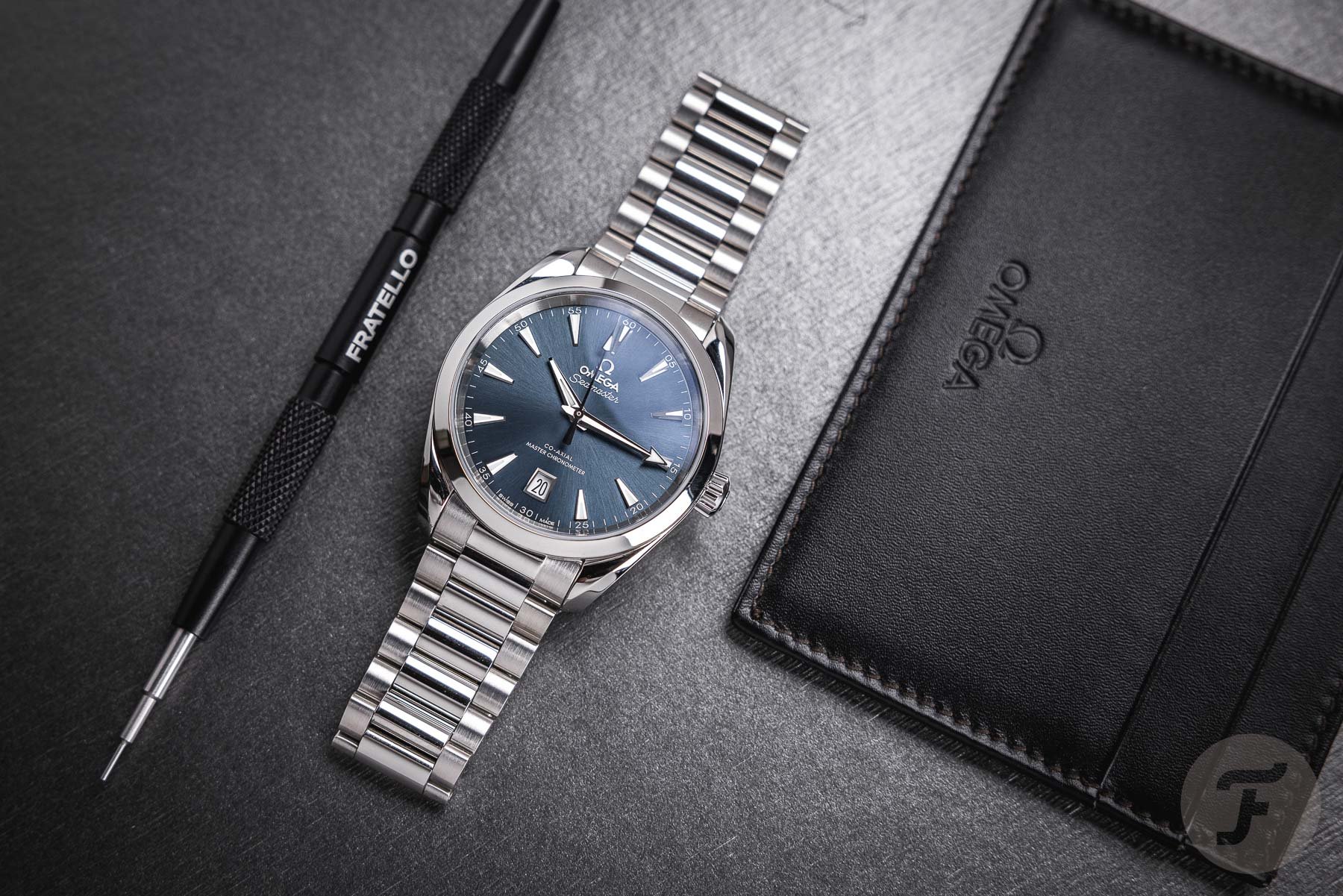 Nacho: Omega Seamaster Aqua Terra Shades
Thanks, Daan! A valiant effort was made in favor of the OP (otherwise known as the unoriginal rich man's entry-level choice). About as enticing as an oyster (salty specimens of sea sputum that I despise) and perpetually absent from Rolex boutiques, it's a watch that does what it does exceptionally well. I'm just not entirely sure what exactly it is that it does… But before I get too mean, let's first take a look at my contender this week. As you know, I'll be rooting for the Omega Seamaster Aqua Terra Shades. This is the latest addition to the AT range, and it comes in at 38mm with plenty of changes from its predecessors. It's what I would consider Omega's take on creating a perfect GADA watch. If you want a full, detailed dive into the Aqua Terra Shades, you can find Thomas's article here.
Now, there are several reasons why I'd take the Aqua Terra over the Oyster Perpetual any day of the week. One of the key aspects has to do with its dimensions. Though 36mm is a classic size for bezel-less Rolex watches, I feel that the 38mm size of the ATs is a bit more contemporary and will suit more wrists overall. It also gives the watch a relatively slimmer profile. This latest take on the AT also complements the more elegant side of the watch with a re-engineered bracelet. It's thinner and as comfortable as you might like. And though not my cup of tea, the polished and brushed finishes make it a far more versatile watch. I find that on the OP, the Oyster bracelet is just a tad too chunky, detracting from the watch's "dressier" side and firmly cementing it as a sports watch. But then it butts heads with the Rolex Explorer, and we all know who wins that duel.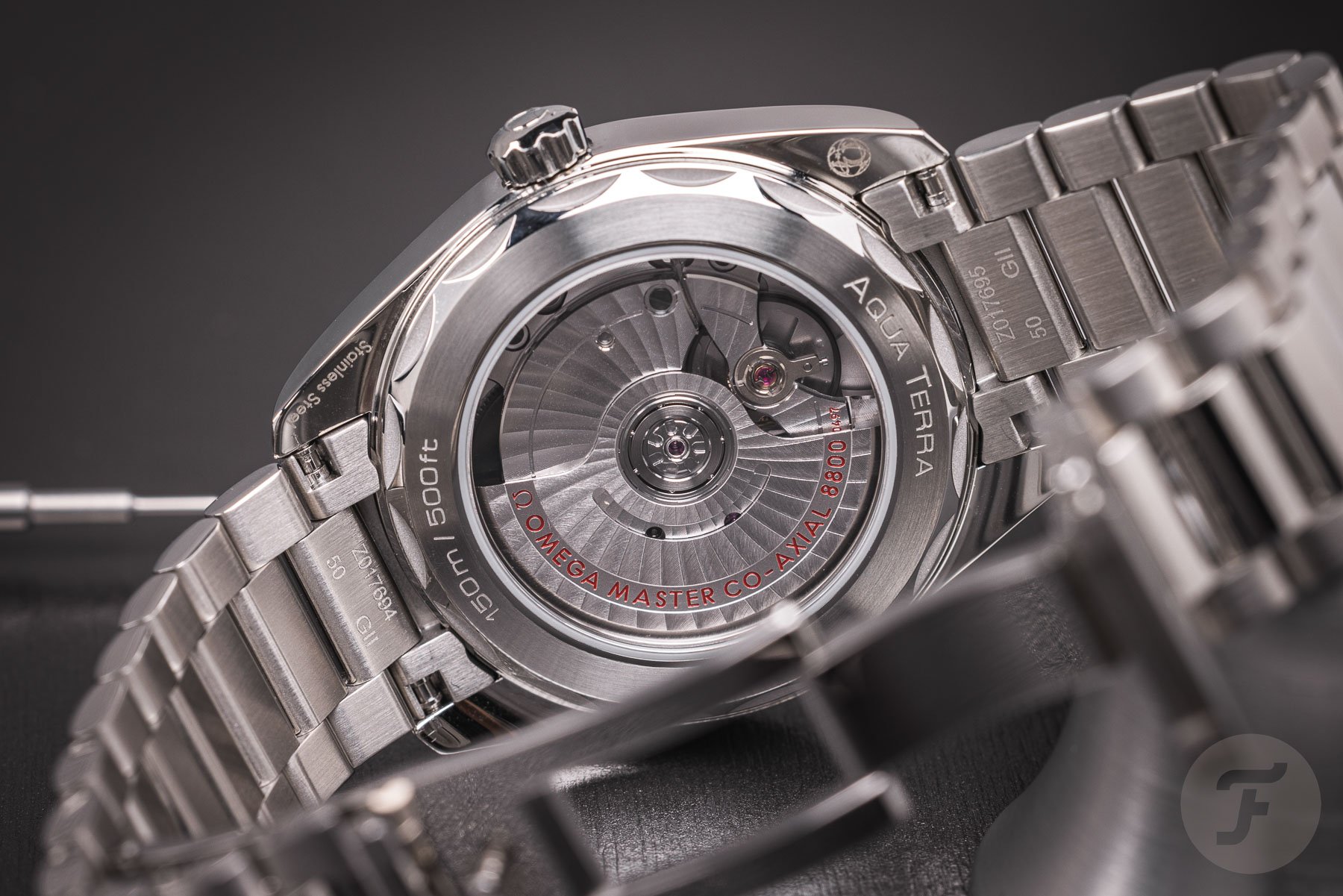 It's what's inside that counts
In this section, I want to touch upon two things. One is my biggest criticism of the OP, and the other is one of the biggest pros of the Aqua Terra. Let's start with the impressive Co-Axial caliber 8800. Compared to the basic (yet admittedly robust) movement used by Rolex, the Omega caliber is clearly superior in both aesthetics and specs. As with most modern Omega calibers, the 8800 is put through the stringent METAS certification. This means that the watch is regulated and controlled not to drop a single second of timekeeping. This narrow margin might seem, well, marginal, but timekeeping performance matters, especially when we're talking about luxury mechanical watches.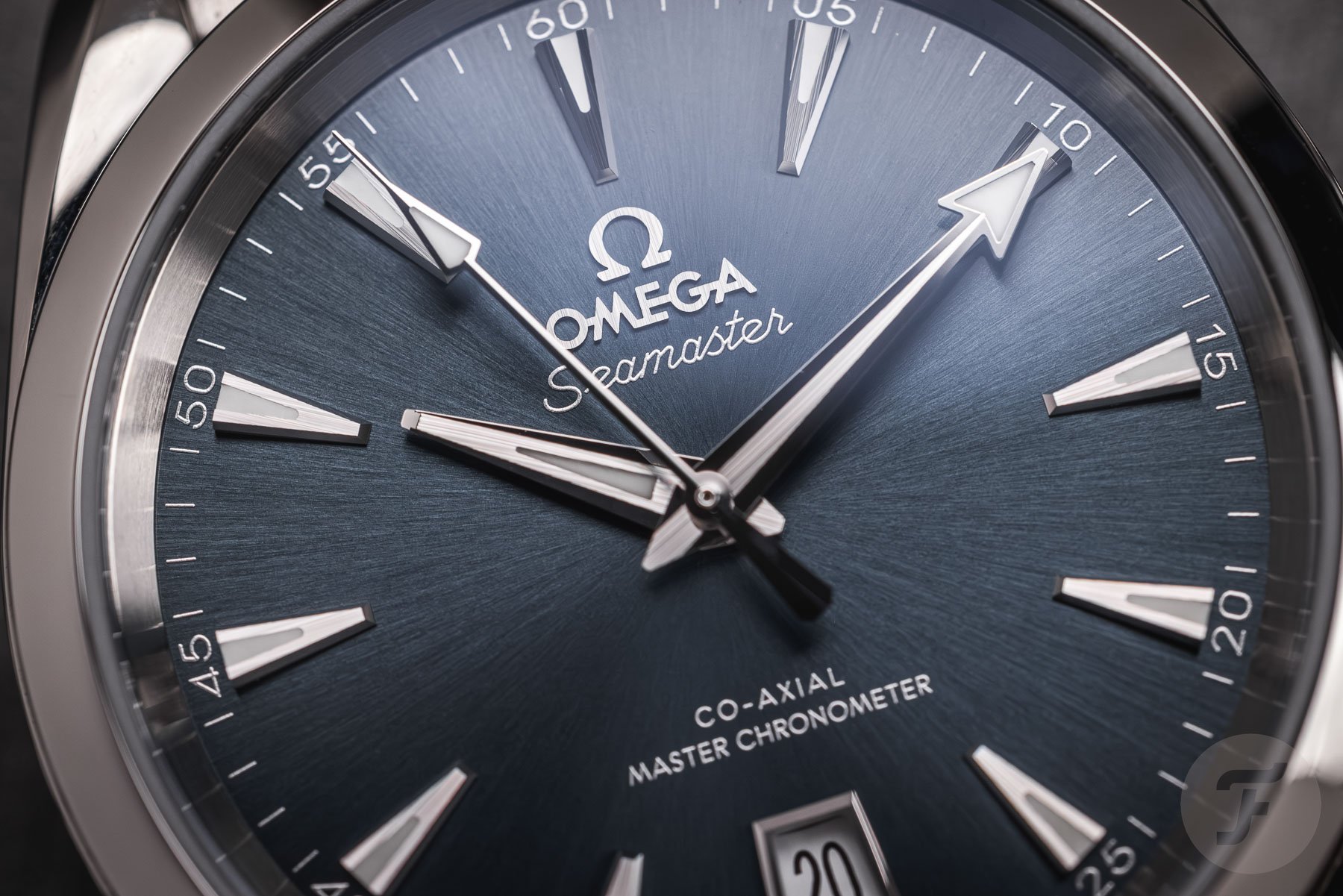 My second point focuses on the Rolex OP's dial. I find that, whereas the Aqua Terra's dial and its markers are beautifully designed to have a uniquely appealing look, the Oyster Perpetual falls a bit flat. The markers are blocky and unrefined, and the matte dials are just a bit bland. Sure, there are plenty of colorful choices. There are even black, blue, and silver sunburst options. But for most of the current OP dials, I find that their execution is a bit lackluster. It looks a bit like Lego blocks on an equally plasticky and colorful backdrop. Omega employs a bit more subtlety. The colors are more unique and have a slightly more toned-down maturity to them. And the dial furniture is far more impressive. The faceted shark-tooth markers are hard to beat in their interaction with light and shade. They also pair harmoniously with the fantastic AT handset.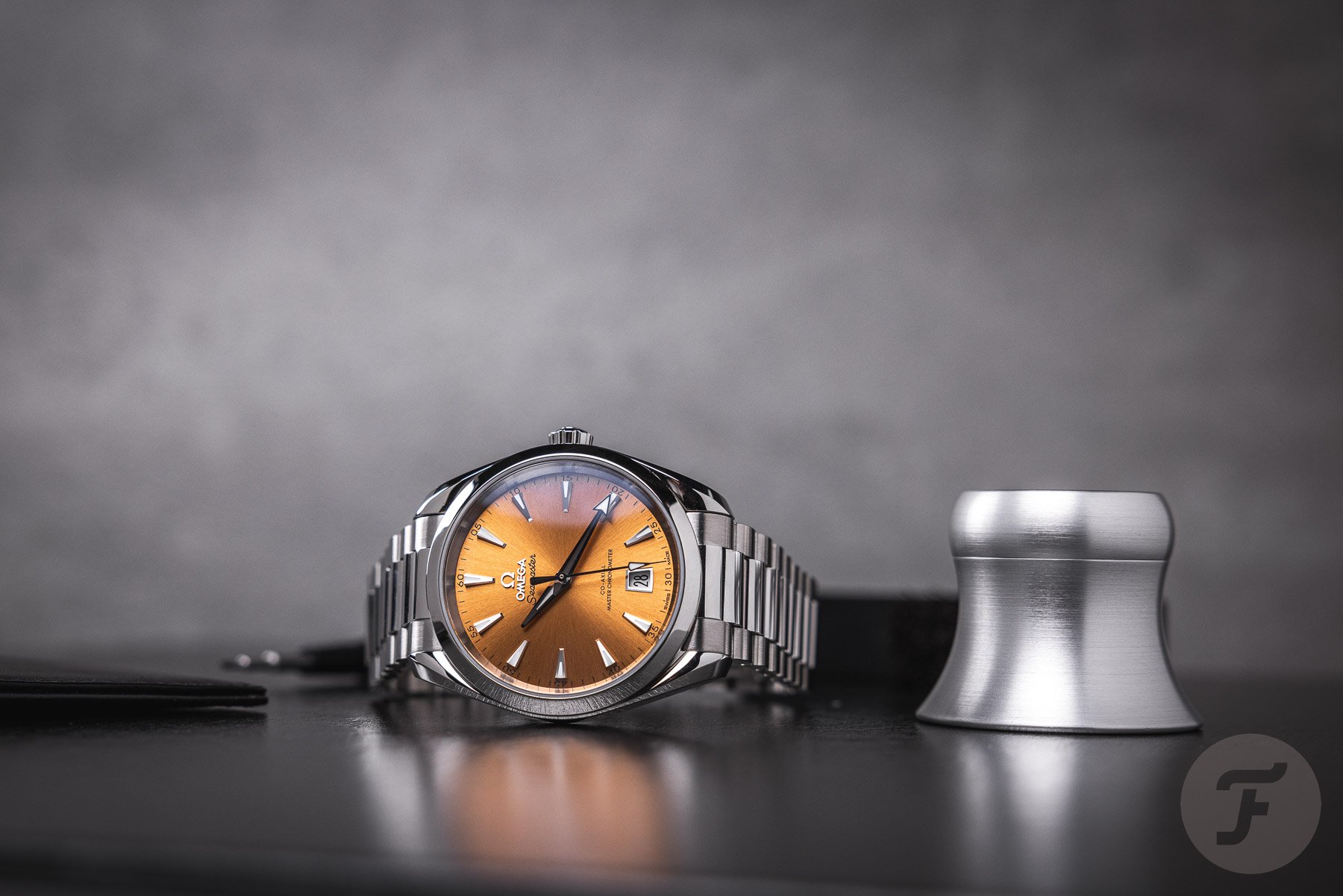 Coup de grâce
As Daan pointed out, the Aqua Terra is slightly more expensive than the Oyster Perpetual. But as I mentioned before, you get more than just a date. You also get a proportionally better-wearing watch, a more accurate movement, and a far more interesting range of colors for its refined dial. I know it's a bit of a cheap shot, but one of my closing arguments relates to peace of mind. Let's just say the Aqua Terra is less likely to draw unwanted attention. Worst case, you might end up speaking about specs with a fellow Omega fan. He might mention to you how the AT is water resistant to 150 meters compared to OP's 100. Again, it's not a massive difference, but in the world of luxury and precision, a little bit better can go a long way.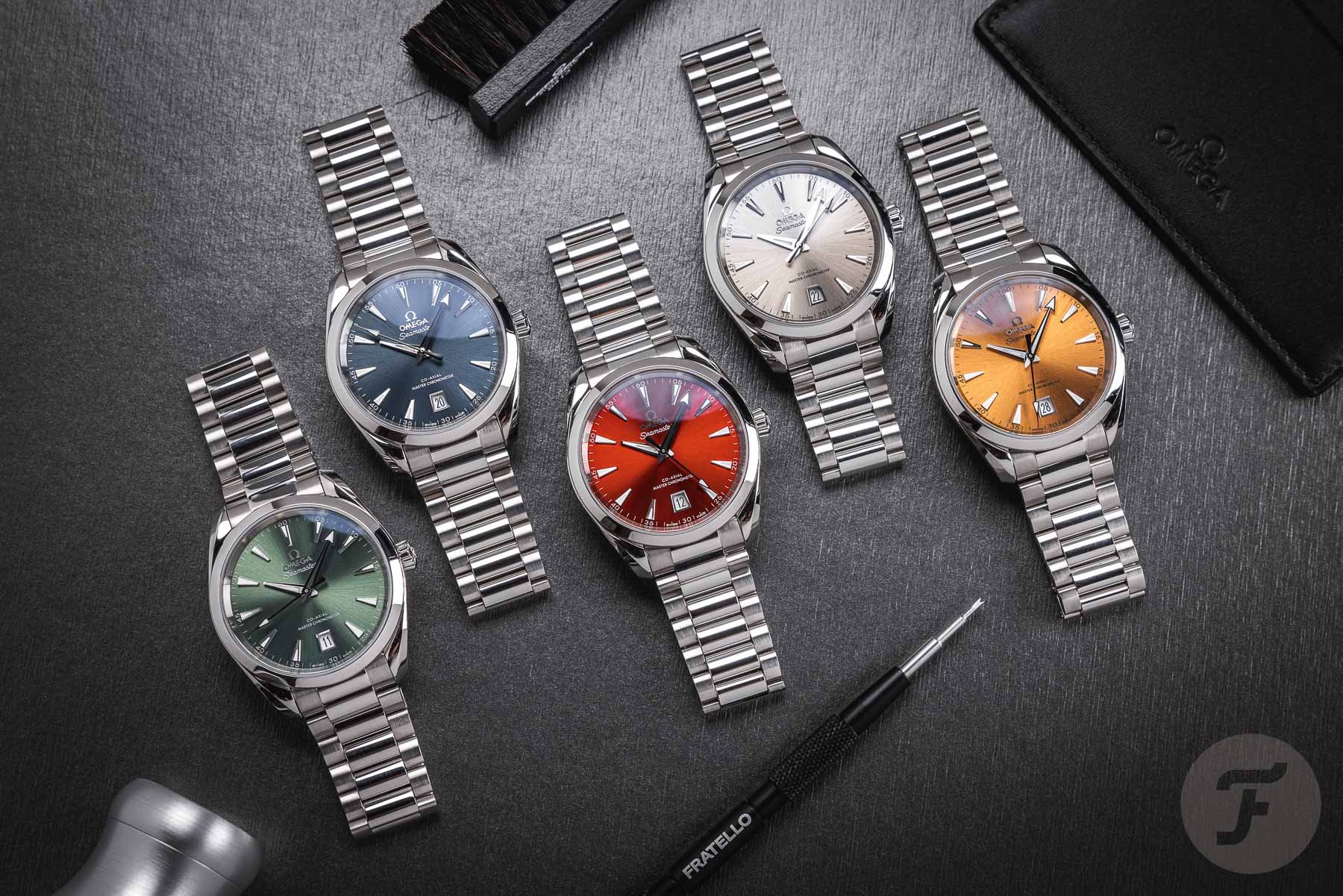 The last thing to consider is that you have a reasonable chance of actually buying an Aqua Terra at your local AD. With the OP, depending on where you live, you might be waiting several months before you get the call. What good is it for the price to be less if you can't buy the watch? I guess you could always check Chrono24.
One final thing to note is that the Aqua Terra is also a choice that would pair well with many aftermarket straps. You could even go with one of the many OEM options, whereas with the Oyster Perpetual, you're not likely to find a better pairing than the steel bracelet. So, there you have it, folks; for all these reasons, my preference for the Omega Aqua Terra remains. Make sure to vote for your favorite below, and as always, may the best watch win!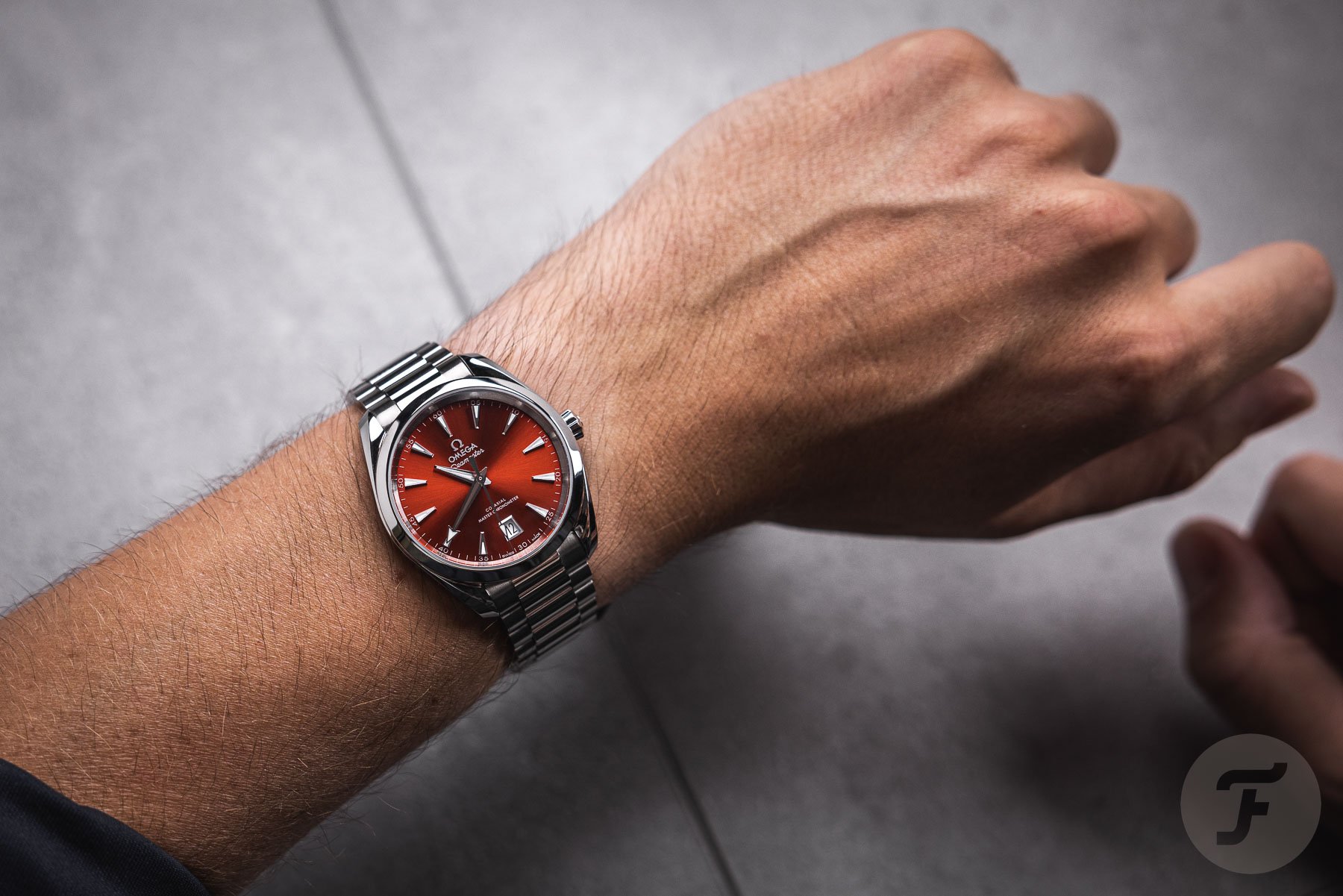 Final thoughts
As we wrap up this long-overdue Sunday Morning Showdown, the time has come to cast your vote. Will you pick Daan's Rolex Oyster Perpetual? Or will your winner be Nacho's Omega Seamaster Aqua Terra Shades? Make sure to select your pick below. And finally, tune in next Sunday for another showdown!
Rolex Oyster Perpetual Vs. Omega Aqua Terra Shades