Sunday Morning Showdown: Swatch × Omega MoonSwatch Vs. G-Shock CasiOak
Are you Team Swatch or Team G-Shock?
In the battle of the plastics (yeah, Bioceramic) for this Sunday Morning Showdown, two popular, fun, and affordable watches go head to head. It's the Swatch collaboration with Omega versus one of Casio's G-Shock models. Today, RJ brings the MoonSwatch and Daan brings the G-Shock CasiOak to the table.
For this MoonSwatch versus CasiOak battle, let me (RJ) kick it off by saying that I have tremendous respect for both brands. My first watch — that I can remember, at least — was a Casio (W-14). I remember buying it (or, more likely, having my parents buy it for me) at Dixons in Canterbury, England in the summer of 1986. I also had a look at some of the very early square G-Shock models. But at that time, I had just turned nine and had very thin wrists. So I settled for the W-14, which I still have (and I restored it myself a few years ago with a donor movement). However, the same goes for Swatch. Being a kid in the 1980s and early 1990s, Swatch played a huge role when it came to watches. I also still have my first Swatch, and that one also still works. Today, I still find myself buying watches from both brands mainly for fun. Still, they don't keep me from wearing my mechanical watches for long.
RJ: In favor of the MoonSwatch
When Mr. Hayek Jr. invited me to come to have a look at this top-secret project in Bienne mid-March, I had no clue what to expect. He, together with Mr. Aeschlimann (CEO of Omega) and Mr. Giordanetti (Creative Director of Swatch), presented the MoonSwatch, and we had a very open discussion about this new collaboration and how it would be marketed. Upon seeing the MoonSwatch, I could do nothing but smile. It was a fun interpretation of the watch that is so dear to me, the Omega Speedmaster Professional Moonwatch. The MoonSwatch is super lightweight. The Velcro strap might even weigh more than the watch head itself. The Bioceramic case is a reproduction of the original 42mm Moonwatch, and the dial, hands, and bezel have a lot of nice and familiar-looking details. But all of them are done in plastics, of course.
Flippers in the MoonSwatch queue
At that point, nobody expected long queuing lines for this watch (I asked Mr. Hayek during his presentation). But it happened, and it has been weeks of craziness. Unfortunately, the watches are still not properly available in the Swatch boutiques, and they're not officially available at all online. I feel this is a bit of a missed opportunity, as you won't even find all Swatch boutiques getting these watches in the first place.
And of course, this kind of strategy — like in the world of sneakers, as I've been told — attracts flippers who want to make a quick buck. But in reality, with the thousands of Swatch × Omega MoonSwatch models being produced on a weekly basis, the offers are not as crazy as one might expect. Yes, in the end, the flipping game is there, but not on the large scale that angry Instagrammers want to make you believe. That said, I can definitely understand that it is frustrating, to say the least. Let's hope that Swatch is able to increase production and distribution in the near future before the enthusiasm fades away.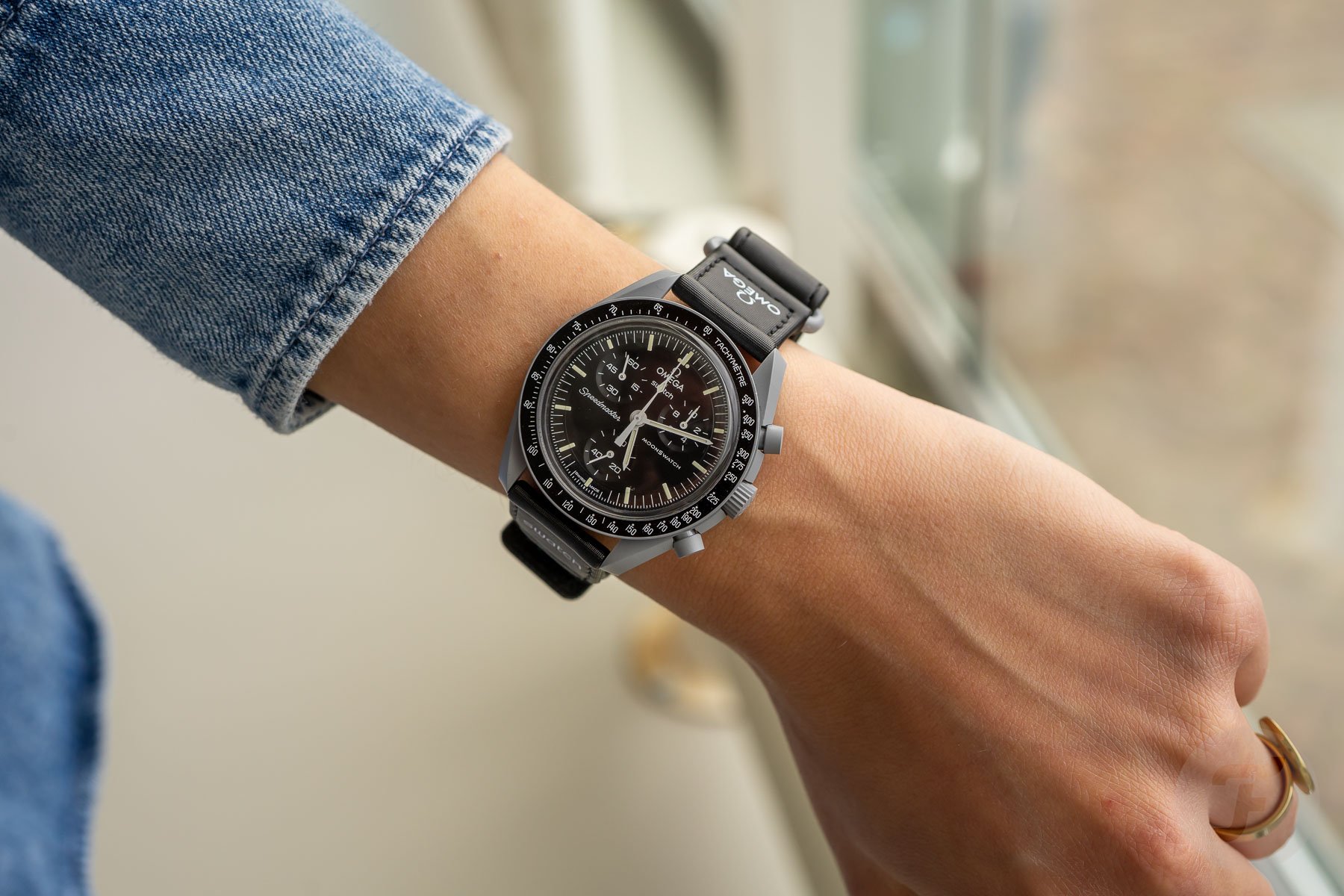 A fun piece
What I like about the MoonSwatch so much is the variety and creativity of these 11 watches. I picked the Mission to Mars myself and would love to get another in the future as well (I'm not queuing up, though). It doesn't replace my Moonwatches, by any means, but it's just a fun addition to my collection of Speedmasters. In the end, it's a Swatch watch and should be looked at that way. The design comes from Speedmaster, and that's Omega's part of the collaboration. With a €250 price tag, it's not the cheapest Swatch out there. Still, it's a fun piece to have if you're a Speedmaster collector or just want to have a fashionable watch based on an iconic design.
Swatch × Omega and an AP-inspired G-Shock mod
The MoonSwatch doesn't make it a secret where it gets its inspiration from. It says it on the dial. The guys at G-Shock, however, clearly had an unacknowledged look at the Royal Oak from Audemars Piguet for their GA-2100 model. This is why it carries the nickname "CasiOak", which was given to the watch by Steven Davila in the Scottish Watches Facebook group. The octagonal bezel and (integrated) bracelet are the giveaways here. Do I mind? No, I don't. Some people even buy these mod kits off eBay and like to make it look even more like an AP. However, you could wonder if AP minds. And if this stuff is going on, wouldn't it be better for the brand to reach out to Swatch to do a Royal Oak collab? I would buy that one over a CasiOak + mod kit. Anyway, to each his or her own.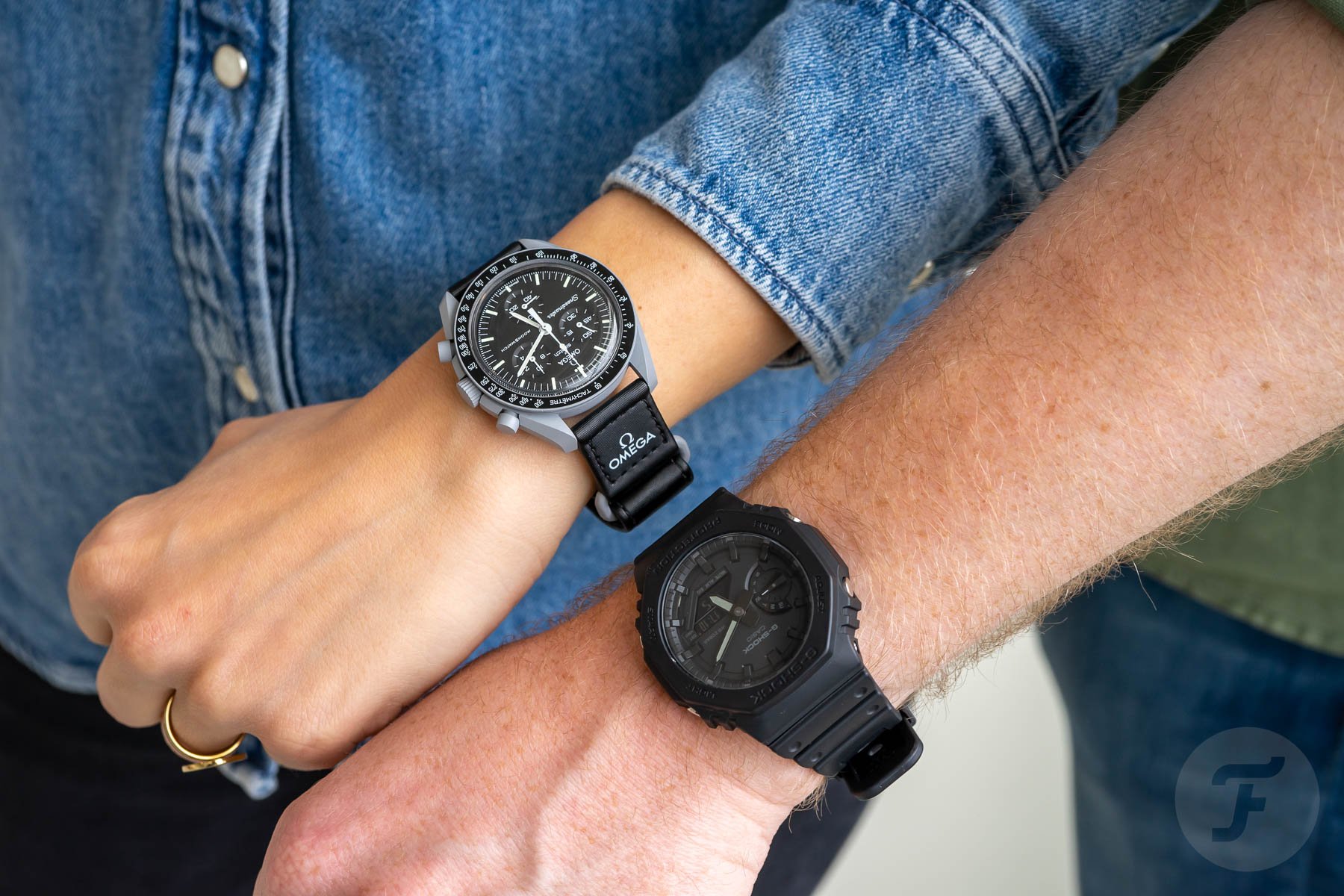 Transaction data underlines the short term positive effect of the MoonSwatch
The biggest question people seem to have is whether the MoonSwatch will have a negative effect on Omega. A lot of people seem to "know" the answer already, but I am not convinced about its negative effect on the brand. On the contrary, even our own social media manager Sinara decided to buy the real deal after she had the MoonSwatch on her wrist for a few weeks. And the Omega Speedmaster wasn't even on her wishlist before. But a sample of one is not really a good statistic. We asked Omega HQ, and they said sales of the Speedmaster Moonwatch had increased. We asked an Omega brand manager of a specific country, and he also confirmed this. However, not everyone believes the word of a brand. That's fine, so we asked Chrono24 as well.
Based on transaction data, Chrono24 could confirm that via their platform, significantly more Speedmasters were sold on the release date of the MoonSwatch and the days after than before. I don't know what the long-term impact will be. We'll just have to wait and see. Did the CasiOak, which has been out since 2020, affect the sales of the Royal Oak negatively, or does it make AP look bad? It's not completely apples to apples, but still. Perhaps people who think the MoonSwatch affects Omega negatively are taking it all a bit too seriously, and I have a hard time coming up with reasons why. I noticed some posts where people stated that they are going to sell their Omega watches because of this. I wonder if they have done so already and if it, to them, it's some kind of ego thing. Are they afraid others might think something negative about their watch?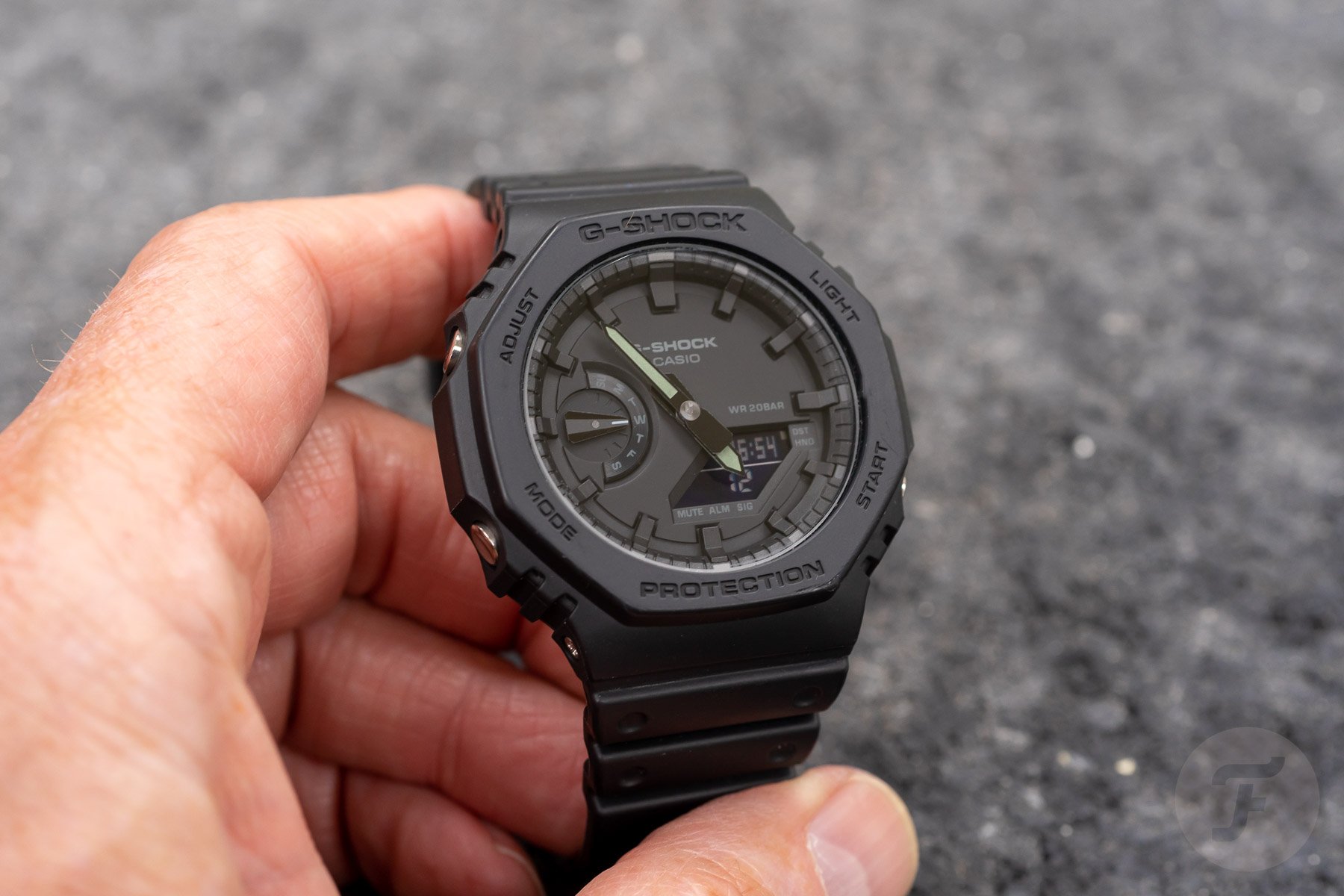 Daan: Going to bat for the CasiOak
Ha! To start off, it's nice to know that good old RJ bought his first watch in the year I was born. But all jokes aside, Casio was also there in my younger years. I remember going on summer holidays with my parents to the south of France. We used to hike there, and one of the guides was always wearing a Casio. He had one that could predict the weather and measure the altitude we were at. I tried talking my parents into getting me a Casio one summer, and just like RJ's parents did, they eventually bought me one. It was a digital one with a black case and a fluorescent yellow rubber strap. I think that besides having a stopwatch and an alarm, it couldn't do much else than telling the time. Still, as a kid, that was all good with me!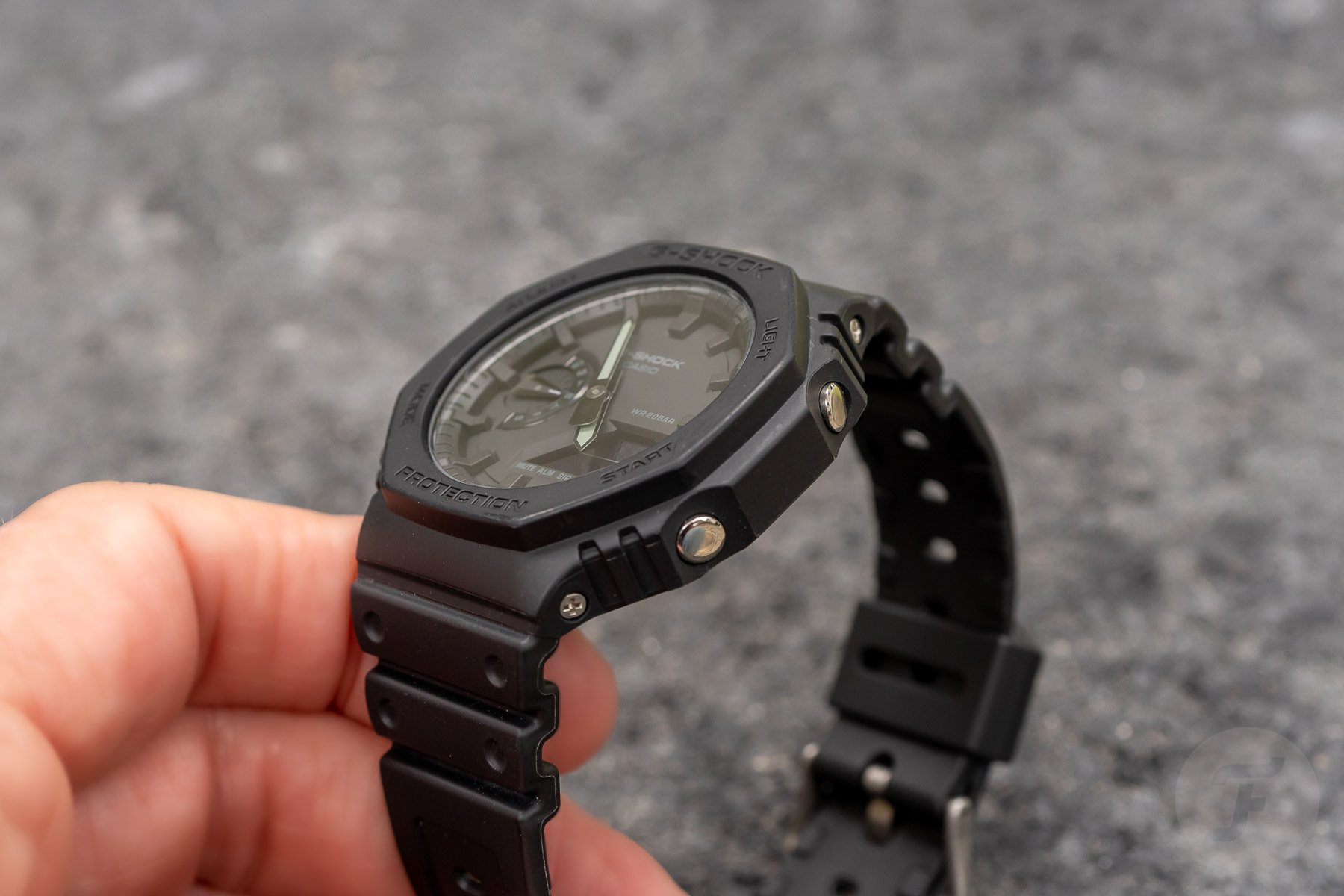 A quartz side collection
Like RJ said, it's fun to alternate between quartz and mechanical watches every once in a while. That's why I have a little side collection. I wear them mostly when a mechanical watch just doesn't make sense. There's a Squale 1515, a CWC G10, a Seiko Flightmaster, the MoonSwatch, and, for when nothing else works, a transparent G-Shock "CasiOak", aka the "JellyOak". That CasiOak has been my companion for hiking trips, working on my boat, and days out with the kids. It's the perfect put-it-on-and-go-destroy-it piece.
I remember getting the transparent CasiOak. At the time, I already had a black square G-Shock, but it was one with a negative digital display, which was unreadable most of the time. I sold it quickly after I got the new one. The CasiOak also uses a negative digital display but only on the sub-dial. The time is actually shown on an old-fashioned analog dial with big, fat hands and hour markers. There's even a hand to mark the day of the week. The digital screen shows you the date and lets you enjoy all the different functions a G-shock has to offer.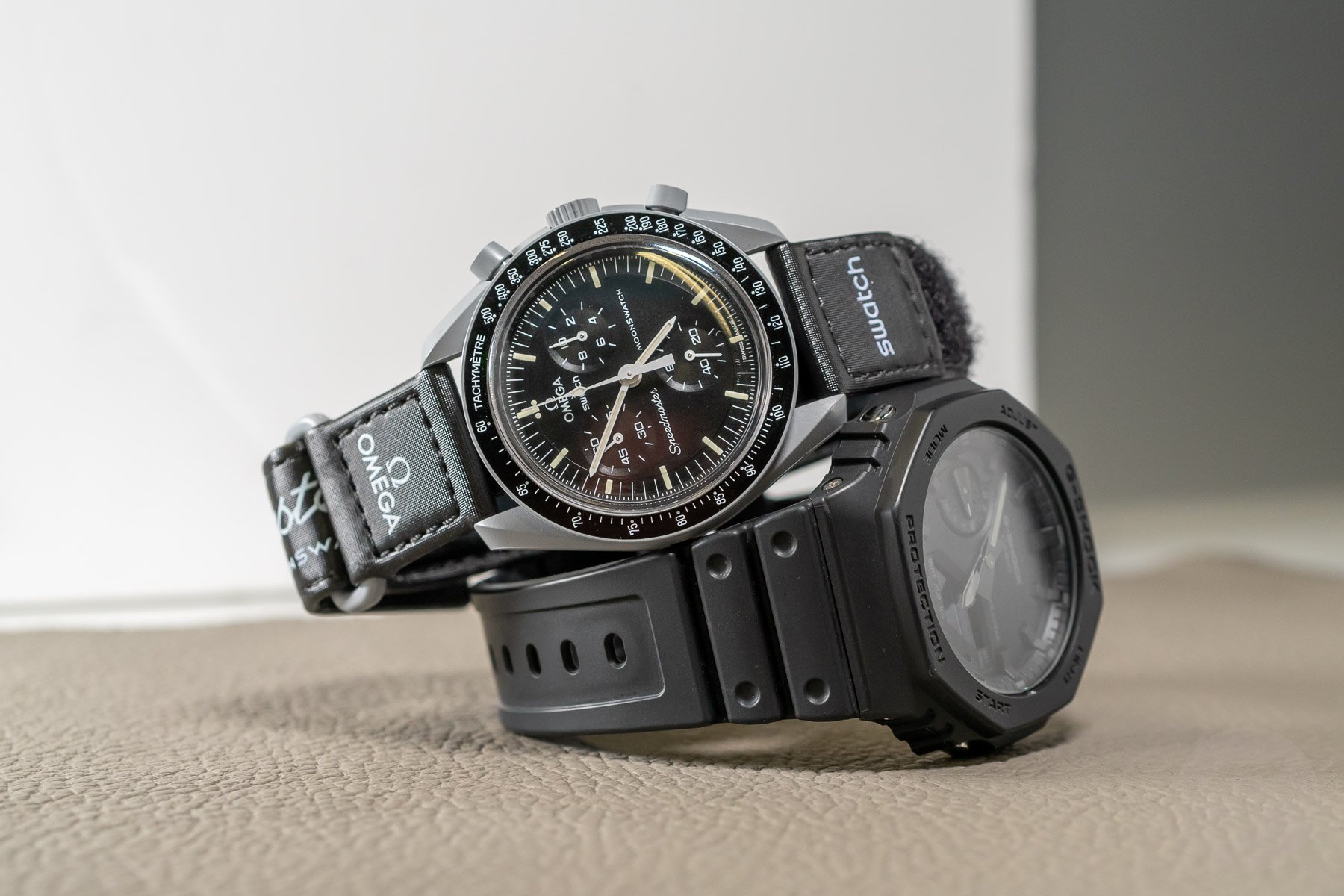 Light as a feather, tough as a brick
I didn't really buy it because of its resemblance to the AP Royal Oak. I'm not saying it doesn't look like it, but I just think the CasiOak looks cool by itself. That guide in the French Alps was also wearing a hybrid Casio with an analog and digital display, and I feel almost as cool as him when I'm wearing it. And since the Netherlands is almost completely flat, I don't really miss that altimeter. It's also really tough-looking, but surprisingly, I don't feel that it's too big for my wrist. That said, a G-Shock almost has to look a little too big, right?
I got the transparent one because I think it's the best-looking one of the bunch. I like how the silvery resin shines a bit like the metal on a steel sports watch. But of course, just like the MoonSwatch, it wears a lot lighter than steel. Since I got mine, G-Shock has come out with a lot of additional versions of the CasiOak. I just went over the collection, and the Rubik's Cube edition looks especially nice! Just make sure that you pick one that's easy to read. And if you do, I'd argue that because of those fun designs, it's just as much fun to wear a CasiOak as it is to wear a MoonSwatch.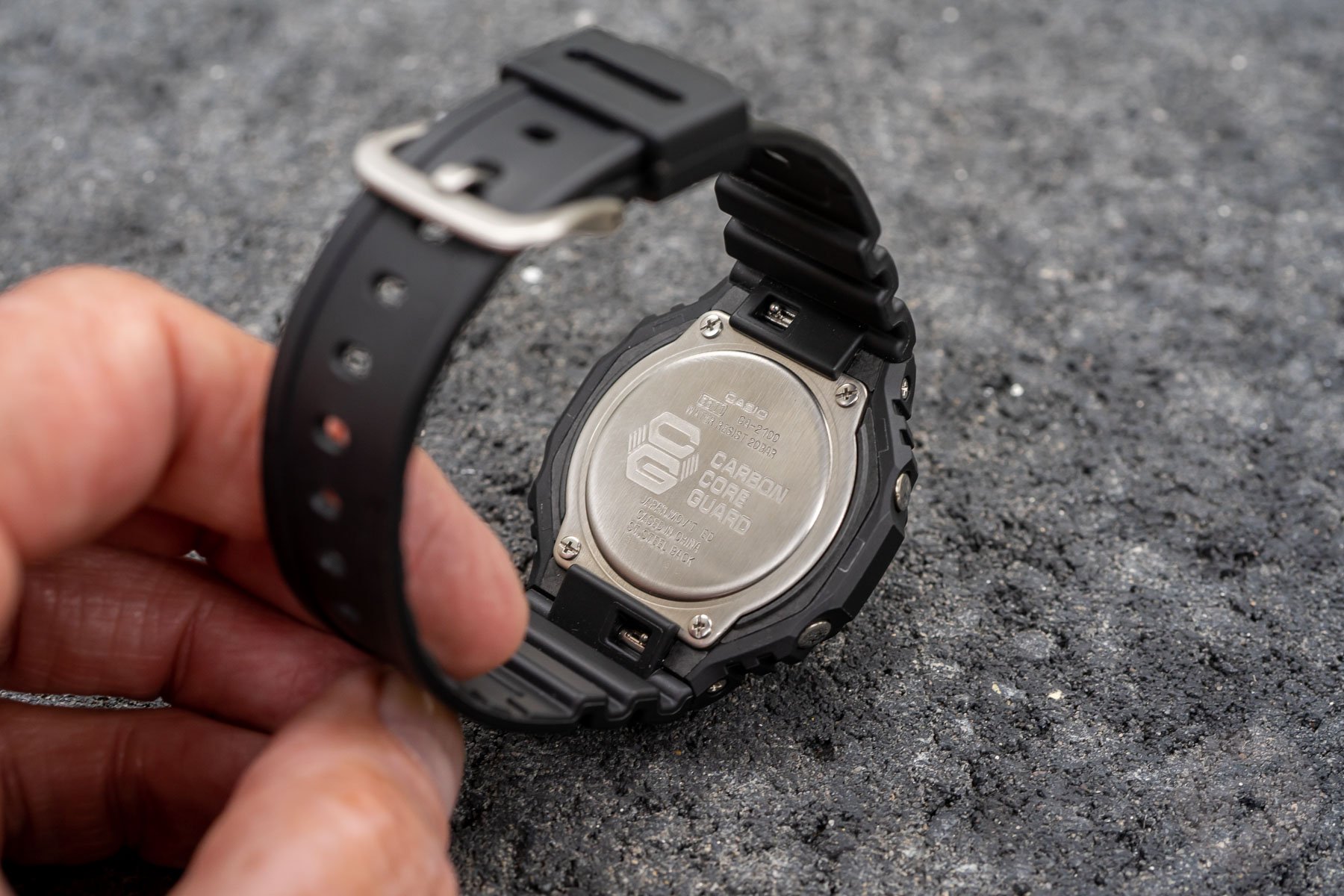 Both are very fun options to wear!
I intended to roast RJ in this Sunday Morning Showdown. But just like him, I can't really come up with a lot of ammo against the competitor. I have the MoonSwatch Mission to Saturn myself, and I'm enjoying it quite a lot, actually. I was going to sum up all the additional features the CasiOak has over the MoonSwatch. On a typical day, however, I never actually use those, even that cool little light in the bottom-right corner of the dial. Still, I do think that the G-Shock's superior 200m water resistance is a nice advantage over the MoonSwatch. Personally, I wear my quartz watches on days when I don't really want to have to pay attention to my watch. With only 30m of water resistance for the MoonSwatch, you will have to be more careful than you would with a G-Shock.
The final thing I wrote down to defeat the MoonSwatch was the difference in price. Like RJ said, the MoonSwatch is certainly not the cheapest Swatch you can get. Currently, it's even hard to get it at its retail price of €250. And even if you can get it for that price, you could almost buy two CasiOaks for the same money. Not that you'd need two because one will already probably last you long enough, but perhaps you'd just like to have it in another color. And finally, the thick Velcro strap on the MoonSwatch might not be my favorite after all. Thankfully, that's an easy fix. The strap on a CasiOak isn't all that fancy either, but it gets the job done, and at least it isn't stiff.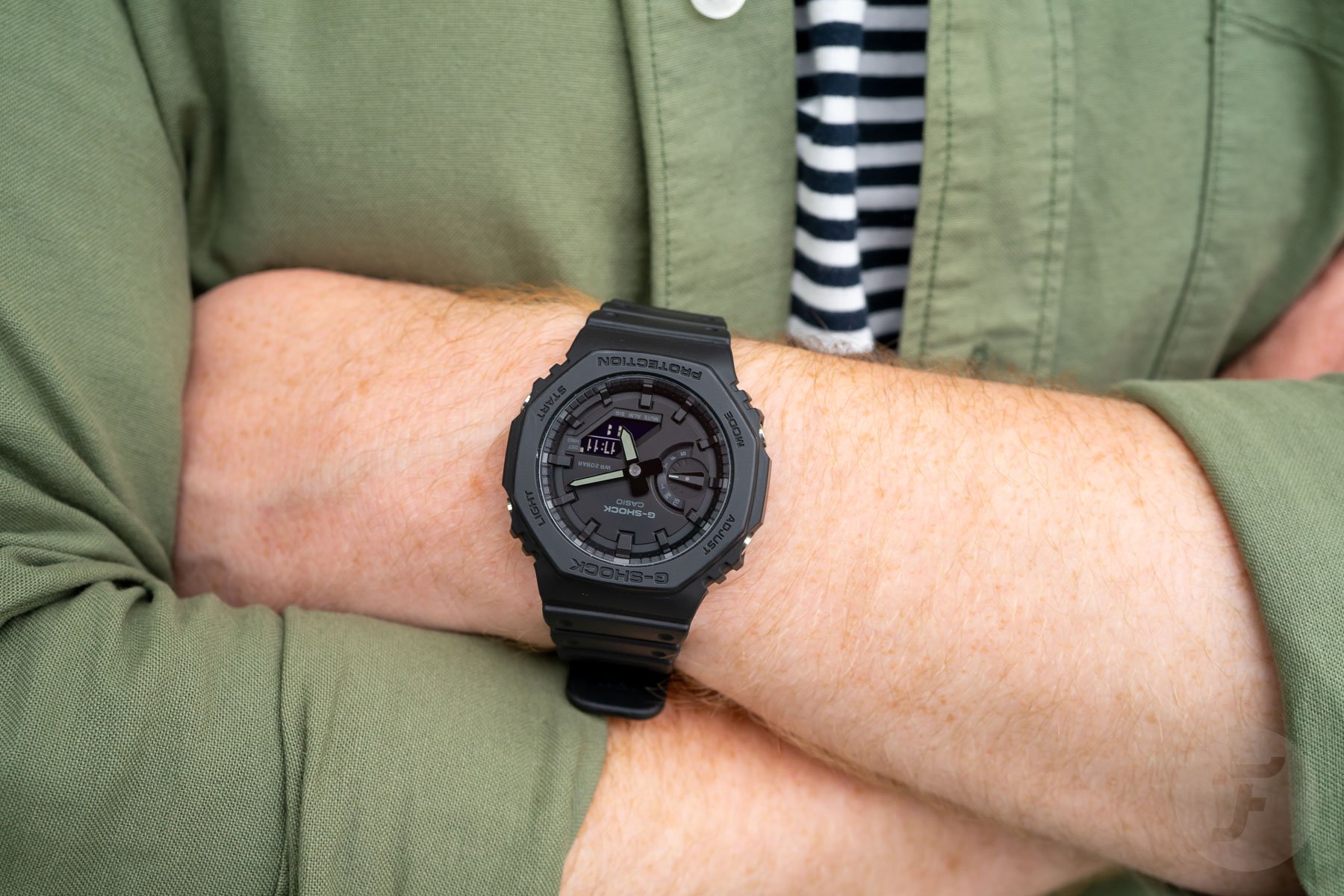 Final verdict
In the end, what this battle really shows is that both these watches are a lot of fun to wear. That's especially true if you only wear them every once in a while alongside your "regular" mechanical watches. They're so different in weight, feel, and appearance in comparison to your other stainless steel pieces. The more "outspoken" iterations only amplify this. And, at this price point, you don't really have to make a choice like you'd have to with most mechanical watches. But it's certainly nice to see that two very different watches can receive the same amount of praise in the end.
Now it's up to you, watch fans! What do you think? Which one takes the win in your eyes this week? Are you more into the Bioceramic MoonSwatch, or are you more of a tough G-Shock kind of person? Let us know in the comments!