Sunday Morning Showdown: The Current Steel Rolex Submariner Date Ref. 126610LN Vs. Two-Tone Ref. 126613LB
A battle of current Rolex Submariner models that aren't as different in price as you'd think
Two-tone Submariner
Steel Submariner
In this edition of our weekly Sunday Morning Showdown, we're pitting two watches from the same model but in different executions against each other. They're both modern versions of the most iconic diver's watch in the world, the Rolex Submariner. Today, it's a full stainless steel Submariner Date (ref. 126610LN) versus the one in the gold and steel (ref. 126613LB). At retail, these two watches normally have a €5K difference in price, but on the market, the difference is around €3K. This makes the two-tone version a more serious alternative to the all-steel version of the Submariner.
Being a fan of gold and two-tone, RJ feels that with only a small difference in price, it's well worth opting for the Submariner Date with precious metal. Jorg wants to keep it real and opts for all steel instead without risking coming across as too gaudy (or tacky).
The Rolex Submariner
Both watches are direct descendants of the Rolex Submariner that was introduced to the public in 1954. A lot has changed since then, but even if you're not deeply into (Rolex) watches, you will definitely recognize the very early Submariner models in the current Submariner collection. Today's Submariner was introduced in 2020 and is a slight upgrade of the previous "maxi case" version. The diameter slightly increased (officially 41mm, but it's slightly smaller), but the lugs became thinner (again), while the bracelet width increased from 20 to 21mm. Although there are fans of the maxi case out there, many prefer the thinner, more elegant lugs of the current Rolex Submariner models. In that regard, the steel Rolex Submariner Date 126610LN has the same specifications as the two-tone reference 126613LB.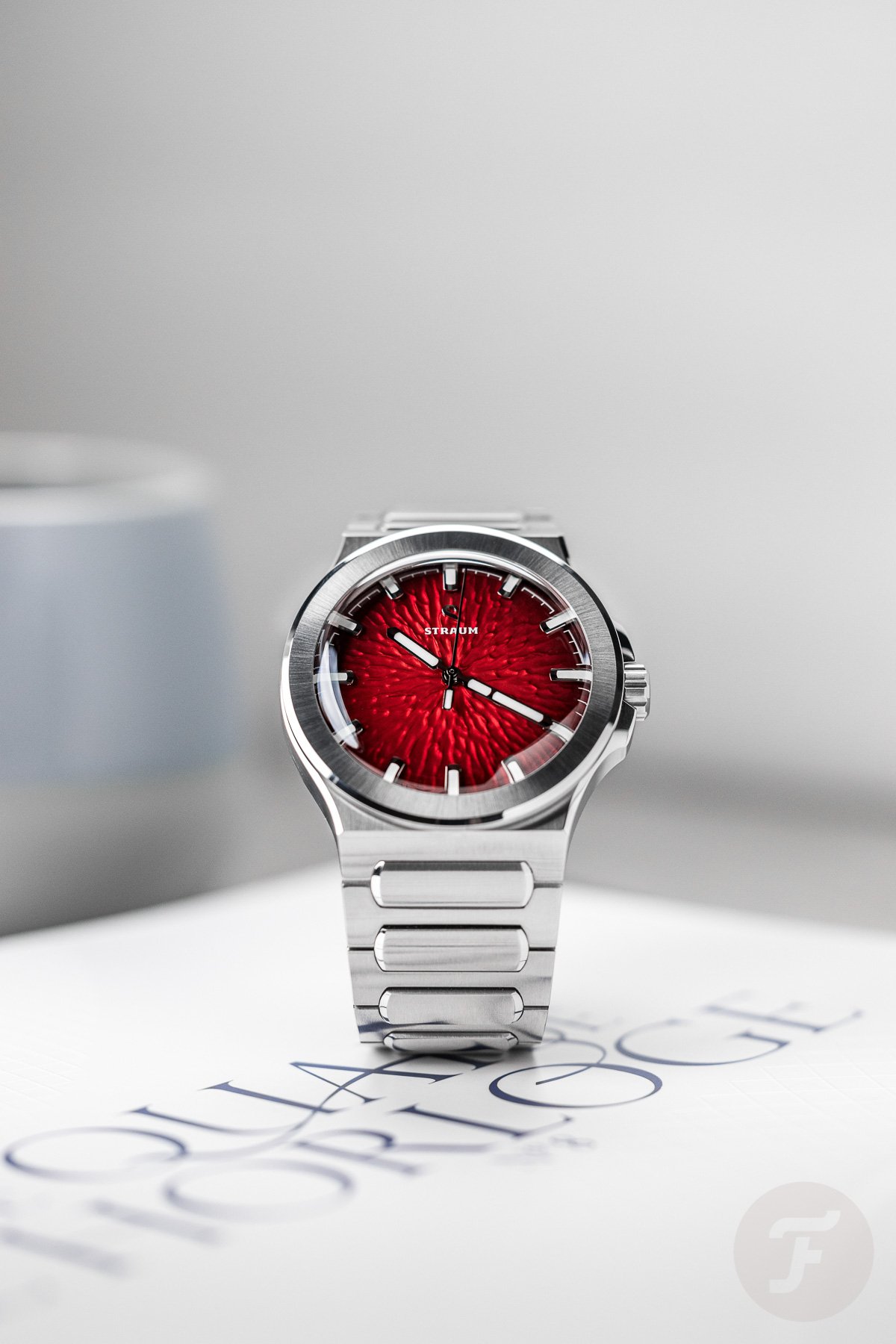 Last week's matchup: Formex vs. Straum
But before we go head to head with this pair of Rolex Submariner watches, let's quickly look back at last week's Sunday Morning Showdown. That battle saw the Formex Essence ThirtyNine throwing down against the Straum Jan Mayen, resulting in a win for the latter — 57% for the Straum Jan Mayen versus 43% for the Essence ThirtyNine from Formex.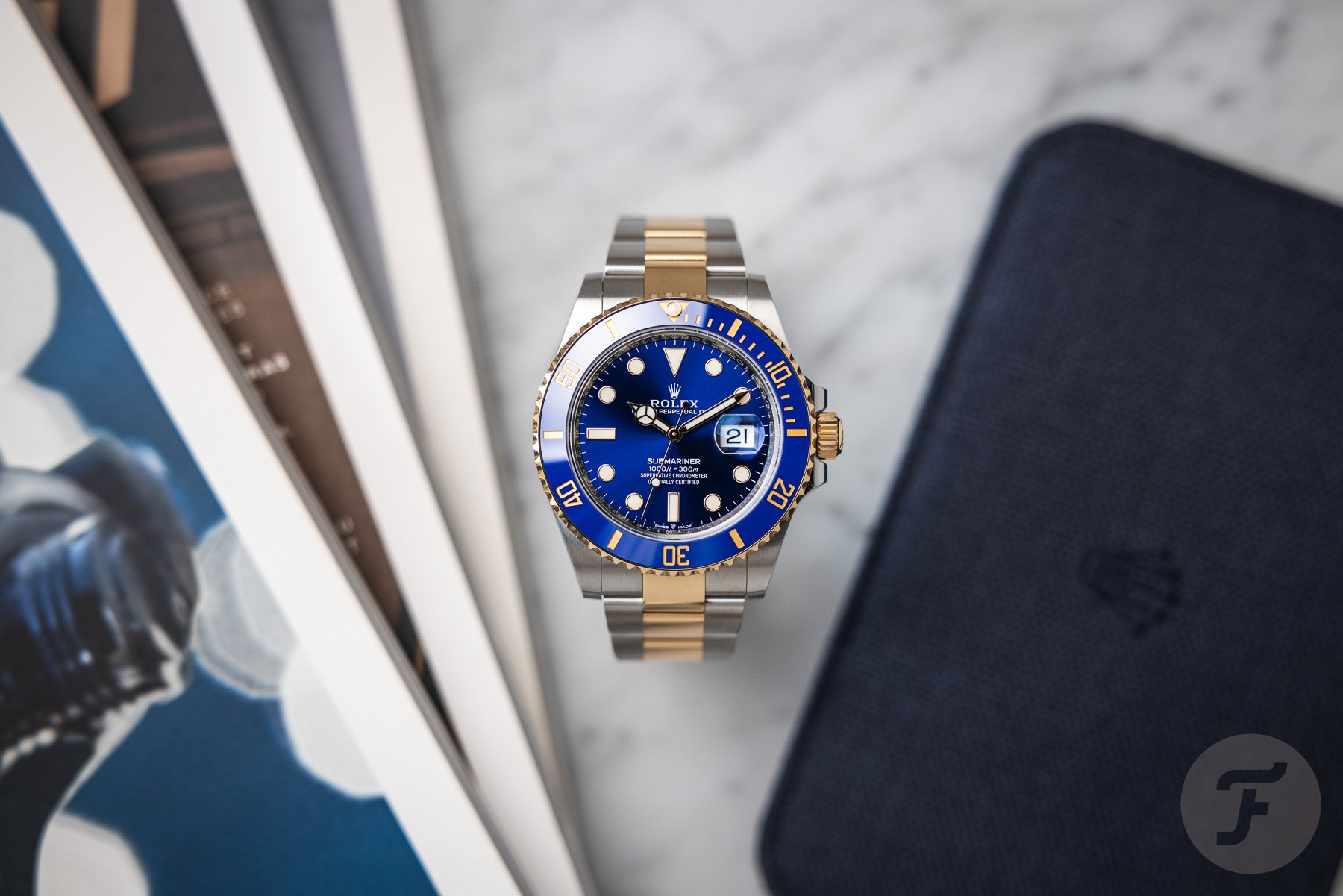 RJ: Rolex Submariner Date ref. 126613LB
I am very well aware that I will lose this week's competition as gold is not for everyone, let alone the combination of gold and steel. But I also noticed that the acceptance of all-gold and gold-and-steel watches among watch enthusiasts is higher than, let's say, a decade ago. So I will give it a shot anyway.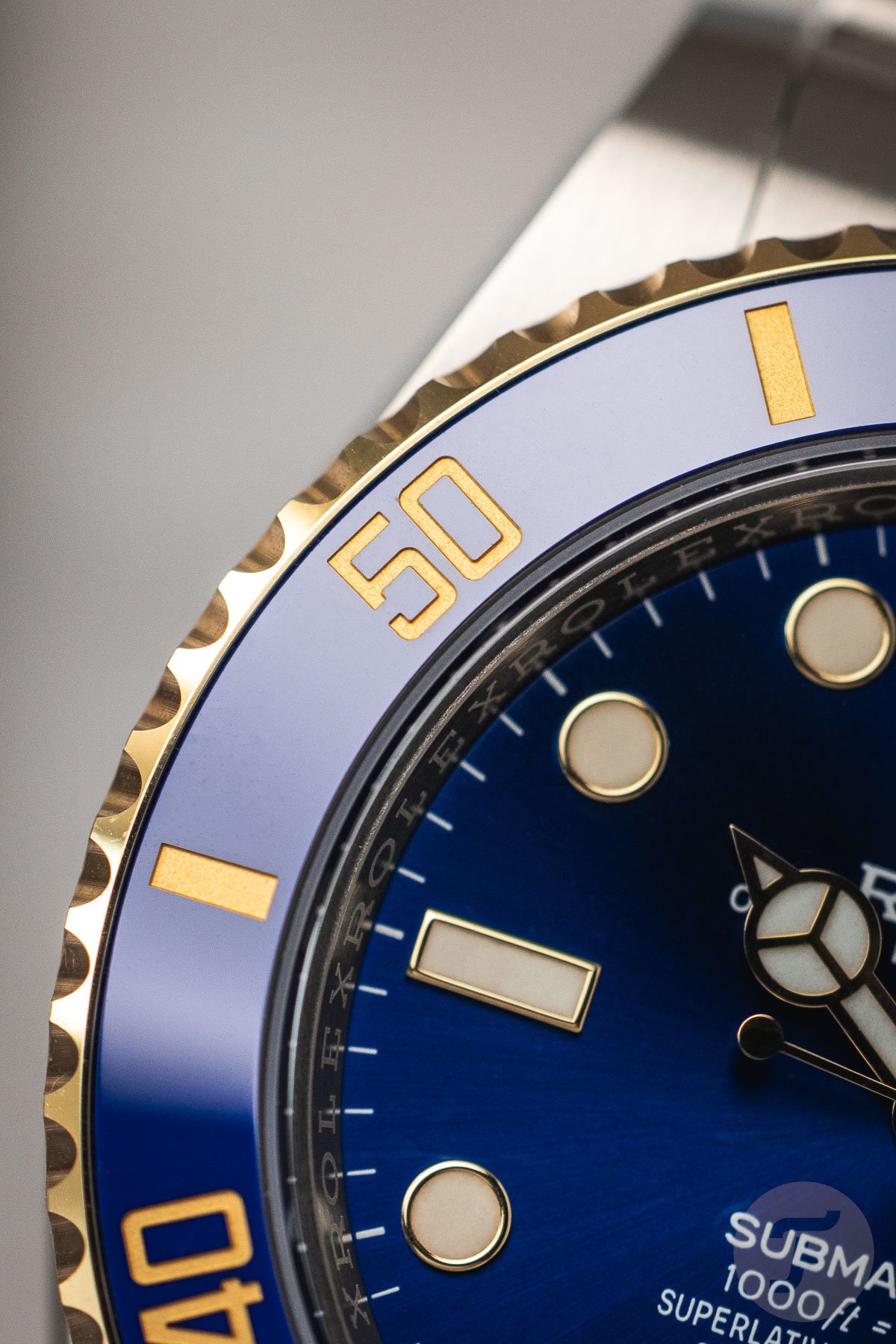 For a long time, I was in total denial about Rolex, especially the brand's gold or two-tone watches. I associated them with shady car dealers and wreckers, so I was pretty sniffy about these watches. But secretly, I liked them. What can I say? I was young, ignorant, and perhaps too concerned with what others would think of such a flashy watch. But at some point, that changed, and when I was 25 (in 2002), I got my first Rolex, a Datejust with a white gold fluted bezel. Not much later, I added a GMT-Master and Sea-Dweller. I warmed up to some of the heavy hitters like the yellow gold Day-Date as well, but I still wasn't entirely comfortable wearing a gold watch.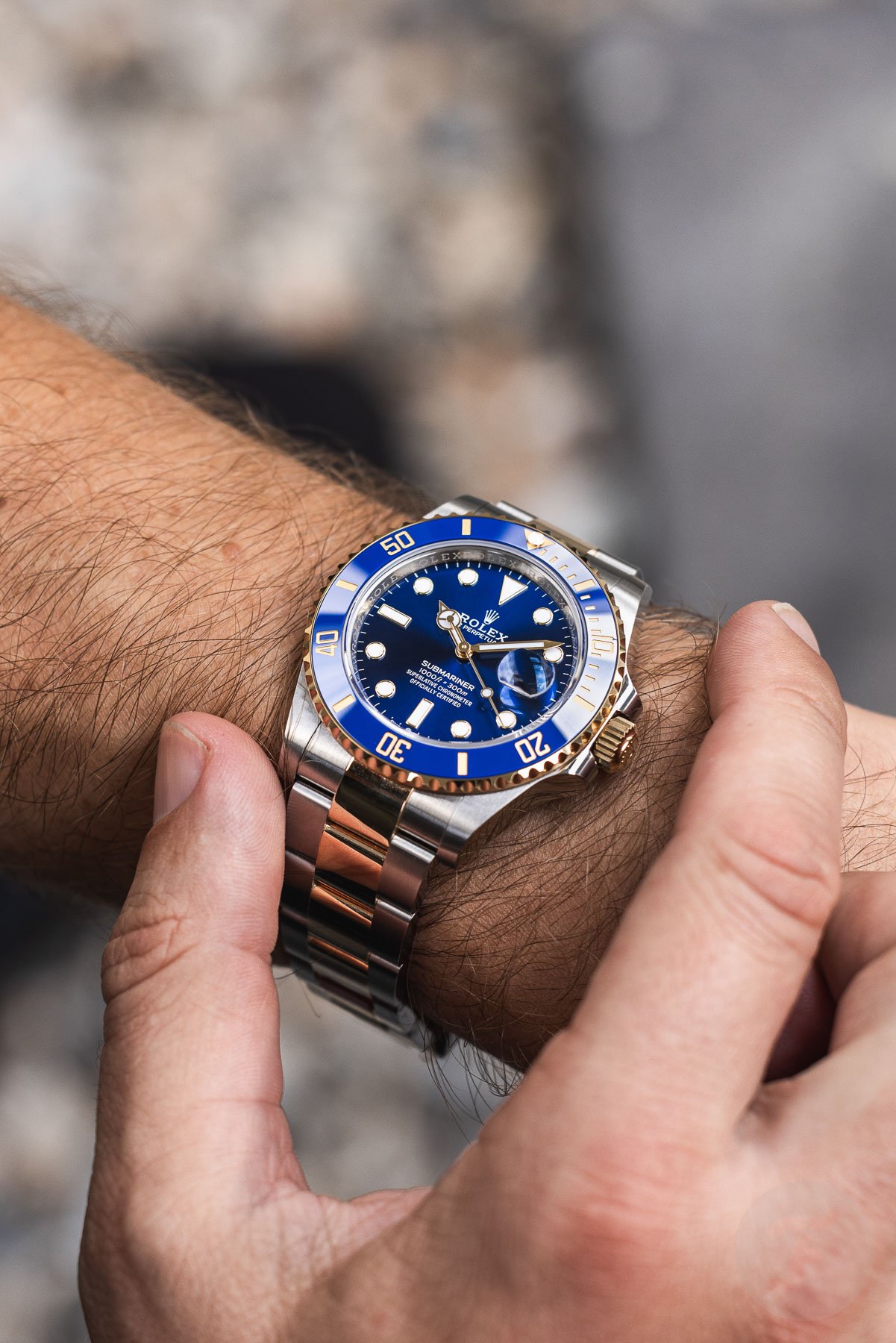 Buying an actual two-tone Rolex sports model
It wasn't until the first ceramic bicolor Rolex GMT-Master II 116713LN (ca. 2006) came out that I contemplated getting one of those. I realized what I had been missing out on when looking at the two-tone GMT-Master "Root Beer" models. This also led me to look at the Submariner Date models in gold and steel, bolder versions of the classic stainless steel diver's watch. In the years that followed, I started to develop a slight preference for the two-tone models in both the Submariner and GMT-Master II lines.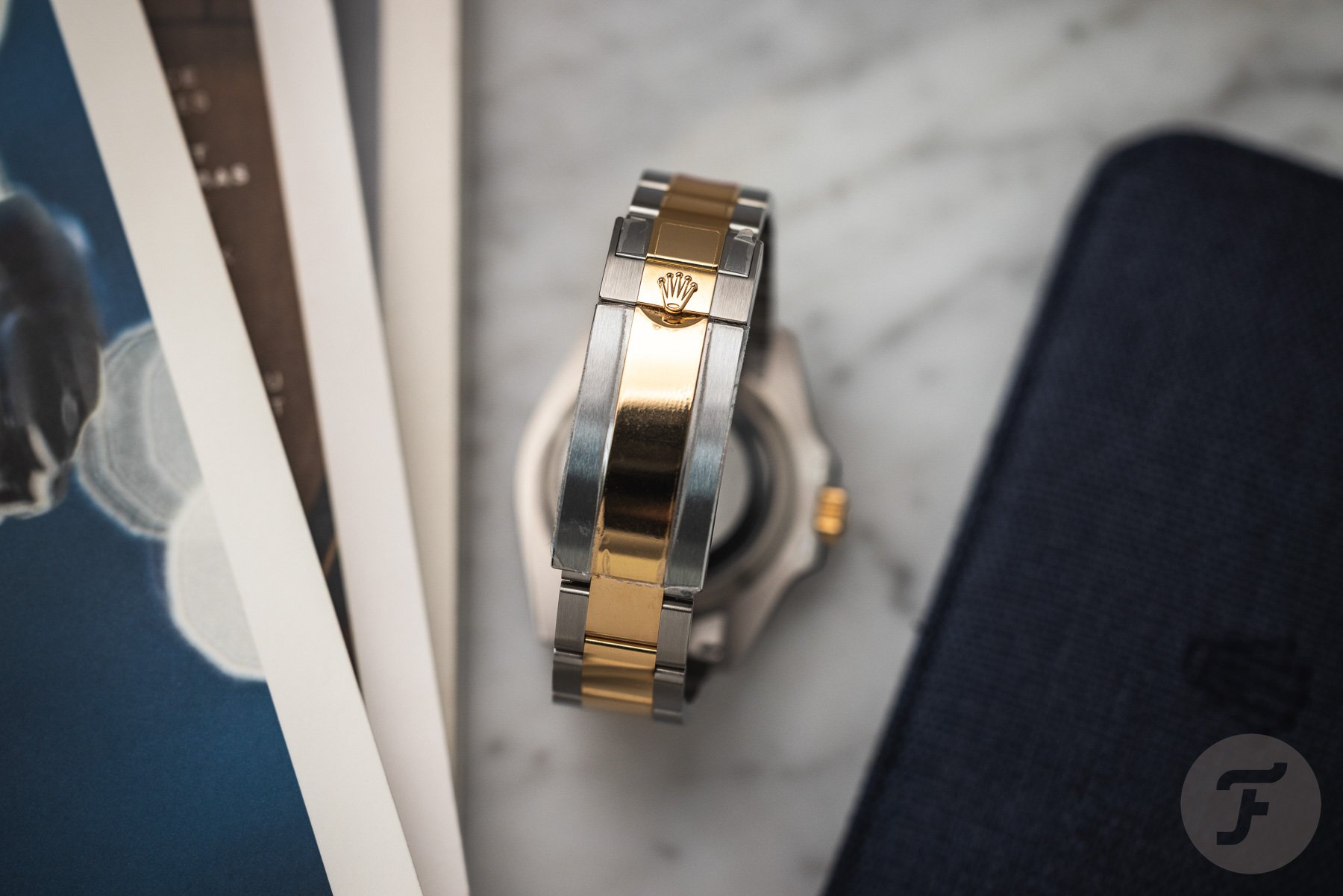 Currently, I am contemplating buying the two-tone GMT-Master II with the Jubilee bracelet (ref. 126713GRNR), so picking the gold and steel Submariner Date 126613LB in this week's contest was easy. Blue and gold go together very well in my opinion, but you can also opt for the version with the black dial and bezel (ref. 126613LN) if blue is not your thing.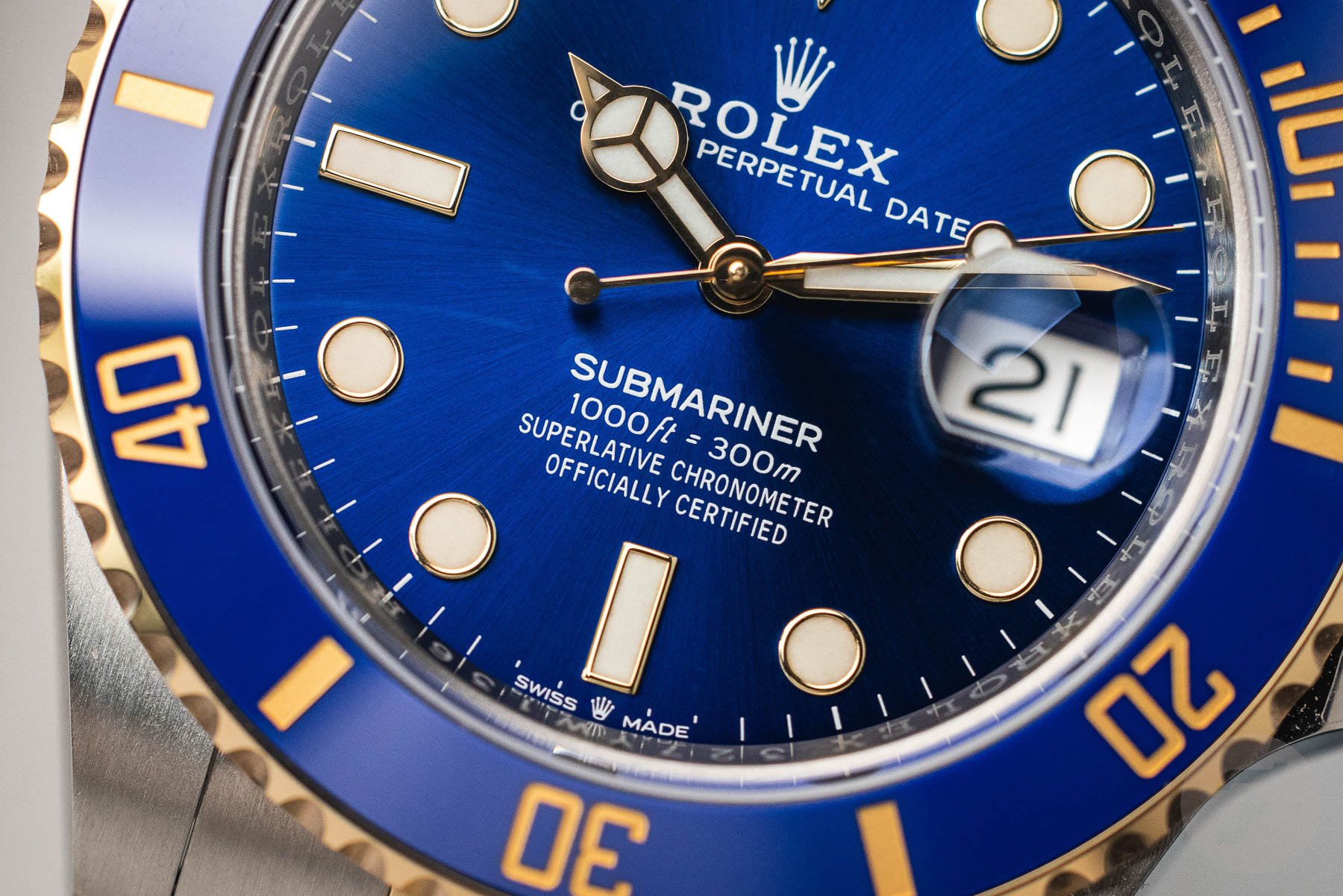 You can also swim with it
You can debate whether gold belongs on a diver's watch or not, but the diver's watches I have don't even go near water. I guess the same applies to most other wearers of these watches. But if you do want to take it for a swim, this flashy Submariner Date is up for it anyway. Just be aware that gold is softer than steel and more prone to scratches. I am not too bothered by that (which does not mean I want to damage my watch by being reckless), and I am happy to see that many owners of two-tone watches do wear them as they were made to be worn.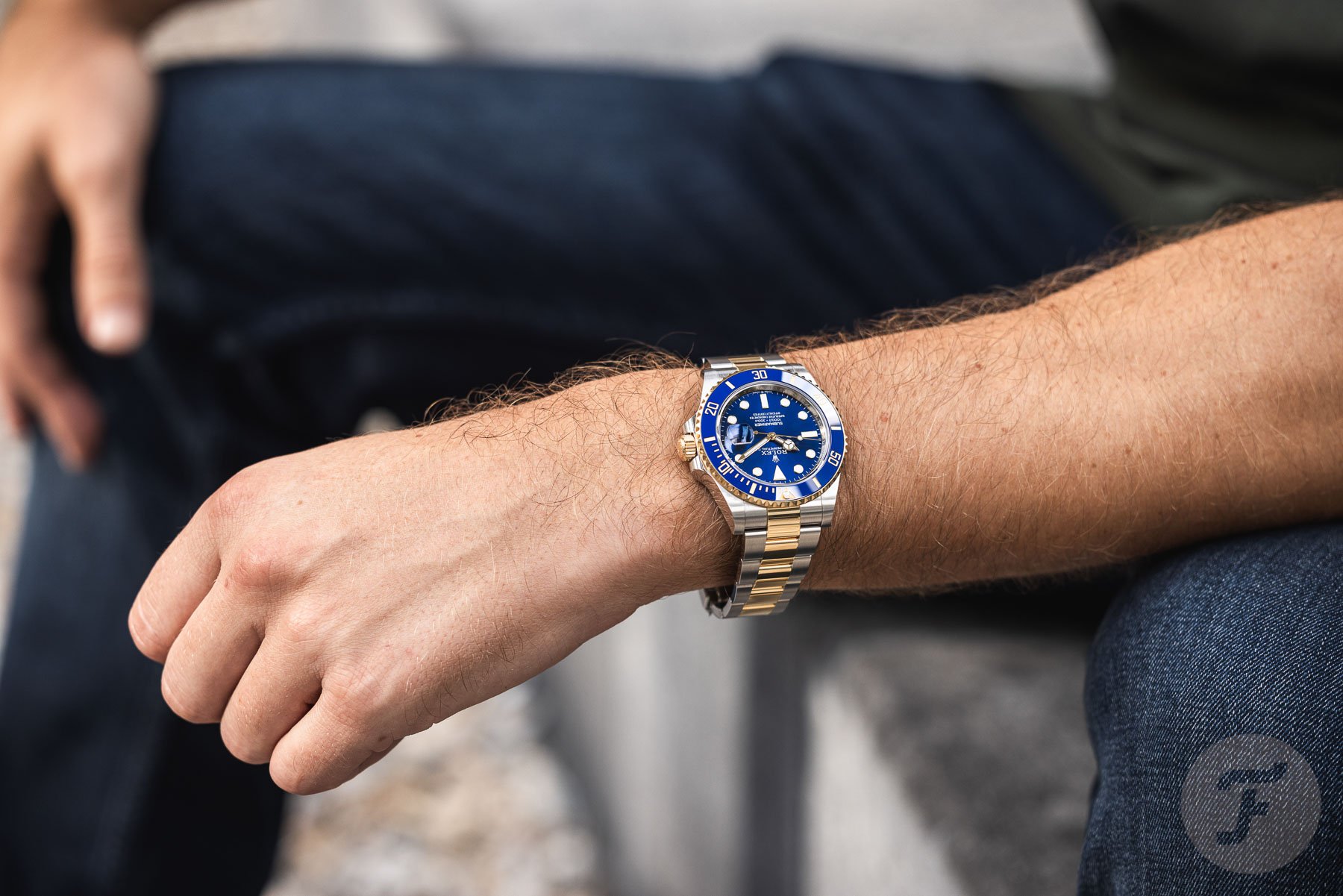 Blue sunburst dial
Even last weekend at my daughter's field hockey game, I noticed one of the other team's coaches was wearing a Rolex Submariner Date in two-tone on the field. His was a 16613 with a sunburst blue dial, and it looked amazing on one of the last sunny days here in the Netherlands. Between 2009 and 2013, the first ceramic two-tone Submariners had a flat blue dial instead of the sunburst effect. But since 2013, the blue sunburst dial found its way back to the Submariner Date in gold and steel.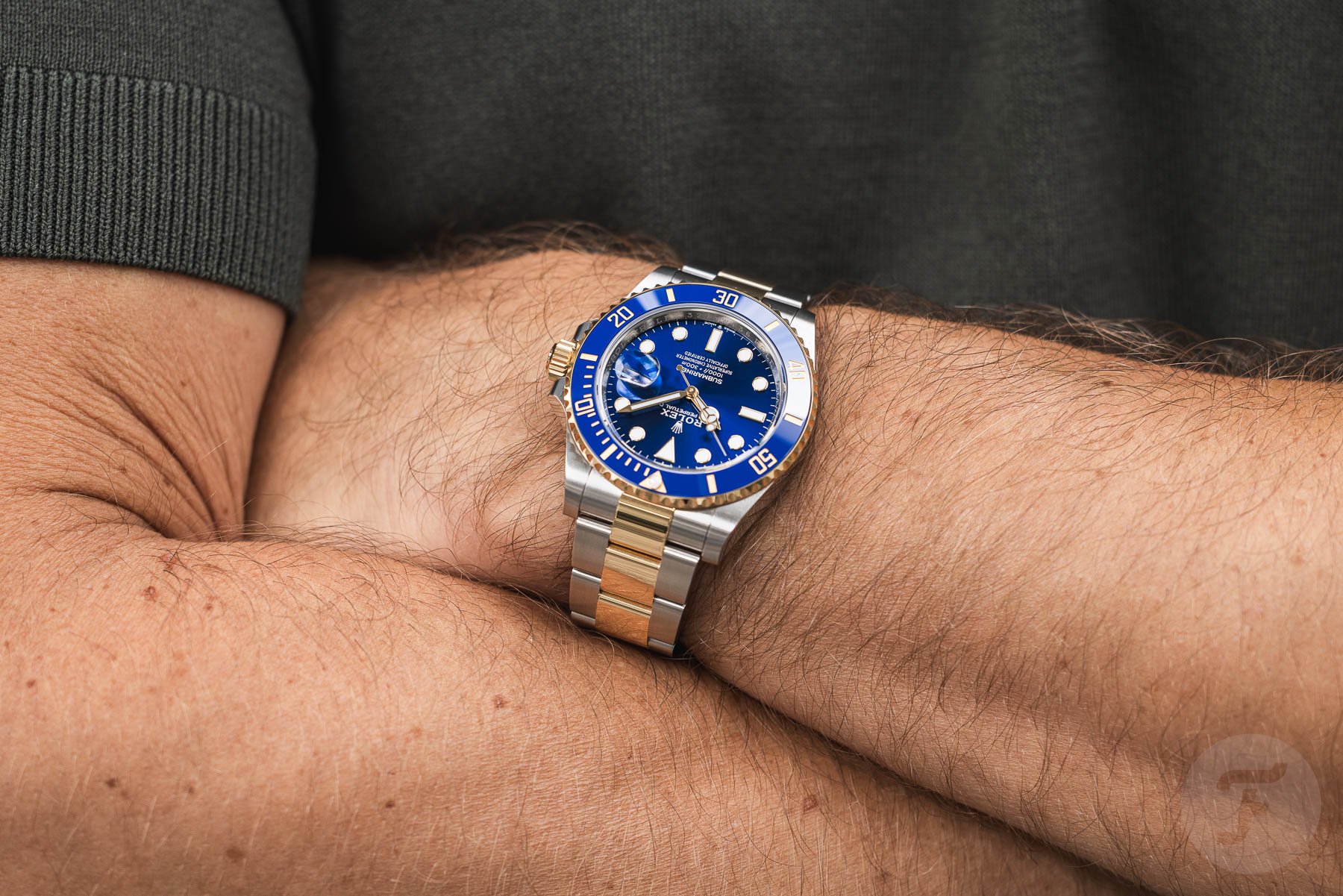 Based on today's market prices, unless you're against gold, there's no reason to pick the full-steel Submariner 126610LN over one of the two-tone Submariner models. The market price of the Submariner Date 126613LB is similar to its €15,600 retail price, whereas the market price of the steel 126610LN is still a few thousand over its retail price of €10,250. If you want to purchase a steel Rolex Submariner today, either joining the waiting game or paying over retail on the gray/pre-owned market are your "best" options. That said, only buy the two-tone alternative if you are really at peace with wearing gold. Otherwise, you'll find yourself trading watches rather sooner than later.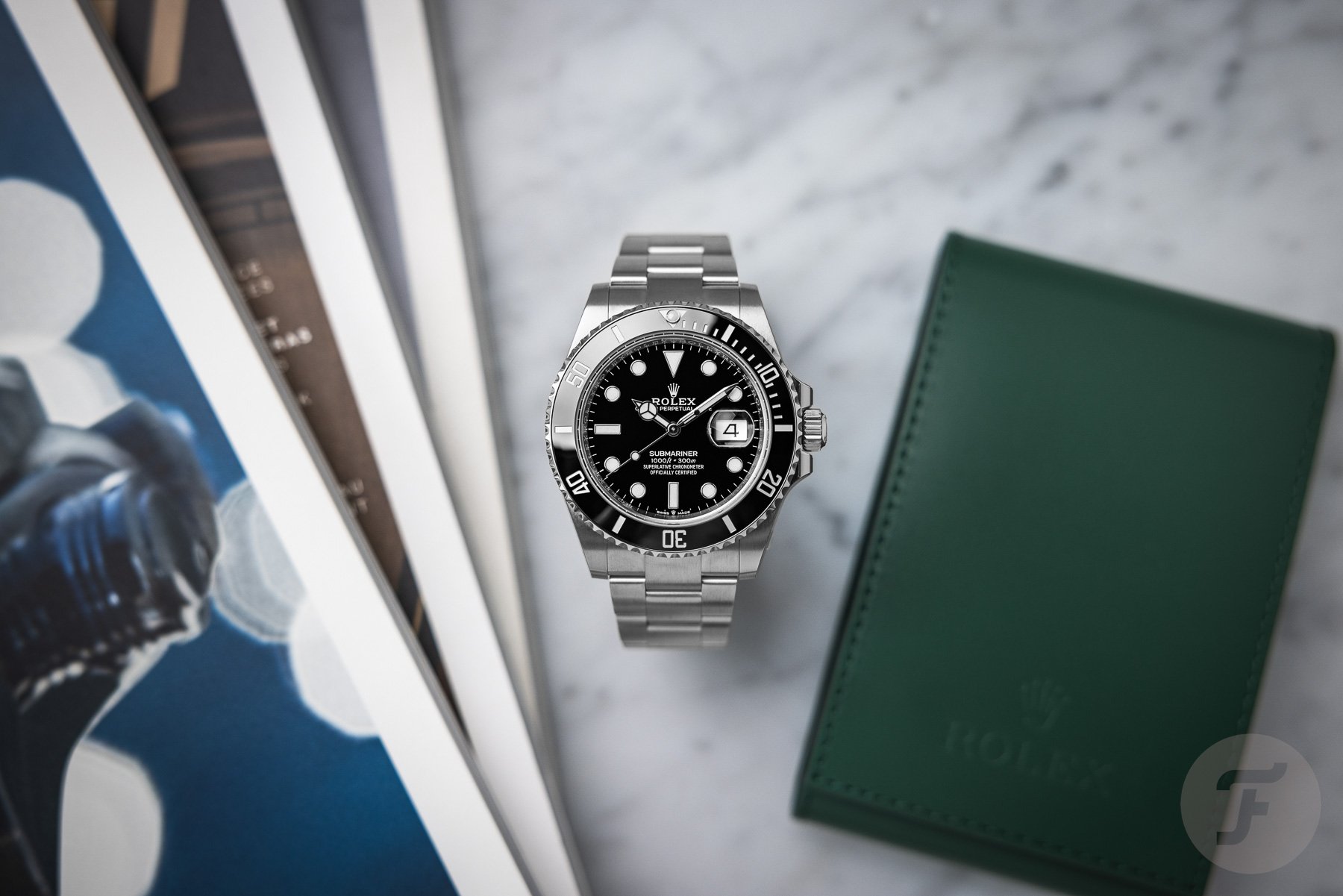 Jorg: Rolex Submariner Date ref. 126610LN
Let me start by saying that I have nothing against the combination of gold and steel. Just like you, Robert-Jan, I had to get past that initial idea that two-tone Rolex watches were for shady characters who also wanted to push a souped-up BMW that was actually a German unfallwagen imported to sell at a profit. Fairly quickly, though, my love for two-tone watches started growing. In particular, the Datejust — the ultimate two-tone timepiece if you ask me — and the GMT-Master "Root Beer" are among my favorite Rolex models of all time.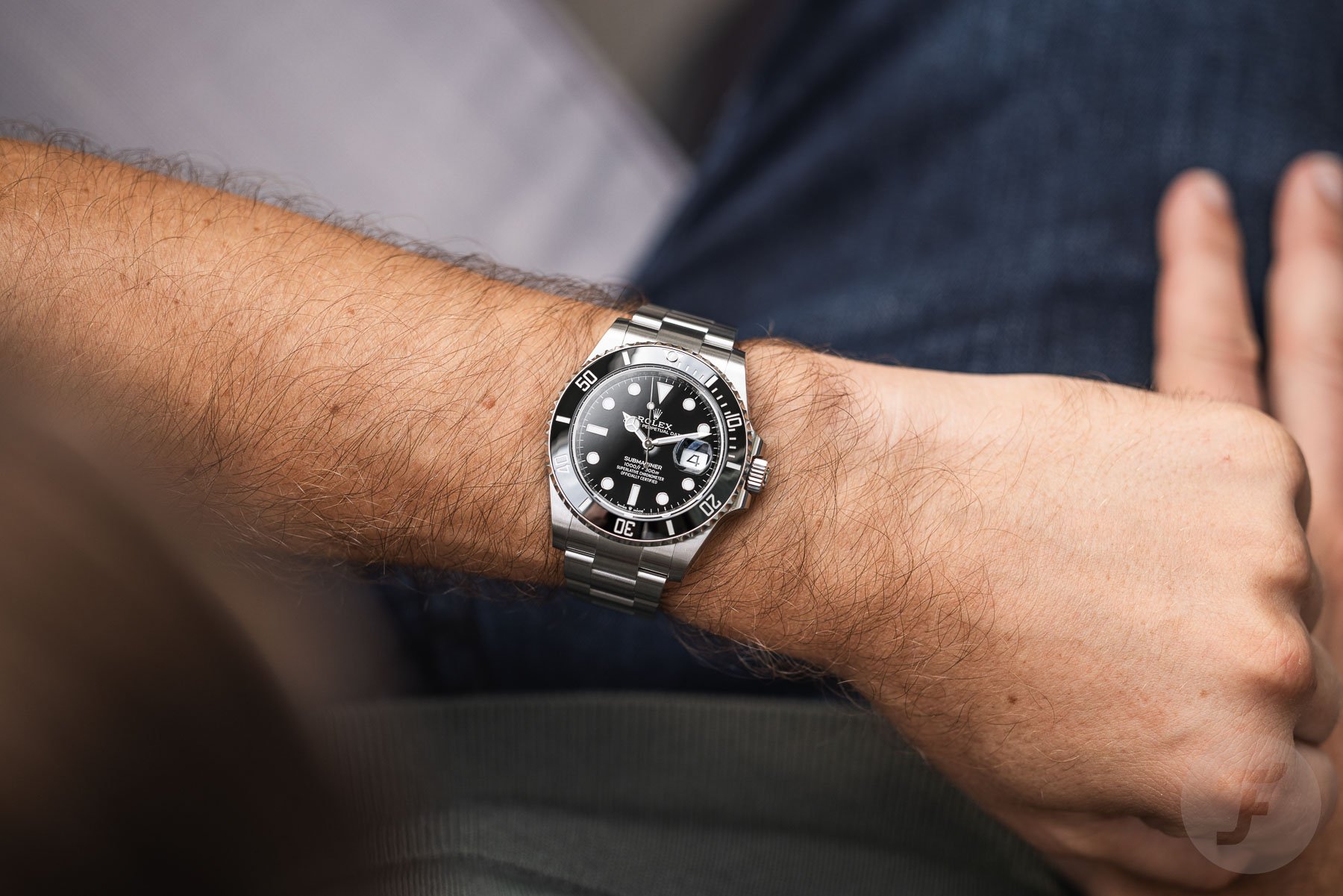 So, as you can tell, I certainly have a soft spot for two-tone Rolex watches…but not all of them. In those cases, it's as simple as the all-steel aesthetic speaking to me more. A good example is the Rolex Explorer. It's one of those iconic models from The Crown that was strictly available in stainless steel until 2021. When the two-tone ref. 124273 came out in the spring of that year, I thought it was a smart idea from a commercial standpoint. Visually, though, seeing the Explorer in a combination of steel and gold felt off. And it still does.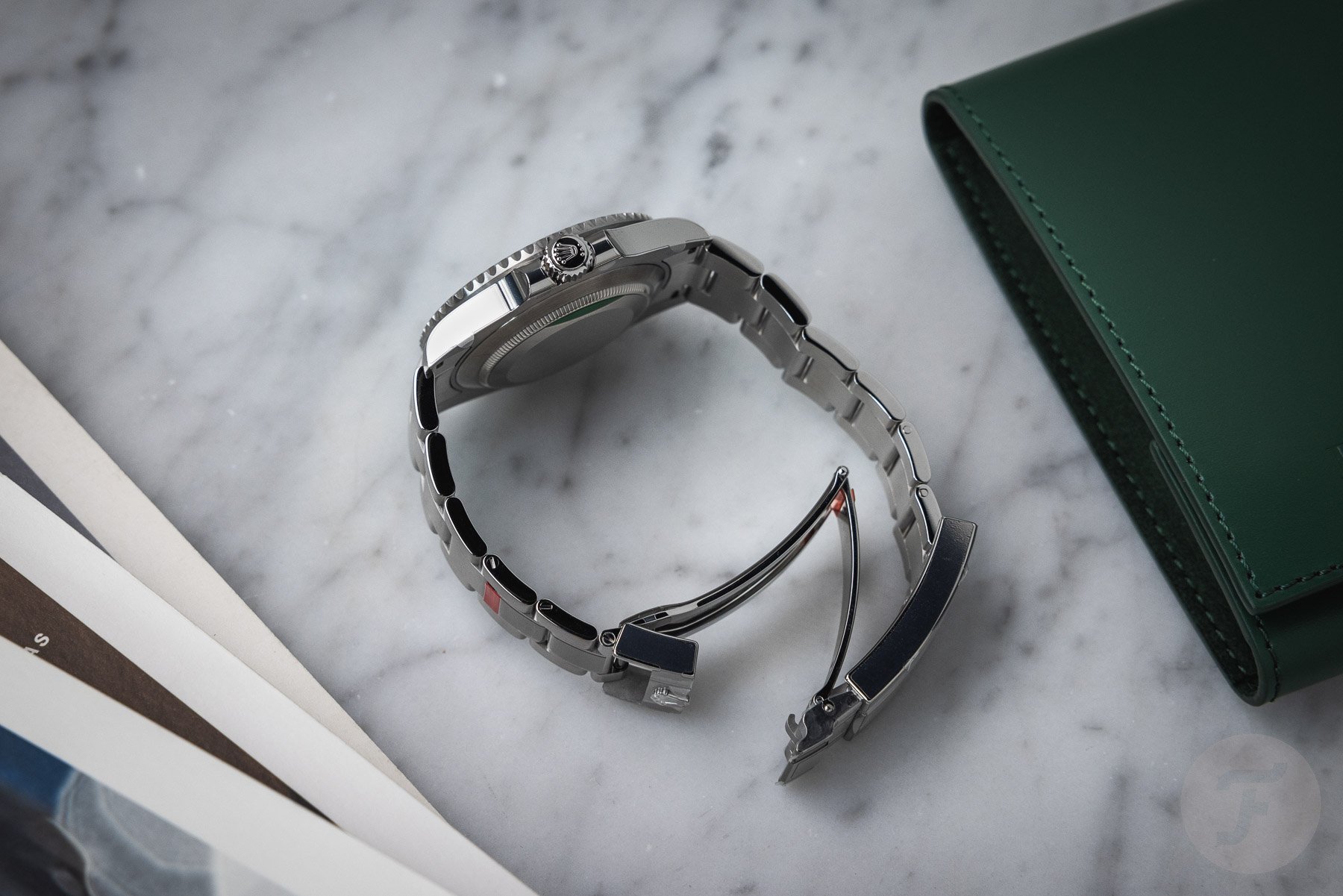 Some Rolex watches need that utilitarian look and feel
The overall design just doesn't work well in Rolesor. That is partly due to the combination of the dial design and the colors of the different materials. I appreciate the very functional design of the Explorer, and with that utilitarian look, stainless steel works the best. It is as simple as that.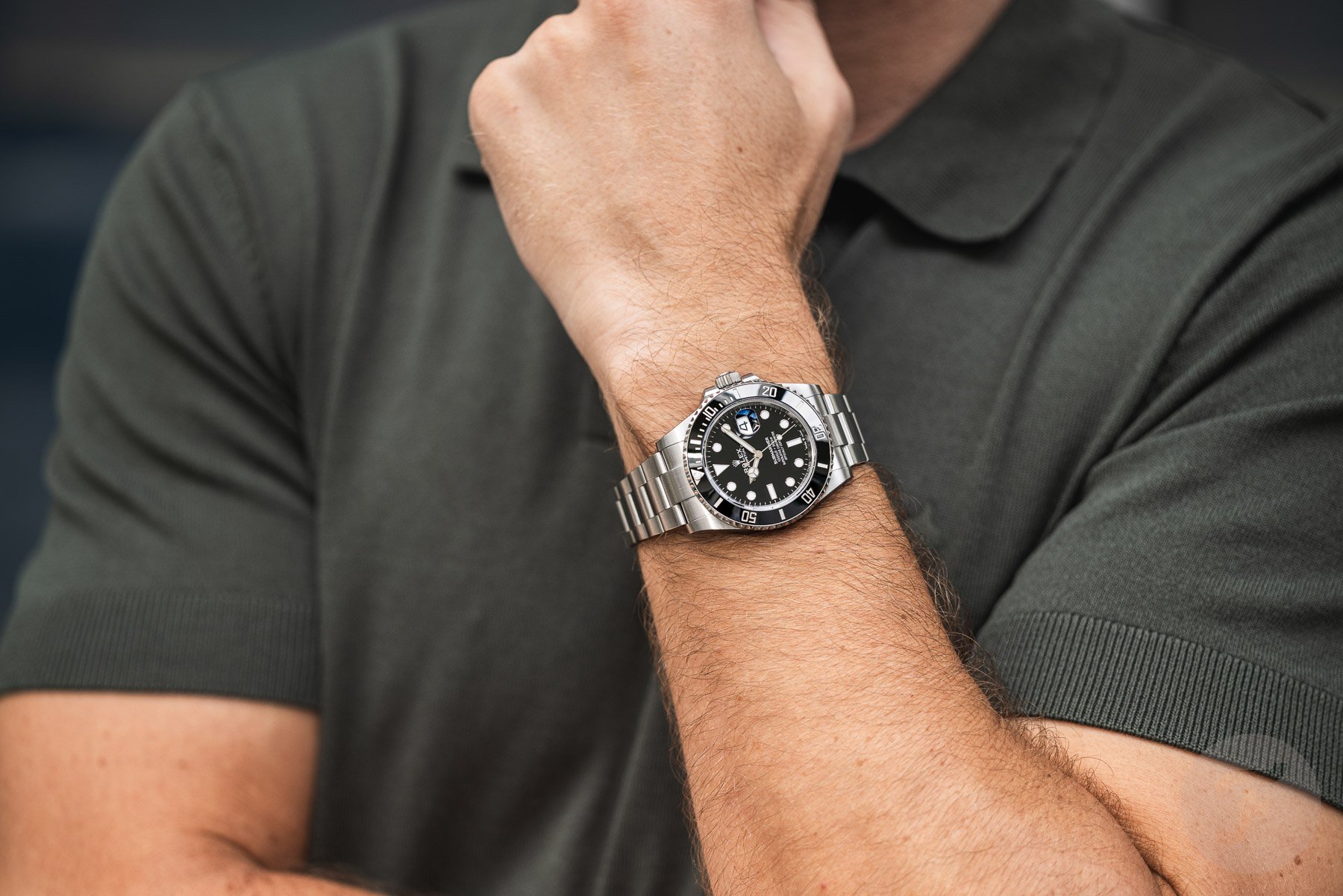 In fact, I prefer all of the Rolex sports models in stainless steel. It simply suits them. And if you give me a second choice, an all-precious-metal version would be my immediate pick. The only exception to that is the current Rolex GMT-Master II in steel and yellow gold (ref. 126713GRNR) that came out earlier this year.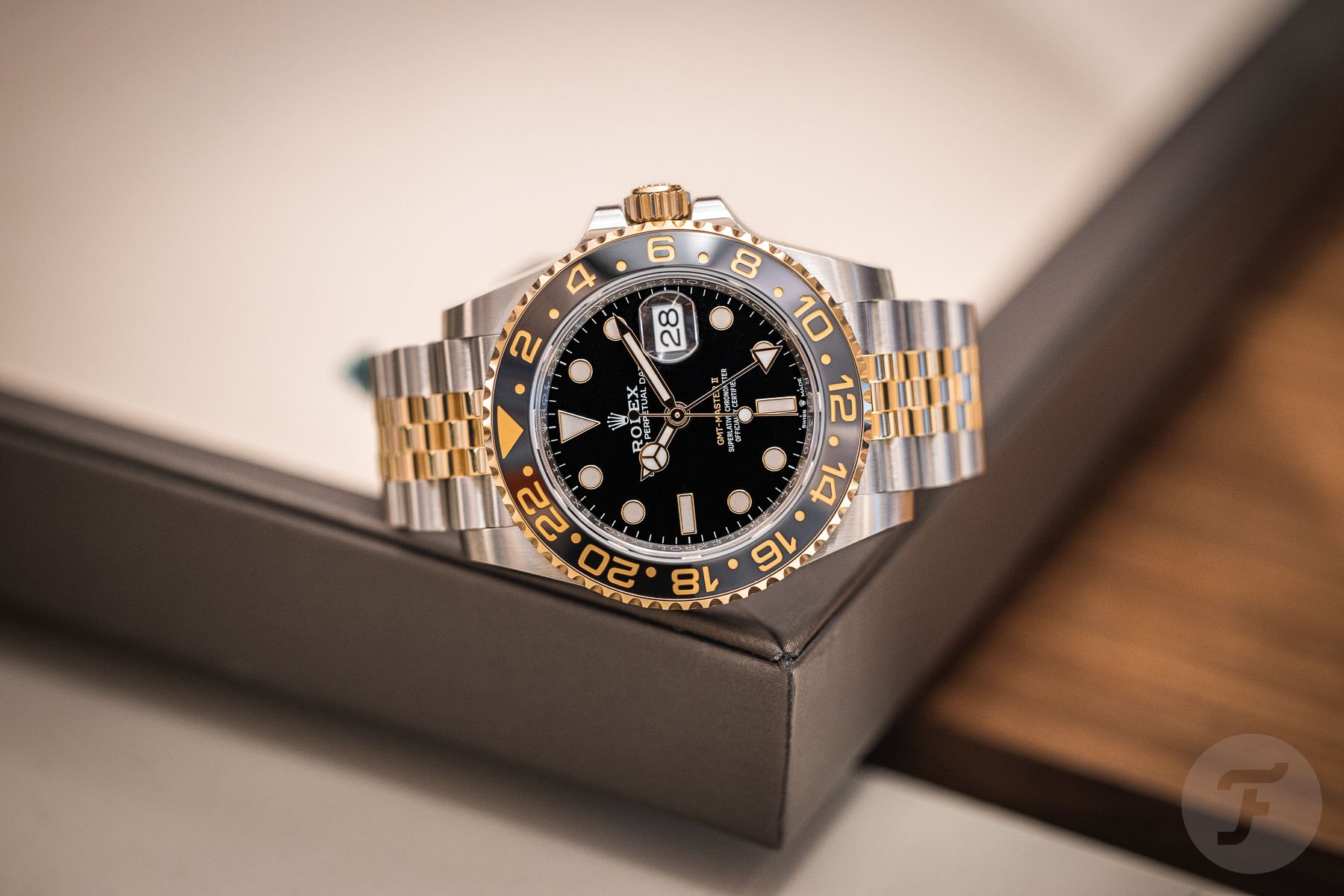 A two-tone Rolex needs some refinement
Why would that watch do the trick? It comes down to refinement. If there is a lot of visual contrast in color or materials, I prefer some refinement to balance it out. And that's where the magic of the Jubilee bracelet comes in. The design of the links perfectly breaks up the large gold surfaces that you'd find on the two-tone Oyster bracelet, making it look less brash and more stylish. That's why I prefer the GMT-Master II ref. 126713GRNR over the current "Root Beer" ref. 126711CHNR. And it works like that all across the Rolex board for me.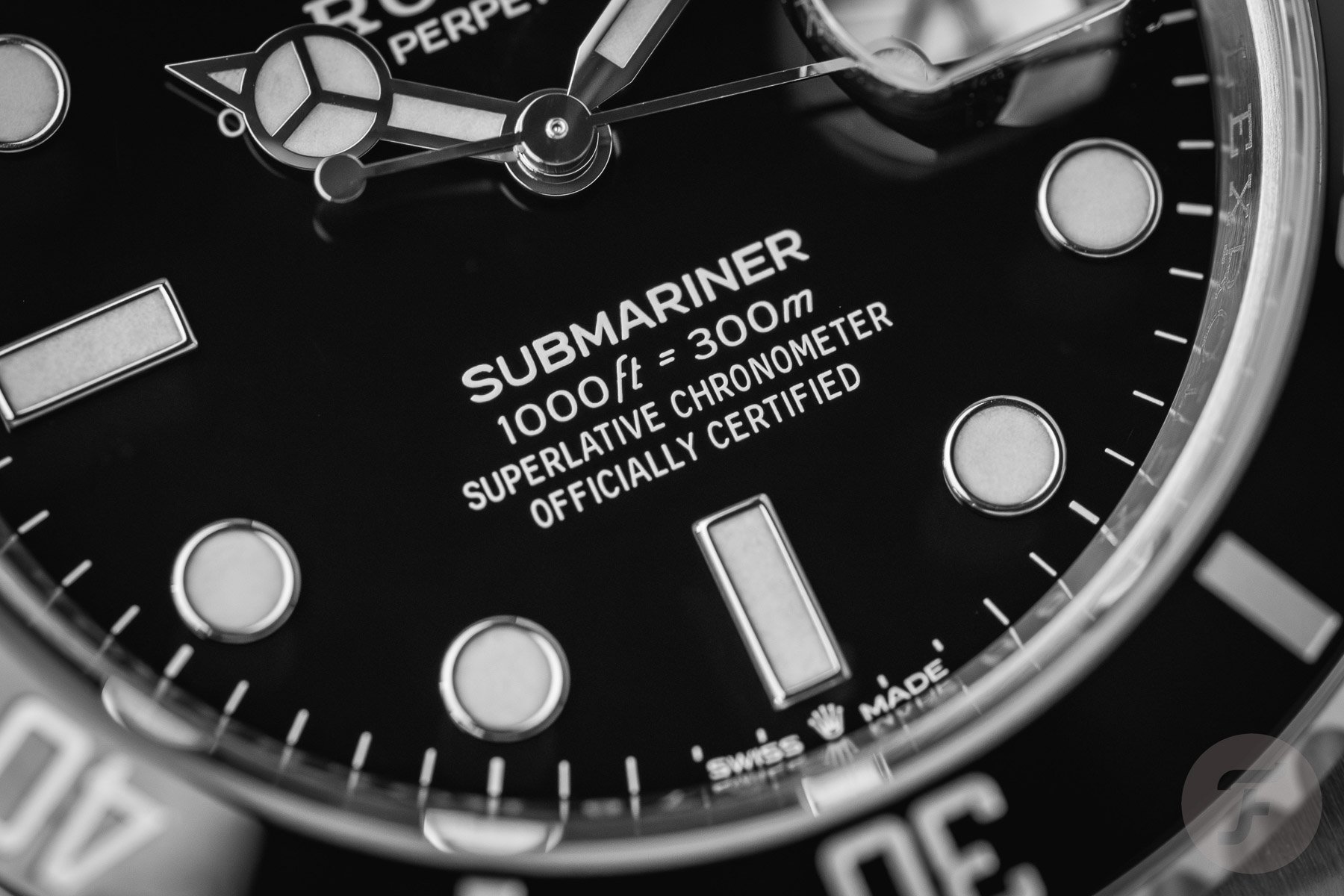 But there is another simple reason, and that is the debatable "it is supposed to be stainless steel." I do not own a Rolex Submariner, but I want the stainless steel model with a black dial and bezel. It set the standard in design for dive watches as we know them today. And while I am not much of a watch purist, I do feel that, historically, the best versions of the Submariner have always been steel. It's that same basic principle as preferring a Speedmaster Professional Moonwatch with a Hesalite crystal. Historically, that is the one to go for.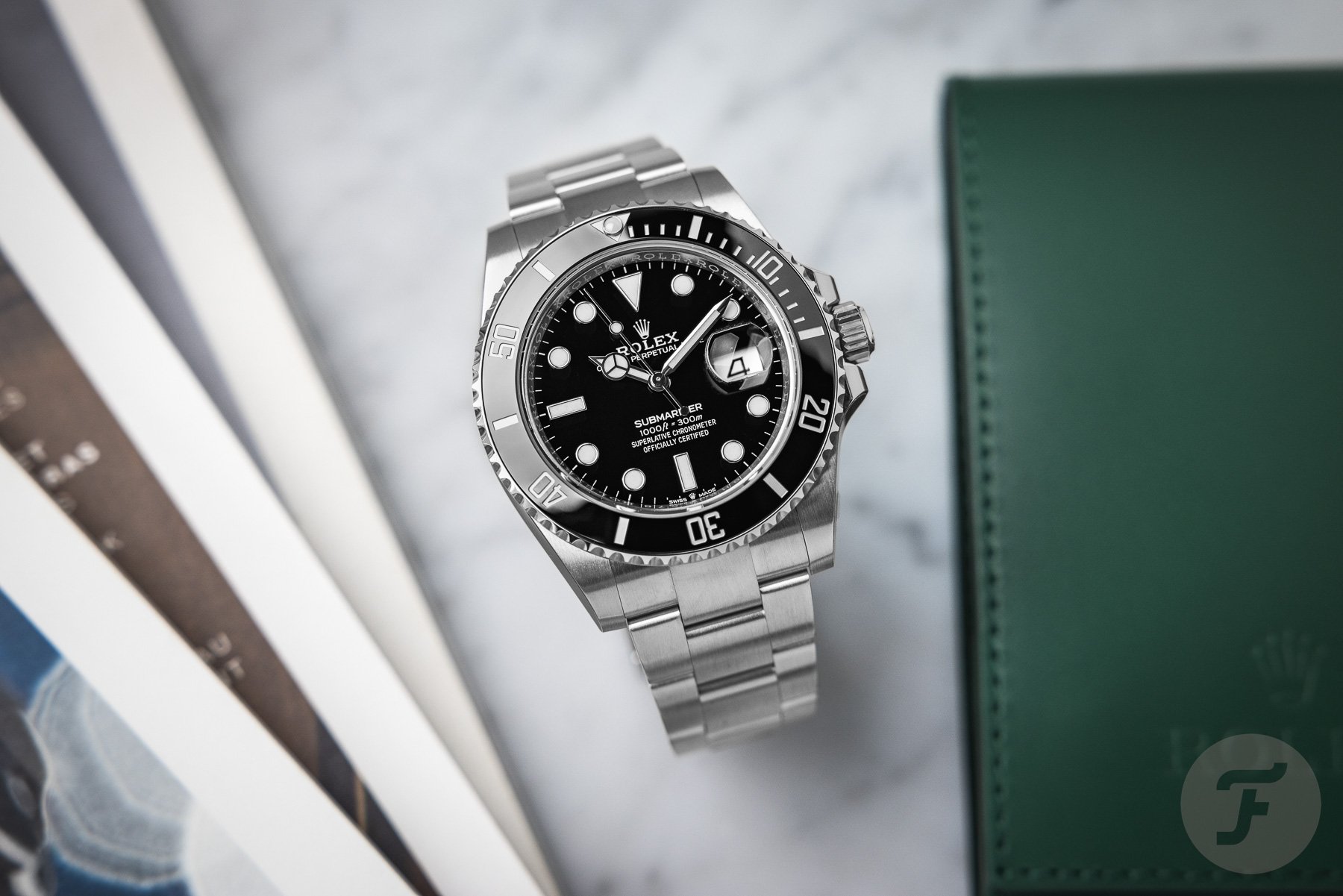 The stainless steel Rolex Submariner Date ref. 126610 is the ultimate choice
Overall, I have nothing against the two-tone Submariner. Actually, I think it looks kind of cool in gold and steel with the blue dial and bezel. But it will never be my first pick as a Submariner, nor will it be my second. And I perfectly understand that it can be yours for a good price, but it all starts and ends with aesthetics. And when it comes to the looks of the Submariner, that is not the Rolex I would want to buy in gold and steel. It's that simple for me.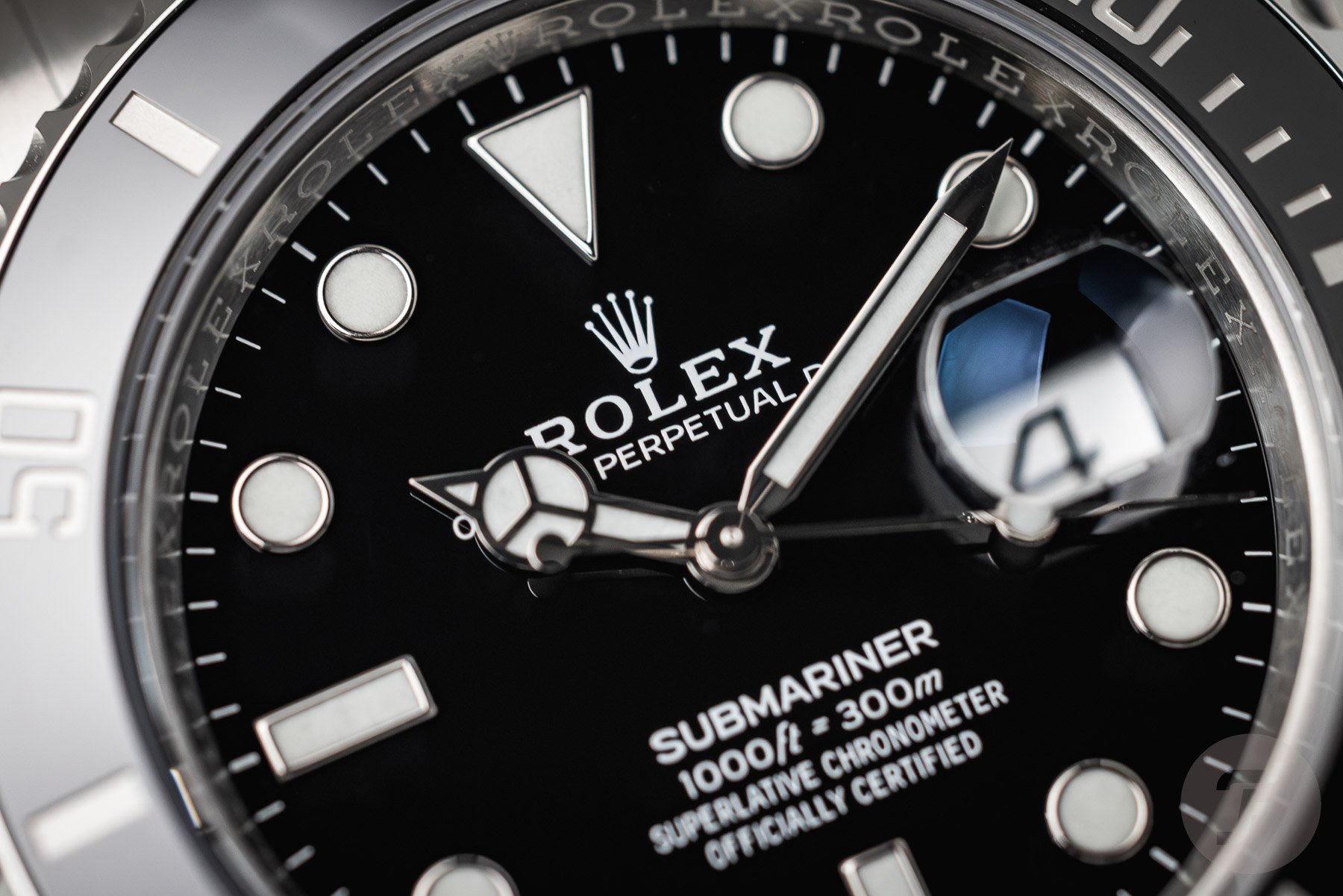 Time to vote!
There you have it, folks — another Sunday battle with two versions of the Rolex Submariner going toe to toe for the win! Will two-tone Submariner ref. 126613LB get your vote, or are you a passionate proponent of of the all-steel Submariner ref. 126610LN? Make sure to vote for your choice below, and also let us know why you picked it in the comments. See you next week for another installment of Sunday Morning Showdown!
Rolex Submariner 126613LB vs Submariner 126610