Swatch Releases A New Art Journey Collection In Lisbon
And no, these are not watches; they are Swatches!
This art journey begins exactly one year ago. That's when Gregory Berkowitsch walked into the Swatch shop in Brussels with an idea. He and his wife Jen Itzkowitch had co-founded a company called Magritte Editions. And along with producing a lot of merchandise based on the art of the Belgian surrealist artist, they also opened a Magritte shop right on the Grand Place in Brussels. But watches were not yet part of their inventory. So Berkowitsch walked over to the Swatch shop, which is right around the corner from their store, to see whether Swatch was willing to collaborate with them on a Magritte watch.
Gregory's idea was passed on to the Swatch headquarters in Biel, Switzerland. There, it reached the office of Carlo Giordanetti, who's the CEO of the Swatch Art Peace Hotel. That's the team responsible for all collaborations between Swatch and prominent artists and museums all over the world. And apparently, he thought it was a great idea because last week, Swatch unveiled not one but two watches inspired by Magritte. Let's take a good look at both of them and the rest of the Swatch Art Journey Collection that was also presented there in Lisbon.
An impressive tradition
This year is a big one for Swatch because the company is celebrating its 40th anniversary in 2023. Make sure to check out Jorg's overview of all that has happened since 1983. In it, you'll also see that in those 40 years, collaborations with both artists and museums have been an integral part of the Swatch DNA. It all started with famous artists like Kiki Picasso in 1985 and Keith Haring in 1986. And through the years, world-renowned museums like the Museum of Modern Art in New York and the Rijksmuseum in Amsterdam have also joined forces with Swatch to create some very unique-looking watches.
This year's Swatch Art Journey Collection consists of five capsule collections. Four of those were presented last week, and in May, the final one will also be unveiled. We suspect that the fifth one has something to do with New York City, but stay tuned to Fratello to find out more about it later on in May. For now, let's take a look at the watches that Swatch presented last week.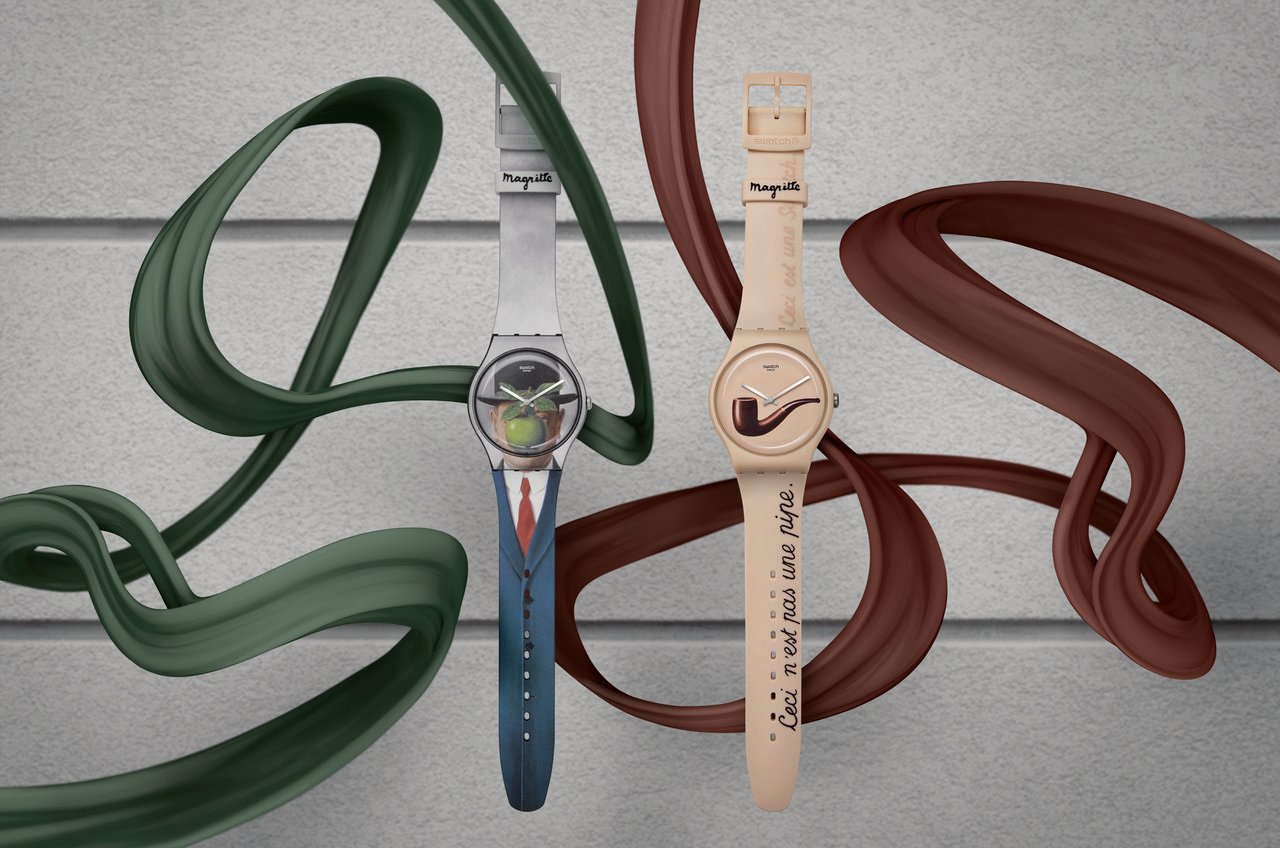 Swatch × Magritte
This year is not only an important one for Swatch, but it also marks the 125th anniversary of René Magritte's birth. It's a great moment indeed to honor the Belgian surrealist with two Swatches that take inspiration from two of his most famous paintings. Magritte was famous for using ordinary objects in an unusual context, and he constantly wanted to make people question the world around them.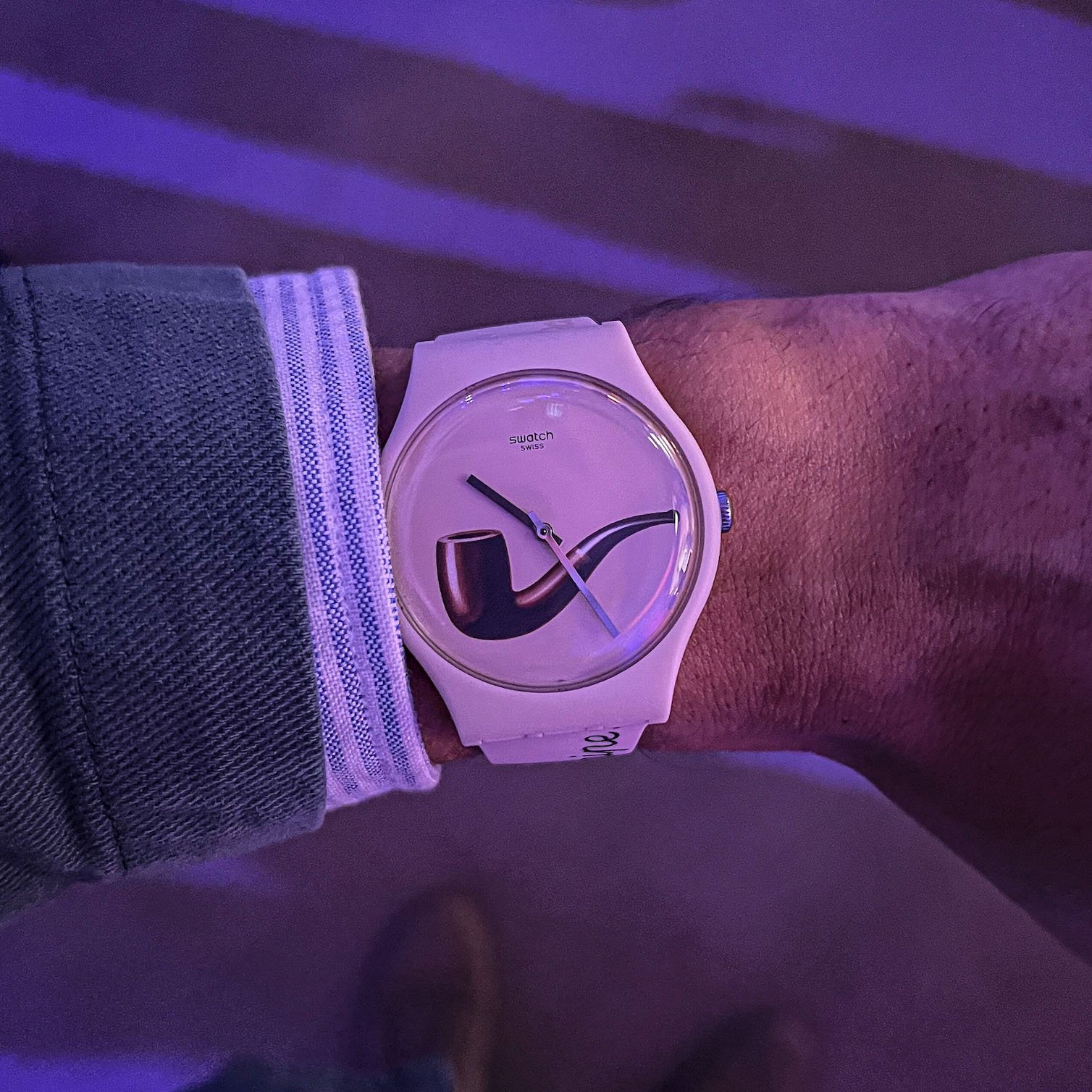 This is a Swatch
The first painting that Swatch took inspiration from is Magritte's La Trahison des images (The Treachery of Images). When you look at that painting, all you see is a pipe. But Magritte also wrote underneath, "Ceci n'est pas une pipe" (This is not a pipe). After all, a painting, of course, is simply a representation of a pipe.
Swatch has played along nicely with Magritte's rules and printed the pipe very prominently on the cream-colored dial. On the longer part of the strap, it says it's not a pipe (because it isn't), and on the shorter part of the strap, it says it is a Swatch, which it actually is. I hope it goes without saying, but this is definitely my favorite of all seven watches that were presented.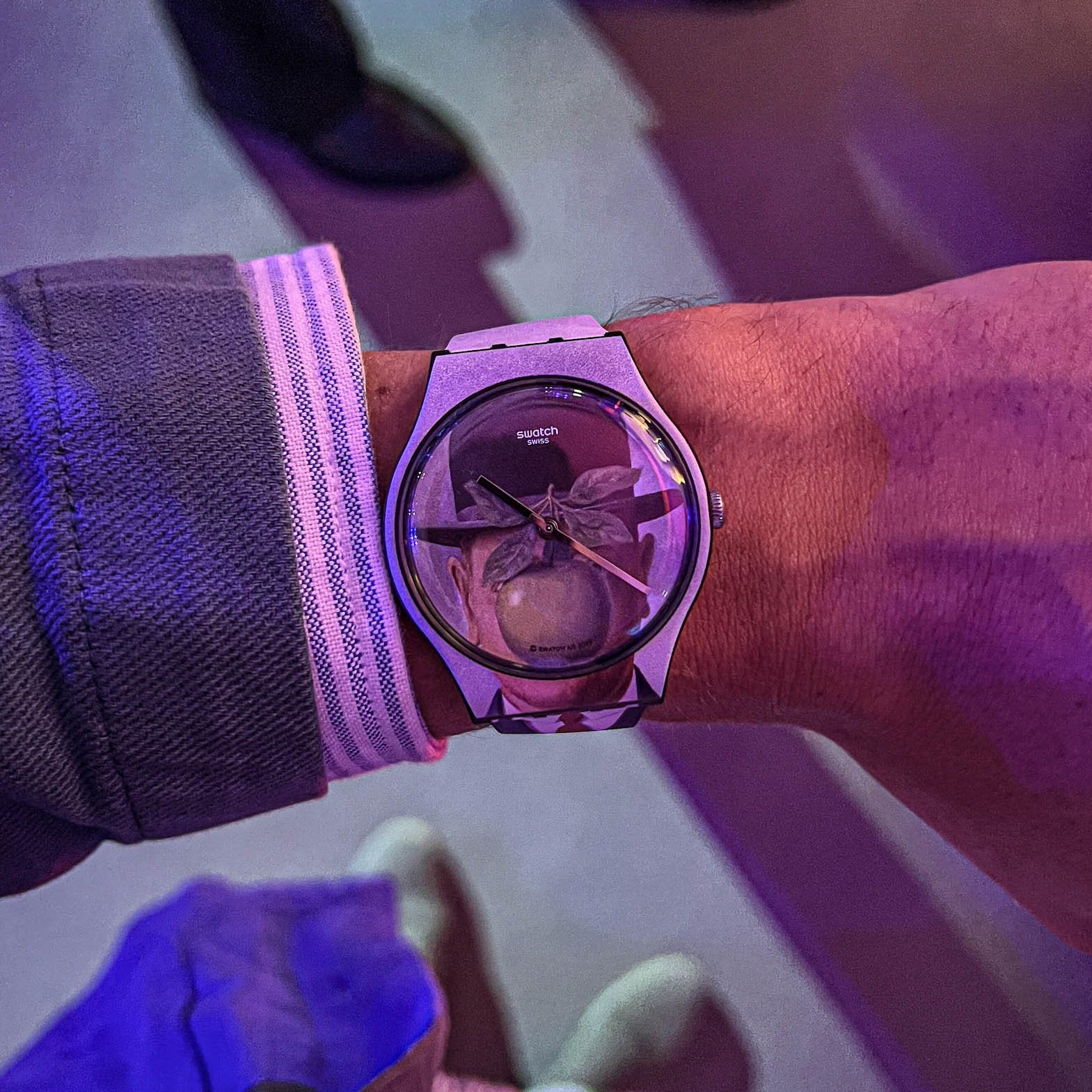 The "appleSwatch"
The second watch takes inspiration from Magritte's painting Le Fils de l'homme (The Son of Man). Some people say this is a self-portrait of the artist. The apple in front of his face represents how some visible things obscure others; when you're looking at something, there's also always something you're not seeing.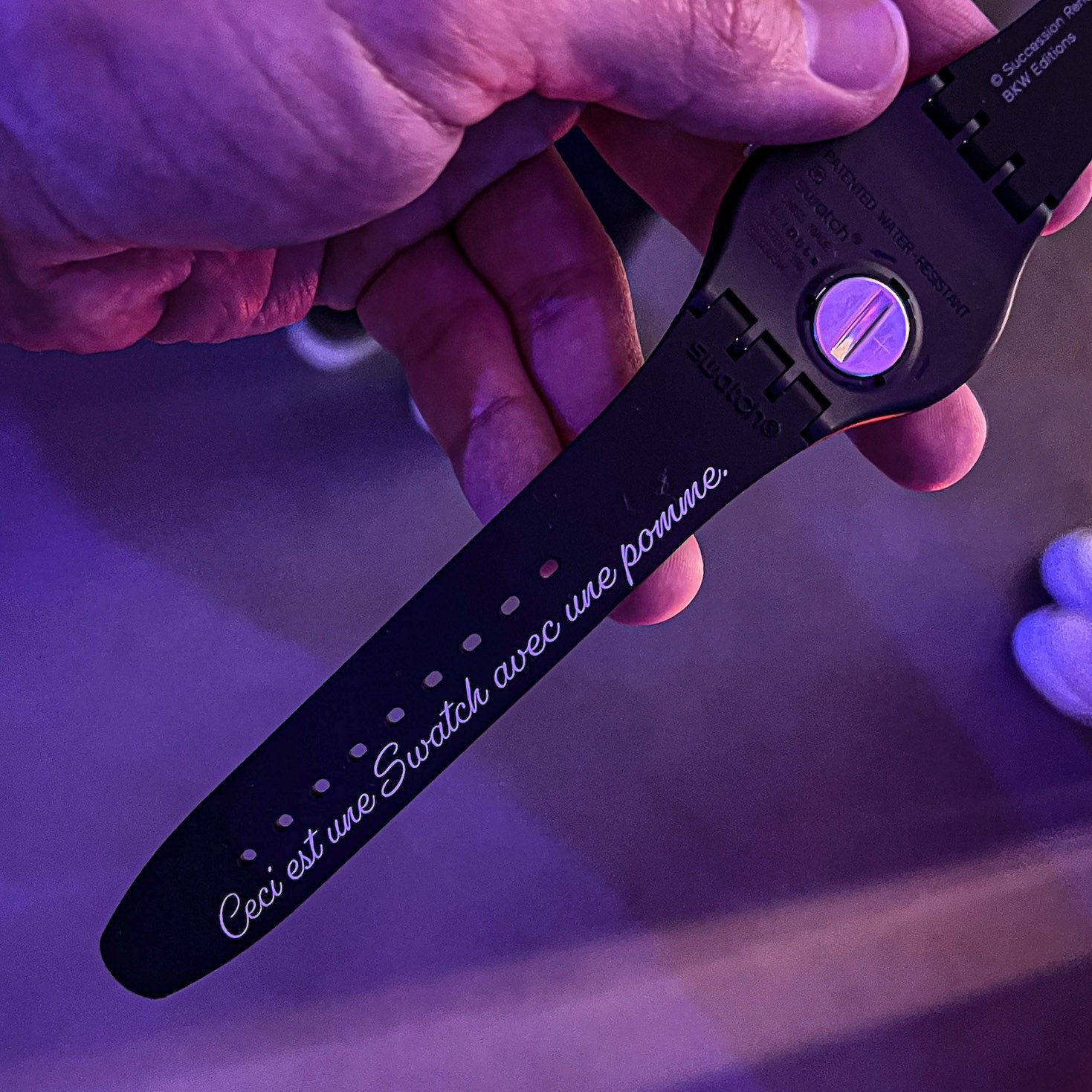 The painting lends itself very well to a Swatch. Magritte's head and his bowler hat fit perfectly on the dial. And his shirt, tie, and jacket look great on the longer part of the strap, especially because of the pinholes. On the back of the strap, it says, "Ceci est une Swatch avec une pomme" (This is a Swatch with an apple). That made some people during the event in Lisbon even refer to the watch as the "appleSwatch." Both of the Magritte watches come in the 41mm New Gent size.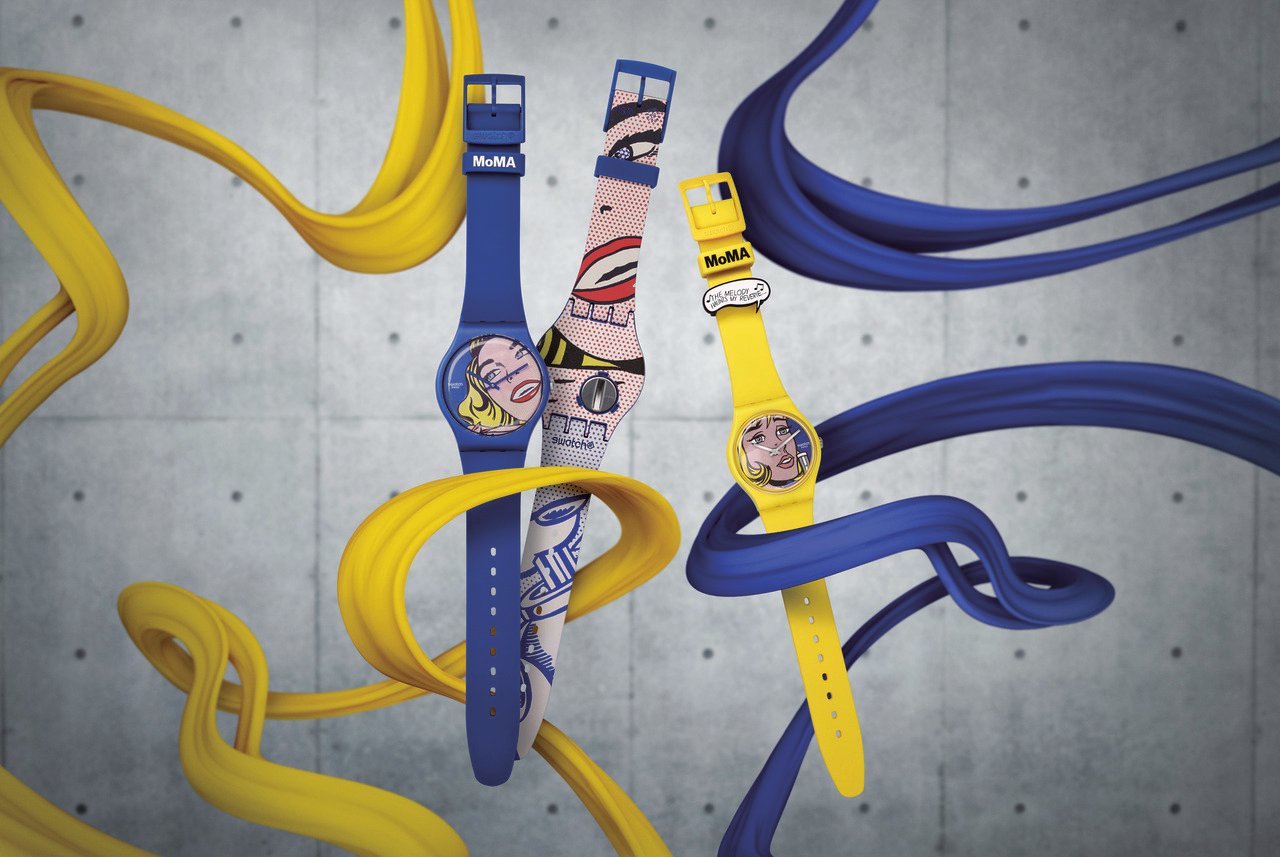 Swatch × MoMA
Then we continue our art journey. From Brussels, we go to the Museum of Modern Art (MoMA) in New York City. And we celebrate yet another anniversary there because it has been exactly 100 years since Roy Lichtenstein was born. Swatch chose two characteristic paintings from the American artist to use for the design of both a bigger and a smaller watch.
The one in the smaller 34mm Gent size comes in bright yellow. This matches perfectly with the blonde hair of the woman featured in the painting Reverie. Even the famous text "The melody haunts my reverie" is printed on one of the keepers. It's a very cool and playful touch, exactly what you'd expect from Swatch.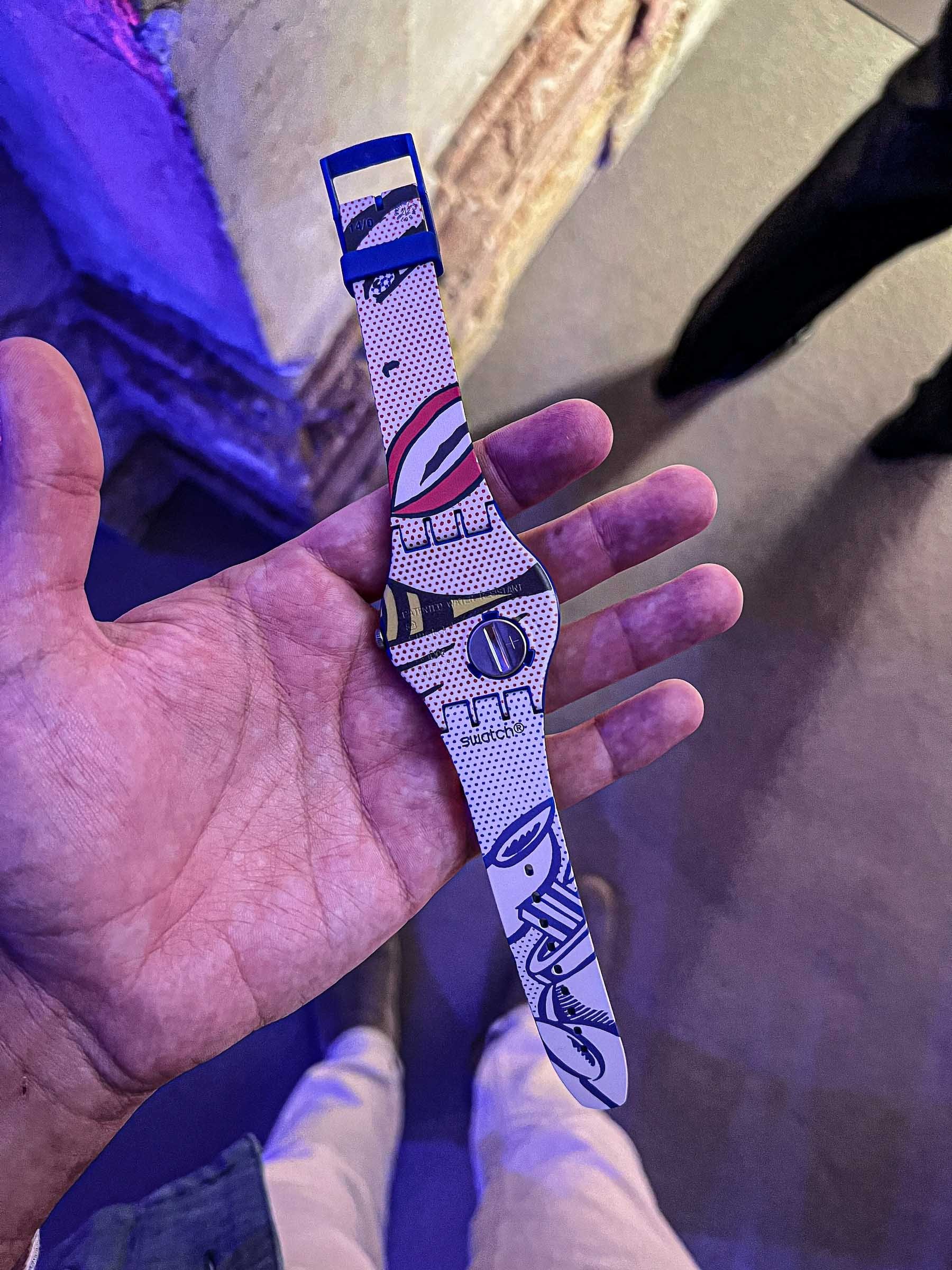 The watch in the bigger 41mm New Gent size is blue — very blue. The print on the dial comes from Lichtenstein's painting Girl. And on the back of the entire watch and strap, you can take a closer look at Lichtenstein's famous Benday dots. Both of these watches really pop on the wrist!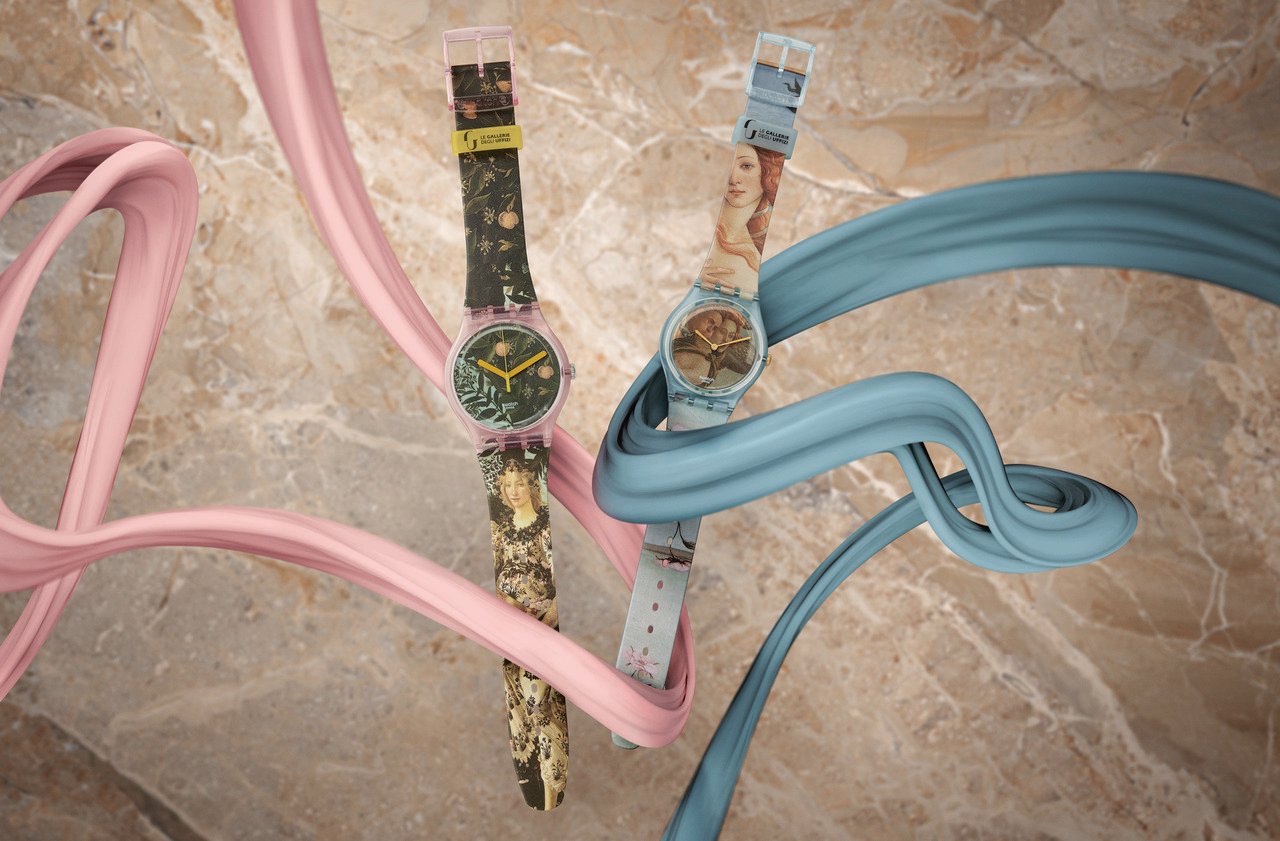 Swatch × Le Gallerie degli Uffizi
Now we come back to Europe and enter Florence's most visited museum, Le Gallerie degli Uffizi. This museum is famous for its collection including works by Mantegna, Correggio, Leonardo, Raffaello, Michelangelo, and Caravaggio. But it's most famous for Botticelli's Allegoria della Primavera (Allegory of Spring) and Nascita di Venere (The Birth of Venus).
Swatch has surprisingly combined these Renaissance paintings with very modern-looking transparent cases. Allegory of Spring comes in the bigger New Gent size with a pink case, and The Birth of Venus comes in a smaller Gent size with a blue case. Even though both these watches seem quite busy at first, they do look pretty neat on the wrist.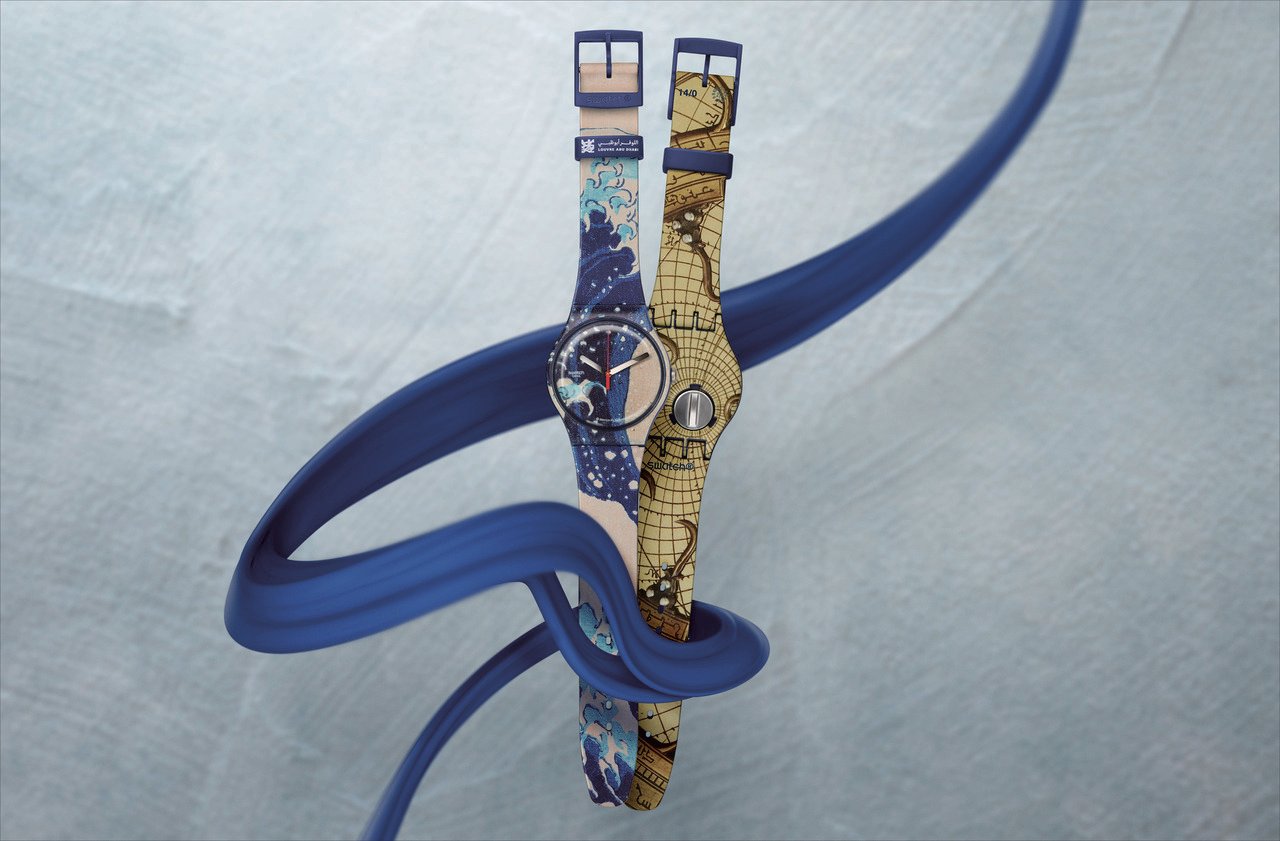 Swatch × Louvre Abu Dhabi
And then we get to the final destination today, the Louvre in Abu Dhabi. In collaboration with Swatch, the museum also chose to use two pieces from its collection. But instead of using them on two different watches, in this case, they're both on the same watch.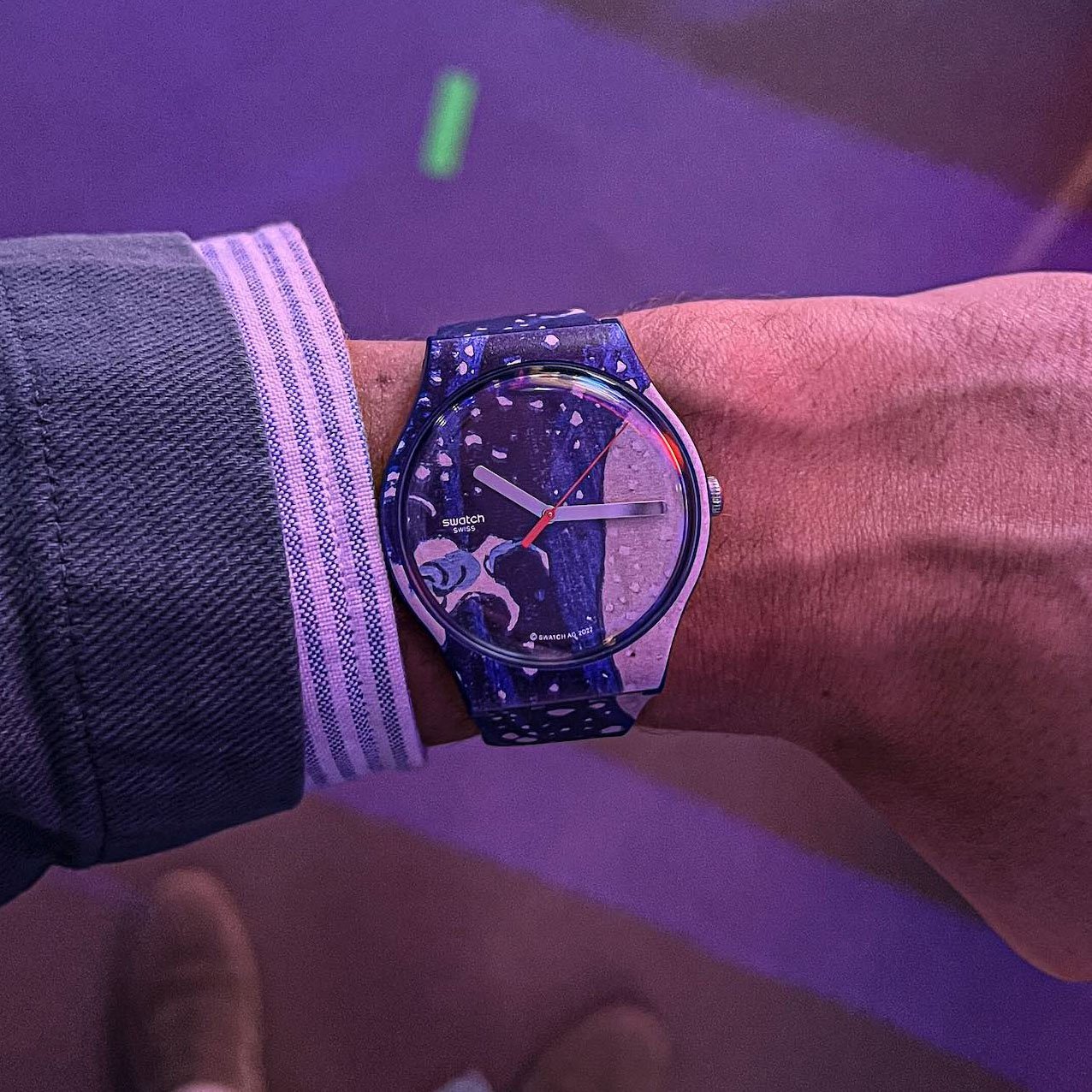 On the front of the watch, you'll find a close-up of Kanagawa oki nami ura (The Great Wave off Kanagawa) by Katsushika Hokusai. It's one of the world's and certainly Japan's most famous works of art. It tries to show the immense power of nature with the giant tsunami.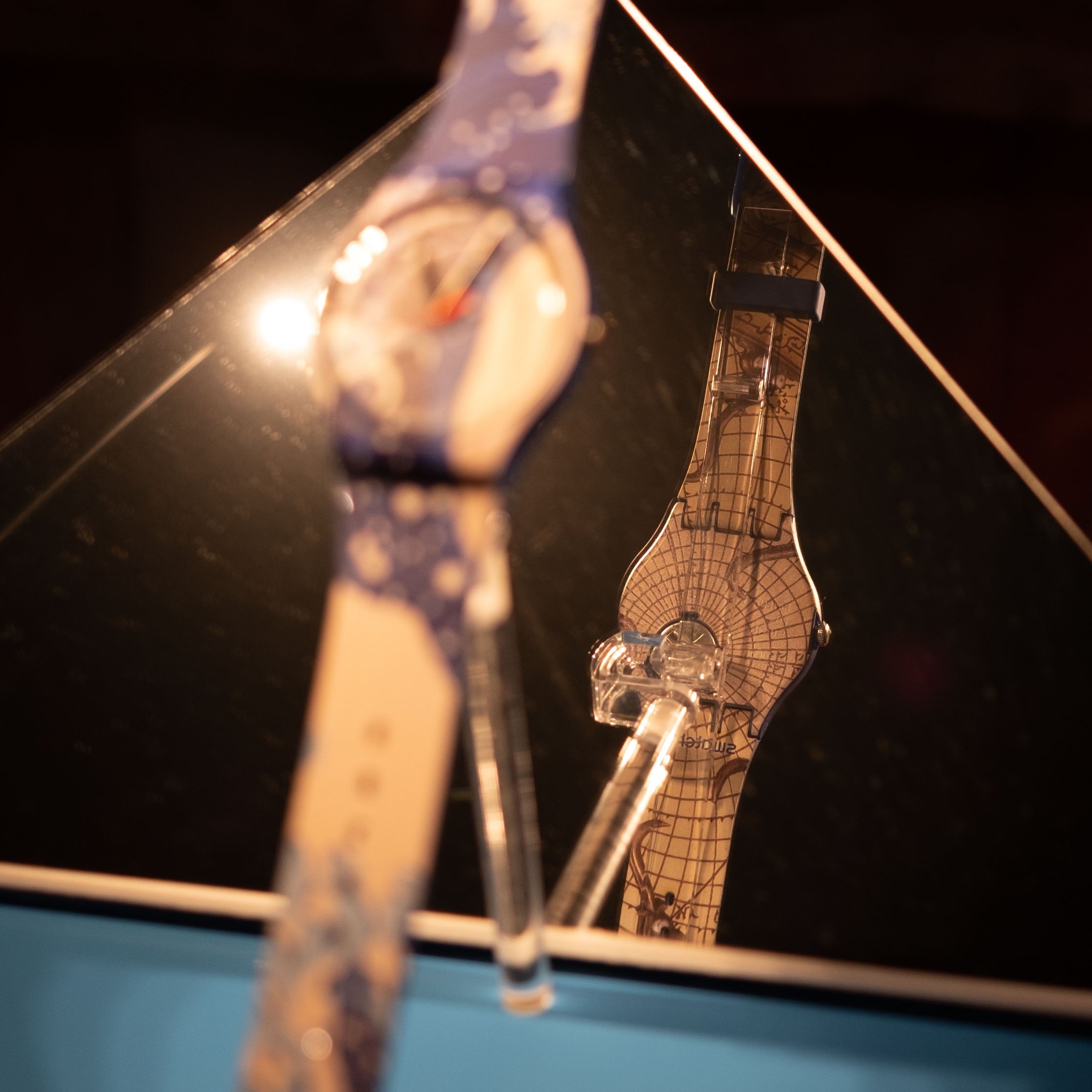 On the back of the watch is a close-up of an astrolabe by Muhammad ibn Ahmad Al-Battuti. An astrolabe is an instrument that was used to calculate the position of the stars. It could also be used to determine the exact time and the user's position. I think that in a way, this one watch represents how we humans try to control everything that's happening around us.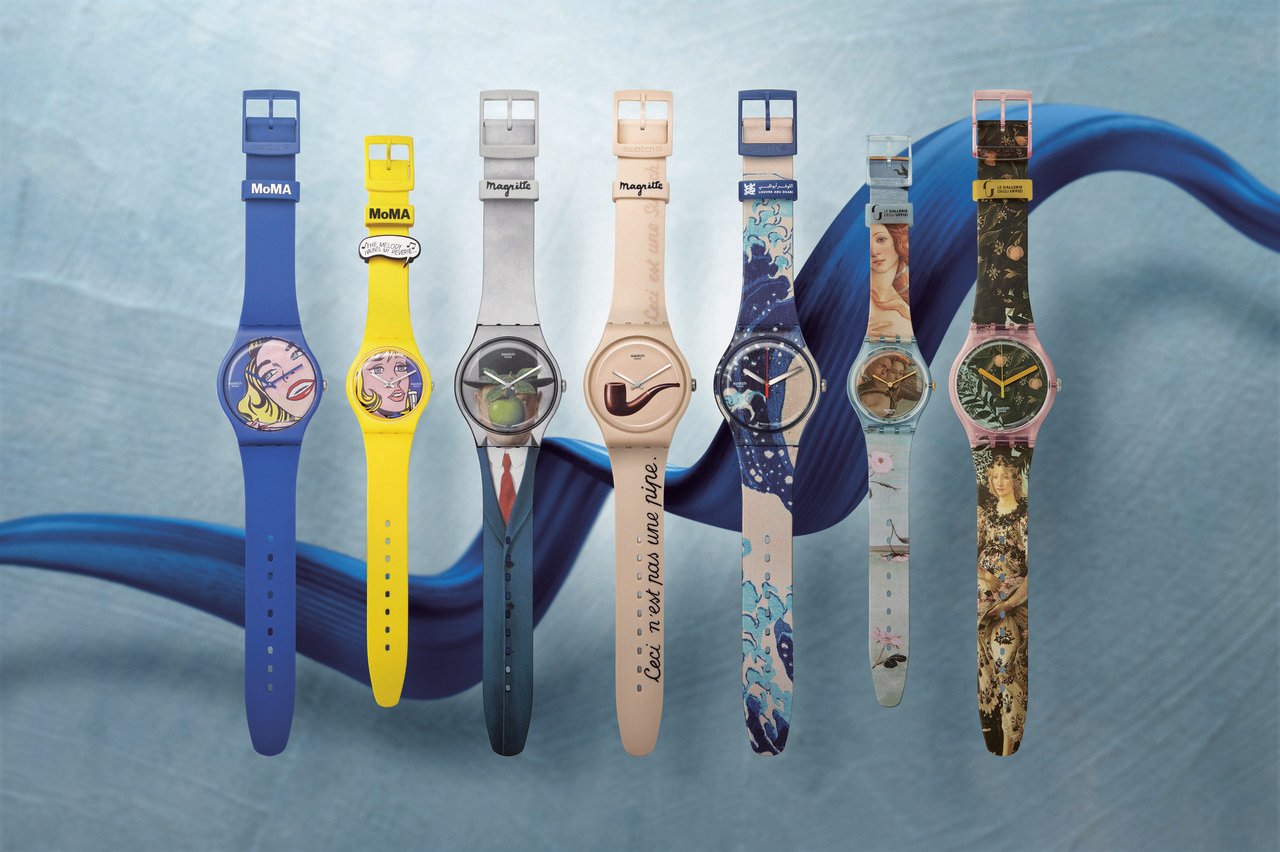 Available as of March 16th and April 13th
The watches in collaboration with Magritte and MoMA will be available starting March 16th, and the other three watches will go on sale on April 13th. And as I mentioned, Swatch will present another capsule collection sometime in May. The price of the watches will be €95 for the smaller 34mm Gent size and €105 for the bigger 41mm New Gent size. For more information, please make sure to check the official Swatch website.
Let me know in the comments which one's your favorite!
You can also find and follow me on Instagram: @fliptheparrot