The Multi-Colored Boomerang Swatch SCJ101 Grand Prix Chronograph That Refuses To Leave My Collection
Third time's a charm!
Have you ever owned the same watch three times? I guess that for most (sane) individuals the answer to that question is "no." However, in my case it's not only "yes", but the watch in question is one that you might not expect someone to have owned on three separate occasions. Sure, a Speedmaster collector might have owned a number of Moonwatches from different years, or a Rolex collector might have several Daytonas or Submariners. But it's not often that the repeat purchase is a plastic Swatch chronograph from the early 90s. However, today I'll be telling you the story of my Swatch SCJ101 Grand Prix, all three of them, that is.
The Swatch Grand Prix recently became the focus of a lot of unexpected attention. I won't bore you with the details, but essentially, the watch went from lost to the ages, to a hot commodity. It all started on Italian Watch Spotter's Instagram reporting on the ACF Fiorentina's sports manager (Daniele Pradè) wearing the watch and escalated rather quickly. Prices rose from €20–50 well into the hundreds, certainly beyond the original €47,50 RRP of the watch. If you want to know more about the story of the watch's explosive rise to watch world fame, you can find an in-depth article from Italian Watch Spotter here. Who better to explain the hype than they who caused it?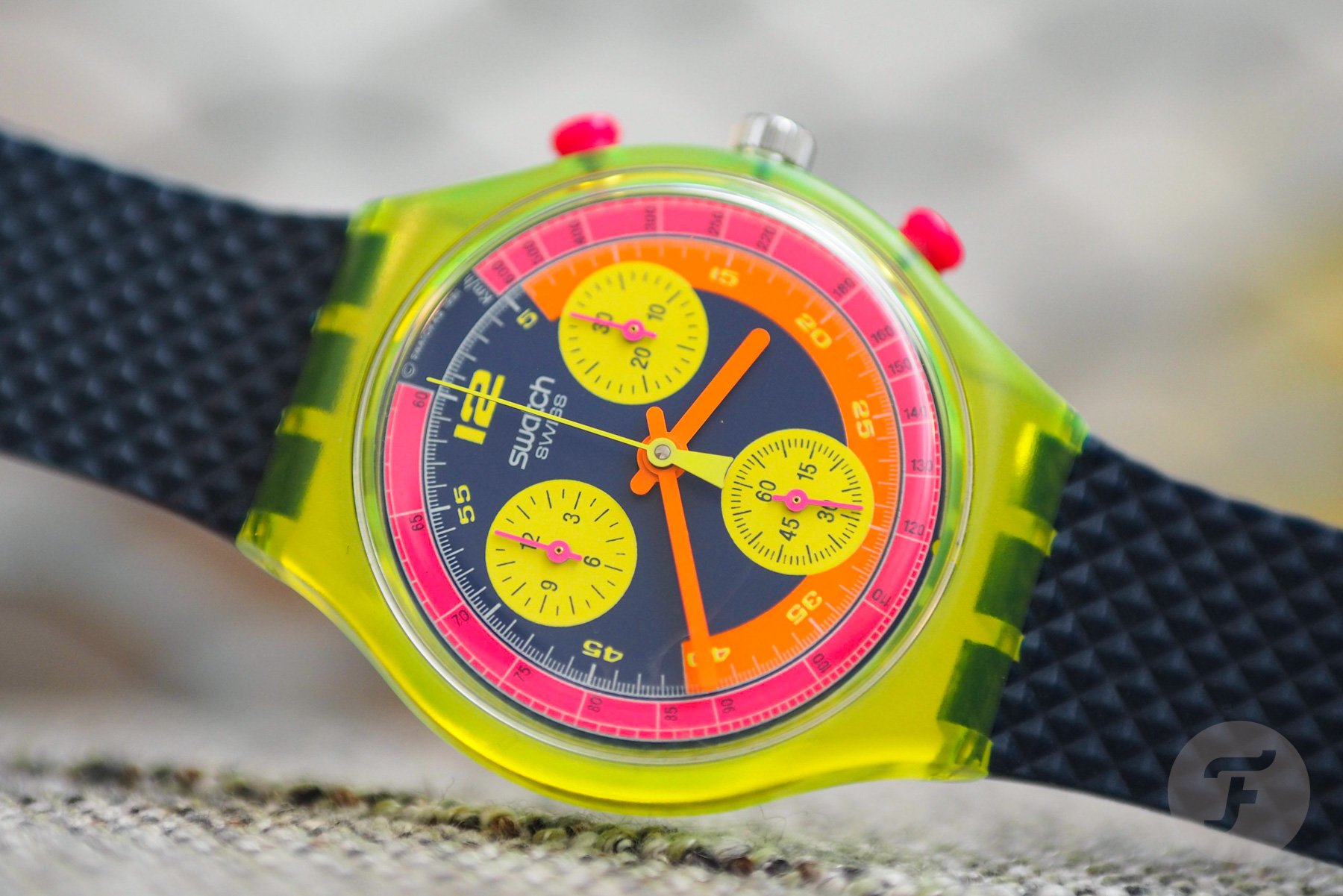 News travels slowly in some circles
Admittedly, I only heard about the watch a couple of months into the hype. However, I figured that with a bit of luck, the news of this specific model being one of the most-wanted Swatch watches of the 90s had only spread amongst watch enthusiasts. A quick search on eBay Kleinanzeigen revealed that this was indeed the case. Somehow I managed to pick up two of these watches. Both in unworn condition, in the original plastic box. One even had the original price tag on the buckle. The better part of three years having passed since then, I don't exactly remember what I paid for them, but I do know that it can't have been more than €50… for both of them. That's right. It seems that the hype hadn't quite made its way to the German classified ads.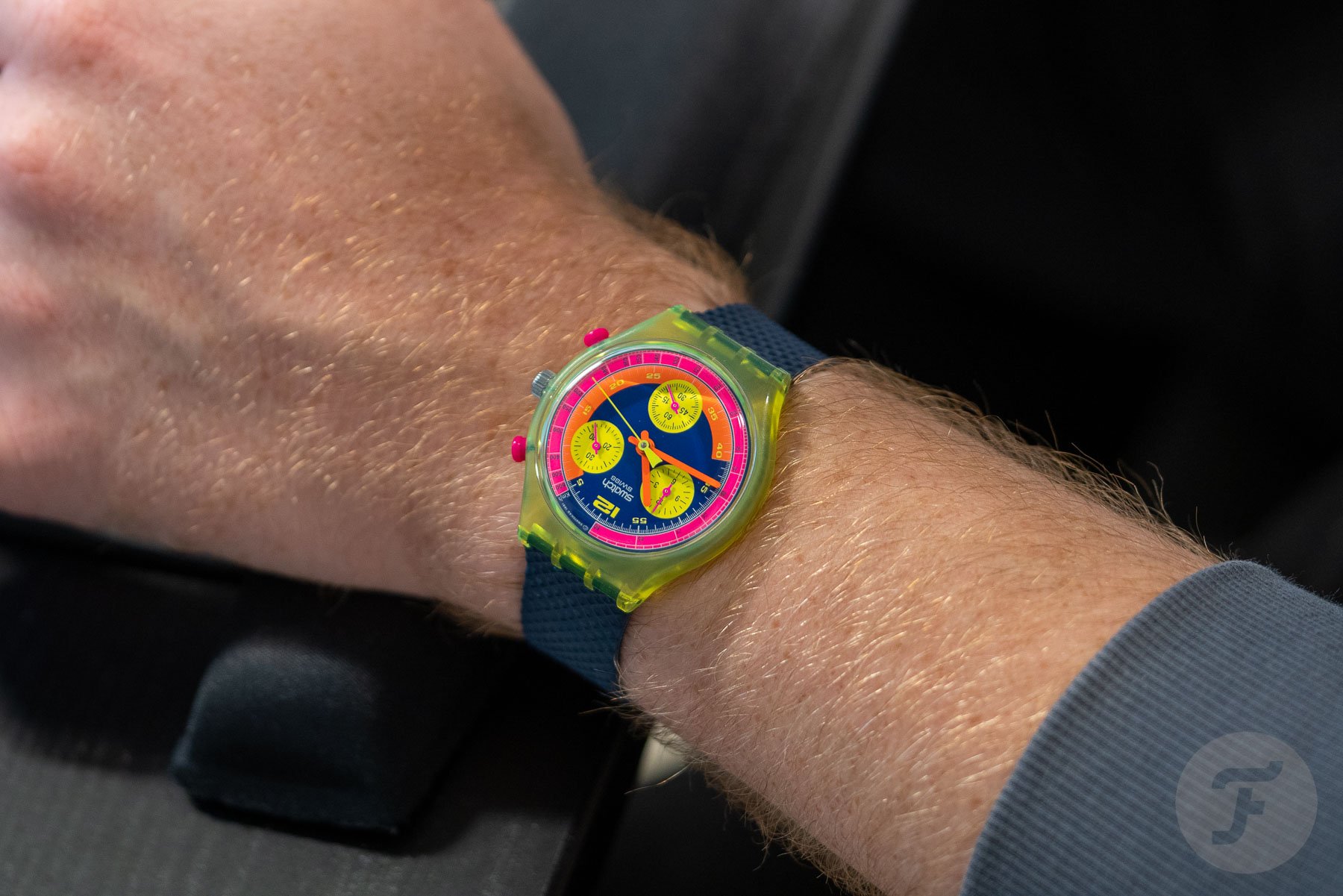 To wear or not to wear…
Now, you might be thinking "that's perfect! You have two, so you can wear one, and keep the other and eventually sell it." Well, I figured as much myself, the only issue was, that after sourcing and installing the correct battery ( aka. a Renata 390 silver-oxide button cell battery) one of the two watches didn't run. The hour and minute hands moved along, and it kept good time, but the running seconds at the 6 o'clock position, and the chronograph hands did not budge. This complicated things, as it meant that I did indeed have two of these watches (selling at the time for upwards of €300), but only one was working, and therefore wearable.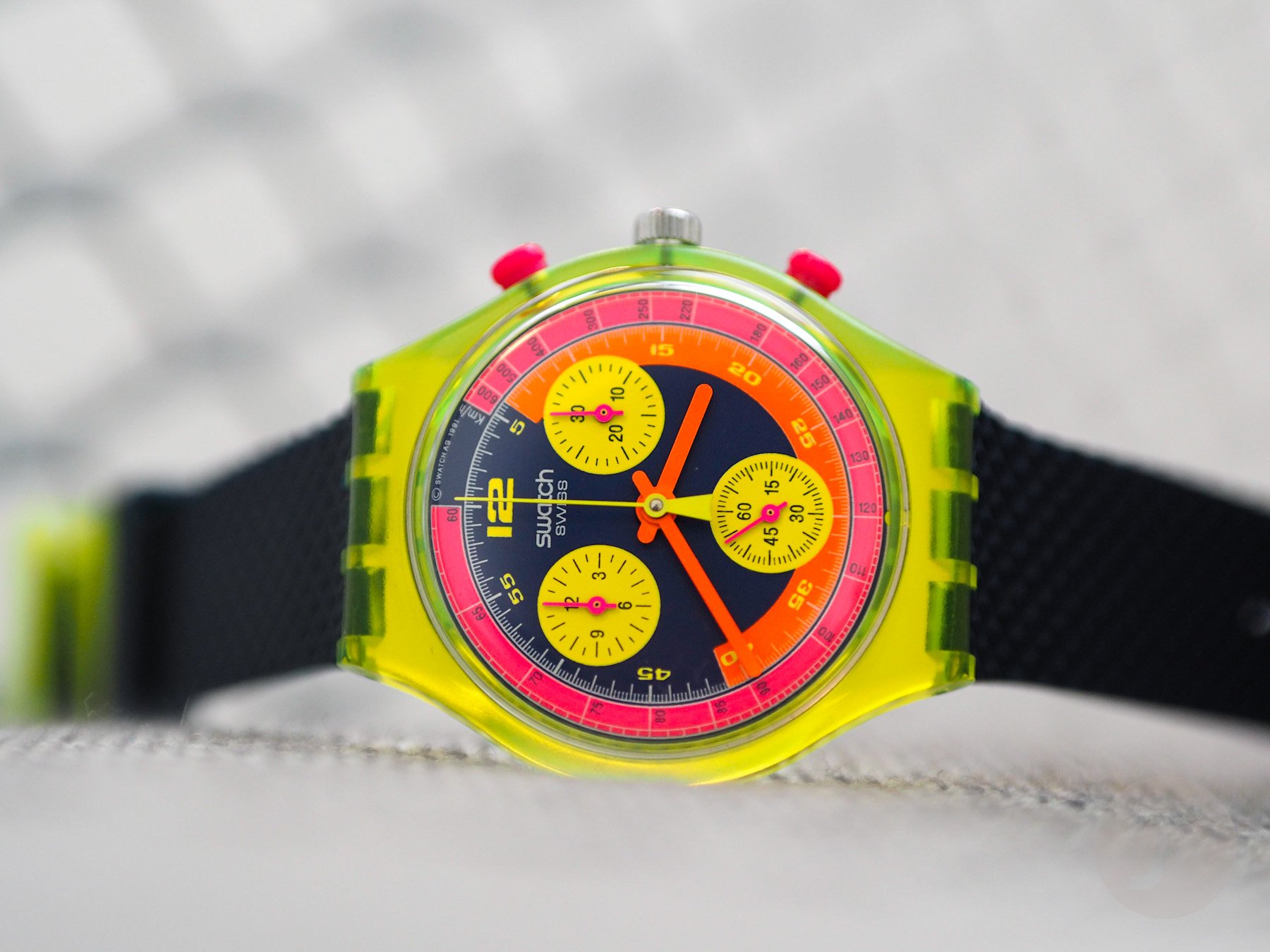 Now, that might not sound like too much of an issue either. I can already hear people shout "just wear the one that works!" This seems like a logical choice, but my personal issue with this was the fact that the one in working condition still had the original price tag on it, and was in incredibly pristine condition. The thing was quite literally new-old-stock. In my mind, that represented a big pay-day. I had seen listings for head-only examples, where the band had dried and crumbled right off the lugs, listed for over €250. So in that sense, this NOS watch could potentially fetch upwards of €400–€500. As a freshly employed 20-something-year-old, the idea of selling a €25 watch for €500 was appealing enough for me to leave it in the box. I mean, €500 could pay for a 10 day holiday on Lanzarote if spent correctly!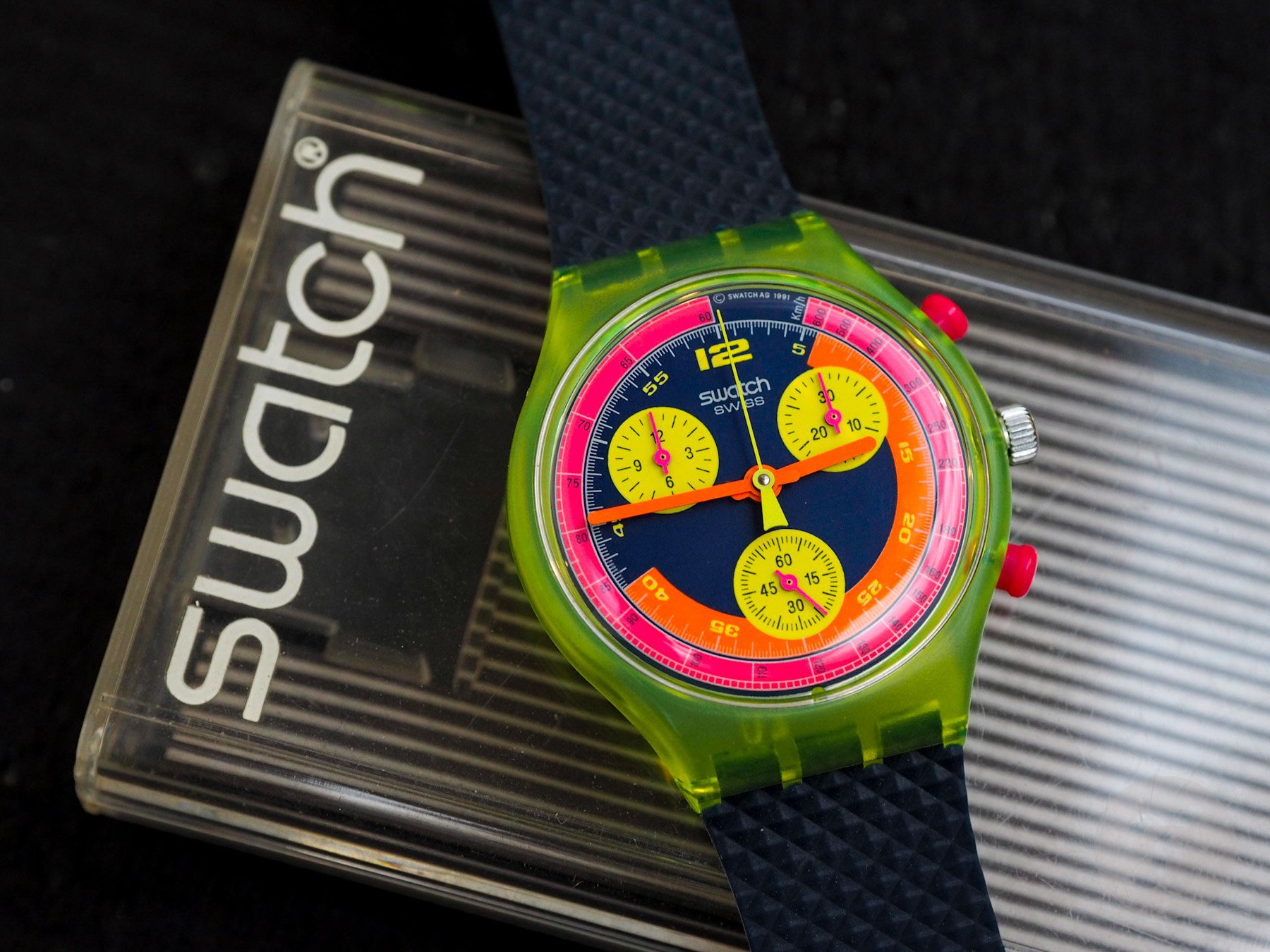 Patience pays off
I proceeded to list both watches for sale, back onto eBay Kleinanzeigen. Both listings included plenty of detailed pictures as well as a screenshot of the prices this model was fetching on Chrono24 (so as to justify the steep price tag to those less savvy). At the time, they ranged from the low €300 mark to upwards of €600. The one that didn't work, I listed for €100, thinking that someone might want it for parts. It did come with the box and strap in perfect condition. For anyone who knows and has dealt with Swatch straps from the early 90s, you know that this is rarely the case. They tend to age in a rather unique way. Unique in the sense that they become rock hard before quite simply crumbling to pieces. The second Swatch Grand Prix, the one in NOS condition and with the $80 price tag still on the buckle, I listed for €500.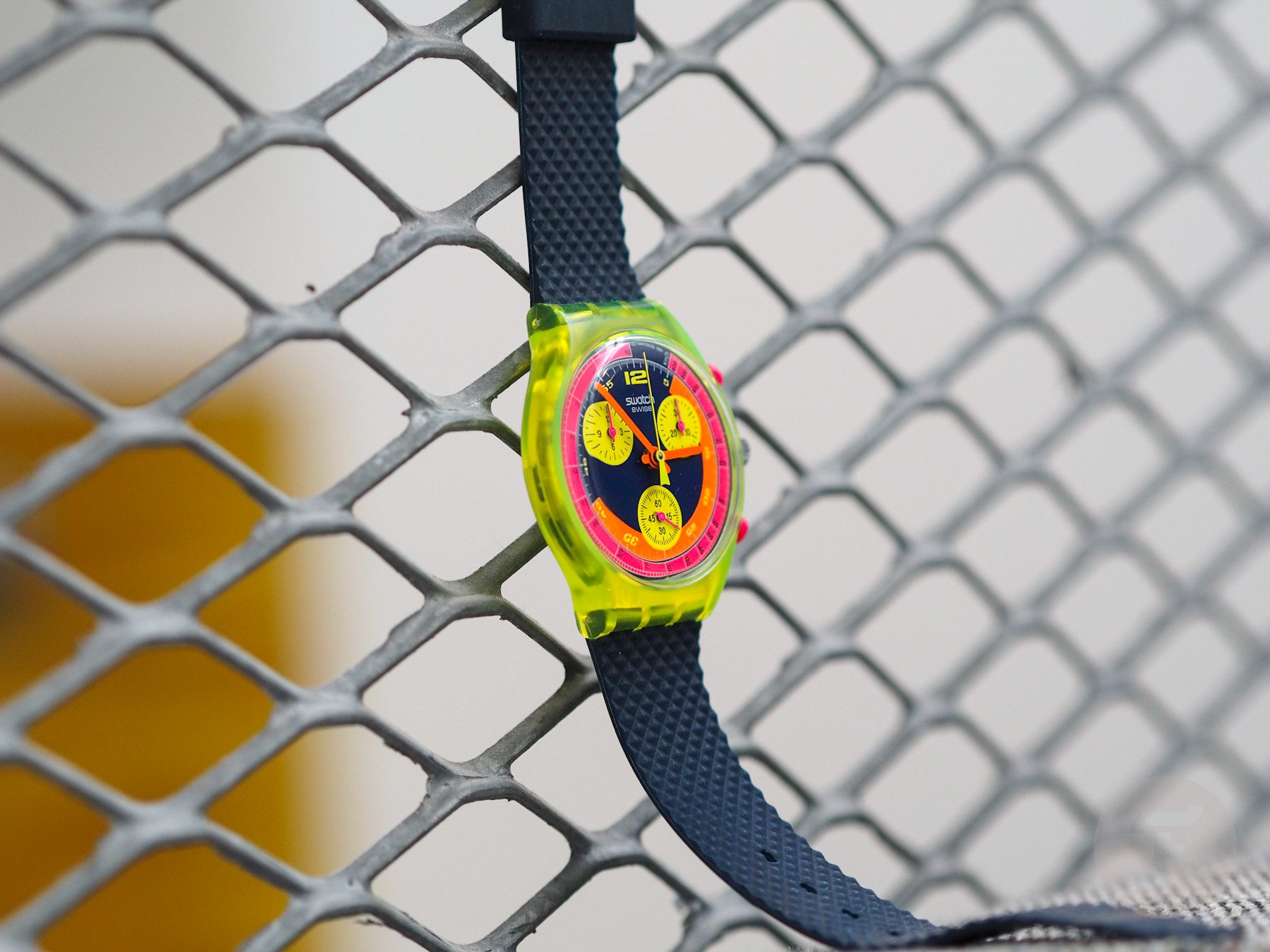 Patience was key. I never expected them to sell quickly, though part of me secretly hoped they would. In fact, it took about three months for the first one of the two to sell. That was the broken one, which someone picked up for €100. This being four times what I had originally paid for it, I was over the moon! It would only make sense that the working watch in new condition would sell quickly after. This, however, was not the case. In fact, it would take two long years (and a price drop or two) for that to happen. I guess patience does pay off. But at what cost?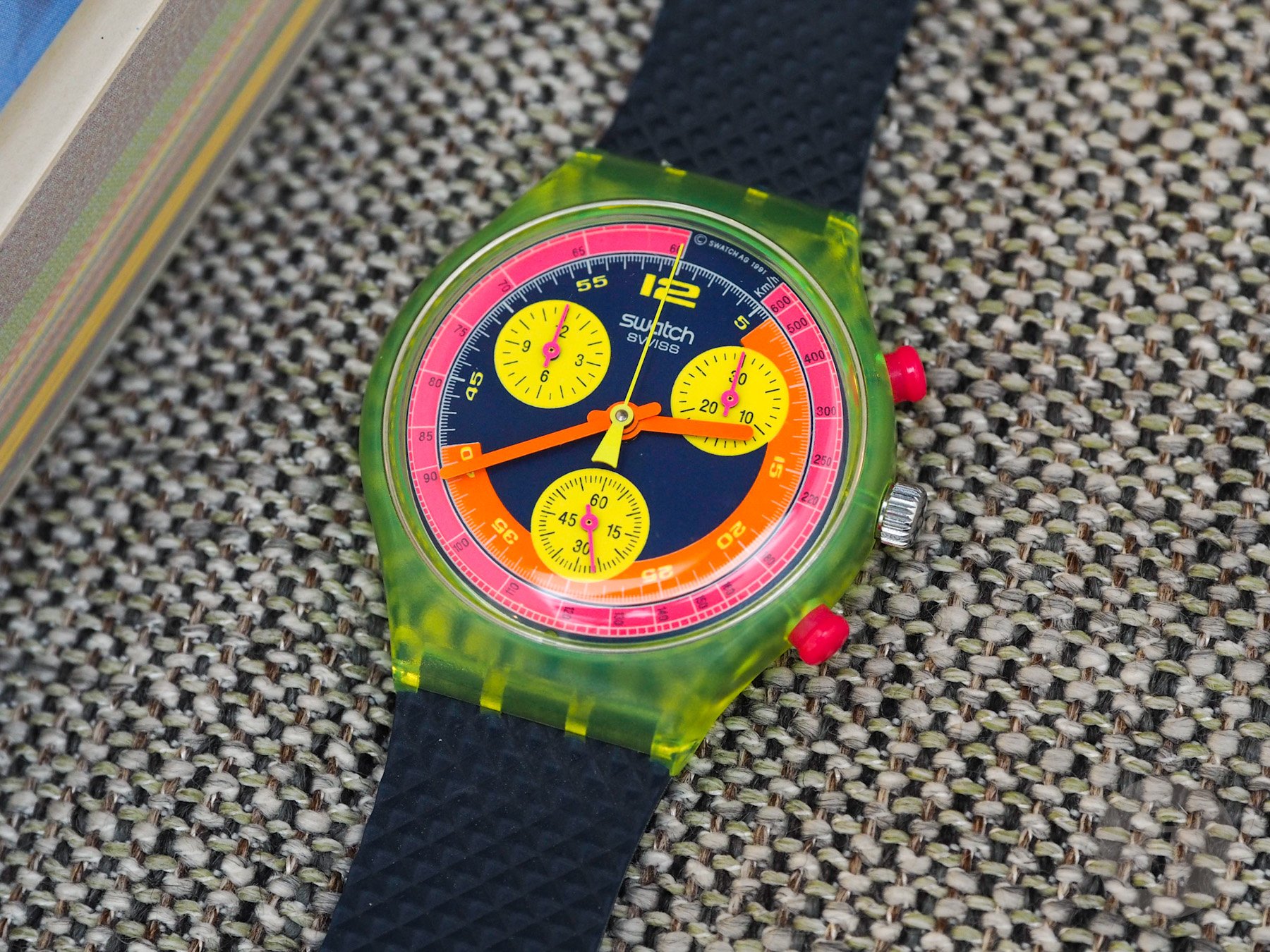 Seller's remorse
Despite the fact that this second Swatch Grand Prix chronograph sold for a tidy eighteen times what I paid for it, the victory was quickly spoiled when I realized that I actually genuinely liked the watch. Not owning one left a gap in my collection that was not easy to fill. I had a case of seller's remorse. Those two years had taken their toll. The hype had fully spread, and the Swatch SCJ101 was impossible to find for less than €250–€300. Was I willing to pay that price myself? You could argue that with the profit I had made, I could buy one, and break even with some profit to spare. But something about playing into the hype felt so wrong. Instead, I did what I always end up doing. I saved a search for "Swatch chrono" on eBay Kleinanzeigen and patiently waited.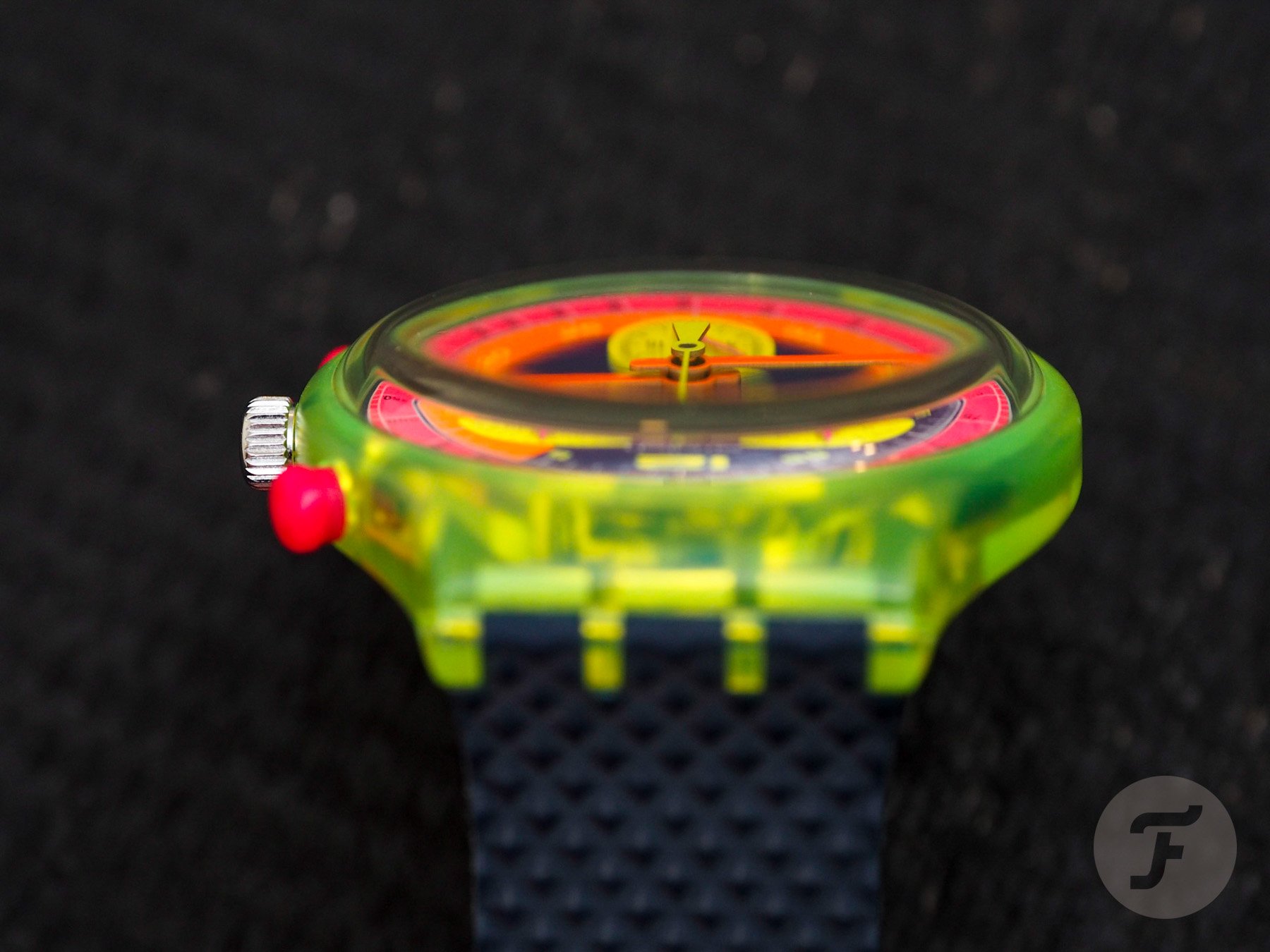 This search turned up a handful of results each day, but due to how prolific Swatch had been in producing watches over the past 20-something years, the results were all over the place. Searching with terms that narrowed the search down to the specific model only turned up listings from in-the-know sellers, with correspondingly high prices. I decided to bide my time and wait for an unsuspecting Swatch collector to do some spring cleaning. And luckily, that day came only a couple of months later. A nine-watch listing popped up in my saved search. Amongst the nine watches, a clean-looking Grand Prix sat in the original box, the strap showing no signs of wear. The asking price for all nine watches: €90. After speaking with friends and family and finding a new home for at least two of the other eight watches, I decided to pull the trigger.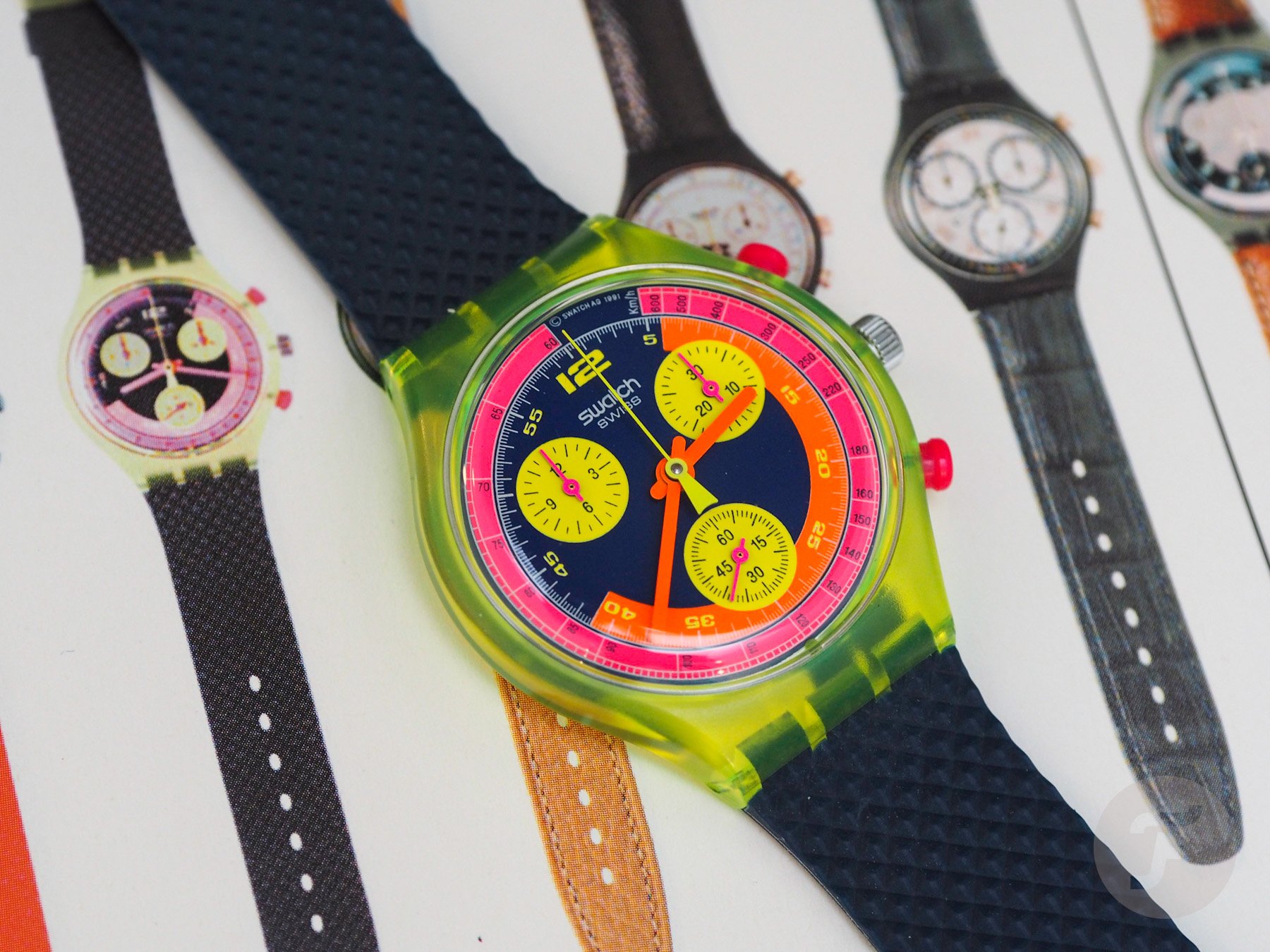 The Swatch SCJ101 Grand Prix: Making a comeback with some bumps along the way
The watches arrived a few days later. Some of the "filler" watches included in the lot turned out to be quite interesting models, quirky as only early-90's Swatch watches can be. But the keeper of the bunch was the mint-condition SCJ101 Grand Prix in its original box! The 37mm acid green plastic case, pink pushers, textured blue strap, and brightly colored dial and hands were as clean as can be. I wasn't about to count my chickens before they hatched, however, as I still hadn't tested if it worked. Already having sourced a battery I carefully popped open the battery hatch and placed the Renata battery inside. After testing the watch I was relieved to see that everything was working, and it even kept good time. Testing the chronograph function, I noticed that the minutes register was seized up.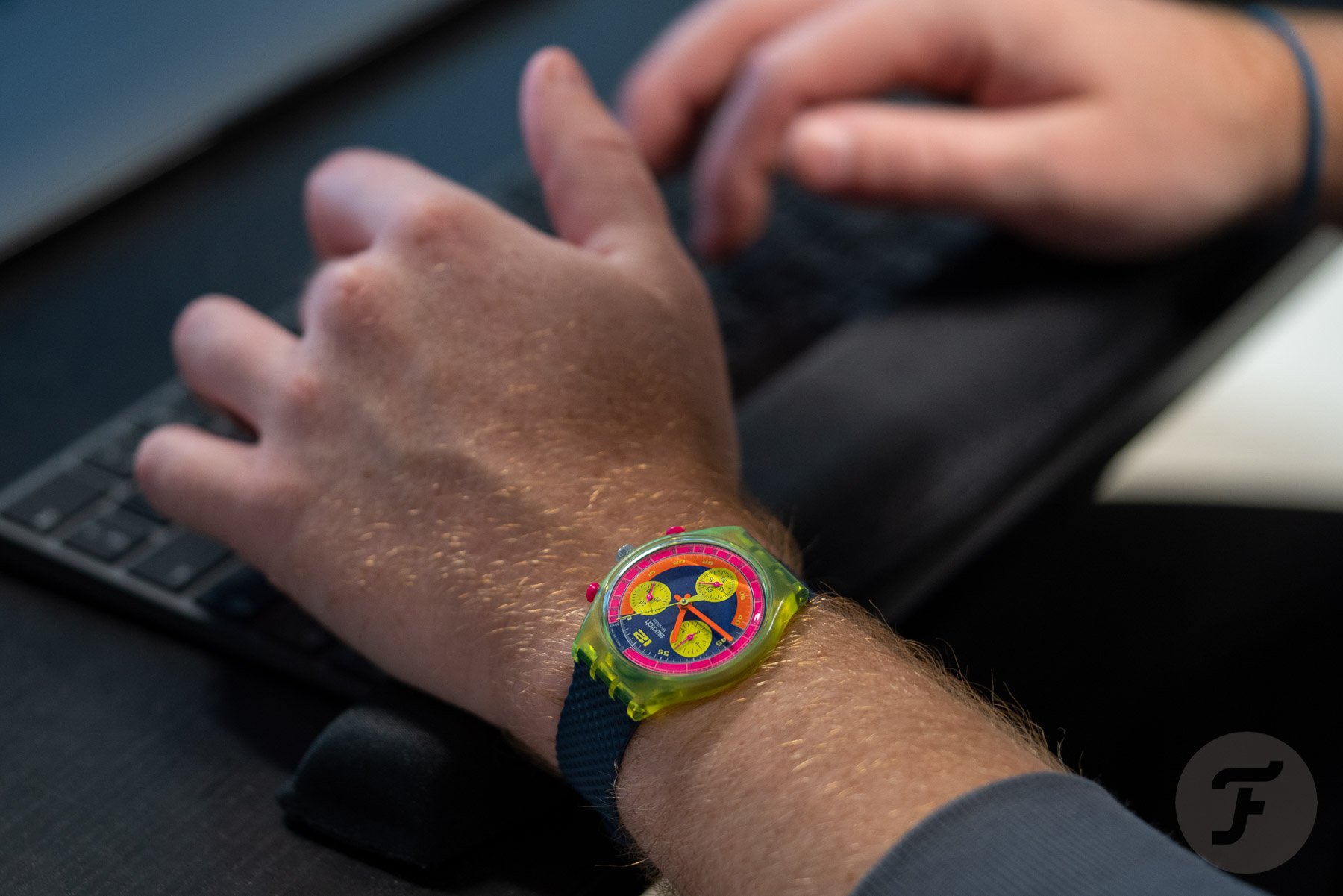 It turns out that this is a common malady that affects these 20+-year-old Swatch watches. The hands seize up and don't run as they should. These are also watches that were never intended to receive a service, and though braver folk have managed to open them up on the dial-side and serviced them, I was not brave enough to do so myself. But luckily, as a year had passed since I bought the first one, a YouTube video had been uploaded with the solution to fix the blocked hands issue that these Swatch chronographs suffer from. The first thing I realized was that the Grand Prix I sold as broken, could have easily been fixed. You live and you learn, as the saying goes.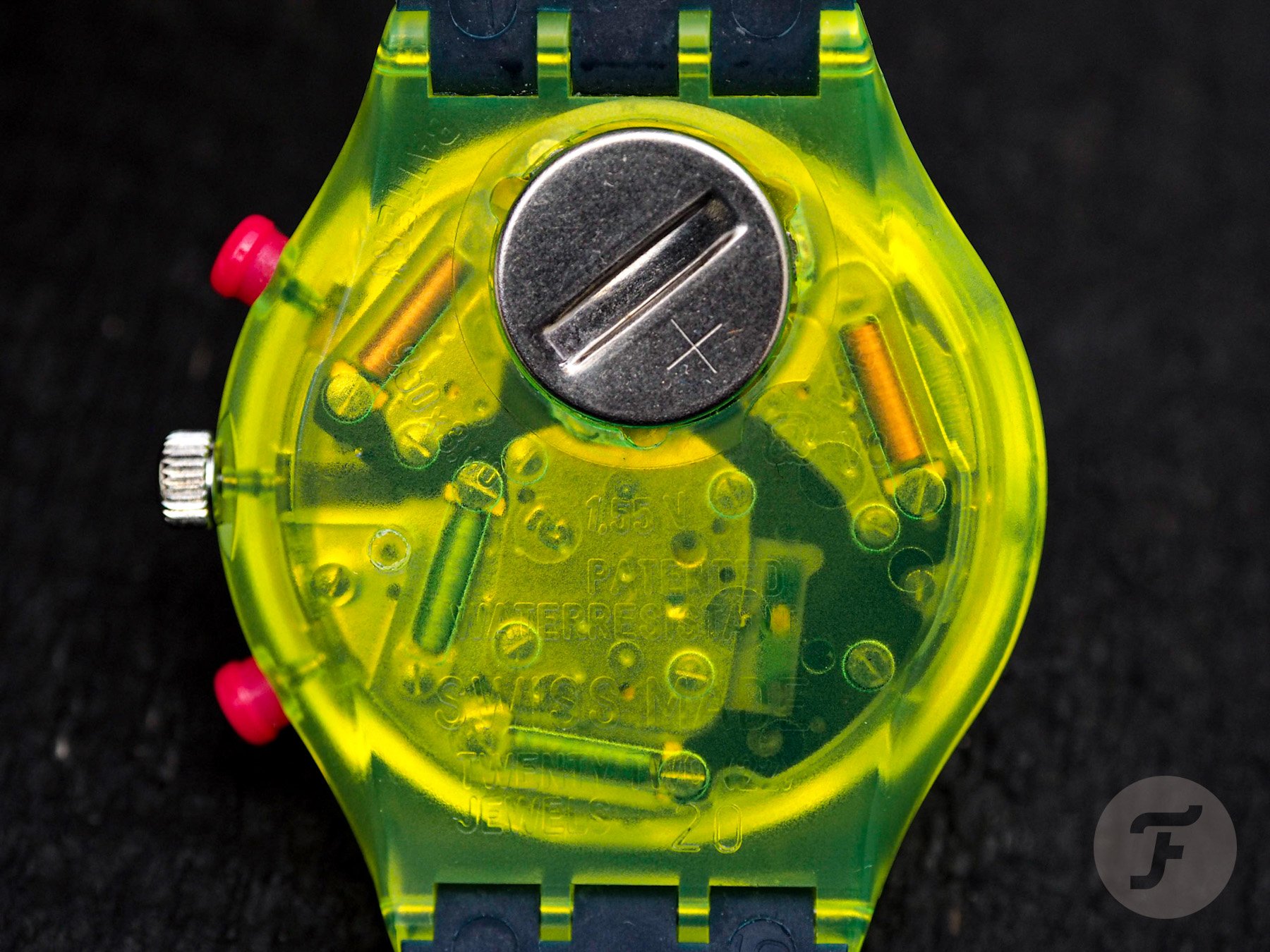 Don't try this at home
I'll preface this with a warning: don't try this at home. If you do try it at home, do so at your own risk. It worked for me, but I can't promise that it's a foolproof method. In fact, if you are a watchmaker or faint of heart, skip this section altogether. You're still reading? Ok, but don't say I didn't warn you… So, the DIY solution for fixing the seized chronograph sub-dial hands is to take a small but powerful neodymium magnet (the kind that look like a button cell battery) and hold it right up to the back of the watch. You then move it in a circular motion, clockwise and counterclockwise. The hands will all move around the dial. With small circular motions, you can even target the seized hand, and get it to rotate freely.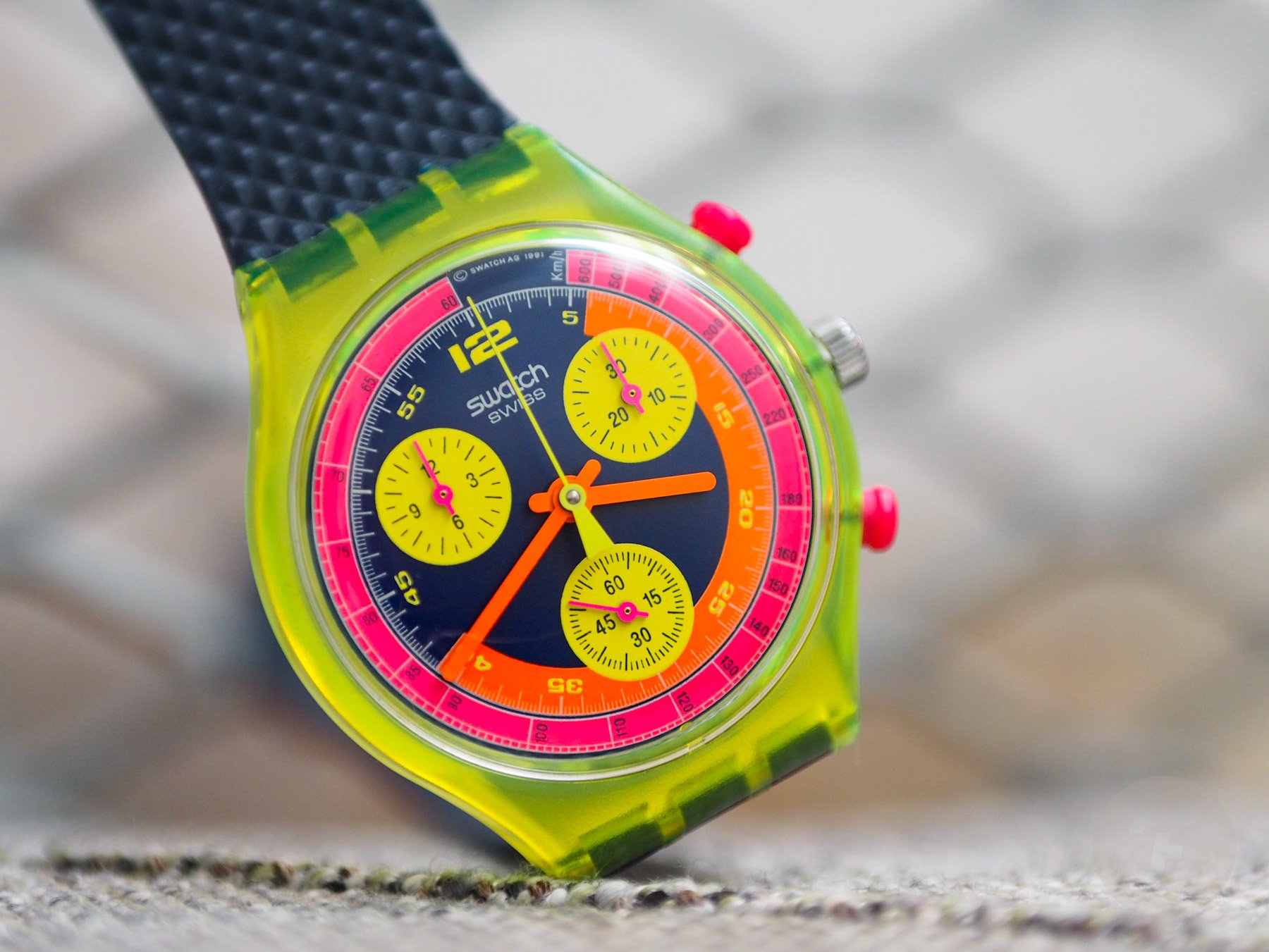 Once you've done this, you'll have to test and see if the hands move around freely by setting the crown to the position which allows you to set the registers and chronograph hand to zero. In my case, it took only one go with the magnet to get everything running as it should. This solution seems rather crude, as anyone who knows anything about mechanical watches knows that magnets are their worst enemy (up there with water getting into the movement). However, this being a quartz watch, there was no hairspring to magnetize, and even after getting the "magnet treatment" the watch runs fine and keeps perfect time.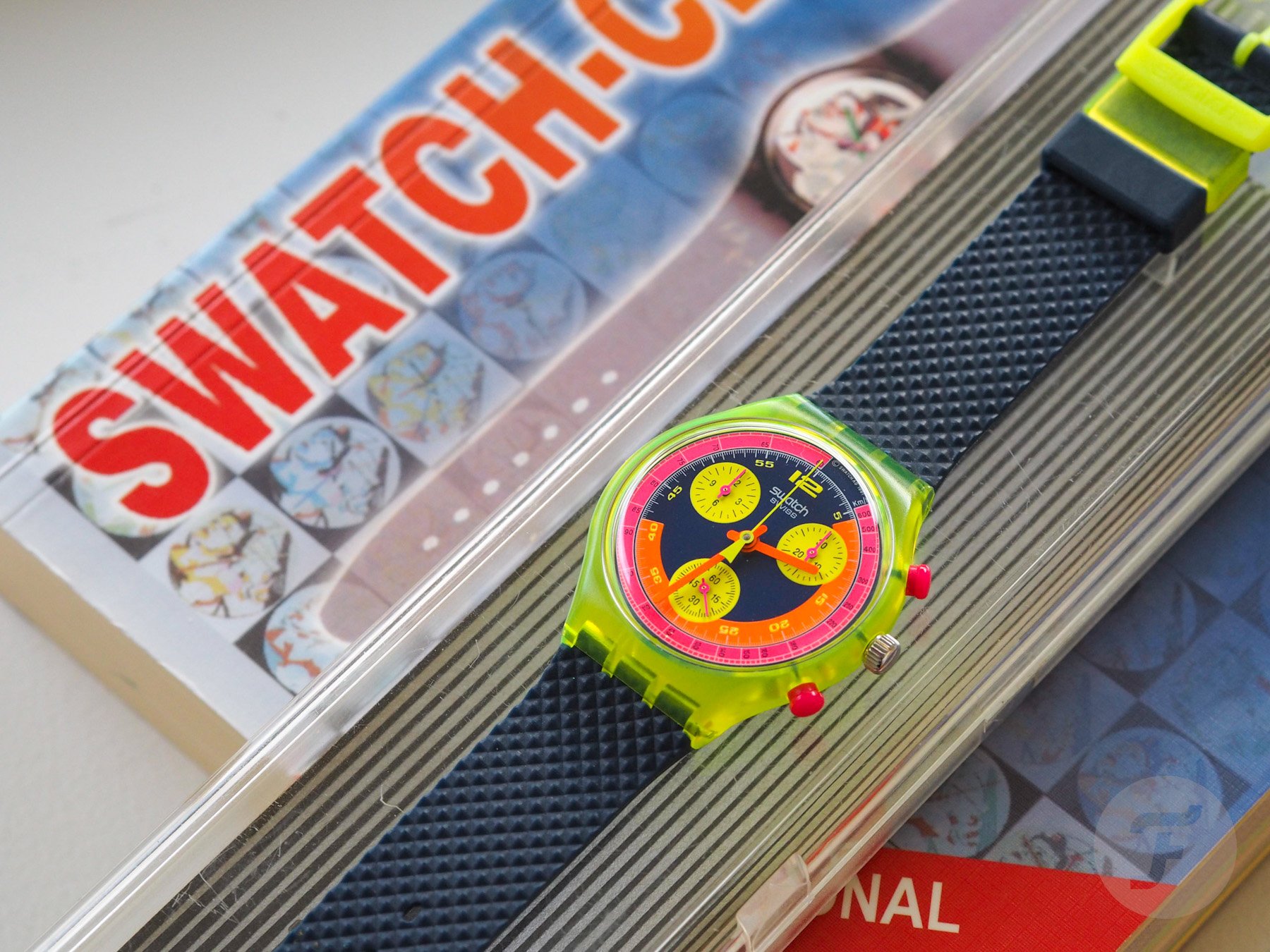 Final thoughts
There you have it, ladies and gentlemen. The strange and somewhat rambly tale of how I've owned three Swatch SCJ101 Grand Prix watches. It seems that the third time's a charm with this one, as I don't intend on letting this one slip my grasp so easily. When you look at it, this last one cost me €10 and the joy I get from strapping on this fun colorful watch from time to time makes it worth every penny! Would I pay over €400 for it? Probably not, but hey, keep your eyes on those classified ad sites, you never know when a great deal will pop up. Plus, the Swatch Grand Prix hype is bound to end at some point.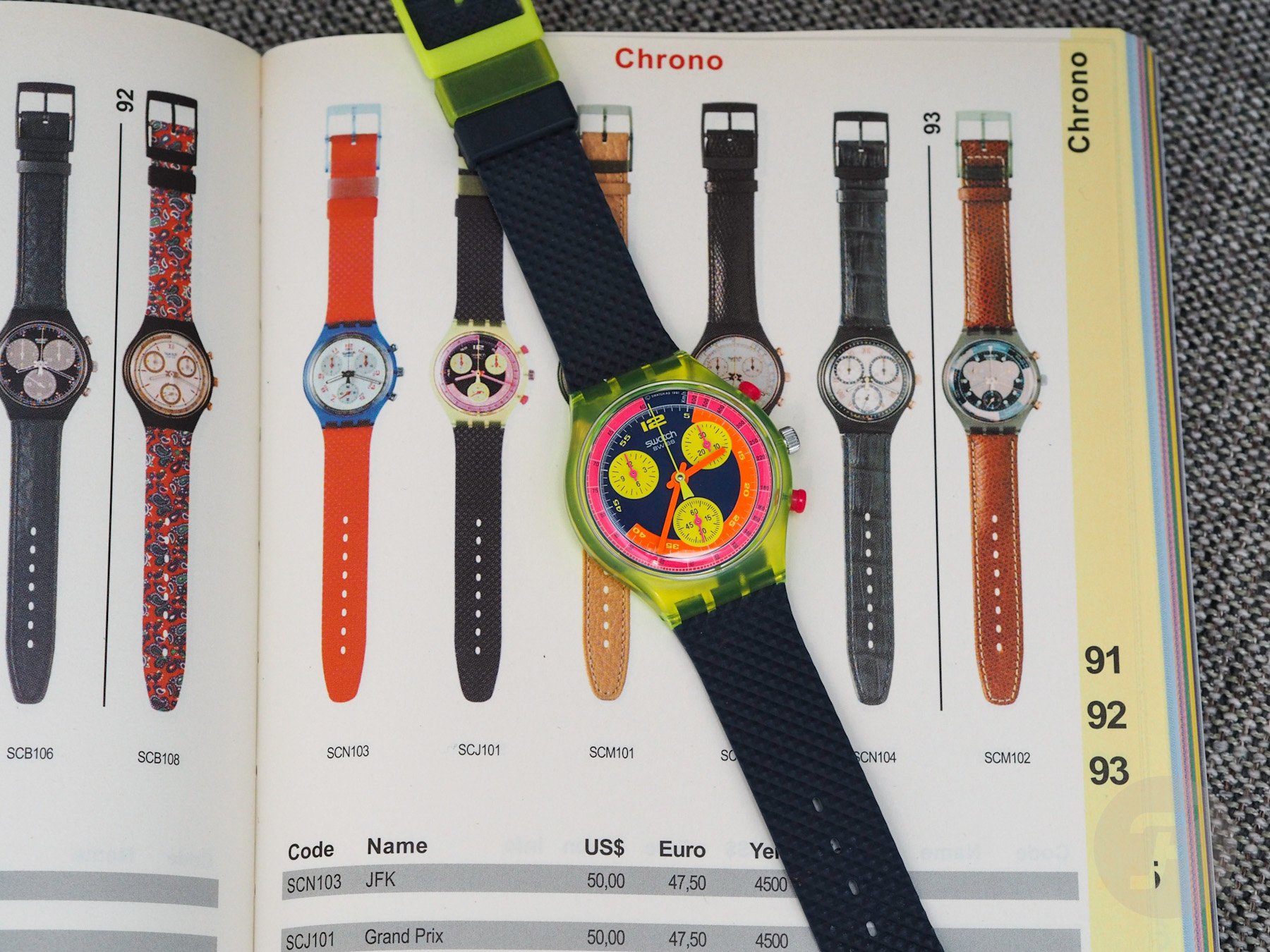 In the meantime, there are plenty of other awesome "vintage" Swatch watches out there, including the Black Friday (SCB100), Sound (SCL102), Spot Flash (GB414), and my personal favorite, the White Horses (SCW100). There are even some automatic models which can often be had for peanuts! I'd normally direct you to the Swatch Finder resource on the brand's website at this point, but it seems that for some reason this is no longer available. Therefore, I'll direct you to the next best thing: the Swatch-clopedia. If you like Swatch and want to see their back catalog of brilliant watches, grab yourself a copy and enjoy. In the meantime, tell me your favorite Swatch model in the comments below!
Follow me on Instagram @ncgwatches