Tag Heuer
It seems that I am on some Tag Heuer mailing list. I wonder why they mail it as 'the latest news' on the 27th of July while the press release says the 6th of June…¬† Anyway:

"Carrera Cal 360 Timekeeping Experience!"
 
JUNE 06 – TAG Heuer celebrates the excellence of the Carrera Cal 360: the first ever 1/100th of a second mechanical chronograph has been tested with F1 racing cars.

During 2 days and at the ''Avant-Garde'' and prestigious racing track in Le Castellet, South of France, 10 top European watch journalists became Official Timekeepers for Team McLaren Mercedes and tested the Carrera Calibre 360 in real situation. A unique opportunity for them to experience LIVE not only the accuracy but also the precision of the revolutionary TAG Heuer Cal 360 movement. 

 
Using the legitimacy of F1 history and long term partnership with Team McLaren Mercedes, journalists were given unique access to the backstage of F1, and enjoyed the manual timekeeping of McLaren Formula 1 cars on the race track.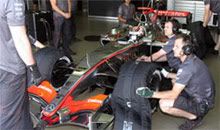 The contest organized between journalists was a testimonial to the interest of the 1/100 of a second in manual timing, and to the unique accuracy of the Calibre 360. The 2 winners were at 5/100th from the official electronics timing system!
The unbeaten 1/100th precision of the Calibre 360 has been accomplished by watch experts, as well as the strong TAG Heuer heritage innovation skills and leadership in motor racing.
A thrilling experience for a day in the heart of the action!"
Since this guy called Valentine E. Balmat spams my mailbox with it, Tag Heuer probably doesn't mind putting it online here as well 🙂