Taking A Look At The New Zenith DEFY 21 El Primero Felipe Pantone
A colorful collaboration
I am happy to admit that my taste in watches spans from the classic and reserved to the more "out there" and wacky pieces. I've made no secret of my love for avant-garde and non-traditional watch design. It's not always easy for brands to step outside of conventional design, either by their own self-imposed boundaries or by what they perceive to be their fanbase's boundaries. Sometimes, these boundaries can only be overcome by the input of someone not connected with the brand or its history.
Such collaborations can often end one of two ways. A big swing and miss, or something which adds a valuable point of difference and indication that a brand is willing to experiment with creativity. Today I am looking at one such recent collaboration between Zenith and Argentine-Spanish contemporary artist, Felipe Pantone. Is it a hit or a miss?
First things first: Who is Felipe Pantone?
I'll admit, I had to Google the guy. Given his surname, I was expecting to read something about the Pantone color matching system. I was wrong. According to his Wikipedia page, Pantone's body of work is based in kinetic art, installations, graffiti, and design characterized by "use of bold colors, geometrical patterns, and Op Art elements". His combinations recall brightly-colored typography, 80s synth-pop music, and SMPTE color bars on the TV.
…a piece of wearable kinetic art.
Zenith and Felipe Pantone first began collaborating in 2020. The Manufacture offered the façade of its main HQ building as a canvas to the artist. Now, Pantone has reimagined Zenith's most advanced chronograph to date, created an object that Zenith describes as a feat of exceptional watchmaking prowess and a piece of wearable kinetic art.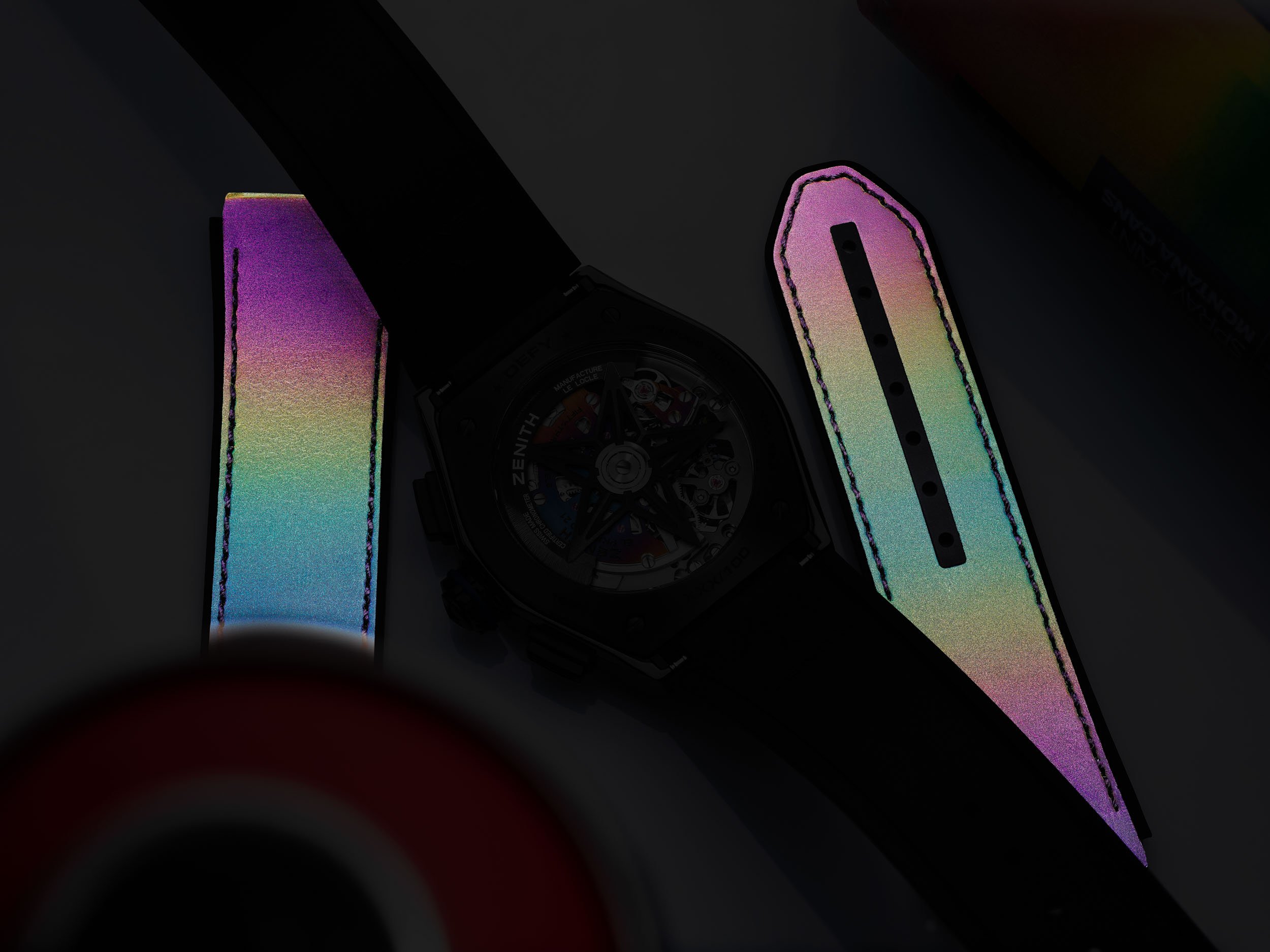 A DEFY 21 canvas
Let's take a step back, and look at the watch subjectively for a moment. Stripping away Felipe Pantone's input, this is a Zenith DEFY 21 chronograph as the blank canvas. While the more vintage-focused Chronomaster Revival series may be Zenith's most famous offering, the brand's ultramodern DEFY 21 chronograph line has earned wide acclaim in recent years. Enthusiasts appreciate its mix of cutting-edge movement concepts and aggressive angular design. The DEFY 21 uses the hi-tech El Primero 9004 chronograph movement beating away at an incredible 360'000 vibrations per hour. For those who have not encountered this movement before, when using the chronograph, the central seconds hand performs one revolution every second. This is what allows for the chronograph to be accurate to 1/100th of a second.
…the DEFY 21 Felipe Pantone is in good company.
Being such a hi-tech and advanced member of the Zenith stable, it seems like the most logical choice to use the DEFY 21 as the canvas for what was always going to be a futuristic and somewhat wild collaboration. Having taken on various guises since its inception, the DEFY 21 Felipe Pantone is in good company.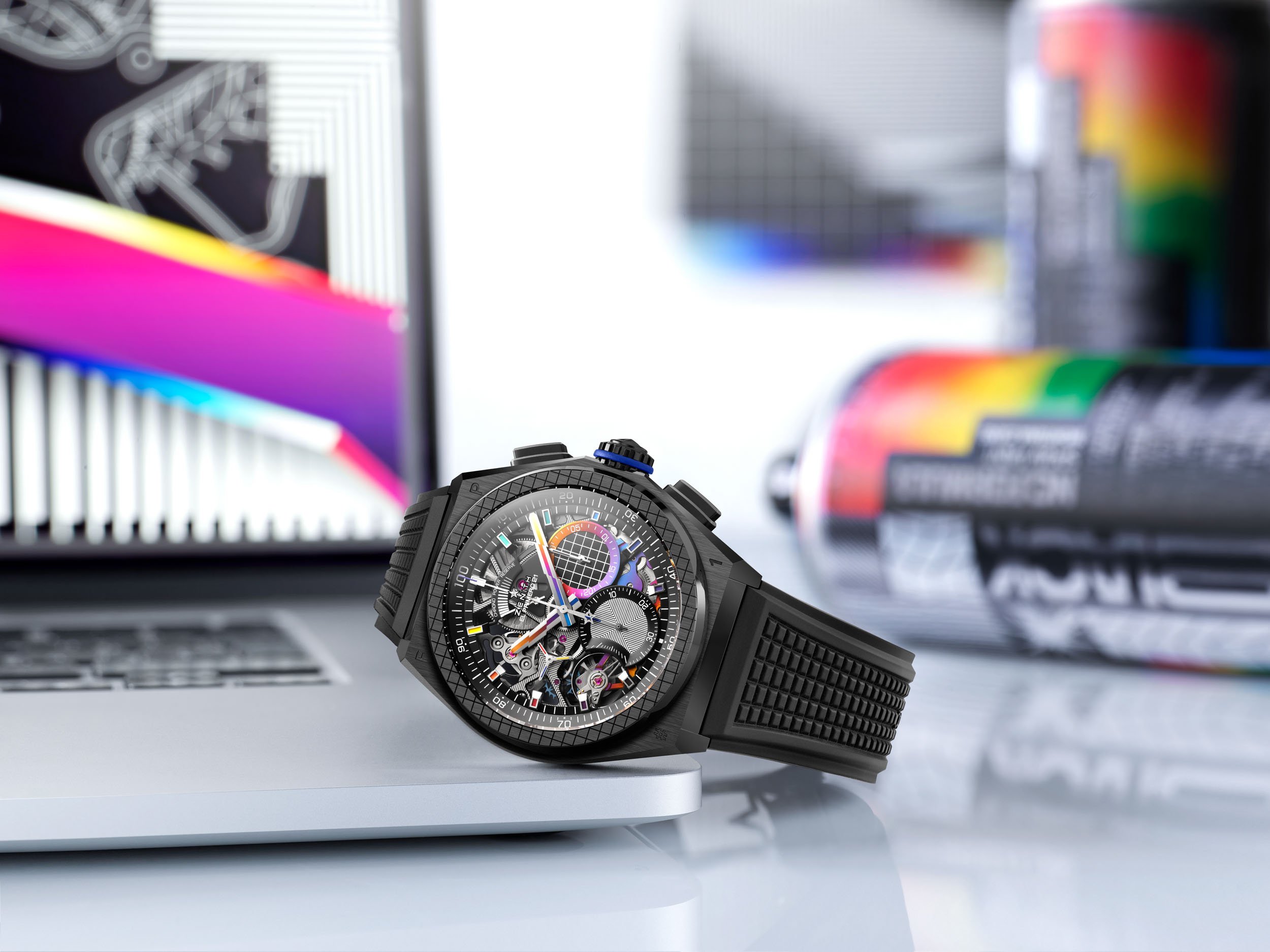 Moiré or less
Pantone is a big fan of using the moiré effect to create visual depth and uncertainty, and it is a recurring theme in his work. The thin alternating white and black bands have been miniaturized and reproduced on the dial's top bridges and portions. To do this, Zenith used fine laser-engraving and lacquering techniques so precise that they provide an optical illusion of fluidic movement in the contrast of the stripes.
…a total dynamic overhaul.
Even the inanimate, external parts of the DEFY 21 Felipe Pantone case have been revisited by the artist for a total dynamic overhaul. The 44mm black ceramic case features a grid pattern engraved on the bezel and "FP#1" engraved on the four corners of the case, denoting "Felipe Pantone El Primero."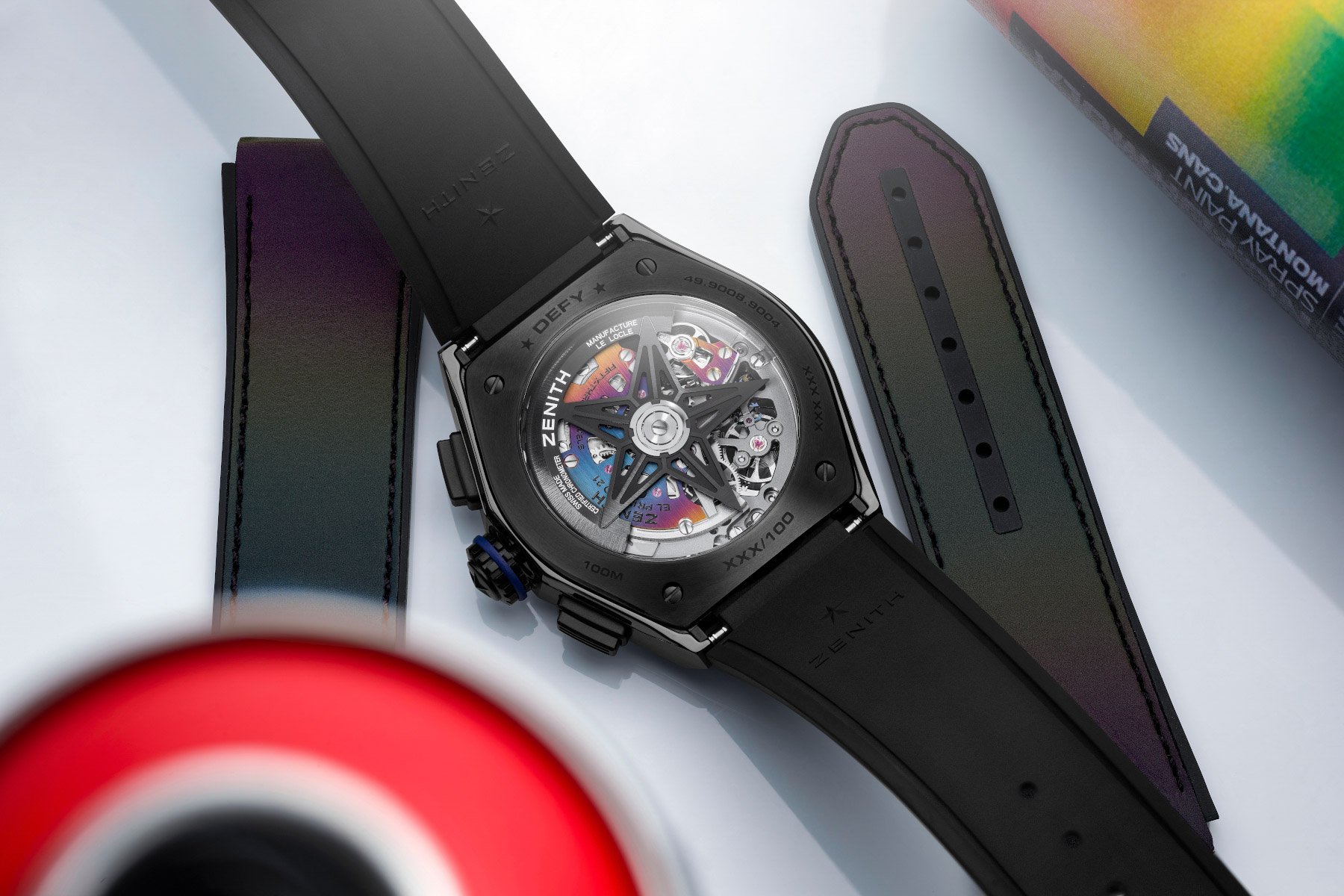 Color by the bucket load
One of the most visually striking features of the watch is the multi-colored bridges. The DEFY 21 has seen various color schemes and interpretations before, but none as punchy and colorful as the DEFY 21 Felipe Pantone. These bridges are visible on the partially-skeletonized dial and through the display case back too. Aside from the movement, the colors used are probably one of the main selling points for me. The blend of colors is reminiscent of the effect of oil or soap on the surface of water. It really is quite beautiful to look at.
…each watch will take on slightly different color variations…
Using the principle of "interference colors," the coating on the bridges reflects a gradient of metallic rainbow tones. This is a bit of a signature trait in Pantone's art. Developing this process required many months of trial and error. The DEFY 21 Felipe Pantone is the first watch to ever use this three-dimensional PVD. While the process has been standardized, each watch will take on slightly different color variations, essentially making it unique. Pretty cool, huh?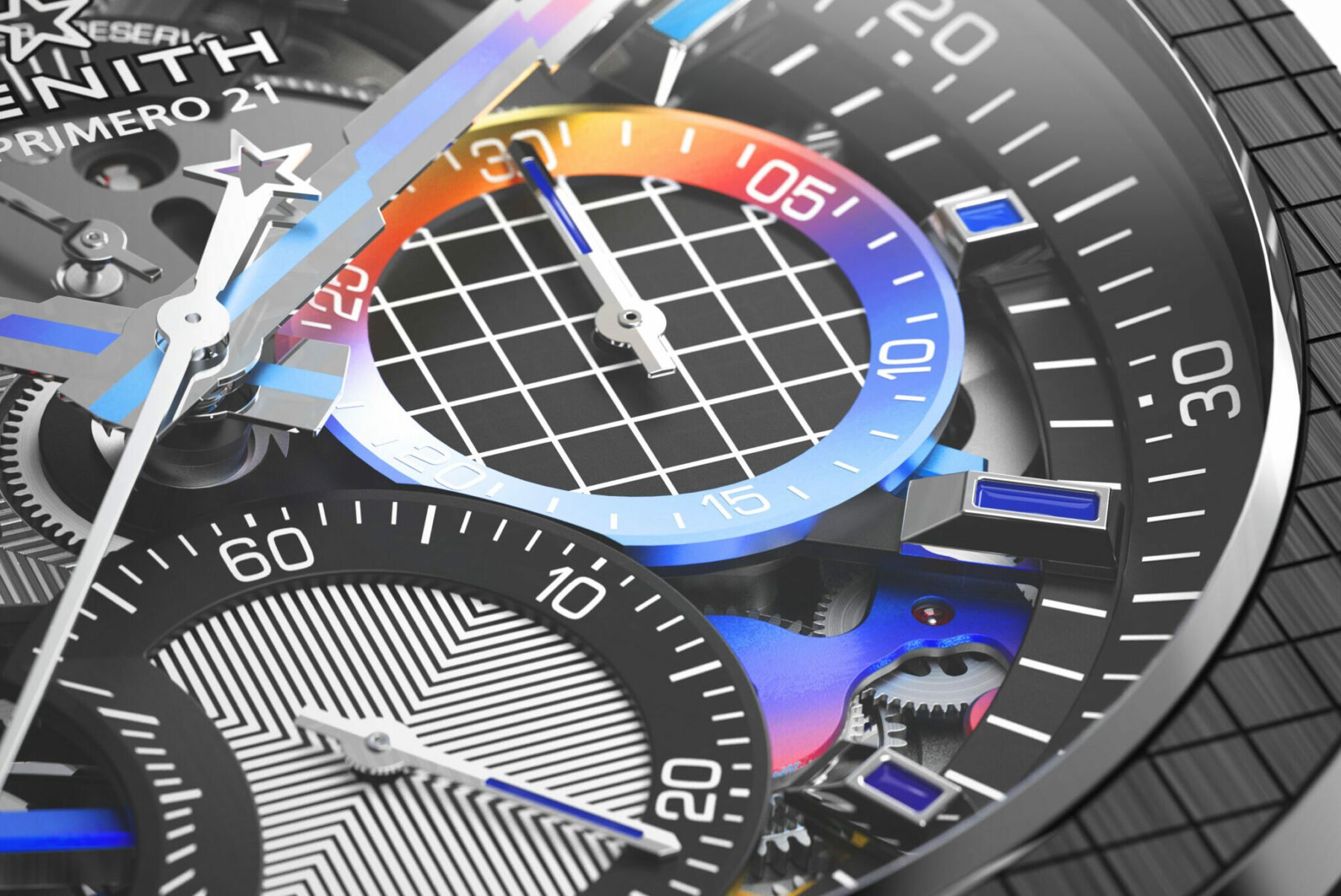 Felipe Pantone's technicolor Dreamcoat
The central hour and minute hands are no less unique. They take a distorted lightning bolt shape, which figures in much of Pantone's work, also with a metallic rainbow gradient of colors applied through the same state-of-the-art process as the movement's bridges. Both the unusual shape and scale of the hands, as well as the precise application of the gradient PVD, proved far more challenging to create than Zenith could have anticipated. I hope you'll agree that the finished result was worth the tribulation!
If you're in the mood to go all out psychedelia…
Zenith has decided to pair the DEFY 21 Felipe Pantone with a choice of straps. If you're all colored out by this point, the all-black integrated rubber strap will likely be your wrist companion. If you're in the mood to go total psychedelia, Zenith also included a second rubber strap with a rainbow central insert. At this point, why not? I'm not sure I'd choose the rainbow strap every day, but it's a great choice to have as an owner.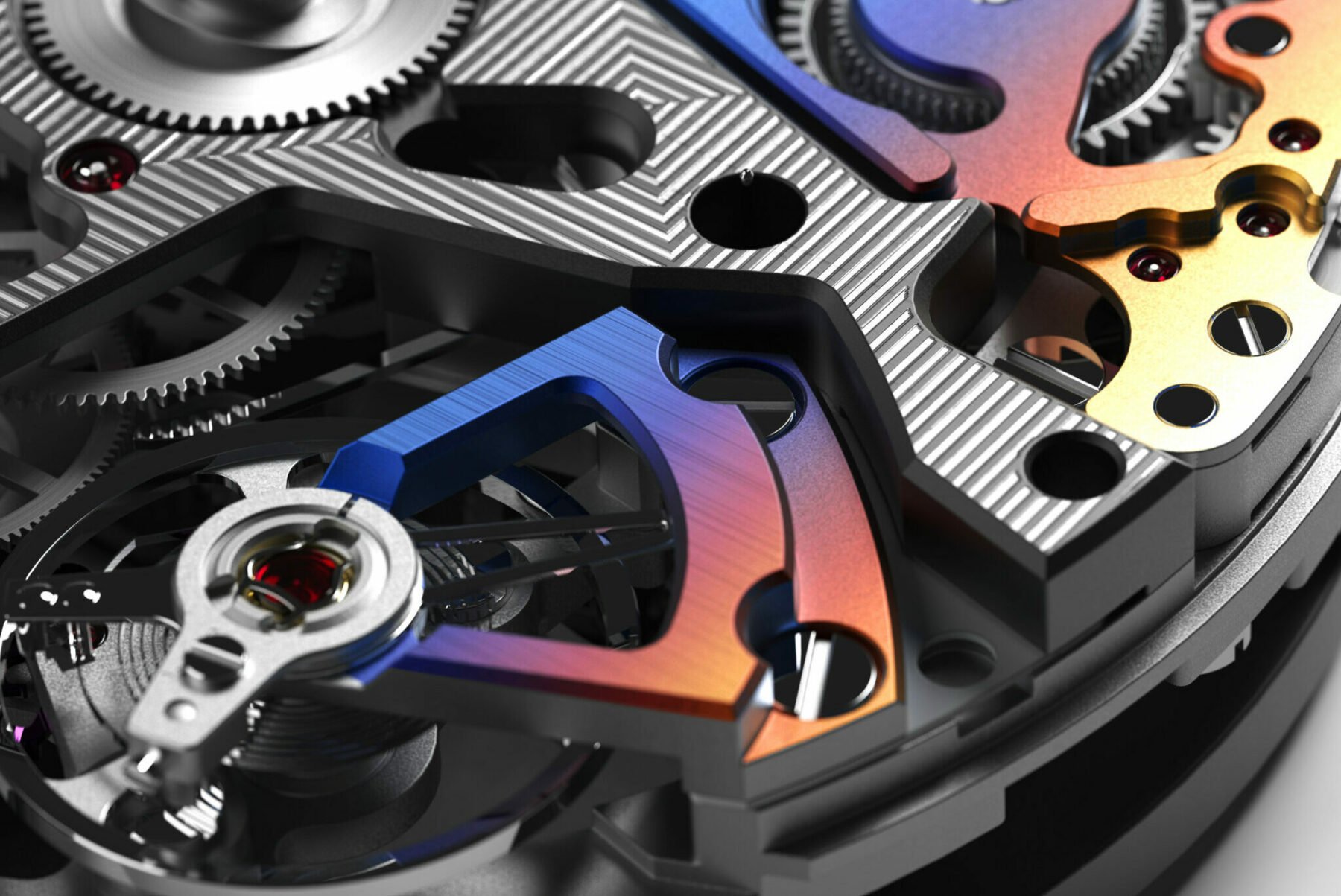 So is it a hit? Or a swing and miss?
OK, so let me caveat this by making clear I can appreciate that this is a very marmite watch. I imagine most people will be in either the "loving it" or "hating it" camp, but that's OK. As a self-confessed lover of color, you can probably imagine which camp I'm in. That's right, I dig it! I think the collaboration between Zenith and this contemporary, modern artist should be celebrated. It's a step outside of the norm for Zenith, but the fact that the finished article effortlessly fits into the brand's catalog shows the match-up was a success!
The price of the DEFY 21 Felipe Pantone was CHF 18,900 and was limited to 100 pieces. At the time of writing, it is showing as "OUT OF STOCK" on Zenith's website. So, if you're looking to add a splash of color to your collection, you may have to look on the pre-owned market for this one!
Follow me on Instagram: @davesergeant