#TBT: Educational watch for children MINILIP
Tiny time teacher with lots of charm
 I was surprised by how educational my deep-dive into this educational watch was. This week's #TBT is about a watch for kids, the MINILIP.
After going down the rabbit hole of information about educational watches, I discovered a study that found that one in seven Britons can only tell time using a digital watch. This jarring discovery makes me think there may be another threat to mechanical watches out there that's more pressing than a smartwatch. 
MINILIP Educational Watch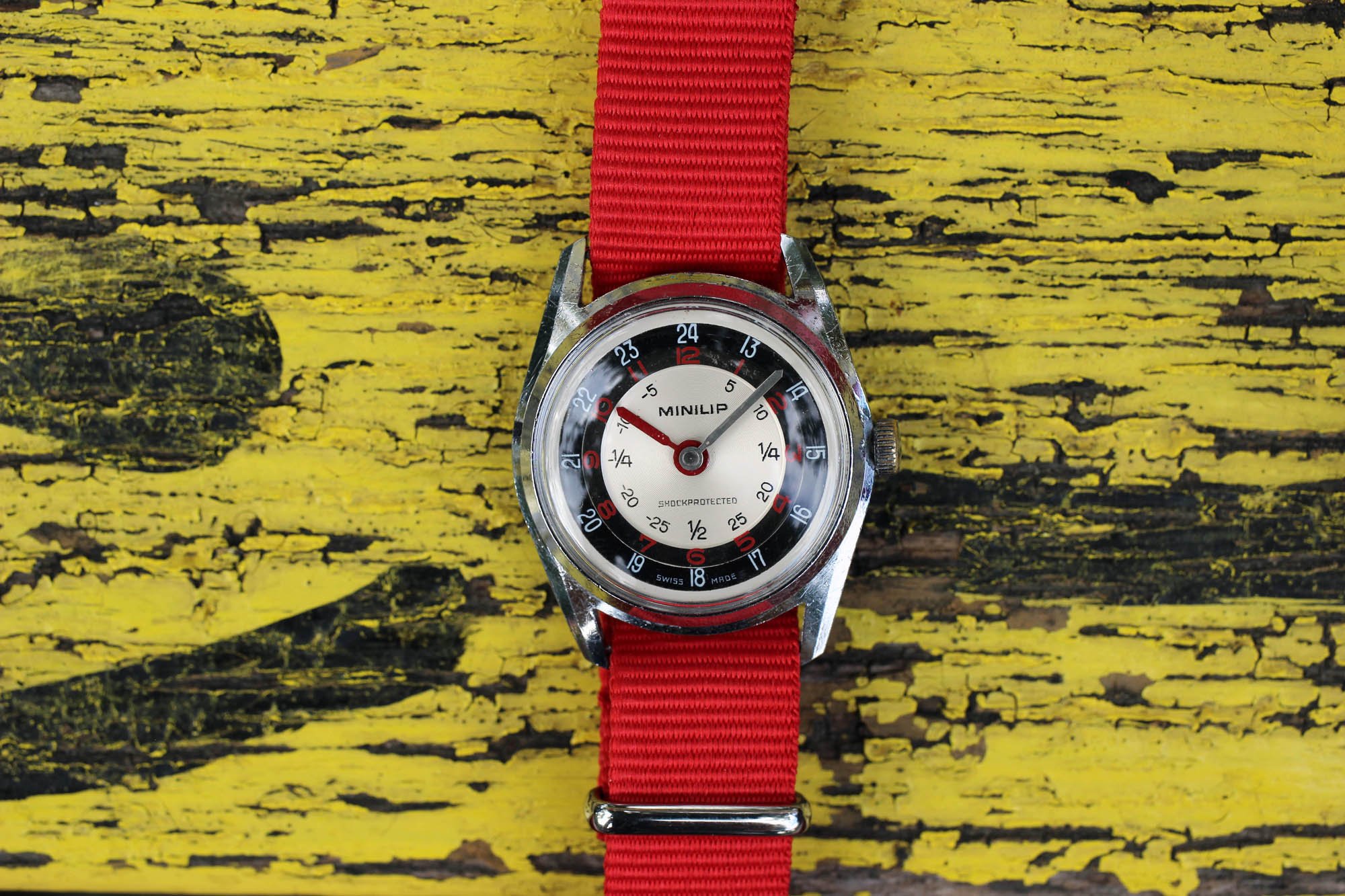 One can only guess how often you'd stare down at it, waiting for the minute hand to roll over the ½, ¼ or -¼ mark.
Kids can't read the clock
Still shocked to learn that one in seven Britons admit they can't tell time on a non-digital watch? My eyes quickly scanned the article to find what size the survey sample was. Although the survey was carried out by an online shop, the nearly 2200 voters that took part in the poll make it entirely believable. Here comes the scariest part for Swiss watchmaking: 37 percent of the parents taking part with children aged 10 or under said they had not or didn't plan to teach their children to read the time on analog watches.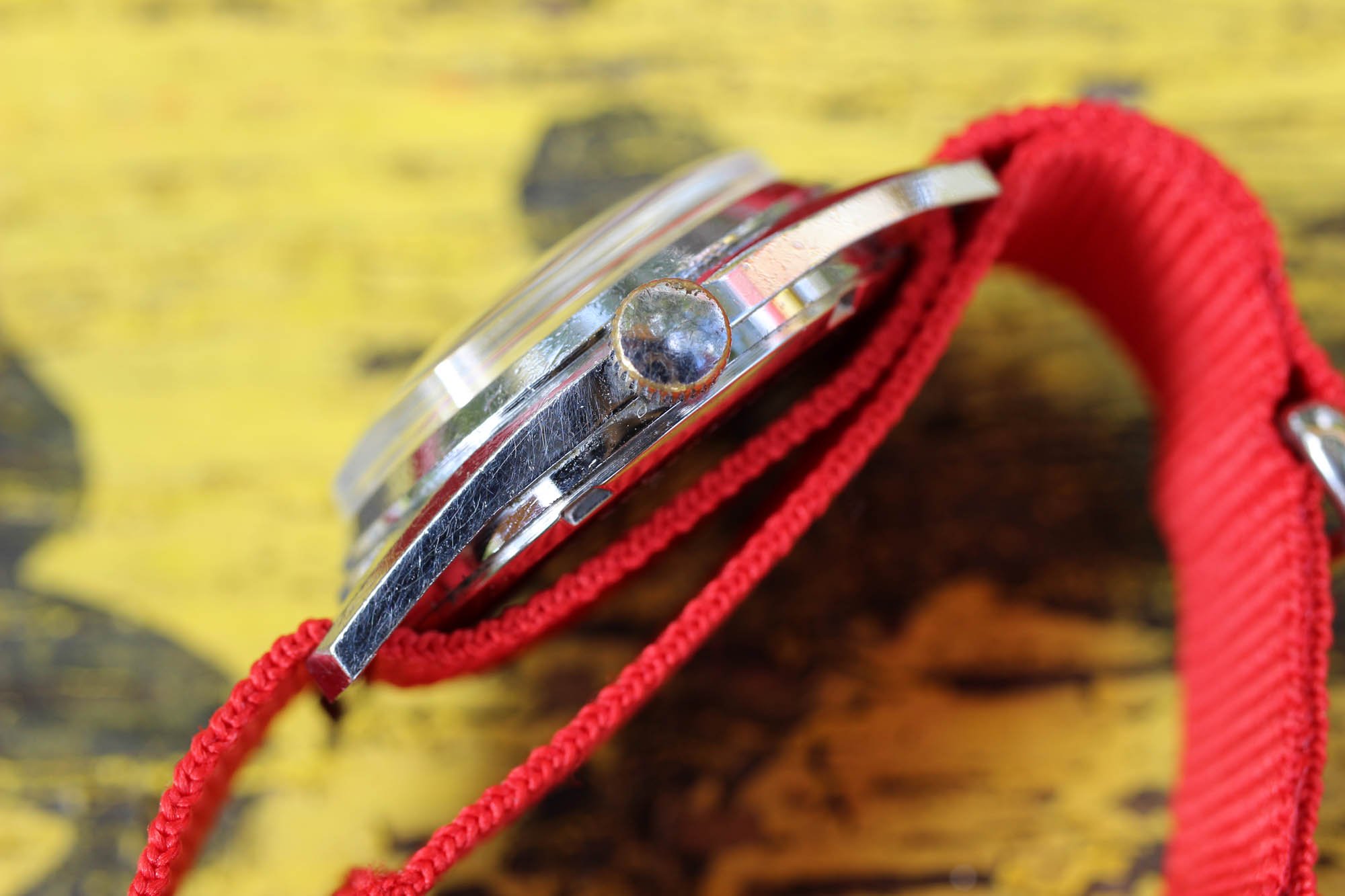 Before you take your next deep breath, watch the video by Jimmy Kimmel below. And I do urge you to actively fight the cause and prevent a real crisis for our beloved mechanical timepieces. Go and buy any time-teacher and give it to your friends as their next present, regardless of whether they have kids or not! 
Me before MINILIP
Hand on my heart, I have to admit I also did not take it from the right end with my daughter. I was thinking of a big budget for her first watch. I was thinking of giving my newborn a Speedmaster or the Mido Rainbow when she will be able to appreciate it. Months before her birth, it didn't appear to me there could be an earlier opportunity for a vintage kid's watch. I forgot about the times when I had to learn to read time myself. 
Meeting MINILIP
The drill: night, browser, auction site, scrolling, random click – nay, scrolling, click – nay, scrolling, scrolling. Scroll back! What was that?! My eyes are trained perfectly to catch any discrepancies and irregularities. This time I got attracted by the three number tracks and especially the smallest one, sitting closest to the center. I think I managed to see -25 and -20 on the dial. I don't need more than that to take a closer look.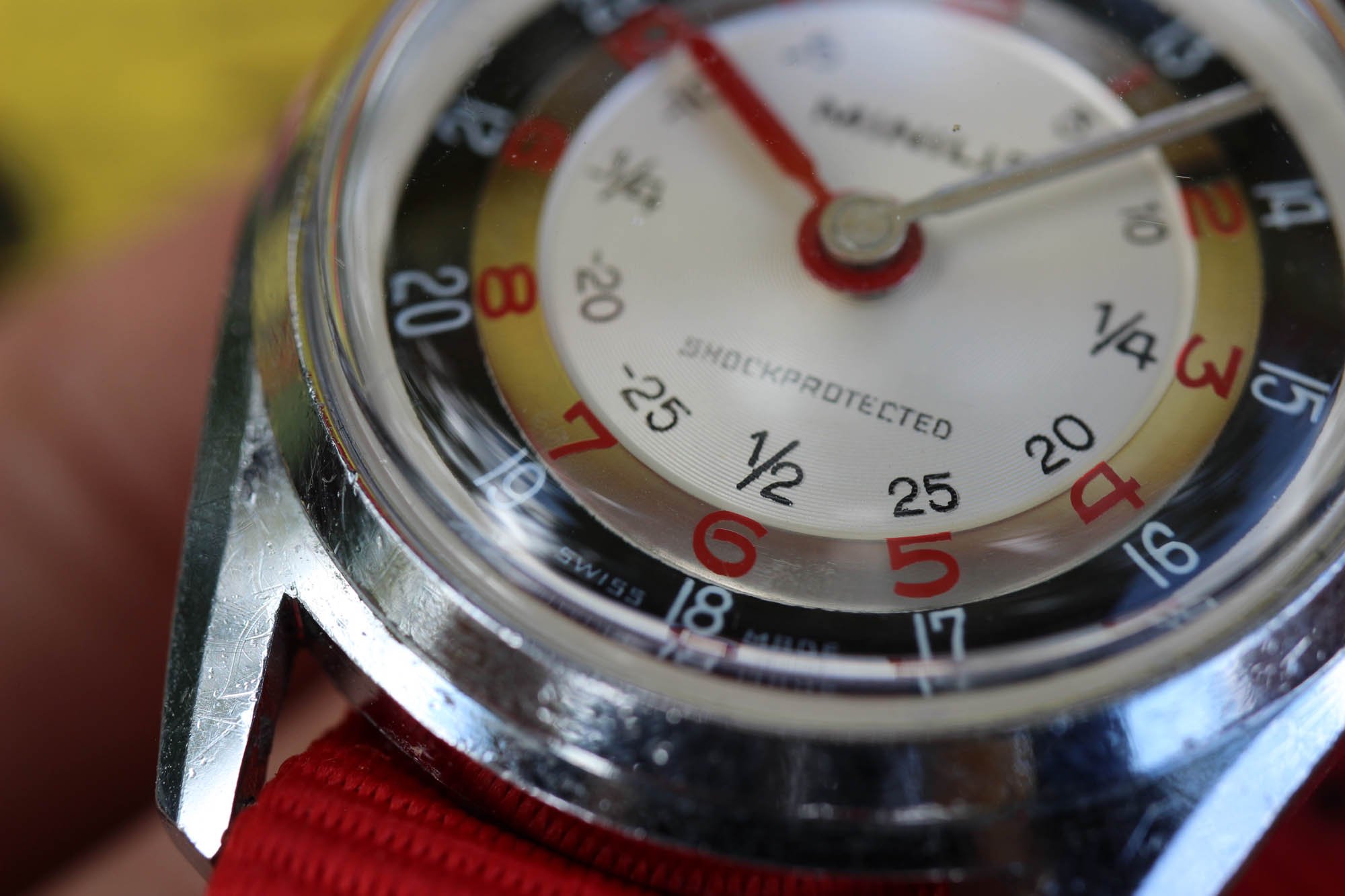 Understanding the concept
After intensely looking at the dial, I figured out the fact that the negative numbers showcase the minutes left until the next full hour. "How genius is this?" I remember saying to myself half audibly. I decided to win the auction at that very moment. Final hammer price? 103 Euros. Not bad after I found out that the chromed/steel version is difficult to get your hands on. If you decide to hunt one down, it is not easy to land an unbeaten piece. Understandably. There is one strong parallel between the educational watch and the professional tool watch. Both little and big owners don't mind collecting dents, cracks, and scratches.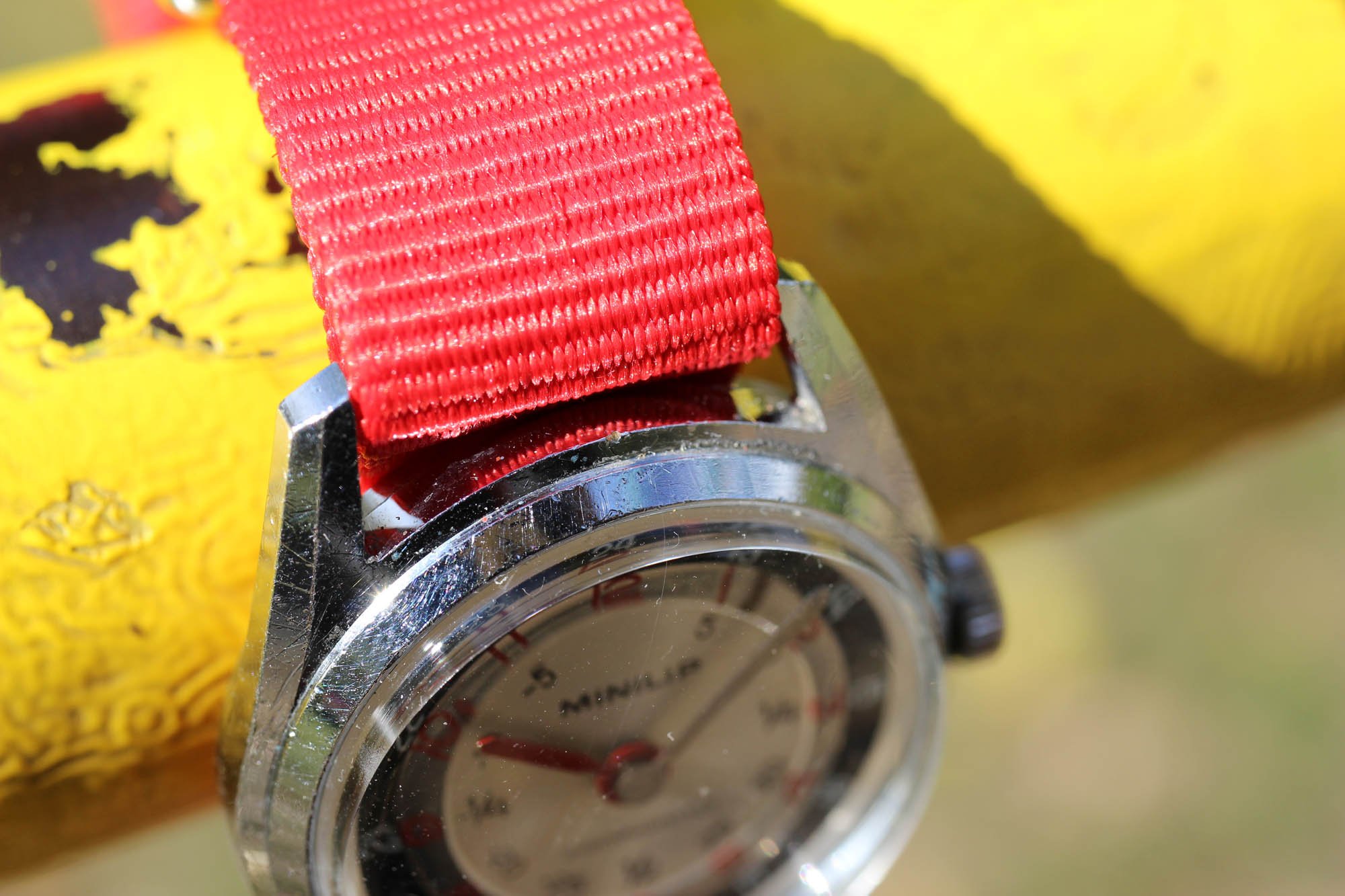 Unearthing the story
It was only after I started to Google the watch when I understood the MINILIP was designed to help to teach kids how to read the time. What a find for a fresh father. In a second, I knew this is the first real watch for my daughter. With proper academic research, I have it all planned out for her already. Studies have shown that children between seven and eight years old should be able to read the time easily. Kids as young as five should start to understand the analog system. So, I still have a good four years to find more information on the MINILIP so that I can give Luna the full story behind her time-teaching watch.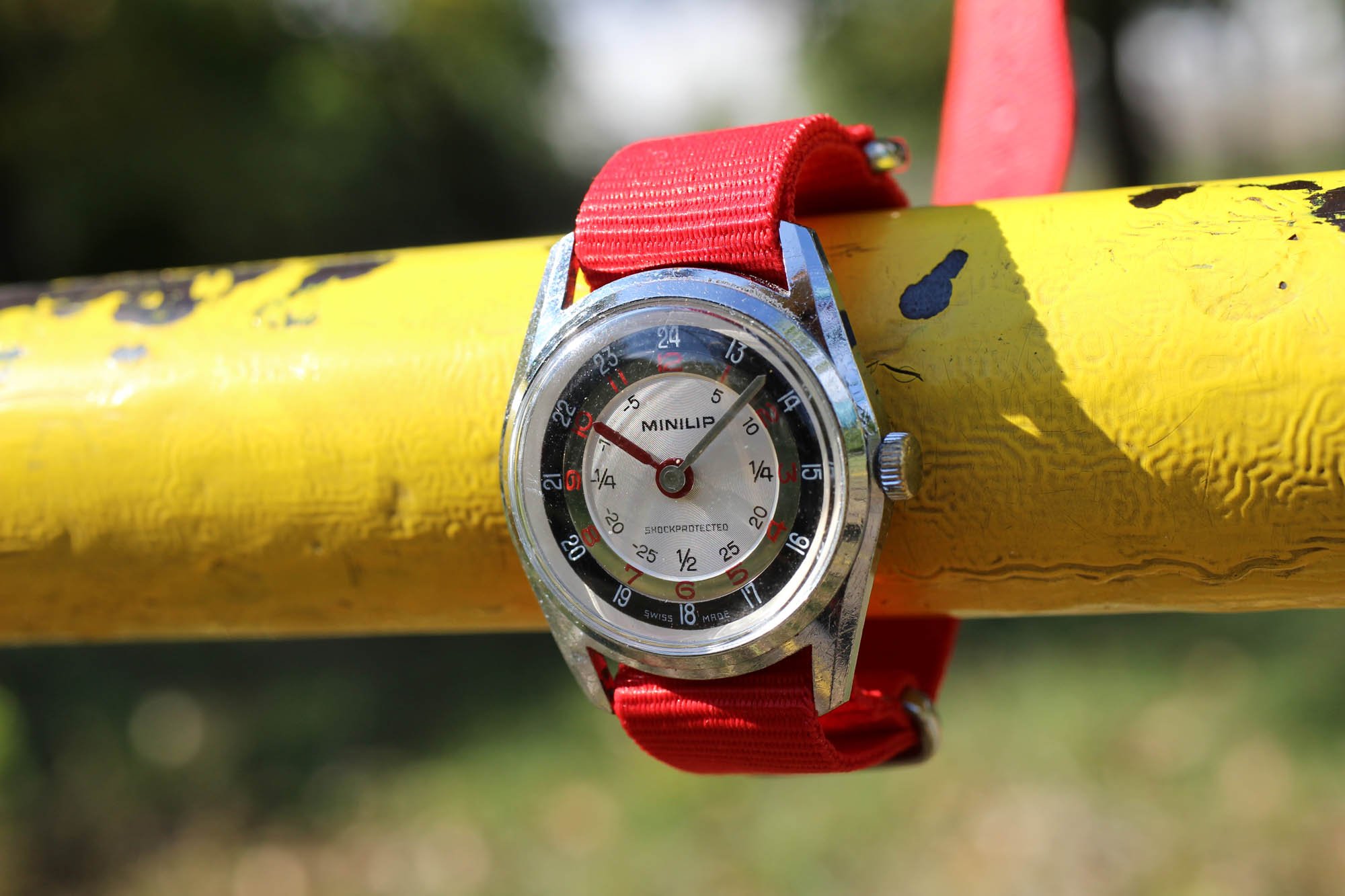 LIP or not
As it often happens with many vintage pieces, there are still a lot of questions hanging in the air regarding the MINILIP watch. I tried to answer some of them, but I yet don't have the full picture. Might you have more information, please don't hesitate to share it with us. The trickiest part for me is the brand. Does it have something to do with the French LIP? A top of the shelf explanation would suggest so. Even the typo is similar to the one that can be found on earlier LIP watches. When you dig deeper online, you can find it listed as a LIP with the model name MINILIP multiple times. I'd like to believe it but am currently on the fence as to whether it genuinely is a LIP or not. Read on to see why.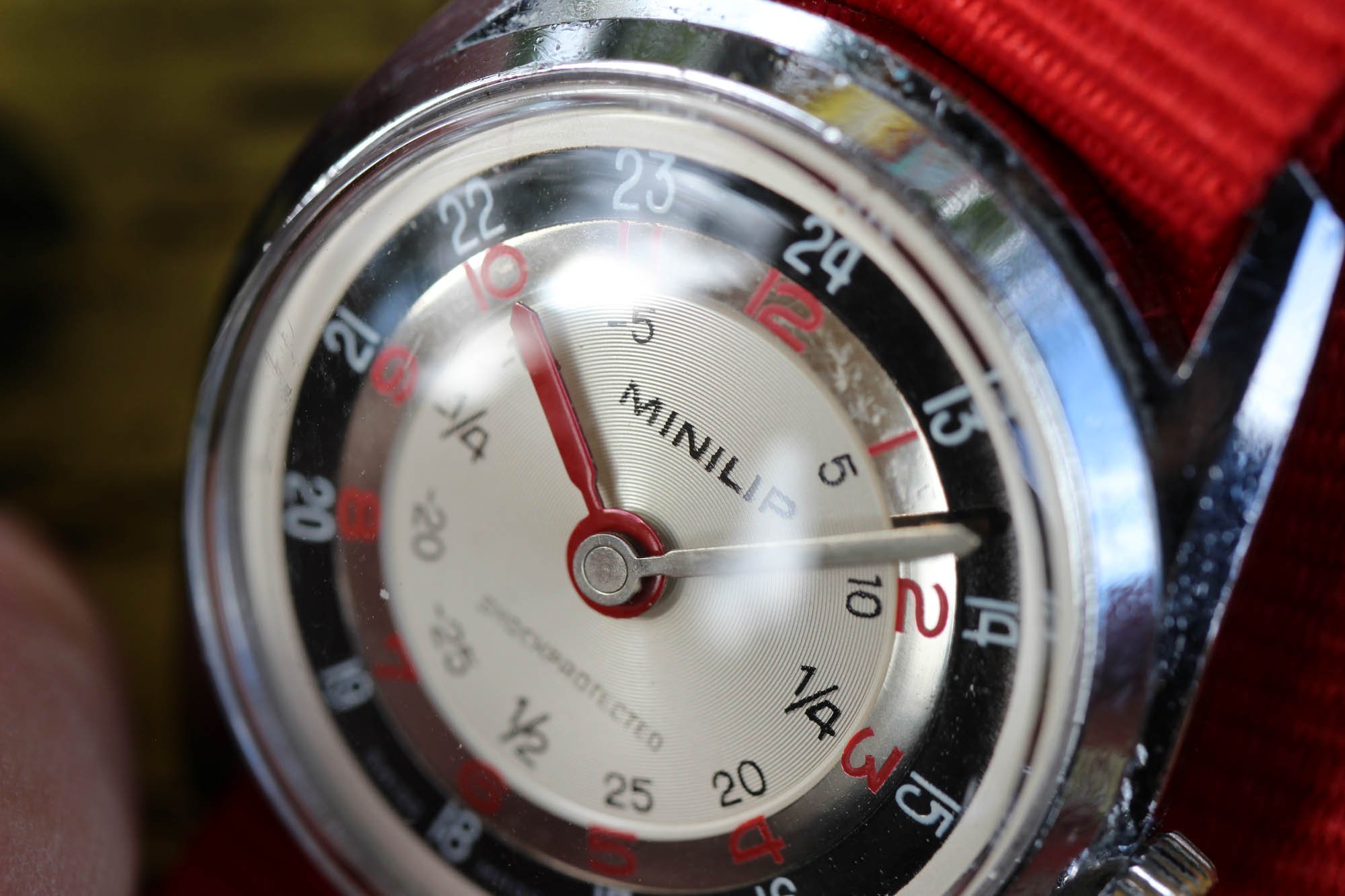 The central minute part is a bit sunk and has this lining effect you can find in chrono sub-registers. It looks like a huge field freshly ploughed by a tractor with German precision.
French MINILIP advert
On one French forum, I found a page advert promoting MINILIP in its all beauty. If you read the last two tiny lines: "Distributeur exclusif Minilip pour la France" and you combine it with SWISS MADE inscription at the bottom of the dial and a tagline, "A real Swiss ruby watch," I am questioning the LIP origin story. Older vintage LIP watches with a similar logo were mostly signed MADE IN FRANCE, and I am now more inclined to believe that MINILIP might have been independent of LIP. Your thoughts?
Narrative for kids
The MINILIP is 7mm thick and has a 31mm diameter. She is heavy, and she has three scales, says the French advert on La Minilip. Watches are of a feminine tense in French. The narrative speaks to children. Gold track with red numbers is for your morning, the black one with white numbers is for your afternoon. The small red hand shows hours; longer one tells minutes. There are a lot of references for school kids. You look at the gold track at 7 AM when you wake up, at 8 AM when you go to school, and 10 AM when you have a break. Notes next to the black track explain that kids look at it at 17 (5 PM) for their "gouter" time. Le Goûter is the most important part of the day for French kids, as that's the time when school is out. It is an afternoon meal that is always a sweet treat. Did you know that? It truly is an educational watch, even for all adult non-French watch collectors.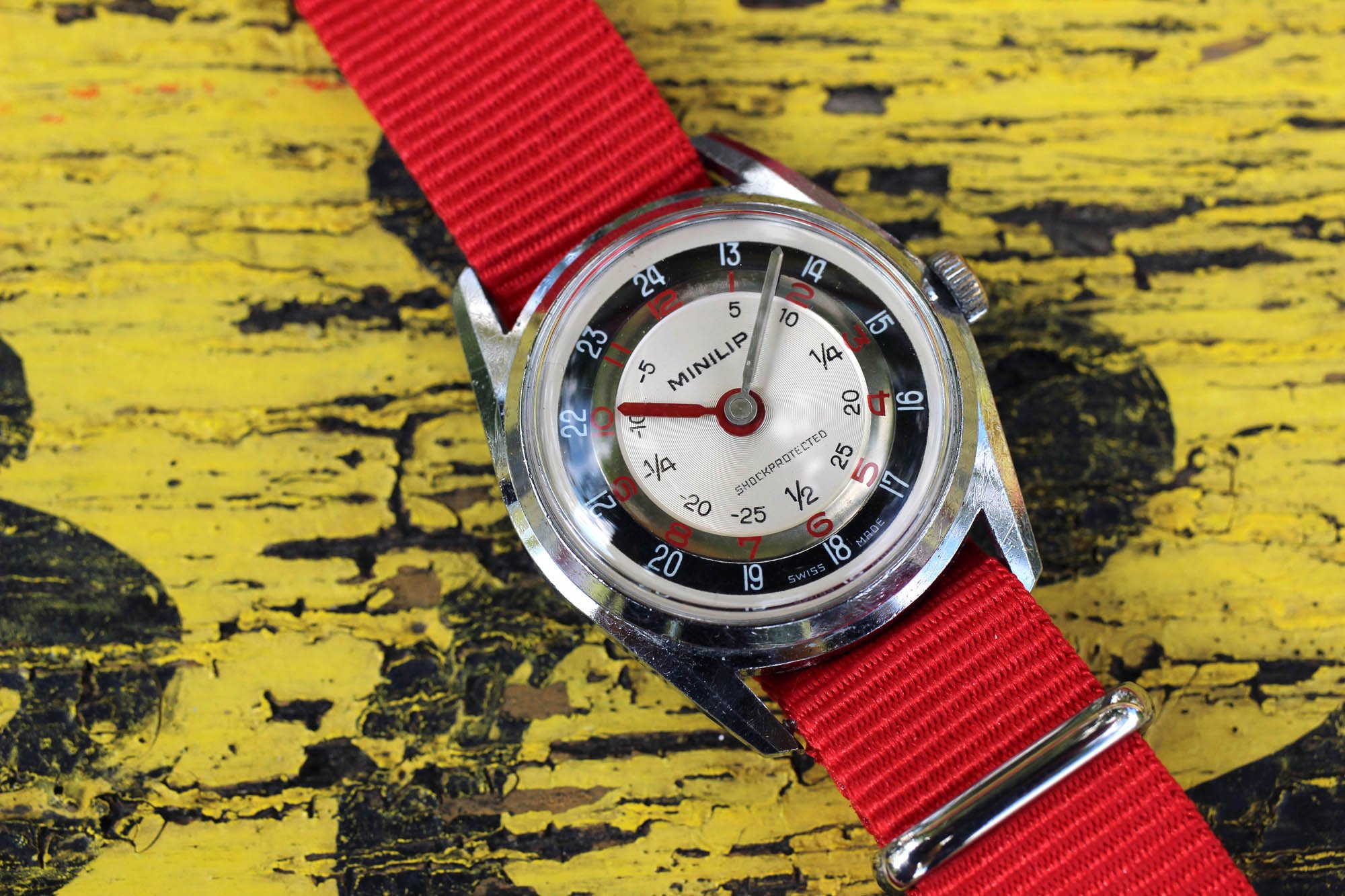 Wearing the MINILIP
The MINILIP from the 1970s is powered by an EB 8810 that has precisely as many jewels as kids need to have in their watch. The one jewel movement is very robust and durable tough, as the internet wisdom whispers. The case and dial shape are just perfect and would make an ideal model for a stretched clone today. The central minute part is a bit sunk and has this lining effect you can find in chronograph sub-registers. You might consider it overkill for such a simple watch, but it is quite soothing to the eyes. It looks like a huge field freshly plowed by a tractor with German precision. One can only guess how often you'd stare down at it, waiting for the minute hand to roll over the ½, ¼ or -¼ mark. Far beyond cool. Far beyond any fear of what would people say if you wear it as a speaker in a conference hall full of people. Because that is what I am about to do today.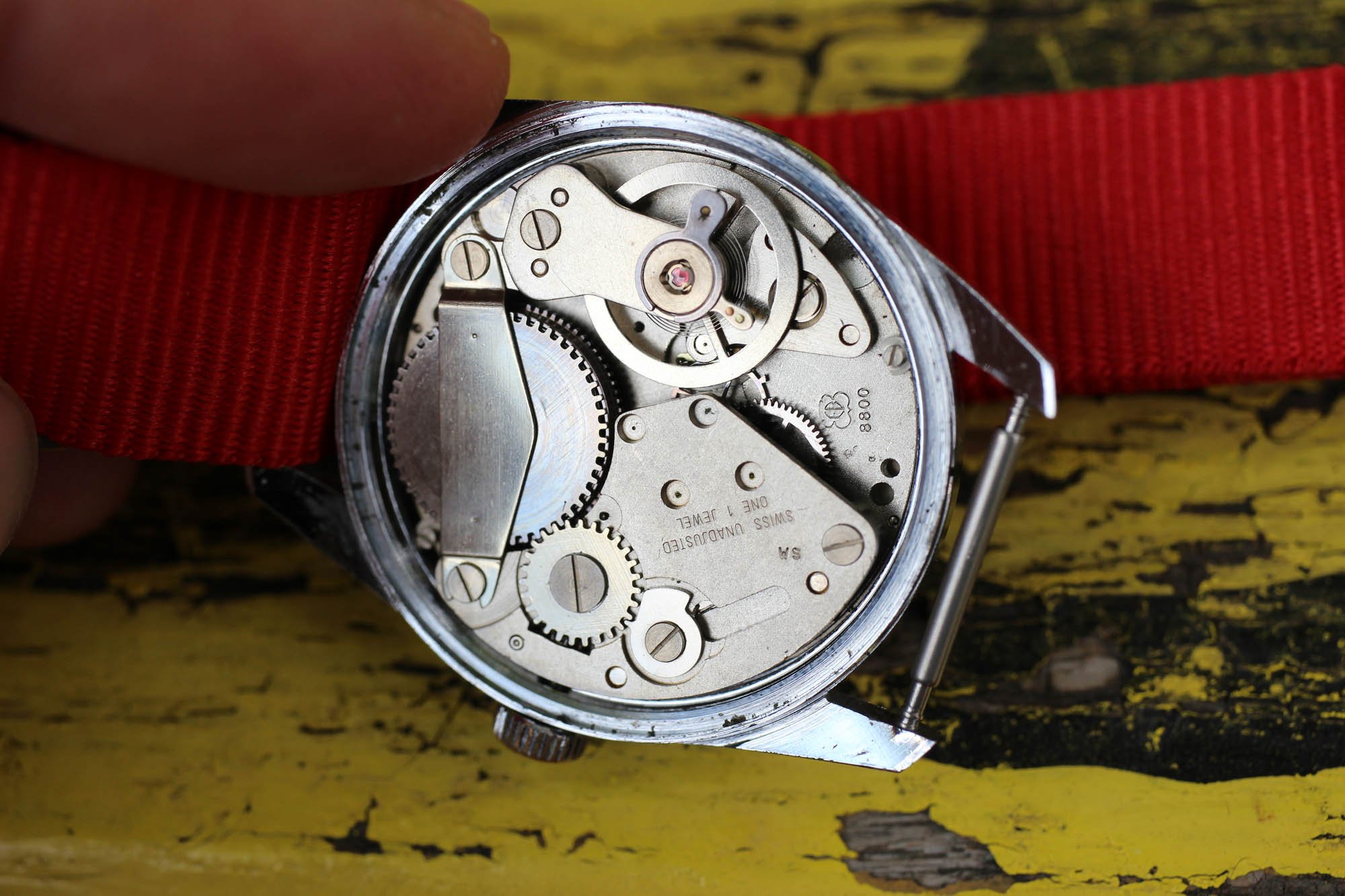 Shotgun notes
Most of the plated pieces have lost their yellow tone, which makes the watch look a bit neither here nor there. The chromed pieces look a bit less "cute," but definitely cool. The silver "morning hour track" is a bit too reflective, so it is hard to read the numbers under certain light conditions. The hands look perfectly simple. Both the red and silver ones look indestructible to me. The case back engravings re-confirm the overall execution quality.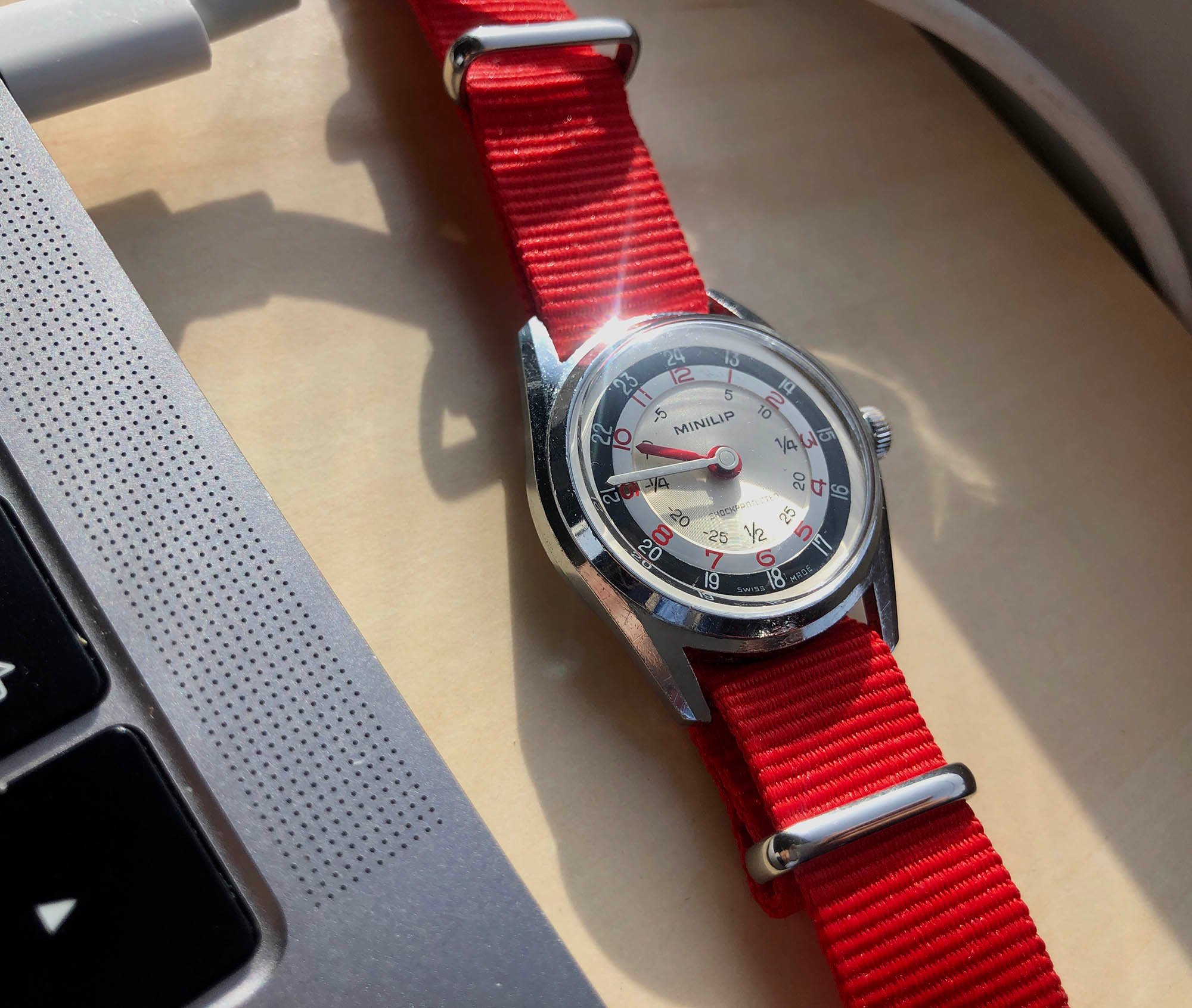 Final thoughts
Flik Flak was born in 1987 in Biel, Switzerland. Here, the Swatch group claims that it was the first watch to have a dedicated concept for learning to tell the time and proudly remains the only Swiss-made children's watch today. We say there are more watches in this race, with the MINILIP not being a seldom warrior. You can look up brands such as Kelton, Maty, or Reglex that come in the same, yet more simple style of execution. If you decide to go on a quest and get a proper MINILIP watch for your kid, don't forget to put it on a red textile strap. Happy hunting.