#TBT Enicar Sherpa Graph "Jim Clark"
I can be a real pest. Just this past March, during Baselworld 2015, Fratello team members Gerard, Blaise and I were sitting around in our rented accommodation, drinking canned German beer, and talking about the new watches we'd seen earlier in the day. When you get a few vintage watch geeks together, such as in this instance, the conversation ultimately takes a turn towards pieces from yesteryear. We passed around the older watches that we had packd for the occasion, as none of us really like to wear new watches to the show and risk offending any one brand, and started talking about watches on our respective wish lists. Well, I mentioned a few on my list and threw out the name, "Enicar Sherpa Graph". Quietly, as is his way, Gerard mentioned that he owned a rather stellar example and that it saw almost exactly no wrist time. However, he wasn't sure that it was something he wanted to sell; my nagging was about to begin in earnest.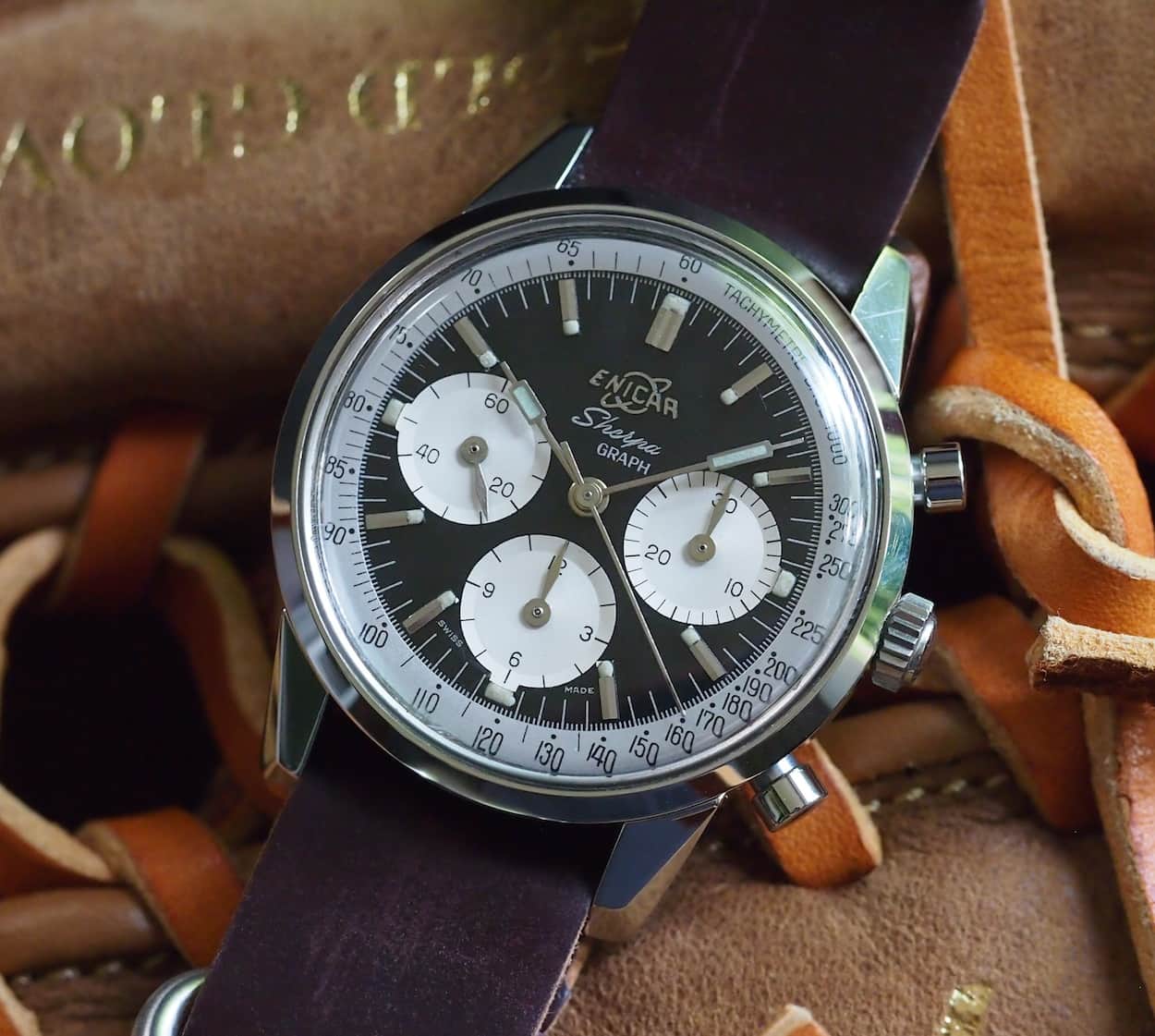 For the next couple months, I bothered Gerard about his Enicar Sherpa Graph and while he never got annoyed, he also never admitted to wearing down on the idea of selling it. Finally, though, he agreed to send some pictures; imagine this, I had been bothering him about a watch that I had not even seen or could accurately describe! However, when it's Gerard, you know the watch is good. Ultimately, team member Bert and Gerard were together at an unrelated photo shoot and Bert shot pictures of the Enicar. Needless to say, I was smitten and had to have it. If you're familiar with the Fratello team, we now had 3 of the 4 other team members in cahoots on teasing me about whether I would ever own this watch. Robert-Jan, who was quiet as the Enicar is not an Omega, ultimately chimed in and threw out brutal barbs stating that Gerard was simply going to gift him the watch. It was turmoil, but, ultimately, Gerard saw or felt my anguish and consented by accepting an offer for the watch you see here. So, with my preamble finished, it's #TBT time! Folks, this is a special watch: the Enicar Sherpa Graph "Jim Clark".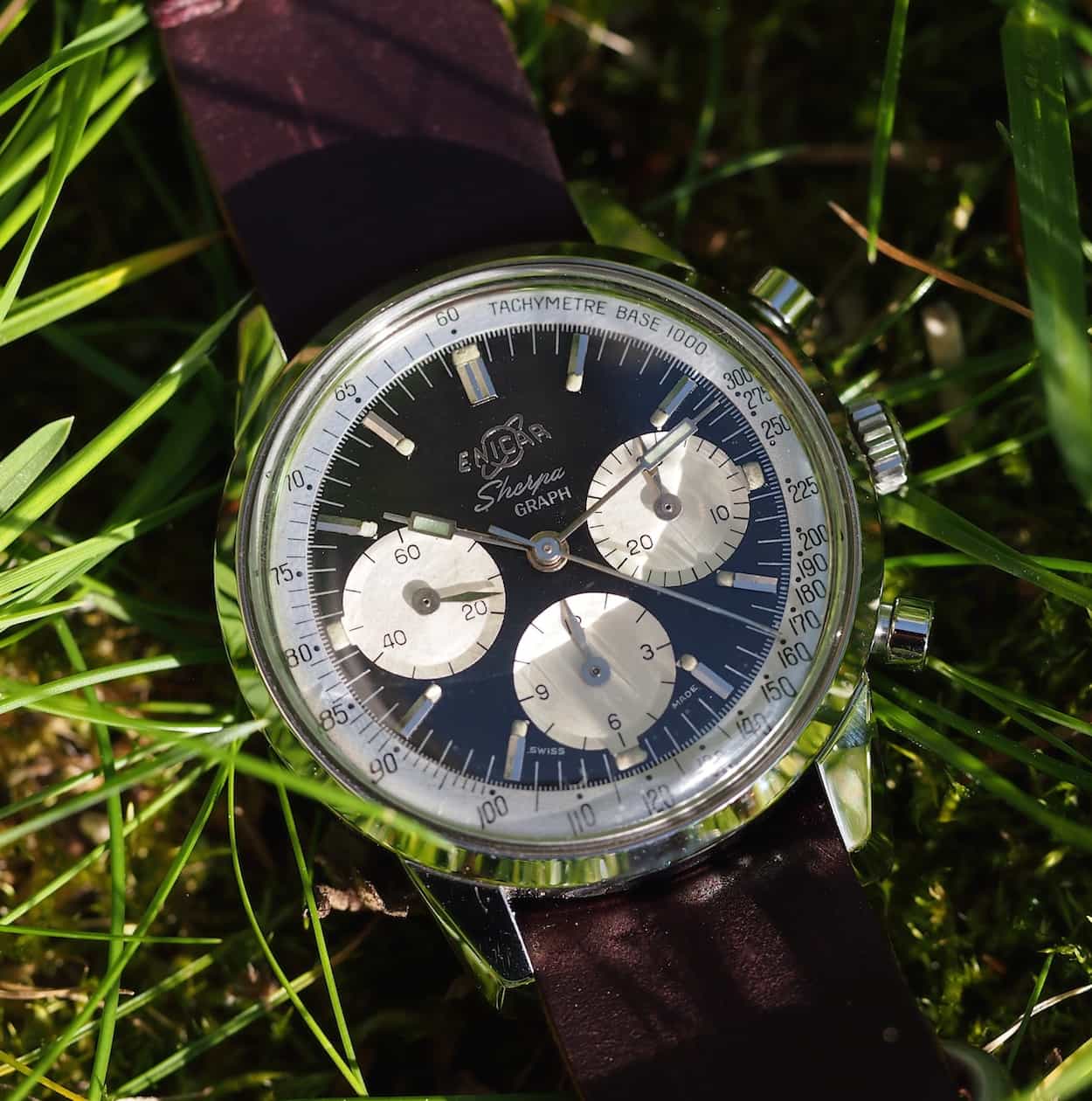 I began serious reading on vintage watches about 2-3 years ago and while I've picked up some pieces that don't quite have the appeal to me today versus when I bought them, I always go for visual attraction first before succumbing to any fads in the current marketplace. This has served me well as it generally guarantees that I will enjoy wearing the watch no matter what the cognoscenti on whatever forum think. In any case, upon doing my research, I realized that I have a real affinity for manual wind chronographs, especially those that feature the Valjoux 72 or any column-wheel movement. In addition, because I love cars, a little bit of racing heritage never hurts. This is where I stumbled upon such pieces as the Gallet Multichron 12 and the Enicar Sherpa Graph on these pages.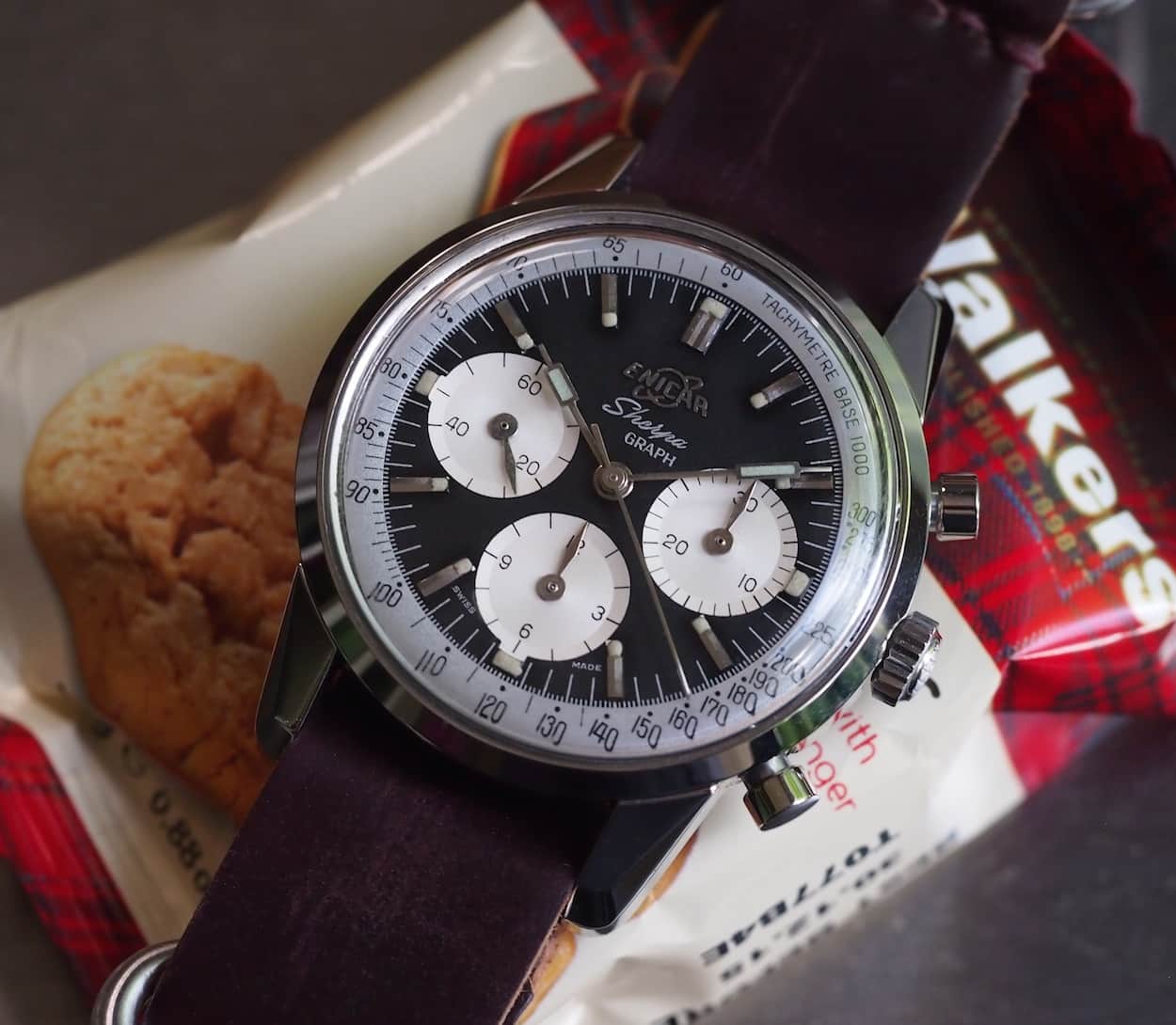 Jim Clark is one of the most famous names in motorsport. Born in Scotland, he ended up winning two F1 world Championships and an Indy 500 for Lotus before dying in 1968 in a crash during a Formula 2 race in Germany. He is thought of as one of the most dominant drivers in F1 history and was beloved by team owner Colin Chapman, which was a nearly impossible feat in itself. Less notably, but more relevant to this article, Clark appeared to be a real watch fan.  While there has been some controversy surrouding the various pieces he actually wore, he was photographed with many different chronographs during his career such as the Breitling Navitimer 806, the aforementioned Gallet Multichron 12, and the watch you see here: the Enicar Sherpa Graph. Some interesting sites to check out are GalletWorld, Bold watches, and watchuseek . It should be known that Clark wore several Sherpa Graphs, but the one shown here "seems" to be the first and it also happens to be one of the earliest execution Sherpa Graph. Production of this piece seems to be early 60's, per Bold watches as early as 1960, but I have not inspected the inside of this case back. The good looks of the watch and the racing association certainly helped to fuel my interest in acquiring one.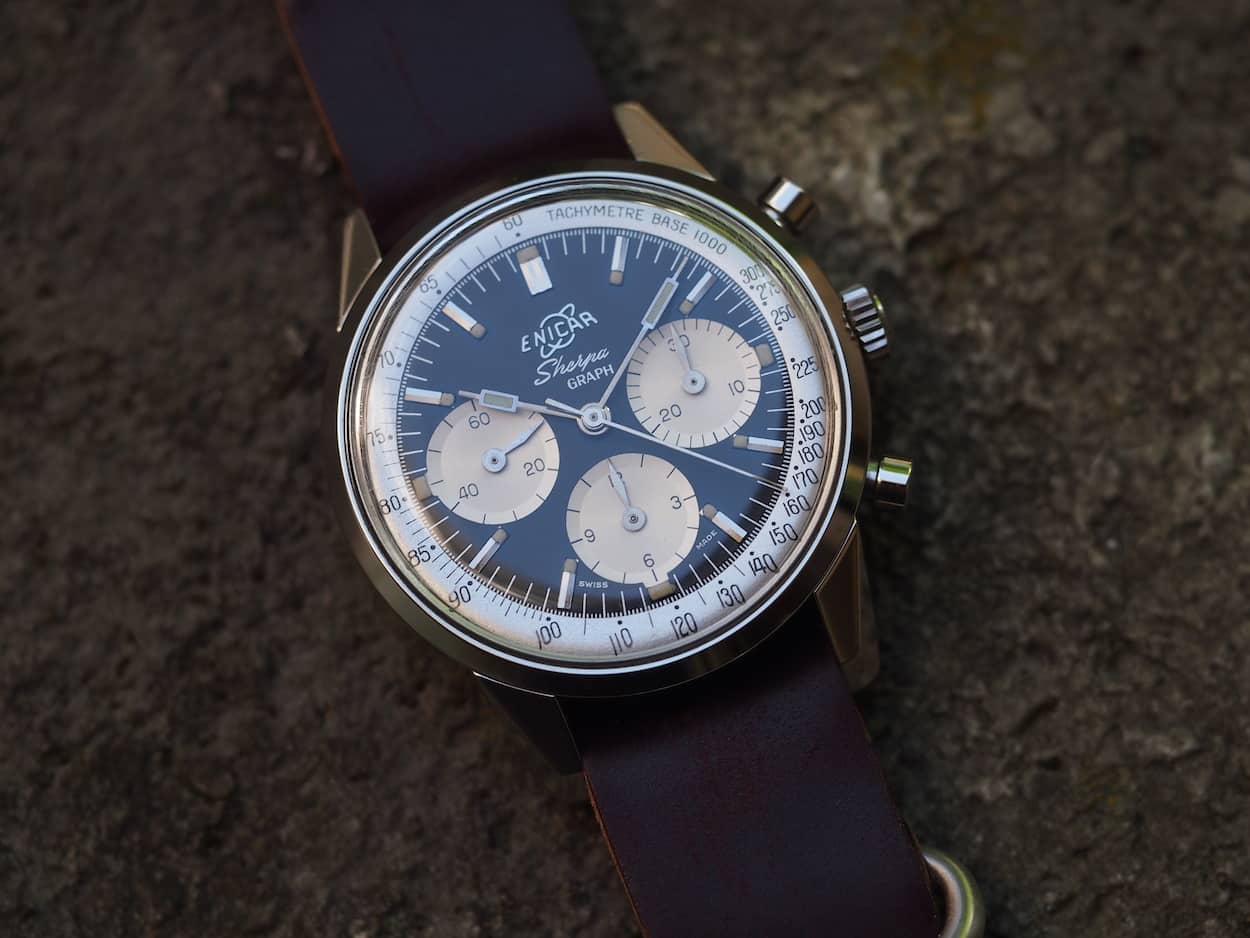 Before I get into discussing the various design and functional aspects of the Enicar Sherpa Graph, I feel the need to comment on a couple other "popular" culture aspects of this watch. First, it was long thought that pictures of Clark wearing this watch were actually pictures of the Breitling Ref. 810 Top Time. However, additional pictures surfaced and it now seems that Clark was wearing this Sherpa Graph. We can thank keen eyes within watch forums including including knowledgeable folks such as @watchfred and GVM). Second, there has been a recent mini frenzy over this watch in several forums regarding value and rarity. While I will give my impression of current value later, there is not much known about production totals from Enicar. However, any round-cased Sherpa Graph is seemingly rare versus the bigger brands of the day, inclusive of Rolex, as you see relatively few for sale. So, now that you've seen my short disclaimer, let's spend some time on why I think collectors, due to its physical and mechanical traits, should seriously consider this watch.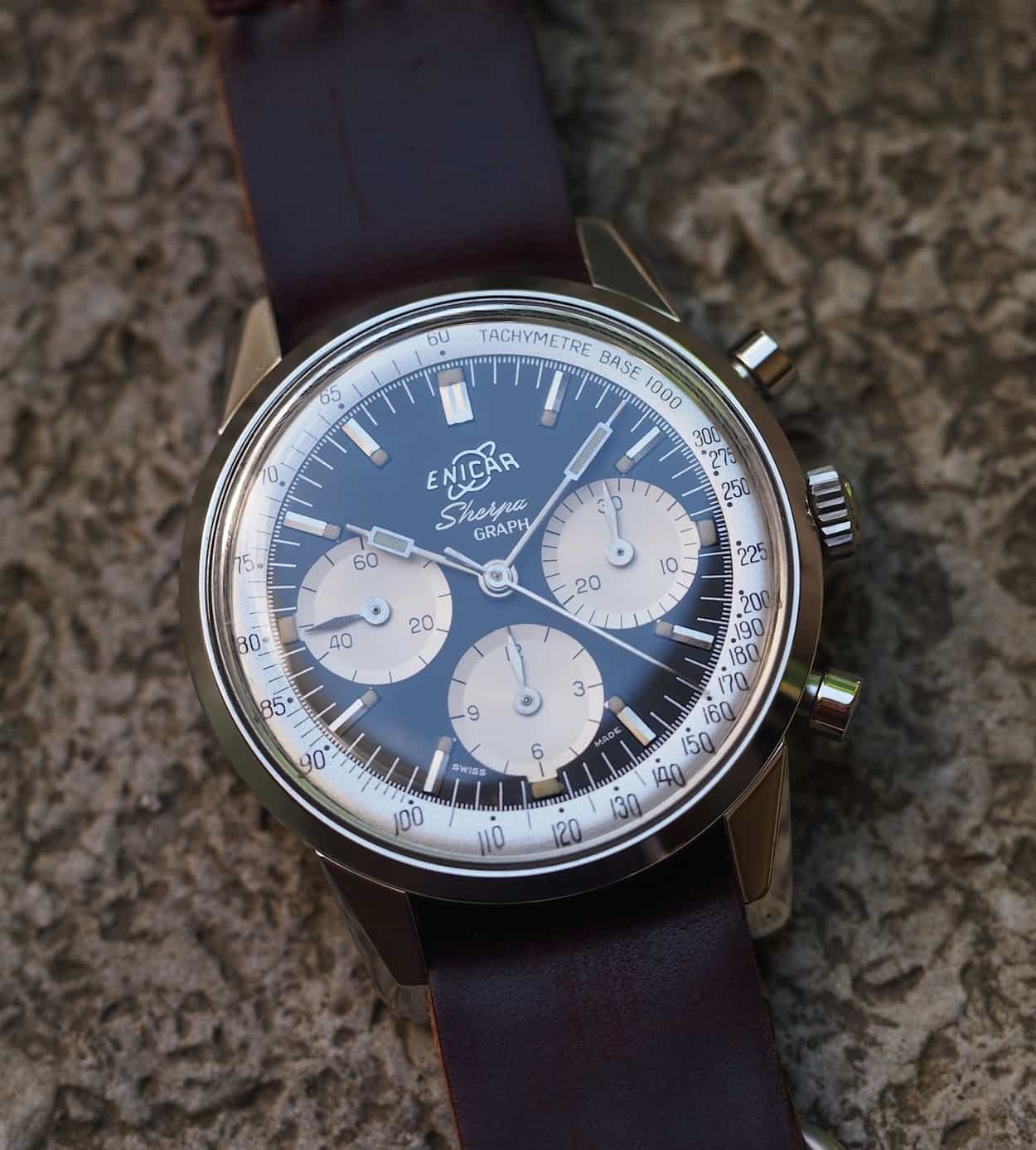 The Enicar Sherpa Graph is not like other Valjoux 72 powered chronographs. We've reviewed a couple here on Fratellowatches with the Universal Geneve Compax as recently as last week and the Gallet Mutlichron Pilot last month. I'll start in a different order than normal and talk about the engine of this watch. Yes, it's a Valjoux 72, but it has been adjusted and is nicely engraved. This is your first clue that the folks at Enicar put some serious time into this watch. When I found this out, I was really blown away. Here was a brand, in Enicar, that I really had never heard of up until 2 years ago and it turns out that they were doing some fairly exotic work. In fact, I did read somewhere that original prices of these watches were in the realm of the Daytona.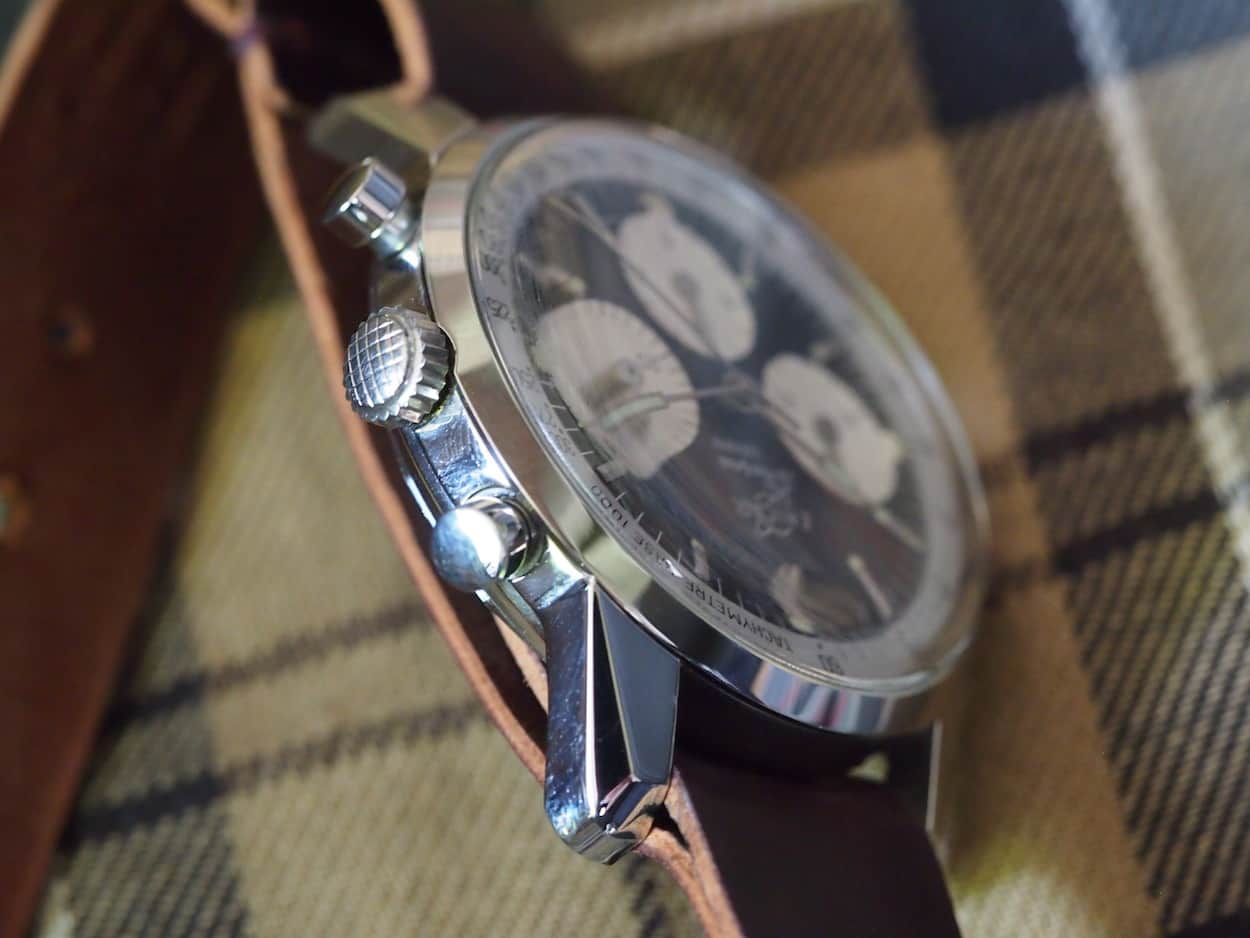 Another highly compelling feature about this watch is its case. First off, it is a very modern 40mm diameter fully stainless steel case. Again, versus a lot of other period chronographs, the Enicar Sherpa Graph comes in at roughly 3-4 mm larger and squares up nicely against the lyre lugged Omega Speedmaster Professional. To keep up the lust factor, the next fact is key and has the potential to draw in that other rambunctious crew of collectors: the vintage diver crowd. The case, interestingly, was made by EPSA (Ervin Piquerez S.A.) of super compressor fame and it even includes the typical diving helmet logo on the inside case back.  So, yes, the crown, as we'll see, sports the famous crosshatch engravings found on so many super compressor dive watches. It does not contain a logo like later models. Furthermore, it is opened bayonet style and, therefore, should not be trusted to "any old" watchmaker.
The case itself is beautiful with a classic round shape, nicely angled thick lugs that have a stamped crease or break at the case line. The lugs also feature a triangular chamfer on their sides that makes them unique versus other watches of the time. It's an absolutely classic shape and is topped off by a polished stainless bezel that surrounds the perfectly domed acrylic crystal. The bezel is actually notched in order to allow the crown to seat slightly more flush with the case: an interesting detail.   Again, while I have no ideas as to whether EPSA cases were expensive, the case feels about as solid as anything this side of a Rolex and is beautifully finished.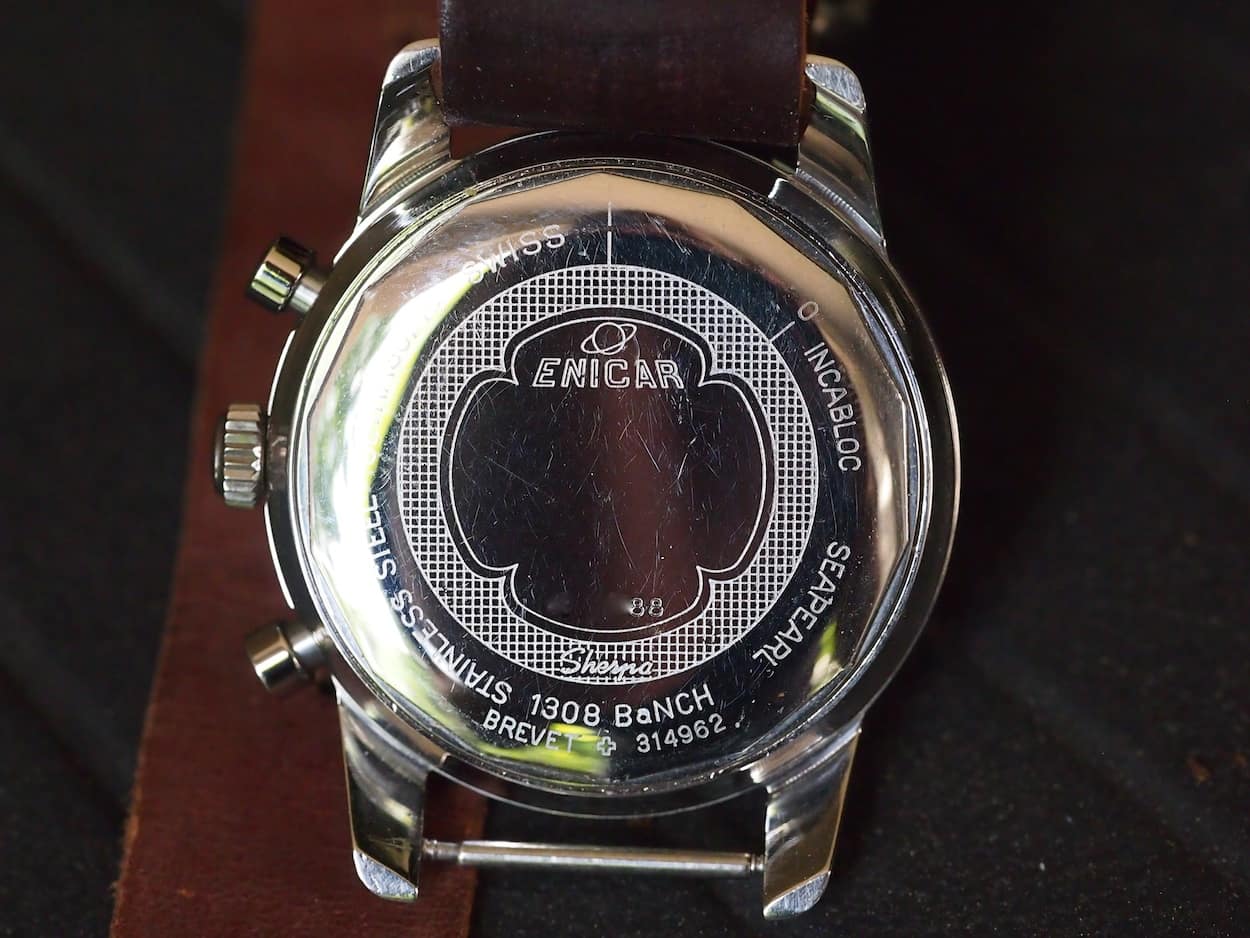 Let's now devote a paragraph to a detail not often discussed when we review watches unless it contains a display: the case back. The case back on the Enicar Sherpa Graph Jim Clark is magnificent and is one of the most detailed I have ever seen for a sports chronograph. Unlike on many other watches of the day, there are all kinds of info about the model; the material and some coding that apparently refer to its 30m water resistance. There is more of the crosshatch effect on the back, which I have now covered with a plastic sticker in order to preserve its "just made" sharpness. In fact, it appears as if the engraving was truly engraved and not stamped: magical stuff indeed that speaks to the level of build-quality around this watch. Later models are also beautiful with a stamped or engraved "seapearl" logo on the caseback.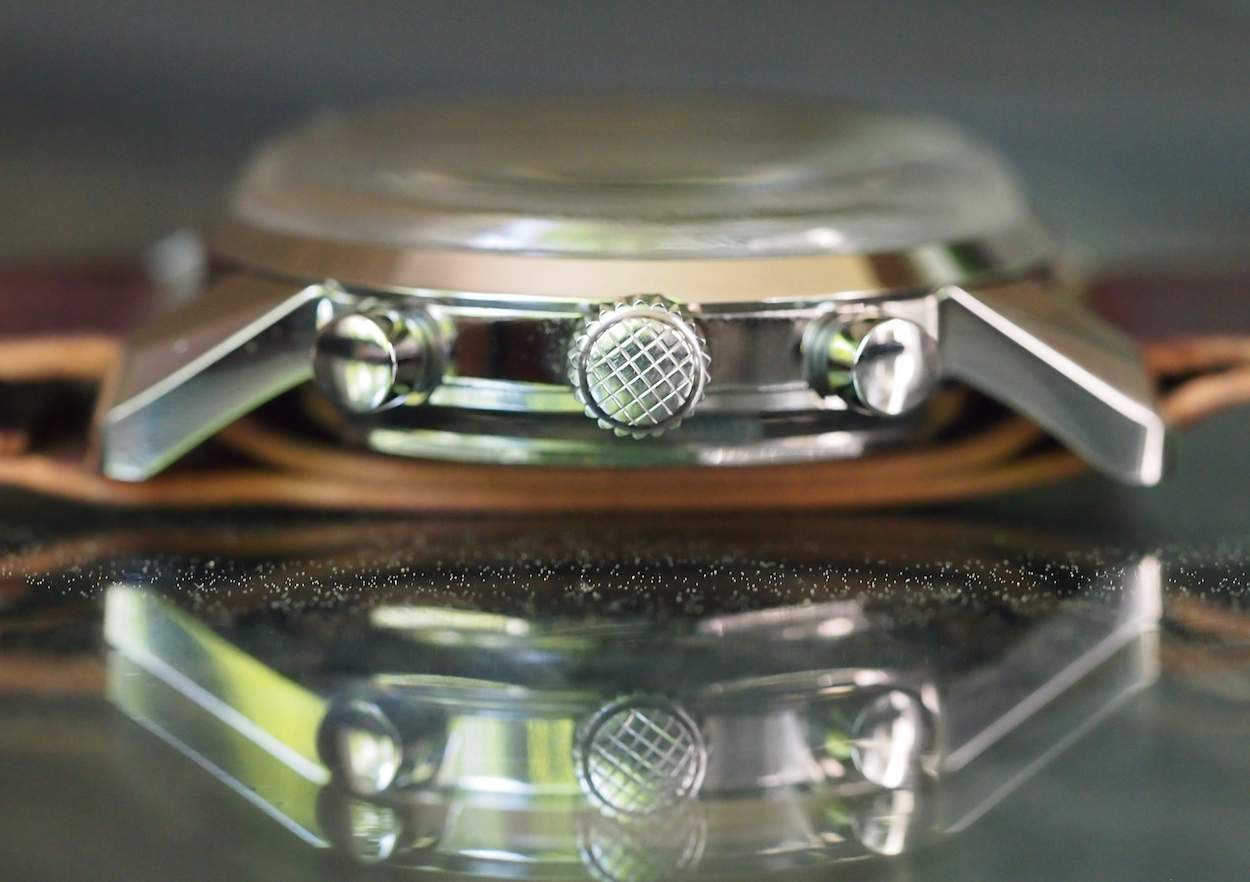 Coming around to the side of the watch, let's mention the crown, again, and pushers. The crown is nicely sized and due to the large case, there is plenty of room to allow one's fingers a firm grasp while winding. As you can tell, this piece has been fantastically preserved, and while I am sure that has something to do with it, I am guessing the upgraded movement aids as well. The Enicar Sherpa Graph is a gem to wind and it keeps fantastic time. Regarding the pushers, they are pump style and perfectly sized for the case. Use is wonderfully tactile and reminds me of watching the TV show "60 minutes" when the stopwatch is pressed: very mechanical and direct with a nice sound. Again, this watch has been well looked after and everything snaps back exactly as it should.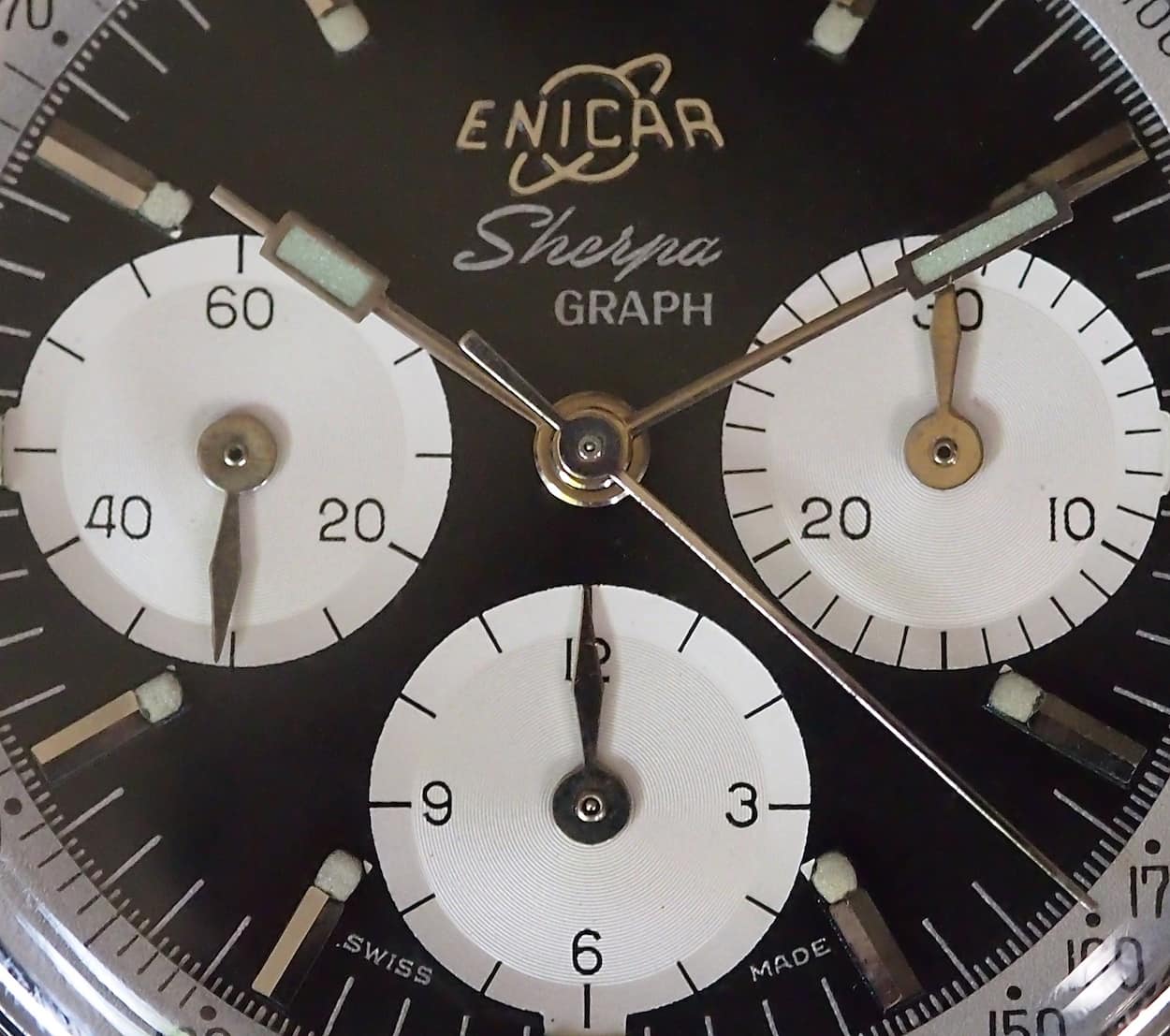 Now we move on to the "meat and potatoes" of the Enicar Sherpa Graph: the dial and hands. If you search for Sherpa Graph images, you'll be confronted with a lot of variations. However, the original "Jim Clark" has some unique features that I really like. First off, the registers are white versus the silver found in some later models. It's a subtlety that I really like and gives the watch a very crisp look. Furthermore, they're sunken "reverse" pie pans and have a ridged concentric surface.  You'll also note how the sub dials actually "poke out" to meet the indices at 3, 6, or 9 respective of their position. It's a neat little detail not found in my other chronographs of the same era. Also, the registers are larger than those found on most other 72-powered watches due primarily to the larger case size of the Sherpa Graph. You'll also note the separate tachymeter ring done in silver. This is a nice little touch that flows well from the polished outer bezel. It has a "semi" dot over 90 if you're wondering.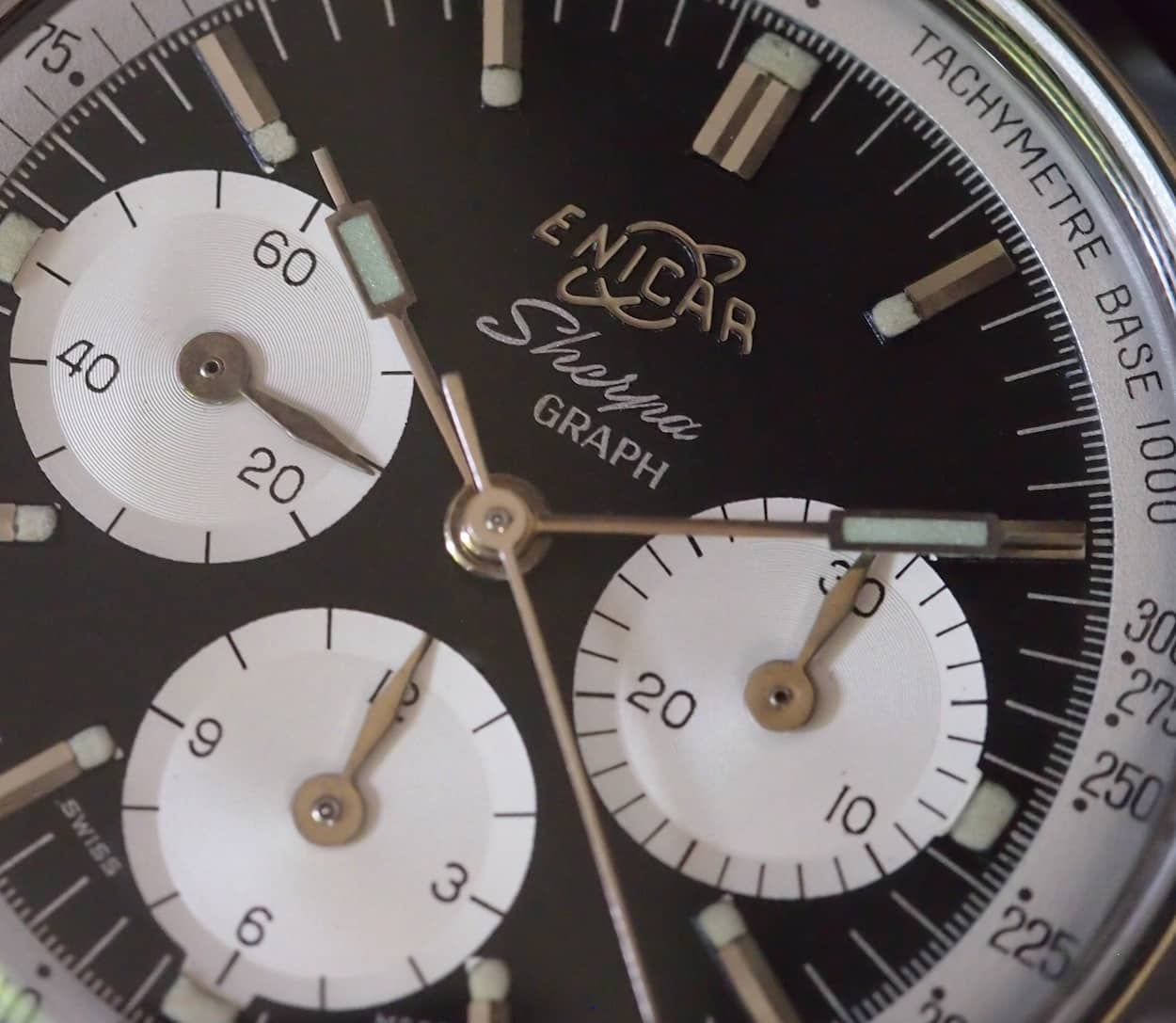 Another unique feature about the dial is the logo. This model contains Enicar Sherpa Graph in a different format versus later editions. Notably, later editions contain the applied "Saturn" logo and "Enicar Sherpa Graph" printed underneath. This model contains "Enicar" within an applied logo and is really a beautiful detail. Regarding the rest of the dial, you'll note the lume at each hour. Over time, this tritium lume has aged a bit and has actually stained the matte dial a little; I've seen the same on similar era Speedmasters. Regarding hour markers, they're complex, chamfered, little affairs and are applied at each hour except for 3,6 and 9. 12:00 receives a nice, double thickness marker.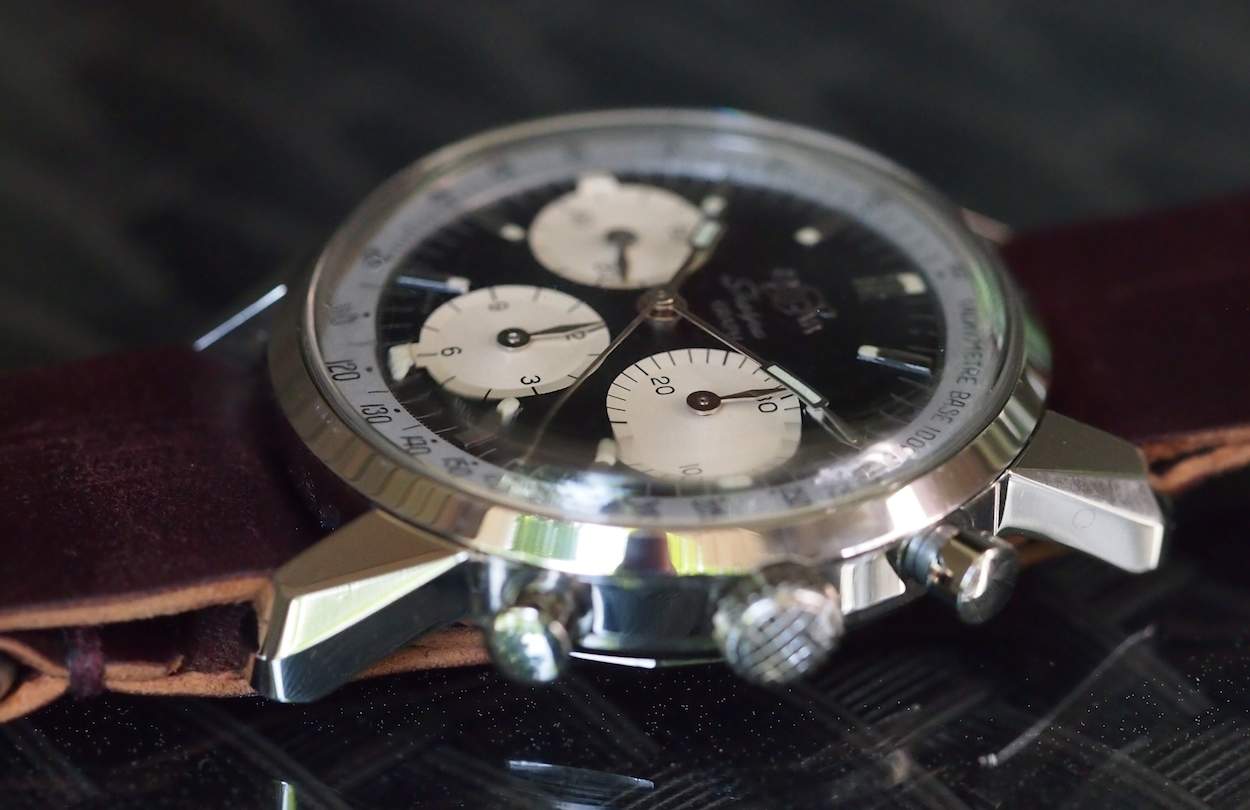 One of the more famous aspects of the Enicar Sherpa Graph has to be its paddle-shaped or oar-shaped hour and minute hands. If you look at Enicars, whether they are divers or chronographs, you'll see that they used some amazingly different hand styles versus their contemporaries. These are no different and you will not mistake them for anything else. Here again, some later Sherpa Graphs contain straight hands but I really feel that the paddles are worth the search. The center chronograph hand is a simple silver hand with a tapering back part of the stick. It's nice, but here I admit I like later models with the red center hand and lume pip. In addition to the trademark paddle hands, the other wonderful detail is the sub register hands. I'll go ahead and call these masonry trowel hands, as that is what came to mind! They're diamond-shaped and very unique versus the normal needles or arrows found in later models. They're well executed and carry a visual mass that suits the large dial well.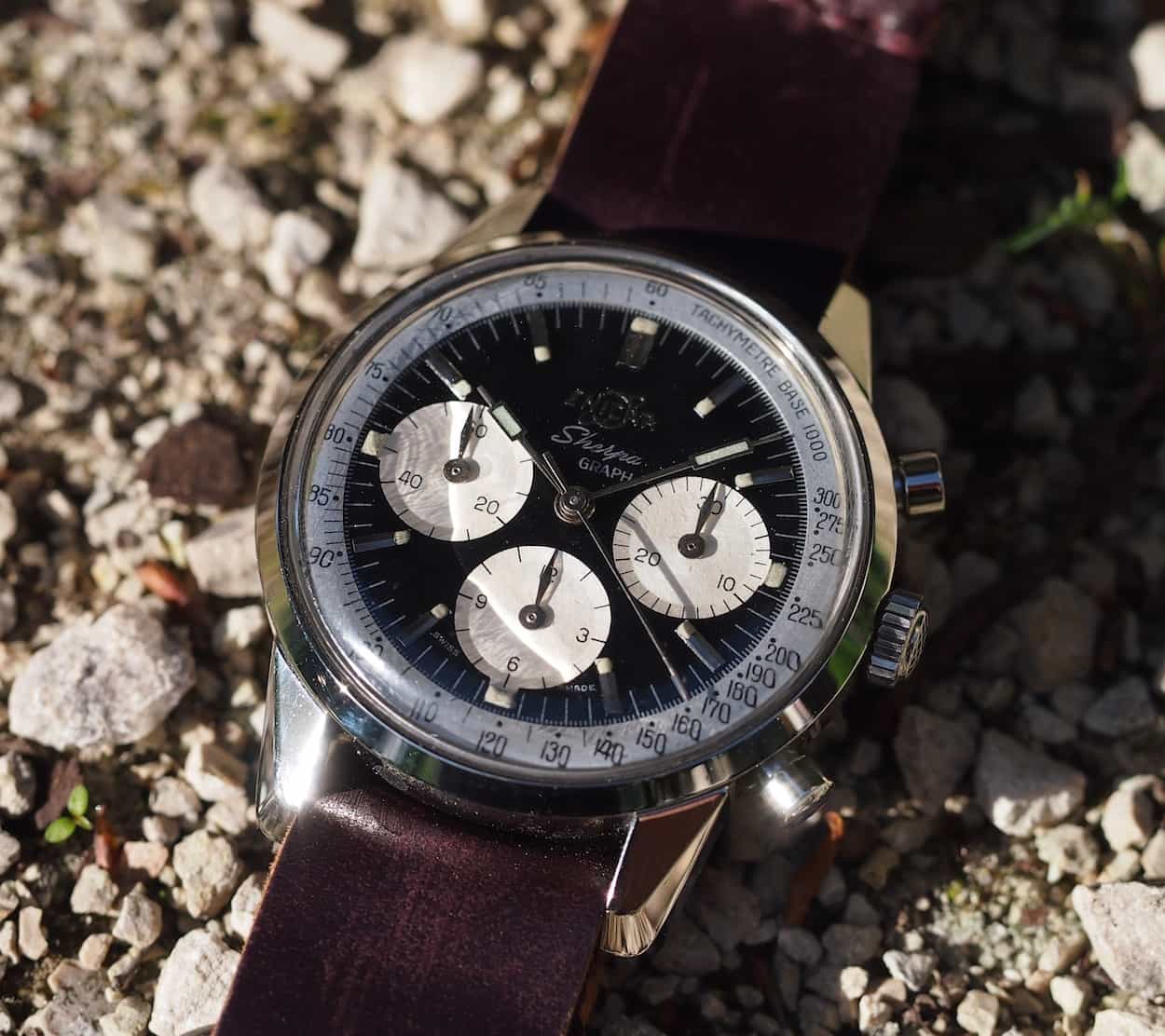 On the wrist, the Jim Clark wears well and, due to its larger size, could double for a modern watch from a distance. Its thickness is noticeable but it is not overly thick like, say, a Caliber 11 or 12 Heuer; it's thick in a purposeful, tool-like manner. I see a lot of Enicar Sherpa Graph models paired with Tropic Straps and while Jim Clark generally wore a curved-end white model, I paired this watch with a 20mm Horween Shell Cordovan NATO from DaLuca Straps. I've been on a kick lately in pairing black-dialed watches with brown straps and enjoy how they compliment versus dominate the dial colors; this instance is no different despite the more burgundy tone of leather. That being said, a simple brown or black strap with off-white or linen stitching up top would likely look great as well.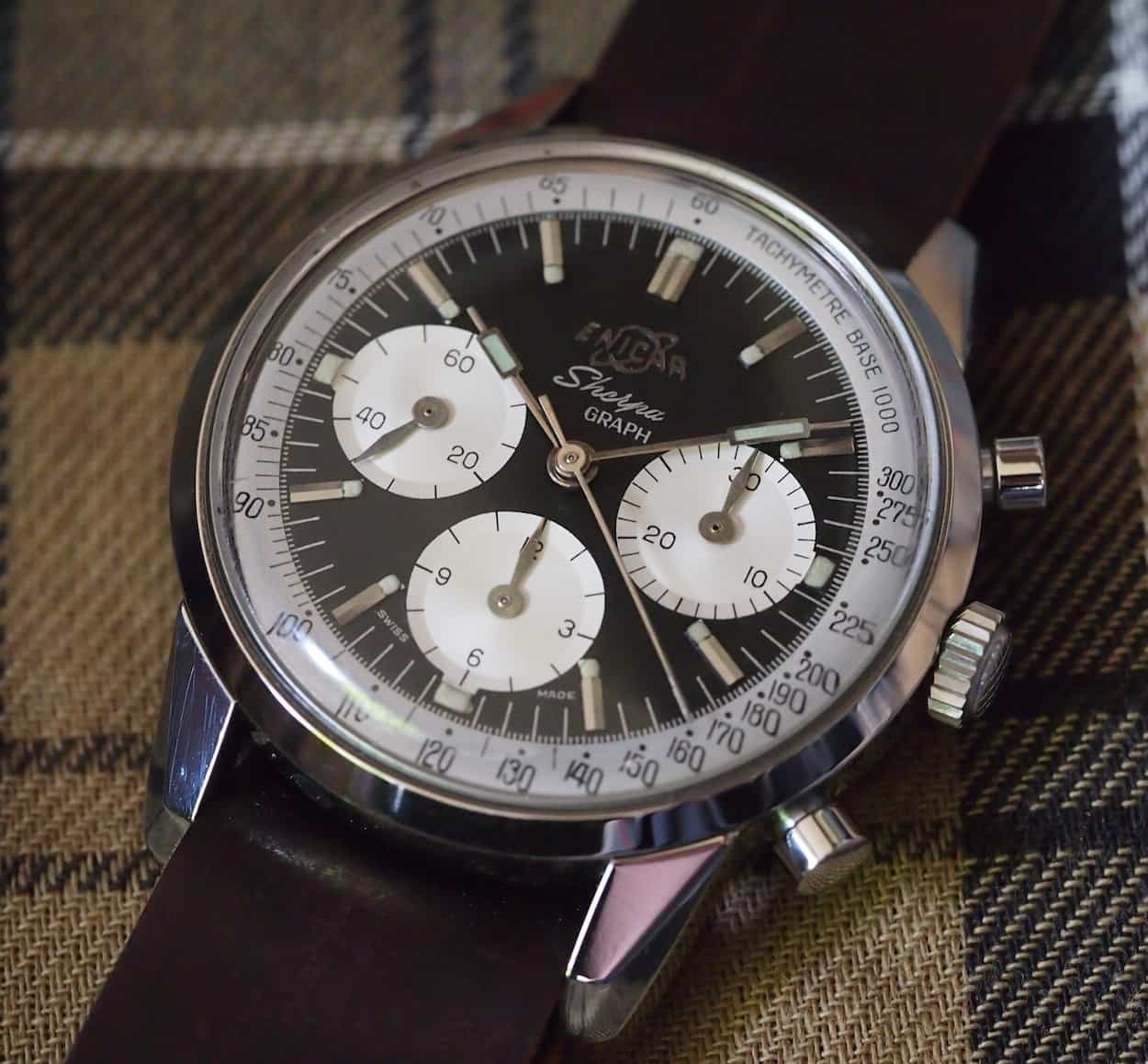 When it comes to buying advice on the Enicar Sherpa Graph in general, I'll give the usual advice to stay away from pieces that are missing cosmetic components such as dials, hands, inner bezels, etc. I'd also assume that pushers and crowns are difficult to source as well. I do see, from time to time, dials and things on eBay, but I can't comment on the frequency of these listings. I've also seen some fairly ratty lume on Sherpa Graphs, so do ensure everything is to your liking or, more importantly, that water entry has not been an issue. Related to the last point, I mentioned the bayonet style of case. It's a good thing to ensure that everything still closes properly and has not been irreversibly damaged by an inexperienced watchmaker. As is the case with all Valjoux 72's, the Sherpa Graph can be repaired, but do ensure the movement has been signed and shows as "adjusted". Lastly, I have seen some fakes recently on eBay but these are so badly done and do not contain EPSA cases. Fair warning, though, as one could make an expensive mistake late at night or early in the morning!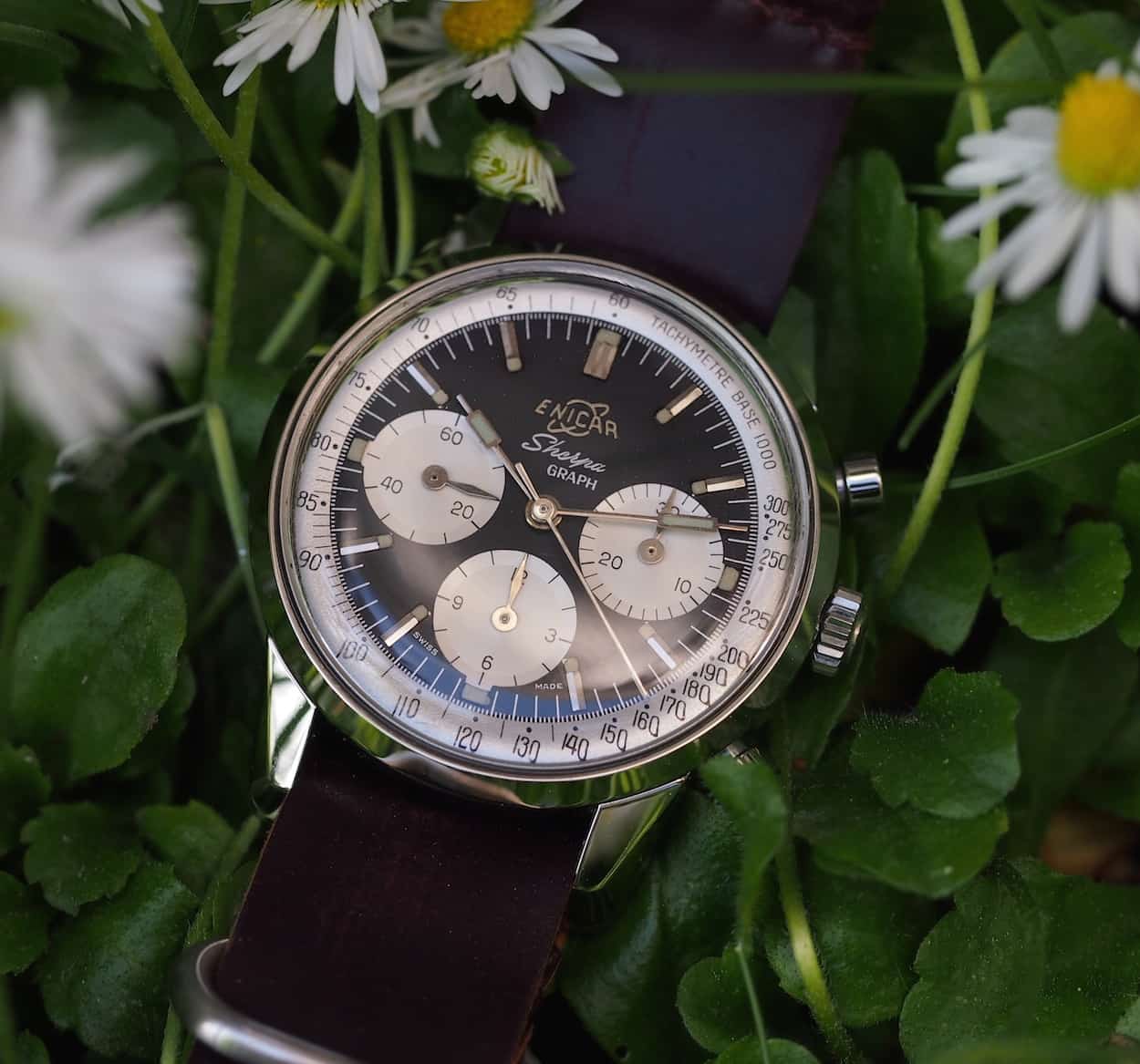 Regarding the Jim Clark specifically, it is very difficult to comment on value, as I have not seen an exact one for sale. My assumption when I purchased it was a range of 2,000 – 2,500 Euros as this is what I had generally seen on period Valjoux 72's Enicars. I've seen so few of the same exact models, Jim Clark or not, for sale that I also can't comment on value of each sub-model. We will ultimately have to see if the market differentiates between the varieties. For your viewing pleasure, there is currently one beautiful Sherpa Graph for sale on Heuerworld. It is not inexpensive, but the condition looks amazing. Again, we will see how the market responds. Like in most cases of vintage chronographs, it is safe to say that prices are generally going in one direction, which is up, so if you're interested, start hunting!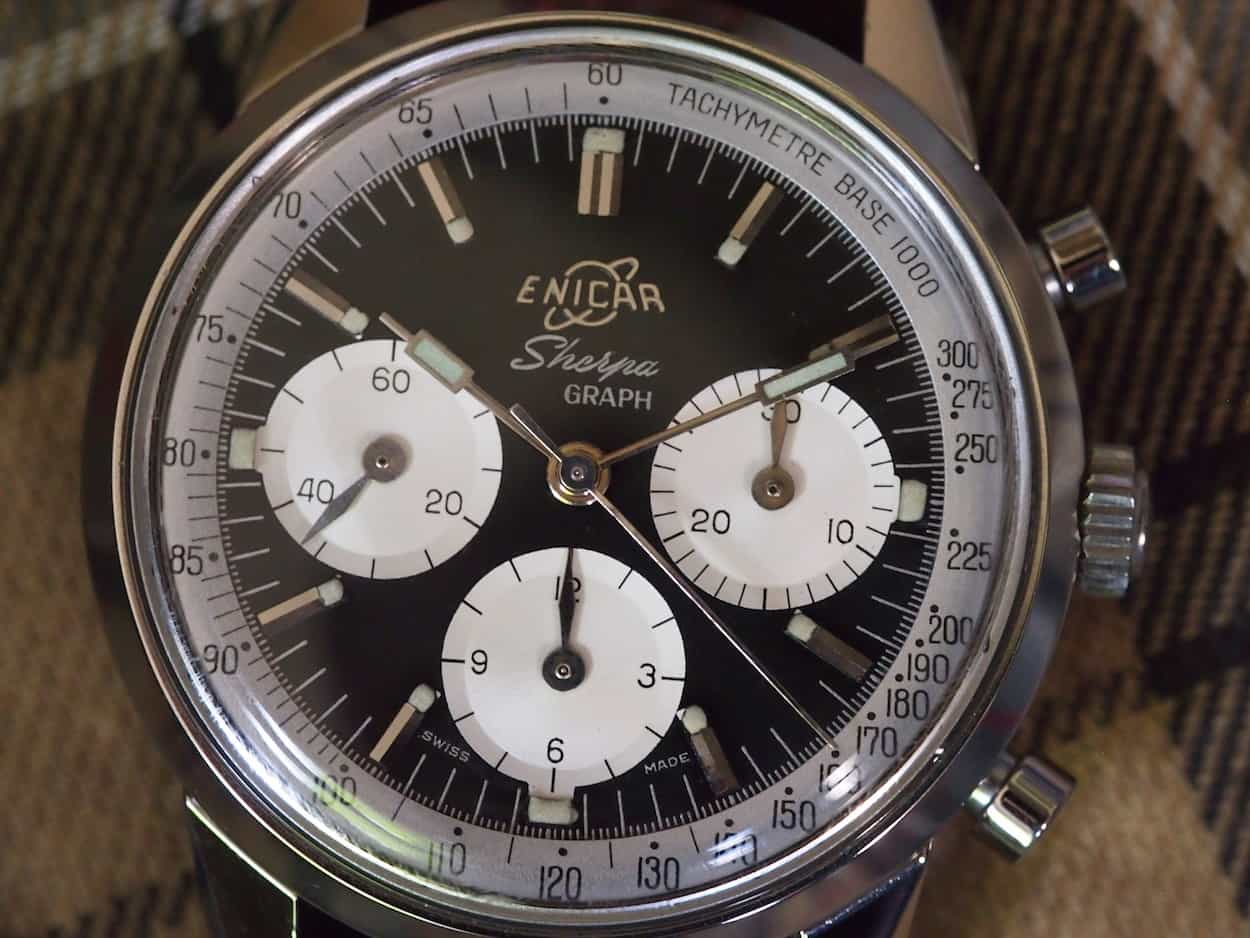 I hope you enjoyed this latest #TBT. I'll swing back into the more affordable in future articles, but I was really excited to share some information and pictures on the Enicar Sherpa Graph Jim Clark. As mentioned, there's been some localized fervor over Enicars recently, so the timing of the article felt correct. It's an amazingly well built watch with real racing credibility, undeniably good/classic looks and some features such as the case and its size that make it extremely desirable. I do believe that vintage Enicar is one of those "sleeper", oft overlooked, brands that deserves more attention. Let's see what happens! As always, we welcome your comments and would love to learn more about these watches and see pictures of your pieces!