#TBT: Five Unusual Vintage Watches From My Wishlist
Lip Mémo, Nivada Wanderer, Timex Rotary Dial, Mido Multi Star and Bucherer Date 9.
My major problem with watch collecting is, that searching for "grail" watches that are on my wishlist only makes the very same list longer and longer.
I am so jealous of those enlightened collectors that decided to specify in one particular brand. Omega, Seiko, Breitling or whatever it is. Top respect to collectors of one specific watch model as well. It is not for me though. Never. I happen to love these quirky, funky, peculiar, unbelievable, crazy, creative, technical genius, out-of-box or whatever timepieces, regardless of which brand or model name is on the dial. When I come across such a watch, I need to write it down on my list.

Nivada: www.dorotheum.com, Mido: www.catawiki.com, Timex: www.etsy.com
Once a month I will get ready my short and punchy selection of watches that attracted my attention.
Fighting the disorder
I am not that guy that keeps all the secrets for himself. I mean, I dare to speak about an unbelievable vintage timepiece I just discovered with just about anyone. Even before I do the transaction. Life is for sharing, and that includes watch collecting. Or take it as a part of the treatment in how to get rid of my GWLD – growing-watch-list-disorder. Anyway, my list is so long meanwhile, that even the grand-child of my grand-child will have a hard time to get to the end of it. And I am speaking only about reading the watch wishlist, as I am not trying to get everything that's on there.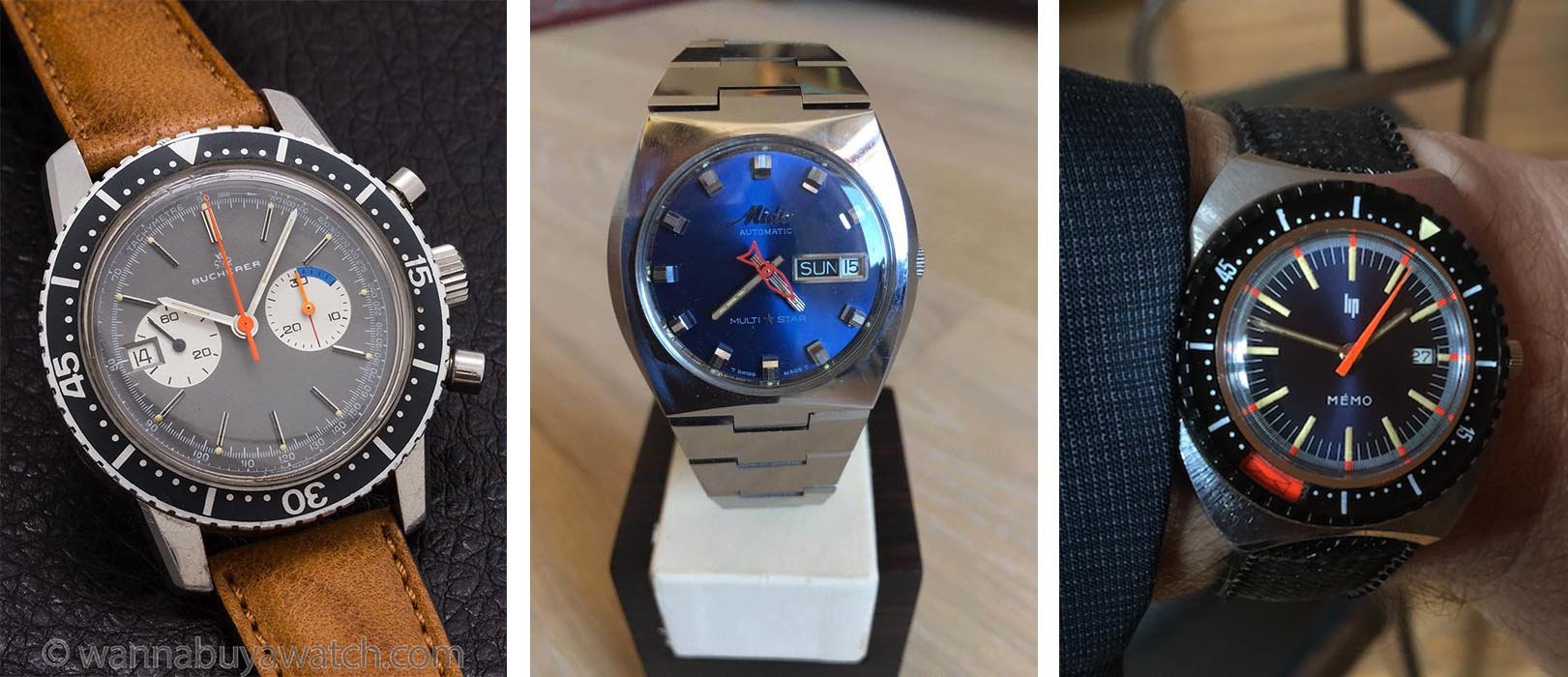 Mido: www.catawiki.com, Lip: forumamontres.forumactif.com
Tickling your taste buds
From now on, once a month I will share a short and punchy selection of my wishlist watches that attracted my attention. Some of them came on my path years ago, others only a few days ago. They might be very rare or over my budget, but if you happen to have any of the watches featured, do reach out to me.
Counting rules
Never search for patterns, until disclosed. I just felt like show you this one watch today. So do not burn me if you find a $10,000.- USD timepiece next to one that's less than $50 bucks. "No rules" is my first rule. Actually, there are no other rules. Or wait. Citing the source of the pictures. All of them are taken from watch forums, Instagram accounts or watch dealer sites, we use them for our educational purpose and we will always do the best possible to publish the source.
Today's quintet
Let's start with our selection for July: You will meet the Lip Mémo, a Nivada Wanderer alarm watch, a Timex Telephone Dial, a Mido Multi Star and last, but not least, "tough guy" Bucherer Date 9.
Lip Mémo
I hope RJ won't fire me for what I am about to say. But look below, am I the only person thinking of the Omega Speedmaster Ultraman every single time I see this Lip Mémo? The dial is a stunner, and it got me with its straight, slightly strict but at the same playful lines and colors. Can't decide what I like the most about this watch; hour indexes, LIP/MÉMO titles, date window or central orange hand.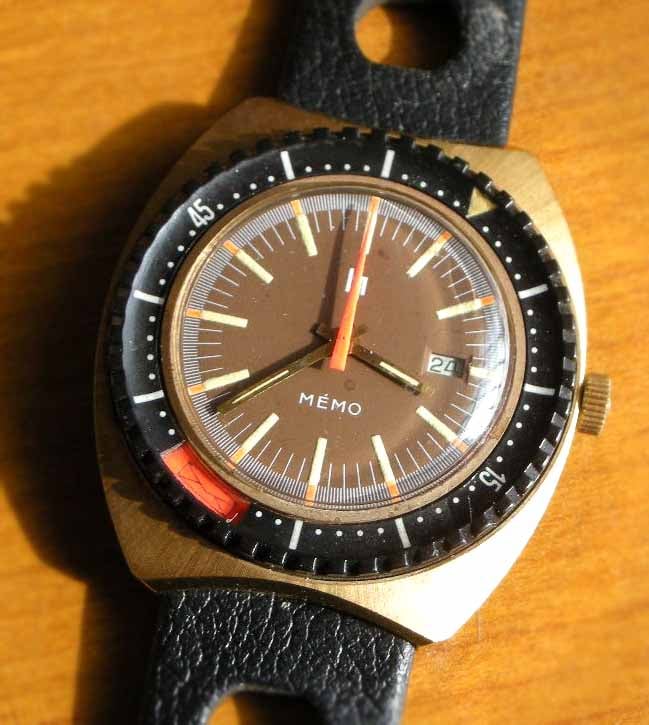 Image: watchismo.blogspot.com
Peculiar rotating bezel
The bezel on the Lip Mémo is perforated and when you rotate it, you uncover one of six small icons: an envelope, a basket, a phone, a car, a heart and a package. Just to remind the owner of something he or she needs to remember. The brilliant idea some 40 years ago, when Post-Its or even a knot in a handkerchief was considered the most efficient reminders.

Image: watchismo.blogspot.com
Searching for a Lip Mémo
From what I read on the French watch forums, the Lip Mémo is probably dated around the early 1970s, an era of "functional" watches, like the Lip Thermometer we featured on Fratello. Some of the guys write that it is not uncommon, but I haven't found one in three years. You know what to do if you happen to know one of these for sale.
Nivada Grenchen Wanderer
This is a manual wind alarm watch with a rotating 12-hour bezel and caliber known from our recent article on Vulcain Crickets. This model came with two different bezels: the black-on-silver or silver-on-black bezel. What makes the watch stand out is the typography. Thick and curly numerals contrast with the clean dial with the only dominant – black or red central alarm hand.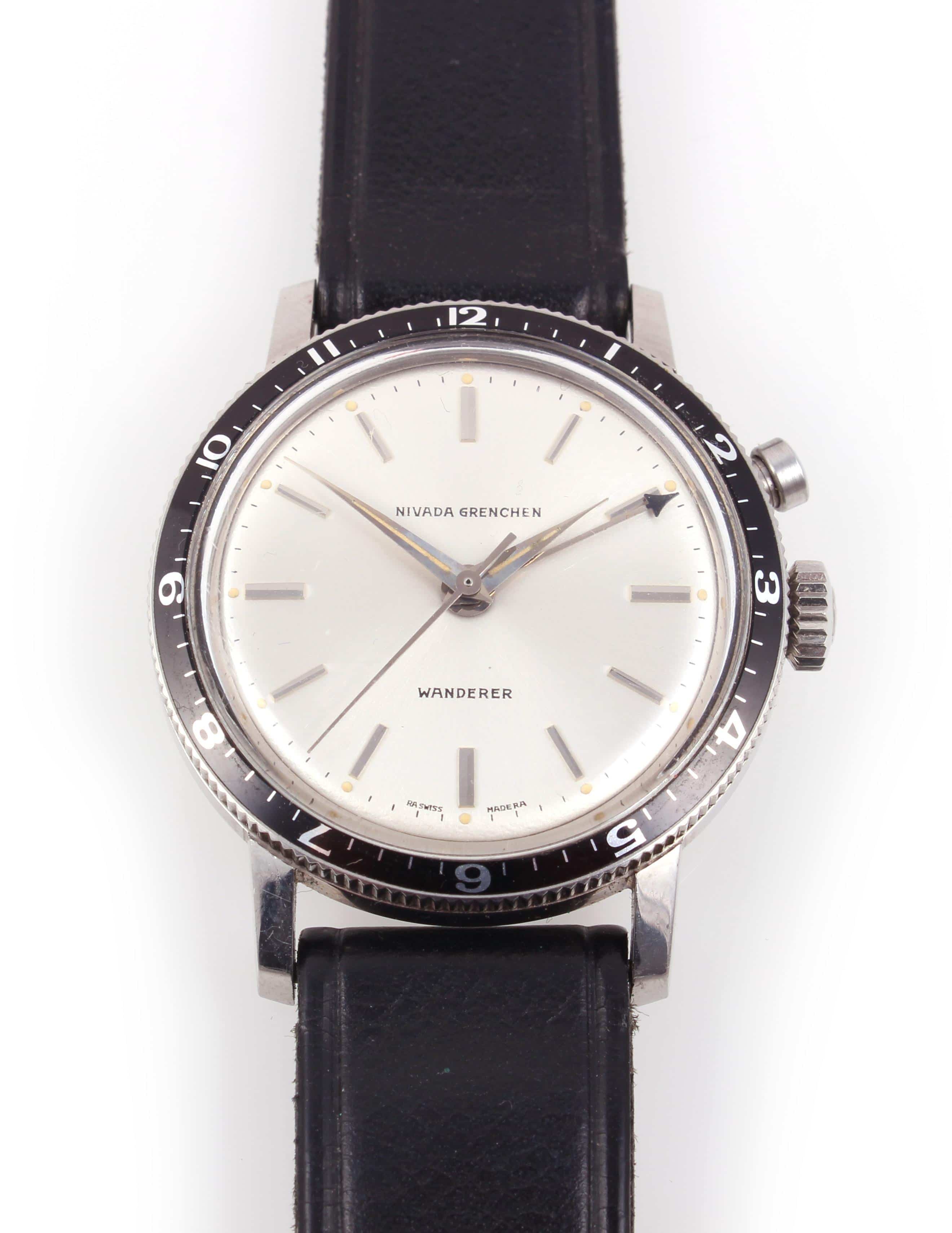 Image: www.dorotheum.com
My old love
I found out that there was one available at an auction in a city nearby for two months and it did not pass for call price of approx. 400 Euros. It was NOS, had an original strap, and came with the original tags. So in the third month, when I found it, I went there to bid. But I ended up in an irrational bidding war with someone else and I am happy I lost. The hammer price was 1350 EUR. This Nivada Grenchen Wanderer was stunning and it still keeps me from sleeping at night some times.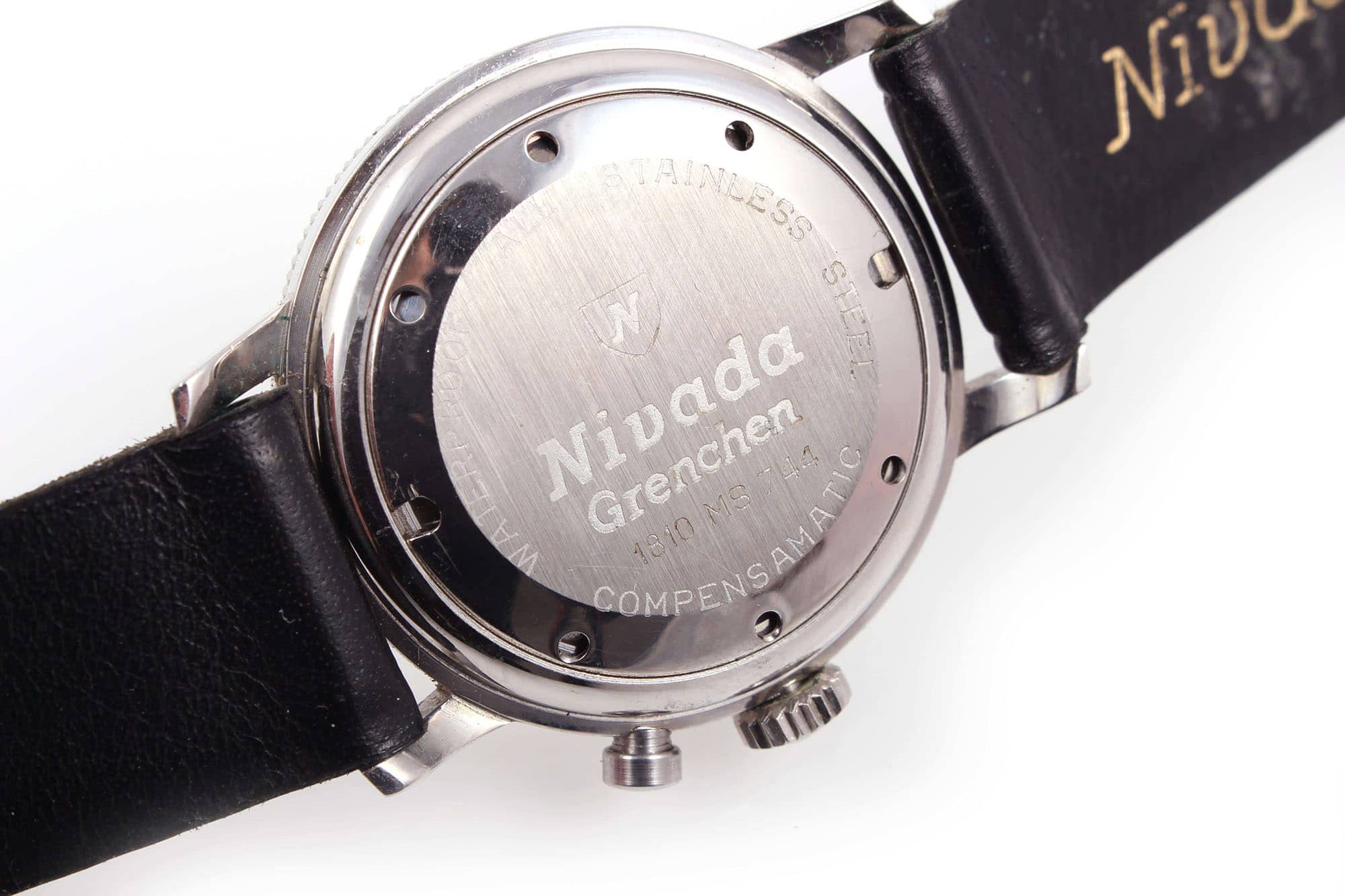 Timex Rotary Dial
I don't know how to put it gently (so I won't): I hate this case shape. But that's my problem, of course. What I do not have a problem with is the amazing dial. When I saw the dial on this Timex for the first time, I immediately thought of the orange rotary phone we had at home when I was a kid.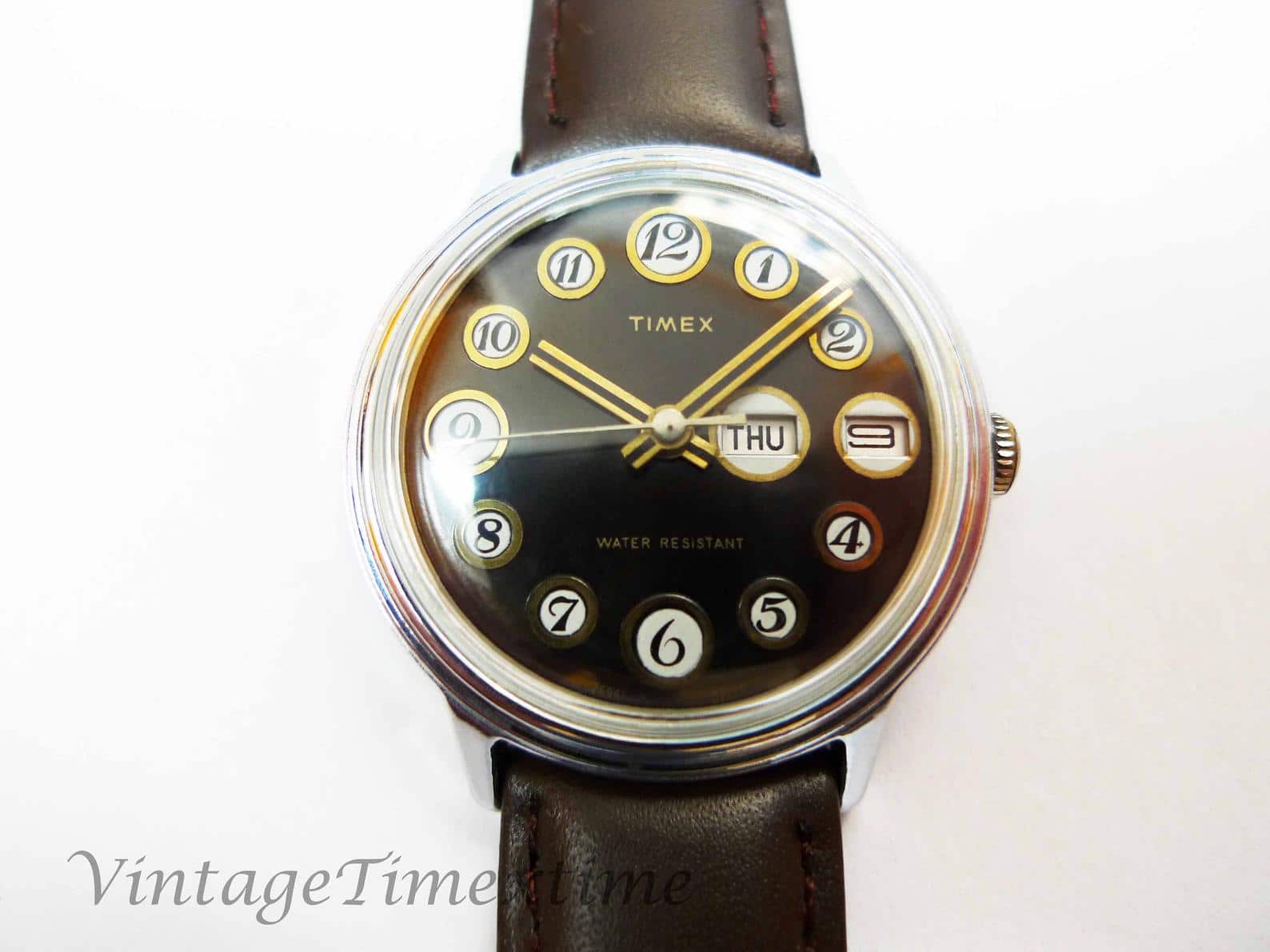 Image: www.etsy.com
I am not that guy that keeps all the secrets for himself. I mean, I dare to speak about an unbelievable vintage timepiece I just discovered
Gamechanger
And here we go. Research for this article brought also information it was available in a perfectly round case. Add a brown dial, striped hand and you get a watch that jumps up a few positions on my wishlist. According to some sources, the Timex Marlin with a manual wind movement originates from 1976. The Day and date complication make me like the watch more with every single punch on my keyboard. Time to stop!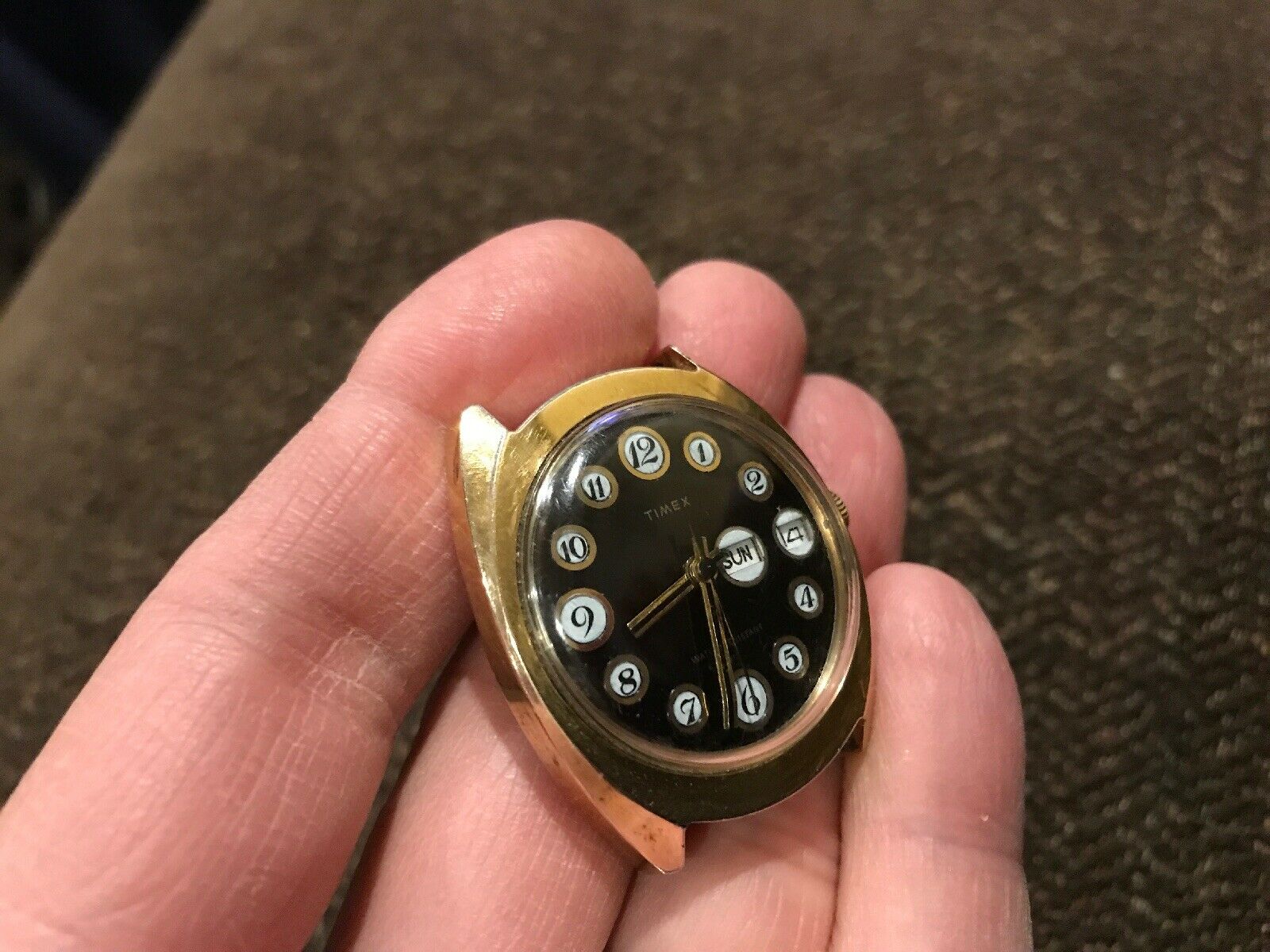 Image source: www.ebay.com
Mido Multi-Star
This is one of the watches I regret I did not bid on. To count my thought on the final 200 Euro price tag – an original non-traditional bracelet, signed crown, interesting case shape, sea blue dial, day & date and – drumroll please –  a FISH shaped second hand. I don't have a better name for it, but the red skeleton central second hand is simply awesome. The birth of my beautiful daughter last week made me refrain from bidding on this one. Well, it is perhaps the best excuse anyway for not bidding on a watch.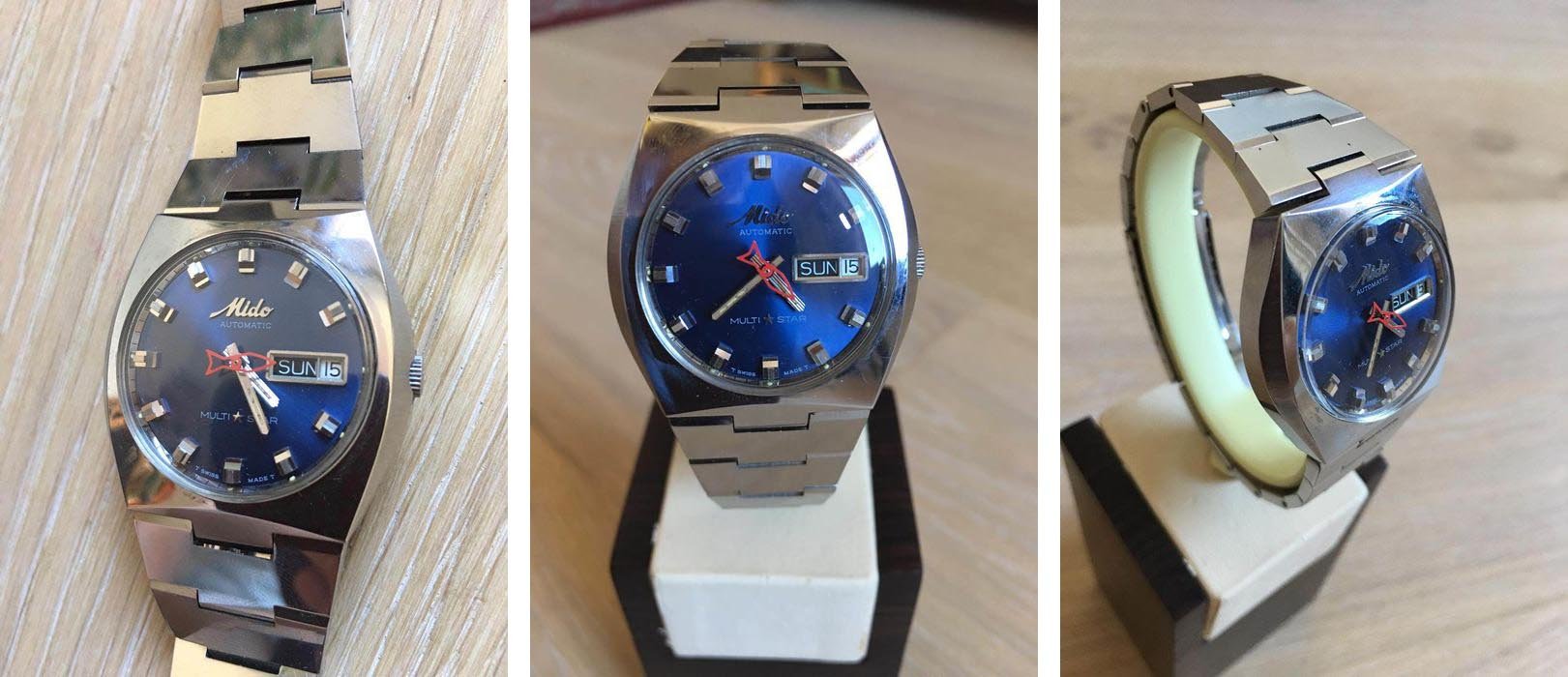 Image: www.catawiki.com
Bucherer Chrono "Date 9"
I had my orange central second / chrono hand period. Period. I even created a thread on omegaforums.net on the topic. I think this is one of the reasons why this Bucherer got my attention a few years ago. Studying my archive pics on the model today, it might be also due to my grey dial period. You know, things get blurry after you have moved on. Or was it a date at 9?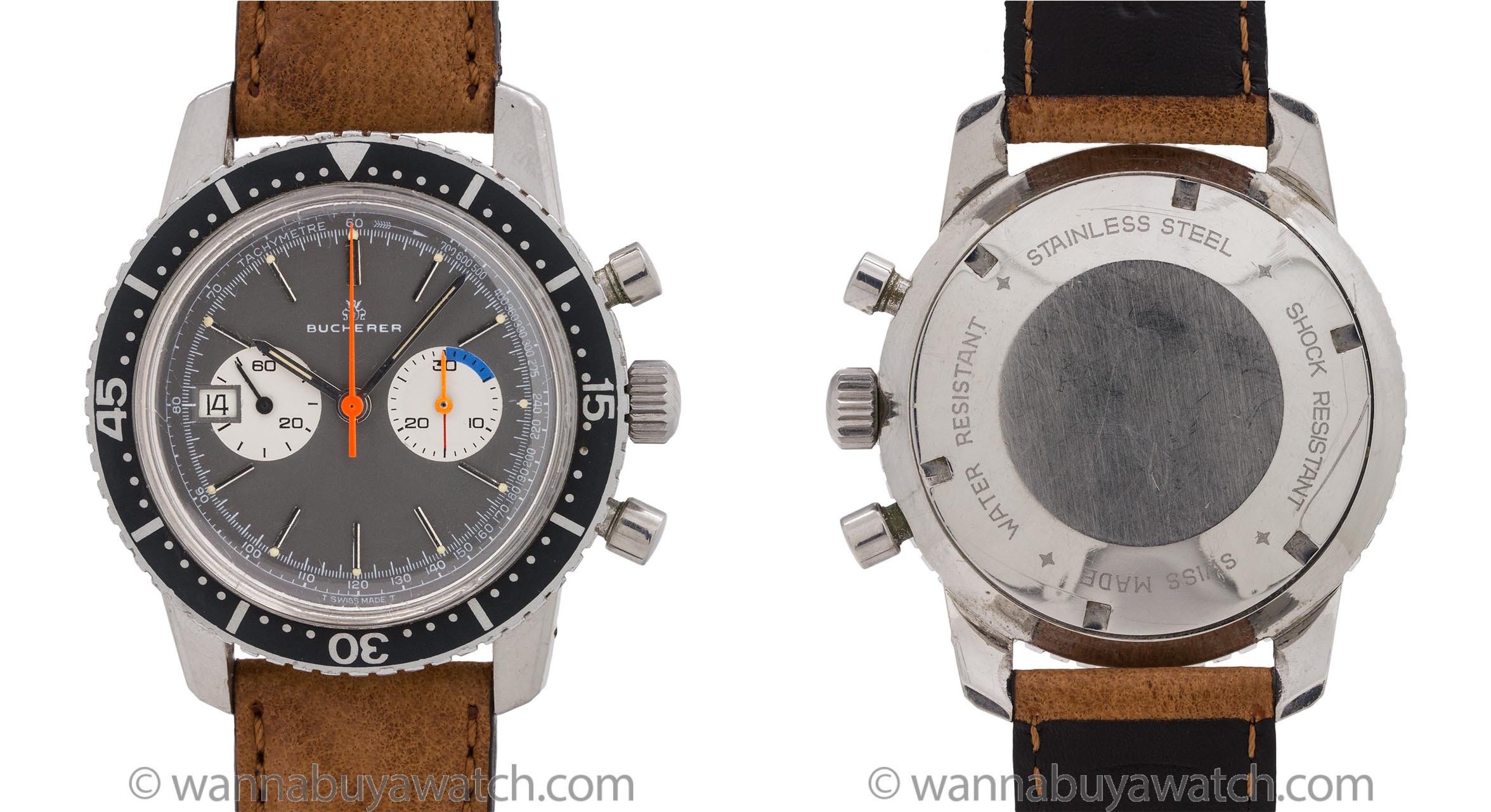 Big diameter
I remember clearly I was very close to get one of these big boys. It was the 41mm diameter that stopped me from buying it, I am not into that. Do you see how different we are? Big diameter is something that a lot of people pay a premium for, especially for a 1960s watch. But a diameter above 40mm might be a show stopper for someone else. It is up to you to let your taste guide you.
Happy hunting and happy adding watches to your wishlist. Want to share your wishlist or ideas, shoot me a note via [email protected] or a direct message on my Instagram account (@rosputinsky_tomas).