#TBT Gallet Multichron 12HR "Torch Dial" – A Lesson in Watch Restoration
On today's #TBT, we'll take a brief look at a seldom seen version of a watch we've covered in the past. The subject of today's post is the Gallet Multichron 12HR "Torch Dial". It's a piece that I hemmed and hawed about covering because of its similarity to a piece we already featured, but it's a bit of a fan favorite with more than one reader asking for more info. I'll also start with a detour and provide a cautionary tale regarding the servicing of our dear vintage specimens.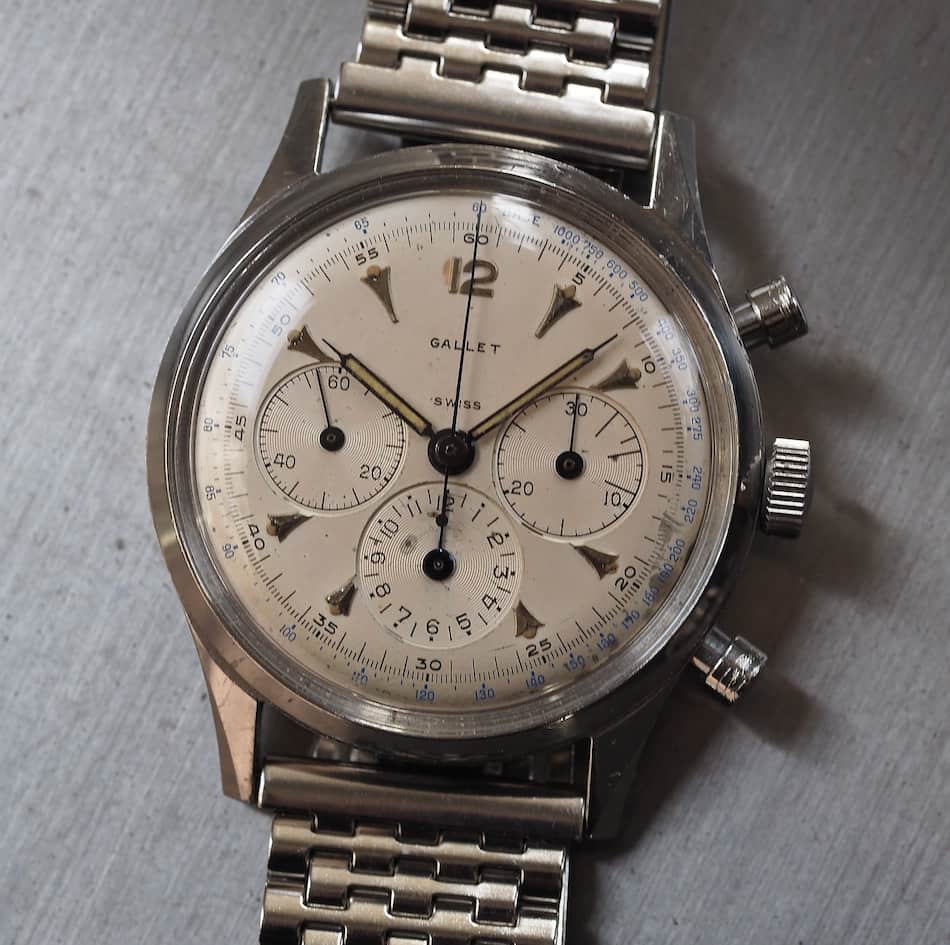 A Rough Gallet Multichron 12HR
It was sometime late in 2015 that I spied the Gallet Multichron 12HR in today's article. It was on eBay and it looked a heck of a lot of different than today. Namely, the watch did not work and it had a cracked and severely scratched crystal. Additionally, it had what was most certainly an incorrect, and highly undersized crown. But, the watch looked like it had potential. A solid case paired with a decent, mildly stained dial seemed like a decent gamble at roughly $800. Then, a brief chat with the chief enabler, aka @watchfred, made me hit the button. And so the watch arrived…and then the watch sat.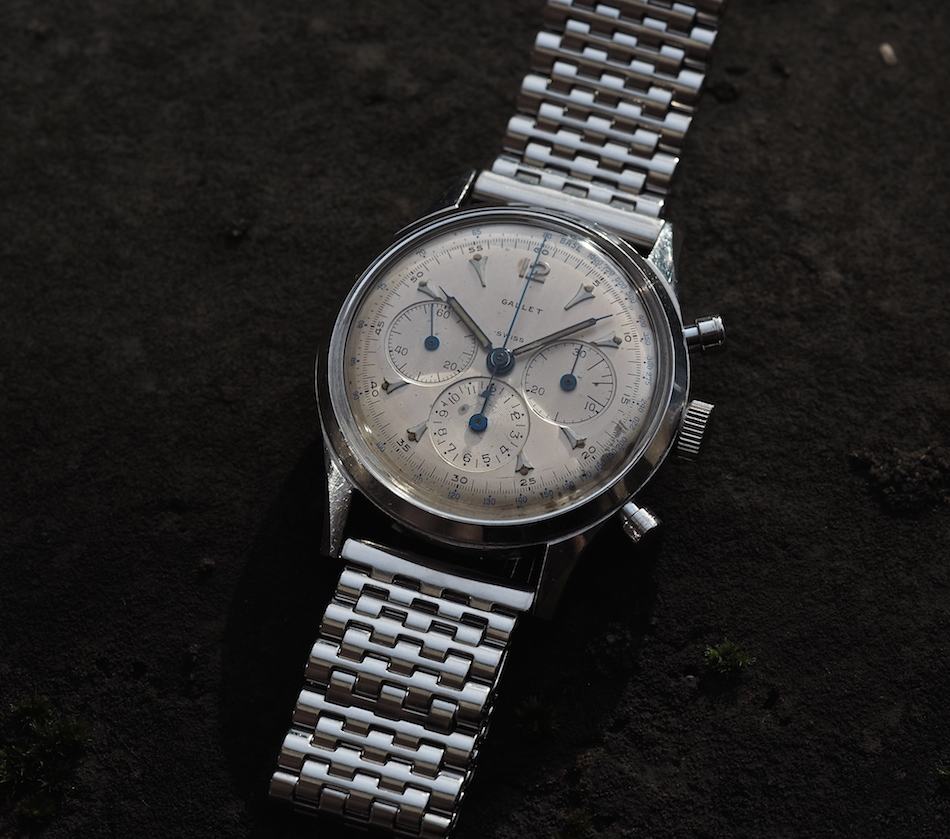 I Have Postal Phobia
Sorry, you get a second detour during today's episode and this has little to do with the Gallet Multichron 12HR, but hear me out please. I live in a large city, but it's seemingly one without a renowned watchmaker – or, at least without one who specializes in working on restoring vintage chronographs. Therefore, I am normally forced to use the mail to get my timepieces to the appropriate spa. And, let me tell you, I hate using the mail. I don't distrust it, although within various chat rooms, forums, and facebook pages, I get to read about countless lost packages that never resurface. No, I hate the process of mailing a package – especially when my foreign language skills are lacking – and I hate revealing the worth (or potential worth) of an item when asking for insurance and then leaving said item with a stranger. It just feels wrong. So, my broken watches end up sitting around until I summon the courage to send them on…and so it went.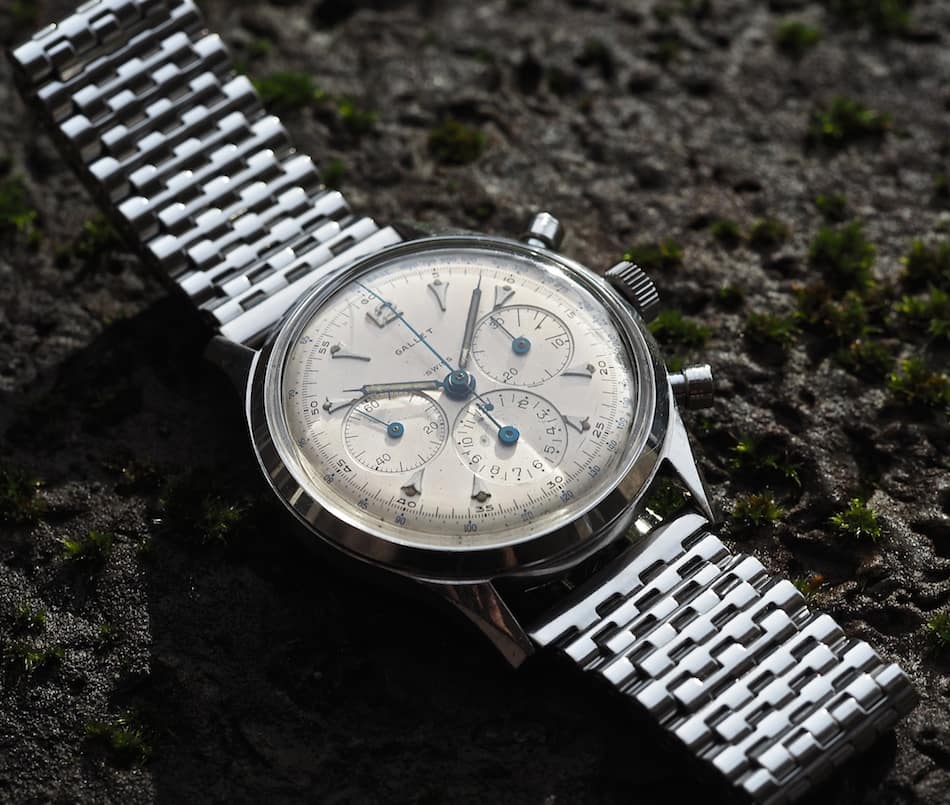 A Lesson in Finding Parts
The Gallet Multichron 12HR "Torch Dial" made its way to Andreas at LocalTime in Cyprus and then, due to its relatively special movement, it went to a watchmaker in the UK. Yes, if you're following, the Gallet did a lot of time in the mail… When it reached the UK, it found its way into service and then, uh-oh, the Excelsior Park 40 called for a new winding pinion. Now, if this had been a far more common Valjoux 72, the issue would have been solved more quickly, but the EP40 is a less common bird. A month or so later, though, the unicorn was found (thereby reducing the number of remaining EP40 winding pinions in the universe by exactly one) and placed inside the case of the Gallet. Problem solved and the Gallet, after exactly two more postal experiences, was finally in my hands.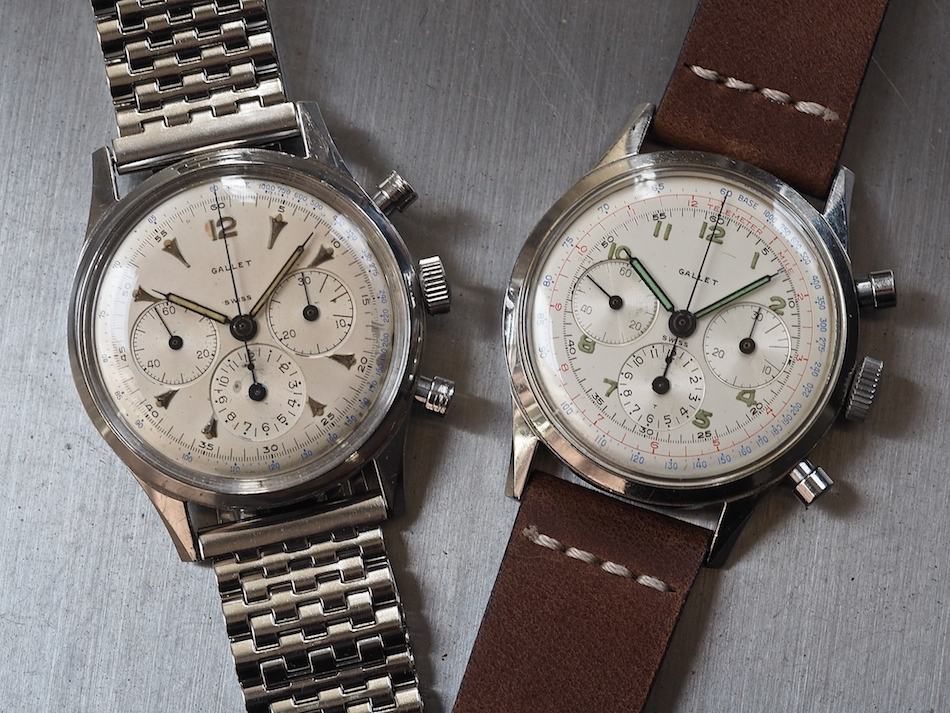 The "Torch Dial"
And so after hearing about my fear of dealing with those in the postal field and concerns about parts, what's so special about the Gallet Multichron 12HR "Torch Dial"? It's a relatively rare variant of the Multichron. It trades out the lumed indexed dial of the normal Multichron for a dial with applied plots that are capped off by pips aside from the big, bold "12" up North. It makes for a slightly dressier affair. Additionally, the Torch Dial loses the Telemeter scale found on the more common version, but still keeps its sporty intentions with its blue tachymeter on the outer track.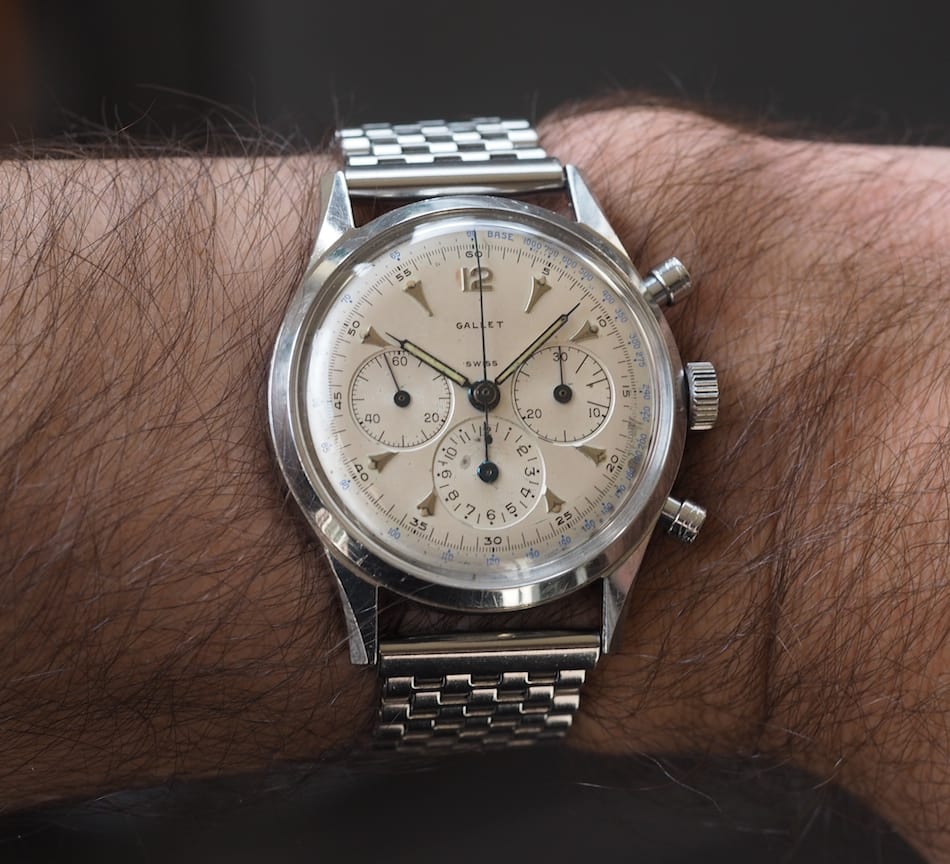 Choosing a Multichron 12HR
Which Gallet Multichron 12HR strikes my fancy more is a tough question. Naturally, I like having both around, but I do find myself wearing the Torch more often. Credit those clean looks and the pairing with a vintage, albeit far newer 1960's steel NSA bracelet. Despite being 10-20 years younger, the bracelet suits the watch well and makes it extremely comfortable. At 38mm with 20mm, it's fairly commanding on the wrist as well.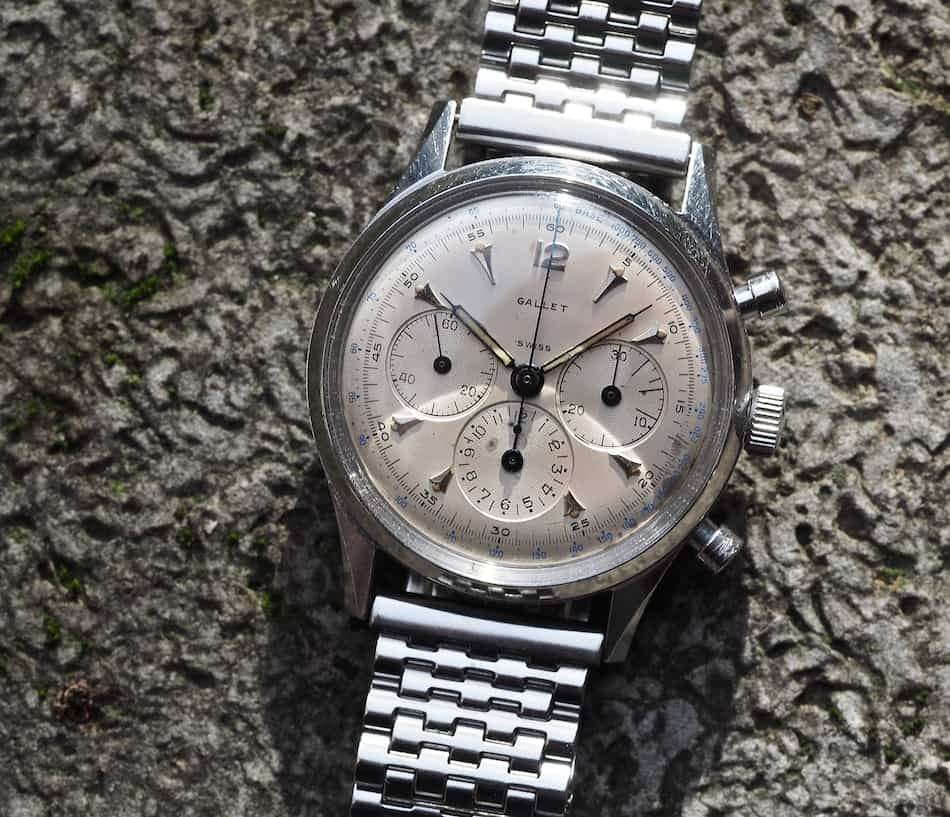 Aside from the aforementioned movement parts issues found in old watches, a Gallet Multichron 12HR "Torch Dial" makes for a stout runner. Finding one, though, can be problematic. Models outside of the more standard fare are very few and far between. Value wise, Gallets have become popular and prices have risen accordingly. Figure on $3,000 for a nice example and rest assured that you'd be left wearing a fantastic chronograph that won't be replicated at your local watch meet up.