#TBT Gentleman Among Vintage Chronographs Mido Multi-Centerchrono
Best design and craftsmanship from the 1940s
It's not impossible to get your hands on them today. They pop up a few times a year, but you need to be very careful and check the condition very thoroughly. Especially if the asking price approaches the €5,000 mark.
Speaking of the price. While it seems quite high for a Mido watch, actually it's not that much when you compare its quality, features, and uniqueness with any other highly regarded chronographs from the era. I guess the case size is to be blamed. It's probably the relatively modest 35mm diameter that limits the Mido Multi-Centerchrono from reaching the peaks of auction (or shall I say Instagram?) fame. But we will get to the diameter later. Let's start with the essentials.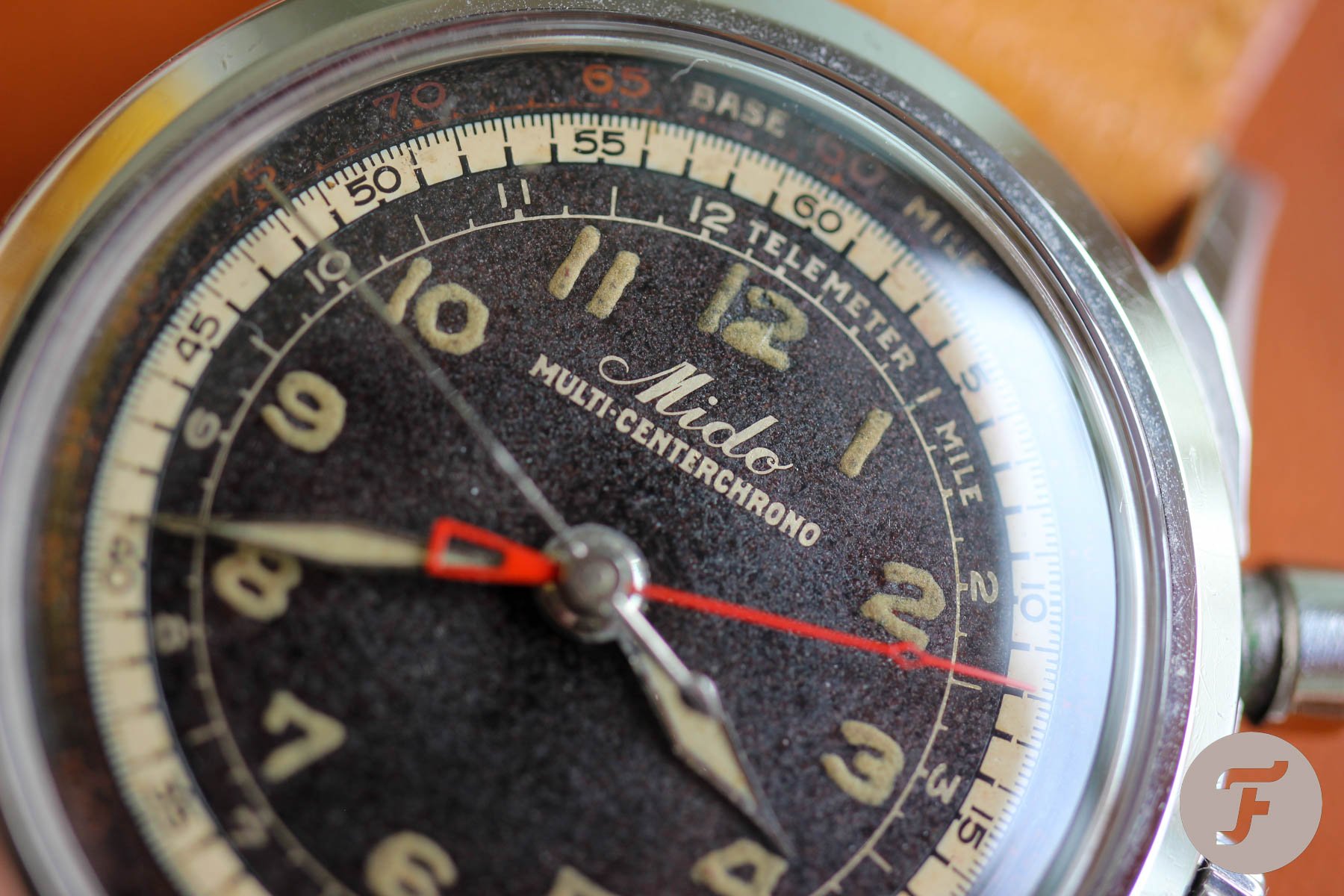 Mido Multi-Centerchrono
With this piece, there are no sub-registers as we'd expect from all standard vintage chronographs. If it weren't for the pushers, you could easily overlook that the Mido Multi-Centerchrono is even a chronograph at all. The chronograph functions were centralized and the short sub-registers hands were substituted by two central superimposed hands. The shiny hand with a spade-like counterbalance sits on top and works like a typical chronograph central second. Beneath it, there is another beautifully shaped hidden red hand that records elapsed minutes. The red minute hand is truly unique in its shape. Finding an original replacement might be a very long and challenging task to accomplish.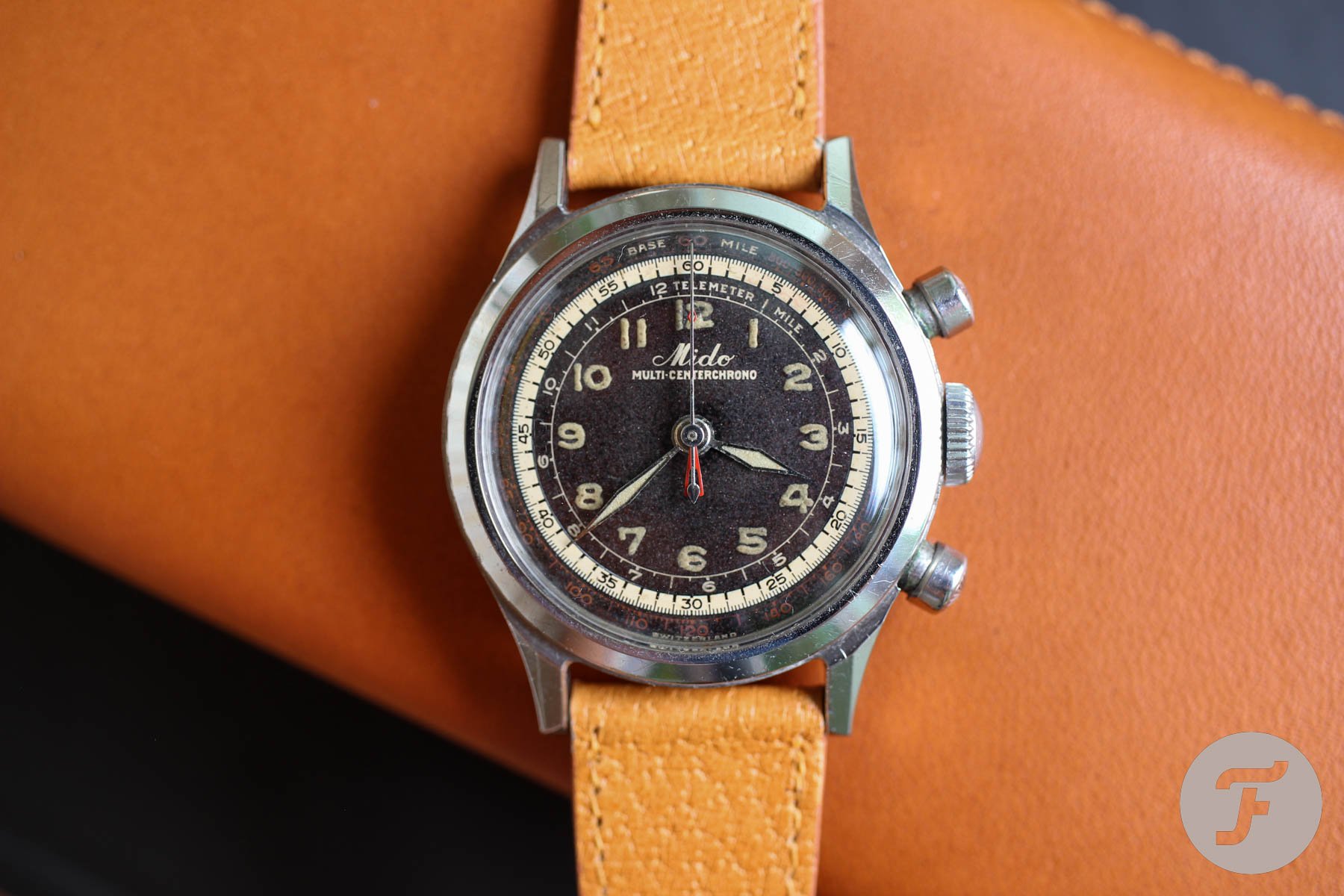 Where's Waldo? Sorry, Where's Mido?
Here you are, with the chronograph resting, the Mido Multi-Centerchrono looks like a decent three-hander watch. The highly polished central seconds hand perfectly hides the minute counter hand. Notice the tiny diamond-shaped window that sticks out. Here's a little information for you: both the diamond and the tail should stay empty with no filling, as they left the factory in the exact same way. If you see a Mido Multi-Centerchrono with the minute hand filled in with lume, well, you are facing some unprofessional work.
The case with the watch case
The watch case, pushers, and crown urge you to get the popcorn ready. Watching this watch in action is a treat. I guess even newbie collectors can see the quality without being able to pinpoint exactly what it is about this watch that reeks of class. When it comes to the case construction, a little name-dropping is in order: it would be the famous Tauber et Fils that took over the even more famous François Borgel. The quite narrow, but wide pushers with deep sunburst engravings and nipple-like tops are real pieces of functional art that you might also find on Patek's first waterproof chronograph. For me, it's really interesting how small, beefy, robust, and elegant they look all at the same time.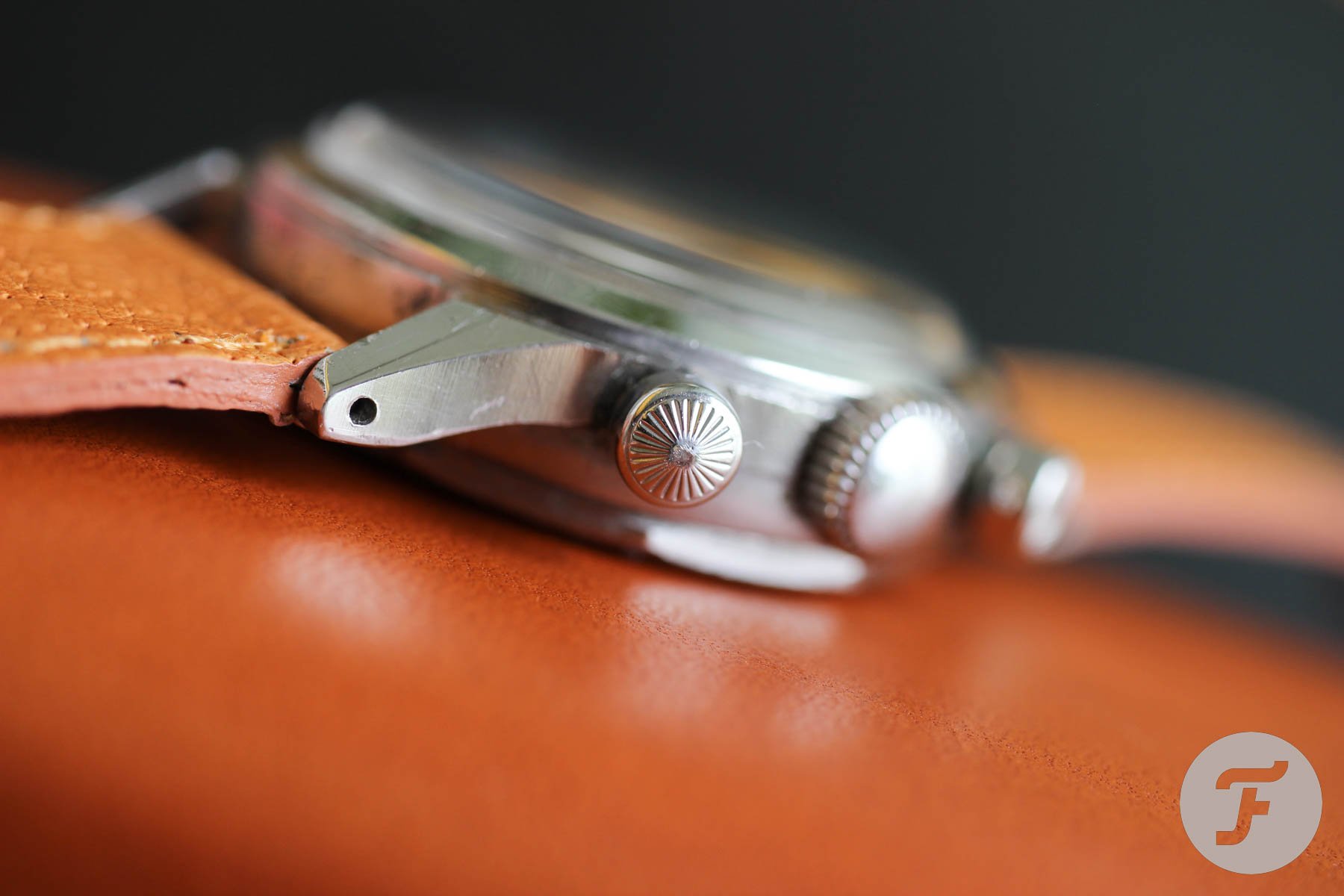 Hugging crown
The crown received at least the same level of attention as the pushers. Despite having no special stamping or other fancy elements, it looks aristocratic enough. It's surprisingly wide for the case diameter, but it doesn't feel disturbing at all. With that ball-like head and sloping teeth, it looks like it's trying to hug the case. Visually it's pretty playful and has a baroque-like touch full of curves. It's a joy to wind too.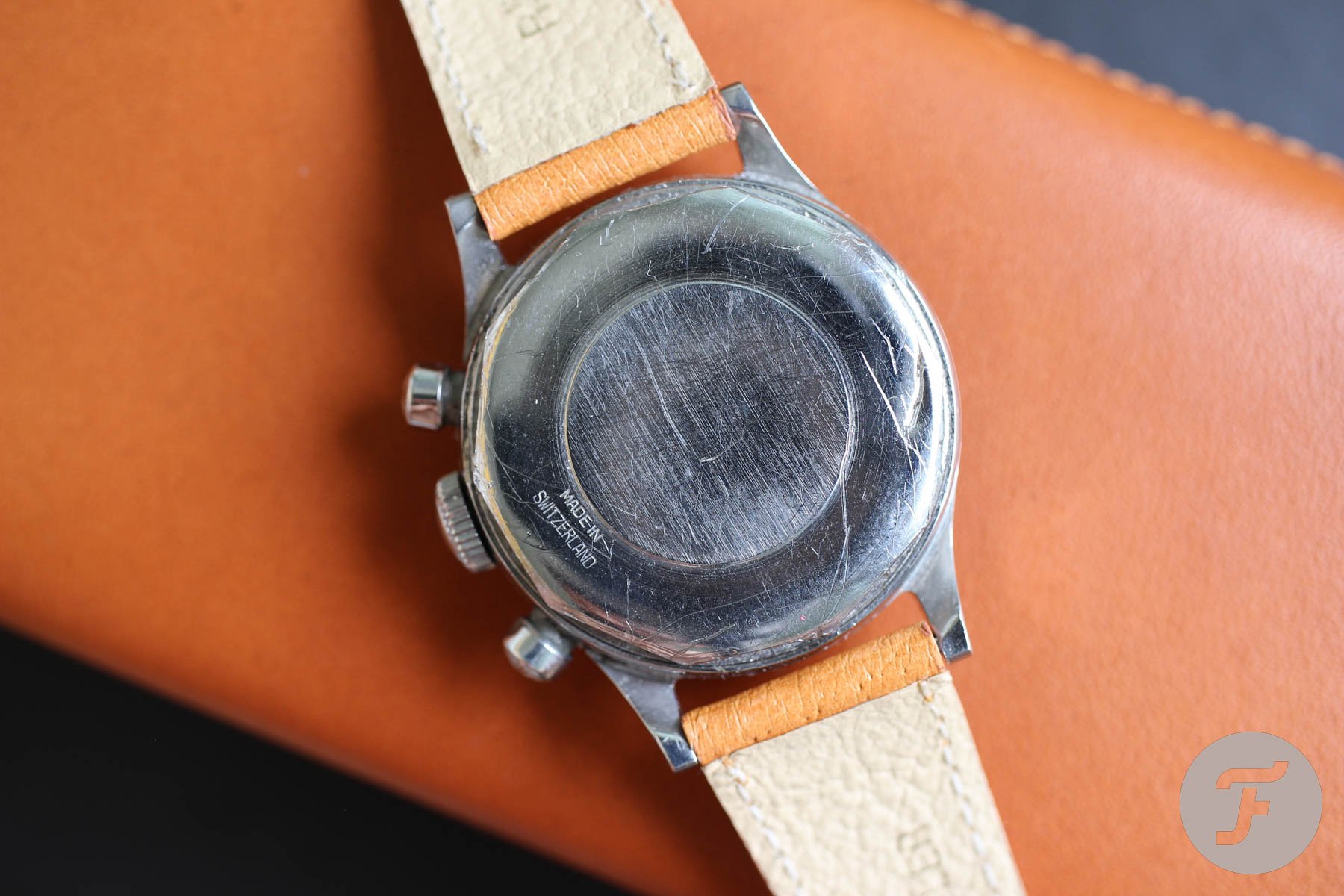 Case back
As I mentioned Tauber, it's nice to look at the case back too. Here you have another one of his patents. The decagonal case back signed with patent number 385509 might seem pretty standard, but it's Tauber who made it standard after supplying it to many Swiss watch manufacturers for decades. We all know the deeply injured case backs when case opener tools slip from the case back notches. From that perspective, the decagonal case back with its characteristic 10-sided cut around the edge that fits a special opening tool is much safer. That is unless it gets into the hands of a pro with a screwdriver and a hammer. If you are interested to learn more about Borgel/Tauber cases, here is an amazing source of information on the topic.
Mido Multi-centerchrono Dial styles
Besides the black dial version there is also a pretty unusual dark brown and white dial, my favorite actually. I often use this as a benchmark example of the perfect patina and additional 13-24 tracks. If you flip through the image gallery, you can also see different versions of the track mix and their arrangements. A pulsation dial is without a doubt the most valued and sought after. In the last five years, I haven't seen a single piece for sale though.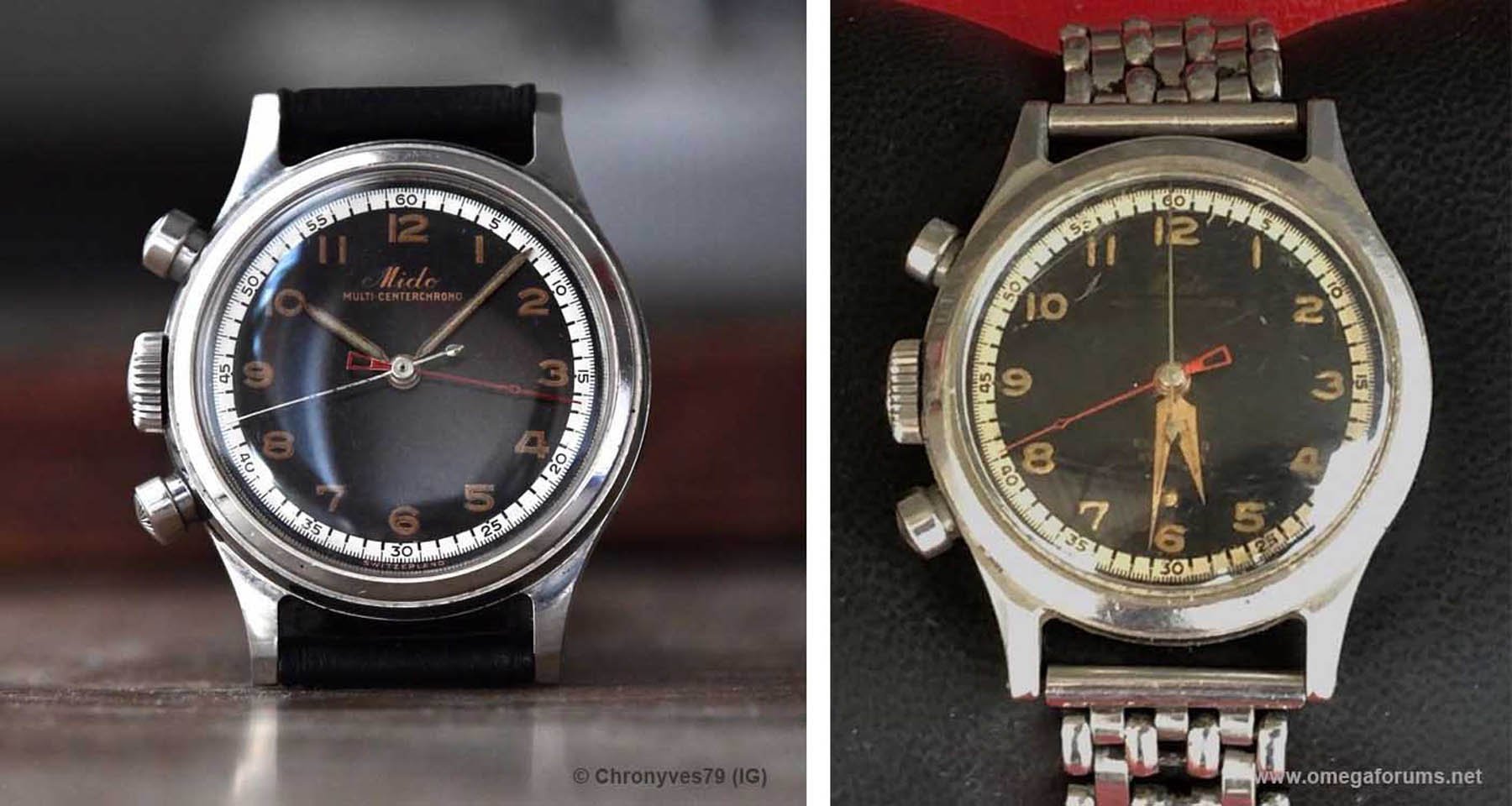 To complete the Mido Multi-Centerchrono offering, you can also bump into a special modification for left-handed folk. Spoiler alert: don't get too excited and don't pay a premium. As you can see by the distance between the pushers, it's probably a case standing upside down with a dial fixed or redialed upside down. Notice also retailer sub-branding and interesting additional lume dot above six o'clock.
Shotgun notes
The Mido Multi-Centerchrono was first introduced in 1941 and according to Sébastien Chaulmontet/Joel Pinson's book about the greatest chronographs of all time, it was the only chronograph Mido offered throughout the 1940s and 1950s. Most of the case backs are beautifully engraved, but you can meet also a plain version like mine. Both are authentic. Behind the protective cap, you can find a beautiful Mido movement 1300, which is basically a modified Valjoux VZ used to operate the central chrono second. The mainplate and the bridges are finished in copper will please your heart despite all this glory is hidden behind the case back.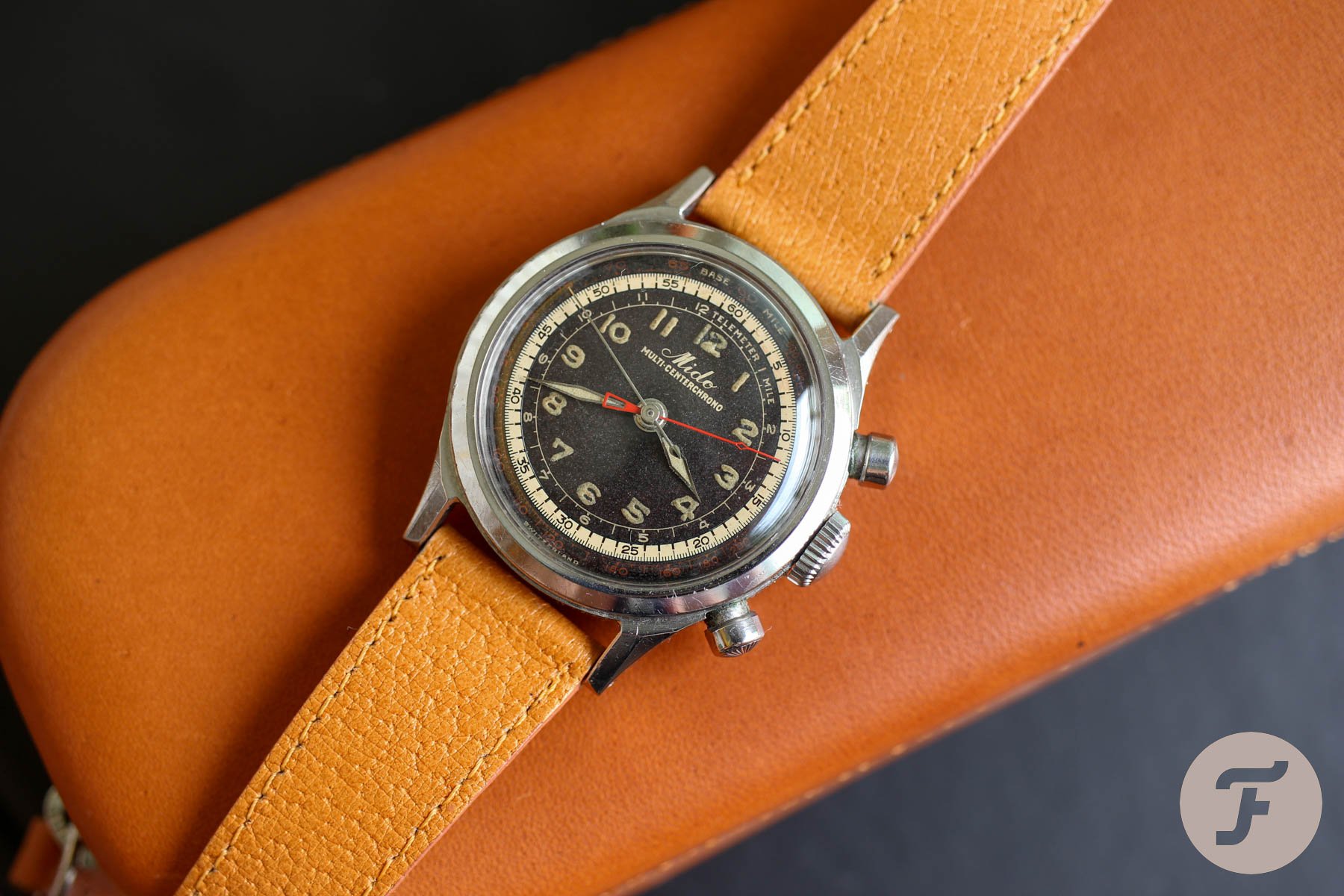 Mido Multi-Centerchrono on the wrist
It's a charmer. Not having sub-registers, but still being able to enjoy a 60 minute time recording, that's pretty refreshing. If you add the pushers with their Patek flair, you get a truly unexpected load of design and functionality on your wrist. I really enjoy starting the chronograph with its "split-second" feel. The telemetric and tachymetric scales run from both sides of the only white element on the dial, the minute track. A minor, but quintessential detail that underscores the elegant and functional design. It also provides phenomenal legibility. When it comes to wrist presence, we usually comment if it looks smaller or bigger than it actually is. Well, the Mido Multi-Centerchrono is 35mm and it looks like it's 35mm. There are watches I wish were two or four millimeters bigger. Not this one. For me, it's just the most accurate and best 35mm diameter watch ever manufactured.
Last thoughts
Functionally, there is only one other watch that can beat the Mido Multi-Centerchrono and its central minute recorder. And that would be the Longines ref. 5699 with its 12-hour counter. But when it comes to class, you can hardly find more elegance. Despite the 35mm diameter, or maybe because of it, the Mido Multi-Centerchrono is one truly vintage "gentleman's" chronograph for acceptable money. Happy hunting.