#TBT Is The "Jim Clark" Gallet Multichron 12 One Big Fantasy?
Even hardcore Gallet fans demand evidence
We have an Emperor's-new-clothes kind of situation here. It's about time to figure out the truth after 15 long years. The "evidence" offered is not very substantial, and for me and some other real Gallet enthusiasts, there is no Jim Clark Gallet Multichron 12. Not yet… No matter how badly we want it to be true, no matter how much it hurts… Conclusive evidence is still missing.
It has been a few weeks now since I decided to start writing this story. Of all the 250 articles that I have written for Fratello, this will undoubtedly be the most difficult to write. Digging deeper into the Jim Clark Gallet only adds more suspicion, not more clarity. It's almost shocking that no one has publicly explored this topic yet. Well, I guess someone has to do it. And believe me, with Gallet being the most well-represented brand in my vintage watch collection, it won't be easy.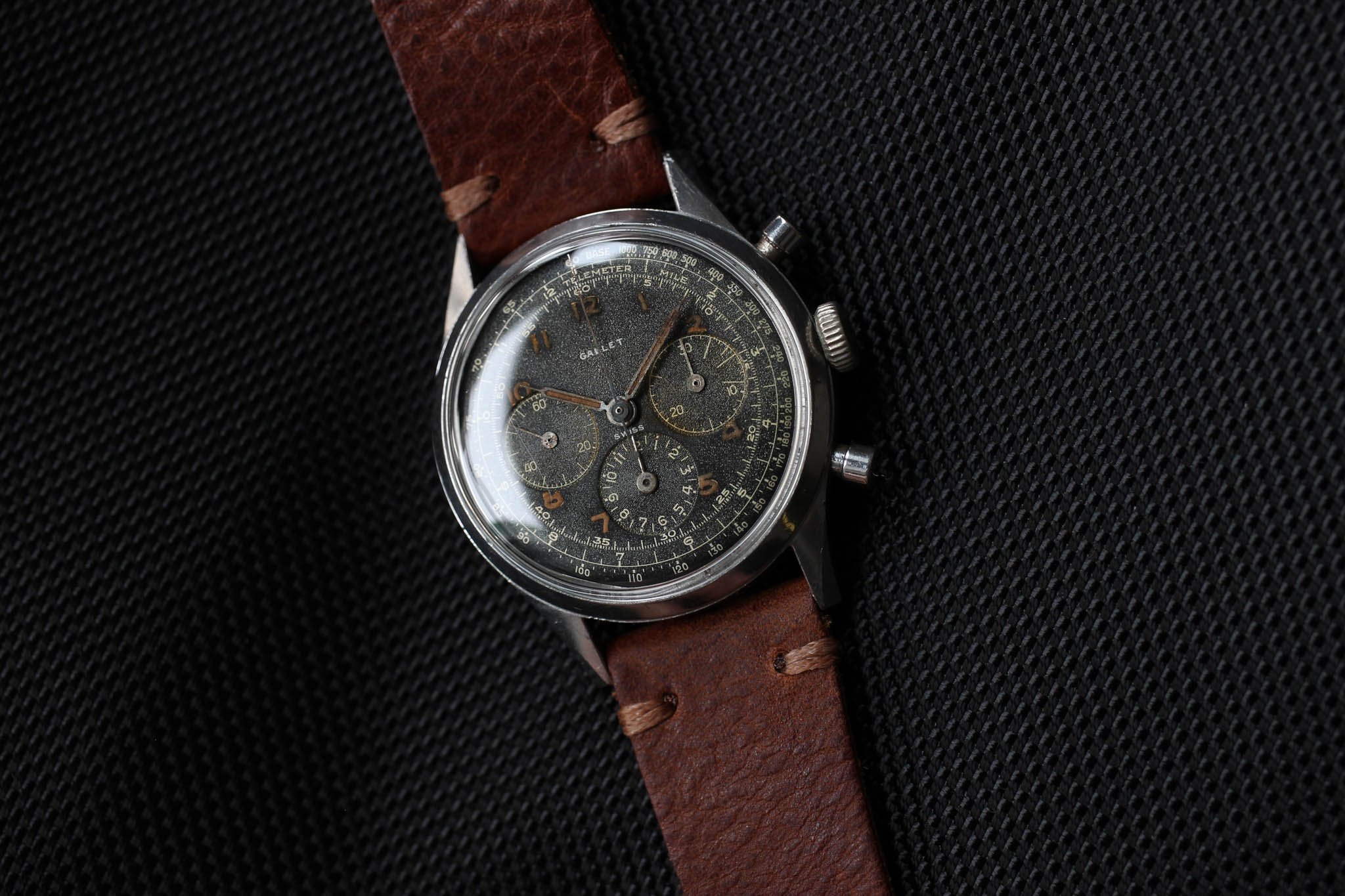 Gallet Jim Clark wake-up slap
Last year, after a few years of hunting, I finally landed a crazily aged black Gallet Multichron 12 nicknamed the Jim Clark Gallet. I took the Jim Clark Gallet nickname as a fact, as you do with the Breitling 806 Jim Clark, or the Enicar Sherpa Graph Jim Clark. I've seen pictures of the Jim Clark Gallet and the nickname posted so many times from so many sources. I remember the Carlini provenance (we will get to that soon) and I would have bet my flat on the fact that the connection to Jim Clark was solid. Well, that was until a few weeks ago when I posted my watch addition on my Instagram. When the renowned and respected collector @WatchFred comments, "Should we really continue calling these #JimClark?", you know something is off. When a few others chimed in, I immediately started digging deeper.
Jim Clark was a Scottish Formula One driver who claimed two world championship titles in 1963 and 1965. He is considered one of the greatest drivers to ever grace the sport. Most importantly for this story, he also won the Indianapolis 500 in 1965. The triumph came on the third of his five appearances in Indianapolis. As claimed by Gallet representatives, "Jim Clark wore a black Gallet Multichron 12 to track the year he won." The problem is, we have no pictures of Jim Clark wearing the watch or "endorsing" Gallet, no period advertising, and no news clippings. We don't know for how long Jim Clark wore it, or even if it had an Excelsior Park 40 or a Valjoux 72 movement.
During my research, I also contacted Gallet representatives. David R. Laurence, the company's COO & Marketing Director says, "The MultiChron 12 was a watch he (Jim Clark) personally purchased to use." As there is no proof of that, I raised the opinion that it the statement was way too vague to function as a standalone fact.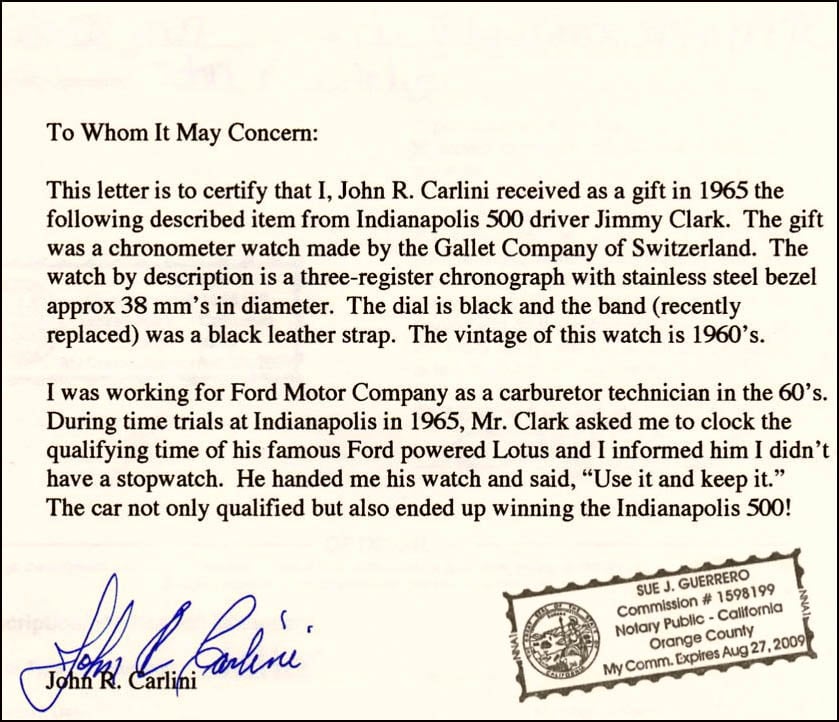 So-called evidence
Gallet then directed me to the beginning of the Jim Clark story, a notarized document from around 2007. In the document, John Carlini, a carburetor technician, explains that Clark gave him the Gallet watch to independently time the qualifying run in the 1965 Indianapolis 500. Where does the document come from? Originally, it was part of an eBay auction from when Carlini's family decided to sell their Gallet watch.

Nobody is undermining Carlini's integrity. All the watch community is asking for is tangible evidence. At the end of the day, a notarized document from an eBay sale doesn't prove much.
If you read two watch forum posts from the original buyer of the alleged Jim Clark Gallet watch, the notarized evidence also wasn't enough for him. He also clearly said that there was no family document attesting to any connection with Jim Clark. Based on his own words, he provided the information and copies to the Gallet library. And based on my recent communication with Gallet, it seems that the brand built the entire story on that alone.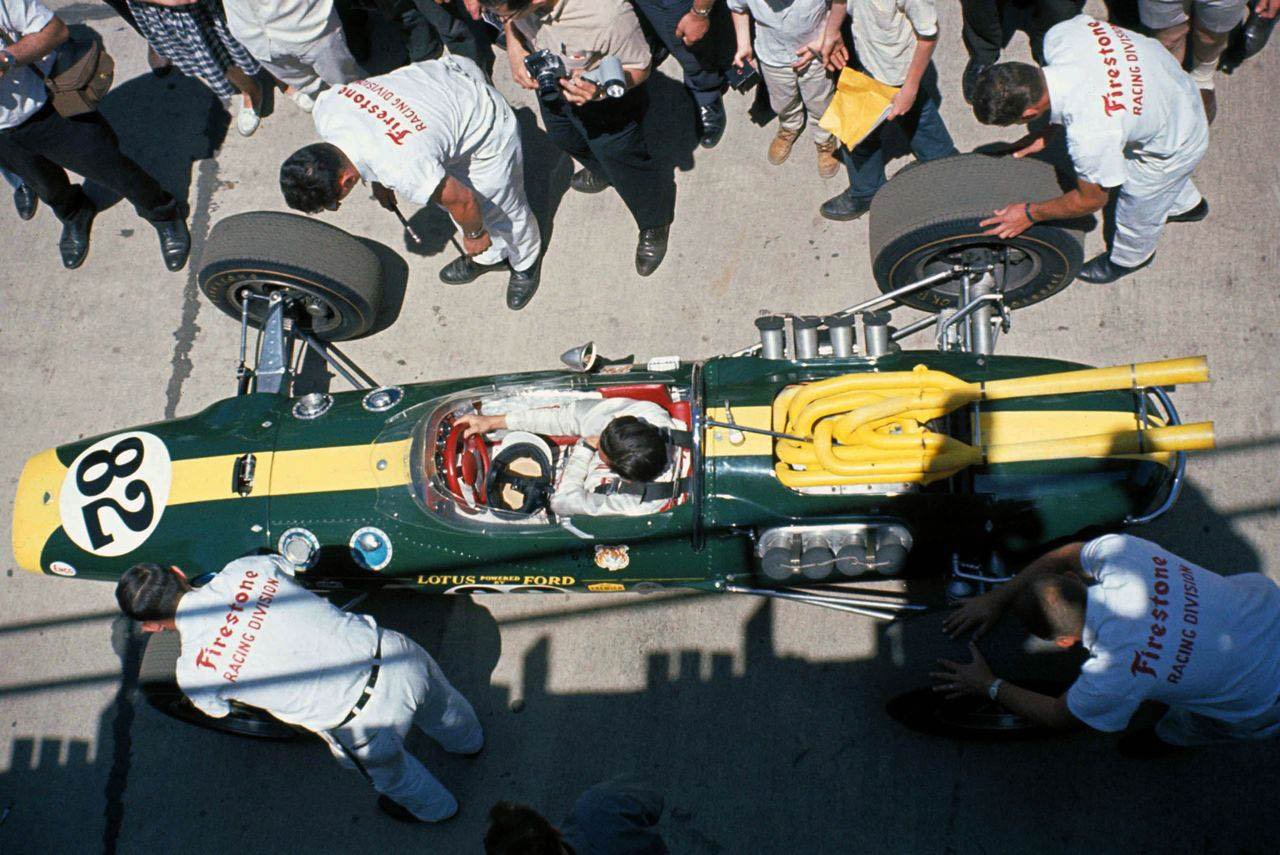 What do you see?
As more evidence, David Laurence sent me a picture in which, he says, "you can see the watch on Jim's wrist as he is preparing for the qualifiers." First of all, one can hardly consider such a photo as evidence. Besides, as hard as I try, I don't see a black-dialed watch. What I see is a bright-dialed watch on Jim Clark's wrist, and it is, in fact, an Enicar watch. And that brings us to another chapter.
"I scanned thousands of Jim Clark pictures and I haven't seen one Gallet on his wrist. The watches I saw were a three-hand watch before '63, the Sherpa Graph till '66, and after that until his death, the Navitimer," explains Nico Henke, an Enicar expert and Enicar101.com blog author. And that's the concern. Many knowledgeable collectors, including Gianvittorio Molteni, did in-depth research and never found a single Gallet watch. There are many pictures of Jim Clark wearing the Enicar Sherpa Graph and the Navitimer in 1965. But why isn't there a single photo of him wearing a Gallet?
Over the last few years, a lot of photographs from the 1965 Indy 500 have resurfaced. The fact that there are no pictures of Jim Clark with a Gallet watch is thus even more suspicious if we believe the claim that he personally picked up the Gallet Multichron 12. One may contest that Jim Clark's partnership with Enicar may have restricted him too much. But would he wear his Sherpa Graph at so many documented off-track events if he didn't like it? Well, it seems he wasn't caught on camera wearing a Gallet watch one single time.
Another Jim Clark Gallet?
Adam Harris, a former Guest Wristwatch Curator at the National Watch & Clock Museum, joined the discussion on Jim Clark's connection to Gallet a few years ago. He states that there is "a loan agreement from the Jim Clark family, officially loaning this [Jim Clark's] watch to the Museum. … I can not post the family's letter/signed document, although I have seen it. And I have emails from the family that are conclusive. They are not mine (authorized) to post publicly." So does that mean that there are two Jim Clark Gallet watches? That's another question to which we have not found the answer thus far.
More fuel to the fire
I checked and found that there is a quite recently donated Gallet watch on exhibition at the Jim Clark Museum in the UK. But according to the museum, Gallet donated the watch, not the family of Jim Clark. "We did have plans for a collaboration with Gallet to produce a limited edition Jim Clark watch. However, plans never came to fruition and it is my understanding that the watch will not be produced," says Liam Howel, Secretary of The Jim Clark Trust.
But if you go to Gallet website, you will find that the proceeds of the new watch will go to the Trust. So is Gallet using JCT just as a marketing pawn? Dig deeper, and you'll find more confusing information. The homepage shows the watch will be ready in mid-2022. Click inside, and the dedicated page says the watch will be ready in January 2021. I don't know how you feel about that, but it seems odd to me. As stated here, Gallet became an exclusive partner with the above-mentioned Jim Clark Museum in Scotland. If you check the current list of Jim Clark Trust Supporters, you will find Richard Mille, but no mention of Gallet.
In 2017, Gallet partnered with the Hockenheimring and became an exclusive timekeeper for the Bosch Hockenheim Historic. In honor of this event, Gallet planned to release a limited "Heritage Edition", inspired by the Jim Clark chronograph. The new "Heritage Edition" announced in 2017 should have seen a run of 1,965 signed and numbered examples. In the end, Gallet produced a maximum of just 500 pieces.
Gallet's communication is quite confusing, as are some of the company's claims. Around 2010, Gallet announced a limited series of only 1,050 individually signed and numbered Museum Edition Flight Officer Chronograph wrist watches, specially created as a direct benefit for the National Watch and Clock Museum in the US. They were priced between $18,000 and $90,000 but were probably never even produced. Around 2014, Gallet announced an epic 75th Anniversary Edition Flight Officer, but it seems that, again, the watch was never released. In 2017, in light of the Hockenheim partnership release, Walter Hediger, the CEO of Gallet Group Inc., said, "Gallet was the main sponsor of the Indy 500 races for several years." The Indy 500 is among the best-documented races. There is not a single trace of Gallet having had any sponsorship role, let alone that of a "main sponsor".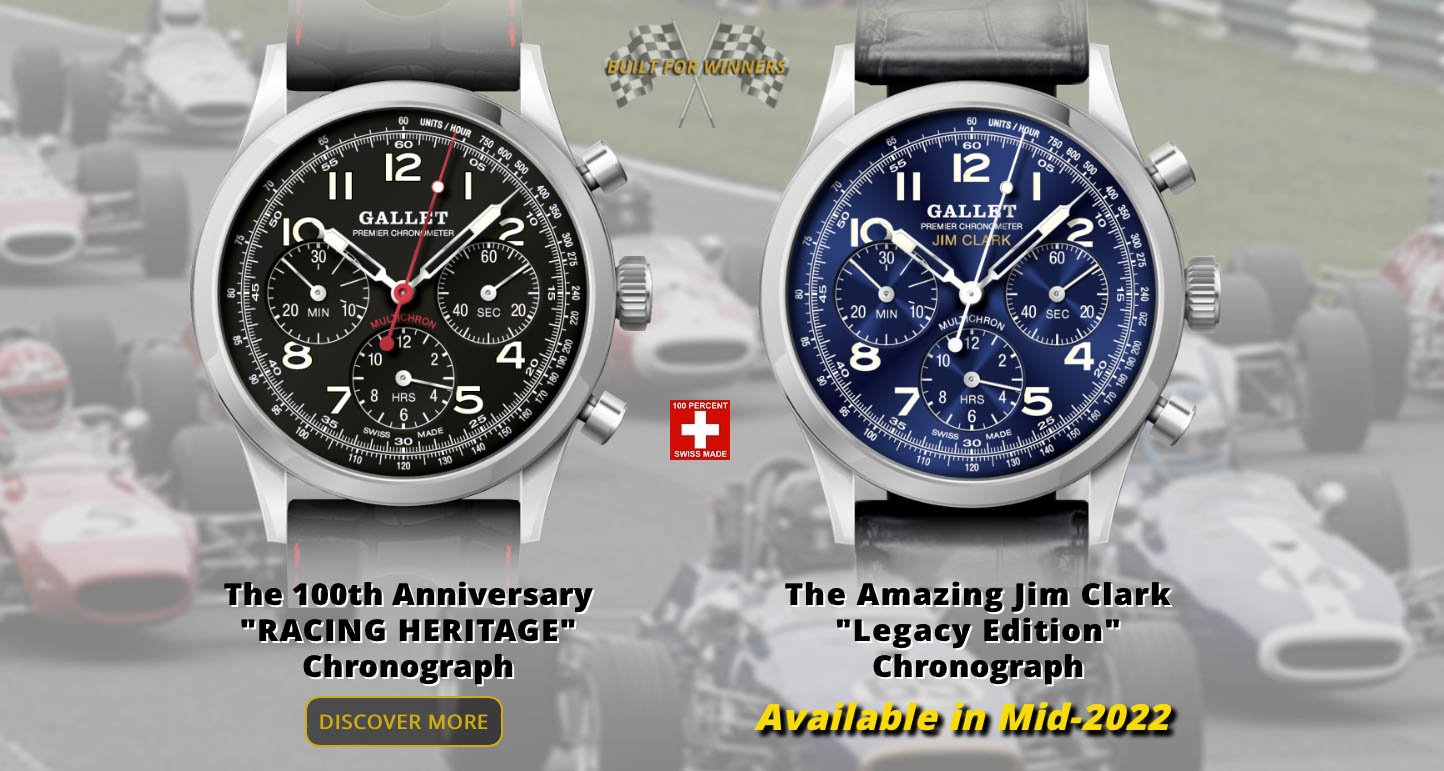 Critical point
There is one specific angle we have to consider. It's the fact that Jim Clark's connection to Gallet is not limited to watch forums and private debates among Gallet enthusiasts. What I see as a major problem is that current Gallet representatives have been using it for marketing. As mentioned before, in mid-2022, Gallet even plans to release a special Jim Clark "Legacy Edition" Chronograph with the Jim Clark name printed on the dial. Instead of showing any long-promised conclusive evidence, Gallet just keeps pushing the unverified story. And Jim Clark's connection to Gallet is uncritically echoed without context so often and so loudly that the general public doesn't even have the chance to realize it might not be real.
A missed opportunity?
We only recently found out that John Carlini died in October 2020, more than 10 years after his watch was offered for sale. "I remember I found the 95-year old former Breitling USA CEO in 2019, who gave us concise and very helpful information dating back to 1947 when he started as a sales manager there," says Fred Mandelbaum on how he managed to retrieve information that would have otherwise been lost forever. "I must admit I'm a bit mad at myself for not checking whether Carlini was still alive in 2007. The eBay listing sounded like an estate sale, so that's how I went along. We had 13 years of theoretically still getting more info from him."
Final thoughts
Can you imagine Omega claiming a Moonwatch without showing a single piece of evidence? Would you allow Buzz Aldrin's son to say his father wore some black Omega chronograph to the Moon without a single NASA record or a single picture of him wearing it?
Believe me, I don't want to undermine Jim Clark's image or hurt his legacy. On the contrary, I love vintage Gallet watches, and I own many of them, including a black Multichron 12 attributed to Jim Clark. But I am not merely a Gallet enthusiast. I am also a watch journalist and I have to stick to the facts. In my opinion, nurturing a story without conclusive evidence is not okay. If one of you, the Fratelli, has evidence proving Jim Clark's connection to Gallet, we will gladly be the first to report it.