#TBT LeJour PVD Chronograph – Value Still Exists
Today on #TBT we'll go back to some relatively old school Swiss goodness with a look at a LeJour PVD Chronograph. This watch isn't especially rare, valuable, or on the radar of most collectors, but I think it's worth a view. Good looks, a cool movement, and attractive pricing make this LeJour rather attractive indeed. Let's have a look.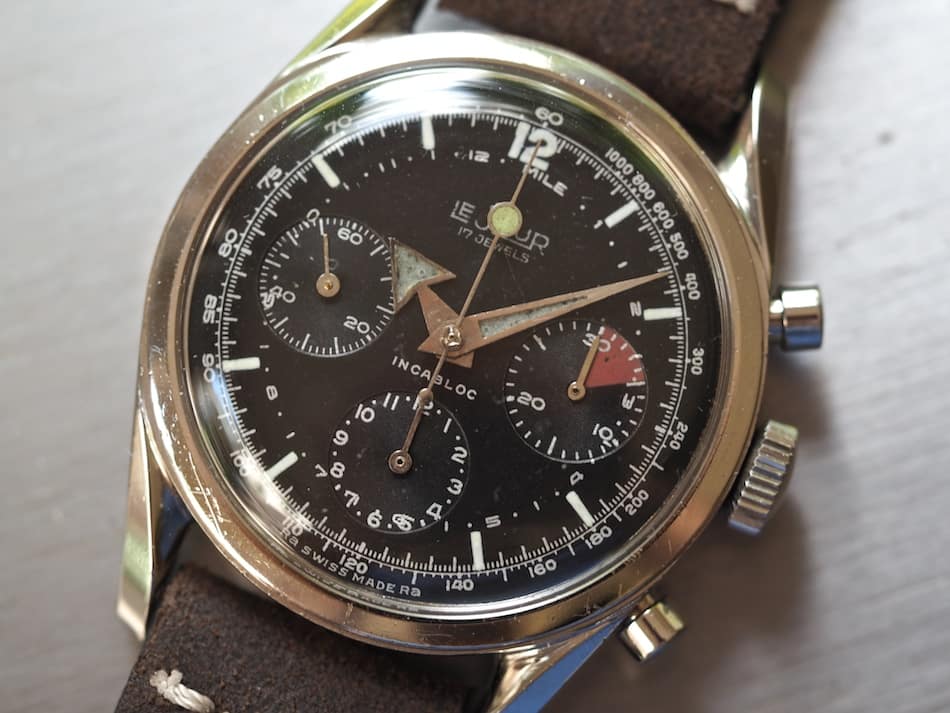 This LeJour PVD Chronograph isn't the first watch we've covered from the brand. We took a look at an earlier radium-dialed Valjoux 72-powered chronograph and a 60's Superman diver.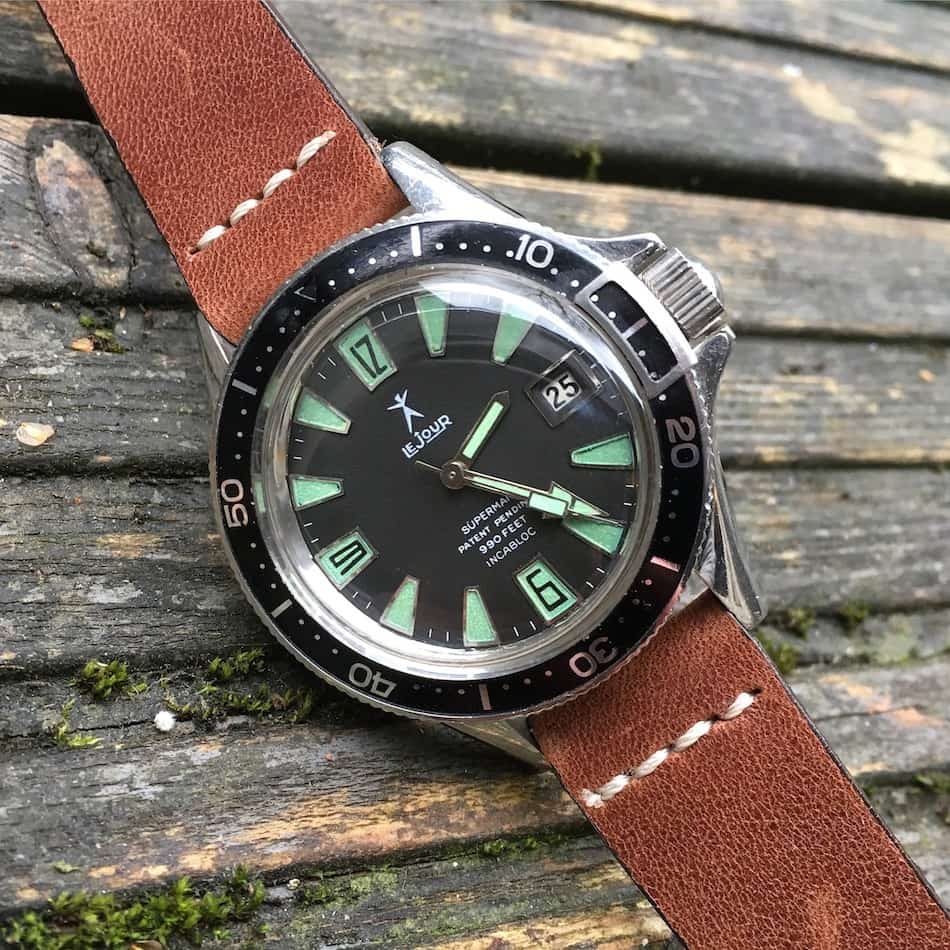 For certain, the French brand is known well as the export name for Yema, but it seems that the brands were separate and LeJour did their own thing from time to time and often contracted other manufacturers to make their watches.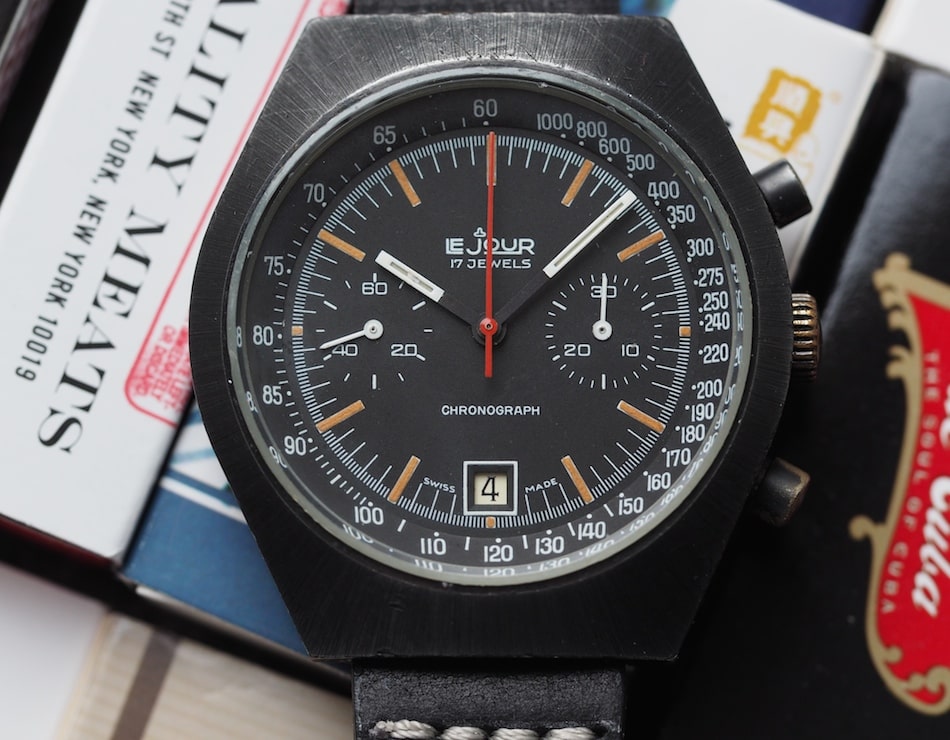 Today's LeJour PVD Chronograph is a good example of that and while I don't know who made this one, LeJour offered various other chronographs – some were even PVD – during the 1970's that were made by esteemed brands such as Lemania or Heuer. We've discussed it many times before, but it's clear that the 70's were a real transition point for the Swiss watchmaking industry and contracting became more and more common as many brands did whatever it took to try and survive the quartz onslaught – even if it meant putting their names on watches that weren't evocative of their pasts.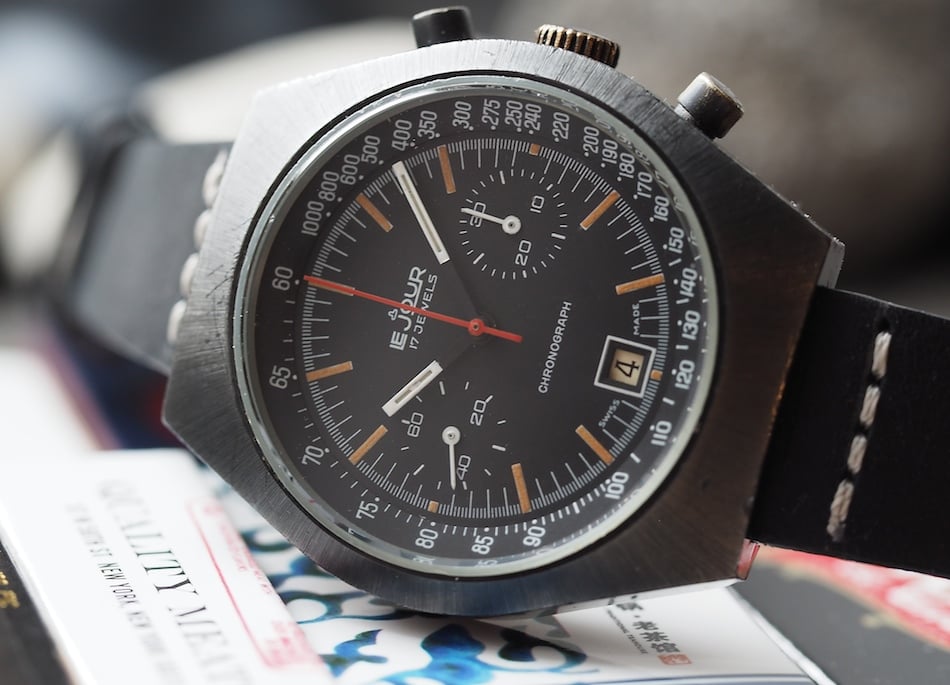 Thankfully, the LeJour PVD Chronograph doesn't stray too far from the normal chronograph formula that the brand was at least partially known for. What we have is a PVD over base metal 42mm case housing a 17-jewel Valjoux 7734. The case is notable for its blockier shape towards the lugs (47mm in length) versus the more common (and seemingly Heuer-made?) version that comes up for sale. Analog/Shift had such an example at one point in NOS condition, so you can get a good idea of the differences. As we are firmly into the 1970's, this watch takes on a lugless, somewhat C-cased shape. I'm not normally an admirer of this style of case, but the blackish coating brings down the heft and when combined with what is truly an instrument-like dial and flat mineral crystal, I think it looks pretty damn good.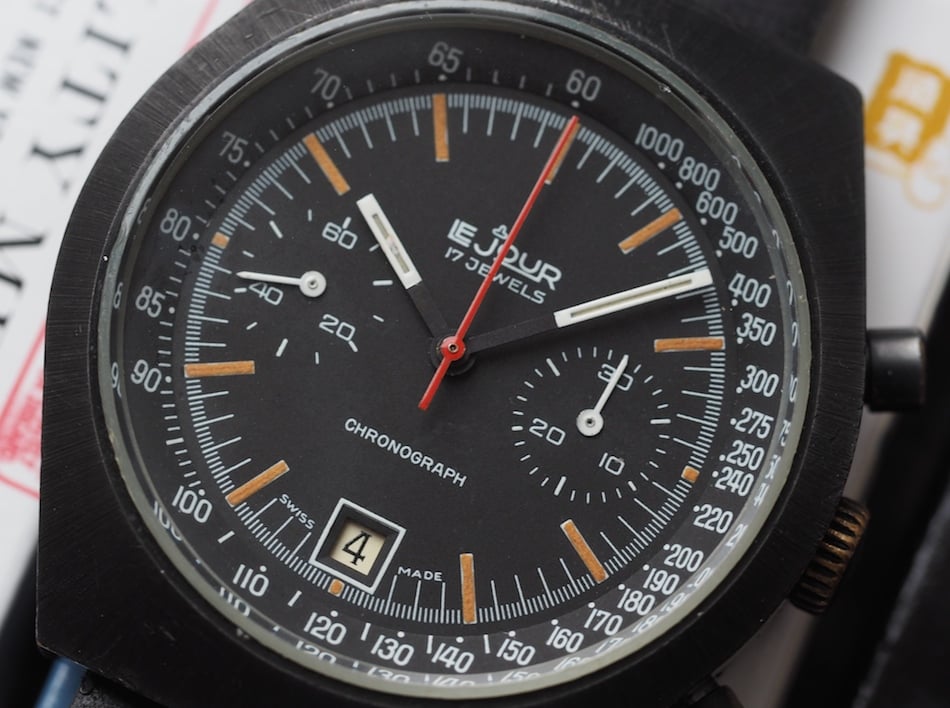 The LeJour PVD Chronograph dial contains font that likely translates to being of Singer build. In the same vein, there's some Speedmaster here in the long, and aged, lume stripes at the hours. With the yellowy lume, a white date wheel at 6:00 and a slender yet poignant red central chronograph hand, there's just enough visual contrast going on here to make the watch visually interesting. An angled inner tachymeter bezel adds to the whole look. Think 70's or 80's Porsche gauges and later German watches and you get the idea. Again, I don't typically go for C-cased watches or PVD for that matter, but this watch along with others such as the Orfina Porsche Design chronograph from the era hit the mark and has stood the test of time far better than one might have imagined.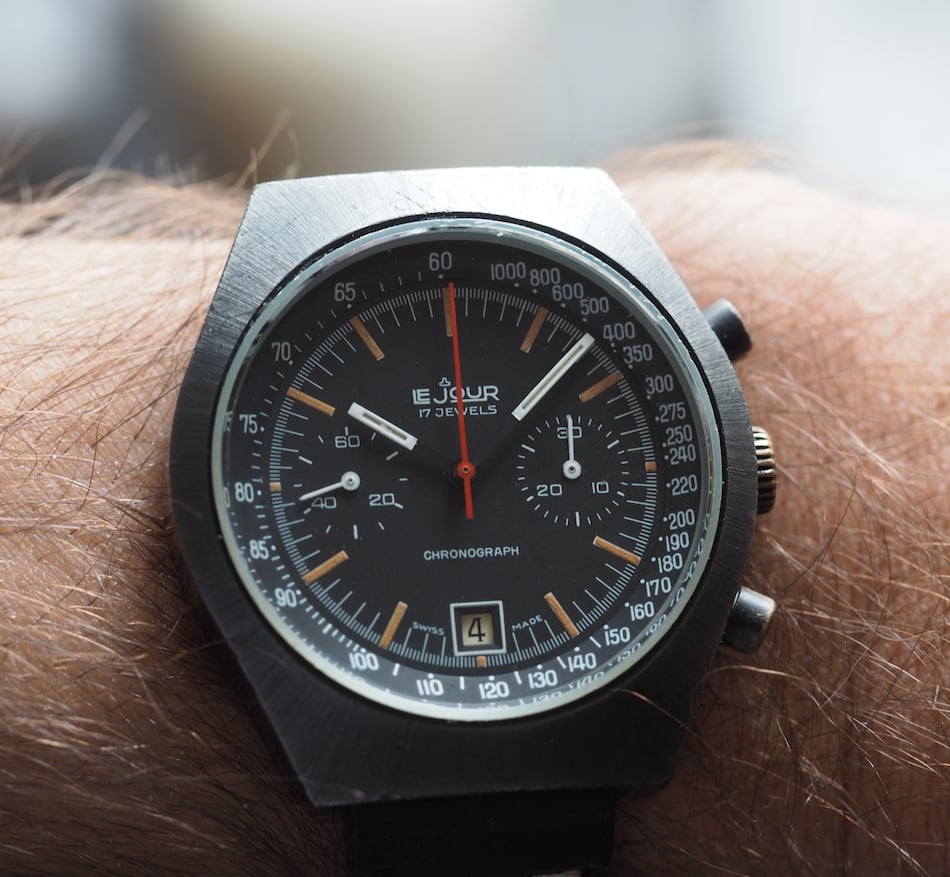 There's a little more, personally, to this LeJour PVD Chronograph than I've let on thus far. I bought this watch a few years back when I was buying all kinds of chronographs without a whole lot of discipline. For the most part, I chose well, but when I picked this LeJour up for roughly $300 as a non-runner, I had little idea about what was wrong. I sent it off to Andreas over at Local Time in Cyprus and he forwarded it to one of his watchmaking partners. Surprisingly, when the screw down case back was opened, jewels were rolling around and the mainplate actually had cracked. In its history, someone must have dropped this LeJour from quite a height. Thankfully, replacing a broken unsigned movement with a donor unsigned movement was doable at the time for a relatively affordable price and the watch was soon back to its normal self. The 7734, by the way, is an enjoyable movement to wind and use. It's not quickset for the date, but the complication does make it a bit different than most manual wind chronographs I own.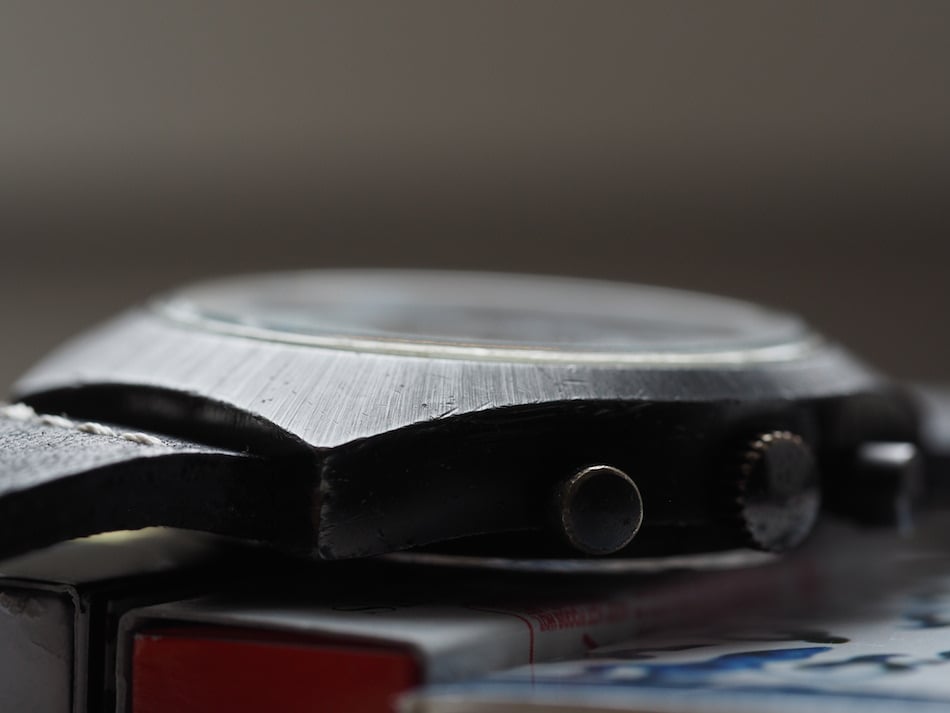 You'll note that this LeJour PVD Chronograph contains some decent wear along the matte finished top of its case and its shinier sides. It's a good reminder that on these vintage PVD watches, it's hard to find minty pieces. Still, this one exudes what seems like good honest wear to me (aside from the fall it must have suffered) and the shine of brass through the pushers and crown just adds to the character. To be clear, I've never thought of having the finishing redone.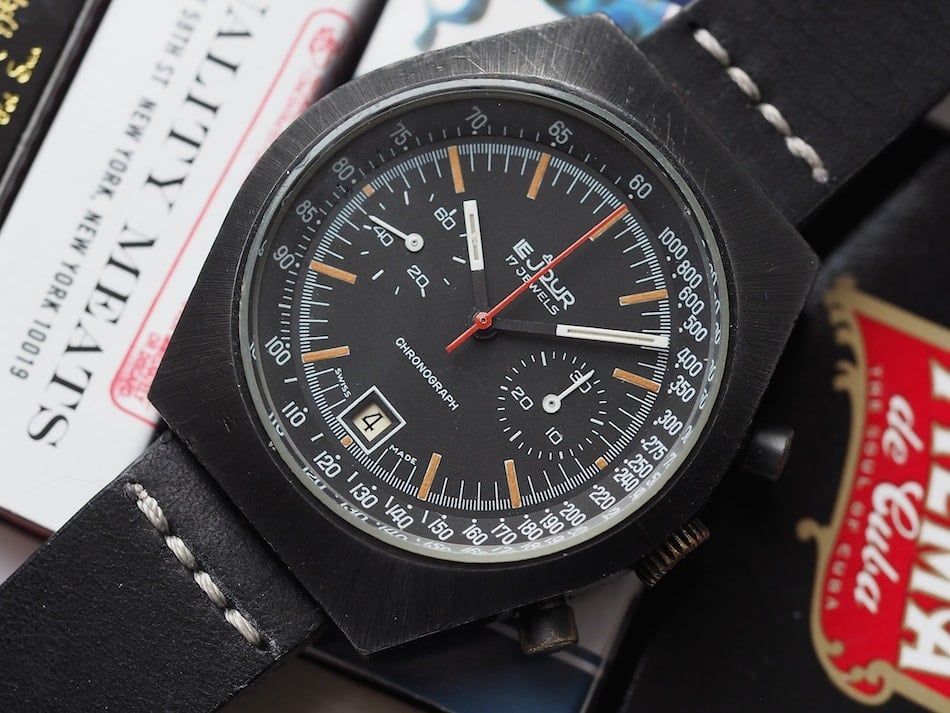 Whether you're in search of this LeJour PVD Chronograph or the more common version I've referenced, you're probably going to spend somewhere in the range of $600 – 1,500 depending on condition. There are several for sale on eBay now within this range. That's cheap money these days for a sizely vintage chronograph from a brand most of us know and with a more-than-decent movement. While these may not skyrocket any time soon, it seems hard to consider it anything other than a good deal. As always, buy the best model you can (read: not one that fell from a countertop like mine) and ensure all the correct bits are there. While hands and other pieces may be catalog parts, those catalogs certainly don't exist any longer.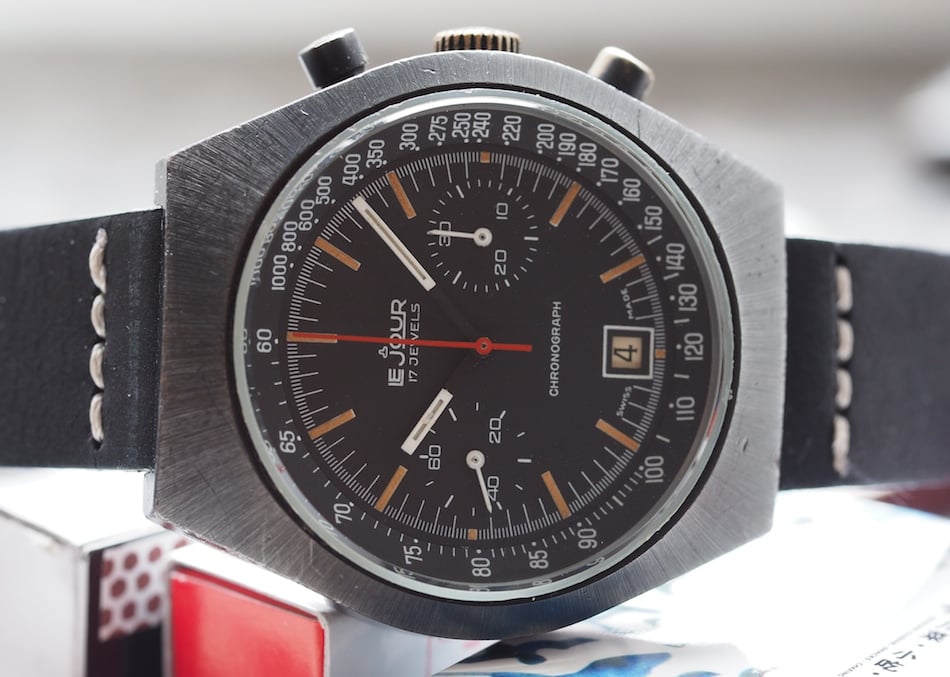 The LeJour PVD Chronograph isn't notable for racing history or for finding its way to any celebrity that I know of. It's simply a good-looking mechanical chronograph from the 70's sporting a fairly atypical finish. Happy hunting and until next time…