#TBT LeJour Fat Arrow Chronograph with Valjoux 72
Today on #TBT we'll talk about a rare watch that's known as the LeJour Fat Arrow chronograph. For a brand that later lived its life as the Yema export brand (incorporating many of their designs with only a name change on the dial or using Yema's cases), LeJour actually created a long-lived design with its "Fat Arrow" chronographs, but the piece today was seemingly the first. As I mentioned, it's a rarely seen watch that deserves a bit of attention.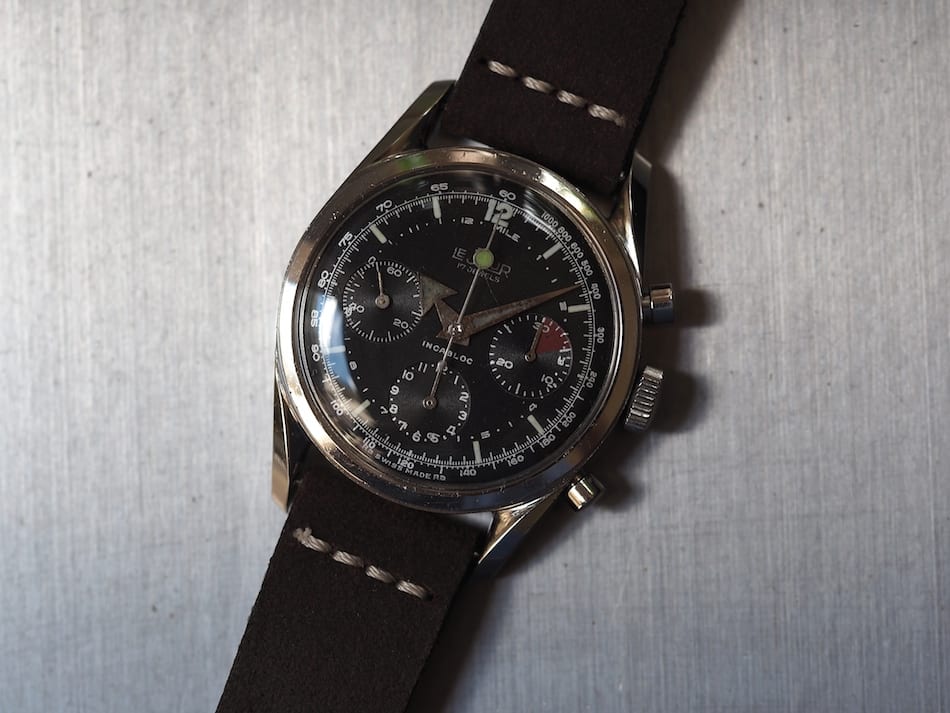 The LeJour Fat Arrow almost didn't happen
The LeJour Fat Arrow came into my possession as a result of serious indecision. I had been messaging Andreas over at gregoriades.com when he bid on and won a Gallet Multichron Pilot (one of our earliest #TBT articles) that would soon become mine. He mentioned that he had picked up another Valjoux 72-powered watch and shot me some photos to gauge my interest. It was tough to photograph (more on that in a second), was missing a subhand and required a serious service. Plus, the lollipop hand seemed odd. This, readers, was the LeJour before you and at the time, I politely decided to pass.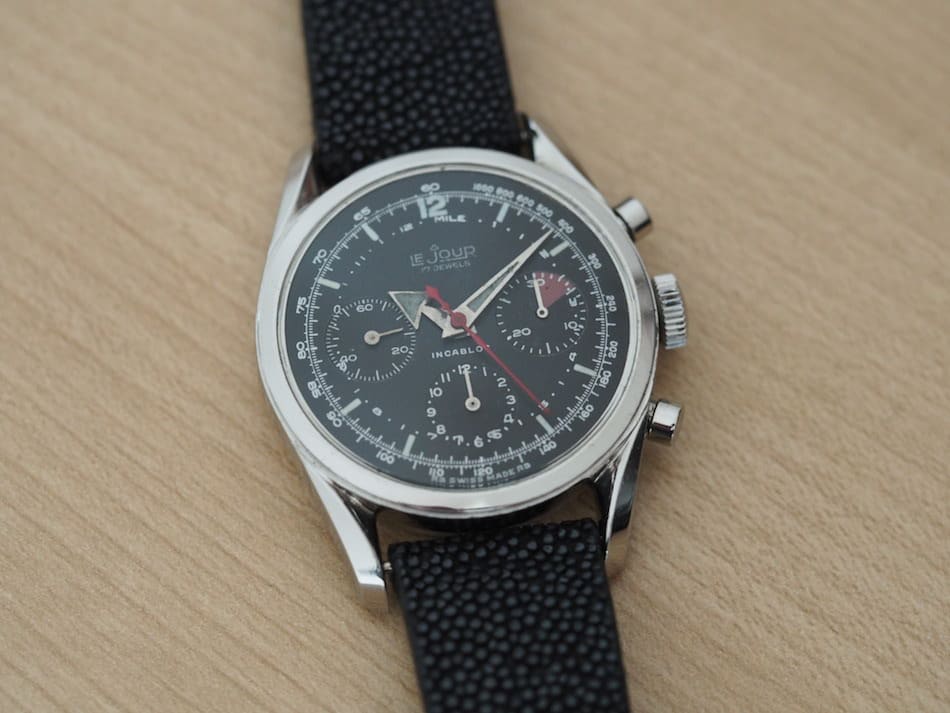 Alterations were needed…
Fast-forward to a couple months later and the Gallet that I had ordered and the LeJour Fat Arrow had returned from service. With a red central chrono hand, a new, thematically correct, sub hand installed, and a service, the watch endeared itself to me and I pulled the trigger. Upon arrival, though, I was pretty "ho-hum" about it. Something just didn't seem right and the watch sat for over a year. At some point I pulled the LeJour out and started to do a little research. I realized that the crystal was a highly reflective mineral glass. Further research also showed that a lollipop was likely correct. So, some weeks later, the lollipop was sent from Cyprus and the watch went in for a local German service to reinstall the hand and replace the crystal. Did all this make a difference? As they say, the devil is truly in the details.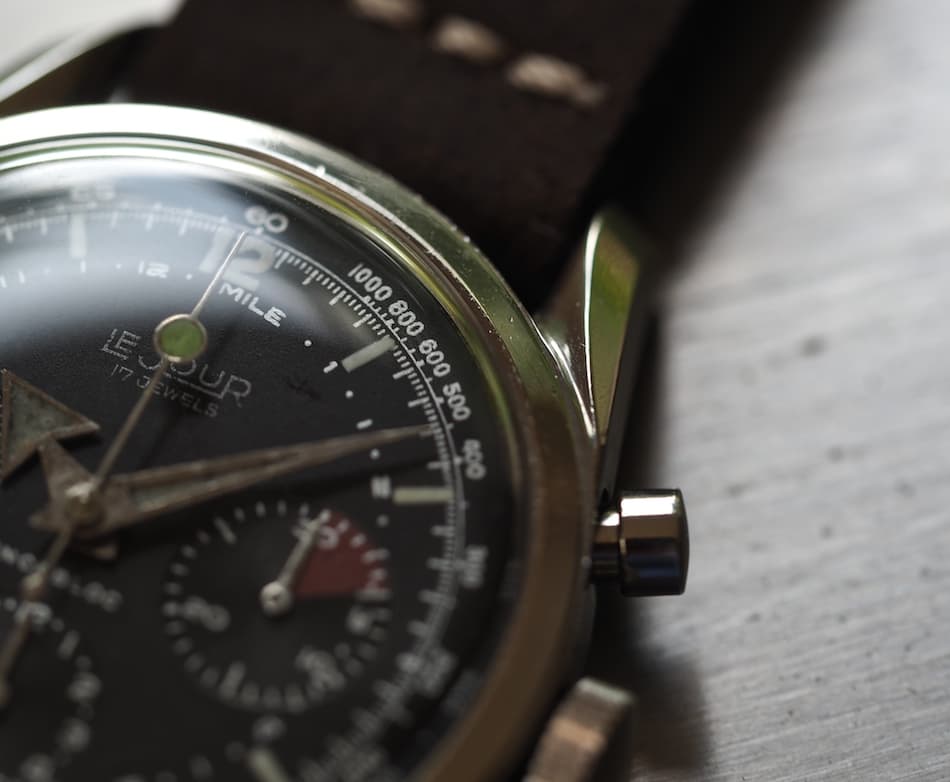 Twisted lugs and a stainless case
The finished product is the LeJour Fat Arrow before you and it is one heck of an intriguing watch. With its twisted lugs, it joins the Speedmaster and, more closely, 1960's Universal Geneve Compaxes in its choice of case design. Unlike those two watches, it eschews an outer tachy bezel, so it reveals a bit more where the lugs meet the case.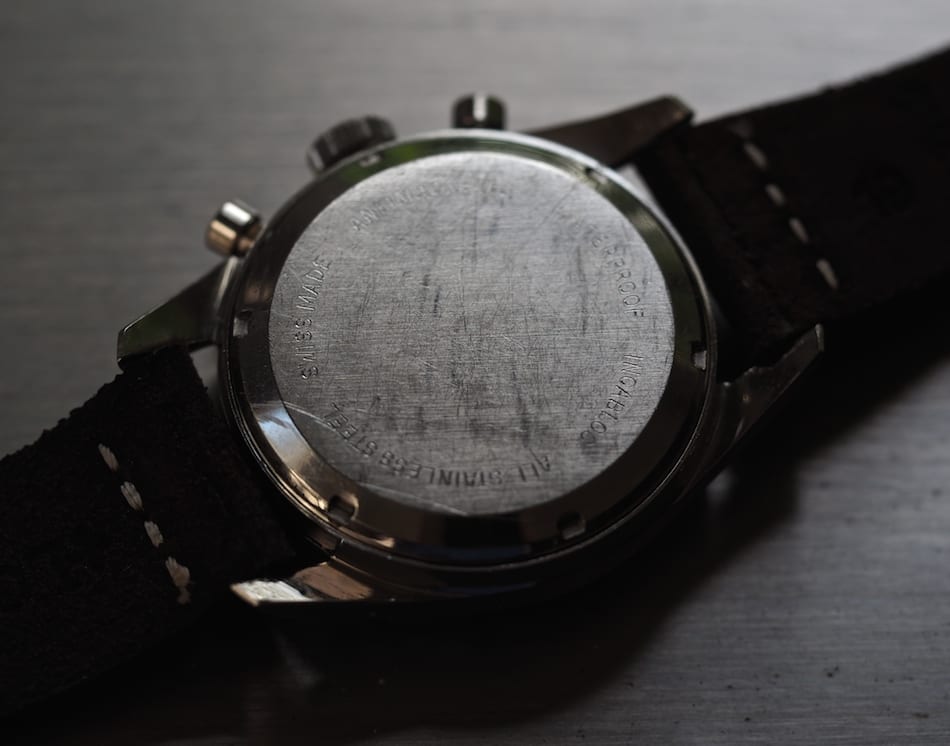 The case on the Le Jour Fat Arrow is one that showed up elsewhere during the 1960's. In fact, I've seen it paired with various brands and movements. The common bond is that all seem to be signed "JP Pingouin". Depending on what lore you believe in the muddy world that is 1960's Swiss watchmaking, Pingouin was either a private brand manufacturer (they produced watches for other brands) or an importer of watches into the USA for what seemed like any brand that had an interest in selling watches to the country. For all I know, they could have been both, but I tend to believe the former, as LeJour ultimately became a USA brand for Yema.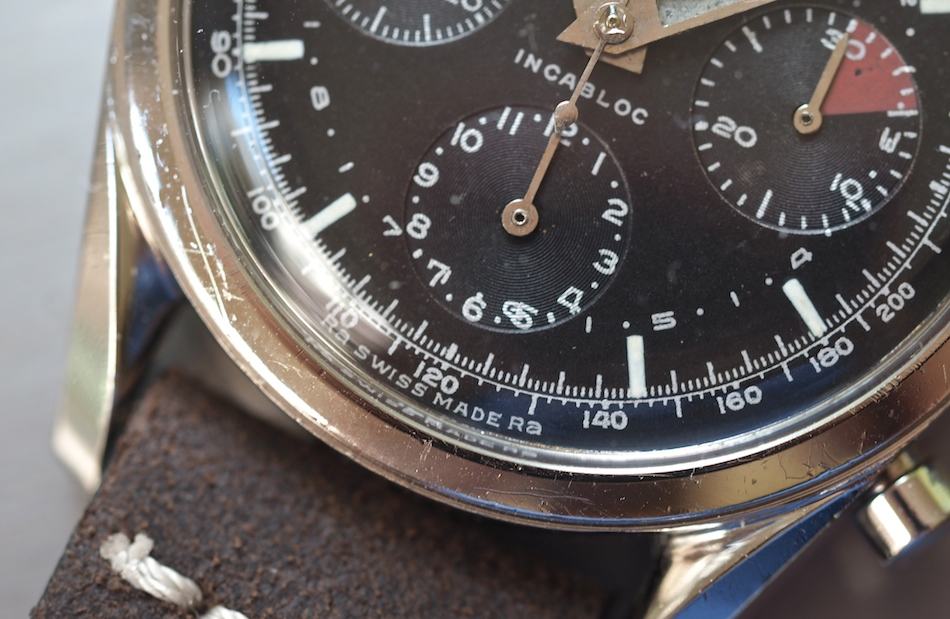 Radium…watch out!
Whatever the history is on this LeJour Fat Arrow, what I can tell you is that this version seems to be one of the earliest due to its use of radium on the dial and hands. It also appears to be one of the rarer versions versus later white-dialed pieces branded as Welsbro, Wakmann and the like. Additionally, other brands that chose to use this case tended to choose the cam-lever operated Valjoux 77xx series of movements while this piece uses the more desirable column wheel Valjoux 72.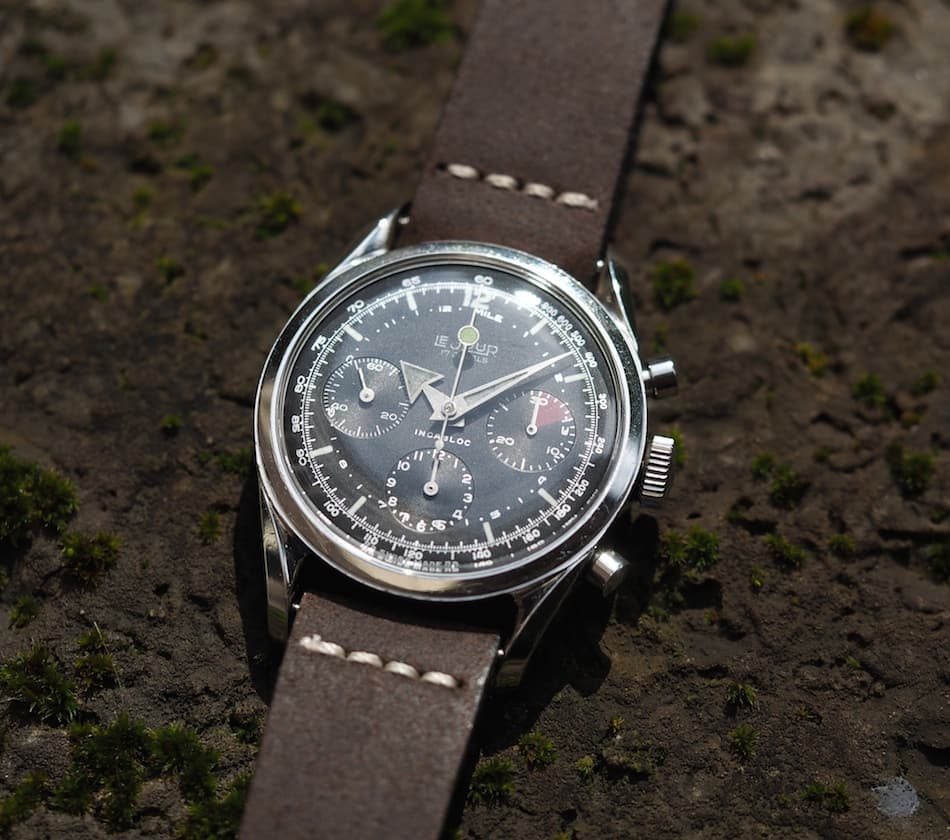 And a Valjoux 72 inside
Yes, the Valjoux 72 is what ultimately sold me on purchasing the LeJour Fat Arrow chronograph. The employment of a well-sized 37-38mm all stainless case equipped with nicely sized pushers and a big, fat winding crown also added to the allure. But then there's that dial and those hands…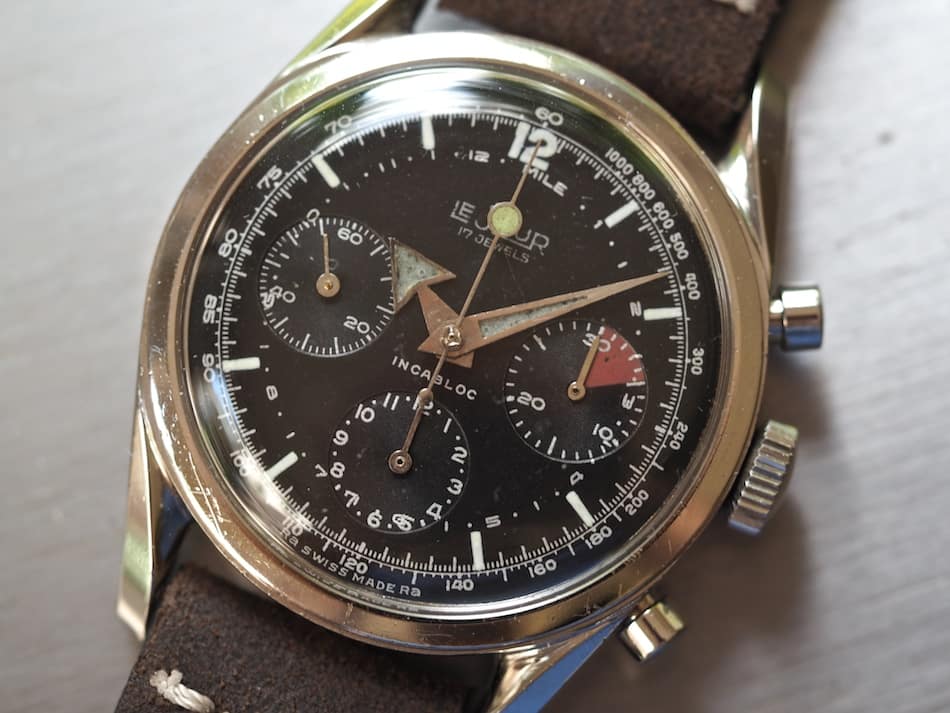 Sadly, the dial now seems to have been stripped of all but just a bit of its original radium. One can only imagine what life this watch must have lived, but I'd probably tie the stripping of the dial with the replacement of the watch's original crystal and the loss of one of its original subdial hands. Still, with a dash of red in the minutes sub register and loads of silvery white text on the indices and tachymeter/telemeter scales, the chronograph comes off as a lovely sporty vintage piece. The big, bold arrow hands and the lollipop also introduce themes that would later be used by LeJour on so many of its chronographs.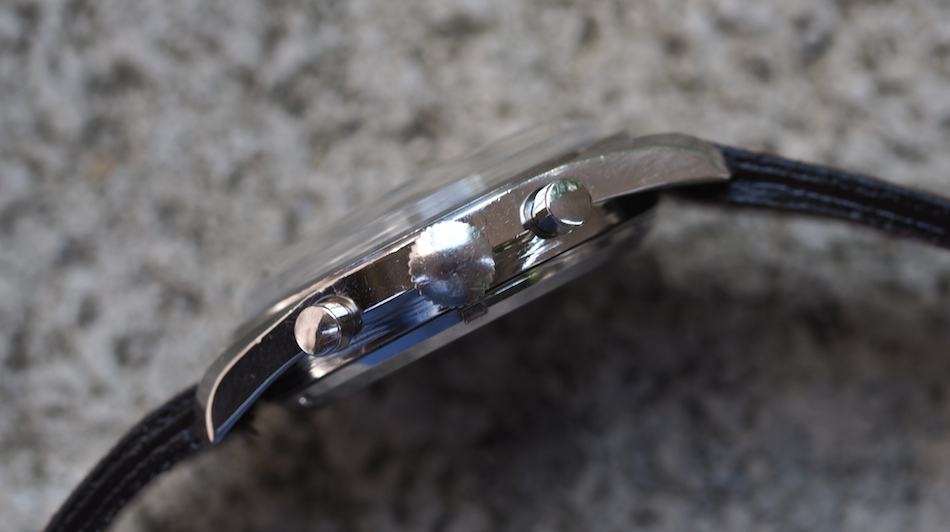 I continued to research this LeJour Fat Arrow and found a couple on google images. I also stumbled upon a nearly identical Alsta version of this watch. It wasn't until Justin Vrakas of watchsteez.com posted a truly beautiful example for sale recently (it sold quickly for roughly $2,500), that I'd been able to examine such a nice and complete piece. I'd say that value sounds about correct for an attractive watch with a movement such as this. Plus, with Yemas catching fire on the vintage circuit, LeJours (whether they were built under the company's watch or not) are beginning to follow suit.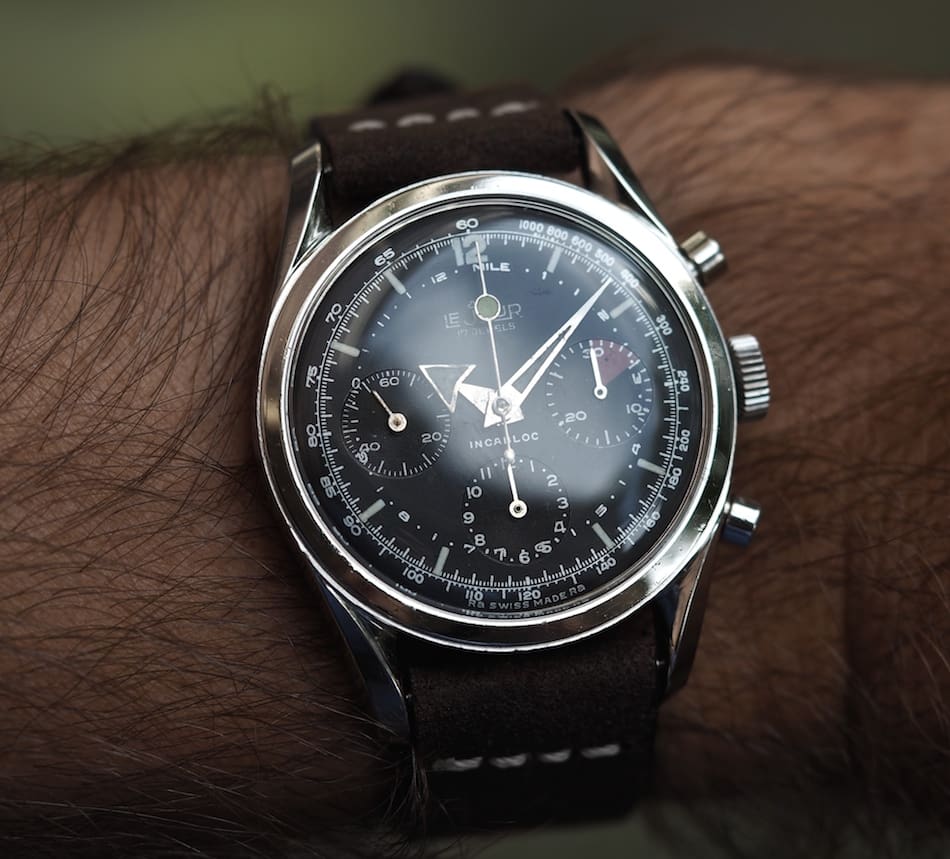 A rare, but inexpensive alternative
There's no doubt that due to its size, this early 1960's LeJour Fat Arrow wears well. There are a couple goofy things about it, though. First, the case itself is quite slim and nicely sculpted but that results in somewhat of a thick screwdown case back. It certainly doesn't cause the watch to porpoise on the wrist, but it's a little surprising. Also, the lug width is a bit of a mystery to me. 19mm seems too narrow and 20mm seems too wide. I blame the case maker's choice to place the lugholes too far back on the lugs and this causes an issue with wider straps because the lugs continue to narrow. This is why you see some spring bar in my pictures – a slight annoyance.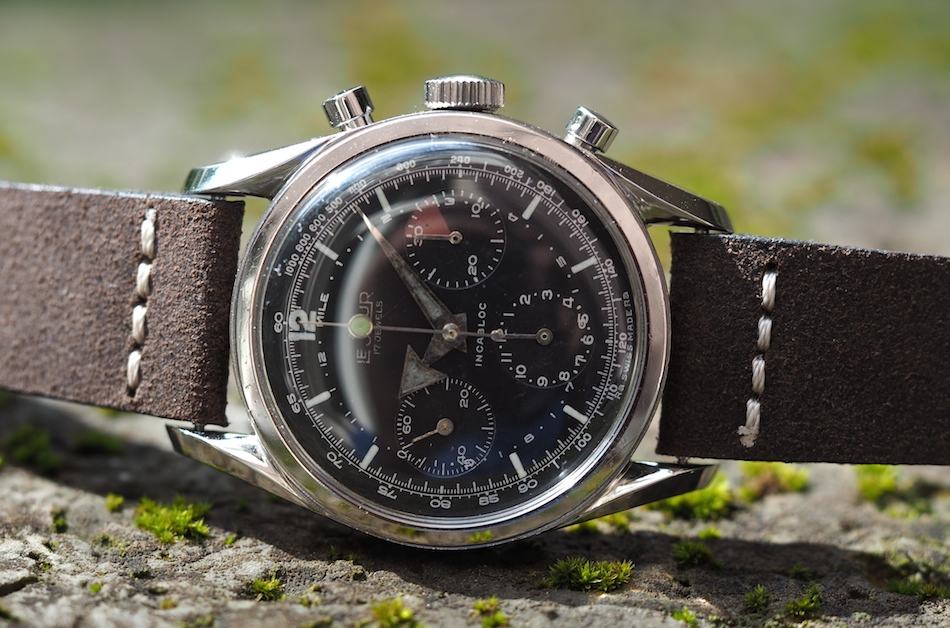 The LeJour Fat Arrow, should you stumble upon one, presents a great, lower cost, alternative to some great watches such as the Universal Geneves mentioned above. It's a stretch to compare it to a Speedmaster, but the lugs do bear a resemblance. Plus, add the charm of radium, big arrow hands and a lollipop and you have a really well executed watch from a smaller, but known, brand. As mentioned, the Valjoux 72 simply ices the cake. Happy hunting and until next week…