#TBT – Marvin Tyre Watch
After reading this article you will definitely start thinking about what car to match with this watch. Ideally? A new old car. Ladies and gentlemen (or just gentlemen according to current analytics on readers, but we believe we will attract more female fans in days to come!), fasten your seatbelts. We are about to explore a unique 70 years old marvel – the Marvin Tyre watch.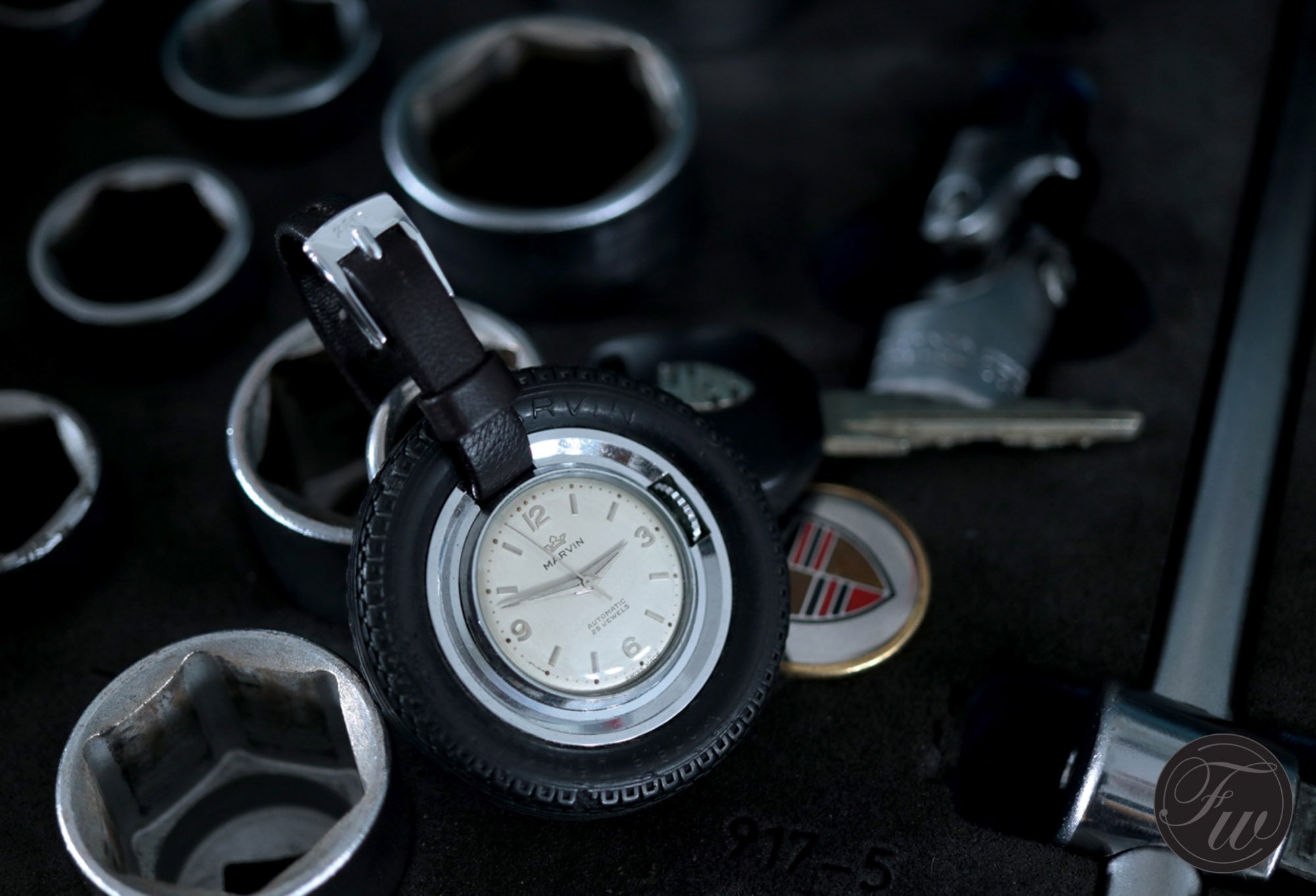 Watch in a tyre?
Very few watches can achieve embedding a unique selling proposition into its name in a way that allows you to instantly get the whole story and not sound generic, superficial or made up. No over the top headline needed for an article about the Marvin Tyre watch. It is a simple descriptor, yet it has that wow effect, brings amusement and triggers curiosity. Yes – it's a tyre watch. What you see on the picture is nothing more than a regular watch movement behind plexiglass planted into the rim of a small tyre. Very audacious.
Tyre watch as a tribute or a stunt?
Somebody performed one hell of a marketing masterpiece with the Marvin tyre watch. Following the official story on the company website, the Marvin Tyre watch was created in the 1930s by René Didisheim and represents a tribute to the family's passion for cars. Even if that were true, anybody sane can still sense a persistent marketing genius behind it. And as you will learn, the word persistent is very important in this case.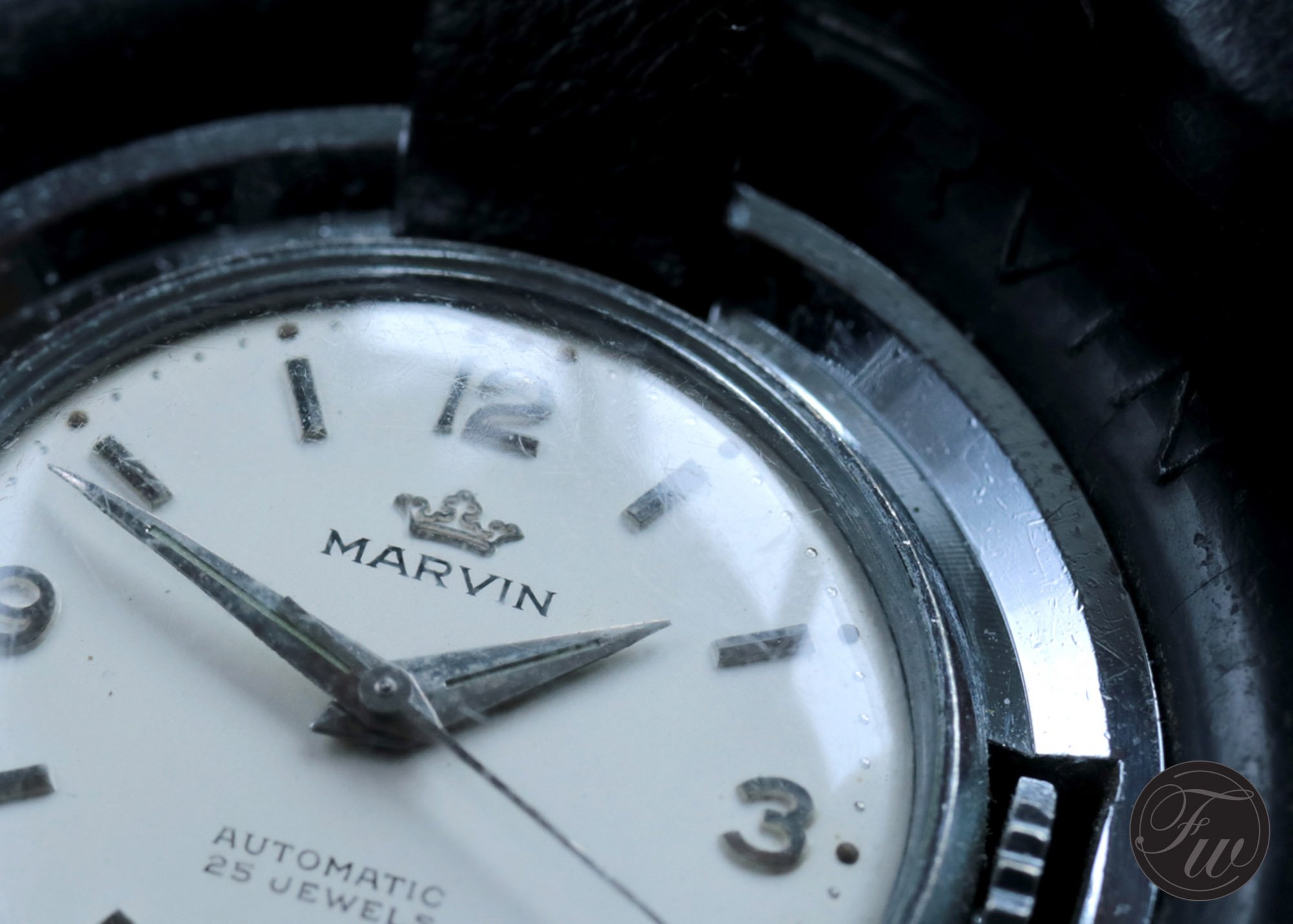 A giant gamble
The basic idea behind the watch was to grab the attention of motor enthusiasts that hold a deep affection for their cars. Let's sell men a second must have watch as a key-ring! After long research, I found an unfortunately non-dated article written by Georges Caspari with more details. Mr Caspari explains that launching the tyre watch was a pure gamble that hit the jackpot in the end. "The preliminary rumblings of the boom were heard in Italy, where Marvin was selling 500 watches a year. … The tyre watch was advertised for a few months. The following year, the sales on this market exceeded 10.000 watches. Urged on this success, advertising was extended to the international scale, as a result, orders poured in from all quarters – France, Austria, the U.S.A. and India," writes Mr Caspari.
How I spotted the Marvin Tyre watch
I was doing my research on early automatic Wylers when I came across a Marvin with an unusual transparent skeleton. It was not the tyre watch, but there was interesting lettering above the sub-second register. An inscription MOD. DEPOSÉ (full Modèle Deposé, meaning registered design or patent pending) caught my eye instantly so more googling commenced. One of the search results put the funny tyre watch right under my nose. Bang! I always used to say that a classic car is the best place for keeping vintage watches so you can imagine what happened next. I swept all the possible and impossible auctions within the next few hours and couldn't wait until I will put the keys of one my 30+-year-old daily road companions on it.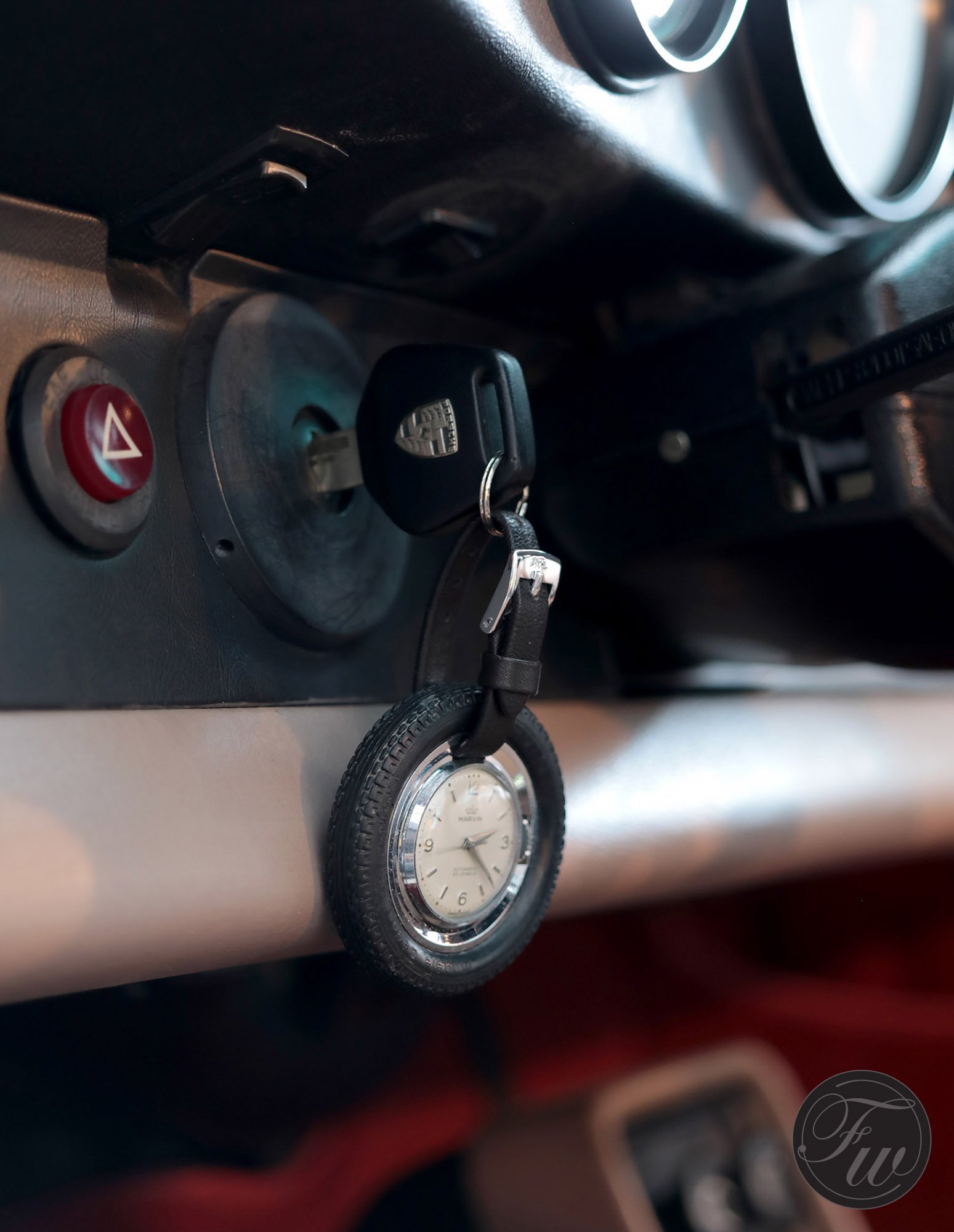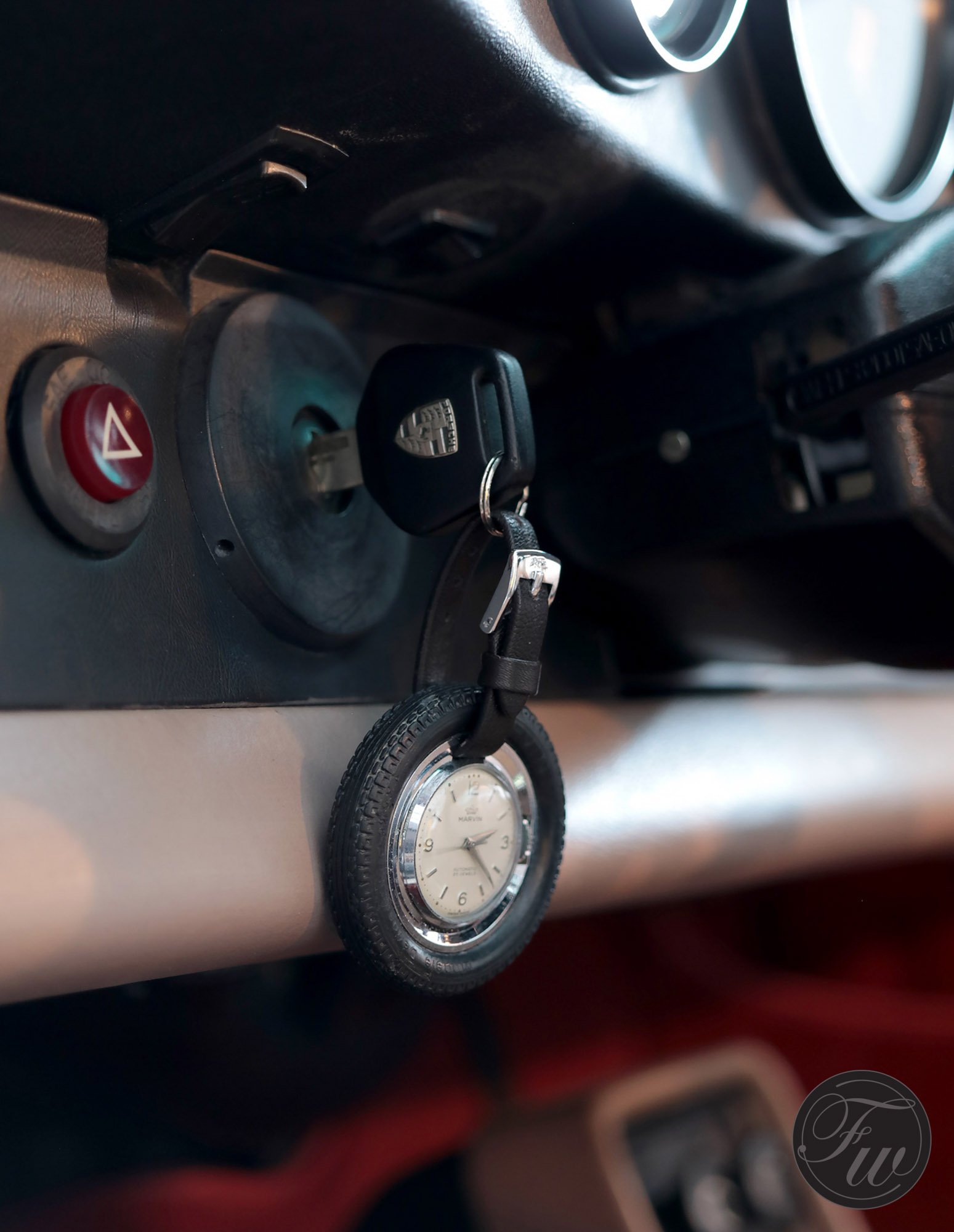 A moment of enlightenment
Full disclosure: if not for the tyre watch, I don't know for how long I would have continued to ignore the existence of the Marvin brand. I knew of them in that I'd heard about it and acknowledged its existence. Yet Marvin was always sat with me as a boring generic Swiss manufacturer. Not anymore! I really felt a bit silly that I hadn't seen the signs in the beautiful Marvin crown logo sooner, blatantly indicating substantial brand heritage. If I wouldn't have ignored Marvin for years, I could have gotten some new old stock tyre watches for pennies. Anyway, the damage is done and I'm sure there are still many more watch brands with amazing history just like Marvin that I still don't know about.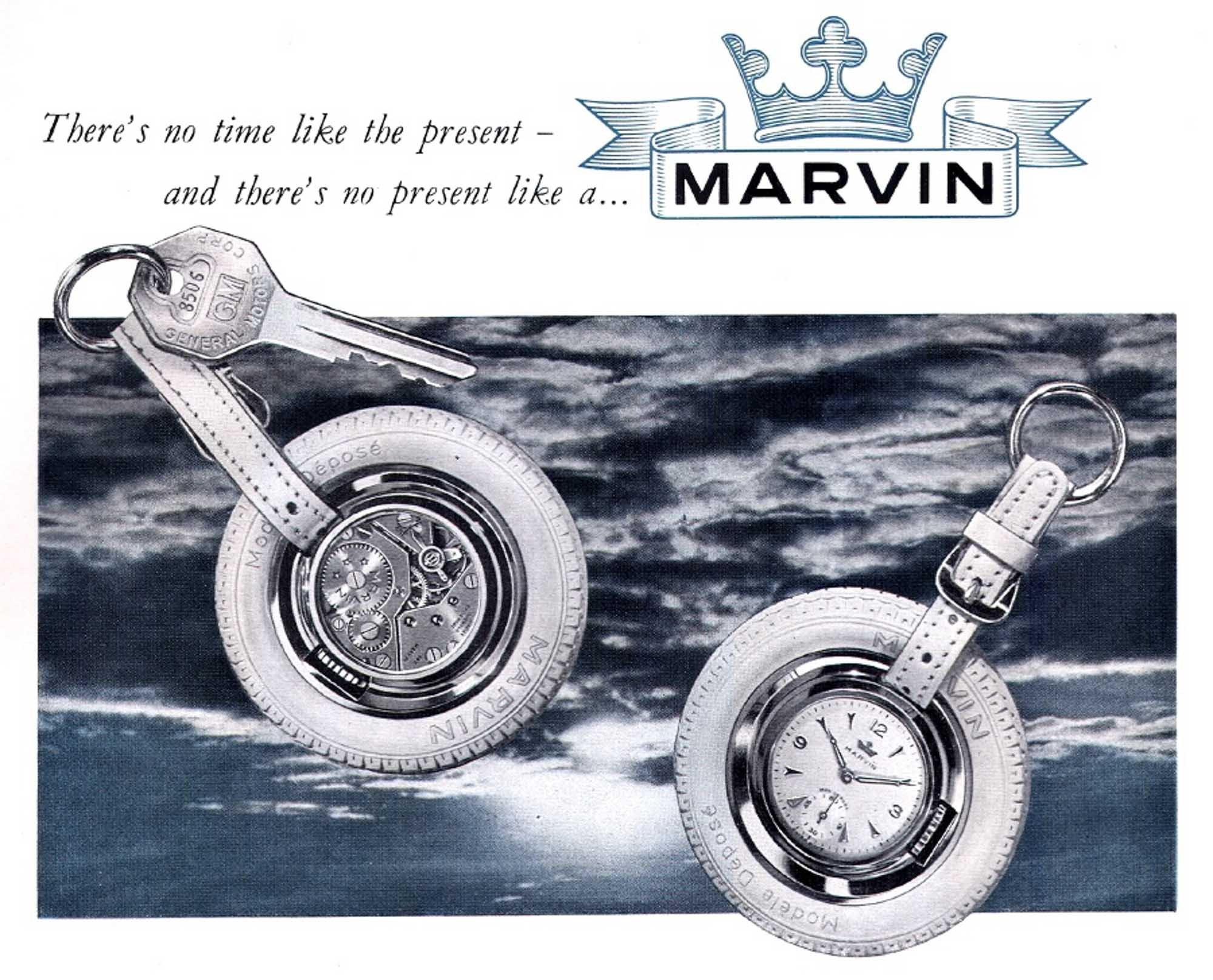 I am Marvin
Marvin didn't begin as Marvin. It was founded in 1850 in Berne, Switzerland by the brothers Marc and Emmanuel Didisheim. To attract the US market with more resonating branding, the company took the name of their US distributor. Beginning in 1905 the Marvin name was introduced, still operated by the Didsheims, with production moved from Berne to La Chaux-de-Fonds. Within their amazing portfolio from the 1930's you can find round driver watches that are worn on the inside of the wrist or from the early 1950's watches for left-handed folks with the winder on the left side of the case. The success of Marvin peaked in the 1950s and 60s, by which point the company had produced nearly 7 million watches. Part of the success was a result of Marvin's strategic partnership with the KLM airline from 1955. Stewardesses wore a clip watch on the lapel of their uniforms, a variation of the famous Tyre watch. It is visible on many Italian adverts, promoted together with the famous Flying Dutchman, the official watch of the Dutch airline pilots.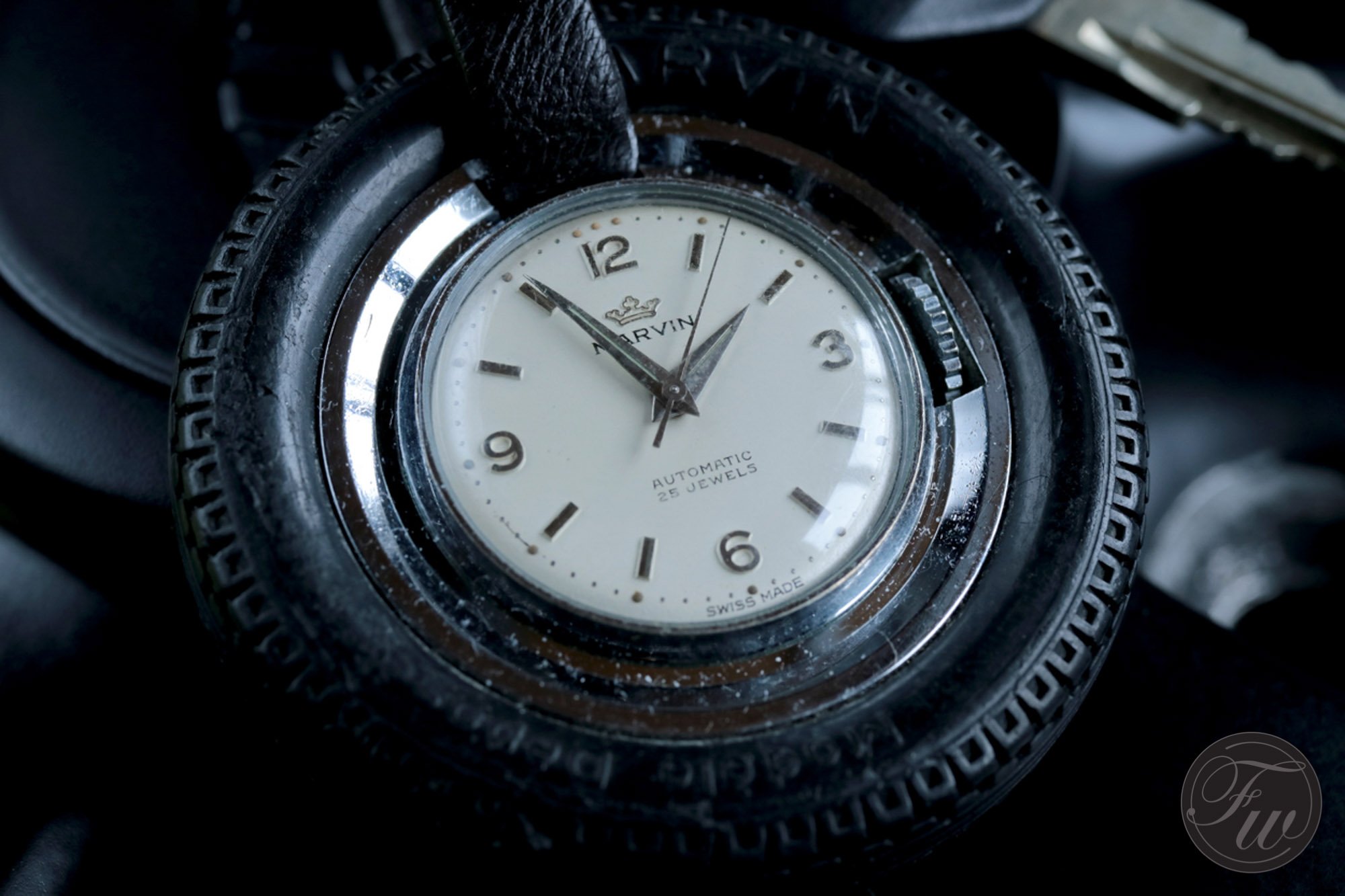 An invention from La Chaux-de-Fonds
I am missing precise dates on the development of the Marvin Tyre watch. But based on the information I collected it seems the watch was created much sooner than when it took off in the 1940s/1950s. This gadget type model did not catch on immediately. I studied around 50 examples available or sold, with nearly all of them fitted manual wound movements marked Marvin 320, 510, 520 or 540 with 15 or 17 jewels. Adjusted to 3 positions, chamfered plates, two-fold shock protection and most interestingly, see-through plexiglass! Quite a self-confident move from Marvin, especially if you know your car keys were going to tickle it in your pocket every day.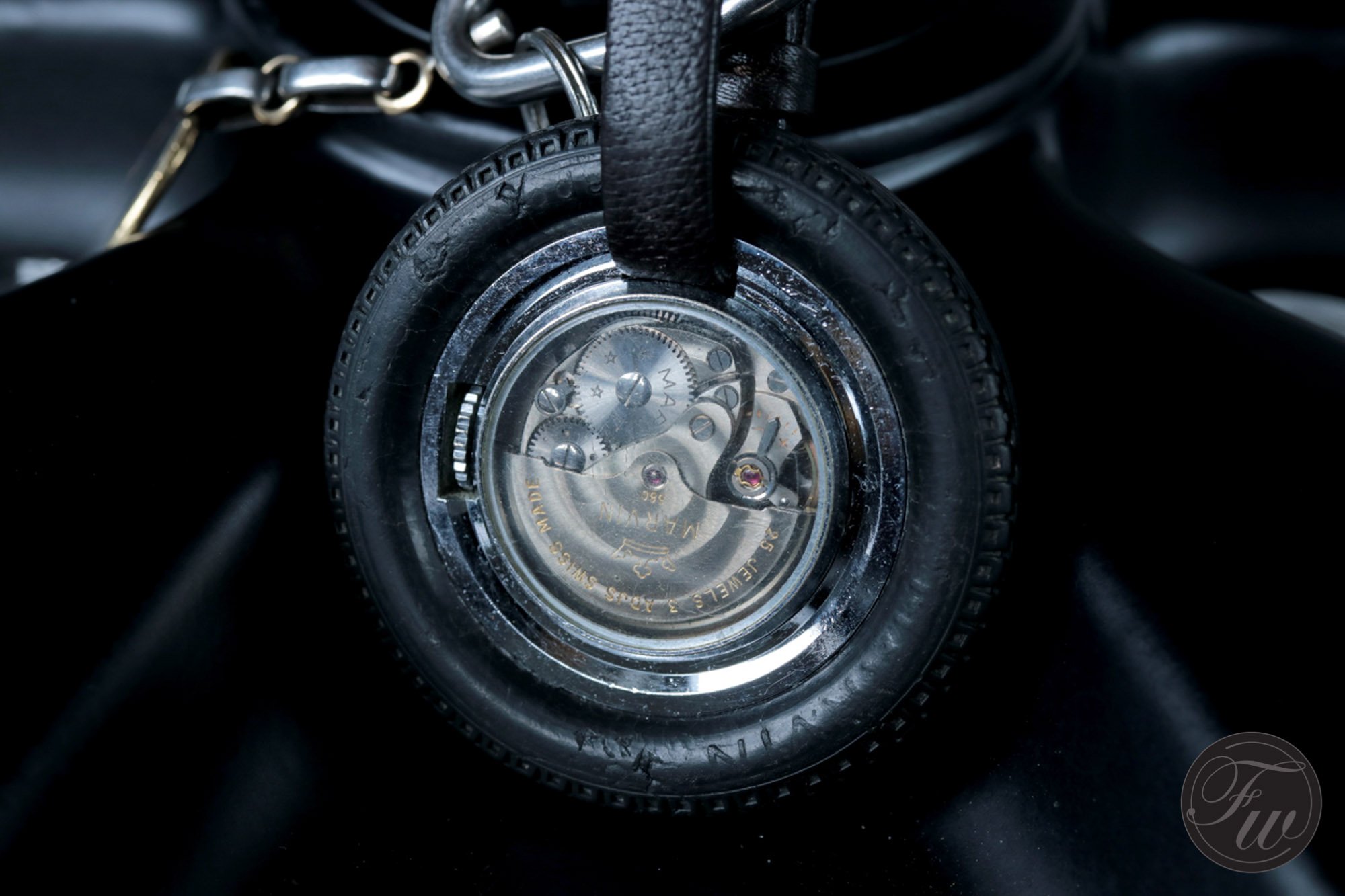 Tyre watch metamorphosis
The Marvin Tyre watch was supplied in gold, rolled gold or chrome with a black or silvered luminous dial, some even with an official chronometer rating certificate. Some models could be unfolded from inside the tyre and positioned upright, functioning as a desk clock. Customers could choose from black, white, green or blue tyres, also equipped with small clasp. My Marvin holy grail has to be a special version of the Tyre watch with a central second hand and two crowns. One for winding the watch and the second for controlling the additional red-tipped hand. A decent additional WAIKUP name placed right above the 6 made it one of the most charming alarm watches I saw around. Worst part? Sold at some auction only a few months ago with a nice box included.
A great deal
Speaking about prices, the Marvin Tyre you see on the pictures came to me from Moldavia for 45 euros on eBay. There was the 'Make an offer' button, but I didn't even bother. I considered it a lucky find for this price. Pictures were horrible and the watch was covered with a layer of dirt, but I took the shot. As you can see, the 50mm tyre is a bit worn, even bitten from in certain places, but some surface lettering is still visible. The watch case – or allow me to say rim – has thousands of tiny scratches, but no deep scar. I would say that whoever calculated dimensions, curves and proportions on these things did a good job. This Tyre watch served the previous owners well and it's visible on its body. But after some cleaning, I uncovered one honest stunner. Even from far you can see how beaten it is, with the front crystal heavily scratched, but the dial underneath is in amazing condition with only a tiny scratch at the edge by the 8. Still not sure if I want to give it 5 minutes with a Polywatch. Especially when I compare it to the transparent back plexiglass that has visible thousands of microcracks.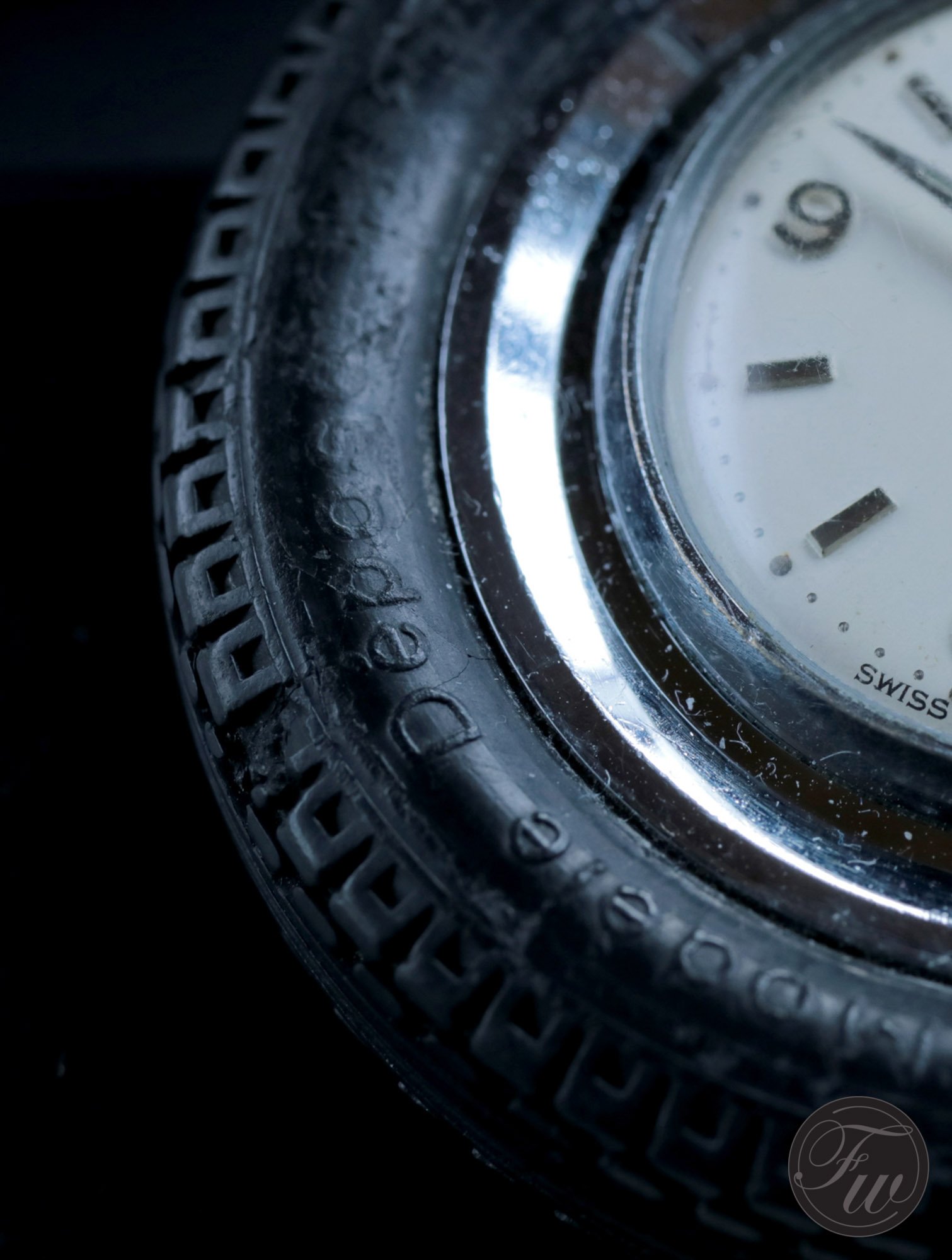 Automatic Marvin cal. 580
The biggest surprise of my Marvin tyre watch is the automatic movement. From all the 50 pieces I studied carefully online not a single one had an automatic movement. I initially had serious doubts and started to think it might be a well-executed swap. But after longer digging, I found another gold example that seemed trustworthy, so I assume Marvin Tyre watches were fitted with automats in a later stage. Marvin 580 is the only self-winding movement developed in-house, introduced in 1955 together with the Flying Dutchman in three versions – without a date, with a date and a chronometer version without a date. It has 25 jewels and I am surprised at how accurate the movement is. Without any further delays, I decided to replace the missing clasp with a new one. I simply adjusted an 8mm leather strap I bought at the local watch shop and my key from a classic car has a new company. I don't know about you, but I think I need to get another Marvin Tyre watch with manual movement and original clasp. Auction robots are set.