#TBT Moeris 007 — The Only Original Bond-Licensed Watch
No watch has ever been more Bond
And I believe no watch will ever be more Bond. With Bond signed on the dial, 007 signed on the crown, and Sean Connery portrayed on the case back, the Moeris 007 is another eye-opening watch find that I had no idea about.
Hunting for new watches is extremely time-consuming. And I don't mean hunting for watches that you have on your wish list. I'm talking about discovering watches and watch brands that you've never heard of before. I'm talking about finding hidden horological gems.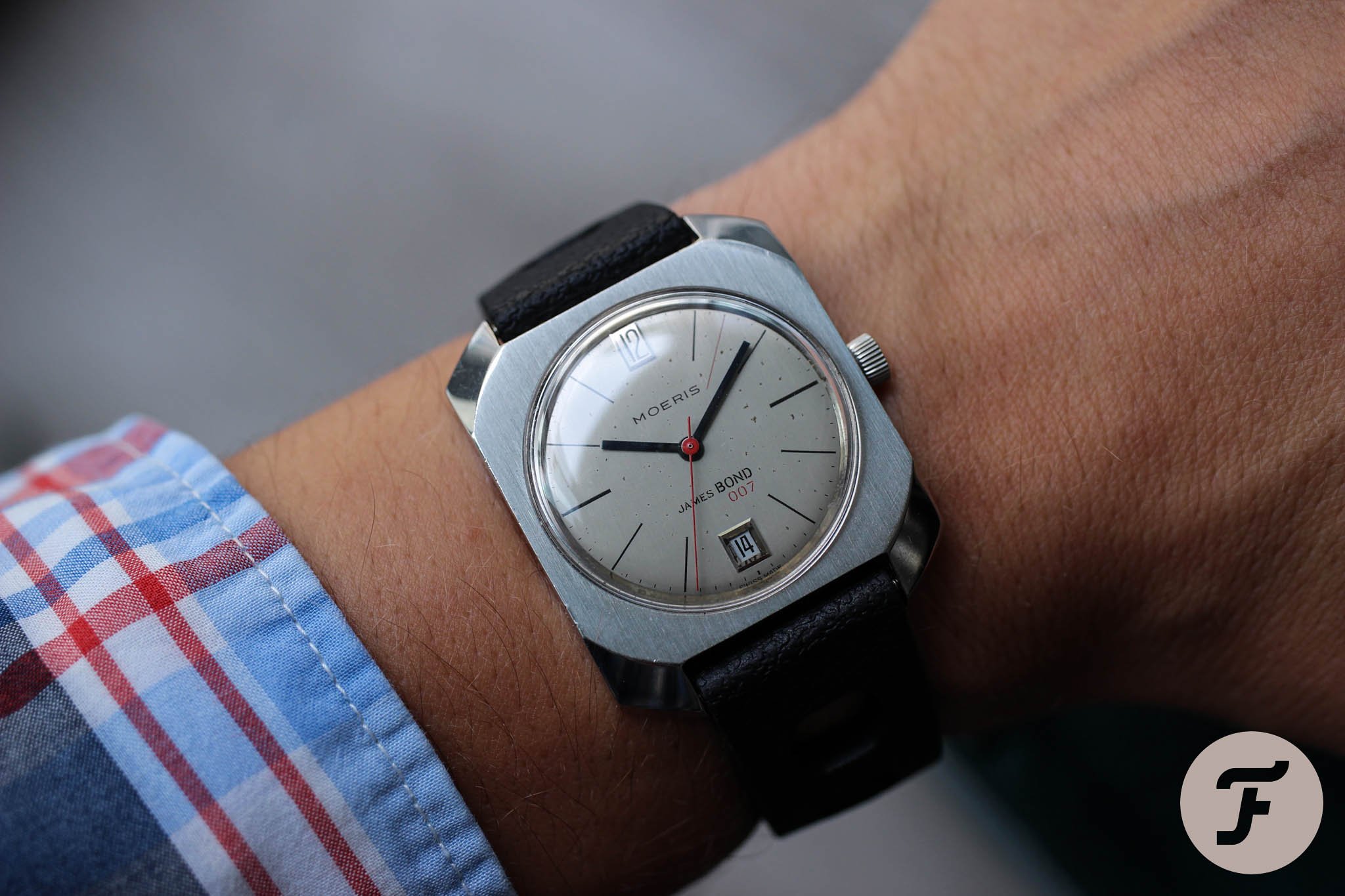 Back to basics
Years ago, I often spent nights browsing watches with no specific objective in mind. It was a time when finding two or three hours to kill was not so difficult and didn't hurt that much the next morning. Since we have two small kids now, I had to put my long, aimless, nocturnal discovery journeys on hold. I had neither the time nor the energy to do it anymore. Recently, I realized that I hadn't done my drill for a long time. Most of my acquisitions in the last few years were the result of research that I did long ago.
Follow the rules
The problem with aimless wandering is that you don't know what you are looking for. And I am not joking; it's not easy to keep looking if you don't know what you are looking for. The rules of sales direct you to "work your territory correctly". In this case, that means you take whatever local auction/classified ads website, and you go through all watches listed in the last/for the next seven days. The crucial part is to search through every single offering. Do not skip a day, and do not skip a watch. You never know where your gem may be hiding…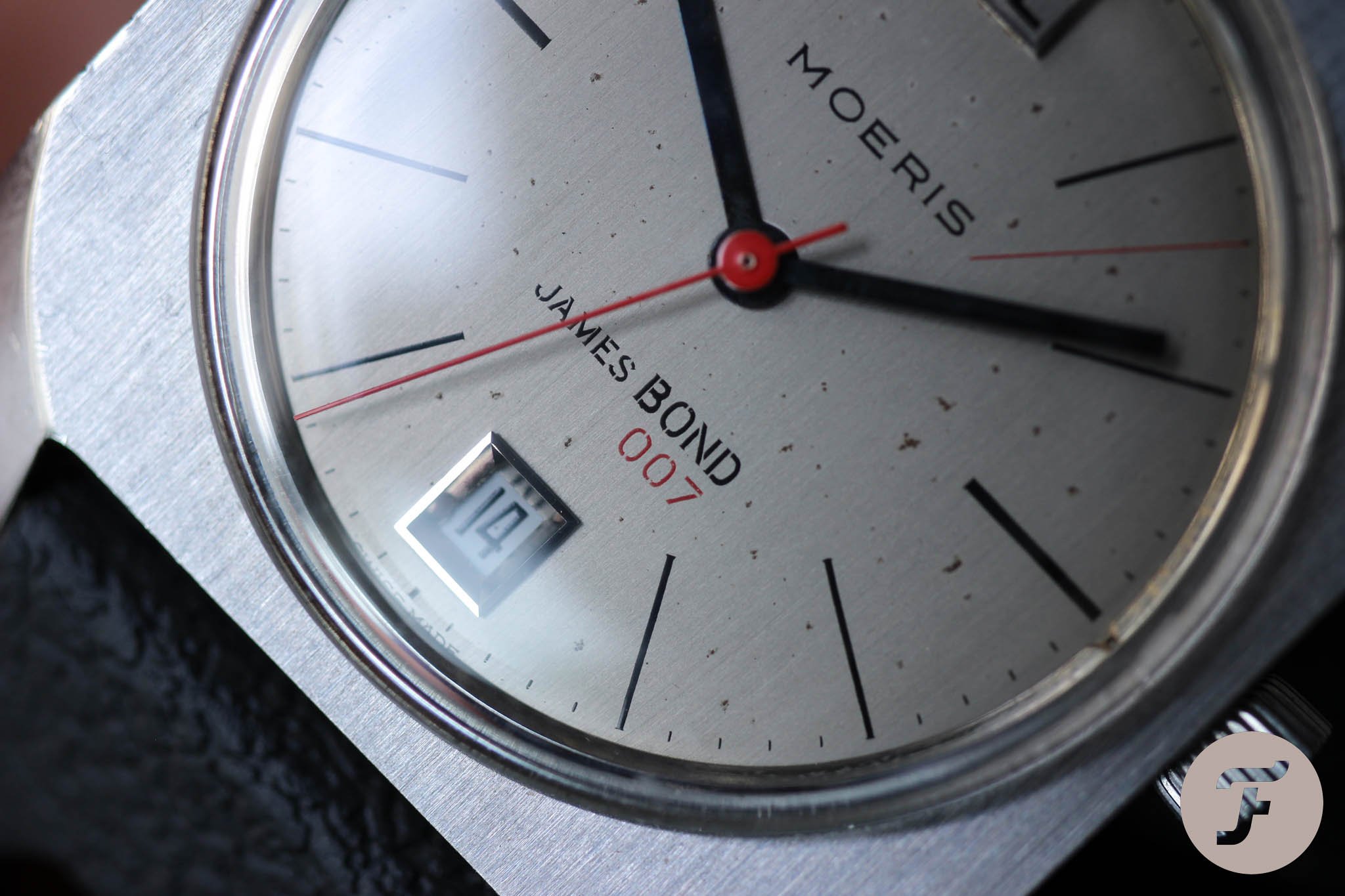 Be patient, be persistent
A few weeks ago, I opened Catawiki and started checking watches page by page. After 20 minutes of nothing, I told myself what a silly idea that was. I felt like I should probably just go to bed and get some much-needed sleep instead. The urge to experience that enlightening feeling when finding something new kept me going. After maybe half an hour, I felt I might have spotted something.
It got me a Moeris 007
And this is interesting. I was already on another page when I had that feeling that I had seen a Bond watch. Had I? If you do this often enough, you end up training your eyes to a level that will fascinate you. Unsure of what I had spotted, I returned to the previous page and scrolled up slowly. There it was — a Moeris 007 James Bond. I quickly scanned the picture and was about to close the page with the weird rectangular watch when I noticed the James Bond inscription on the dial. That and the red 007 code printed under James Bond's name made me realize it was no joke. However generic the watch was, I instantly knew that this was the first time I had seen Bond's name printed on a dial. How come?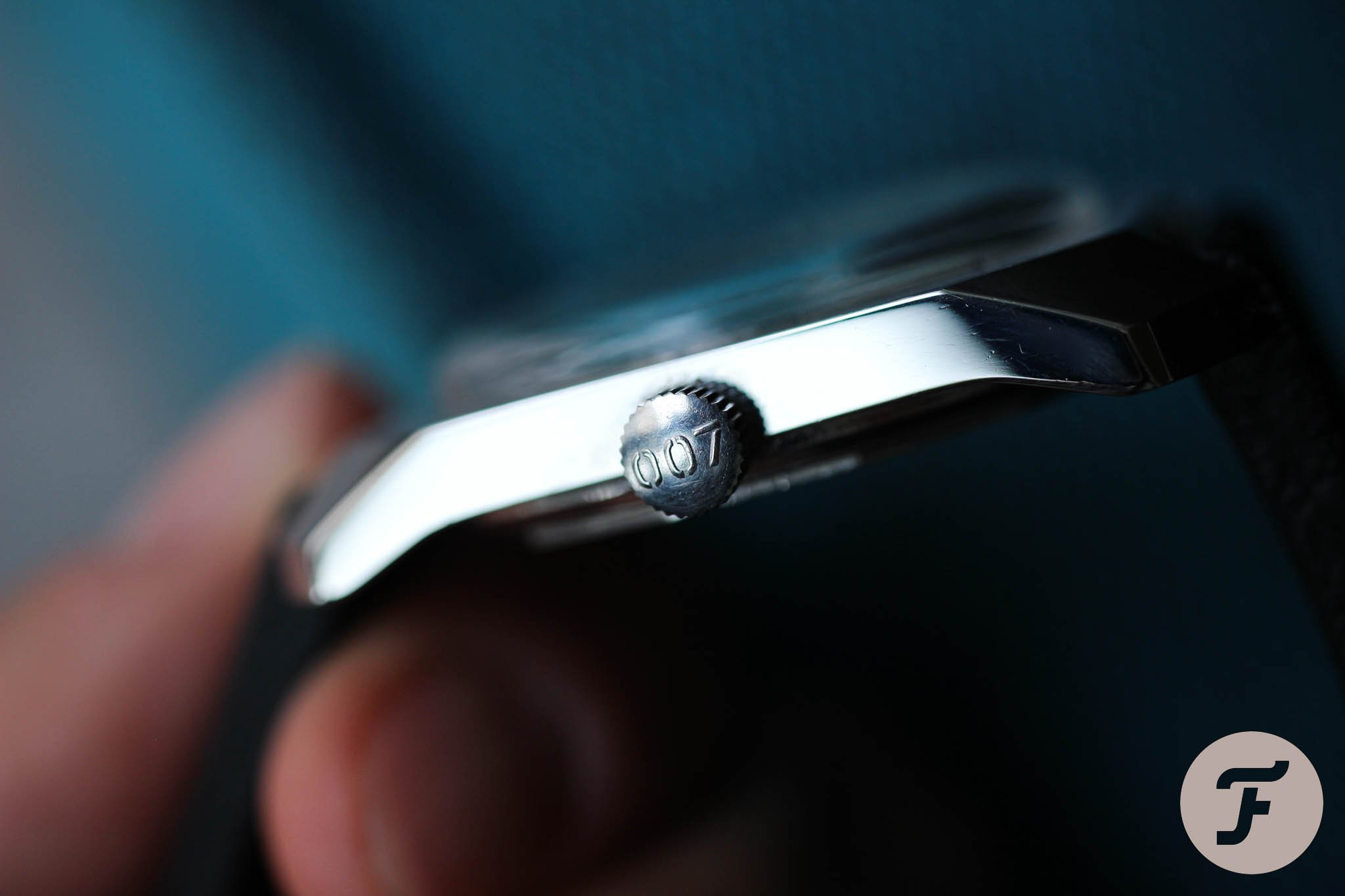 There are so many famous so-called "Bond watches" out there, and here I was, looking at an actual Bond watch that I had never heard of. Was that even possible? I opened the gallery to see more pictures. When I saw a profile shot with a crown signed "007", I started to feel that satisfying feeling I hadn't experienced for some time. I kept scrolling until I saw the case back. The deep, high-quality engraving that showed the famous Sean Connery portrait left me speechless! I instantly thought about my past article about the top five case back designs. Had I known about the Moeris 007 back then, it would have been on the list, you bet.
How I missed the Moeris 007
I didn't want to miss the auction, so I put an alert on my calendar. The Moeris 007 came to mind here and there over the next few days, and I was determined to win the auction. But then I started working late nights on a big project, and I was quite busy and stressed out. When the Moeris popped into my mind again, I rushed online. Alas, I had missed it; the auction had ended one day before. I checked my calendar. Lo and behold, the alert was there, I just hadn't noticed it. I was frustrated and upset. Remember, one calendar alert is not enough! You need to set an alarm. Or even multiple alarms!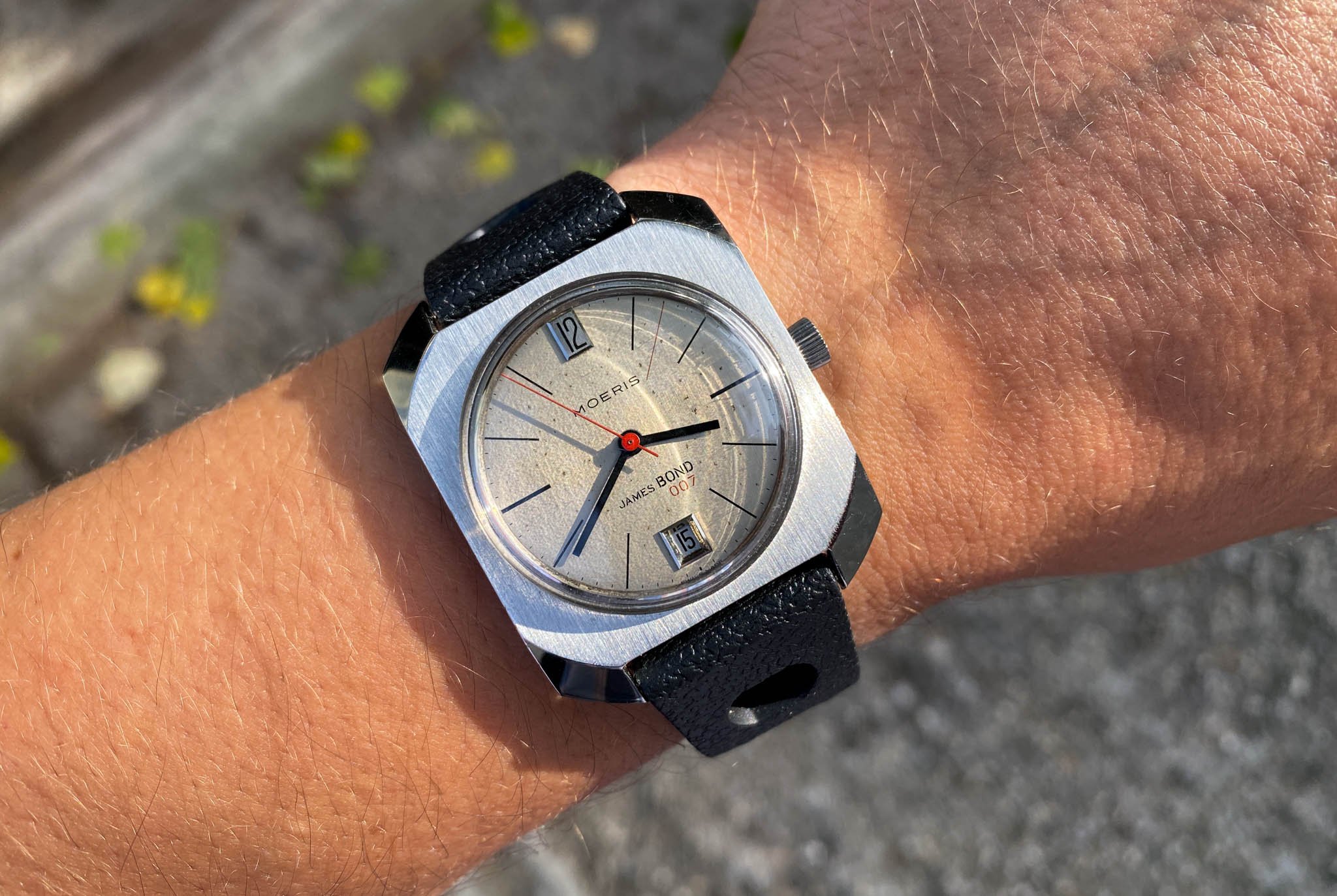 Never give up
That's what I do. After I shook off my initial disappointment, I could think clearly. It seemed that the auction had ended without a sale. The problem was that Catawiki doesn't allow you to contact sellers. I tried to find the seller on Instagram via his nickname and left a DM. The guy I left a message for was a watch dealer too, but unfortunately, it was not him who had listed the watch on Catawiki. There were no traces leading to the actual seller.
The Moeris 007 ghost haunted me for the next few days. It was mostly a sign of desperation that I tried looking on Chrono24. And voila, there it was, listed again with the same pictures! This time, I didn't let it go.
Unboxing the Moeris 007 James Bond
When it arrived, I put it on my wrist immediately. Seriously, I felt like I'd just strapped on the Bvlgari Octo's grandfather. The watch wears comfortably, and it feels very thin on the wrist. The combination of the brushed top and highly polished angled edges underlines the unusual shape. I was never a fan of the Bvlgari Octo as I never liked the case shape. Well, it seems that just changed, and I understand why people are so crazy about the Octo now. The shape, however weird it looks when the watch sits on the table, feels very natural from the moment it touches your skin.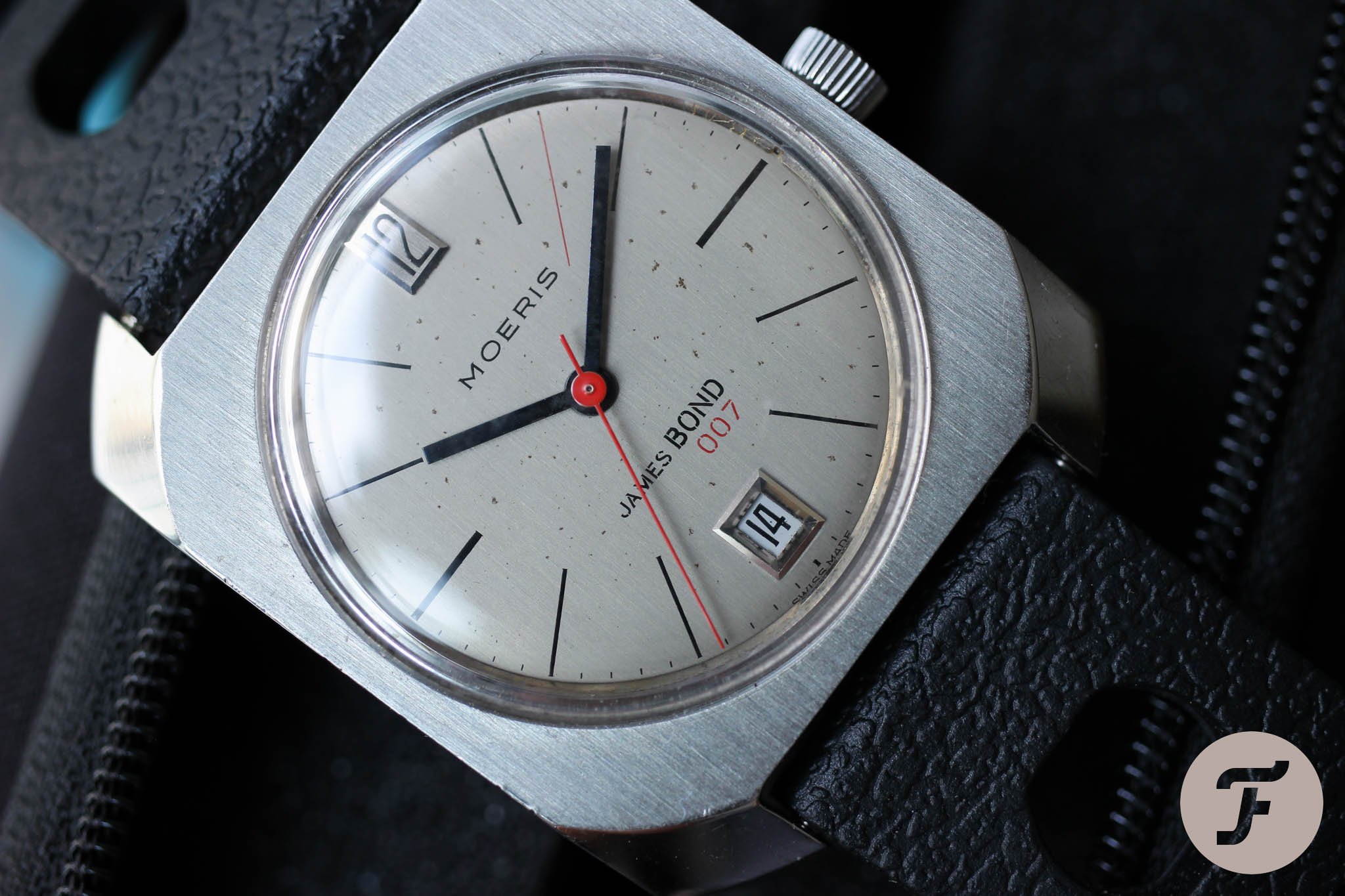 The dial
It has the same vertical brushing that blends nicely with the case. I believe this is a tiny but important detail. The dial with thin and long printed indexes is quite simple but very elegant and dressy in a Bond-like way. Notice the tiny serifs at each index's tip that mimic the serif-type font used for the Moeris logo. This is yet another tiny detail whispering that the Moeris 007 James Bond is not a cheap or sloppy watch. Do you need more? Check the interestingly shaped crown with the 007 signature. Some of the (presumably) automatic Moeris James Bond watches came with a more futuristic square crown.
The date is nicely integrated into the dial at 6 o'clock. It has a similar treatment as the extra-wide applied index at 12 o'clock, and sometimes you forget it's a date window. Above that sits the "James Bond 007" name printed in an interesting font. The "007" is in red, and so is the central sweeping seconds hand. Another nice but useless design touch is a thin red line to mark the seventh second.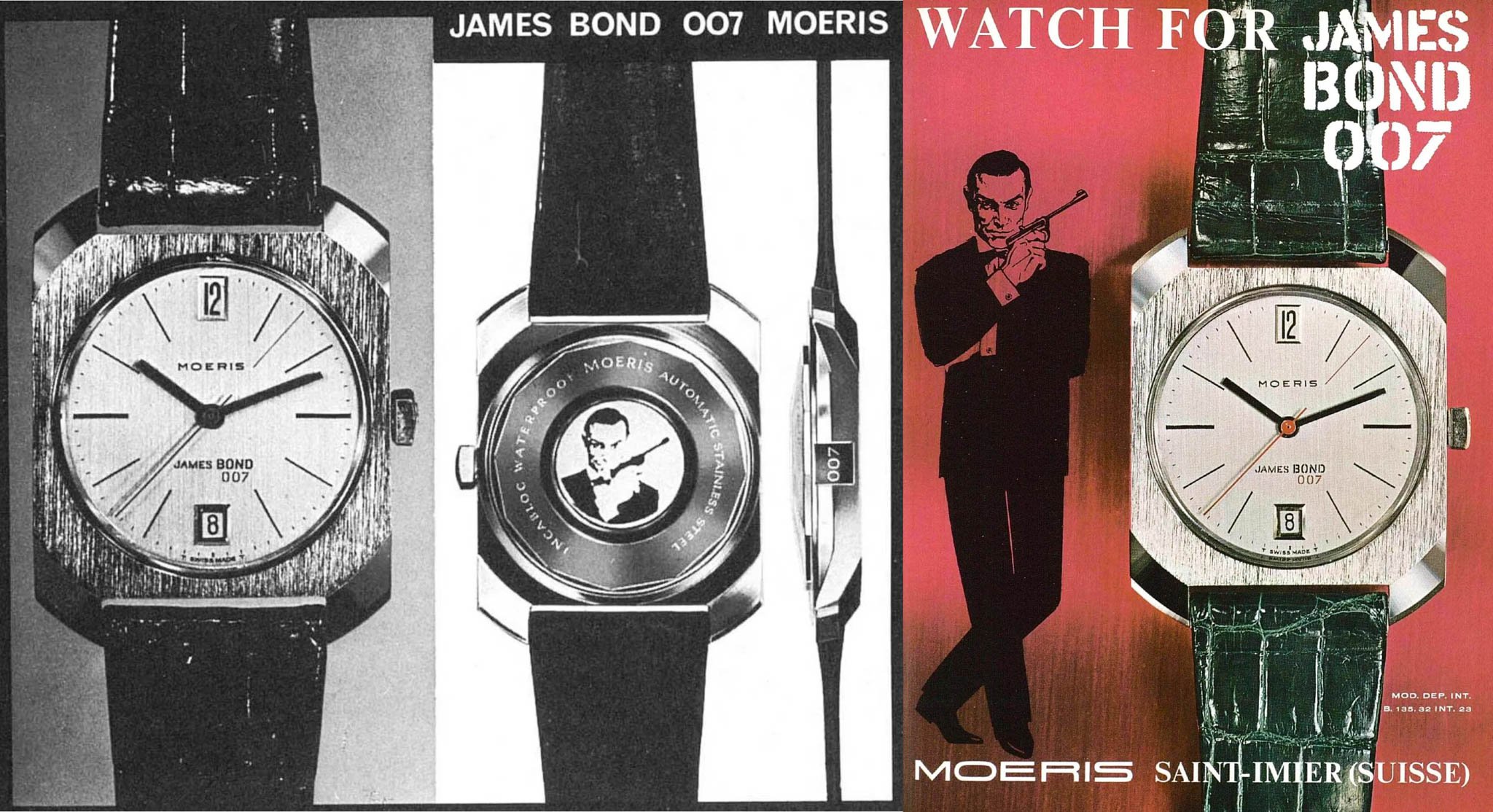 Sean Connery memorabilia?
If you turn the Moeris 007 watch around, you will see another highlight. The big engraving of James Bond seems to be an exact copy of the portrait taken for a promotional poster for the 1963 film From Russia With Love. Sean Connery was my favorite Bond actor, and that was his second Bond movie. I didn't find any hard proof, but multiple sources claim that the Moeris 007 watch was released at the Basel Fair in 1966.
There are no production numbers available for the Moeris 007 watch, but we know there were all-steel and gold-plated models. They were available in both automatic and manually wound versions and with or without a date complication. I also saw a later model that featured the Bucherer logo on the dial, but don't ask me how it got there.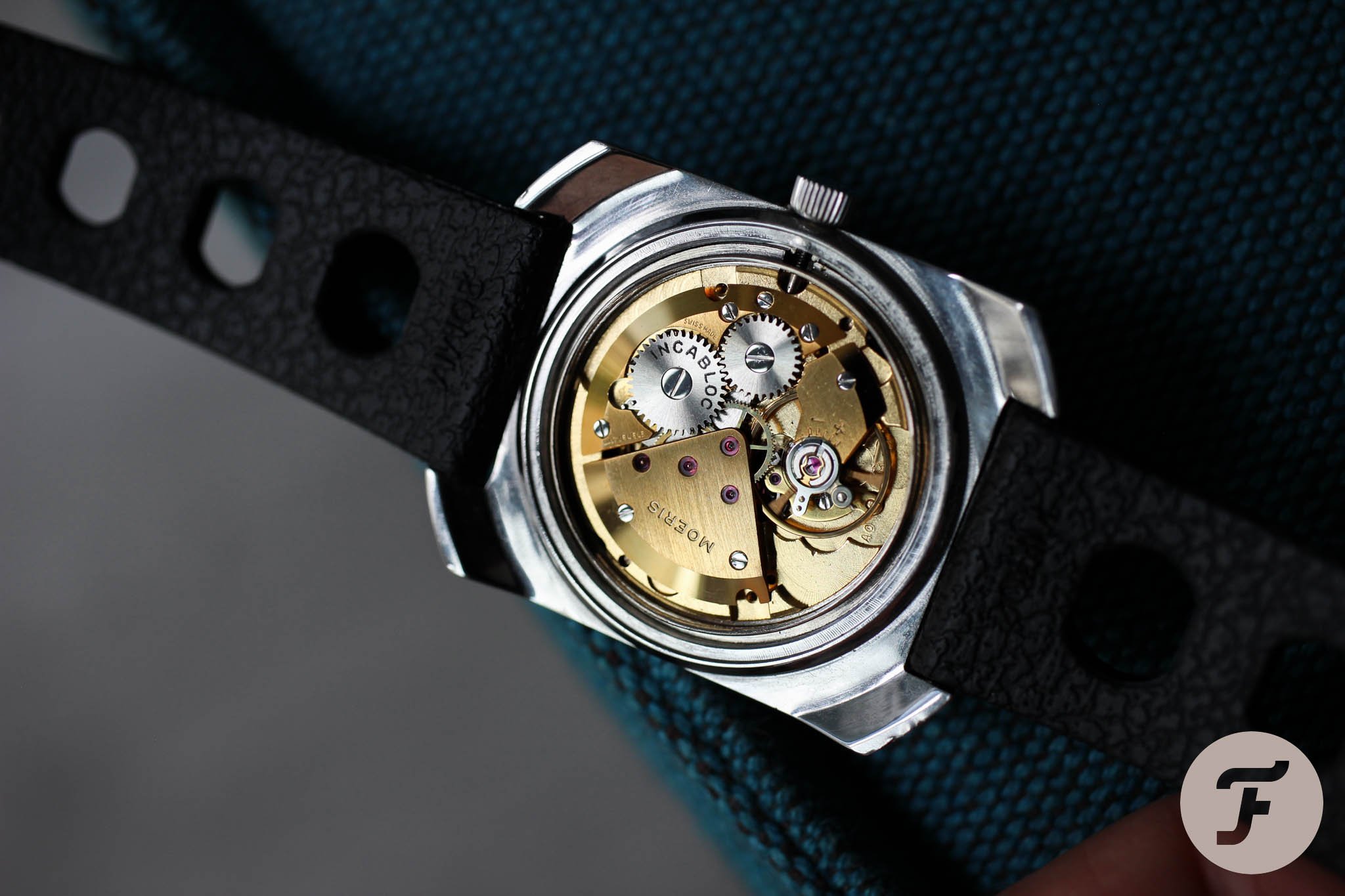 A few words about the Moeris brand
The Moeris Watch Factory was established in 1893 in Saint-Imier, Switzerland. Moeris became part of Rayville by 1974, alongside Blancpain. In 1980, ownership of Moeris was passed to Tissot. By this point, the brand was focused on skeletonized pocket watches and quartz pendant watches for ladies. Moeris appears to have ceased production after 1985.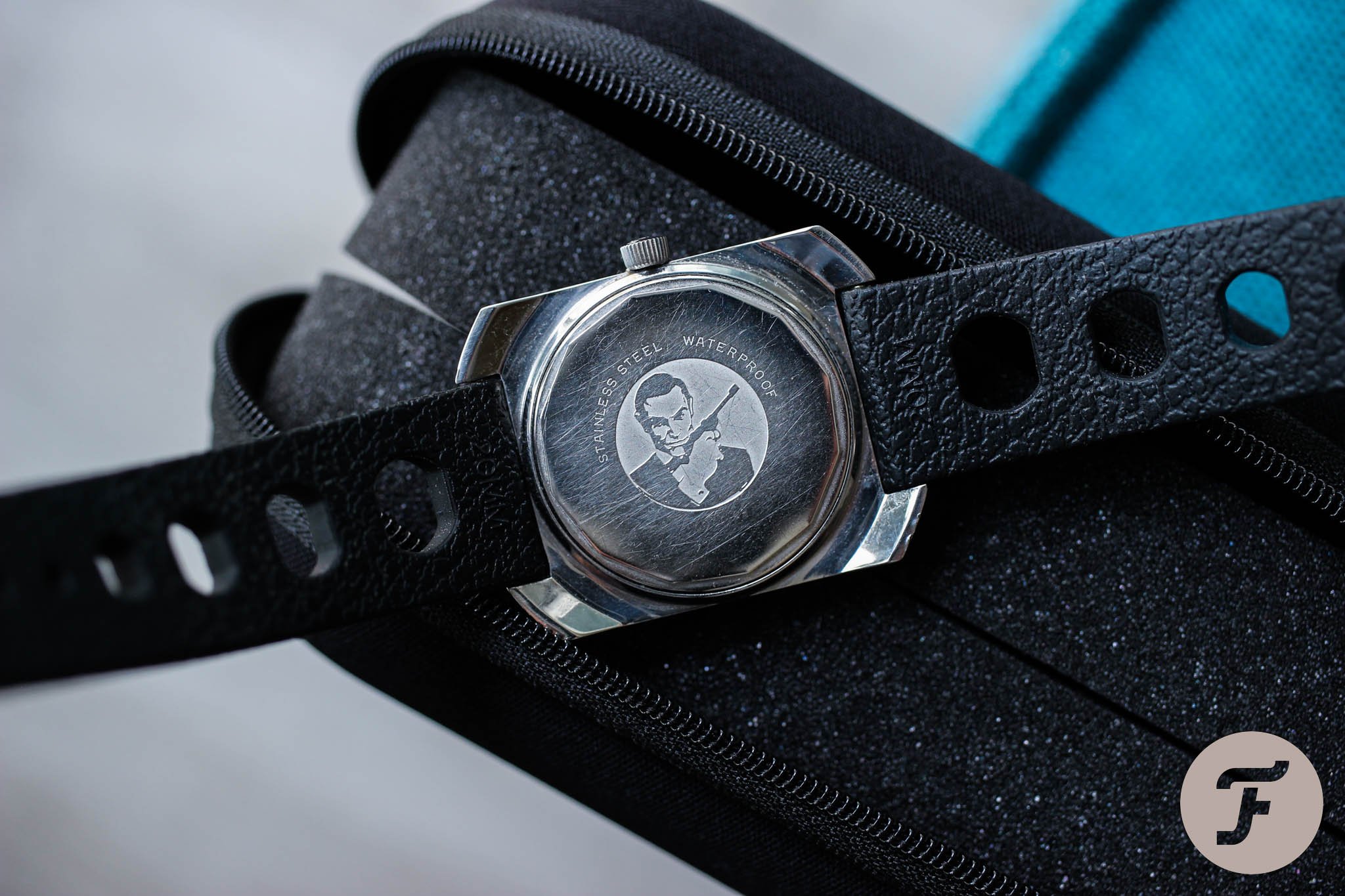 Last thoughts
If you think of all the Rolex, Seiko, or even Tissot watches that were more or less famously worn in Bond movies, it's fascinating how little we know about what seems to be the first officially licensed James Bond 007 watch. Judging the cult following that James Bond has garnered over the decades and the stellar market value the Bond name has today, I can hardly imagine that any watch will be more Bond in the future. This Moeris isn't an Omega. And it doesn't want to be. But I guess no Omega will ever carry Sean Connery's engraving on the case back. Happy hunting!