TOP 5 Vintage Watch Case Back Styles
Or watches I would love to wear upside down
There are case backs that are nothing more than the back of a case. And then we have case backs with beautifully crafted artworks from which you cannot tear your gaze.   
Don't get me wrong, I have nothing against a plain flat steel case back decorated with a decent Heuer, Breitling, or Tissot logo. Even "naked" case backs have their own charm. But once you've seen a mass of case back steel converted into rich shapes formed into sculptural elements, a fully plain case-back might strike you as a missed opportunity. Let's forget the notoriously known Omega or Rolex case backs for a while and let's set the stage for some more interesting ideas that deserve the spotlight.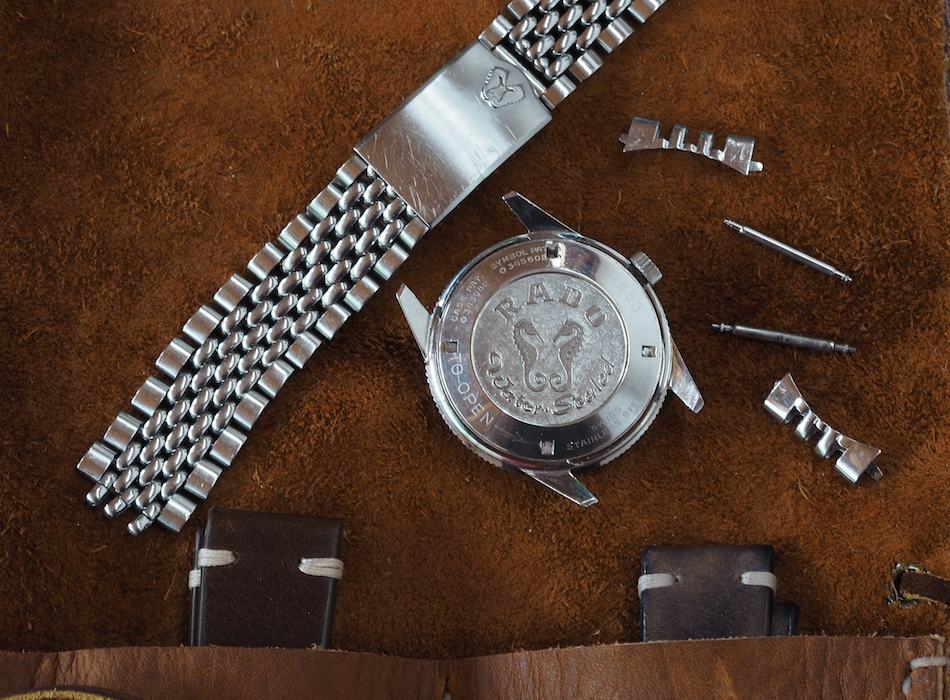 #1 You-name-it engraved or embossed case backs
A bigger or smaller relief graphic sculpted into the thick case isn't anything unusual. We have seen turtles, dolphins, sea-horses, sea-pearls, or eagles that have almost become as recognizable as the brand logos themselves. To introduce them all we would need an all-year-long series with one article every day. Embossed or engraved, they all look majestic and represent an entirely standalone visual story that literally touches your skin.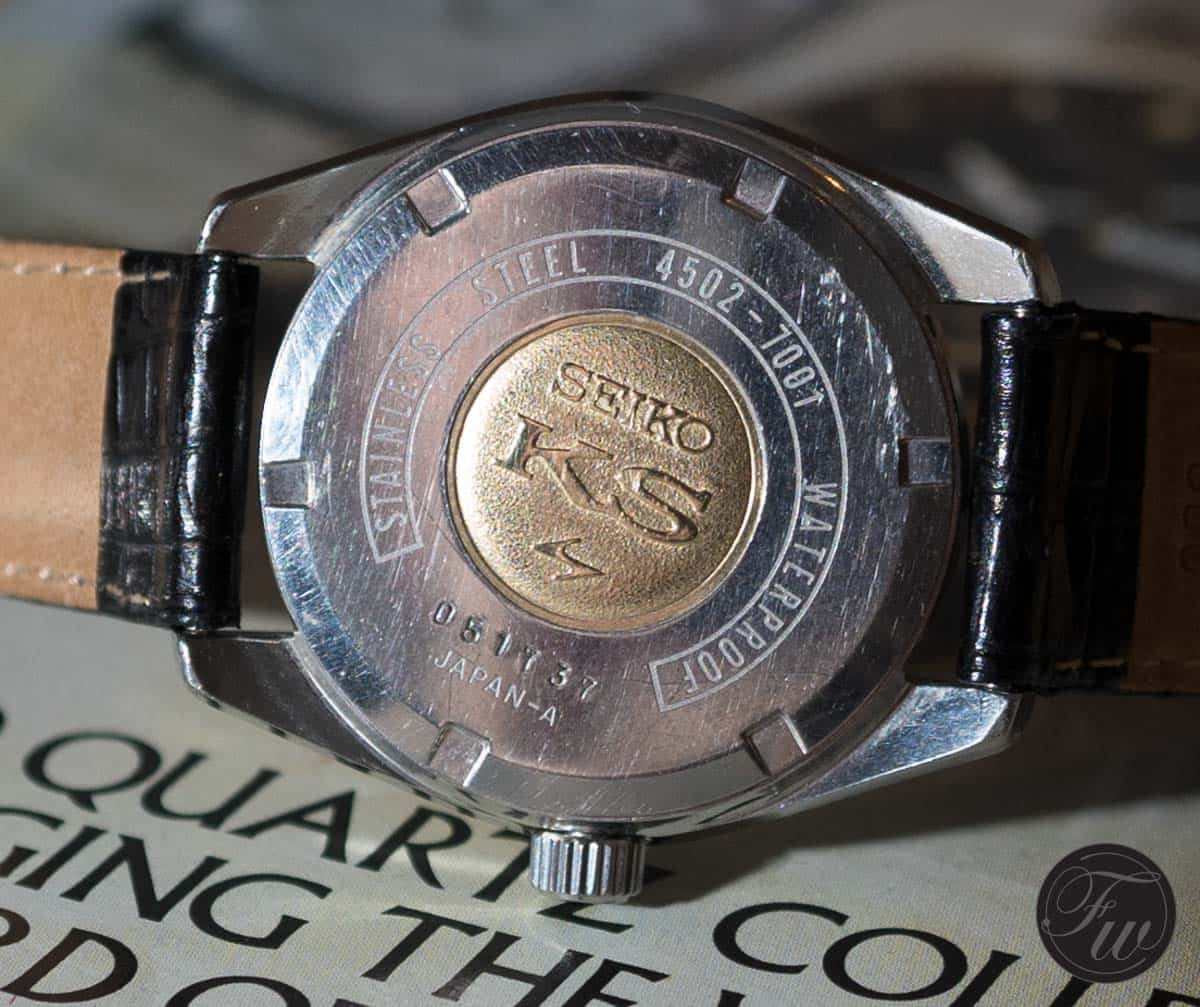 #2 Omega or Seiko Bi-metallic "Medallion" case backs
It's very similar to the first group, yet leaves a very different and much stronger impression. There are much fewer medallion case backs, which is a shame as they look more premium. I believe it's the combination of the two materials that draws much more attention. The medallions are often created in the same way, but it is their integration that makes them look like an artifact with its own identity and purpose. Can you see the resemblance to a badge or a coin too?
Take the Omega Constellation observatory medallion. When engraved directly into the case back, it looks quite flat. And it's still just a picture on a case back. The Omega Constellation models with gold medallions look much better. To put it in other words, you don't just have a watch. You also get a gold medallion that you just happen to wear on your watch. How cool is that? Even though they are thin and not worth much gold value at all, make sure it's not missing when looking at a piece. Finding a blank empty space in the middle of an Omega Constellation case back means you were robbed.
Tricky Seiko medallion
If you are a fan of Japanese watches, some pretty cool medallions can be found on the Grand Seiko, King Seiko, or Citizen Chronometre models. It's amusing to read the stories of collectors and their concerns that they might lose them. Or comments of other collectors advising them to use sellotape or a substitute case back to protect the original one. One thing you should keep in mind is that the medallions are often removed and replaced with plated aftermarket substitutes. So I recommend you do your homework if you are about to get one of these watches.
#3 Longines enamel inlay case backs
I almost forgot about this one, the case back with the most poetic touch – champlevé enamel inlays. You can find the enamel case back on several Longines models, including the 1950s Conquest, Comet or the Flagship. Most Longines case backs today might seem to be almost the same as the bi-metallic medallions, and that's because the enamel inlay often breaks and falls off. Sometimes you can see traces of enamel left that look like shards of broken glass. That's also kind of interesting, but the original is the original.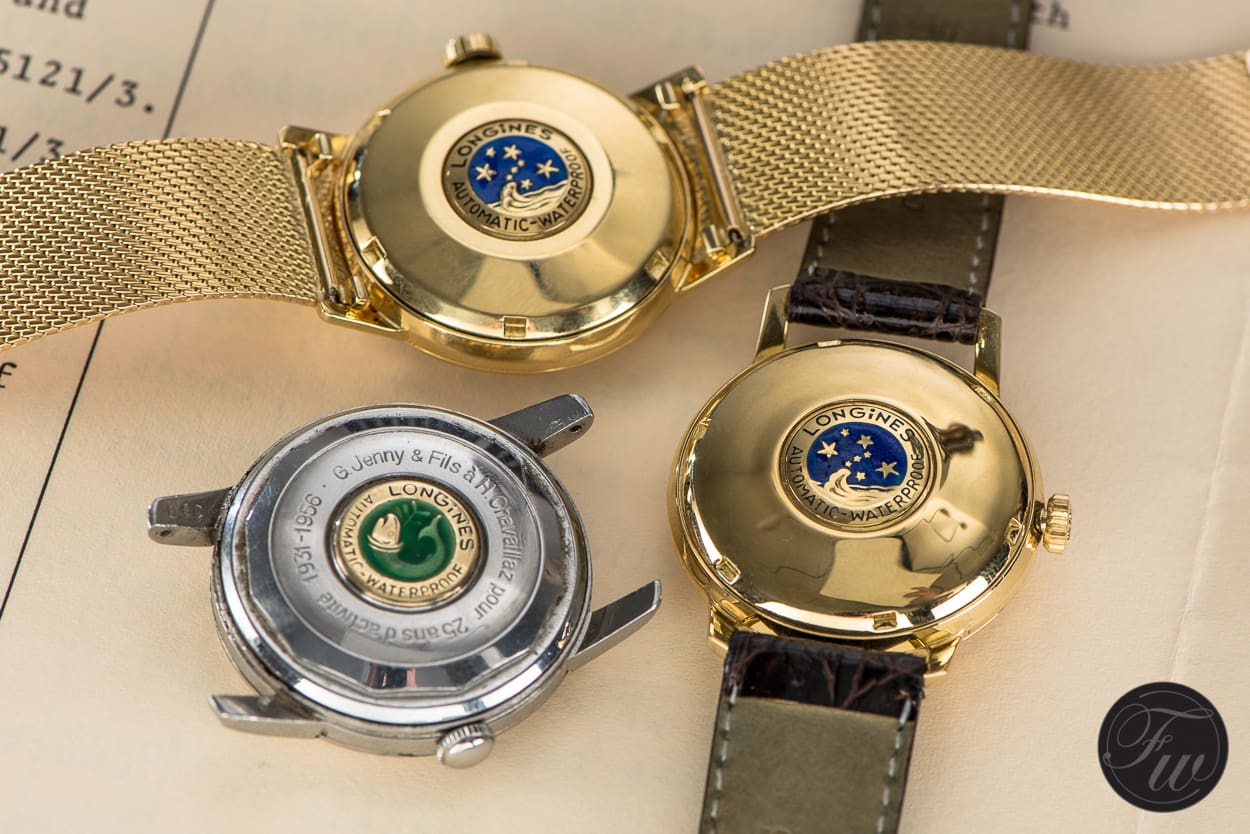 Enamel artistry
Champlevé is an enameling technique in which the ornaments are carved, etched, or cast into the surface of a metal object and filled with vitreous enamel. The piece is then heated up until the enamel fuses together and only when cooled down is the surface polished. To find an untouched Longines with a fish in a green sea or wave and stars enamel case back is one colorful feast for the eyes. Don't have expectations to see Paris' stunning Sainte-Chapelle artistry, but be ready to appreciate how just a little bit of enamel can enliven an entire case back. If you find a vintage Longines with the enamel on the case back missing, you might decide to send it to Longines for a restoration. However, when you realize it can cost you up to CHF 3,000, you might be tempted to explore some DIY alternatives…
I've not tried it myself, but here is an example of a collector recreating the effect by using cold enamel instead. Cold enamel is effectively a resin that hardens to create a durable and resistant surface. To quote another OmegaForum.net member TropicConnie, "I've had luck with nail polish and a steady hand." If you don't like any of these suggestions, you can still search for a 2014 Longines Conquest Heritage that revived the enamel case back idea in a nice limited edition.
#4 Enicar Incastar "HOW TO" case backs
This is the watch that slipped through my fingers a few months ago. Attracted by the lume dots on the dial, I clicked on the listing. After a few clicks, I was speechless as the case back shot popped up. To be precise, I'm not talking about the case back, but the back of the case back. Honestly, this little Enicar presents one of the most charming uses of the inner side of the case back ever.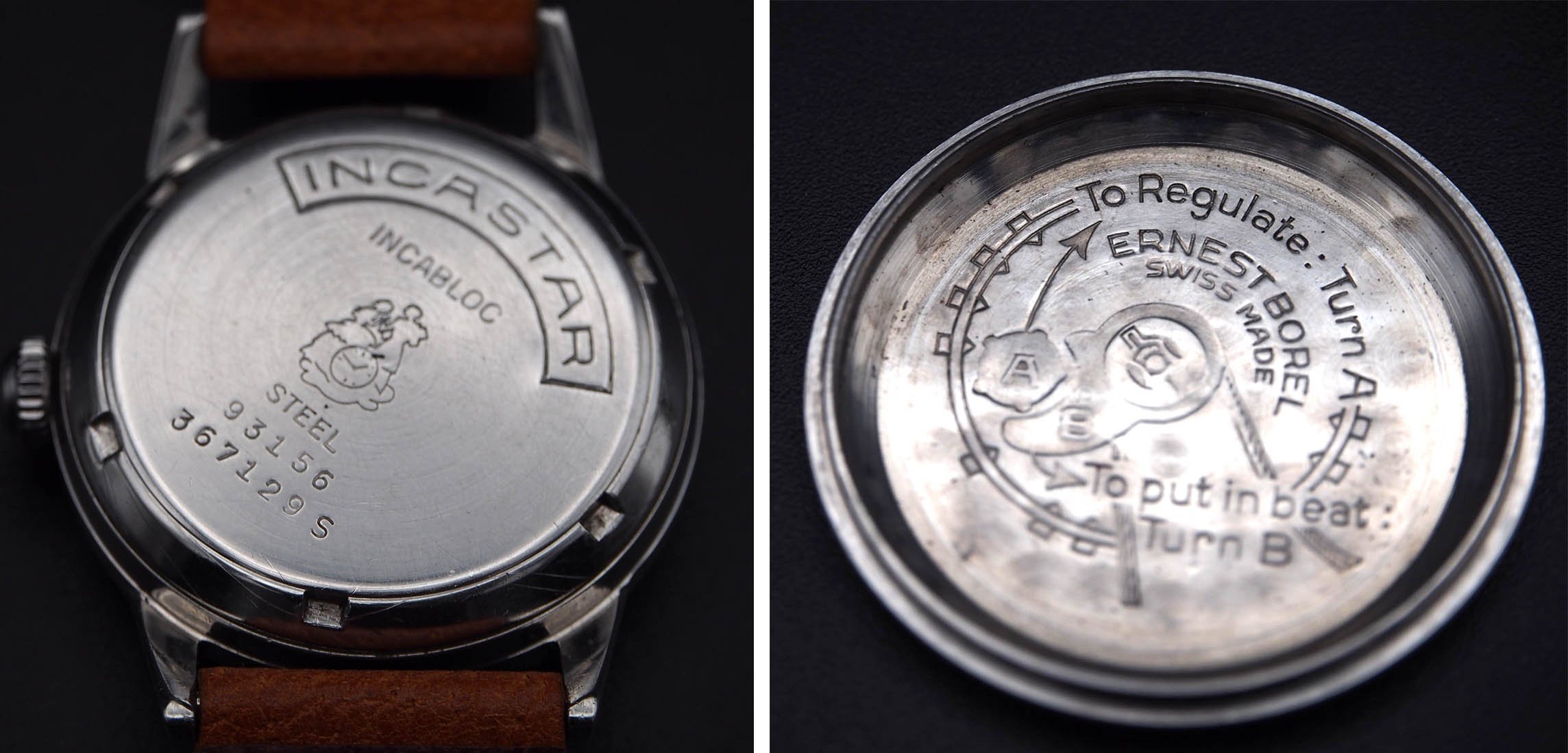 Most inner sides of case backs limit themselves to the brand name, serial, case manufacturer, or material stamp. Not this Enicar. It uses almost the entire inner space and features the whole watch manual. Well, at least the instructions on how to operate the Incastar regulator system.
With the Incastar regulation, the end of the hairspring is fixed between two rollers. If you turn it (A) you lengthen or shorten the active length of the hairspring, enabling you to regulate the watch. Each time you correct the regulation you have to check and re-adjust the beat setting as the zero position moves slightly. And you can do it without removing the cock! Just move the balance to the beat-point as you turn the whole assembly (B). You have to admit it's not only simple and self-explanatory but also a  beautiful way to use the available case back space.
#5 Sicura "Sheriff badge" case backs
The last of the featured five might surprise you a bit, as it does not carry any bigshot name. Quite the opposite, if you remember what kind of image Sicura has among Breitling collectors. Even if Sicura watches don't have the most exquisite movements, the brand's dial and case back designs are decent. The one I like in particular has six holes for the case opener tool around the Sicura emblem. Usually, the case opener holes are moved as far toward the edge as possible, allowing for a better and easier grip. Sicura moved them closer to the center, each one marked with a star. I don't know if it's just me watching too many American action movies as a kid, but I can't unsee a Sheriff's badge in it. Isn't it cool?