#TBT The Rolex GMT-Master 16758 – Yellow Gold is Here
And now I'm in trouble. The angel consistently perched atop my right shoulder with a consistent message: don't buy a yellow gold Rolex. "They're too expensive, they're too loud, and after all, it's yellow gold for goodness sake", shouted the haloed figure. On the sinister shoulder, the fellow with the pointy tail appeared with that lustful voice cooing, "you truly want a gold Rolex: they're the horological version of forbidden fruit, the 24oz Porterhouse that calls your name when the 8oz filet will do just fine, or the V12-powered (pick your German marque) sedan that drives a sledgehammer through the word overkill". Well, since today's article extends beyond this very sentence, you don't have to guess which otherworldly creature now lays claim to my soul. It's here, it really doesn't give a *#&! what you think, and it's perfect – the yellow gold Rolex GMT-Master 16758 is on #TBT.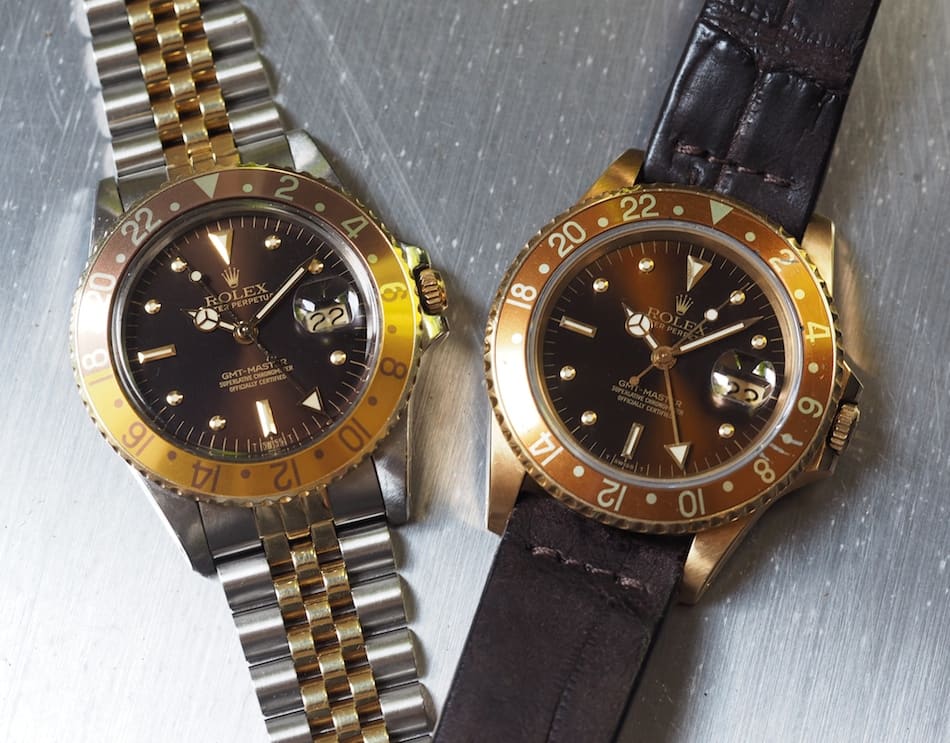 Finding a Yellow Gold Rolex GMT-Master 16758 was Just a Matter of Time
Let's be honest, you knew this day was coming if you're a reader of Fratello Watches. We've slowly amped up our nearly collective (well, Robert-Jan and I are outspoken) fervor for gold watches. R-J dropped a nice article on the do's and don'ts of buying gold timepieces and it includes great descriptions of plated, capped, and filled versions. He also instigated most of this contagion with the purchase of a stunning gold Speedmaster a couple years ago. More foreshadowing has been evident because I recently poured my heart out about a newly purchased GMT-Master 16753 – aka the "Root Beer" or "Clint Eastwood" – on #TBT. Well, the Rolex GMT-Master 16758 doses up the theme of that last article and trades all traces of steel for the fancy stuff. Let's talk about how this all came to be.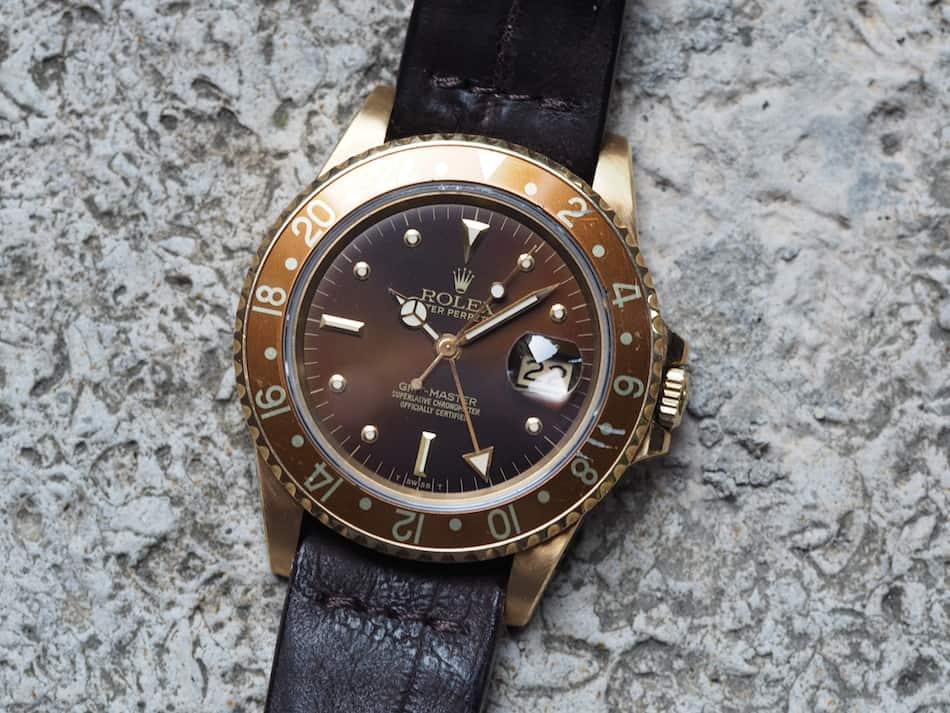 But it was pure coincidence…
As mentioned, R-J and I had been chatting about various gold lovelies for some time: baiting each other by tagging pictures on Instagram of yellow gold and rose gold Day-Dates, Datejusts, Submariners, and GMT's. Even the odd 1625 Thunderbird has crept into our discussions. But with prices of a gold Rolex generally well above the 5-figure mark or an all-too common selection of pieces that have been polished into pocketwatches with toothpick lugs, our banter resembled something more akin to jawing about supercars. It was essentially dreaming. For sure, each of us own a watch that could be sold to fund a great old-gold Rolex, but that's just too easy isn't it? And so it was via that all-too familiar scenario, pure happenstance, that the Rolex GMT-Master 16758 entered my collection.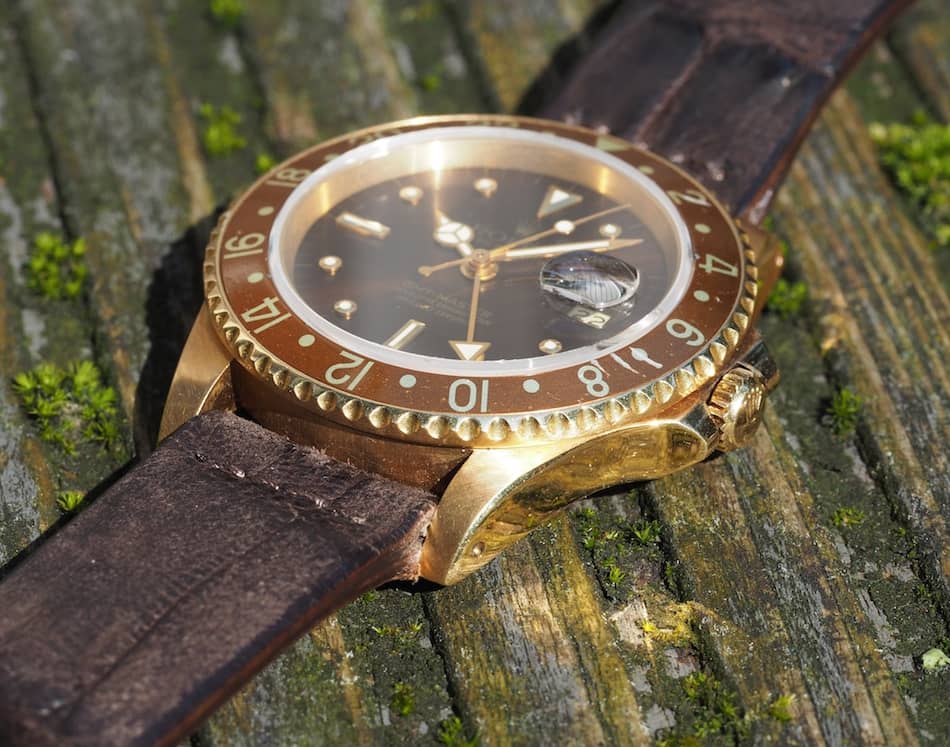 Someone had passed away at the unfortunately young age of 65 and when this person's heirs finished divvying up whatever assets interested them, some leftovers remained. Amongst them, about 10 watches went to an estate agent who was instructed to wholesale the pieces on behalf of the family. An unnamed connection, who knew the estate agent, was contacted to see if he had any interest in any of the pieces before the pieces were offered to a dealer. The connection mentioned it to me, I saw the Rolex GMT-Master 16758, and asked for more images. A couple days later, the images came back and showed a nearly unpolished case (who really knows?), the original inner and outer box, and, for good or bad, a nice leather strap with signed buckle. The deceased owner, apparently, had a real dislike for bracelets as evidenced by the absence of them on all other watches. And then the price came – and when a piece like this comes along at wholesale, or for roughly 55-60% of typical market value –it had to be done; a "no brainer" as my Dad likes to say.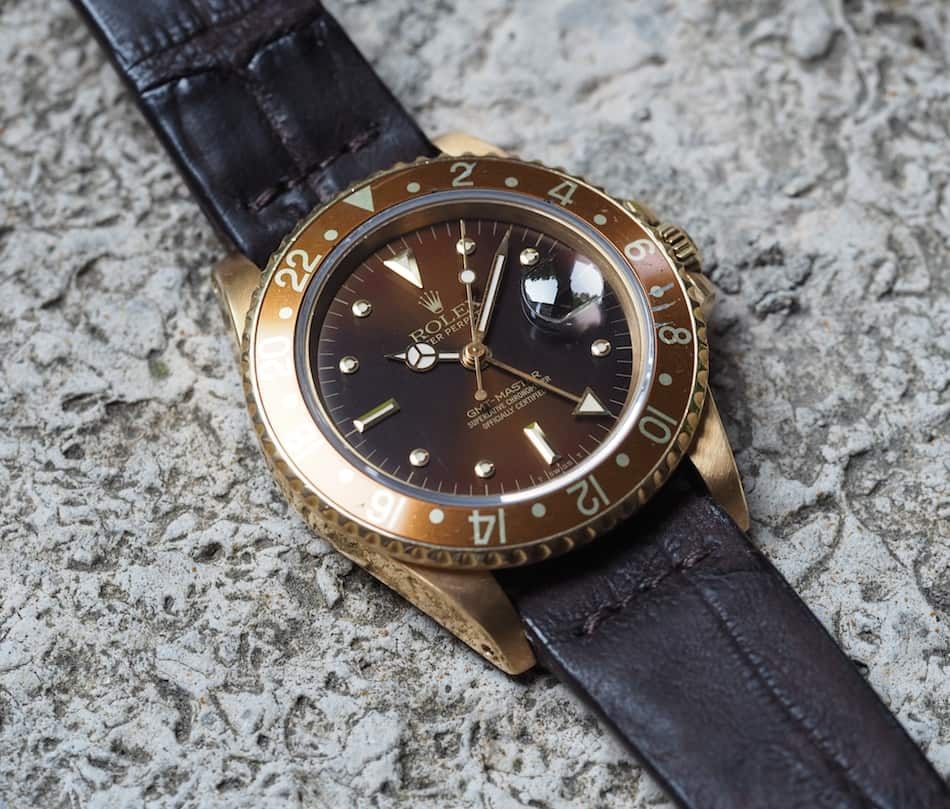 High Quality in Every Way
I spoke about "reality versus perception" when I reviewed the 18038 Day-Date and how impressed I was with the quality of Rolex's case work, the bracelet – heck, the overall presentation. The Rolex GMT-Master 16758 is no different. Since picking it up, I still get this tingly feeling as though I'm wearing something really grand. In fact, my earlier allusion to a V-12 German sedan is a pretty good descriptor because the watch, like the car, seems amazingly indulgent. And while I don't currently own the Jubilee bracelet that belongs with it (I say "belongs" even though an Oyster and, apparently, a leather strap were options), the watch head alone commands respect. It's large, seriously weighty and very solid. The gold, much like the President, has turned a bit coppery and it makes for a really warm look alongside the brown dial and bezel insert. Adding a nice leather strap only aids this and one could possibly mistake it for being a newfangled brass watch that's often seen today. And yes, I'd dare say that the strap lends an air of subtlety to what would surely prove to be an "in your face" watch when paired with the bracelet.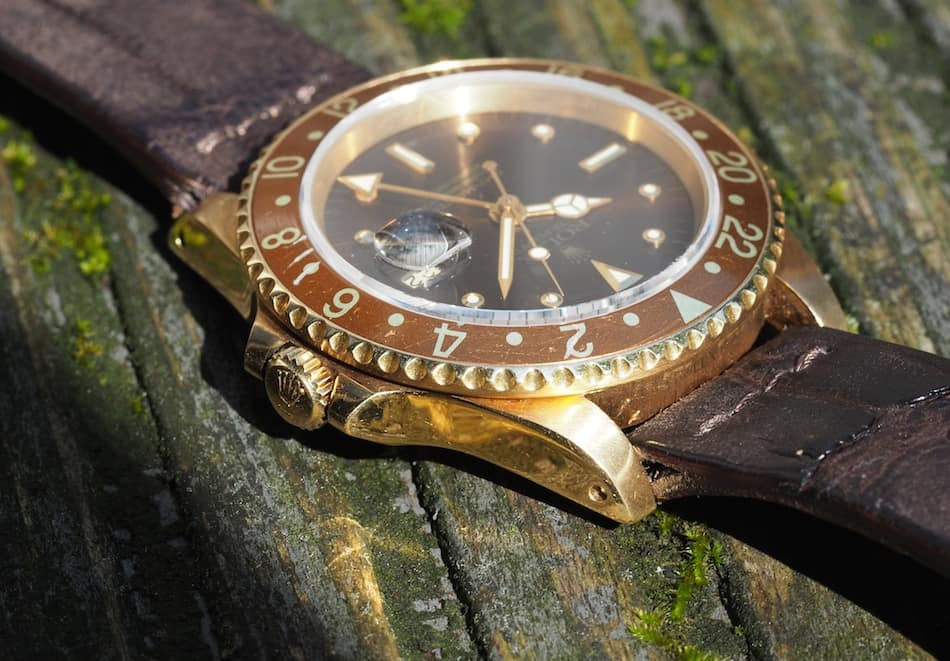 Differences in Living with Gold
Gold literally strikes a different tone. When winding the caliber 3075 automatic, the rotor noise emanates through the case with a sound that's very unlike steel. Place the Rolex GMT-Master 16758 gently on a granite countertop and hear something that immediately comes off as odd to one who strictly dabbles in stainless. It's all part of the experience. The feel differs as well. Highly conductive, gold quickly comes up to body temperature as well – creating an almost symbiotic relationship between wrist and watch. Grip the unidirectional clicking bezel and the teeth don't feel quite as sharp as the stainless references. They're little things, but they are present.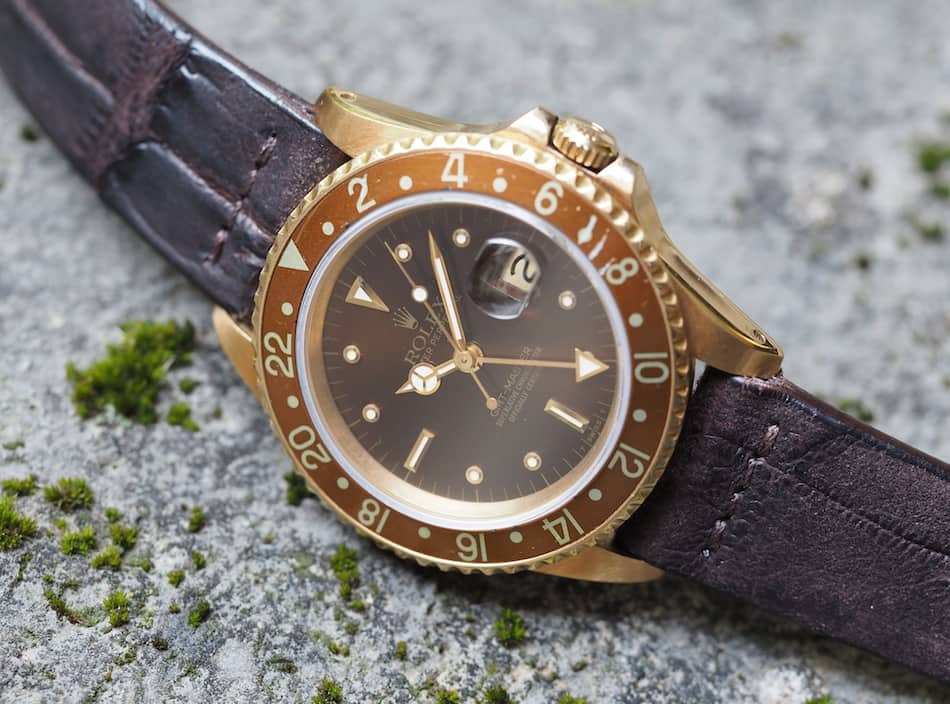 The fact that the Rolex GMT-Master 16758 became the opportunity to add some vintage gold worked out well. I had narrowed my focus to either a GMT or a Submariner, but the brown GMT's ultimately led the charge. Despite it's similarity to a Root Beer, the brown theme is amplified here due to the use of an all brown bezel in lieu of the former's bisected version. Also, while I simply cannot justify the purchase of a watch based on its complications alone (I'm long past that excuse), a second time zone has become something that I actually use. But would I take this watch anywhere or is it too ostentatious?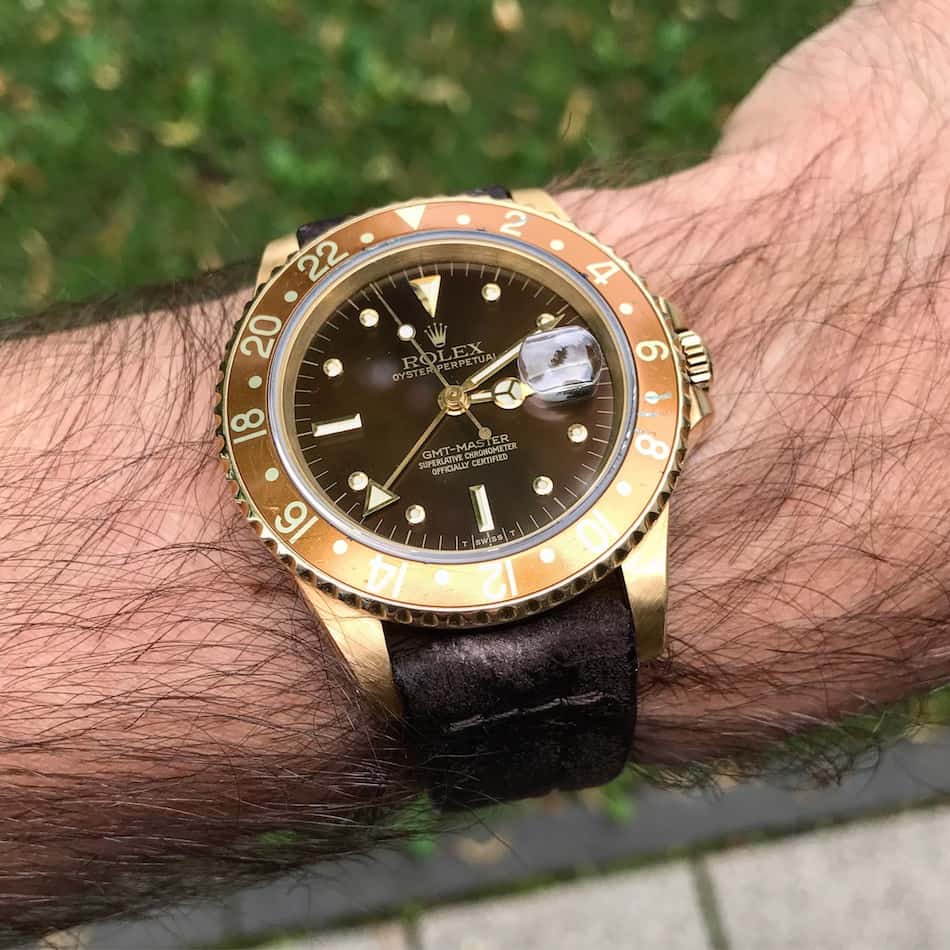 The Strap Makes it Subtle…Mostly
As mentioned before, I think that the use of a strap on the Rolex GMT-Master 16758 makes it far more anonymous, or far less noticeable if you prefer. Under a dress shirt, it's likely at its flashiest when a quarter or half of it peeks out of the cuff and shouts, "hey, I'm a gold Rolex", but when it's fully exposed, it somehow blends into the skin and the forest of arm hair that genetically afflicts me. This is why, strangely, I've worn it with shorts and a t –shirt and it's not amazingly different to wearing any stainless bezeled Rolex. Is it oxymoronic that I say it's special and incognito at the same time? Perhaps, but I'd modify all the above statements if the bracelet were attached. So, in the end, yes, I would take this watch with me on a trip to most of the places that I visit for work or otherwise.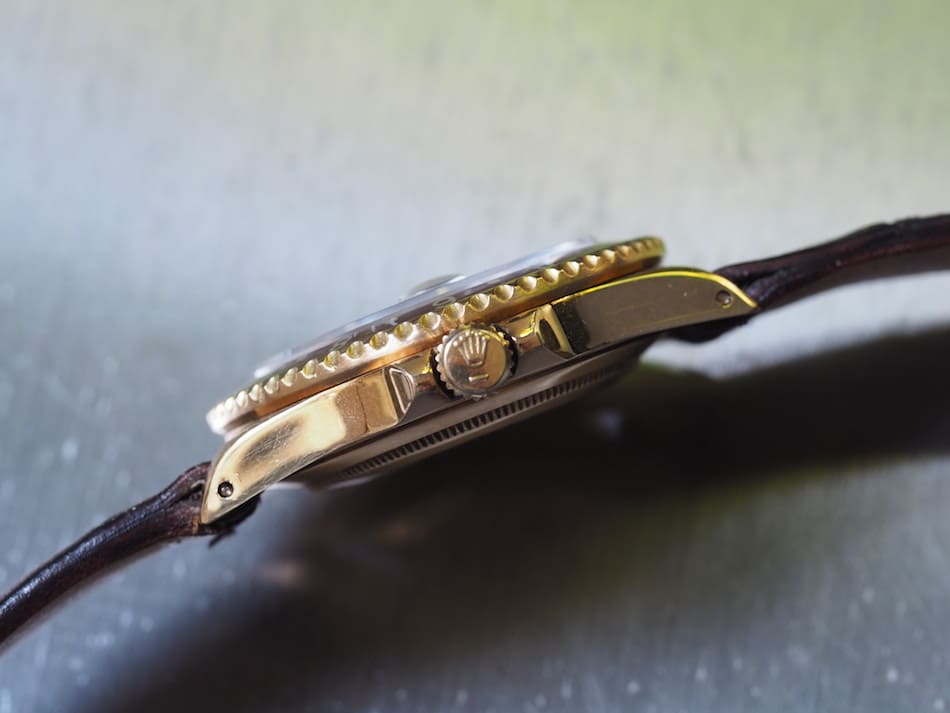 A Sapphire Crystal
Another practicality that the Rolex GMT-Master 16758 contains is a sapphire crystal. The watch you see here was produced from roughly 1981 to 1988 and is part of the same transitional series of GMT's we discussed when looking at the Root Beer. The Root Beer and the stainless 16750 kept their acrylic crystals from the preceding 1675 models, the Root Beer went to a printed logo instead of applied on the dial, and both gained a quickset date feature. The gold 16758 also dropped its applied dial logo, kept the nipple dial, but upped its sturdiness with a sapphire crystal. This crystal and the fact that this transitional is "new vintage" is a real reason that these pieces lag in value when compared to their predecessors. That being said, the crystal strangely doesn't annoy me so heavily.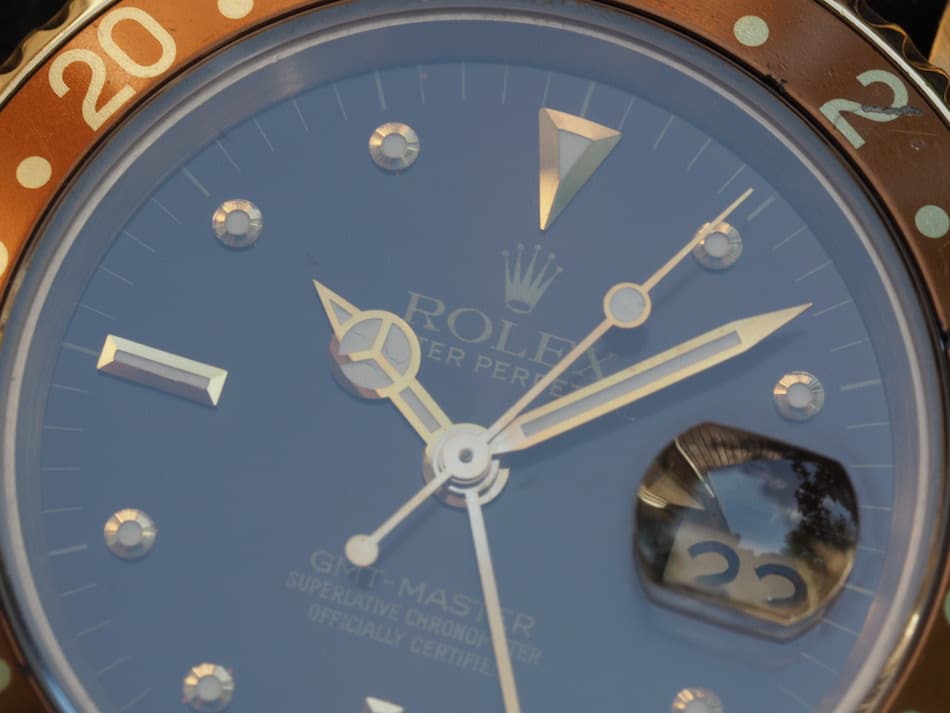 The dial still looks warm, it has depth, and does nothing to inhibit lume aging or the formation of tropical colors on some. Would I like acrylic better? Sure, but the move by Rolex doesn't surprise me because they generally ushered sapphire crystals onto flagship precious metal pieces prior to those made of steel.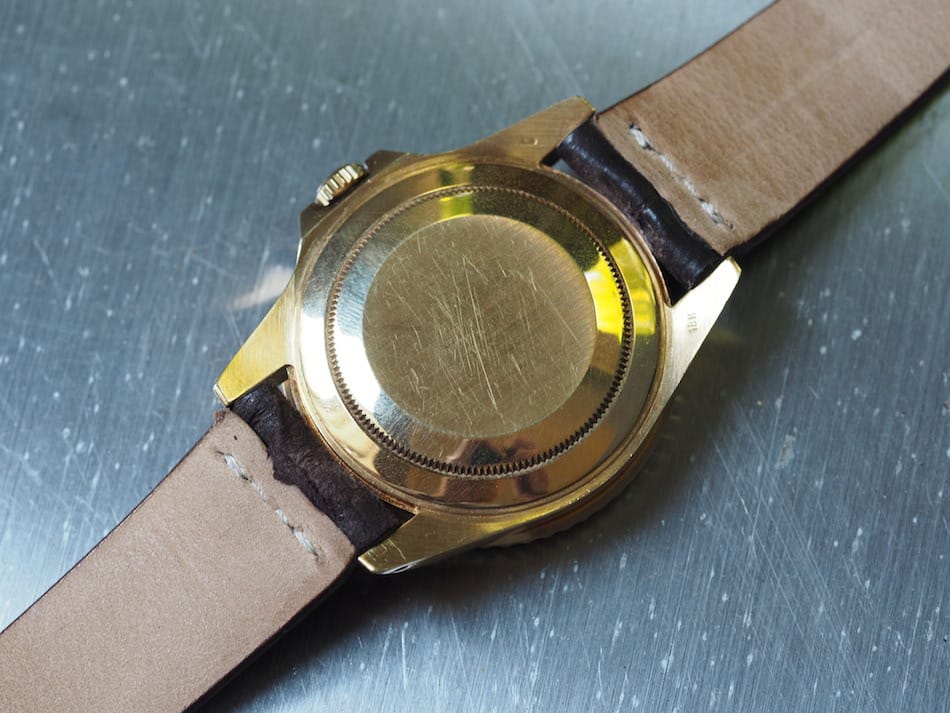 Case Condition is Everything on the Rolex GMT-Master 16758
I mentioned the case condition of this Rolex GMT-Master 16758 and you can see that the chamfers exist and that the lugs are nice and thick. The drilled lug holes are still round (ovals are often a good tell of overpolishing) and I didn't see any metal inside the holes themselves. Furthermore, the top of the case still shows its original circular finishing. The hallmarks on the case back are light so it's likely the watch has been touched before, but it meets my criteria. Polishing is an issue with a lot of gold Rolexes and once I saw the condition, it became a major contributor to why I pulled the trigger. You'll also note that the brown bezel is in lovely condition save for a few scratches. It's amazing how these bezels have climbed in value on the secondary market; everything sports-related Rolex seems to have gone off the rails!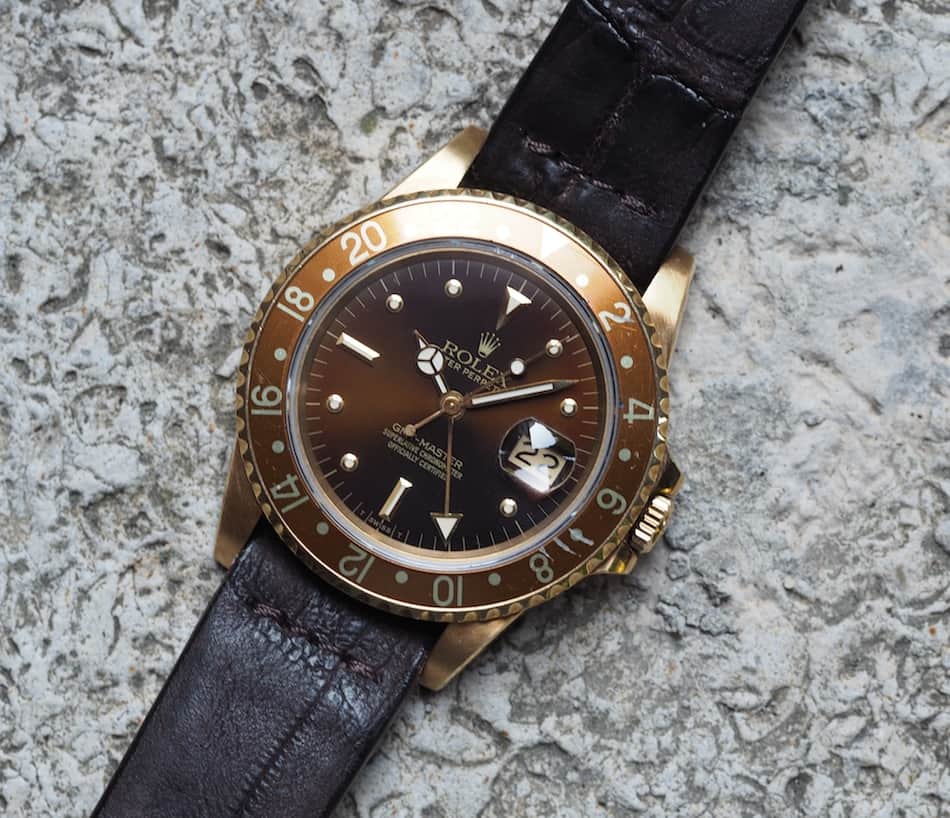 Gold is Expensive
The Rolex GMT-Master 16758 is an expensive watch. Taking a quick look online shows prices for head only watches in the realm of $12,000 – 17,000. Adding a bracelet seems to add between $4,000 – 5,000 but there's a lot of overlap in pricing out there that's highly dependent on condition of both the watch and the bracelet. You do see a premium for some wildly "tropical" dials, but I'd say that these are very taste dependent. At any given time, I can point to 8-10 for sale on various sites, but the condition of most are often wanting. Good ones that are fairly priced do seem to move quickly. If you think these gold sports Rolex's are eccentric niche pieces, think again. Vintage gold GMT's are auction darlings. Early 6542's with their bakelite bezels comfortably pass the century mark and 60's 1675's go for large amounts. The 16758 with nipple dial could easily be seen as the last of the line despite its sapphire crystal and that makes it a promising "value" buy should Rolex's continue to remain desirable.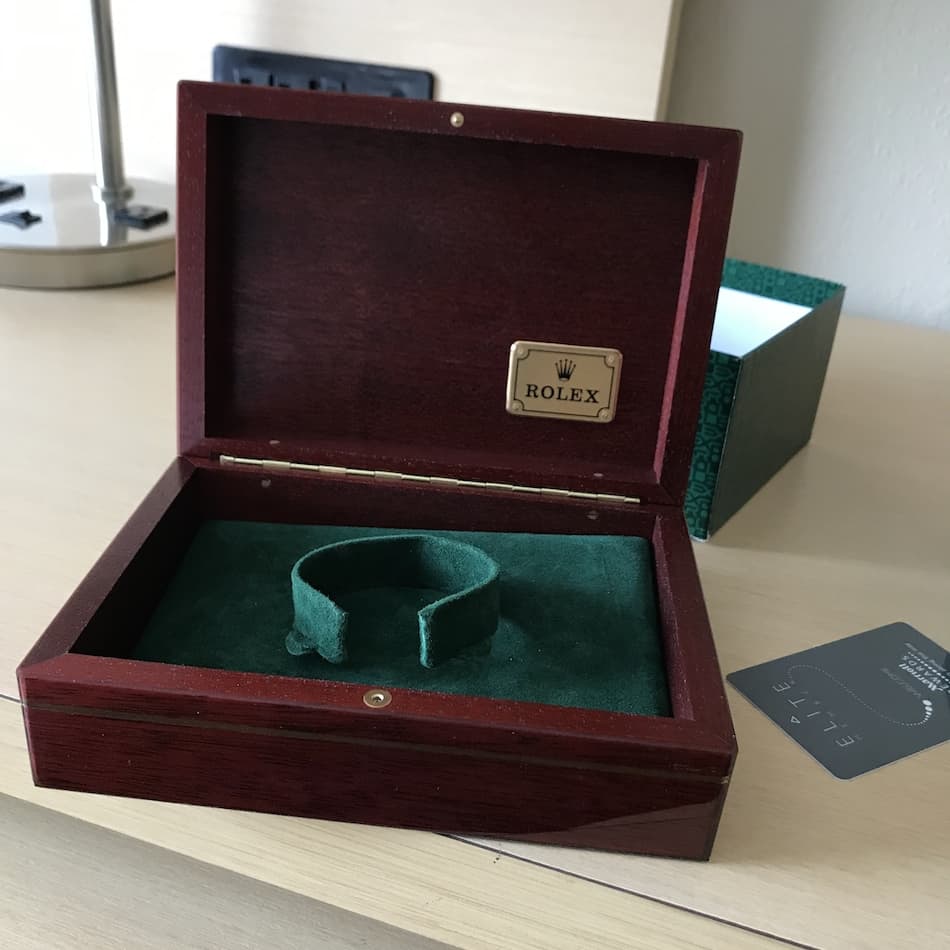 A Massive Wood Box
For a piece that could qualify as neo-vintage, I'd say that the number with box and papers is surprisingly low. It's also a surprise because the box that accompanied these watches was standard fare for a gold Rolex, which means that it's anything but the typical plastic utilitarian throwaway that accompanied, and still accompanies, stainless models. Look for a much larger rectangular box (next to a hotel key to give you an idea on the size) made of polished, lacquered and inlaid dark wood. Despite the box being a near work of art, most owners seemed to throw them away or maybe even used them to store something else. While my watch didn't come with papers, it did come with the inner and outer boxes. In the end, though, the box did what any other box of mine does – take up space in a closet or drawer.
I know that Rolex is a polarizing brand for most. It's a brand that I stray from and return to with relative frequency, but every time I decide to wear a vintage piece, I'm reminded of how solid and well made they look and feel on the wrist. I'm also aware that yellow gold is truly a love it or hate it look. All I would say is that if you're in a vintage shop or have a friend who owns an older gold Rolex, handle it and try it on for size. You just might find yourself having been bitten by the goldbug. Finally, I'd be remiss if I didn't also mention that one of Robert-Jan's absolute favorite German "crimi" actors, Horst Tappert as Oberinspektor Derrick, routinely wore a Rolex GMT-Master 16758 on his famous TV show, so there's your regional celebrity link! Until next week…
Visit the official Rolex website here.