Finding The Midas Touch – Buying Your First Gold Watch
Within the last two years, I've found myself opening up to gold watches, including watches that are a combination of gold and stainless steel (bi-color). Actually, my first 'serious' watch was a bi-color Omega Constellation. When I began collecting watches, I quickly shifted to stainless steel models, the occasional titanium watch and sometimes something PVD or DLC. Perhaps the most outrageous act of stainless steel is my Audemars Piguet Royal Oak 'Jumbo', a watch that has a price tag that will buy you a full gold watch from many other brands.
Buying Your First Gold Watch
In my watch collecting journey, I've also bought gold capped and gold filled watches, but I didn't wear them often. Some left the collection while a few stayed as safe queens. Stainless steel sports watches were the thing I found myself buying over and over again. A few years ago, though, my interest was piqued when I found a full gold Speedmaster Professional at a dealer in Munich. I bought it with the thought that I probably would not wear it much, but I did and still do. Yes, this made me realize that I was ready for a gold watch.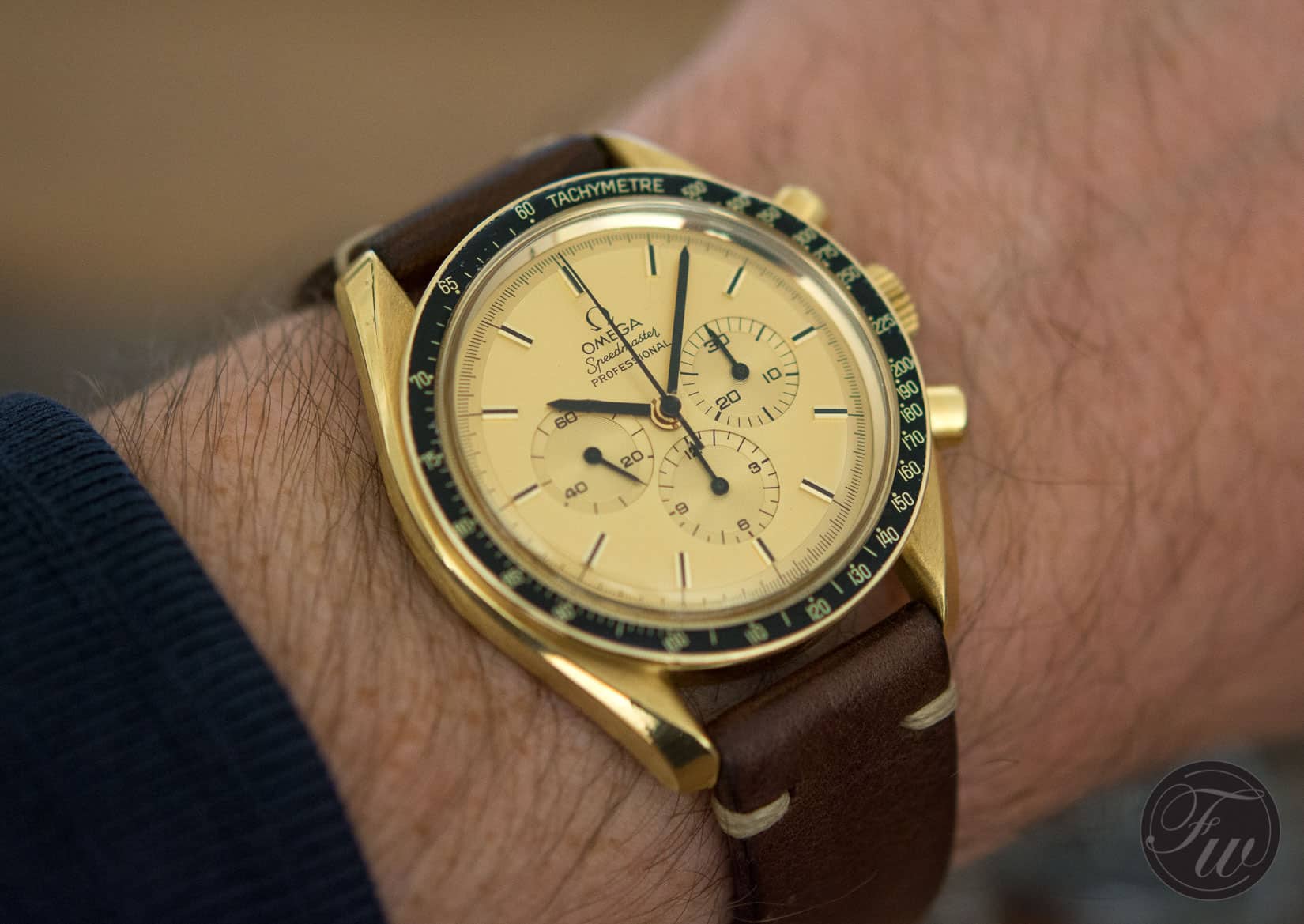 Similarly, I also found myself opening up to bi-color watches again. Where I had previously associated bi-color with a 1980s and early 1990s lack of good taste, that has changed drastically. Although I have loved the bi-color Rolex Submariner and GMT-Master "Tigerauge" for as long as I can remember, buying it was something that never occurred to me. Then, not too long ago in 2015, some brands started to push bi-color again as well, including Audemars Piguet with their Royal Oak.
Let's run through a few options if you like the Midas touch!
Gold Plated and Filled
This is perhaps the least popular version of the Midas touch: a layer (measured in microns) of gold on a steel watch. With modern watches, this is indicated as gold PVD, but it is basically the same principle: a thin layer of gold applied to a different material. Gold plating was a popular solution in the past to create the looks of real gold, but making it more affordable.
Even brands like IWC, Omega and even Rolex used this solution (decades ago). The problem with gold plated watches is that the material underneath the gold will eventually come to the surface as a result of wearing or when scratches occur. The positive, though, is that a gold plated watch can be 'redone' with another layer of gold. You will find some watches that are actually cheaper in a gold plated version versus stainless steel. Additional detail is that the thickness of the gold layer is indicated in microns and a thickness of 20 microns or 40 microns is not uncommon. Furthermore, aside from being vulnerable to scratches, the color is a bit different from a solid gold watch.
For a slightly more desirable option, yet still affordable, there is "gold filled". This is basically gold plated, but in a variable thickness (using 10kt – 14kt solid gold, at least 5% of the item's total weight).  This typically creates a thicker, more durable layer. The gold-filled layer is usually 5 to 10 times thicker than gold plating. The same applies for bracelets. Often these gold filled or plated watches had similarly created bracelets. I had a plated gold  watch once in my collection and it didn't give me much issue with the material, but I was constantly aware of the fact it could scratch through the plating layer. Therefore, I prefer gold capped over gold filled or plated.
Gold Capped
Gold capped is again something different. It was very popular in the 1950s and 1960s and it is basically a solid gold shell over a stainless steel case. This thick shell was often made of 14kt or even 18kt gold, up to 240 microns thick. Rolex nicknamed these watches "golden egg" even in their own advertisements. When looking, you will come a cross many vintage Omega Seamaster and Constellation watches that used this solution as well. It was cheaper than a solid gold watch, yet for the eyes the watch appeared to be made of solid gold.
The crown, applied indexes, brand logo etc were often also made of gold while the caseback was made of stainless steel. The inside of the lugs often showed the thickness of the gold shell, which was – in the case of the Rolex and Omega watches at the time  – quite substantial. The interesting part is that these watches often came on a solid gold bracelet to match the case. These watches certainly did not come cheap at the time and still fetch often more than there stainless steel counterparts. Gold capped watches are not something you will run into when searching for a modern gold watch.
Bi-Color
The next best thing is a bi-color watch. These are solid gold pieces combined with stainless steel, or another material like titanium. In the introduction, I briefly mentioned the Constellation, Royal Oak and the Submariner for example, but you will find bi-color in many collections. Most brands that offer a variety of one specific model, also include bi-color as 'in-between' stainless steel and full gold.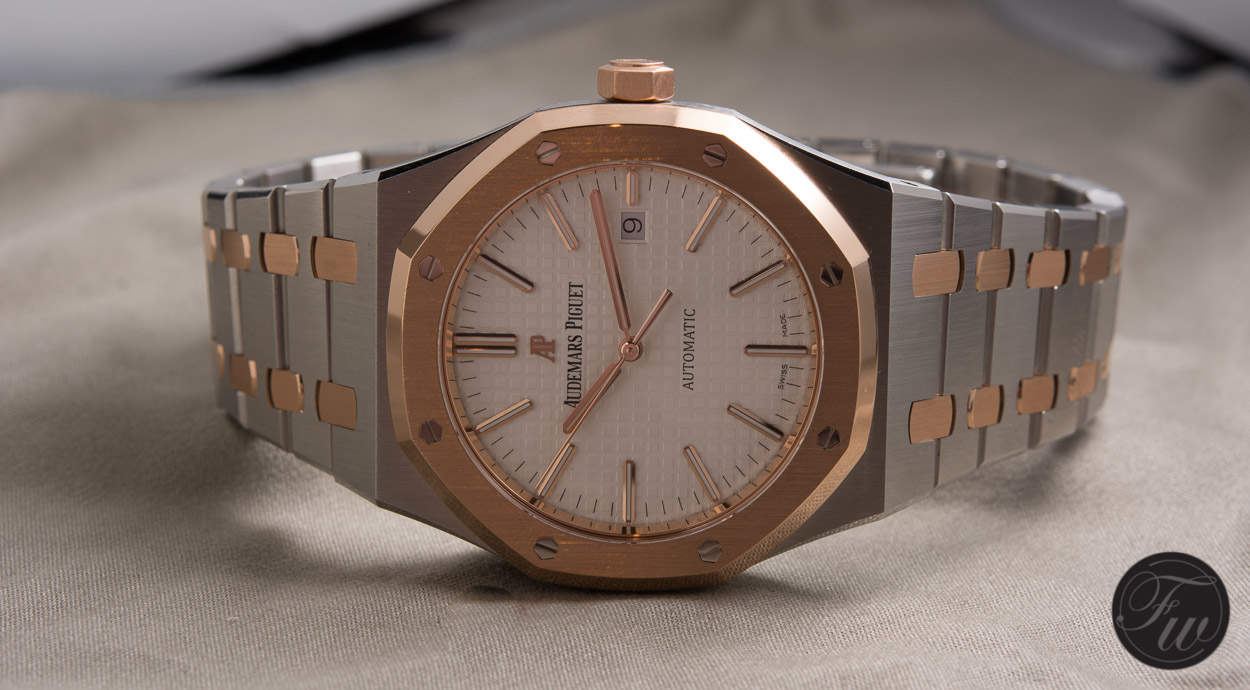 With bi-color watches, you often find that some of the parts regarding the case are made of gold: solid gold crown, solid gold bezel, gold indexes and hands. When there is a metal bracelet, some of the links are made of solid gold while others are from steel or titanium (or other materials). The gold used is often yellow or rose gold. In some cases you will find even white gold, which gives a nice subtle contrast to brushed stainless steel. A good example is the Rolex Datejust with fluted bezel, where the bezel is made of white gold.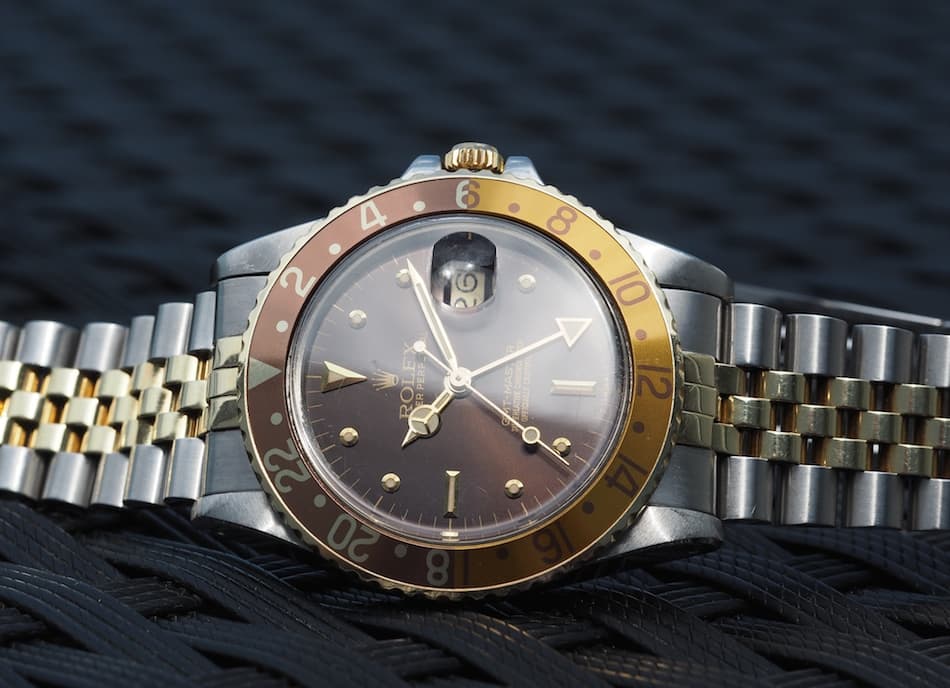 The price of new watches in bi-color are much higher than those in stainless steel, as the price of gold is playing a big role. That being said, bi-color watches used to be a no-go for many watch enthusiasts (and a bit more accepted among regular watch buyers, who weren't really into watch collecting). In actuality, though, nobody should look down upon a bi-color Cartier Santos from the late 1970s, a bi-color Ebel El Primero chronograph from the 1980s or a bi-color Rolex Datejust. These are just some of the watches that seem to be made for bi-color. Or, as I wrote above, the Rolex GMT-Master Rootbeer (or 'Tigerauge'). The tone of gold gives a wonderful contrast and this is why I don't feel that bi-color should be perceived as tacky anymore, or at least not in general. Finally, gold and ceramics is also a form of bi-color . It gives [mainly] sports watches a very interesting contrast.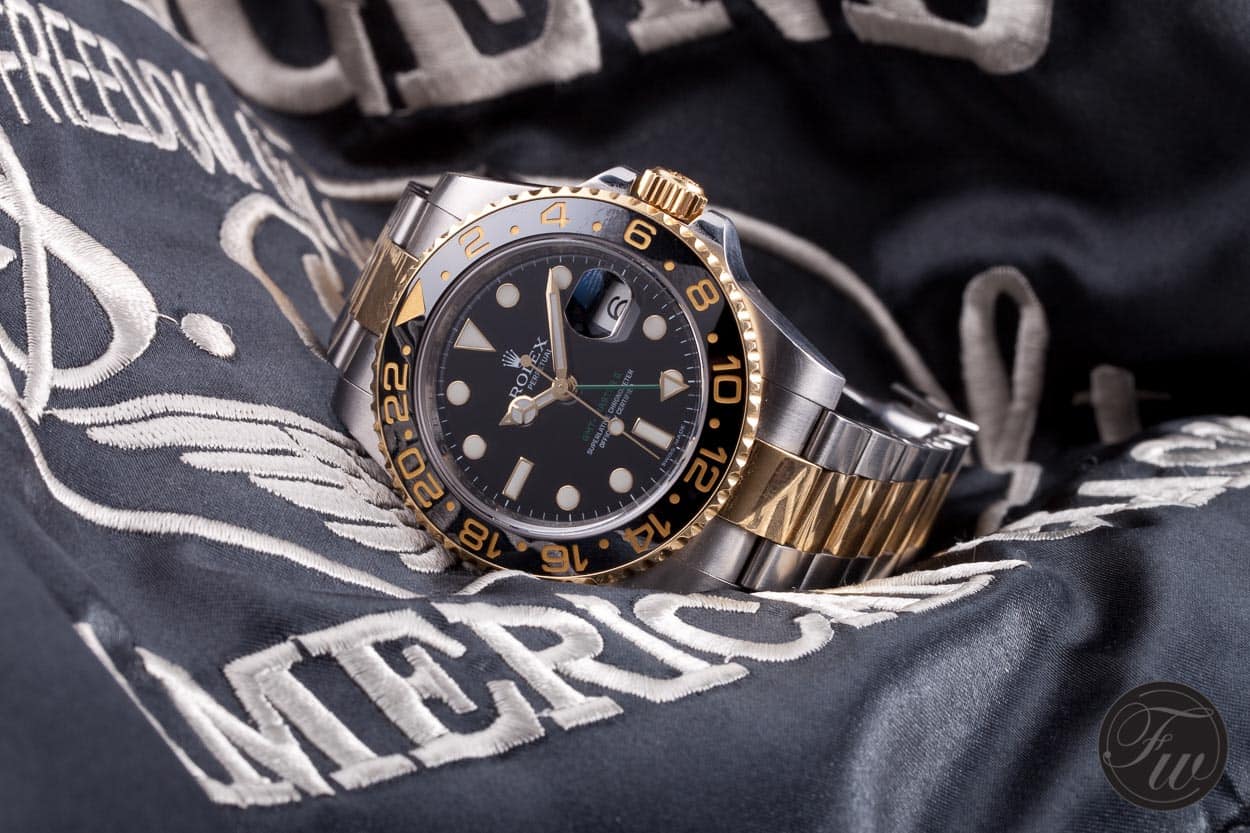 Gold (Gold!)
Always believe in your soul, to quote Spandau Ballet. Maybe I'm a firm believer in this motto because I reached the big "Four O" this year or perhaps because I slowly grew into my love for the yellow metal after buying my 18kt Speedmaster Professional in 2014. I don't seem to be the only one interested, though.  If you have followed auction prices recently, you've likely also noticed that some gold watches do particularly well. What about the increase in interest in gold Daytonas for example? Then there are some watches that need to be in gold, like the A. Lange & Söhne Lange 1 or Rolex Day-Date for example (with the exception of platinum).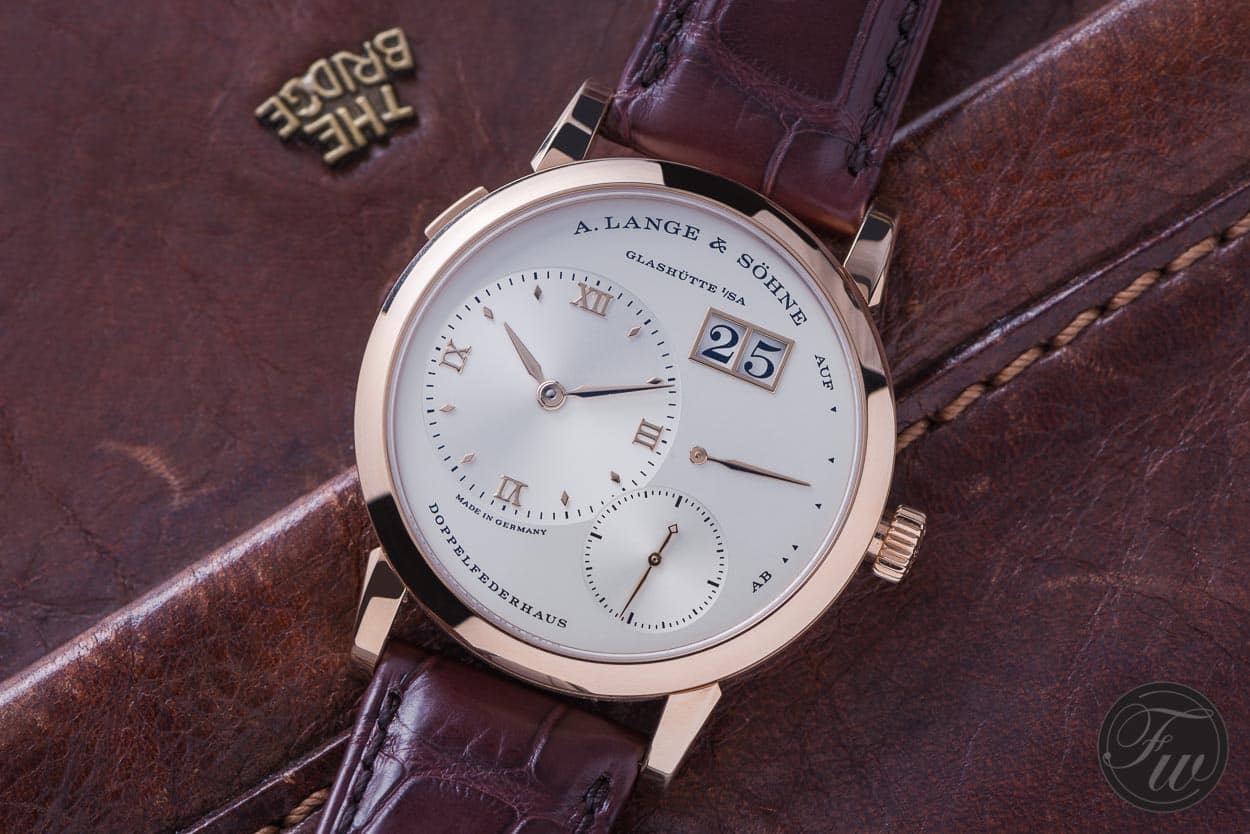 But there are also watches, sports watches even, that actually look very good in gold. Purists will vouch for stainless steel when it comes to sports watches, but buying it in gold makes the watch also suitable for formal occasions and usable as a dress watch. Others will take a plunge in the swimming pool with a gold sports watch anyway.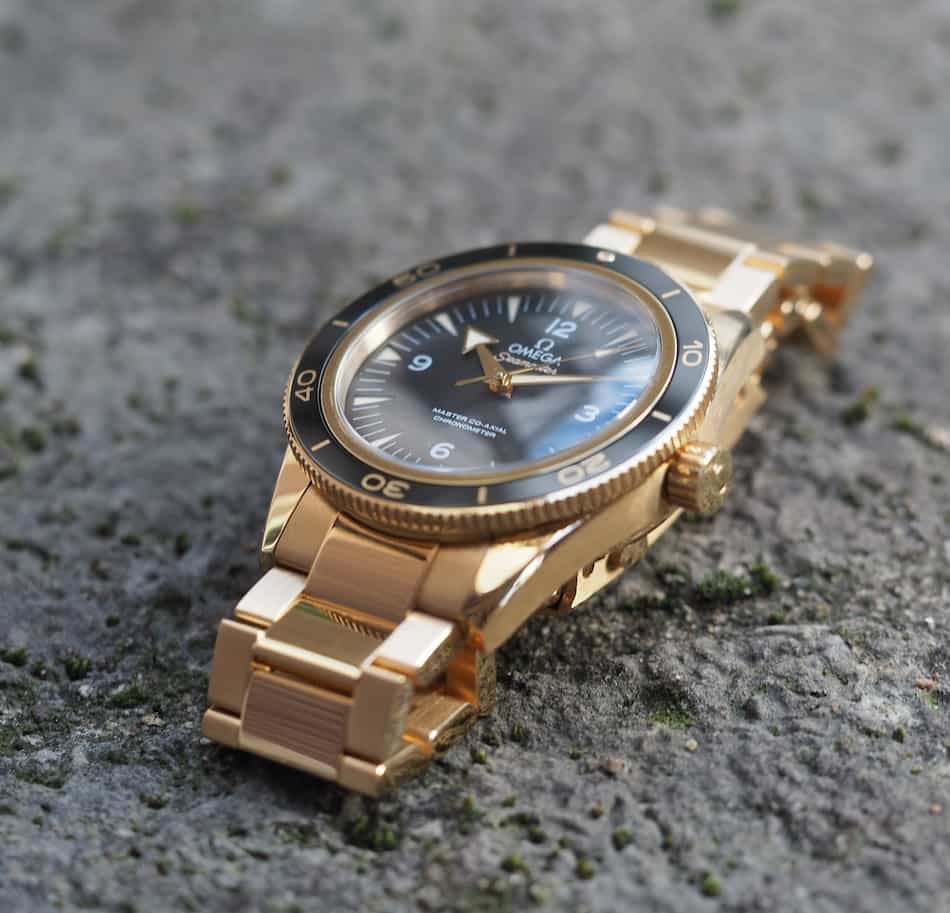 The warmth of gold, be it yellow or rose (or red) is something that will look good on most people. If your skin doesn't permit yellow gold, try rose or red gold. Otherwise there's always white gold. My own skin tone isn't very suitable for yellow gold, yet I find myself wearing the Speedmaster Professional in yellow gold relatively often. In the late 1990s, I also wore my bi-color Constellation on a daily basis (yellow gold and stainless steel), so tt is also a matter of feeling comfortable with it – or not.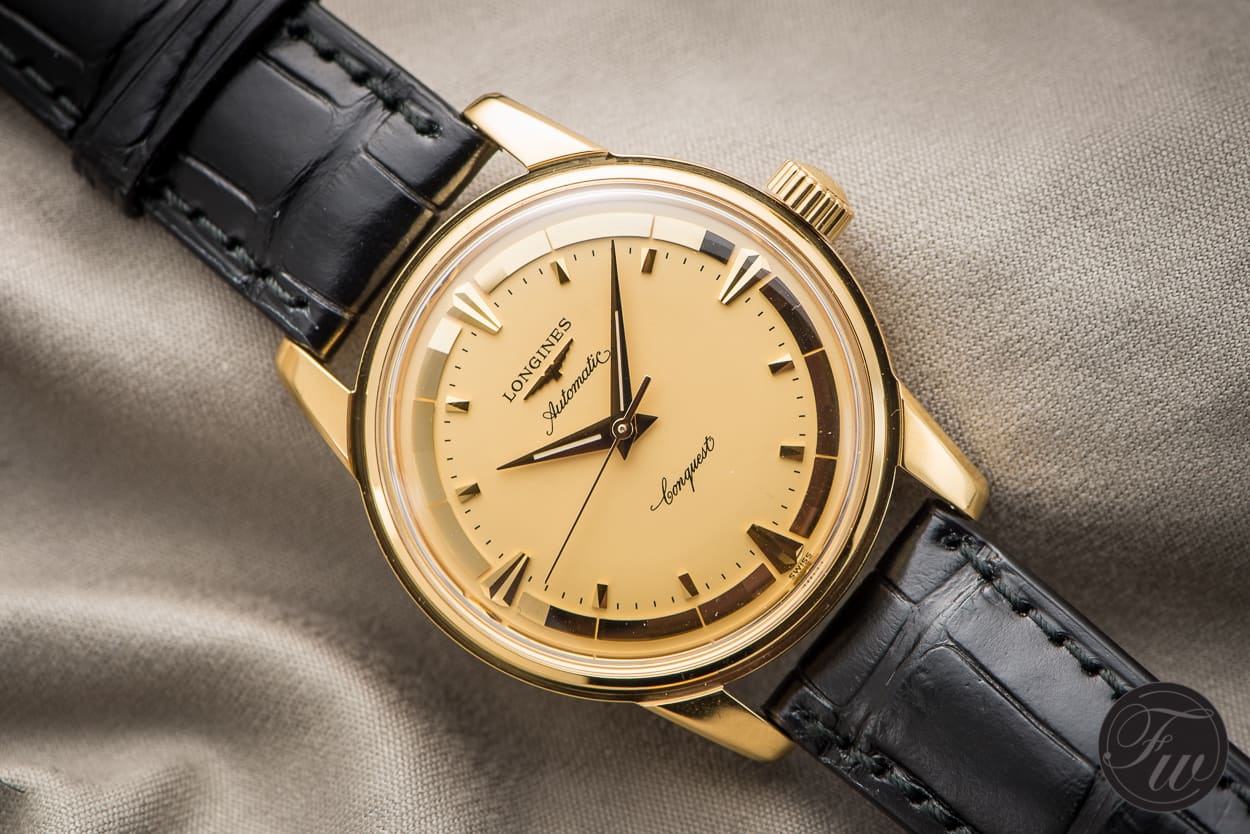 Solid gold watches are of course much more expensive than stainless steel (or bi-color). The material is obviously much more expensive than stainless steel or titanium for example, but the difference in cost often doesn't explain the price difference. For example, it makes little sense that the solid gold version of the Royal Oak 'Extra-Thin' (reference 15202) is approximately 50.000USD, whereas the stainless steel version is about 25.000USD. The bit of gold used for that watch isn't worth 25.000USD. Gold is often used to make a watch more exclusive, and thus more expensive. People who can afford won't mind.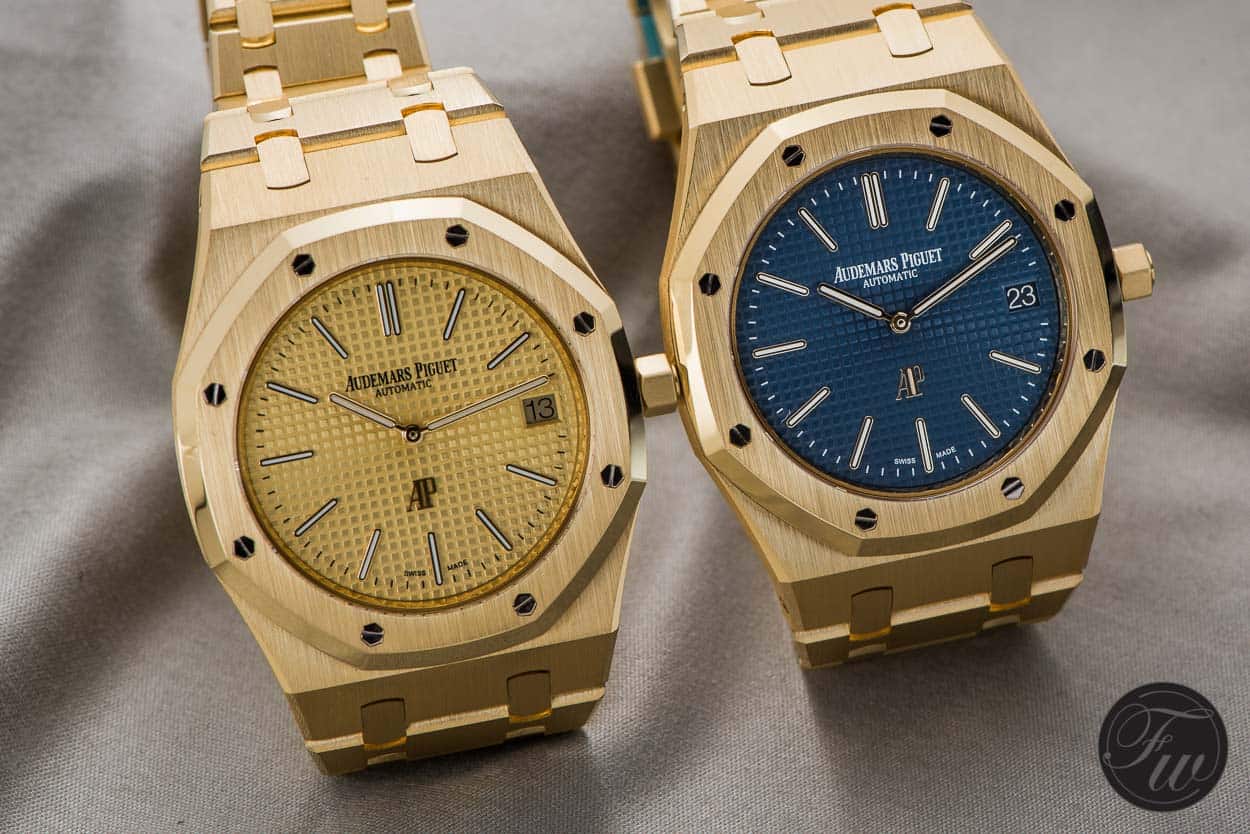 Be Comfortable With A Gold Watch
When you're in the market for a full gold watch, you need to decide whether you want to have a watch in yellow, rose (or red) or white gold. You should also be aware of the fact that gold is more vulnerable to scratches than stainless steel or titanium as the material is relatively soft. The good news is that these scratches can be buffed out very easily. If things get really bad, a gold case can be reworked and you will get your watch back as if it were new. With stainless steel, that's a bit more difficult (yes, there is laser welding, but at what cost).
Prepare to receive some comments as well on your gold watch, but mainly positive ones. Although people often say they think a gold watch is tacky, but I find that once they see it in the flesh, put it on their wrists, they love it. Even if they don't say it out loud, their reactions speak more than words.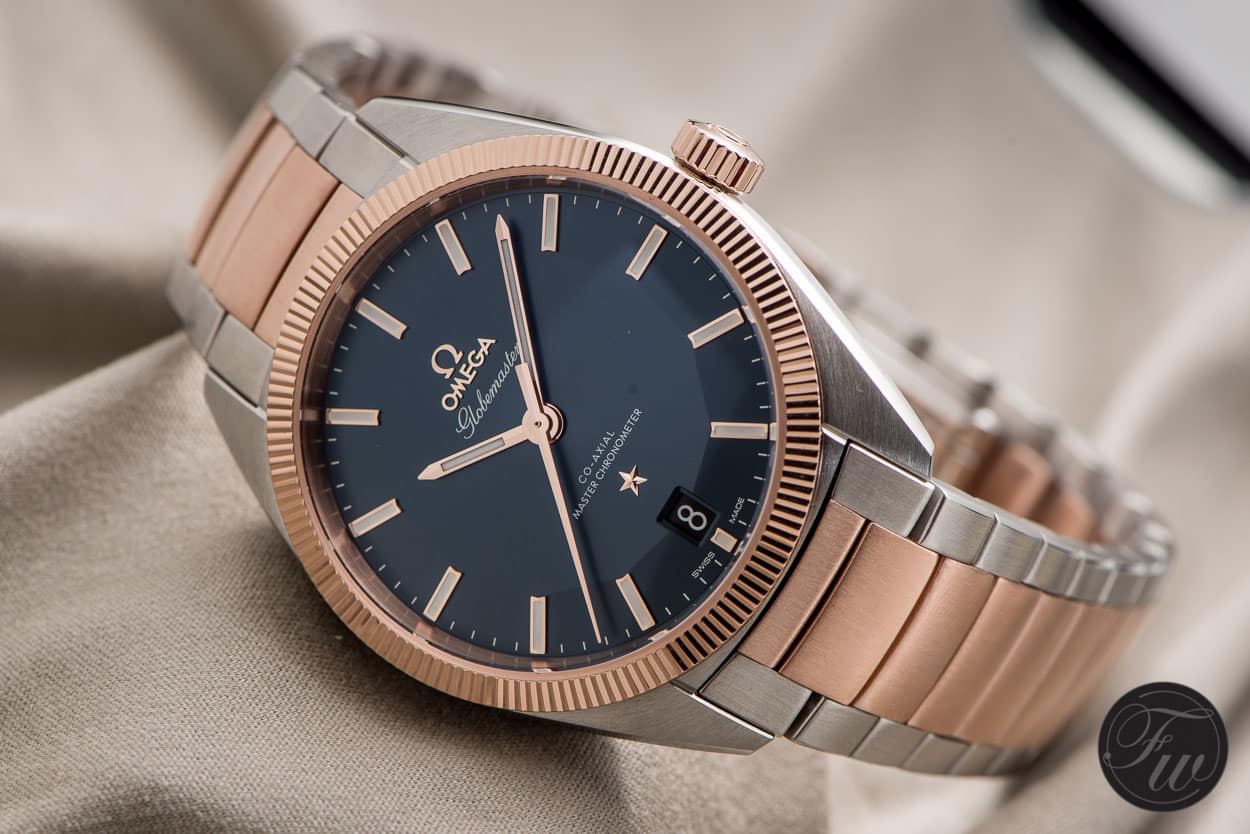 In most price ranges you will find something available in gold (with a certain low watermark), especially when you are prepared to go vintage. I am not someone who would recommend gold plated or filled, but I know that some of my colleagues have no issues whatsoever with this solution. If possible, I would always try to go for the solid gold vintage watch, or at least gold capped. With new(er) watches, it is a bit different. Bi-color is not used to 'pretend' a watch is made of full gold, it is more about the specific appearance. If you like the combination of stainless steel and gold, or ceramics and gold for example, there is enough out there to explore.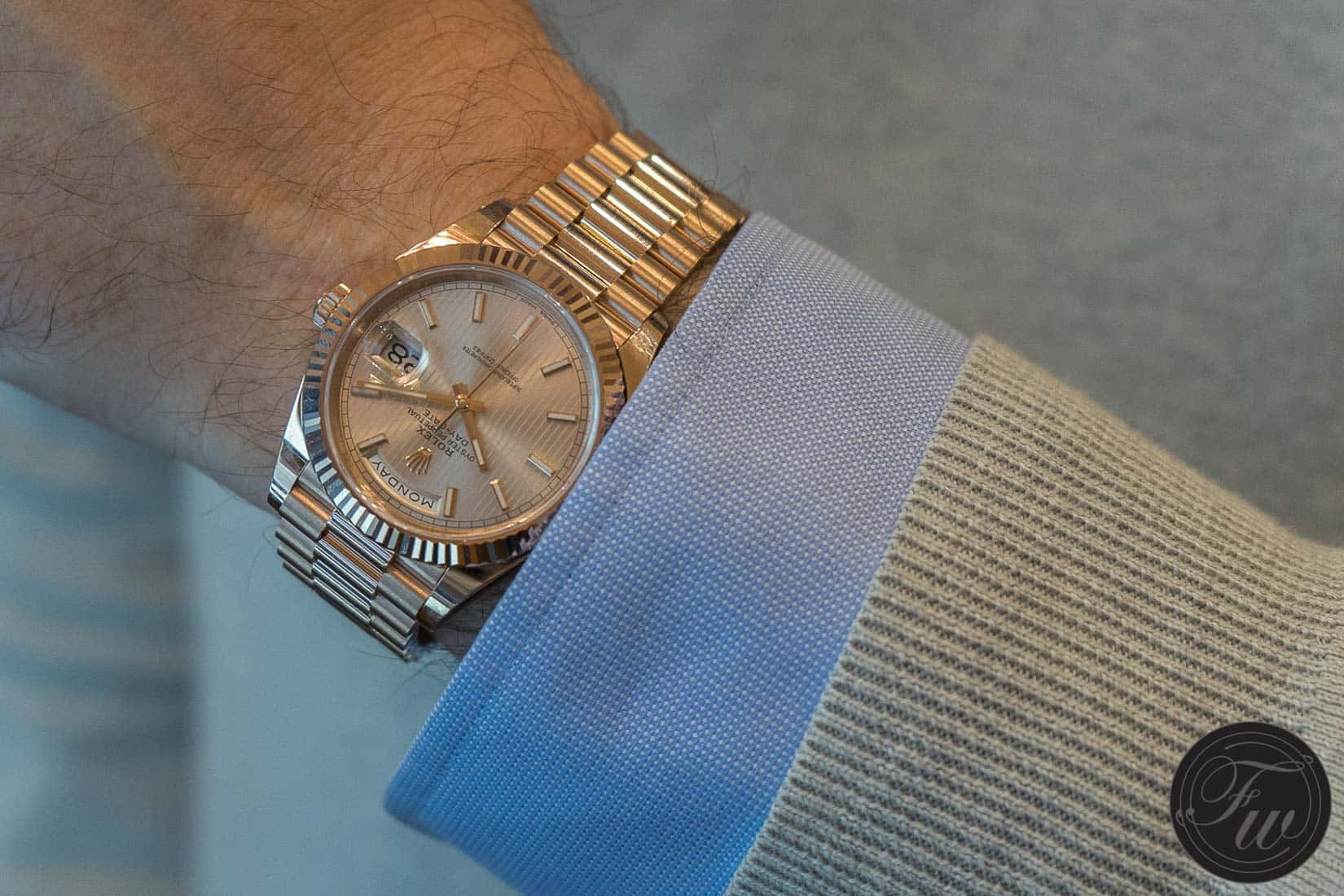 Full gold seems to be well respected when it comes to dress watches (think Calatrava, or Day-Date), but for sports watches it often remains a topic of discussion. Just make sure to be comfortable with a gold watch. You don't have to wear it all day every day, but it shouldn't become a safe queen either. Make sure you have enough opportunities to give it some proper wear.