We Take A Closer Look At Two Gold Omega Speedmaster Professional Apollo XI Watches
My First Encounter with a Gold Omega Speedmaster Professional Apollo XI
When I bought my first Speedmaster in October 1999, it didn't take long to get in touch with other Speedmaster enthusiasts. One of them referred me to a watch maker that was close in my area that was more or less specialized in Speedmaster watches. I got in touch with him and the first time we met he was wearing this crazy gold Speedmaster Professional with burgundy bezel and engraved caseback filled with red lacquer. At the time, I didn't know about this specific model but I knew it was something special. Apparently, I had the honor to come across the gold Omega Speedmaster Professional Apollo XI numbered edition, reference BA145.022.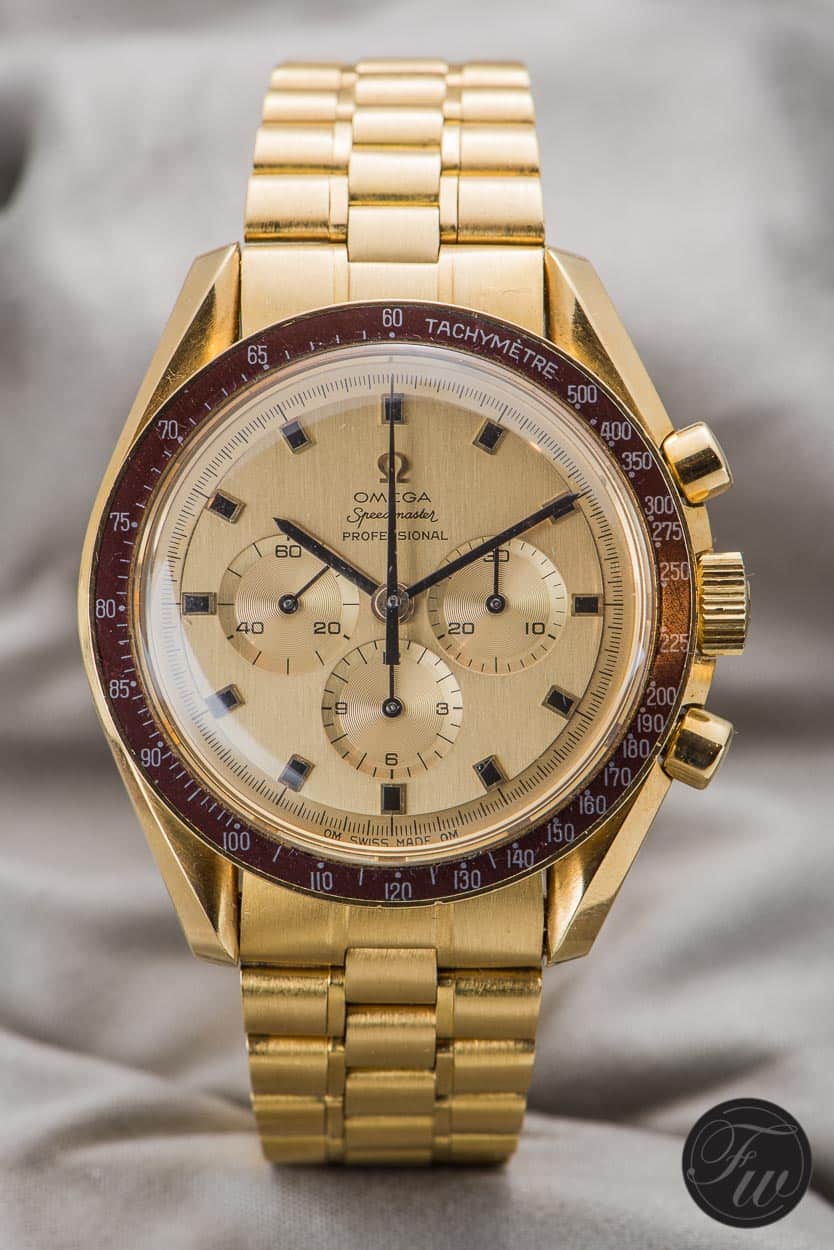 Now, to me a lot of watches should be – or stay – as pure as possible, so a watch like the Speedmaster should be in stainless steel. How it was meant to be or designed to be. But sometimes there are exceptions that I really do appreciate. Also, for a long time I didn't care much for gold watches. I preferred stainless steel watches. But I always said to myself, when I want a gold watch, it should be a gold Speedmaster.
An Encounter With a NASA Apollo Astronaut
Fast forward to 2014. I was invited over to Sochi for the Olympic Games by Omega. It was their way to show their appreciation and I had a couple of days there to enjoy some of the games. Furthermore, I had the opportunity to meet with astronaut general Thomas P. Stafford and cosmonaut Alexey Leonov, who were also invited by Omega. Leonov was wearing this gold Constellation MegaQuartz that he received by Omega (with special engraving) and Stafford was wearing this gold Speedmaster Professional Apollo XI (read about it here). When I asked him about it, he seemed to be confused himself and telling me it was the 1969 model. But he quickly corrected himself by telling me it was the version from the 1980s. That version is even more rare than the 1969 gold edition, as there were not so many produced and you rarely come across them. Stafford was wearing the gold Omega Speedmaster Professional Apollo XI from 1980, reference 345.0802.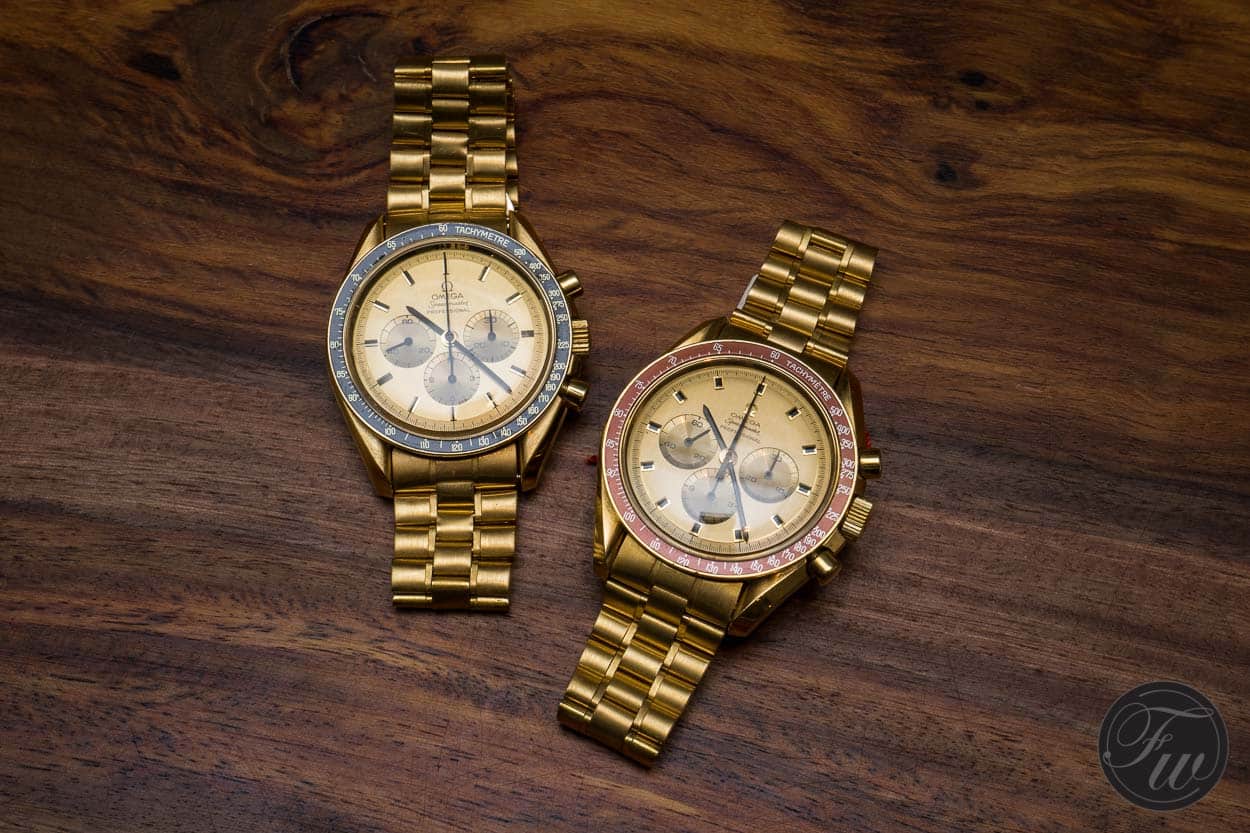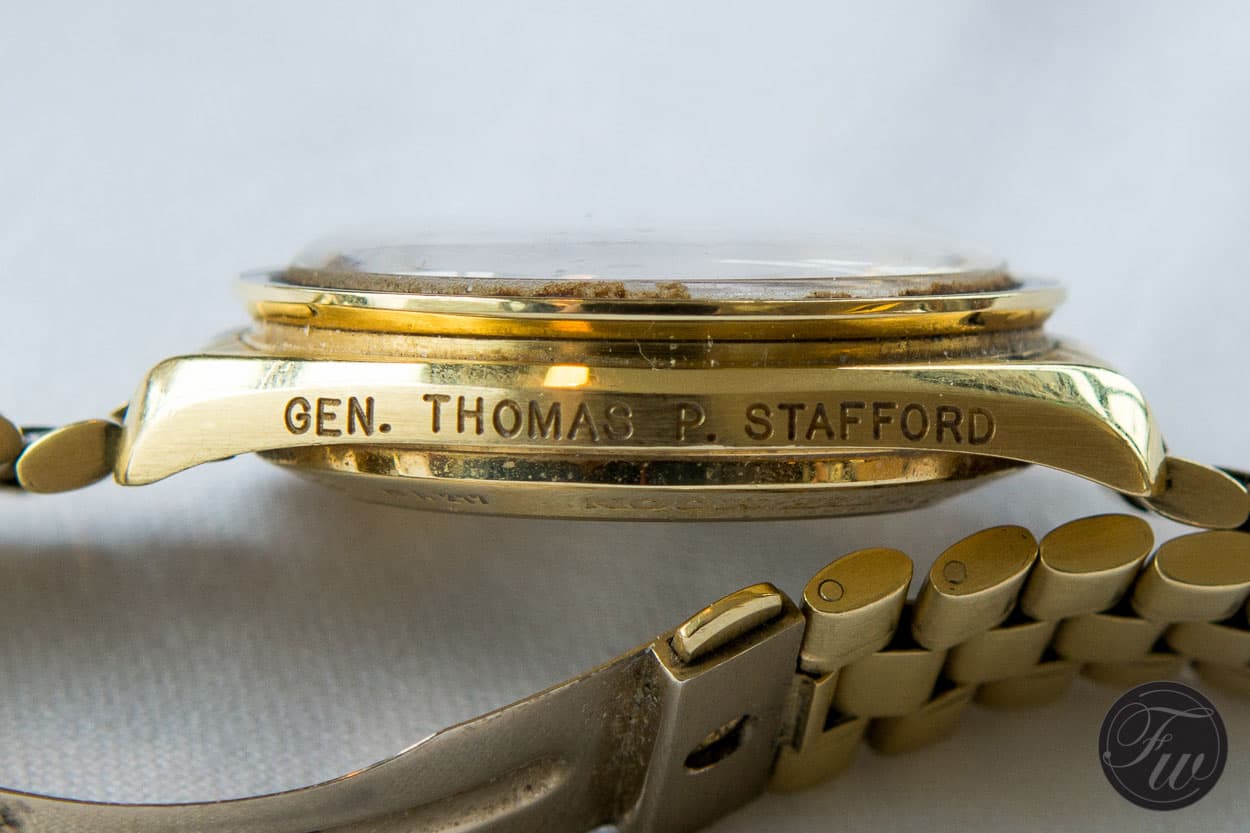 The Two Gold Speedmaster Professional Apollo XI Watches
This article is to cover both of these watches, that were meant to commemorate the Apollo XI landing in 1969 but are not limited editions. Just limited by production and numbered individually.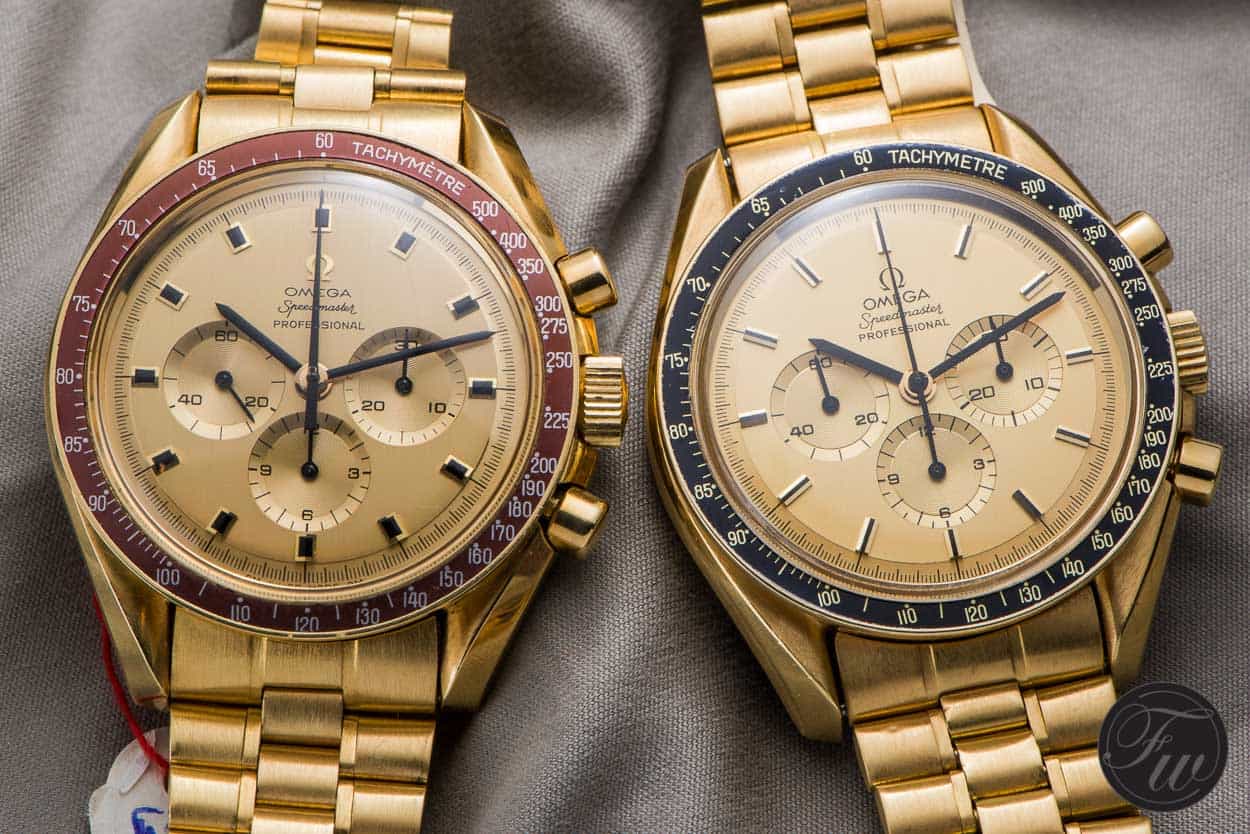 Munich
After meeting General Thomas P. Stafford, I found a similar watch to his at this watch shop in Munich. I was there to speak about watches on a small congress in October 2014, together with Ben Clymer from Hodinkee, and the day before we went out watch hunting in the beautiful city center of Munich. I already saw it for sale on Chrono24 and had to see it in the flesh, as pictures rarely do justice and the bracelet did look a bit stretched. When we entered the shop and saw the watch, I was sold. The bracelet was tight (it seemed the photos were overexposed on a white background) and the watch looked good in general. I also saw another gold Speedmaster Professional (regular collection) at another dealer, which I had in mind as possible back-up, but this was definitely the one. It was also the one worn by General Stafford, so that added a bit of extra for me personally. I paid about 7500 Euro, and after signing some contracts and handing over a copy of my passport (some kind of German regulation for purchases over an X amount) I was the happy owner of the gold Omega Speedmaster Professional Apollo XI, reference 345.0802. I quickly checked with Omega in Bienne, and the serial number told me that it was originally delivered to Germany on November 26th 1980.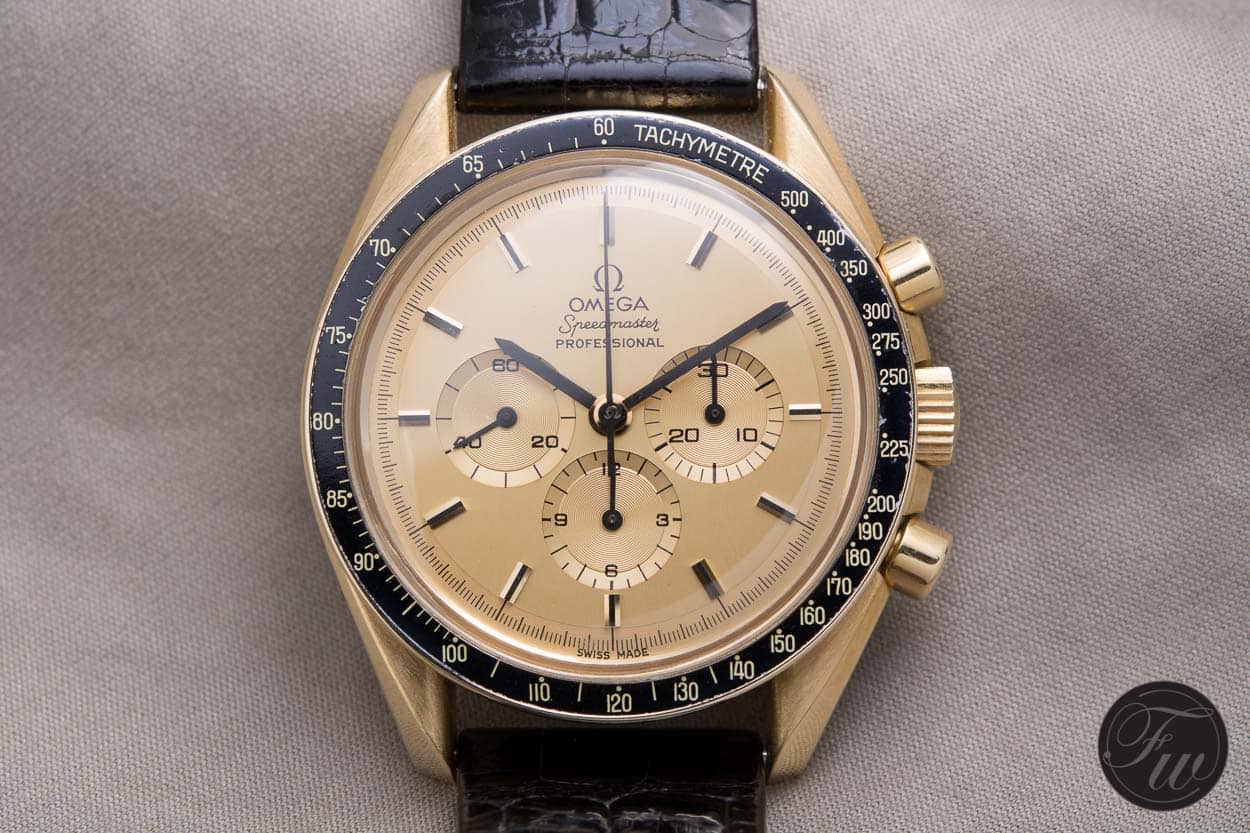 Houston
Fast forward 2015. I was invited to attend the big Speedmaster event in Houston, organized by Omega (here is the event report, with lots of Speedmaster images). Besides a visit to NASA and having a beautiful dinner in Houston, we also had a special evening and dinner with guests like George Clooney, Eugene Cernan, Jim Lovell and Thomas P. Stafford. During dinner, I was seated next to Thomas P. Stafford and he actually recognized me from our previous meeting in Sochi. What's more, he recognized 'his watch' on my wrist and asked me to take it off to determine whether it was the 1969 or 1980 version. He held it in his hands, looked at the caseback and said "I have the same one, from the 1980s".
Apollo XI
There is another gold Omega Speedmaster Professional Apollo XI, introduced in 1994, and you could also say that the 1999 white gold Speedmaster Professional Moonphase was somewhat dedicated to the 30th anniversary, but that has not been an official Apollo XI model. At first, a lot of the gold Speedmaster Professional watches (we covered simply all of them in this and this article) were special or limited editions only. Later on, Omega decided to also have a standard Speedmaster Professional edition in gold. Like the one worn by George Clooney in the recent movie Money Monster (we covered that here), reference 3195.50.00. A model that was discontinued a few years ago, which I can imagine as most people will indeed buy a stainless steel Speedmaster Professional.
Reference BA145.022
So let's go into detail and talk about the first two gold Omega Speedmaster Professional Apollo XI watches, the BA145.022 and the later 345.0802. When Omega was the first watch worn on the Moon, with the Speedmaster Professional 105.012 on the wrist of Edwin Buzz Aldrin, it was decided to create a special gold model to commemorate this Moonlanding. This is the BA145.022 reference.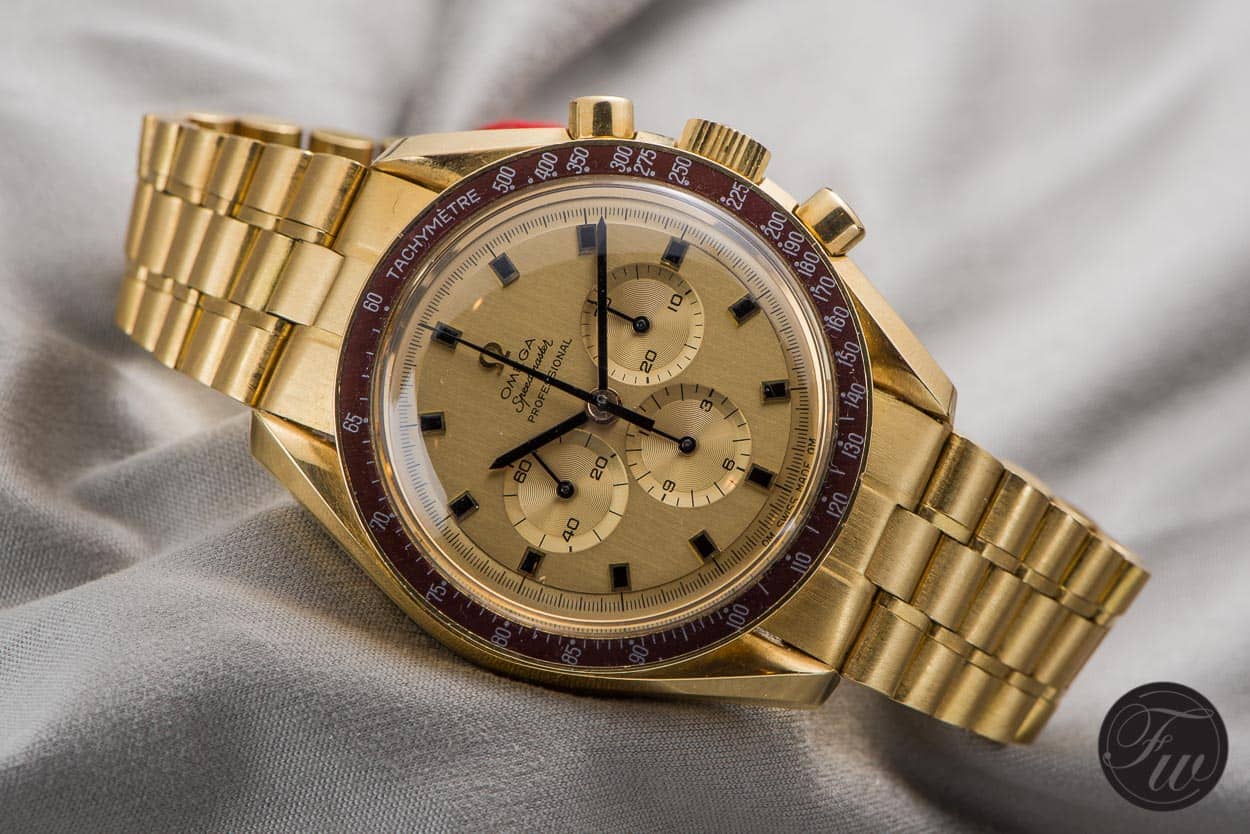 The BA145.022 was a watch similar to the regular – in 1968 introduced – reference 145.022, with caliber 861 movement, but in gold. With a gold bracelet, that is a bit different from the 1039 or 1171 bracelets that were used back then for the stainless steel models. The bracelet is very narrow at the clasp, like 14mm. It came with a special engraving on the case back, in horizontal writing it said "First Watch Worn on the Moon" with the Apollo XI 1969 engraved below. It came with a square box with a (3D) relief on there, looking like moon rock.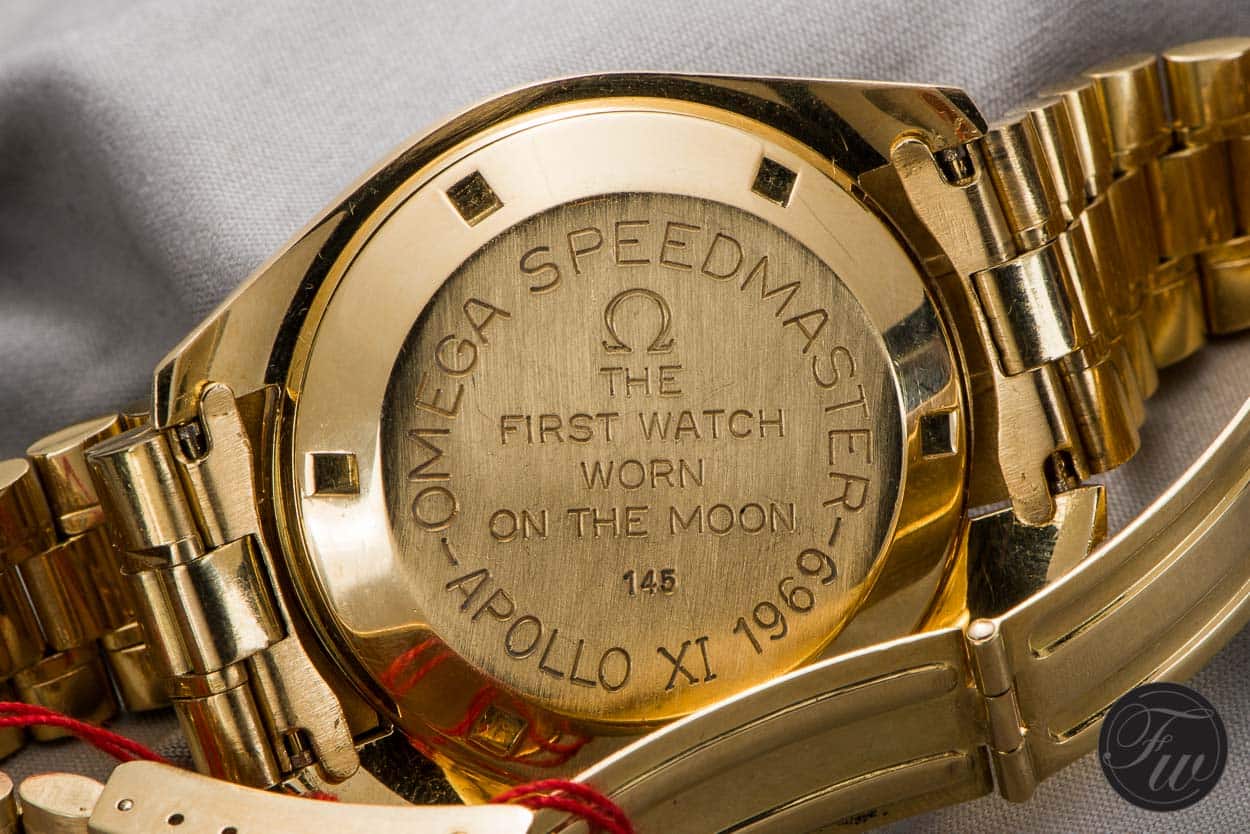 Only 1014 pieces made in total and about 28 of them being given to NASA's Apollo astronauts and offered to members of the white house. But this needs some explanation.
The Houston Banquet
There are a total of 1014 of these watches, #1 was offered to President Nixon and #2 was offered to Vice President Spiro Agnew. Both declined the watch though, for compliance reasons. During a banquet on the 25th of November 1969, 19 watches were offered to the NASA astronauts. Later on, other astronauts who couldn't join the banquet or who did later missions (than 1969) also received their gold piece. This watch has the engraving "to mark man's conquest of space with time, through time, on time." A quote that Jim Lovell also gave during a Q&A session at the Speedmaster Event in Houston last May. There seems to be a bit of an uncertainty whether Apollo 13's Jack Swigert and Fred Haise received one, but I've been told that they were offered one later on as well. However, they do not appear in any overviews of the watches given to astronauts. A number of watches (with another type of engraving) went to some Swiss managers of Omega and Lemania at the time.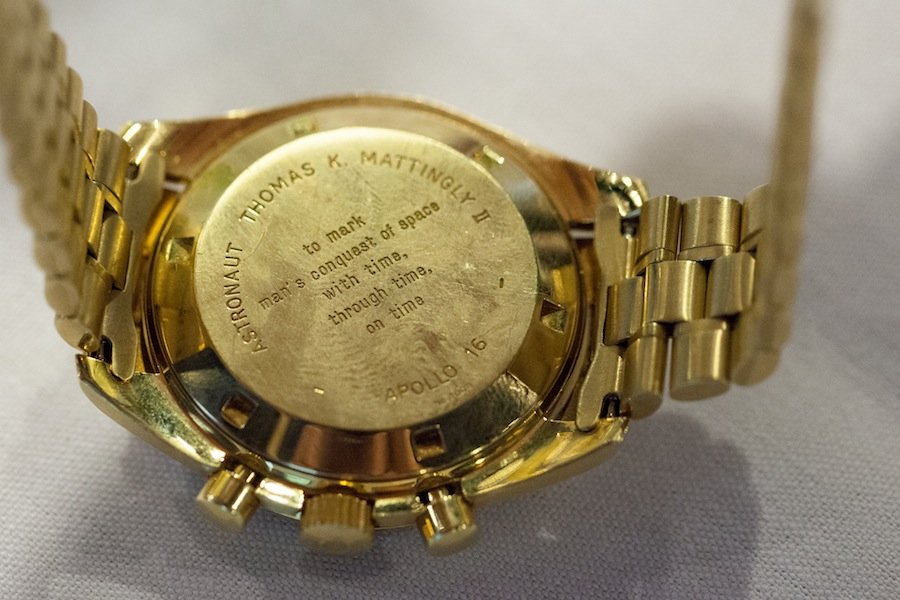 The gold watches that were given to astronauts had a different text, the mission name and the name of the astronaut on the caseback.
Collectibility and Availability on the BA145.022
This particular watch is the most popular gold Omega Speedmaster Professional Apollo XI or gold Speedmaster in general. Even though there are only 1014 pieces, minus the ones from astronauts (we covered Ken Mattingly and Wally Schirra in separate articles) and other officials, you are still able to come across them once in a while. The box and papers are another thing, but the watch itself is being offered once in a while on Chrono24, eBay or other auctions. Prices vary, but it is still cheaper than your Double Red Sea-Dweller from Rolex. On some of them, the bezel has been replaced by the later 1980 reference 345.0802 model, as the burgundy bezels weren't reproduced as spare parts. Bracelets can be stretched of course. Price start often around €15K Euro, but rapidly go up when the condition is nice or when box or papers are included.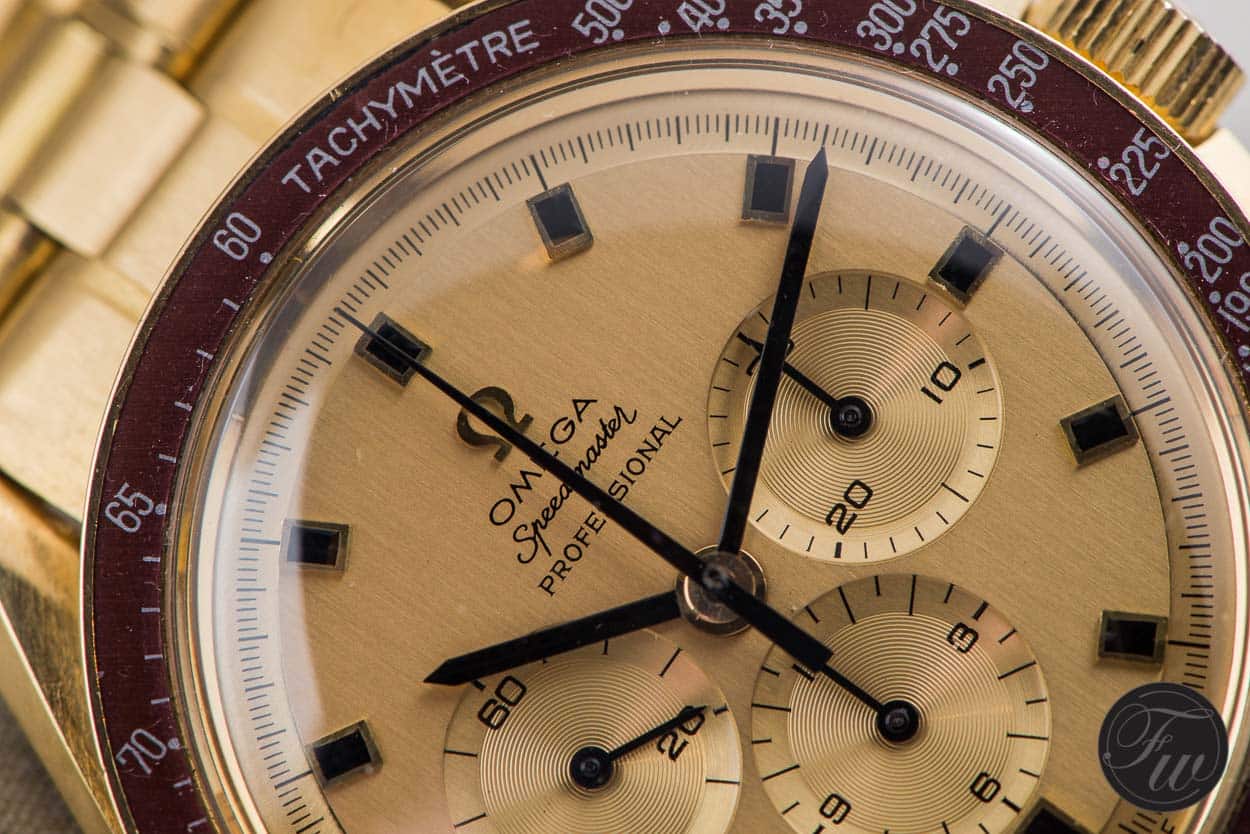 Reference 345.0802
This version, that I would like to call the 'Stafford Speedmaster' for obvious reasons, was introduced in 1980 to commemorate the Apollo XI Moonlanding in 1969. It is a bit awkward that it didn't market in 1979, as that would be the 10th anniversary. Perhaps it was introduced in 1979 and sold to the market from 1980 and onwards, that is something I can't get confirmed.
This watch is quite similar to the BA145.022 gold Omega Speedmaster Professional Apollo XI from 1969, but has a slightly different dial, hands and indexes. The 1980s version, as you can see on the images, has slender stick markers and a printed Omega logo instead of an applied one.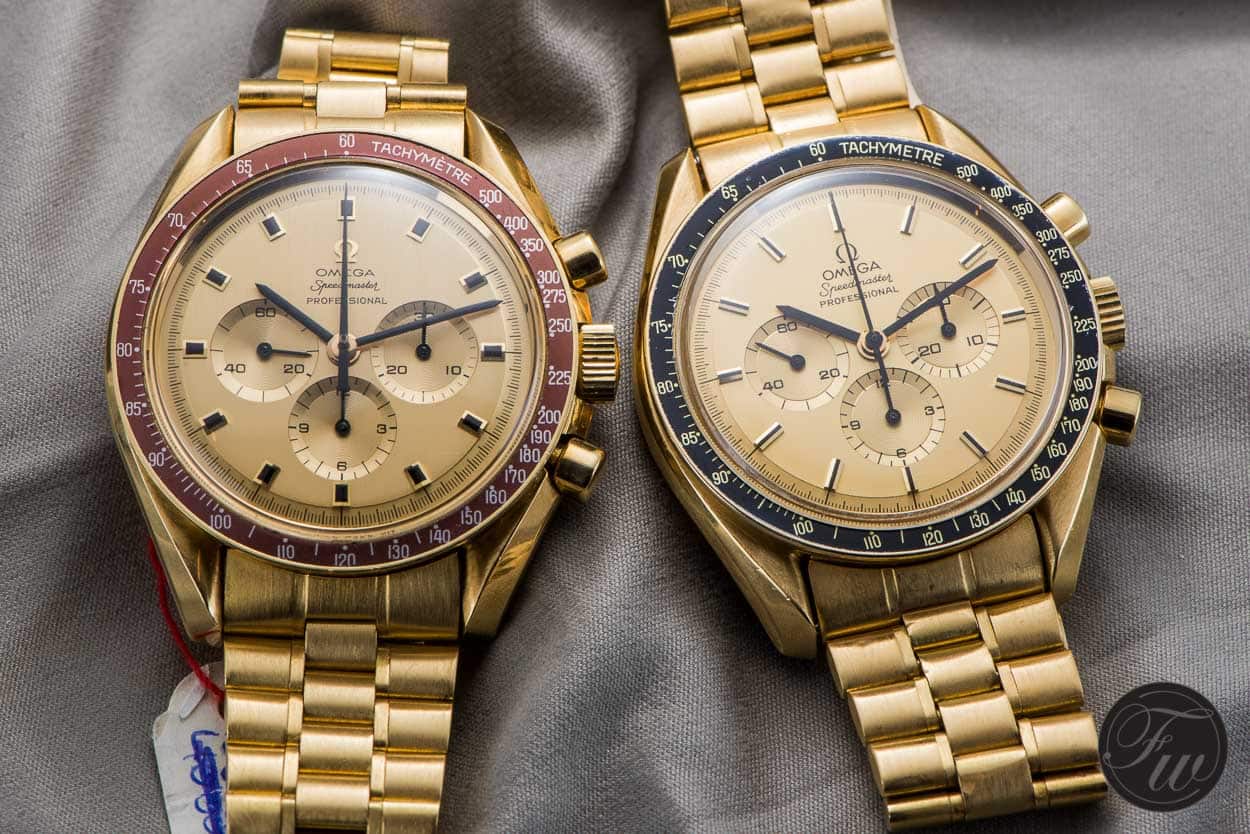 The biggest difference is of course the fact that it has a sapphire caseback instead of a solid one. The movement is also a bit different. Based on the same caliber 861, this watch has caliber 861L. A movement that comes quite close to the later rhodinized caliber 1861 of 1997 (and onwards). Caliber 863 wasn't born yet, the nicer finished version that most display caseback Speedies received.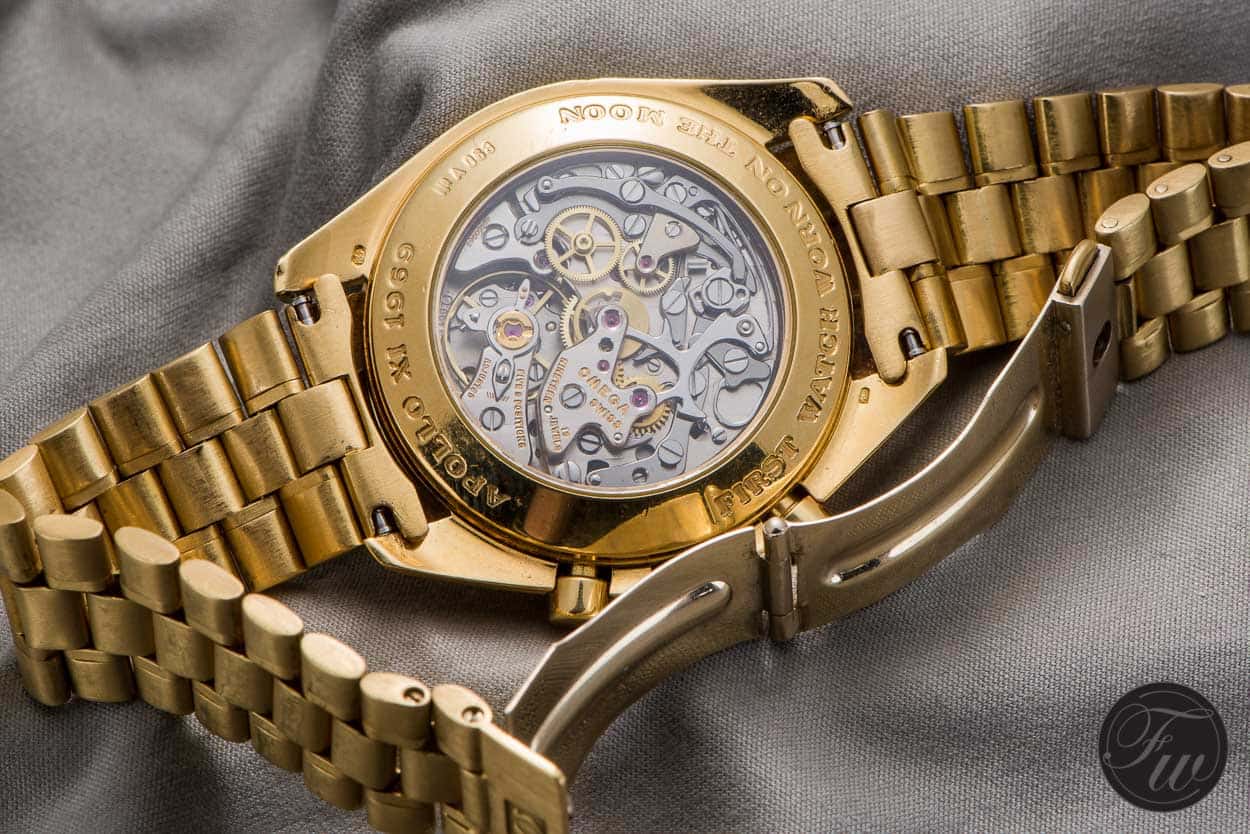 White Gold and Yellow Gold
This 345.0802 was actually available in both yellow gold and white gold. The white gold version is very rare, with only 20 pieces. All these pieces went to Germany. The yellow gold version you see here, has a production number of approximately 300 pieces. This can't be verified unfortunately. About half of them are said to be delivered for the German market as well. There are some minor differences in dials for the yellow gold versions, later produced models have "Swiss Made" printed a bit higher on the dial. I managed to get one of those later dials as well on eBay, for about 150 USD or so. Nobody probably knew for which model it was, so I just placed a bid and won. Both watches came with bracelet or with strap, the buyer could choose at that time. The solid gold bracelets look a bit like the later stainless steel 1479 models used in the 1990s. They taper to approx. 16mm and are therefore a bit wider than the ones used for the BA145.022.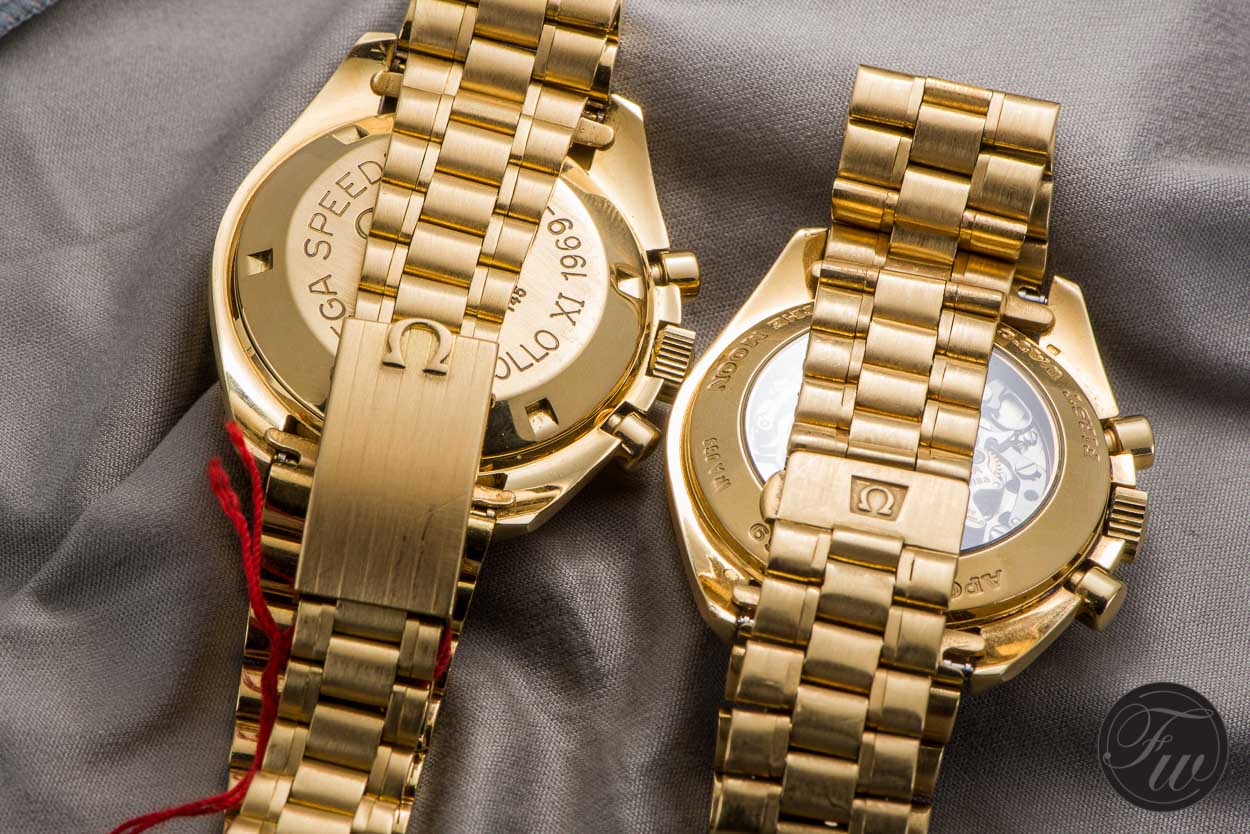 Shuttle Program
Just a couple of days ago, I ran across an advertisement for one of these watches for sale. It answered my long time question which box should belong to this watch. I couldn't find out and there was no documentation available from Omega for this as well when I recently was there on a visit. I always assumed it should be one of the older wooden Omega boxes, but this advertisement of this gold Omega Speedmaster Professional Apollo XI from 1980 with unique number 31 for sale, shows a nice small black box with gold writing of Omega Speedmaster Professional on the inside.
This particular offer comes with all the paper work, including some stuff on the Space Shuttle, the Columbia to be exact. It was the first Space Shuttle to be used in 1981, with astronauts Young and Crippen (STS-1). You will probably all remember the terrible accident of the Columbia in 2003, on its return of mission STS-107.
I wonder if the release of this particular watch has something to do with the – then – upcoming Space Shuttle program, besides commemorating Apollo XI. If anyone knows more, please do let me know.
Collectability and Availability 345.0802
This gold Omega Speedmaster Professional Apollo XI 345.0802 – especially in white gold – is quite rare, but the offer I showed you above is an example that it isn't impossible to get a (complete) 345.0802. I paid 7500 Euro in 2014, but as you know prices have gone up in the last two years – also thanks to all the attention for the Speedmaster – and perhaps the asking price of approximately €16,000 Euro for the full set is completely justified. I have seen watch-only offers for the 345.0802 around €10,000 Euro in general.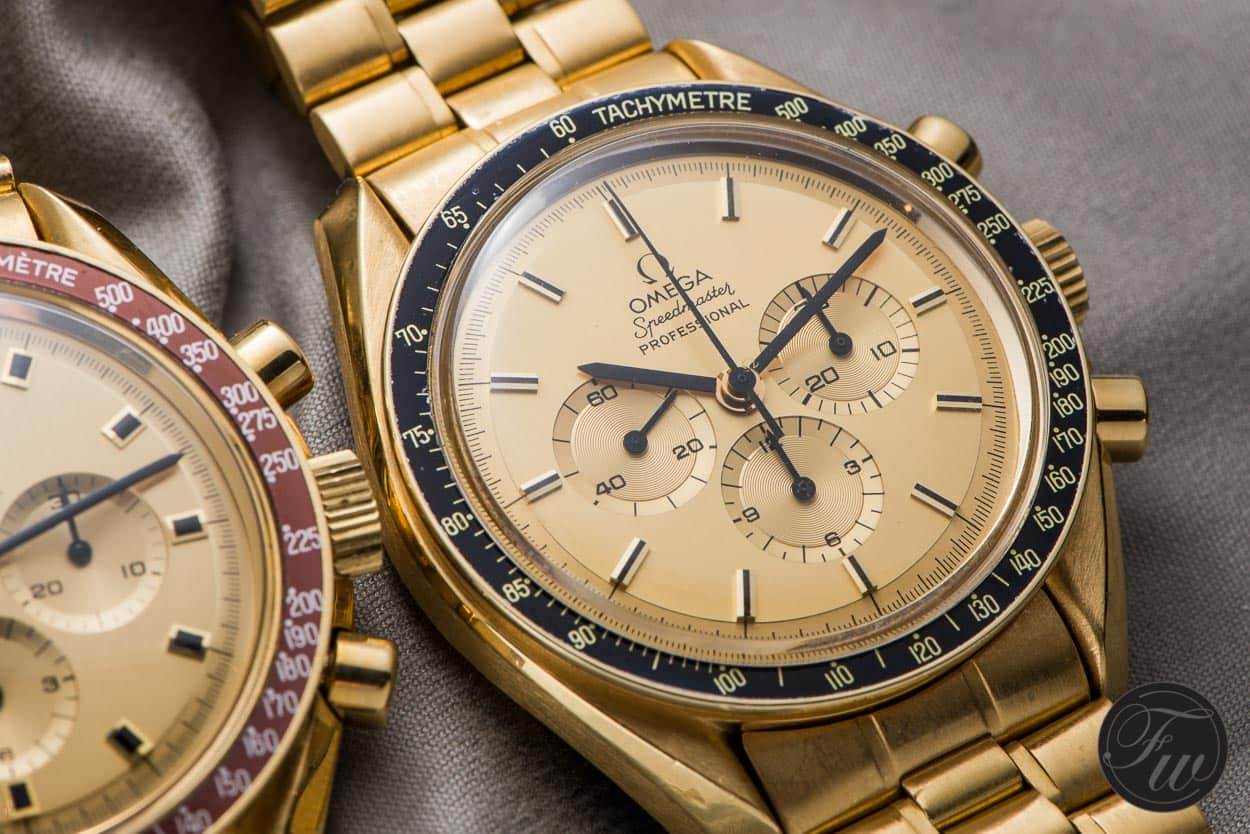 The demand for this reference is a bit less than for the gold Omega Speedmaster Professional Apollo XI BA145.022 from 1969 (or early 1970s) of course. The story alone for that model is a bit more famous and speaks more to someone's imagination perhaps. However, the rarity is perhaps with the 1980s model. It was an expensive watch at the time (23.000 Deutsch Marks) and it can be seen in later catalogs of the mid-1980s as well, so it wasn't a best seller. Probably because of the high price, as a normal hand-wound Speedmaster Professional in stainless steel only cost a fraction of that price.
Filling in Blanks
I hope this article gave you some insights in these two gold Omega Speedmaster Professional Apollo XI editions, from 1969 and 1980. But not everything has been said or is known (to us). If you are able to fill in some blanks, or have additional information, please do not hesitate to contact us for additions, suggestions or questions about them.
A big thank you to Sacha and Roy Davidoff for letting us play with the Speedmaster Professional Apollo XI BA145.022 you see in the pictures. The BA145.022 with the astronaut's engraving is a different watch and belongs to the Omega museum. The 345.0802 in this article belong to the other, with the exception of the one with 'General Thomas P. Stafford' engraved in the case band. The 345.0802 watch with the Omega & Space Shuttle brochure is offered by Herbert Mayer in Germany.
More on Omega via their official website.