Speedy Tuesday – Gold Speedmaster Overview Continued (1995 – now)
Last week we showed you an (updated) overview of all gold Speedmaster Moonwatch models from 1969 till 1995. Let's continue with these gold Speedmaster watches from 1995 onwards. This article goes back to 2015, but since then, a number of watches in gold have been added to the Speedmaster family. We will keep it Moonwatch only though, so no gold Speedmaster Racing or other 9×00 caliber models.
We ended part I with a 1995 gold Speedmaster Professional that was commemorating the MIR mission of July 1993 – July 1994, where 7 of these gold Speedmaster Professional watches were on board of the space station. Probably the rarest model of all gold Moonwatch models. Also, at the end of the first part, we showed you the regular gold Speedmaster Professional watch that was in production until a few years ago. You might have seen this watch appearing in the flick Money Monster with (Omega ambassador) George Clooney.
A gold Speedmaster (Professional) Moonwatch is a rarity, even though some models have been produced in relatively high numbers or not as a limited or numbered edition at all. The fact that there is no regular gold Speedmaster Professional (with the exception of the limited Apollo XVII) in the current Omega collection is most probably based on lacking sales numbers. Truth to be told, I've never seen a gold Speedmaster on the wrist of someone outside our Speedy Tuesday GTG events or outside the inner circle of watch friends we have.
The prices of gold Speedmaster watches start around €10.000 Euro, but don't expect it to come with any original boxes and paperwork. That said, add a few more and you will have a complete package. For this money, you can also buy a very nice vintage Speedmaster (references 105.012, 145.012 or 105.003 for example), so that might explain why some (purist) collectors rather go for that instead of gold. Or perhaps the gold Speedmasters are still a bit of unknown territory. The interest in gold Speedmaster watches is increasing though, be it very slowly, as prices have increased quite a bit since we originally wrote these two-part articles on the gold Moonwatch models.
Without further ado, below you will find a full overview of all gold Speedmaster Professional Moonwatch models from 1995 till today.
Gold Speedmaster Moonwatch Models 1995 – 2018
1995 Apollo – Soyuz 20th Anniversary 3691.50
This 1995 Speedmaster Apollo – Soyuz 20th anniversary commemorative version is limited to 200 pieces only. On first sight, it doesn't look very much different from the regular production gold Speedmaster Profession from that time. Upon closer inspection, you will notice that the sub dials have the gold trim, like on the MIR version that I discussed in last week's article.
The strange thing is that it has case number BA145.0052 and PIC number is unknown for now. Moonwatch Only refers to it as 3691.50, but that reference number is also used for the 1992 Jubilee 27 CHRO C12 on a leather strap. However, it might also be the case that Omega just used the same reference number for this model, as it was for the Italian market only and just in 200 pieces.
Inside, this watch has the Omega caliber 863 movement. WatchFinder.co.uk sent us an image of the caliber 863 in the 3691.50 (although this one does refer to the 27 CHRO 12 model limited to 999 pieces, the movement is identical).
1997 Japan Special 'Golden Panda' – 3690.30
Don't confuse this model with the new 2015 introduced First Omega in Space in Sedna gold, that can be seen directly below. This 1997 model was introduced especially for the Japan market. It is a 'regular' Speedmaster Professional model with 'panda' dial, in yellow gold.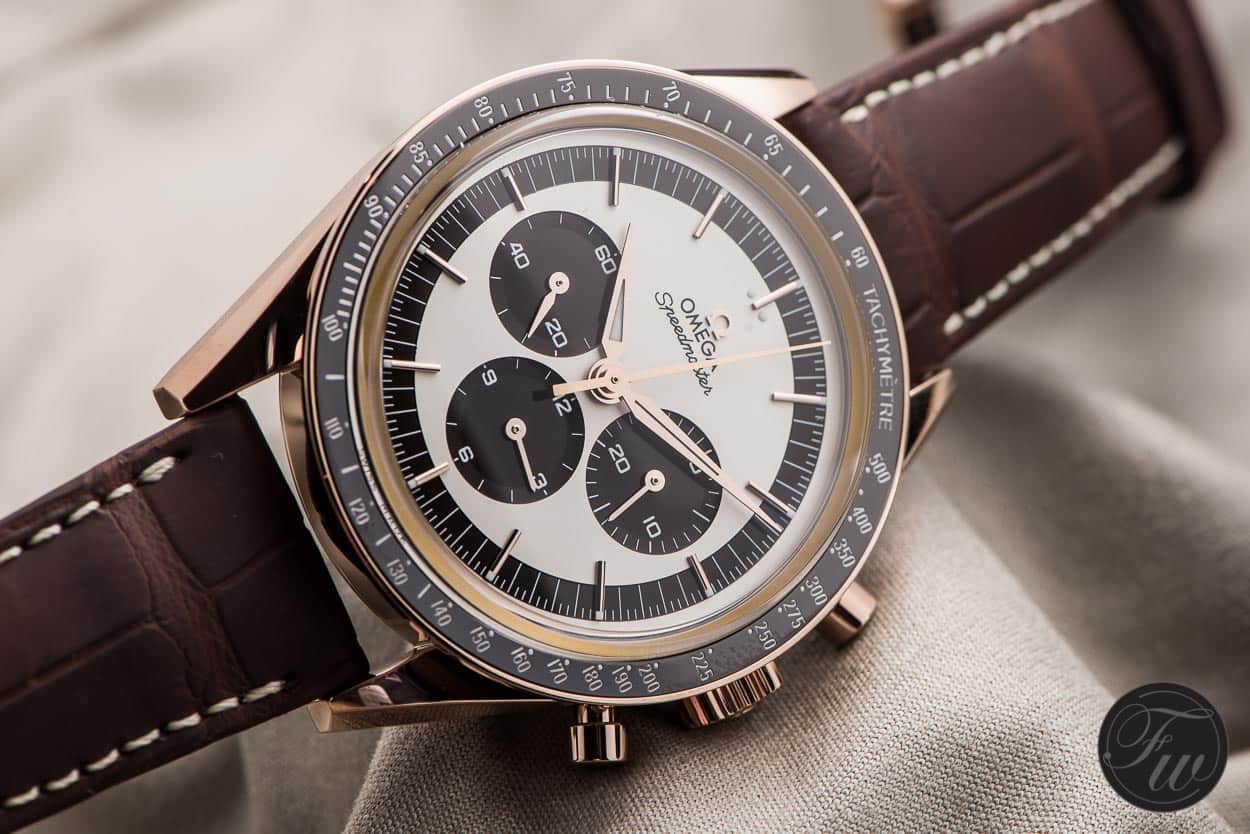 Japan is a Speedmaster country, many specific models have been made for that market only in the past. The most recent model was the 2004 Speedmaster Pro Racing, but before that, there were quite a few others. Like the Mitsukoshi dial (panda in stainless steel) and this Speedmaster Perpetual Calendar.
The image below was taken with permission from LunarOyster.com. The golden Panda for the Japan market was limited to just 40 pieces.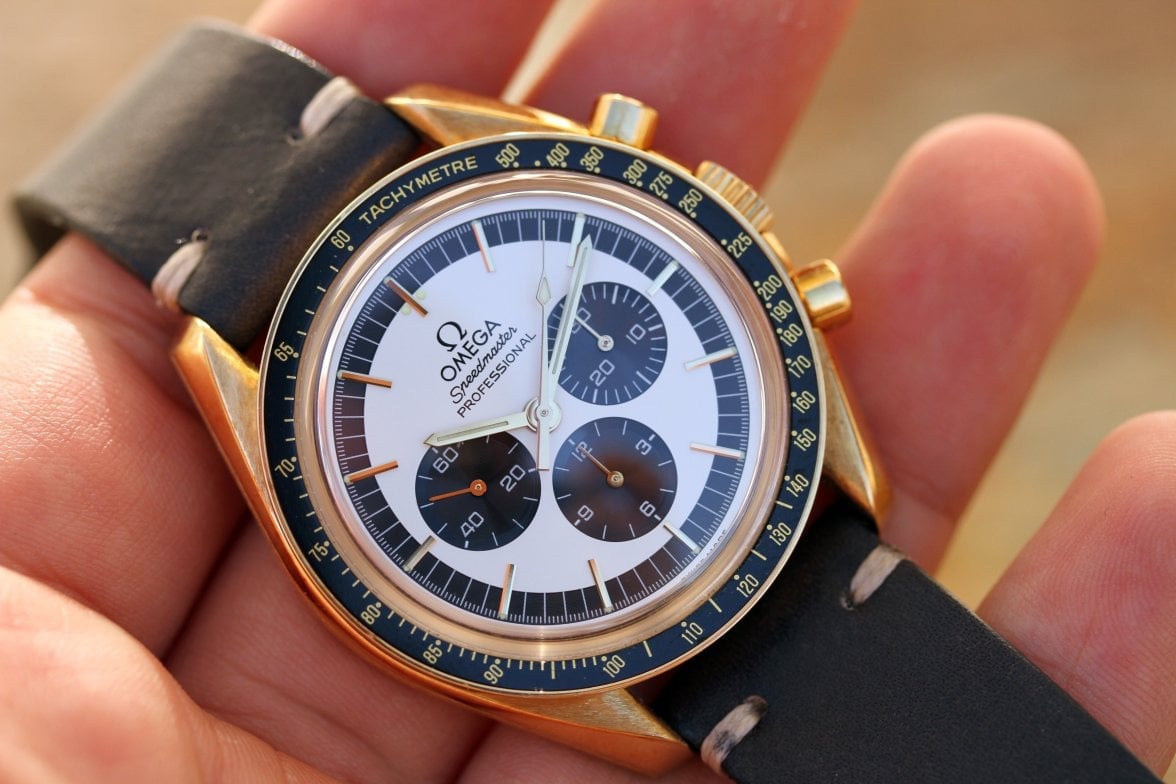 1998 150th Anniversary of Omega 3193.50
You might recognize this model from one of our recent Speedy Tuesday articles. This Speedmaster '57 Replica model was also done in stainless steel, but Omega also produced 150 of them in 18 carat gold. In this article, we showed Dire Straits' Mark Knopfler wearing one. The case back has the regular Moonwatch engraving (the stainless steel version does not!) and has been engraved with its unique number. Furthermore, it had a sapphire crystal and the new generation of Lemania / Omega hand-wound movements, caliber 1863. Based on the 863, but with an extra jewel and a rhodium plated finish.
This model was also available with a gold bracelet, with reference number 3193.50. Below, an image of the gold Speedmaster Broad Arrow on a leather strap, reference 3693.50.81. List price, at the time of introduction, was CHF 7600 Swiss Francs and the full gold version retailed at CHF 16500 Swiss Francs.
1999 Speedmaster Professional Moonphase 3689.30.31
In 1999, Omega introduced this white gold Speedmaster Professional Moonphase. Based on the same Lemania movement with moon phase complication (add-on module) as the 1985 Speedmaster Moonphase models, but in a white gold Speedmaster Professional case. When it was released I was under the impression it was meant to commemorate the 30th anniversary of the Apollo XI mission, but there is no such reference on the watch itself. This watch was in production for just a few years, but you don't come across them very often. This model was only available on a leather strap with folding buckle. Inside, the caliber 1866 movement was fitted. The white gold case back had the standard NASA engraving, like the regular Speedmaster Pro production. Rumor is that there are less than 300 pieces of this watch produced, this is unconfirmed though.
2000 Apollo – Soyuz 25th Anniversary 3195.59
The Apollo – Soyuz mission has been commemorated a lot by Omega, in total 4 times, with two stainless steel models (the 1975 model with mission logo at 12 o'clock, the 2010 model with meteorite dial, the 1995 gold edition and this 2000 edition). Except for the Apollo XI mission, it is the most commemorated mission by Omega. On the third place we find the Apollo XIII mission, with one 1995 mission patch model and two Speedmaster Snoopy Award editions.
Anyway, in 2000 Omega commemorated the historical mission from 1975 with a gold Speedmaster Apollo – Soyuz 25th Anniversary edition, limited to 50 pieces only. This time, the gold Apollo – Soyuz Speedmaster was a bit more bold than its 1995 pre-decessor. Not only the printing of the Omega logo and 'Omega Speedmaster Professional' wording was done in gold colored font, the sub dial at 6 o'clock had the mission 'Apollo – CHO3' name printed in gold as well. The case back didn't have the usual NASA inscription, but also the mission name and the limited edition number engraved. This watch was available on a gold bracelet (reference 3195.59) but also on a leather strap (reference 3695.59).
Below you will also find an image of the rhodium plated caliber 1863 movement, successor of the caliber 863 movement.
2017 – Speedmaster Apollo XVII 311.63.42.30.03.001
In 2017 (January 16th), astronaut Gene Cernan passed away. He was the Last Man on the Moon during the Apollo 17 mission in 1972. Before that, he flew on the Gemini 9A and Apollo 10 missions. So last year, Omega introduced the 3rd Speedmaster Apollo XVII limited edition. In two flavours: in stainless steel (1972 pieces) and in gold (272 pieces). In the second picture below, you will see the limited number at '72', this is because it is a prototype and Omega realized that this number was too low for the demand. The retail price of this model was €18600. An in-depth write-up on the gold Speedmaster Apollo XVII was done last year here on Fratello. Due to the relatively high price you might come across one at your Omega dealer still. In the pre-owned market, only a few of these popped up at retail price.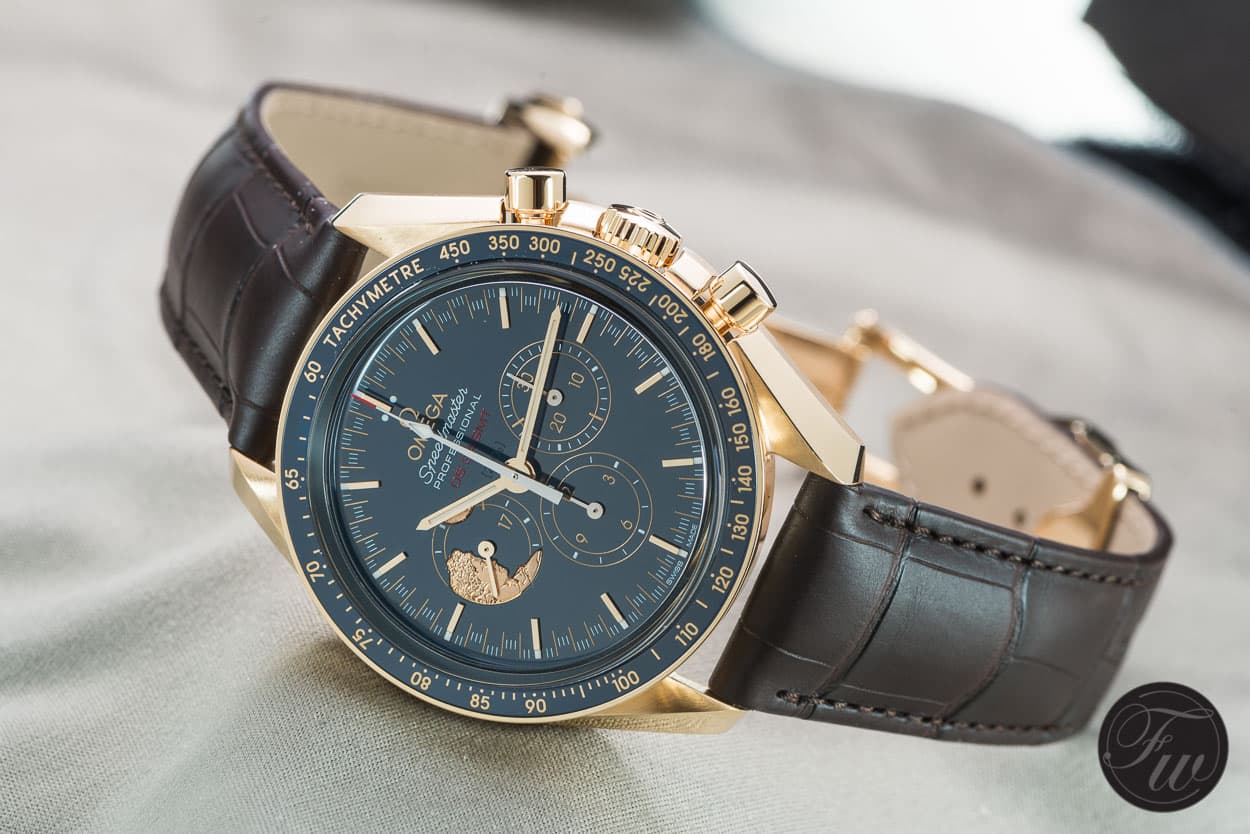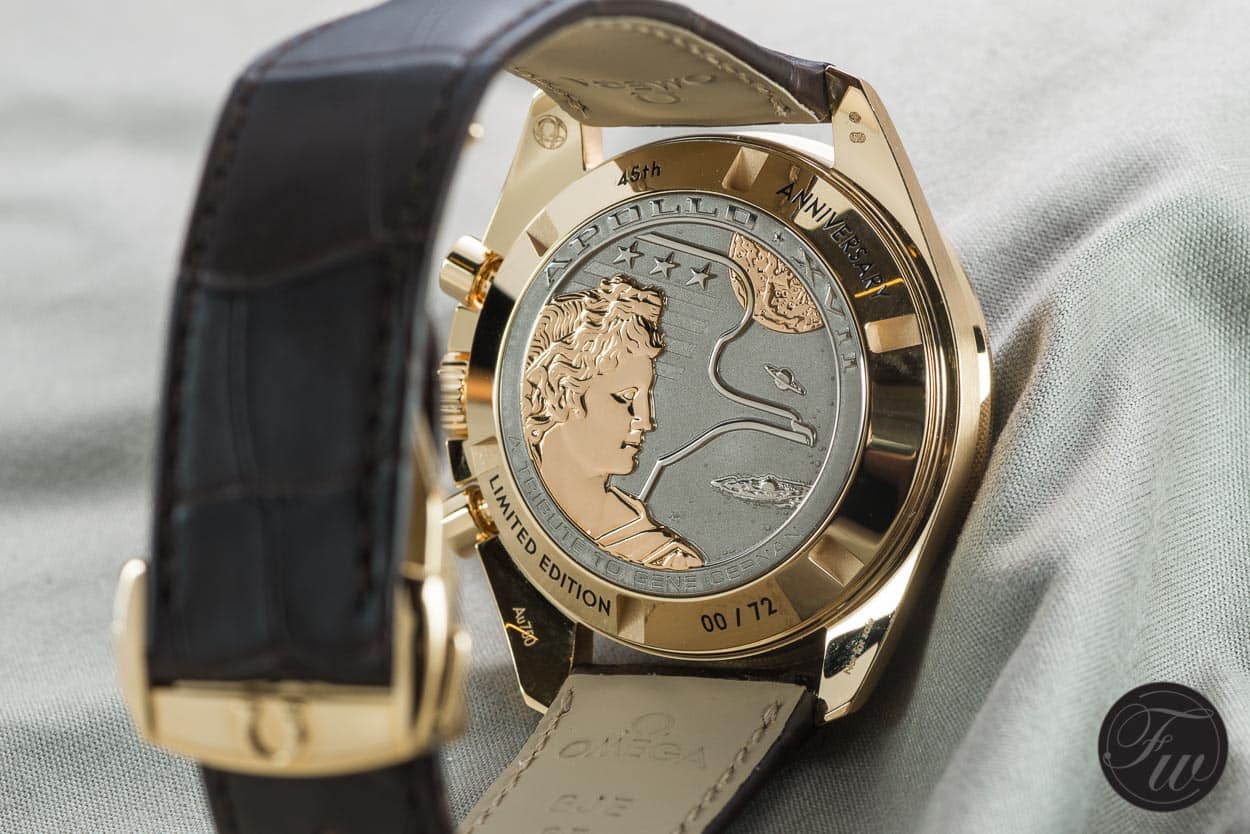 2017 – Speedmaster Professional Starmus
It is a bit of a cheeky addition to this article, as the Starmus model is not on the market. Only three of these gold Speedmaster Starmus watches have been made for the winners of the Starmus Festival. Winners of the Starmus Festival 2017 are musician Jean-Michel Jarre (no further explanation needed), Neil deGrasse Tyson (might not ring a bell for people outside the USA immediately, but he is an American astrophysicist, author, and science communicator. He also hosted a number of space-related TV shows and known for TV Series Cosmos: A Spacetime Odyssey) and last but not least, the creators and cast of The Big Bang Theory. I would be very surprised if any of these Starmus watches will come on the market in the near future.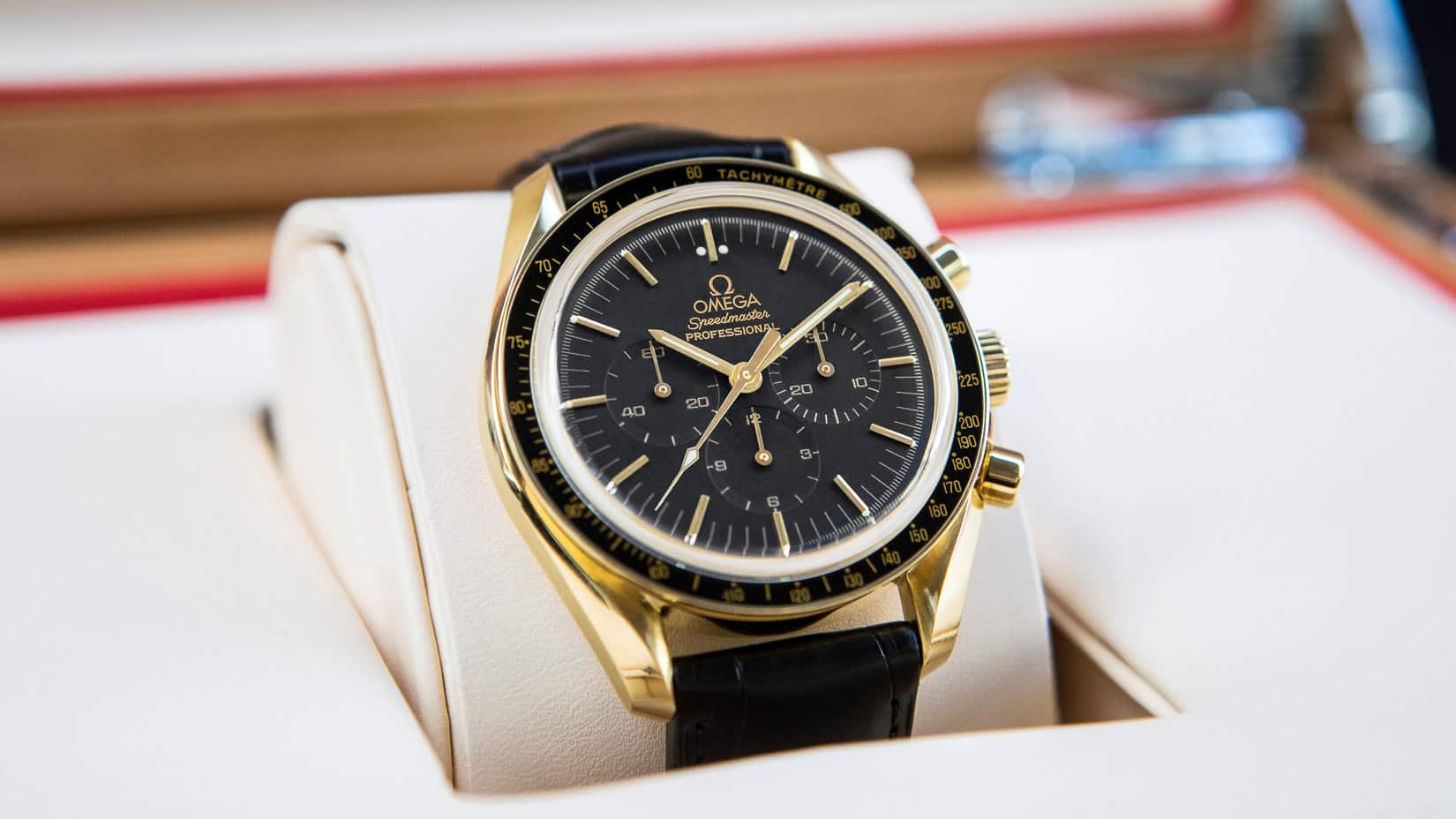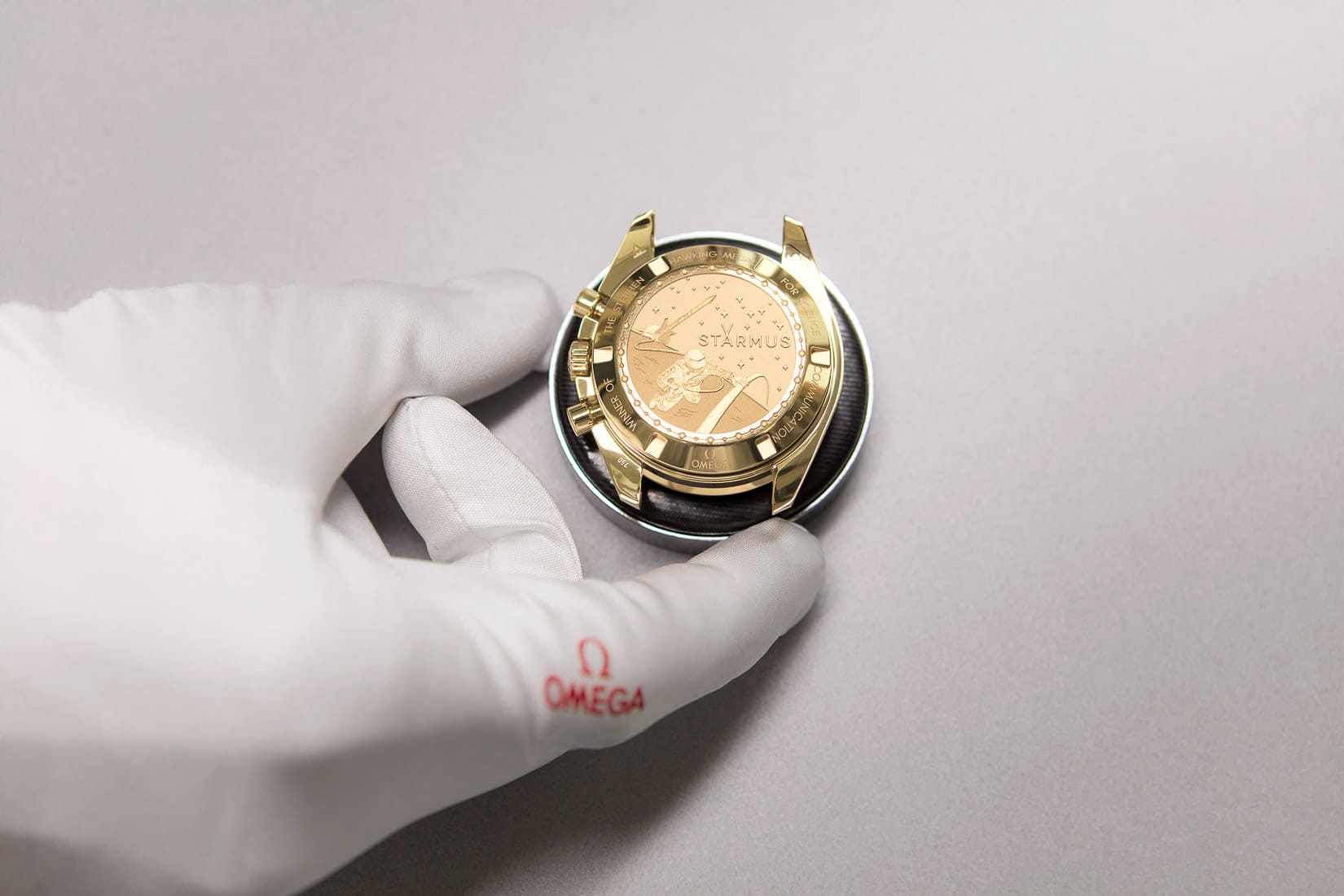 End of Part II – Gold Speedmasters
As you can see, Omega produced quite a high number of gold Speedmaster watches in the 1990's and that ended around 2000. Even though the white gold Speedmaster Professional Moonphase model was in production till the mid-2000's. The regular Speedmaster Professional in gold that I showed you in the previous article, was in production till 2011/2012. Even though it was regular production, it is still a rarity, as explained earlier in this article. Except for the Apolo XVII (and if it is still available), there is no gold Speedmaster Professional in the collection right now. Of course, with my ever-increasing interest in gold watches, I hope this will change in the future.
I hope this article changed your interest a bit in the gold models, hopefully for the good. This article also showed you that you don't have to bring a ridiculous amount of money to buy a gold Speedmaster watch on the pre-owned market. Especially compared to some vintage models in steel, or some of its competition in gold (like the Daytona), these watches are relatively affordable.
What this article did not show are the platinum models (Omega did a couple of them, even recently) like this Apollo XI 2009 commemorative model or the skeleton models (like the one we covered in 2012). We did cover them extensively in other articles (click the links) though. I also didn't cover some 'specialty' versions of gold Speedmasters, packed with diamonds and rubies.
In case we missed a gold Speedmaster Professional model, please let us know so we can add it to this article.
Click here to see Part I of the gold Speedmaster models overview
Image Gallery of gold Speedmasters Part II
Originally published August 4th, 2015. The article has been updated August 13th, 2018, with new information and new images.