Winners Of The Starmus Festival Received Gold Omega Speedmaster
As we announced last week, the three gold Omega Speedmaster Professional watches have been presented to the three winners at the Starmus Festival in Trondheim yesterday evening (local time).
This came in very late yesterday evening (thanks James for forwarding us the press release from the US agency), so it missed our regular Speedy Tuesday 'day'. We always try to bring you Speedmaster related news on a Tuesday, but sometimes it doesn't work out. Anyway, without further ado.
Winners of the Starmus Festival are musician Jean-Michel Jarre (no further explanation needed), Neil deGrasse Tyson (might not ring a bell for people outside the USA immediately, but he is an American astrophysicist, author, and science communicator. He also hosted a number of space related TV shows and known for TV Series  Cosmos: A Spacetime Odyssey) and last but not least, the creators and cast of The Big Bang Theory. Both Jean-Michel Jarre and Neil deGrasse Tyson were able to receive the prize themselves in Trondheim last night.
The producers (Chuck Lorre and Steven Molaro) of The Big Bang Theory TV show were able to send a video message though, stating: "We are thrilled to accept this award on behalf of the show. Never in 14 billion years did we think The Big Bang Theory would become what it has and we are eternally grateful to Professor Hawking, the science community, and everyone who has embraced it as their own. For those we have inspired to pursue the sciences, we are deeply honored. To Stephen and everyone at Starmus –Thank you".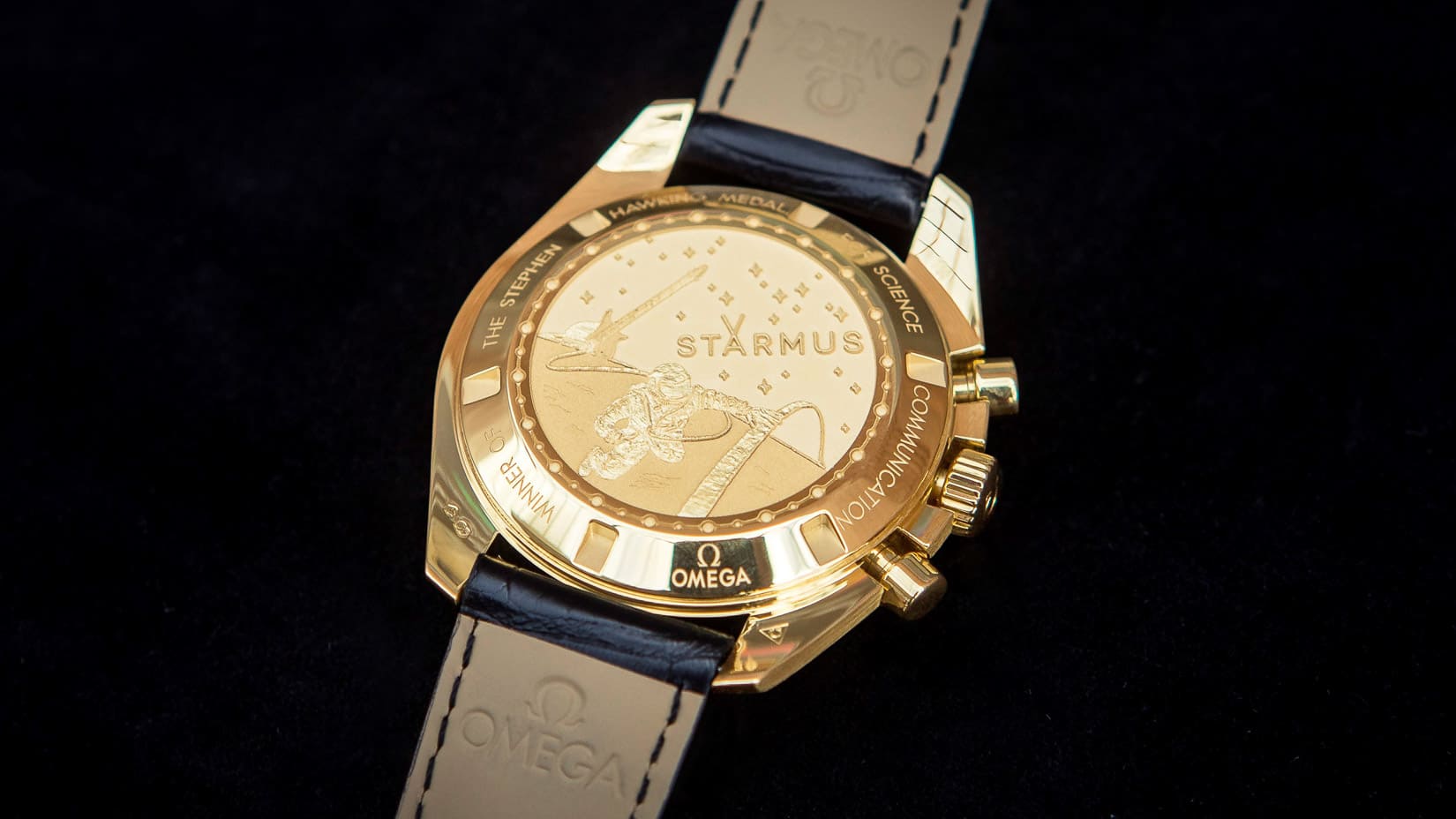 Our colleague James Henderson from watch blog Tempus Fugit urges Omega to make Neil deGrasse Tyson a brand ambassador for Omega, as he would be the perfect fit (There James, we said it). We obviously agree, as we rather see 'real' ambassadors than moviestars as watch ambassadors. Oh, and he already owns one of the coolest and rarest (gold) Speedmasters out there. Only 3 made.
More information on the gold Speedmaster for this occasion can be read in our previous article here.
If you want to know more about the Starmus Festival, go here.