Speedy Tuesday – George Clooney Wears A Gold Speedmaster in Money Monster
A while ago I wrote an opinionated article on brand ambassadors (you can find it here), and although I am not a particular fan of brand ambassadors who are paid to 'love' a watch brand, I do love to spot Omega Speedmaster watches on their wrists (but no more than spotting them when walking in the city or when having lunch somewhere for example).
An ambassador that I was wrong about in the past is George Clooney. I wrote "Do I like Omega suddenly better because George Clooney is in an advertisement with a loupe on his forehead? No. ". My opinion didn't change, but I've witnessed George Clooney (my wife still blames me for not bringing her along) during the Omega event last year in Houston (a full (photo)report can be found here) and I have to say that his adoration for Omega and especially the Speedmaster seems sincere.
In his new movie Money Monster (directed by Jodie Foster and produced by George Clooney, who also belongs to the cast together with Julia Roberts), where he plays the role of Lee Gates, a financial TV host. When an angry investor who lost everything violently takes over the show, Lee is being taken hostage and millions of people can watch the entire thing. Lee Gates, together with his producer Patty (Julia Roberts) have to unraffle the mystery behind a conspiracy in the high-tech global market of today. According to IMDB and the trailer that I briefly saw on television last weekend. It is not in the theaters yet here (May 12th), so I haven't seen it yet but I definitely will (not because of Clooney, perhaps a bit because of Julia Roberts, but the story line sounds definitely good to me).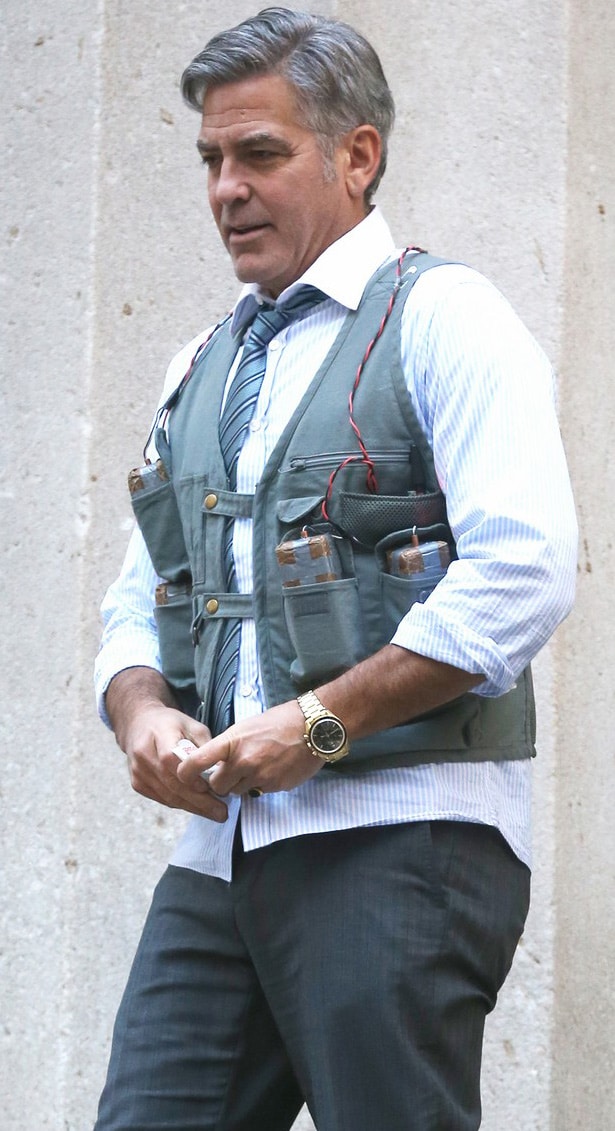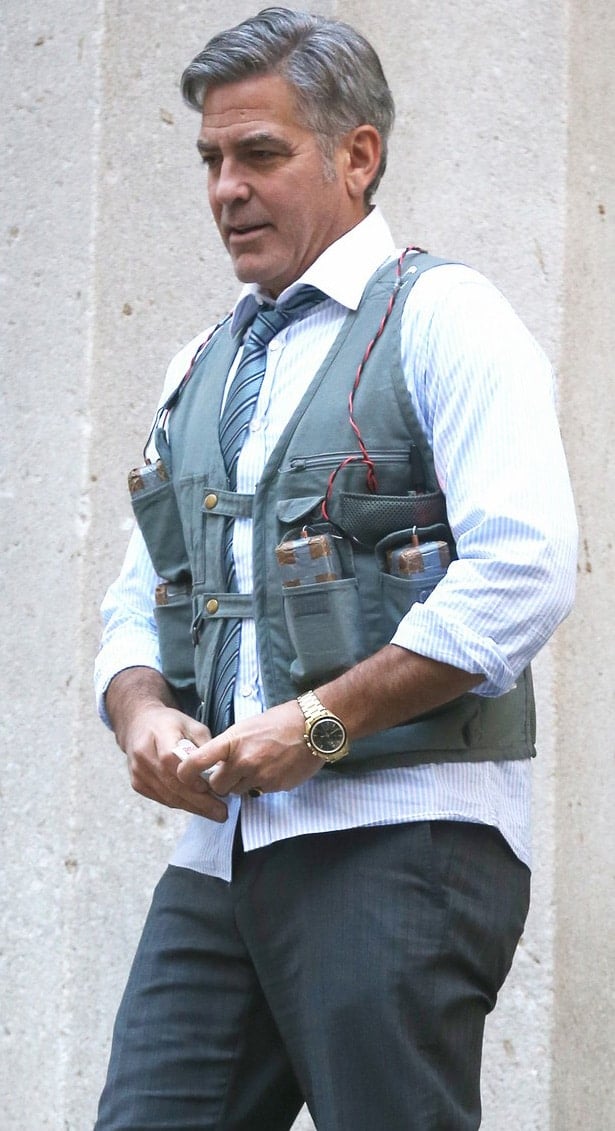 However, first thing I noticed when he was sitting at his desk in the trailer was his gold watch. Although you might expect a Rolex Day-Date of some sort, he actually is wearing a chronograph in this movie. An Omega Speedmaster Professional chronograph in gold. In the past, Omega produced quite a bunch of gold Speedmaster Professional watches, as we showed you here and here (overviews of gold Speedmaster models).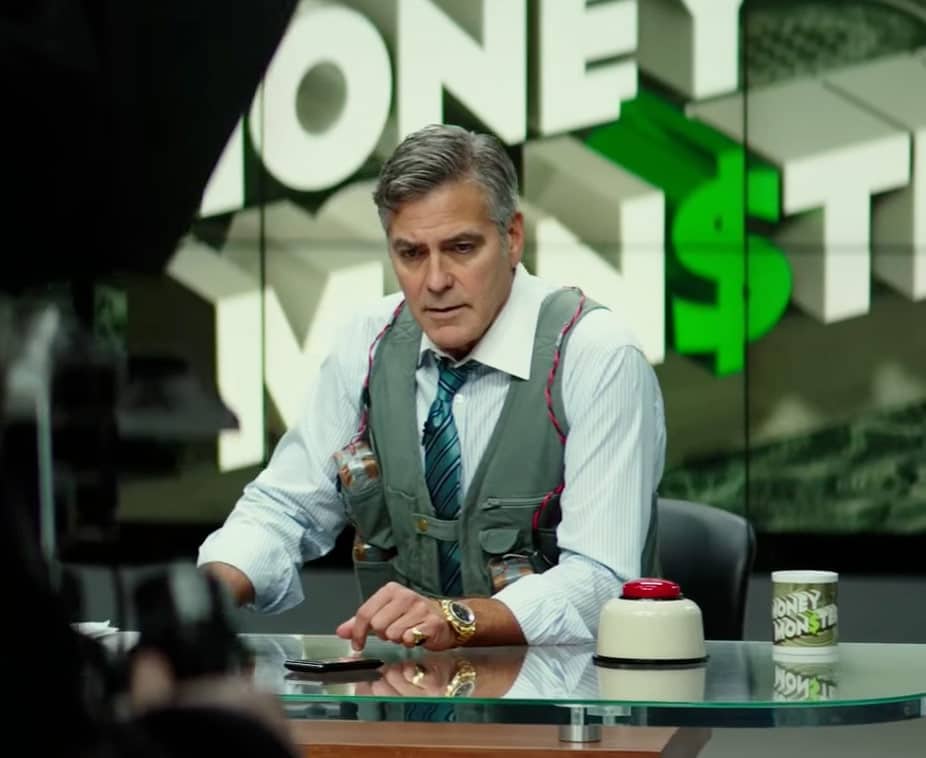 It is not one of the limited or numbered editions though, like the famous red burgundy Apollo XI 1969 model or the 1980 Apollo XI numbered edition model as can be seen on the wrist of astronaut Tom P. Stafford some times, nor is it the gold Speedmaster '57 Replica we've seen on the wrist of Mark Knopfler (Dire Straits).
Upon closer inspection, I think it is the Omega Speedmaster Professional reference 3195.50.00. A discontinued model from Omega (was in production from 1999 to 2012).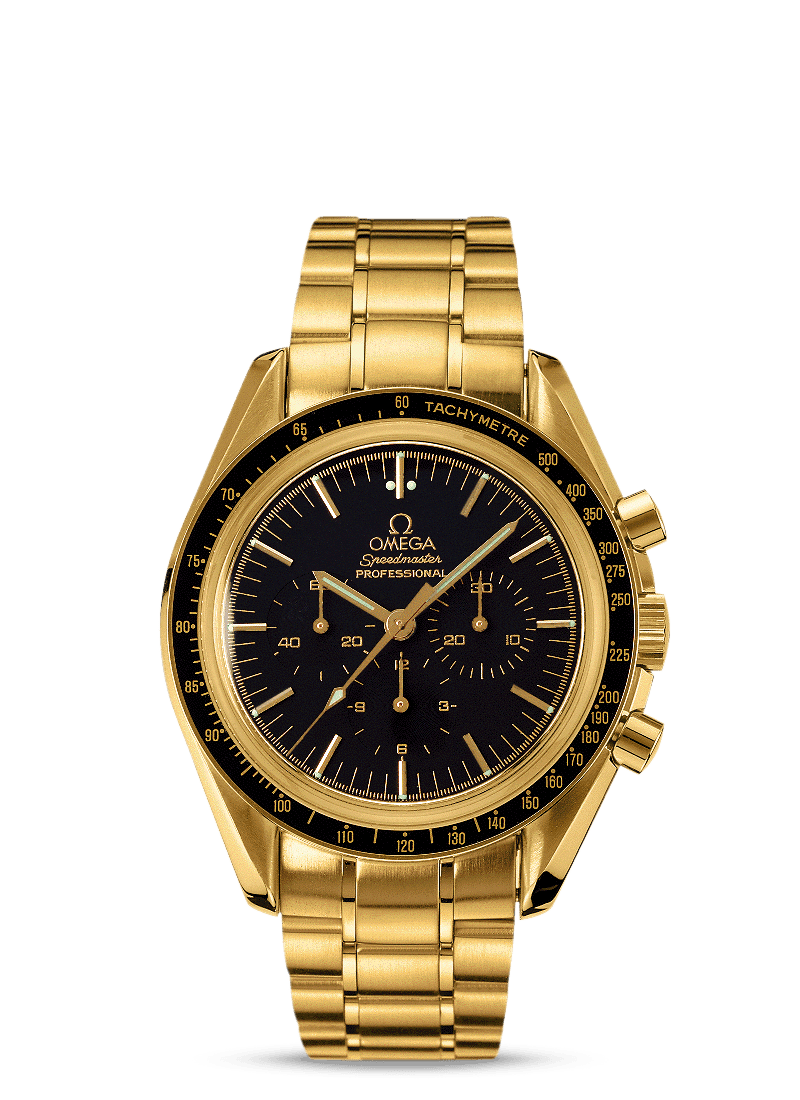 It was the last watch in Omega's Speedmaster Professional collection that was made of gold. Somehow they discontinued the gold Moonwatch models, which I think is a pity although I can understand that there is almost no market for these.
Since there is no good close-up of the dial on George Clooney 's Speedmaster in the movie, it could also be the limited edition of the Apollo-Soyuz edition of 2000. Only 50 pieces were produced, and the dial had Apollo-Soyuz written in gold on it, in the hour totalizer at 6 o'clock. This watch can be found in our write-up here.
However, since there were only 50 pieces of these, I can hardly imagine that they found one to use in the movie.
Another option would be the Speedmaster Co-Axial in yellow gold (was also available in stainless steel and red gold), like pictured below. This reference  311.63.42.50.01.001 was introduced in 2007 as a limited edition for the Speedmaster '57 commemoration. The logo was in the old style and so was the writing, however, the case was the regular 42mm size and no broad arrow hands or whatsoever. It was not part of the Moonwatch or Professional collection and only 57 pieces were made for each gold version. The stainless steel version was limited to 1957 pieces. These watches came with the F.Piguet based hand-wound movement caliber 3201 (not to be confused with the original Lemania based caliber 321), with a Co-Axial escapement.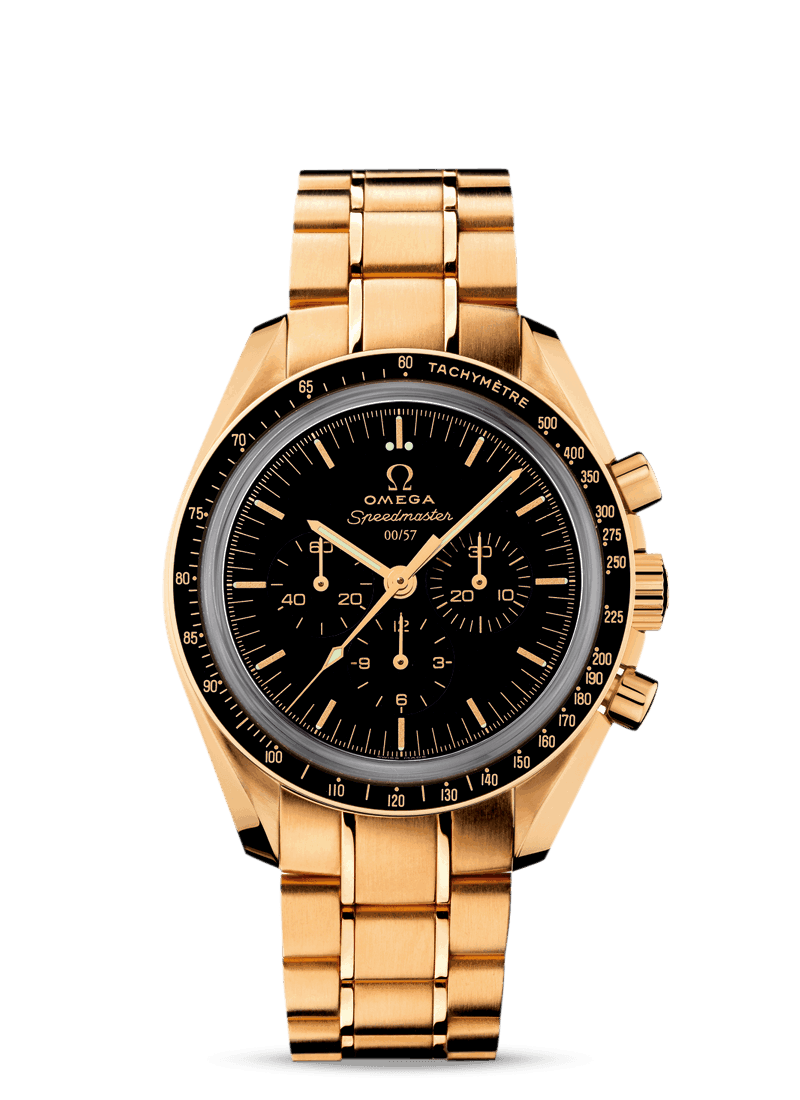 It would make more sense (commercially) when Clooney used one of the current collection of Speedmasters, like a gold Speedmaster 9300 model. However, for me it isn't clear whether Omega issued this watch especially for the movie or that Clooney just took an Omega from his private collection. All models mentioned in this article that comes closest to the one he is wearing in the movie are discontinued. The limited edition Apollo-Soyuz (25th anniversary) or the Co-Axial limited edition from 2007 are long sold out and especially the Apollo-Soyuz would be hard to get. Perhaps the Omega Museum helped a hand or Clooney must have one of these in his private collection, of course.
Once I know for sure, I will update this article.