Speedy Tuesday – Astronaut Thomas P. Stafford's Gold Speedmaster Professional
It's Speedy Tuesday! At the beginning of this year, I had the honour to meet NASA astronaut General Thomas P. Stafford. There we sat down, in the OMEGA boutique in Sochi. What to ask the man who probably has heard all questions a hundred times? However, General Thomas P. Stafford broke the ice by pointing at my Speedmaster Professional X-33 and saying "I wrote down the specs for that watch!". Perhaps he is best known for his role in the Apollo – Soyuz mission in 1975, he was also on board of the Apollo 10 and two Gemini flights prior to that. However, General Thomas P. Stafford was also Chairman of The Board of Omega in America. He is now – together with Buzz Aldrin and Eugene Cernan – part of the Omega ambassadors.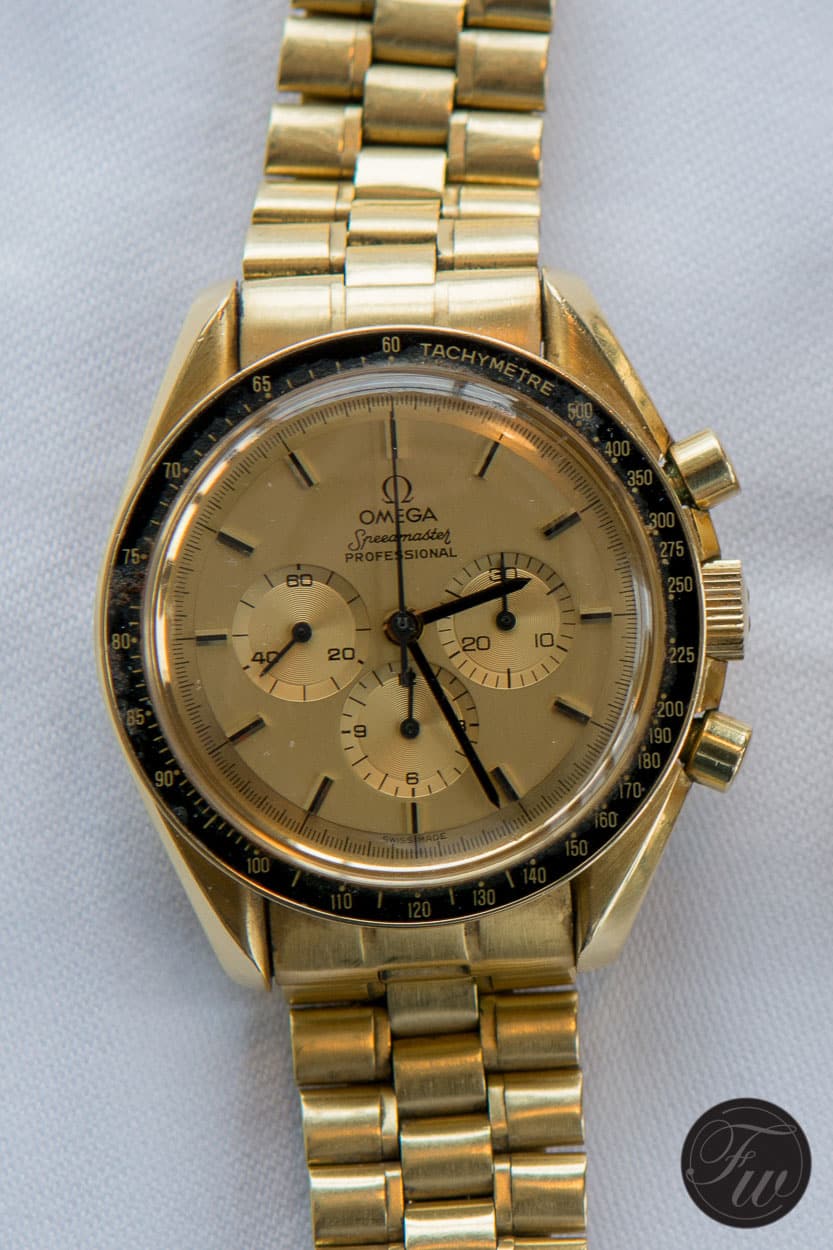 You can always ask yourself about the real interest these brand ambassadors really have in watches. At least I do wonder about every time I see a new ambassador being added to the circle of 'friends of the brand'. However, I assume it works for the brands as people like to be associated with certain actors, singers, athletes and so on. Anyways, I noticed that General Thomas P. Stafford seems to have a genuine interest in watches. Especially Speedmasters.
We talked about Speedmaster watches and it seems he had a couple himself as well. During our encounter, he was wearing this gold Speedmaster Professional watch. At first I thought it was the 1969 model that commemorated the Apollo XI Moon landing and was given to a number of astronauts. I discussed NASA astronaut Ken Mattingly's Speedmaster a while ago for example. I know that it should have a burgundy colored bezel, but you never know what happened during a repair or service overhaul. We chatted for a while and I was impressed by the knowledge he had about the Speedmaster watches. Actually he told me he was impressed with mine, but I don't assume he is on-line all day looking for all the info he can get on the Moonwatch.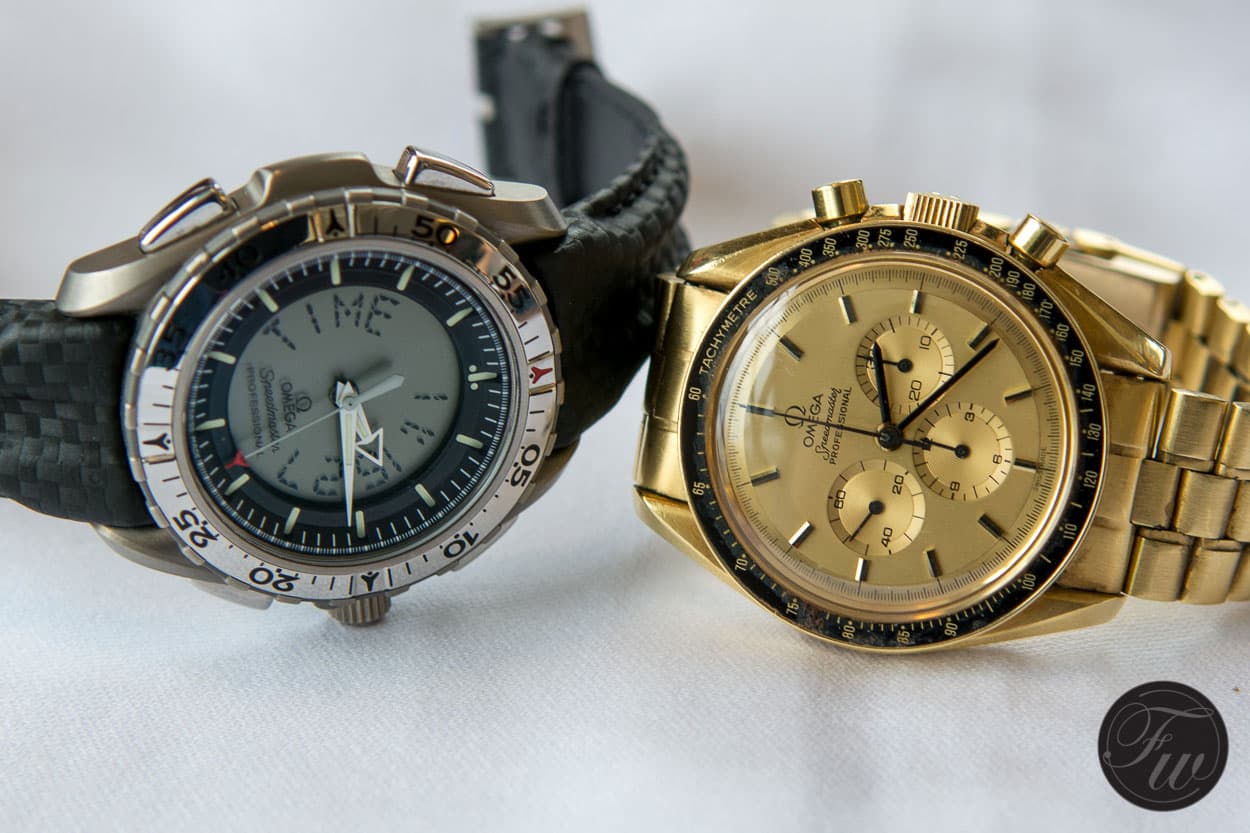 General Thomas P. Stafford didn't exactly know when he received the watch, but according to him it must have been somewhere in the 1980s. (Later on this seemed correct, the movement number indicates that it was produced in 1984.)
After a few days I spoke to General Thomas P. Stafford again (together with Ben Clymer from Hodinkee, click here for his report) and we basically asked him if we could borrow his timepiece for a few minutes. Just enough time to shoot some photos of his gold Speedmaster Professional.
To be honest, at that time I knew little about this Speedmaster Apollo XI that was released in 1980. I knew that Omega did a special version in gold as a 10th anniversary model (which should be 1979) and that it was the first Speedmaster with a display back. Rossier and Marquié's book Moonwatch Only do shed a light on the Apollo XI 1980 in yellow gold though.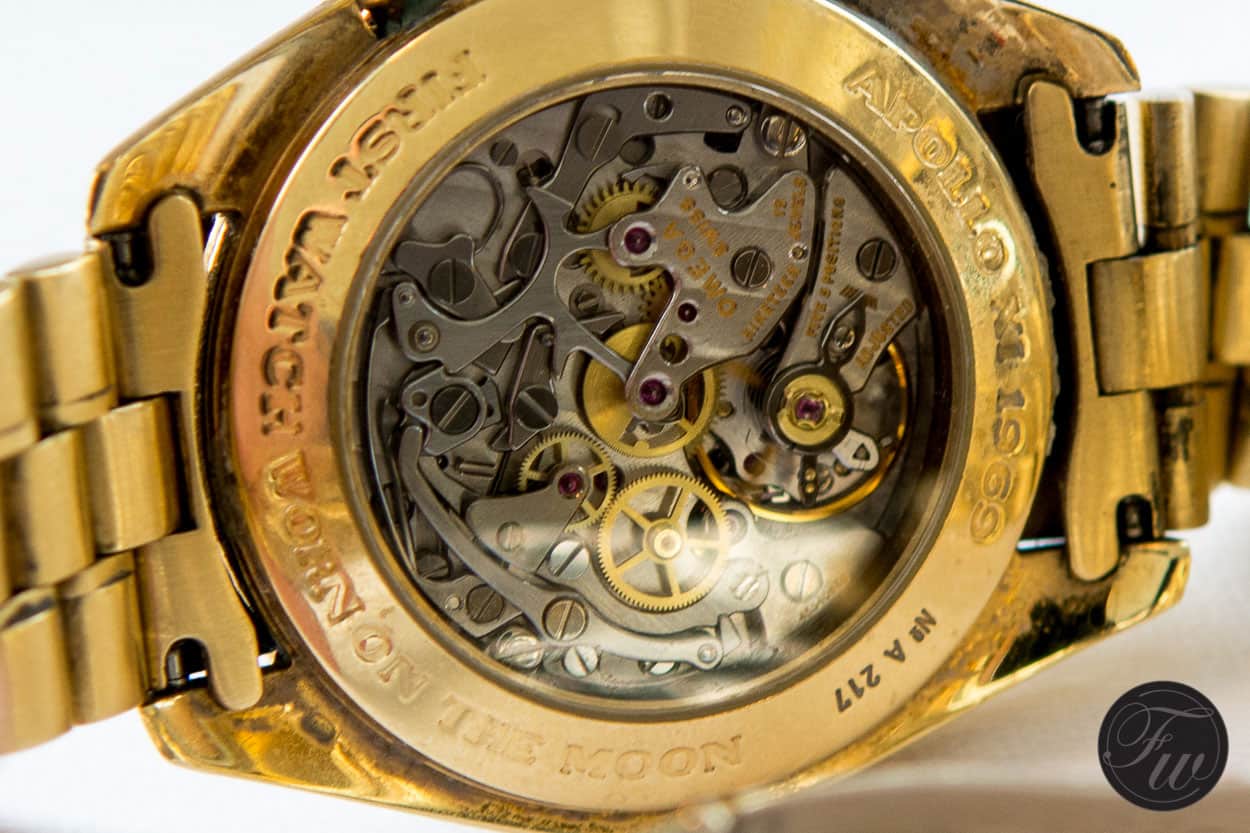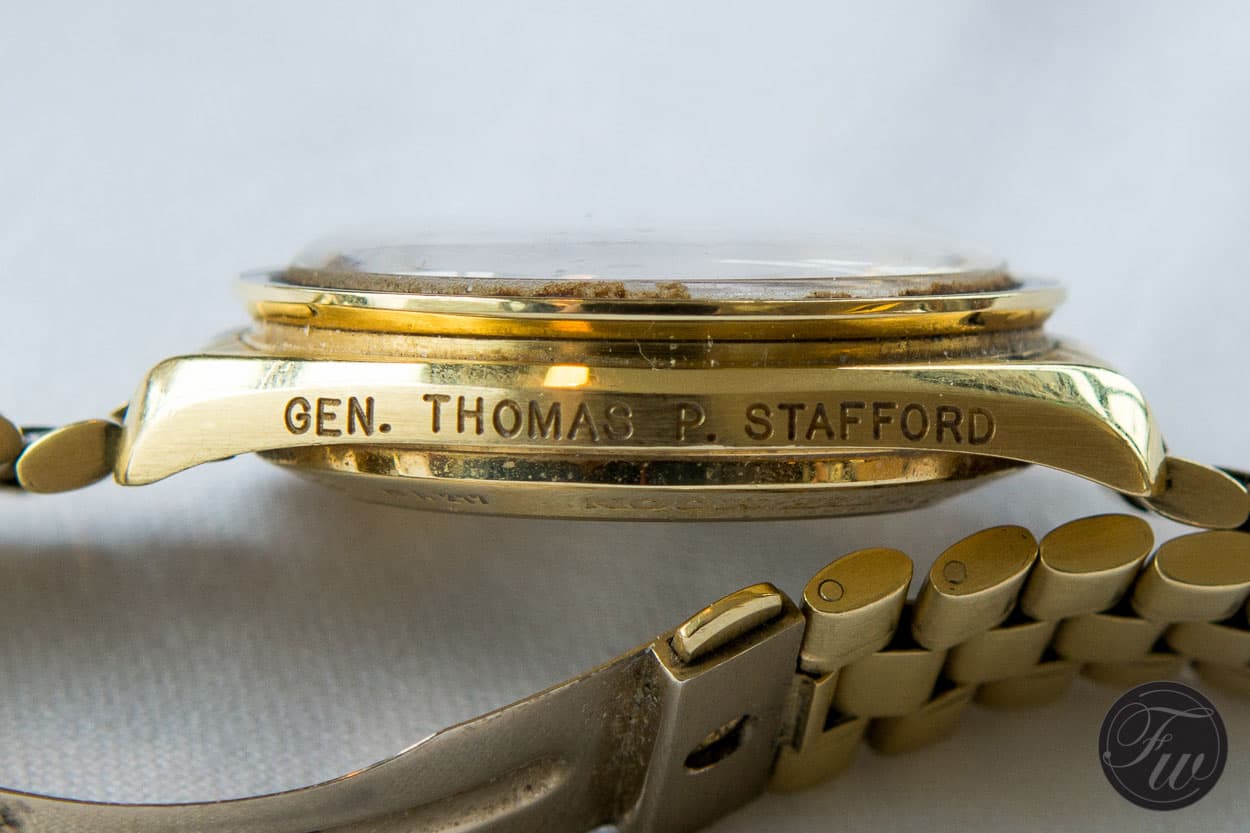 As you can see on Stafford's watch, the case back is numbered but the total number of produced watches isn't clear. Moonwatch Only assumes it is around 300 watches. Half of them were meant for the German market. About 20 watches were produced in white gold (being the first white gold Speedmaster ever) and all went to Germany.
The reference number of the yellow gold Speedmaster Pro with bracelet is BA 345.0802 while the strap version has reference numebr 145.0039. The white gold version has reference BC 345.0802. According to the book this watch was produced between 1980 till 1988. This also makes sense about Stafford's serial number that dates it to 1984. Unfortunately, he was not able to remember the exact year that he got it.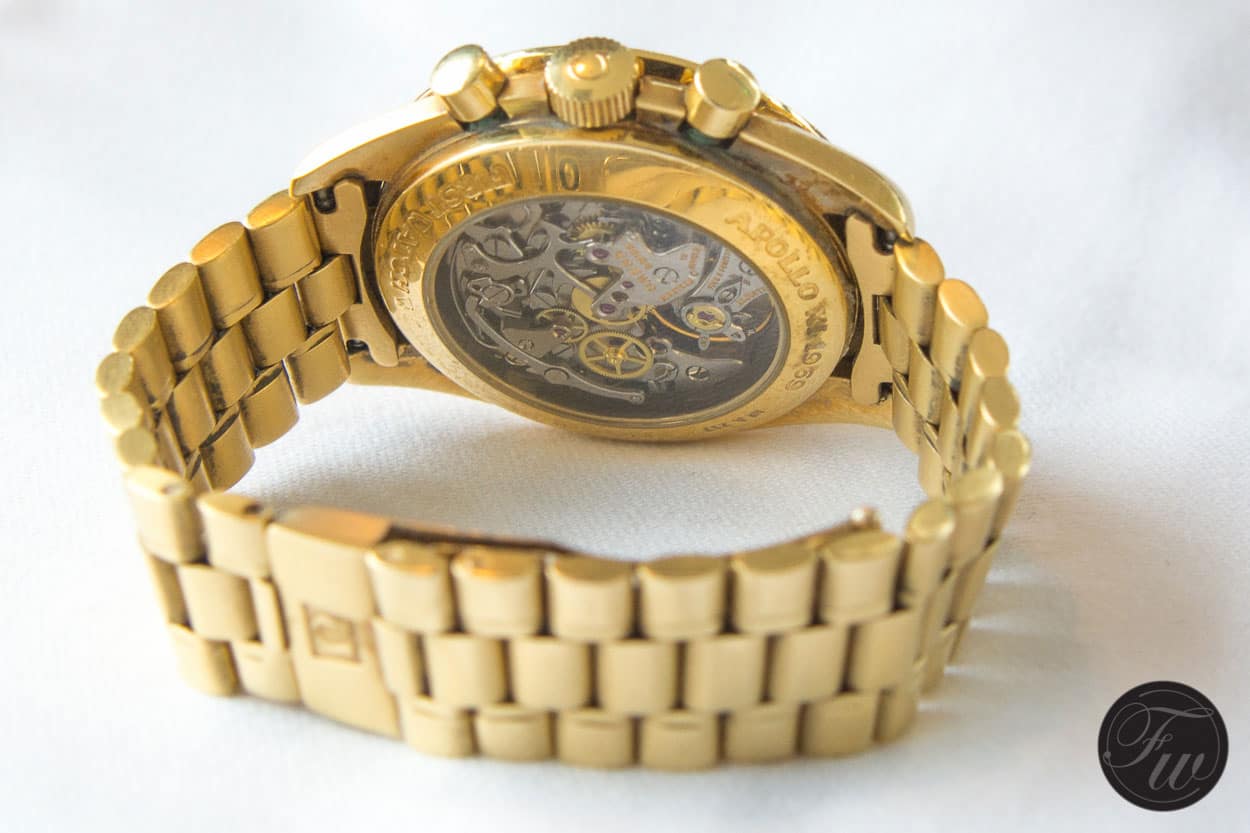 The photo of the caliber 861(L) movement shows a rhodium plated movement, which was adopted only in 1997 for the standard production of Speedmaster Pro watches when Omega started using the Lemania based caliber 1861. Quite interesting that Omega decided to keep on using the copper and yellow gilded movements in those remaining years.
With only around 300 made, you could say that this gold Omega Speedmaster Professional BA 345.0802 (or PIC 3154 C) watch is even more rare than the commemorative gold Speedmaster Professional from 1969. There is actually one for sale at a German dealer in pre-owned and vintage watches, who asks € 8900 Euro (approx. $11,700.- USD) for a nice example. Click here for the sales ad at Bachmann & Scher in Munich, Germany. A bit cheaper than the burgundy colored gold Speedmaster Pro BA 145.022 from 1969.
More information on General Thomas P. Stafford and OMEGA can be found here.