#TBT Rolex Oysterdate Precision 6694
A Good and Clean Design - And Affordable
I like to talk a lot about good, clean, and effective design on #TBT.
It's something that looks easy, but is often difficult to master. As I've mentioned, I think that Seiko and Rolex display this mastery time and time again in the bulk of their pieces. To me, creating good design not only takes into account the layout of various characteristics on a timepiece, but also blends materials, textures, hues and proper proportion into the effort. It's a primary reason why that $35, 3-6-9, drug store three-hander lacks the same appeal of what is likely a very similar, at a distance at least, watch costing multitudes more. Today, we'll take a look at a good example of pleasing design: a very simple, yet sporty watch that deserves consideration. We're here with a vintage Rolex, but warm up those fingers because winding is required; the Rolex Oysterdate Precision 6694 is on #TBT.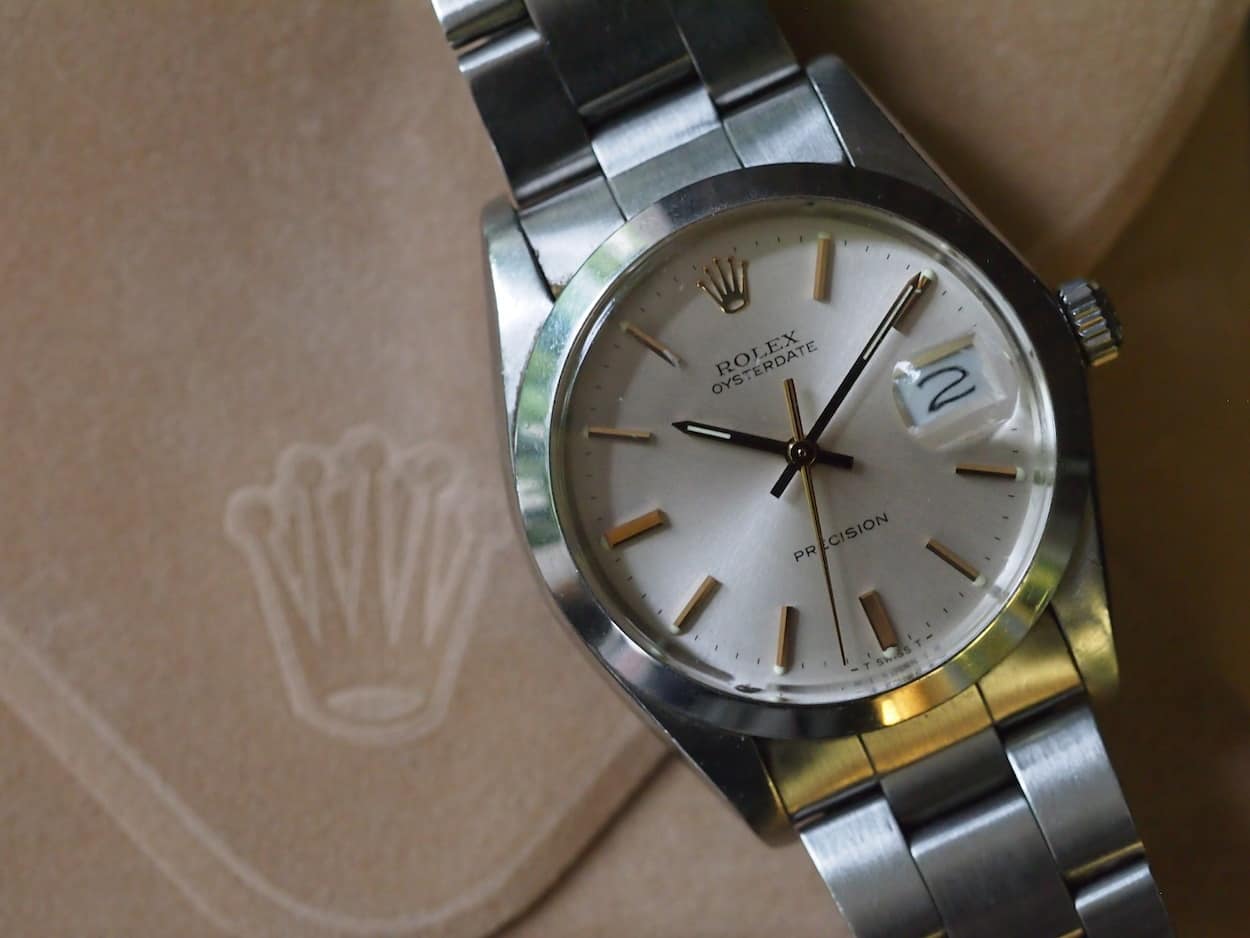 Rolex Oysterdate Precision 6694
The Rolex that forms the subject of today's article is a real "under the radar" piece. I actually don't own this Rolex Oysterdate Precision 6694 and, quite frankly, hadn't really ever seen an Oysterdate Precision "in the metal" up until 3-4 years ago. I was in London with my then girlfriend, now wife, during a long weekend and I ran across a lot of little used watch shops. Of course, Rolex's were heavily featured in the windows and amongst the many sports models and Datejusts, I kept running into these basic, but highly attractive Rolex Oysterdate Precision 6694 models. I saw them primarily with silver, gray and blue dials and although some looked quite old, some looked relatively modern. Pricing, I quickly noted, was rather reasonable in the thousand British pound range. So, it was off to the internet to do a bit of research.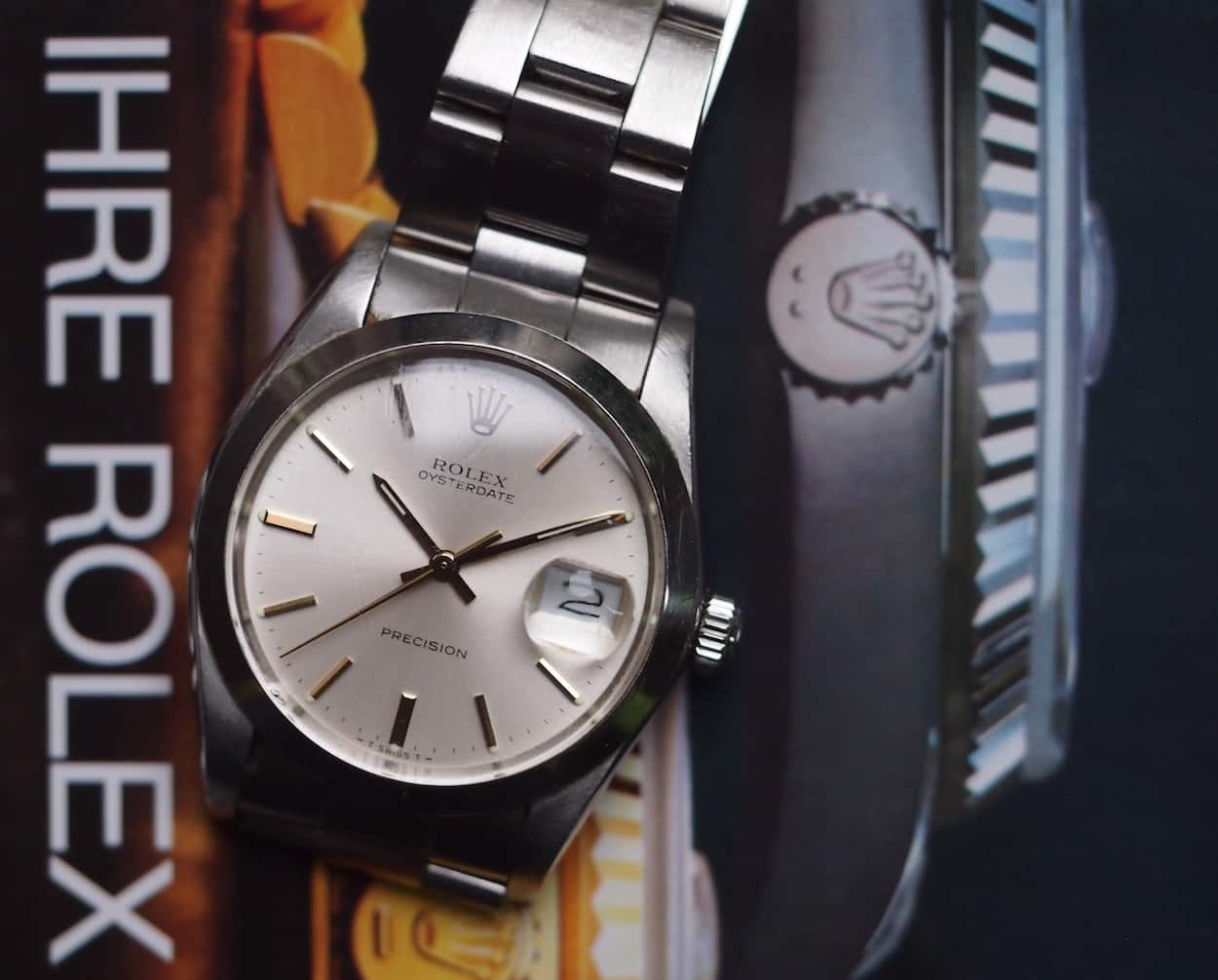 Manual Wind Rolex
What I later discovered is that the Rolex Oysterdate Precision 6694 was a longtime mainstay in the company's lineup. It was introduced as the 6694 in the early 1960's and made up until the late 1980's; blogs show the model in the catalog as late as 1988. I found that these models were extremely popular in Europe, but less so in the flashier, Sub and President-wearing, USA. The thing, though, that really sparked my interest was that these Precisions were manual wind watches. Aside from Daytonas, Cellini models and some older Explorers and Air Kings, I hadn't realized that Rolex produced a manual wind model for so long and until so late. Since then, the watch has remained in the back of my mind and while I haven't purchased one, a very good friend wears today's piece frequently enough to remind me of its classic looks.
The Rolex Oysterdate Precision 6694 you see before you was purchased new in Frankfurt, Germany in 1989. My friend, however, bought the watch less than two years later in almost NOS condition for less than 500 Euros (then Deutsch Marks) after it had been, rather unnecessarily, serviced at the local Wempe. It's interesting as the watch has a case from 1985-1986 but like a lot of later Rolex 6694's, it either sat around unsold or Rolex pumped out a lot of cases in that timeframe before deciding to discontinue the model a few years later. While it has certainly been worn, it's a bit like a time capsule in that it contains all of its paperwork and even another set of hands, which may be the originals, stored inside an aluminum Rolex dial box. The owner's instructions book is in German as evidenced by "Ihre Rolex Oyster" on the cover.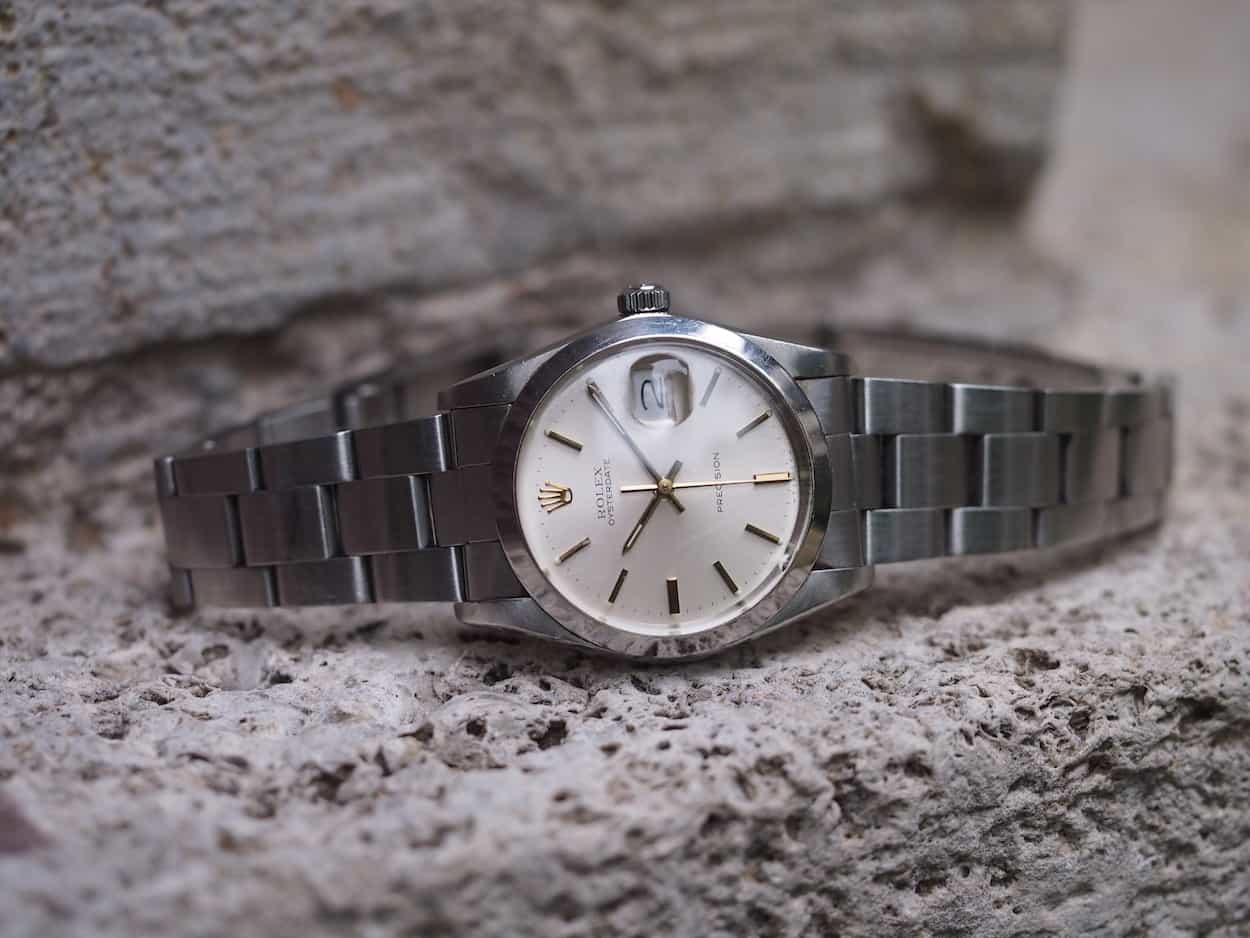 Inside this interesting Rolex 6694 beats the workhorse, 17-jewel caliber 1225 movement with non-quickset date. It hums along at 21,600 bph, which is a nice upgrade over the normal 18,000 and must have been quite accurate when it was introduced. It should be noted that it is not a chronometer certified movement. As mentioned, the watch is an "Oyster", so it does contain a screw-down crown and is, or was, water resistant to 100m. Despite the existence of the aforementioned manual wind Rolex models, it is not a normal experience to unscrew a crown for daily winding. In fact, the concern of wear to the crown tube is probably the most common question on forums, but the concern is apparently unfounded as the build construction is robust and inexpensive to replace. Winding is a nice experience and the movement has enough tension to give it a solid, well-built feel.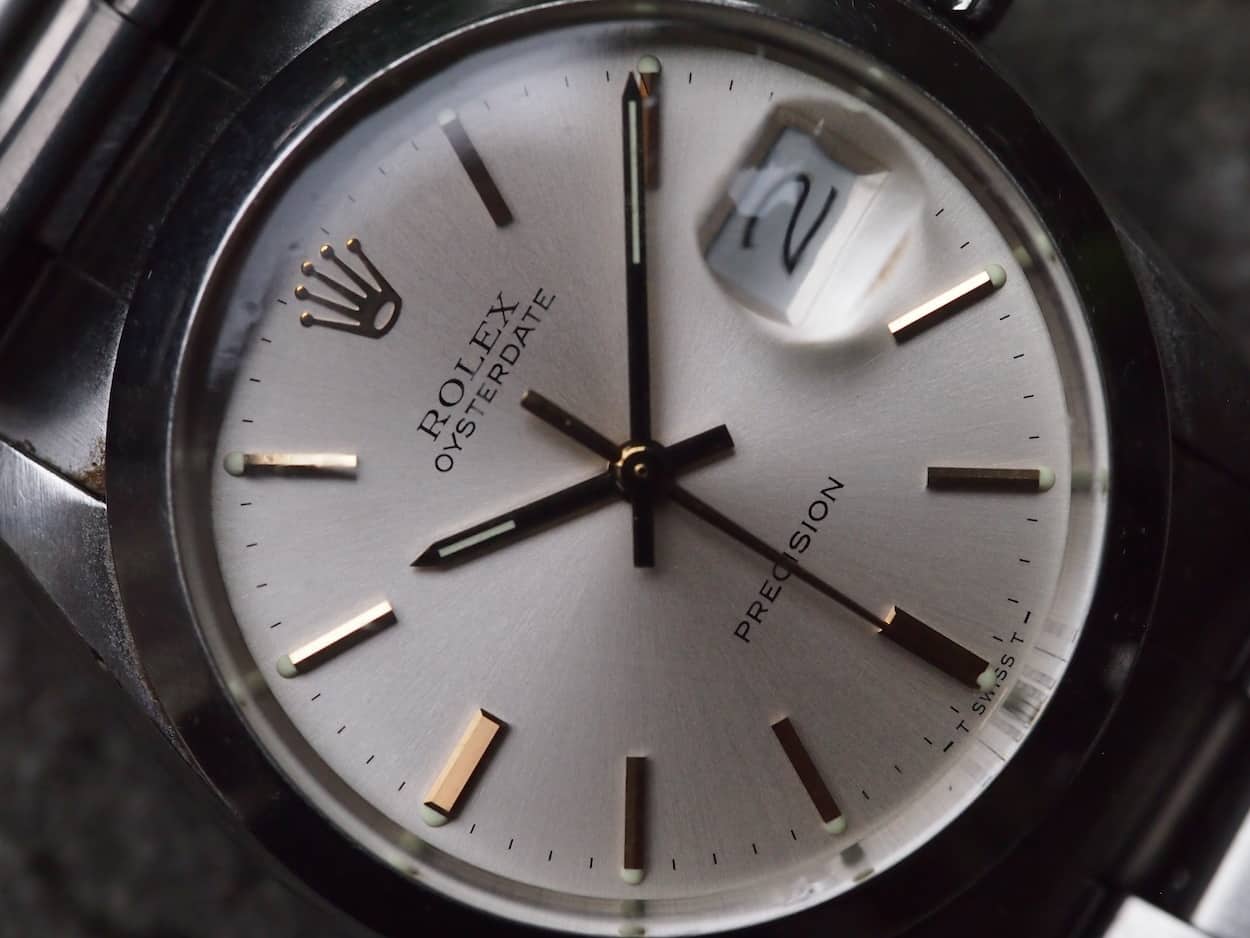 34mm, but it wears bigger…
Aesthetically, I find this Rolex to be timeless and gorgeous. It has classy, elegant air looks that seem suitable for the tennis court, a business meeting or any number of casual settings. The dial has a silver, radiating finish paired with such simple, slender gold hands, indices and the Rolex crown. Small lume dots sit outside of each index and a simple minute track borders the dial itself. The dial is of extremely high quality. The dial color itself seems almost identical to that of the manual wind Daytonas and really contains a surprising amount of depth in different types of lighting. Furthermore, the idea of using gold on the dial may seem dated or out of order on a stainless watch, but here again, the way the dial picks up the color somehow makes it all look harmonious. I mentioned the lack of chronometer certification, but like on most vintage Daytonas, I don't miss the paragraph of verbiage reminding me of this attribute.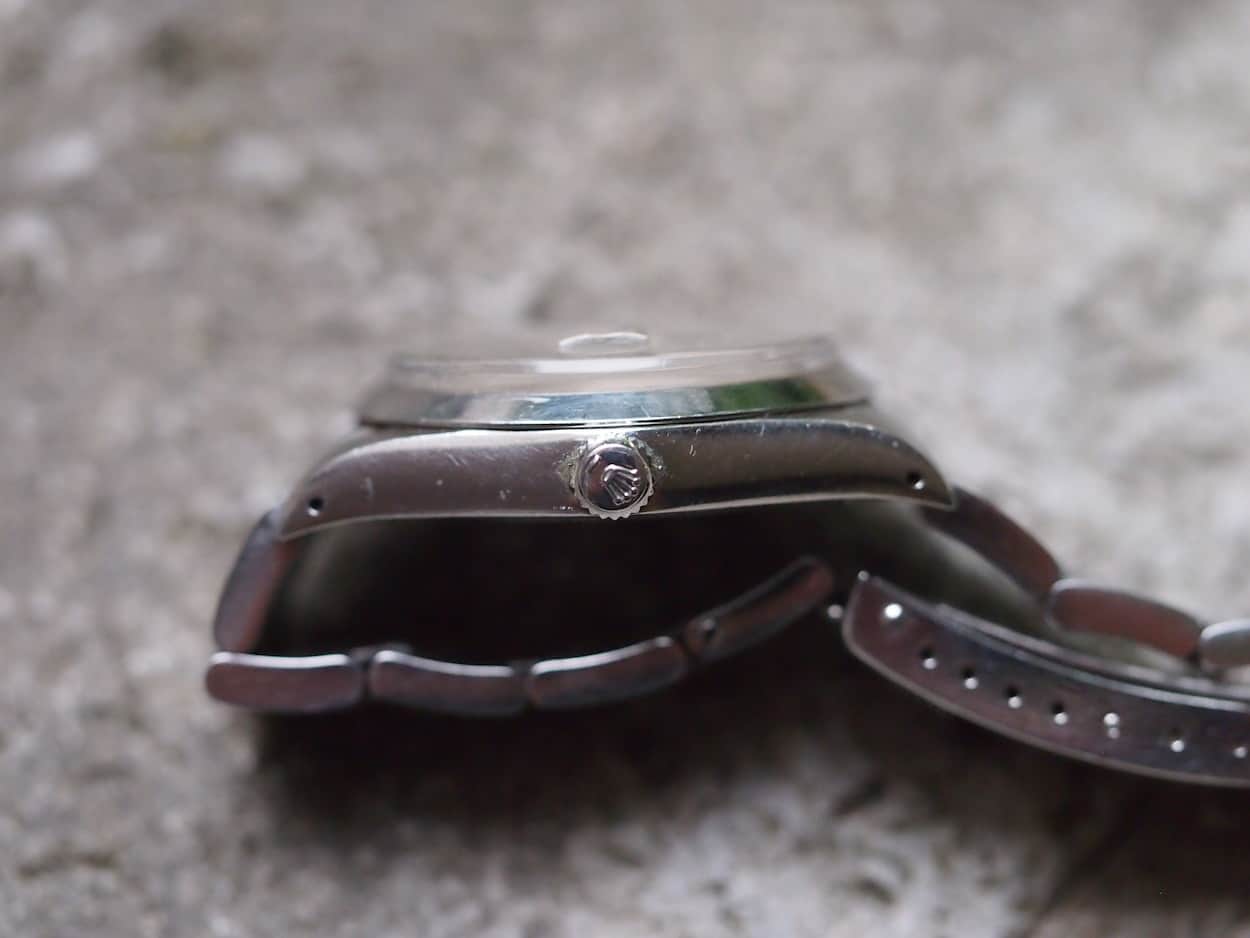 A detail that usually annoys me is the signature Cyclops above the date window. Here, though, I find it, along with a decently thick acrylic crystal, to give the watch some needed visual mass. It disrupts the dial just enough to keep the watch from looking too plain.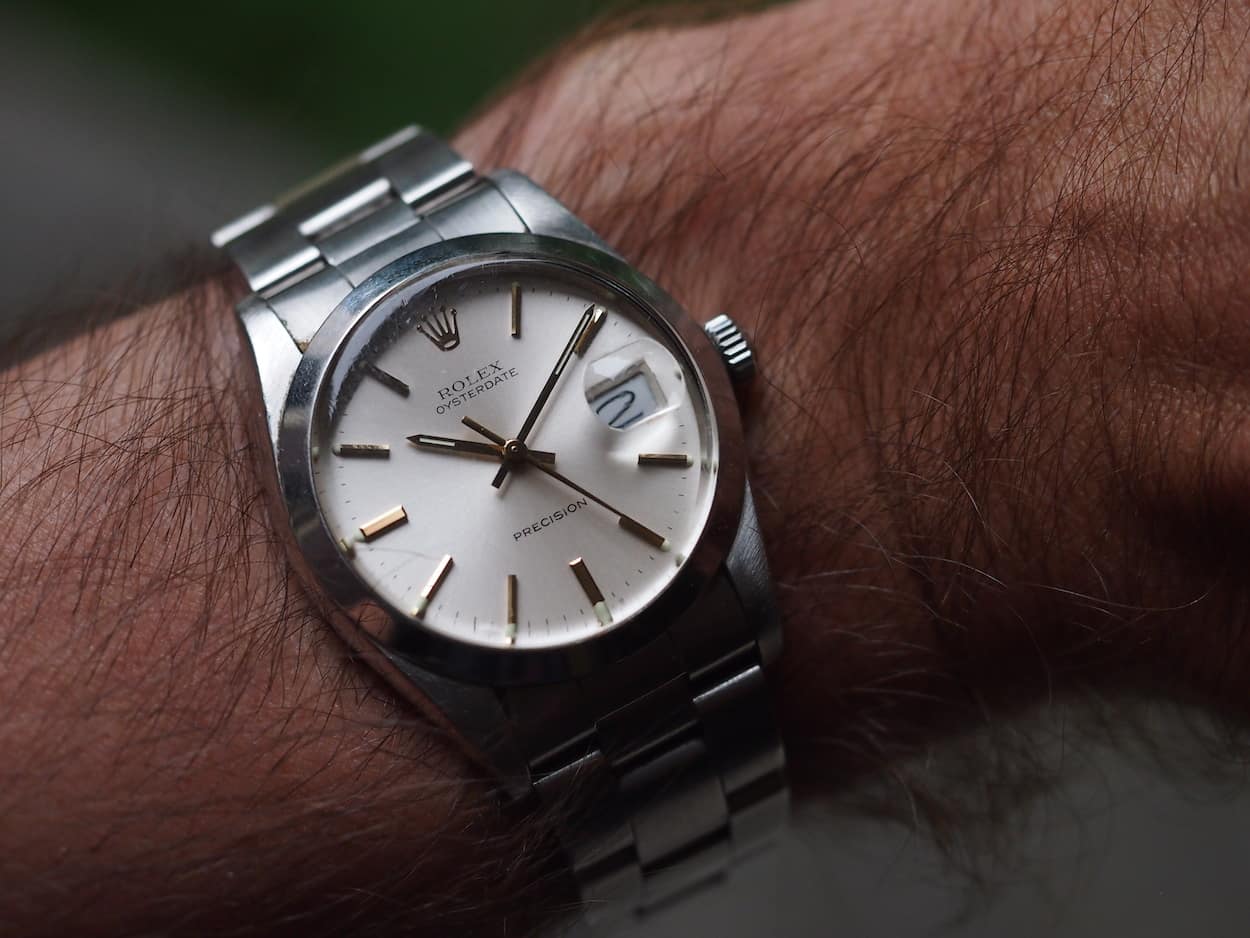 The Rolex Oysterdate Precision 6694 is not a big watch, but it does wear larger than its size would suggest. It checks in at a seemingly miniscule 34mm in diameter, but I promise you that it somehow wears more like 35-36mm. Perhaps it's the light-colored dial, the decently sized crown or the sturdy 78360 Oyster bracelet, but it basically fits like a 14270 Explorer or a similar era Datejust. It is more comfortable and a bit lighter than those models, though, owing to its more compact movement.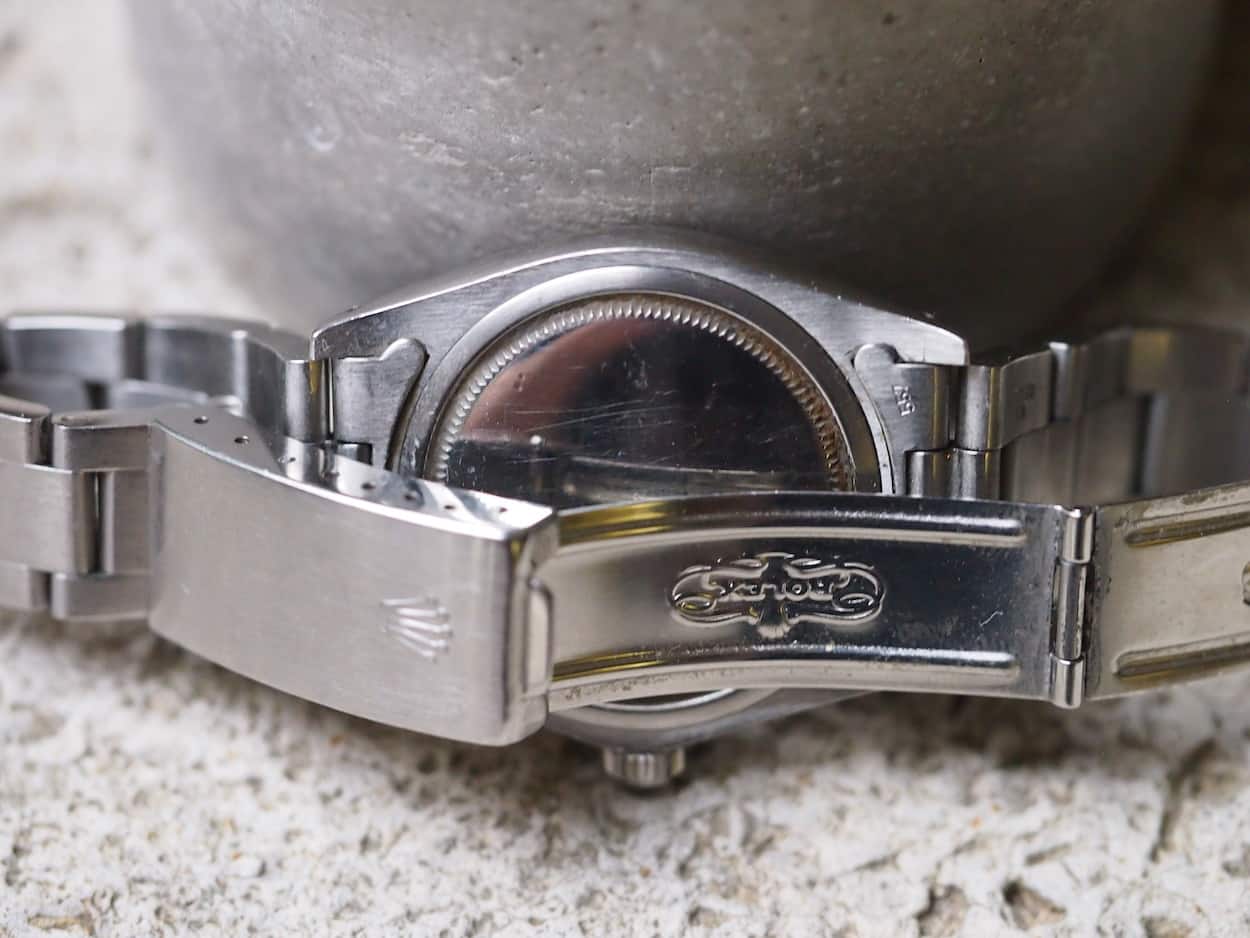 This movement allows for what is essentially a flat, screw-down case back. Interestingly, the lug width on this piece is the same as a vintage Daytona at 19mm and it contains a simple locking clasp that is familiar to most Rolex owners. Again, and I can't say it enough, the watch looks fine on a male's wrist as long as you're not one who pulls off a 47mm Panerai with wrist to spare. In fact, my friend certainly has a wrist larger than mine (though, that's not saying much), but I've never thought for an instant that it looked out of place.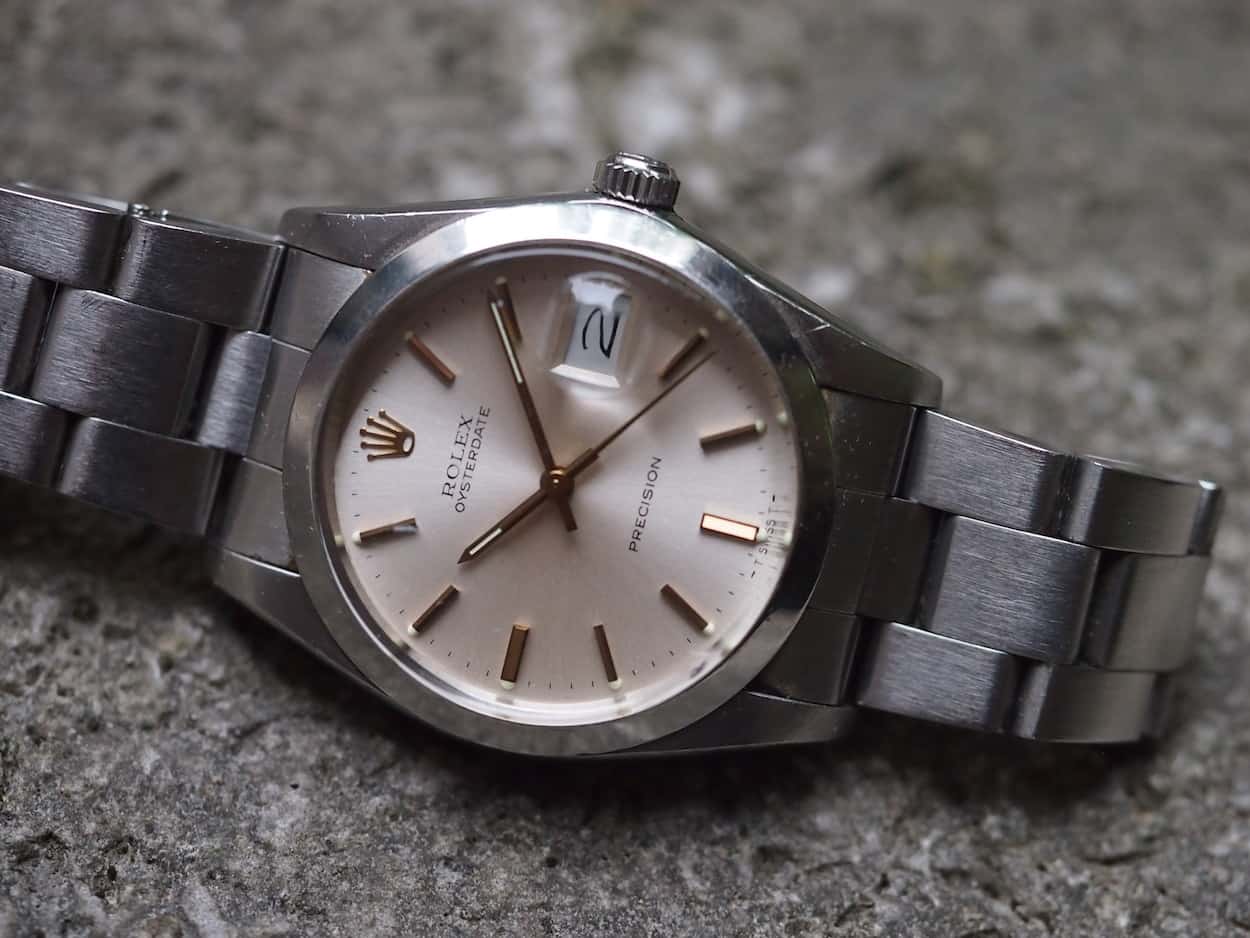 Speaking of donning the Rolex Oysterdate Precision 6694, my friend tends to pair it with jeans and casual shirts and it looks damn cool. To me, it's easy to lust after the hallmark sporty pieces in the vintage Rolex stable, but to find something this attractive, and –yes- affordable, shows that there are still hidden gems out there to be uncovered related to a brand that has very few secrets left. Of course, it's built like a tank and gives the same, wonderful, bracelet rattle that we all know and love. It is absolutely a real Rolex.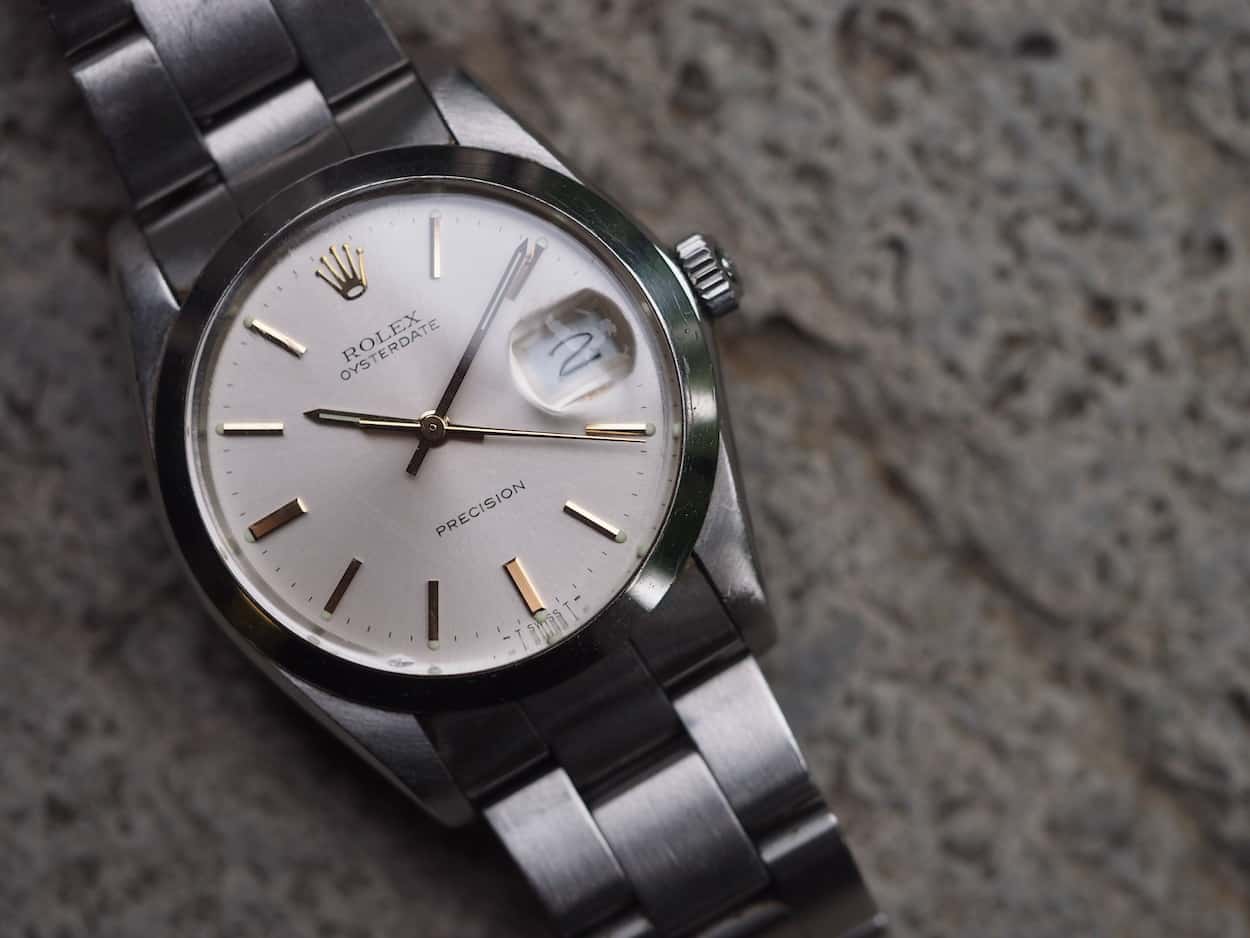 Rolex Oysterdate Precision 6694: Where to get them, How much to pay?
Finding a Rolex Oysterdate Precision 6694 is easy and even more so if you are located in Europe. I do see them in the USA on sites like chrono24, but most seem to be in the UK, mainland Europe or Hong Kong. You see a lot of pieces from the 1960's and 1970's and less from the 1980's as consumers really started to put their money into quartz and automatics. Slight changes to the style of hands occurred over time and the new pieces actually do look quite modern in terms of dial quality and bracelet construction. In general, pricing seems to range from about 1,400 – 2,000 Euros but with deals available below the range. I see a lot of pieces above this level, but I honestly do not think that anyone pays these prices. Getting boxes and papers on these is not a rarity so do not add a massive premium (I'd think 100-200 or so Euros would be the maximum). I've noticed that the 6694 is also a watch that everyone on forums swears is available for 1,000 Euros or less, but I've not seen one, or I've yet to see one at that level that I'd consider wearing. I do think that getting one with a bracelet is a "must" and that leaves you the freedom to mix it up with a nice, dressy strap. This is easily done due to drilled lugholes. You really do not have to worry about too much in the way of fakes other than the awful, brightly colored dial pieces that you often see on eBay and chrono24. Servicing these pieces is easy and there is no reason to buy one that is missing any of its cosmetic pieces.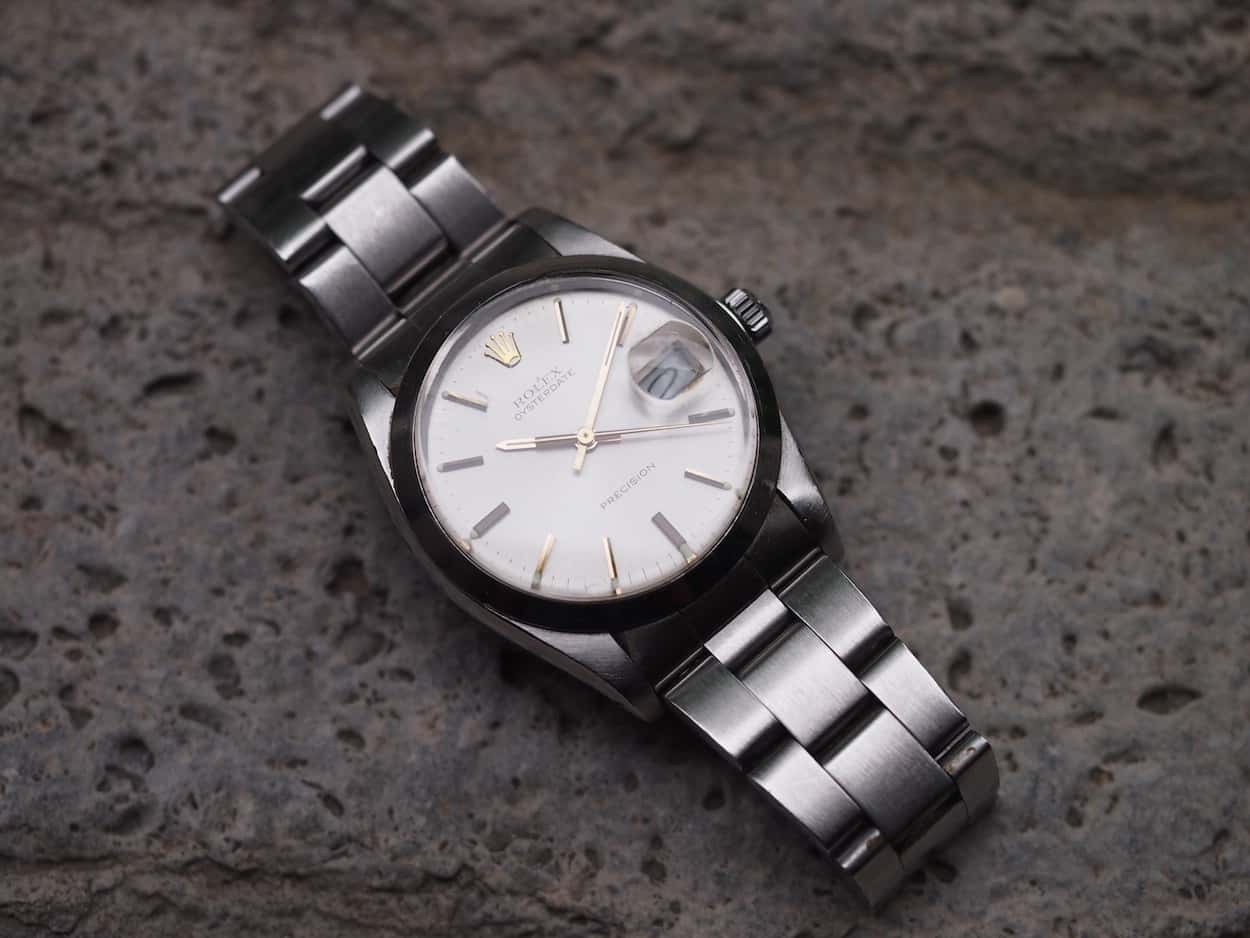 Today's #TBT focused on an affordable Rolex. I think that the price is merely the icing on the cake and I'd actually suggest that potential buyers consider the watch on its own versus simply as an inexpensive path of entry into vintage Rolex. It's unique with its movement and surprisingly versatile in its application. Best of all, they're easy to find, but not common to see on the wrists of others. As always, we'd love to hear your comments below on this slightly different Rolex. Until next week…