#TBT Seaboard-Yacht — Get Ready For A Comeback
Designed by and for racing sailors
Seaboard Marine Supply Co. was a manufacturer and distributor of fine sailboat gear. That included a yachting chronograph with three beautiful executions over the years. Today we will look at the last one, the Seaboard-Yacht.
This watch combines all the best of what vintage-watch collecting is about. It's not a typical Instagram attention grabber, but it has its audience. The strong visuals suggest it's not a random generic watch, but rather, a carefully designed tool. The mystery of the watch's story and the huge gaps in its background only bring more and more curious eyes. The recent $4,000-5,000 price range confirms high collectability potential. That's pretty impressive if you realize that Seaboard was not an actual watch manufacturer. Oh, and did I mention that there is a rebirth of the watch planned for the next year? The founder doesn't seem to be very sharing so we don't know much yet. Well, until we learn more, make yourself comfortable, and get ready for a weekly dose of vintage dopamine.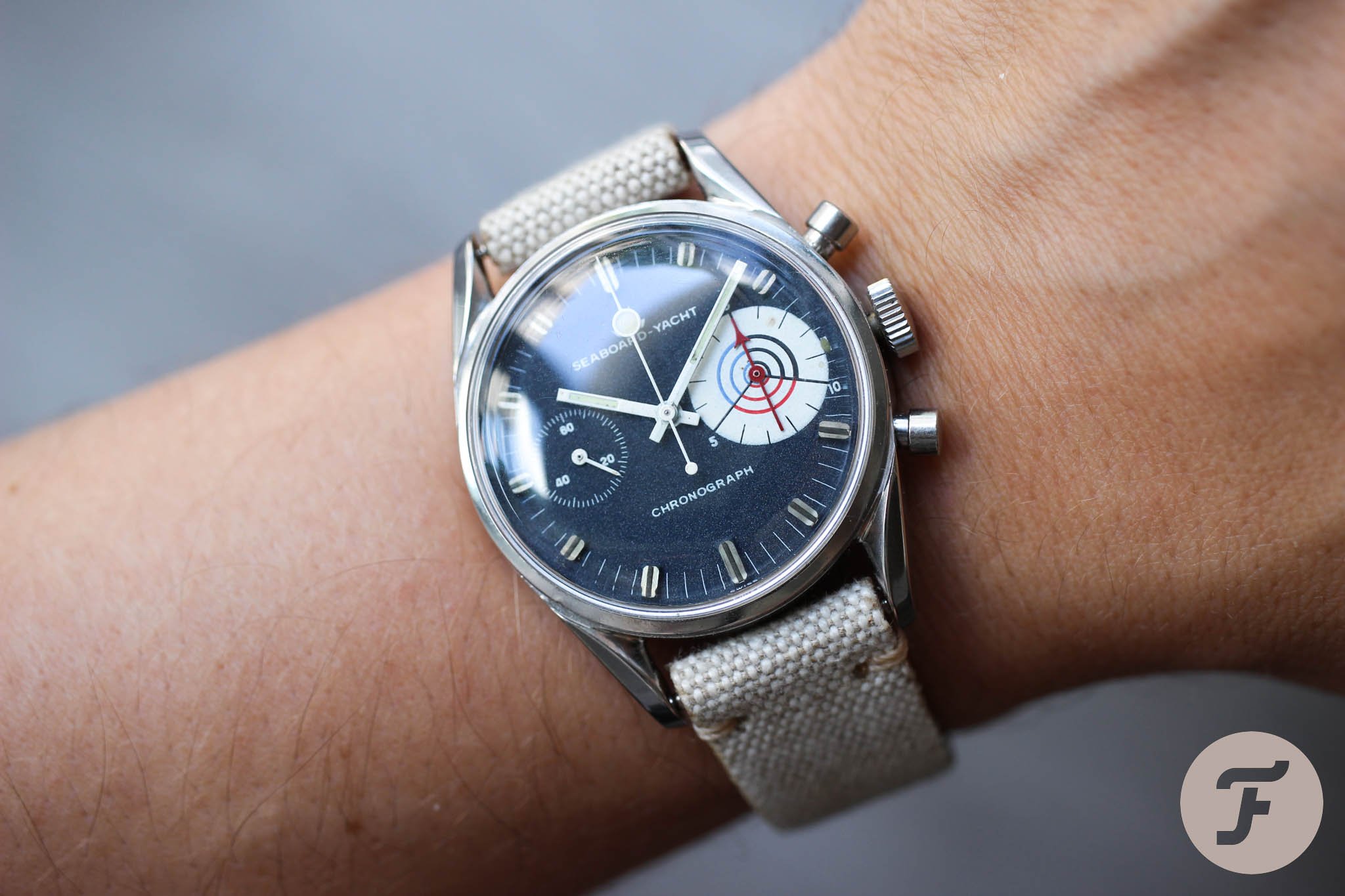 Striking visuals for (nautical) miles
I don't remember when I first spotted the Seaboard-Yacht, but I am sure that at that time, they were already pretty rare. I was never into yachting, but I instantly liked the aesthetics of the watch. The twisted lugs that give the watch an almost dancing elegance, the grainy, faded blue dial with an unusual logo, and the sub-register in a shooting-target design immediately sucked me in.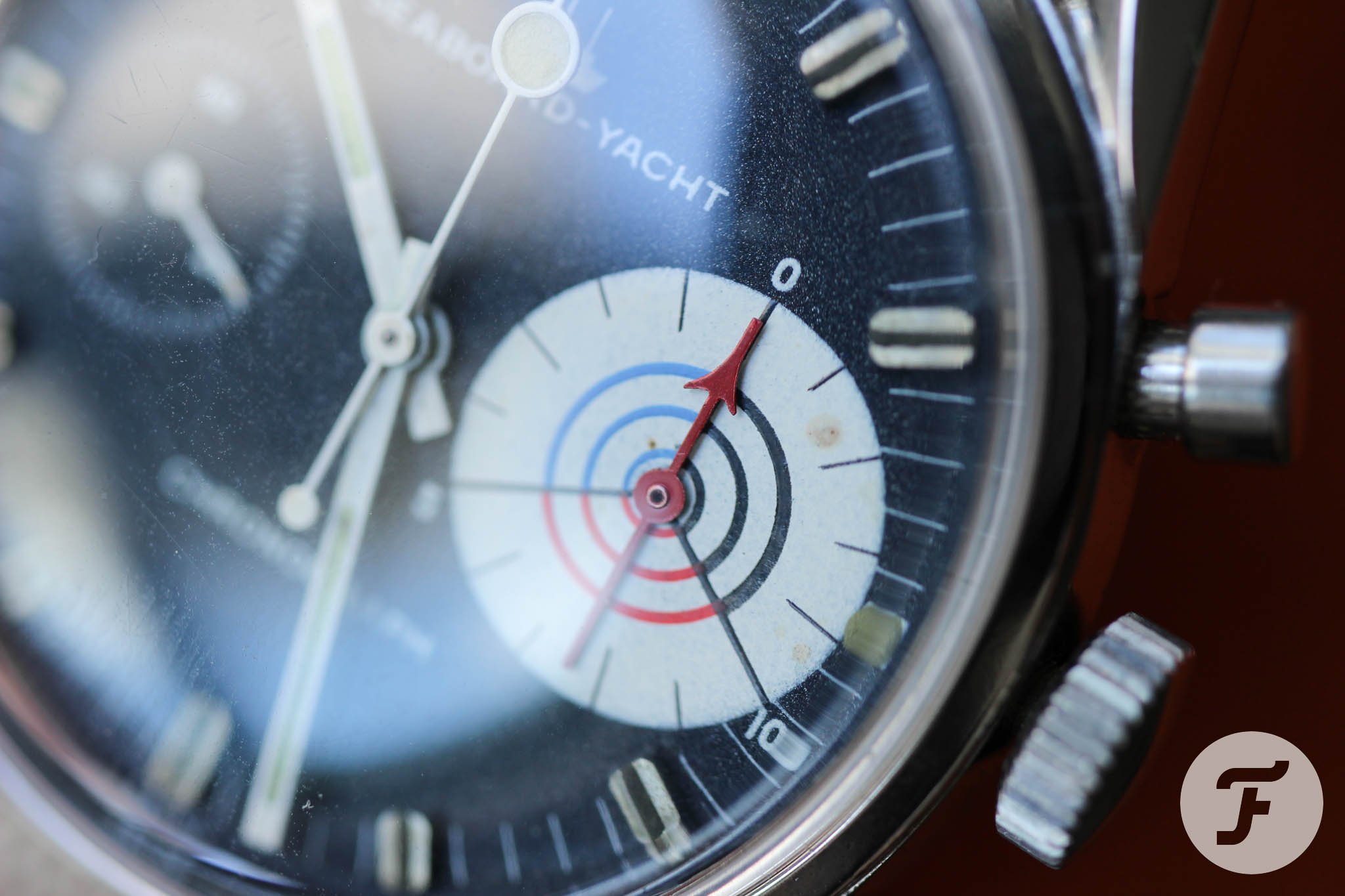 The outside-the-box Seaboard
Only later did I learn about the movement modification that truly underlined the utilitarian design of the Seaboard-Yacht. Most chronographs for yachting used standard movements equipped with a minute counter for up to 30 minutes. Watch manufacturers didn't bother modifying much, and they just made some design adjustments to the sub-register to highlight five- or 10-minute intervals — take Nivada and Gallet as examples. And so did the first and second versions of the Seaboard Yacht. But the third one featured today came with an update. It actually looks like a completely different watch and the logo is the only element that links the three together.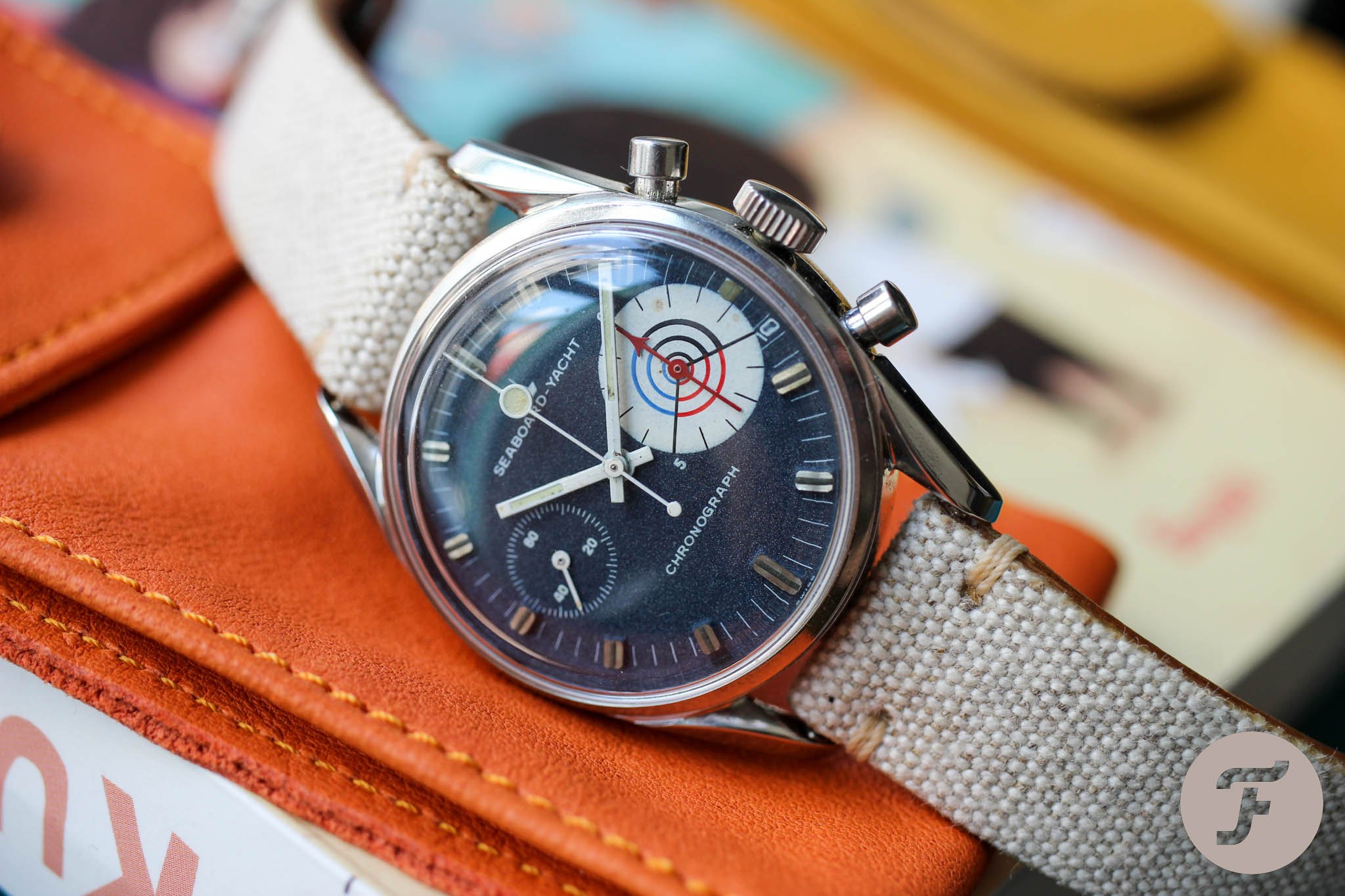 Let's make it 15
Like one of the greatest yachting icons, the manual-wind Heuer Skipper 7753, the Seaboard-Yacht came with a modified Valjoux movement. Instead of a typical 30-minute or 45-minute design, the minute recorder scale was calibrated to 15 minutes only. Crossing the start line as quickly as possible after the organizer's signal always had a crucial impact on the race result, so precise timing was key. I guess Heuer and Seaboard realized that "downgrading" the minute counter from 30 minutes to 15 allowed for a spacious and more legible design.
There is no doubt that reading a five-minute indication on a trajectory that usually equals 10 minutes is way faster. This is especially true if you take into account all of the tasks to which the skipper has to attend, often in neck-breaking positions with water splashing all over the deck and wrist. As seen in this video (without neck-breaking and water-splashing), the modification to the Valjoux 7733 movement causes the elapsed-minute hand to jump into a sub-position every 30 seconds. Thanks to that, the skipper could gauge the elapsed time more easily just by glancing at the position of the minute-counter hand.
Generational change
Early models had clean, white dials housed in a dressy case with thin, straight lugs. I don't have irrefutable proof of this, but the early versions seem to have been manufactured by Kelek. The exact watch design was also branded Kelek, Dugena, Elvia, and a few others. Henrik from Heuerchrono summed up all the available information on the entire line on his website dedicated to yachting chronographs — a highly recommended read written by a devoted enthusiast.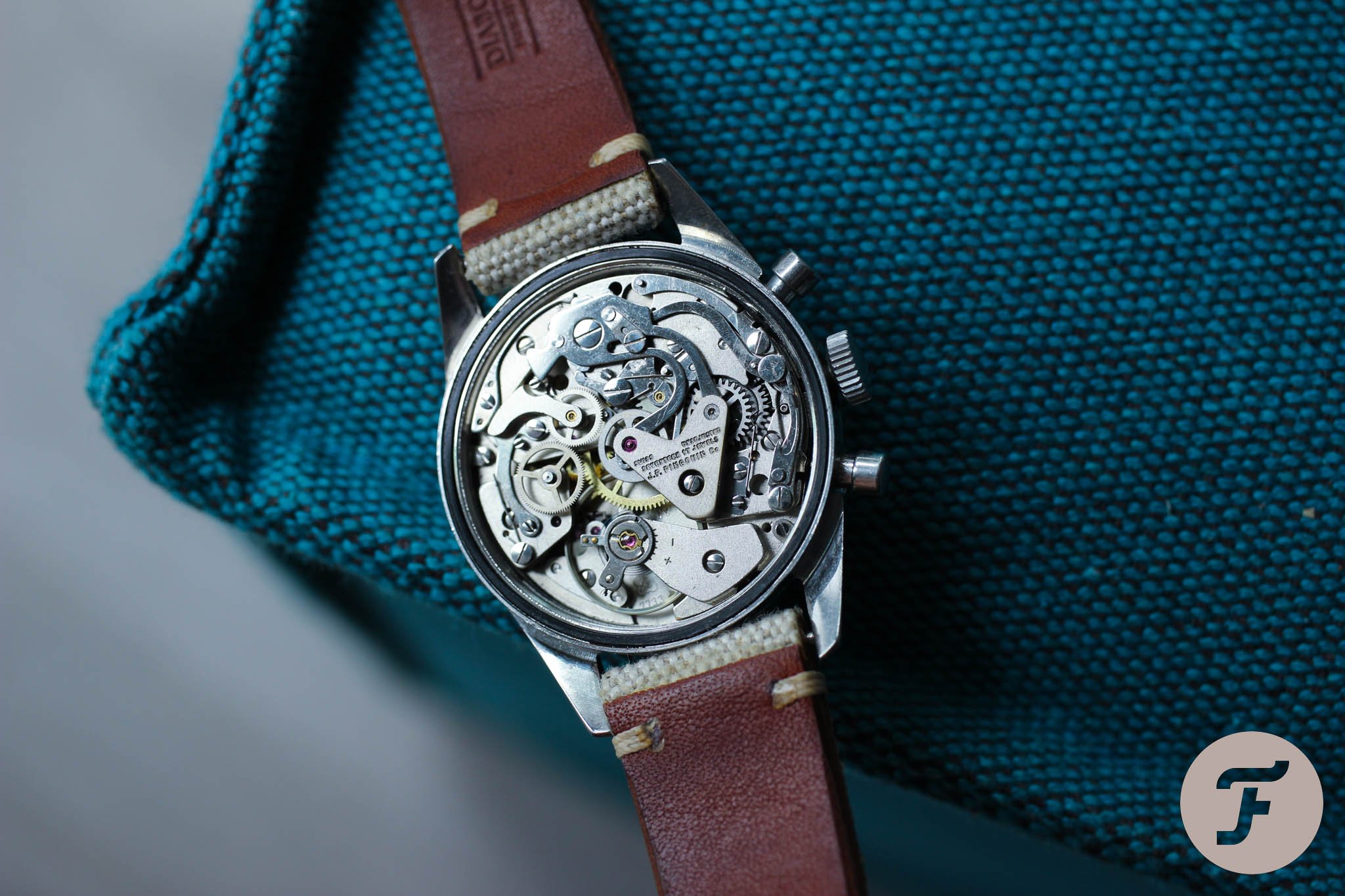 The third edition of the Seaboard-Yacht got a different case with a bit more muscle. Twisted lugs like we all know from Speedmasters give the Seaboard-Yacht a very modern, sporty feel. While the manufacturing origins of early models are the subject of assumptions, there are no doubts here. The movement and the case are signed J.P. Pingouin Co., an importer of Swiss watches to the United States.
The shooting-target rings in the minute counter are pretty original, and so is the longest red hand you've ever seen in a sub-dial.
My piece is a barn find. Unfortunately, it wasn't me who found it. I had to bleed a bit off my pocket to land it. But looking at it now, I am still very happy. The blue dial has an incredibly specific structure that tends to look bad in photos but is the real deal in the flesh. It almost looks like fine sandpaper. The shooting-target rings in the minute counter are pretty original, and so is the longest red hand you've ever seen a sub-dial. Some witty watchmaker had mounted it upside down, so I had to visit my watchmaker to put it into its correct position.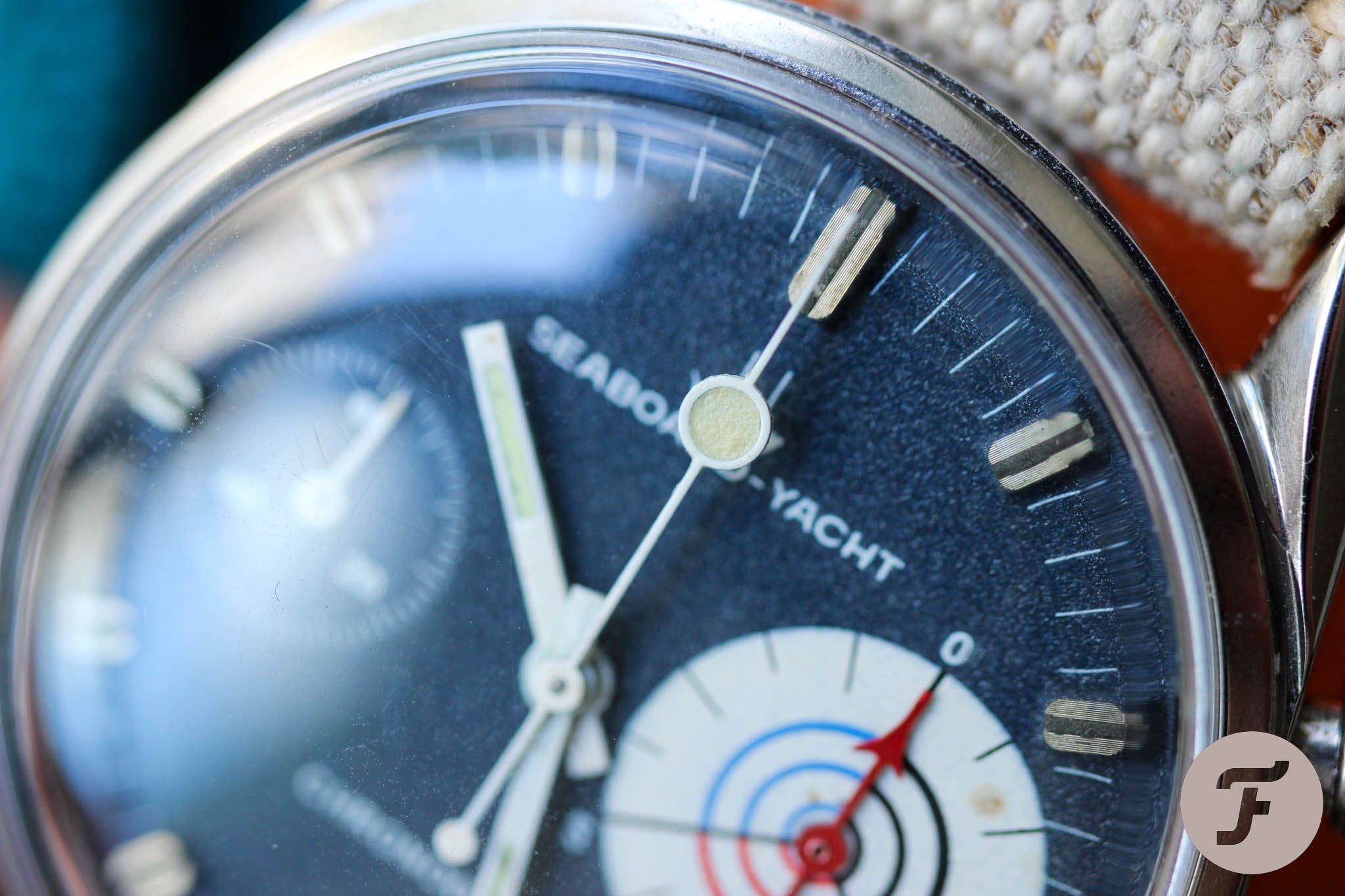 If there is any watch that was born to have a lollipop seconds hand, I would give the Seaboard-Yacht a shot at that title. It fits well with the bright big-eye counter on the blue background. Also notice how long the tail of the hand is. It's unusual, yes, but it goes right along with the purposeful design of the red minute-counter hand.
The Seaboard-Yacht in detail
There are a few other notable details that amuse me. First of all, there are the numerals for the elapsed minutes, which actually sit just outside of the sub-register. Moving them outside makes the sub-register quite unusual but adds to its legibility. With such a design, you can keep the minute hand as long as possible and it never covers the all-important five-minute markers. There are not many chronographs with such a design.
The same, but different
The most nautical watch logo out there underlines who this watch was designed for. And if you dig deep into watch forums, you will find examples that have hundreds of hours of sailing recorded during their active service. And here is a tiny detail to mention. If you inspect the logo on the different editions the Seaboard chronographs carefully, you'll find that they are not the same. The ship on the first and second editions faces right. The ship on this third edition is slightly simplified and sails left. You'll also notice that there is a hyphen between "Seaboard" and "Yacht", which was not there on the earlier models.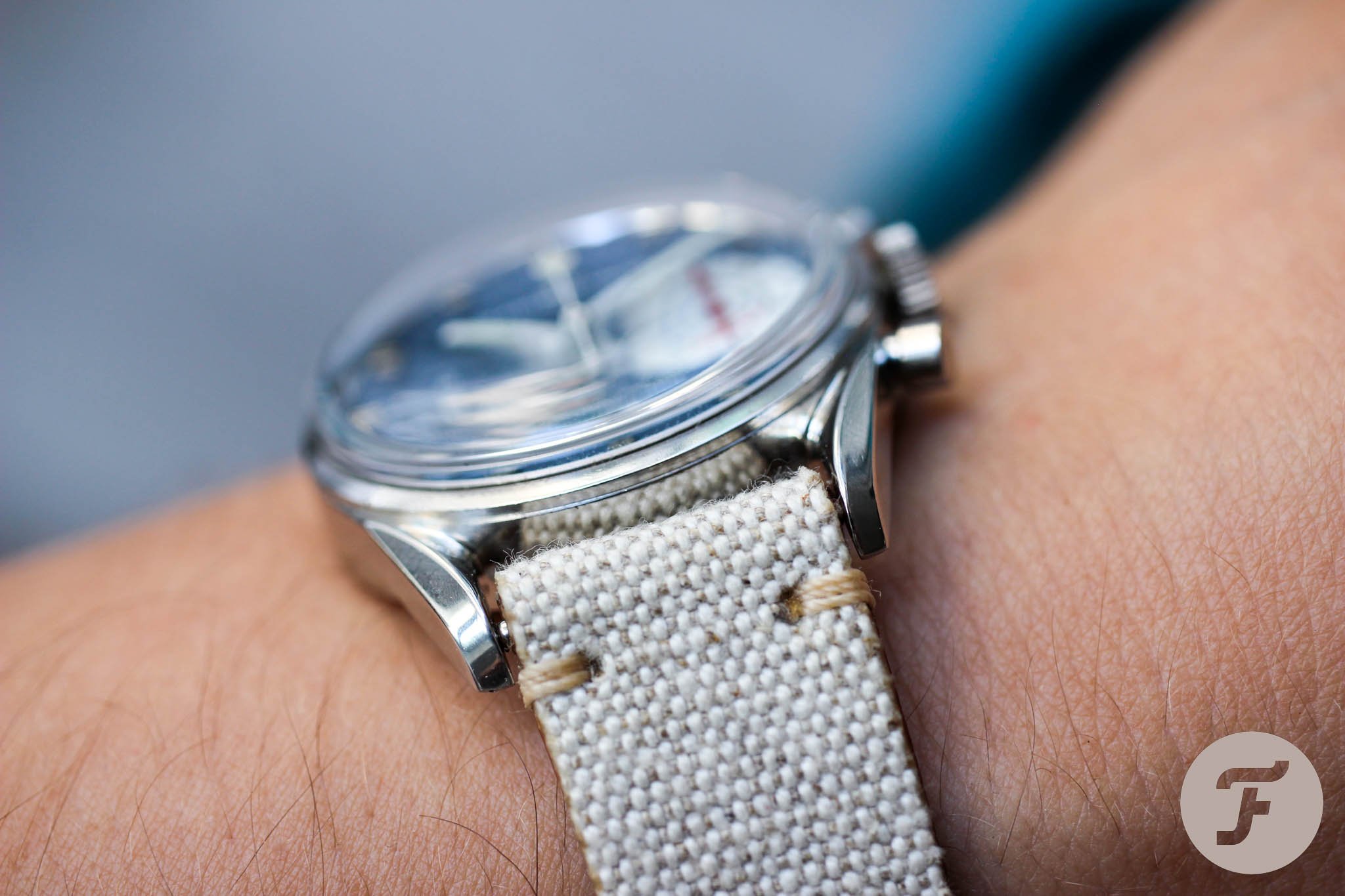 The Seaboard-Yacht on the wrist
The Seaboard-Yacht measures only 36mm in diameter, which makes it quite a small chronograph. The previous owner put it on a custom-made sailcloth canvas strap made by Diaboliq, a manufacturer from Germany. I have to say, I wouldn't have chosen such a strap myself, but it looks and wears great on it, so I left it this way.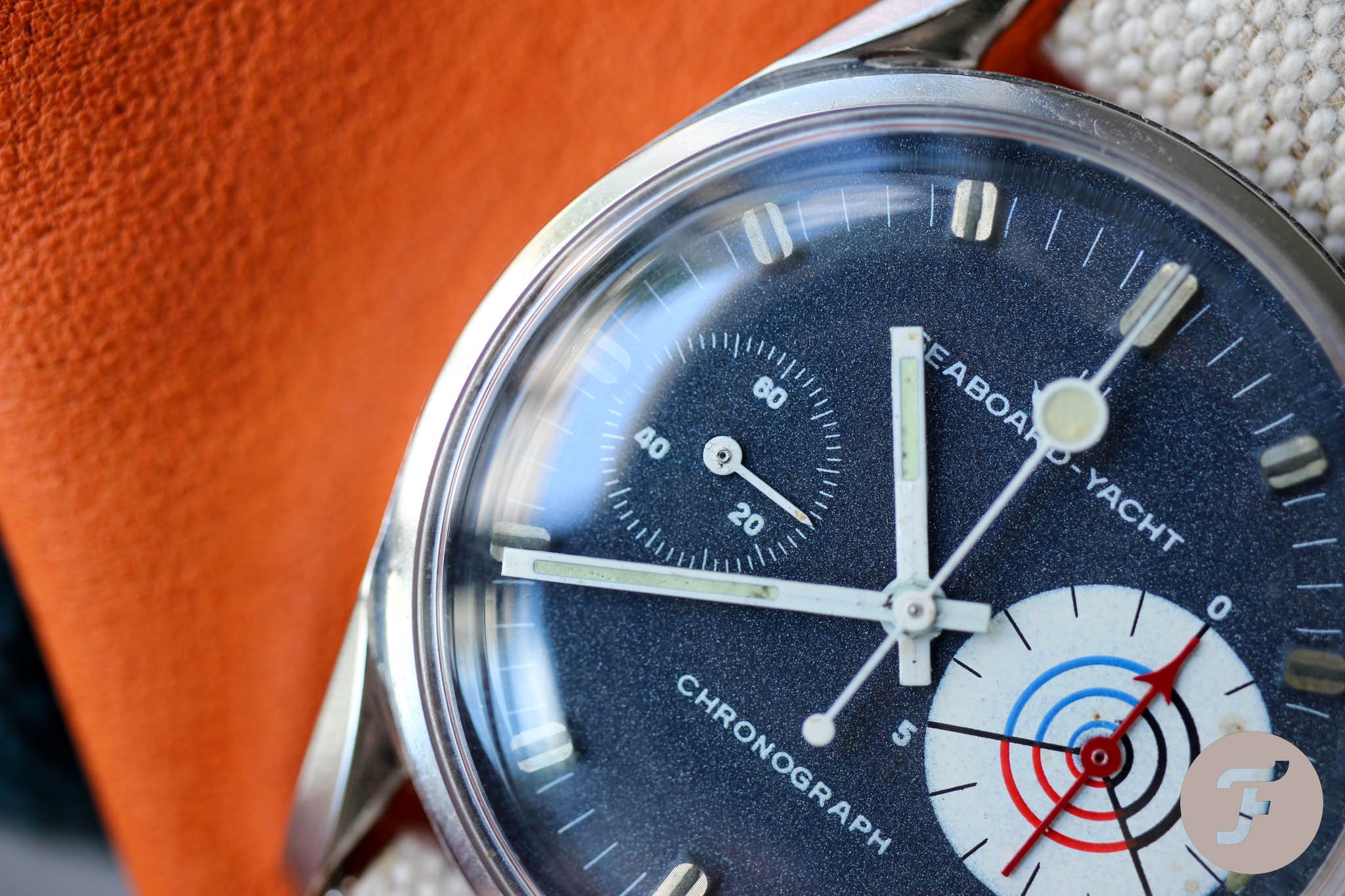 Last thoughts
If you think that there was never a better investment than Bitcoin, you should have bought a Seaboard-Yacht 10 years ago. A watch friend from LA bought one at a flea market for $25, and he sold it recently for $3,500. There was one quite beaten example on eBay a few weeks ago that went pretty unnoticed. Well, $2,200 is still a pretty fat price tag, but do not expect to get a Seaboard-Yacht any cheaper. Unless, of course, you notice one in a bunch of undescribed junk watches, as we witnessed recently. Someone spotted a Seaboard-Yacht and got it with a whole lot of other watches for as little as $5. Happy hunting!