#TBT Seiko 6619-8060 MACV-SOG – A Sterile Watch
Today's #TBT takes a look at a Seiko 6619-8060 MACV-SOG and it's a watch, when first examined, that doesn't really stand out as something special. That trait, as we'll see, is actually significant. More significant, perhaps, is the fact that the MACV-SOG lore surrounding this Seiko and a couple other variants grew out of a forum posting on the Seiko Citizen Watch Site and has now grown into what I can only describe as an ever-evolving research project. It's fascinating stuff and reminds that in this day of Insta(gram)nt gratification, the method of posting within a forum still bears some serious merit. Yes, today's article is about a watch, but it's also a little about history and the power of collective research.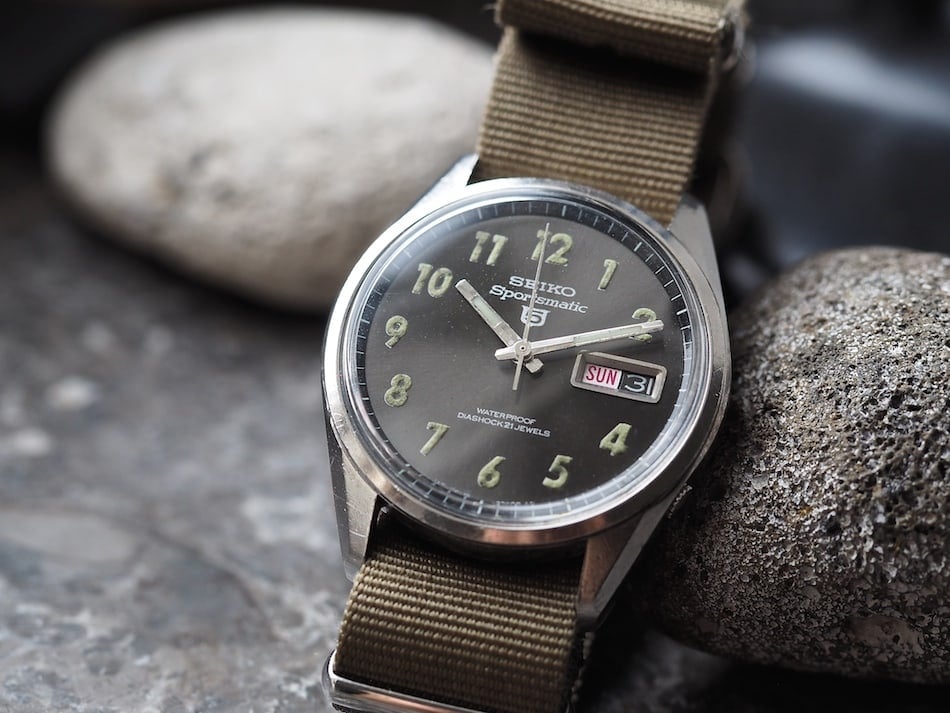 I own a lot of Seiko's. In fact, I own more than I care to admit and the genres, age, condition and rationales are highly varied, but I enjoy the bulk of them because they're well-made watches that make me chuckle because, even in this day of rising prices for vintage watches, Seiko still represents a serious bargain. If you read this site with any regularity, you'd know that I prefer Seiko divers first, perhaps the chronographs second and then a mix of other oddball pieces. Nearly three years ago, we detailed a Seiko 6619-8230 Sportsmatic – a good-looking but somewhat anonymous watch made special because it shares its hand set with the 62MAS "ur-diver". Since then, though, we've stayed on track by providing looks at tool watches from the brand. So, why did I go after another seemingly unremarkable watch in the Seiko 6619-8060 MACV-SOG?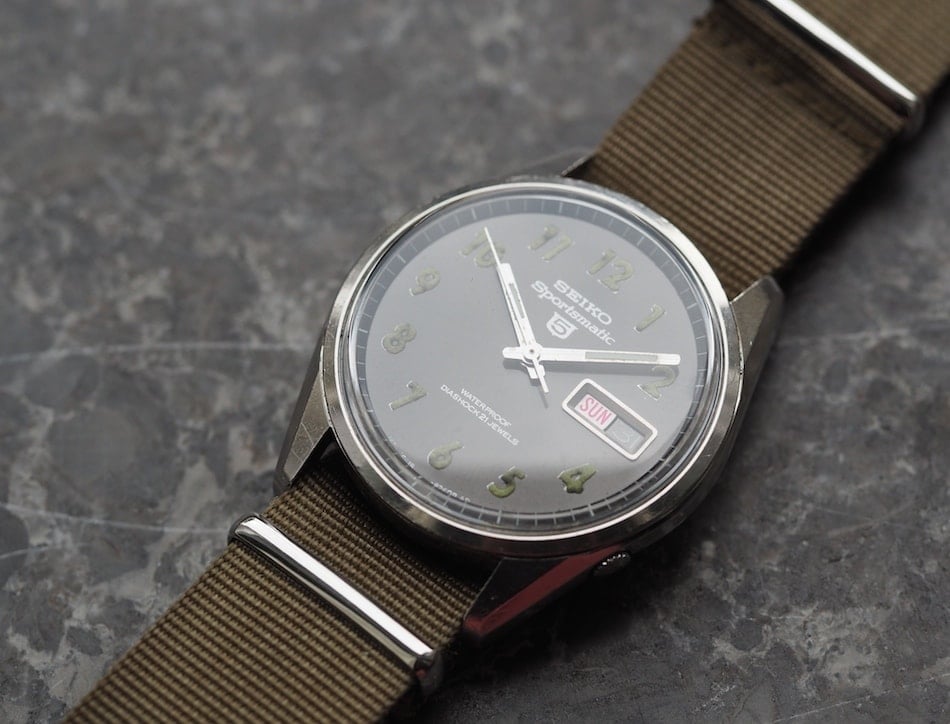 I'd guess it was three or four ago when I first stumbled upon the topic of SOG Seiko's within the aforementioned forum. The topic wasn't new, but some more concrete evidence about the watches used by the MACV-SOG military unit had been unearthed and shared, so the posting was constantly receiving more information. It was fascinating history about how the Military Assistance Command, Vietnam – Studies and Observations Group (hence, the acronym "MACV-SOG") was founded in 1964 as a special ops unit that operated behind enemy lines and did everything from capturing enemy prisoners, rescues, and even conducted psychological operations. I won't even try to do the history justice, but suffice it to say, this was an extremely dangerous role and the casualties, percentage-wise, were high. To bring it back to watches, and the Seiko 6619-8060 MACV-SOG in particular, members of this task force were instructed to look "sterile" and to blend in as much as possible while conducting their operations in enemy territory. Therefore, instead of donning normal issue wristwatches such as the Timex often used, members often chose something like the Seiko you see here due to its rugged reliability, non-flashy looks, luminous dial and low cost (something like $8 at a PX in the late 1960's). In the beginning, a watch like you see here was often chosen by MACV-SOG operatives (there are actual recitations of ex-troops who wore this model), but the military ultimately stepped in and placed orders directly from Seiko for similar, later models.
The consensus opinion is that the Seiko 6619-8060 MACV-SOG you see here is actually a "pre-MACV-SOG" because it wasn't actually ordered and issued by the US military. It's from 1967 and it seems that the military didn't begin issuing pieces to the task force until at least 1968. Early on in the forum posting, though, it wasn't so clear on which watches were actually issued because grainy pictures in black and white of soldiers with watches on made it hard to differentiate between the 6619 and what is considered as the first of the officially issued watches, the 6119-8100/8101.   The watches look very similar due to their case shapes despite employing different movements, slightly differing dials, and case materials (the 6119's are chrome-plated while the 6619 is stainless). As the forum posting evolved, more evidence arose from recounts of stories about MACV soldiers who purchased or were told to purchase their watches versus those who received them. It seems those who received them got 6119's and those who bought often chose a 6619 (and, as mentioned, the 6619 was an earlier piece). It's a subtle distinction, but it's there.
As further information, a more distinctively ovoid-shaped 7005-8030 was issued and overlapped with the 6119's in terms of time period. Military watch aficionado Dan Clayton (@danc21cy) sent the pictures within this paragraph.   Dan has the rare distinction of owning all three MACV-SOG models including a rare white 7005 with Arabic numerals. If you're interested in a verbal explanation of these watches, check out the link here to the Two Broke Watch Snobs podcast where Dan was a special guest. Thanks for sending the pics, Dan!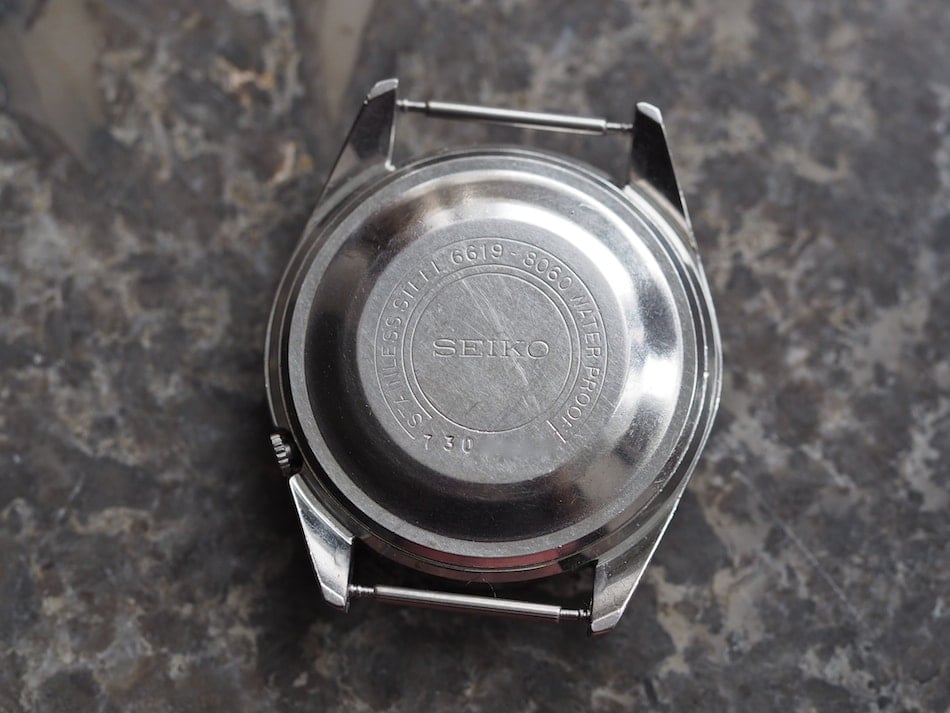 After reading through the postings, I decided that I wanted to add at least one of these historical pieces to my collection, so I wound up heading to eBay. I casually checked for a few months until the Seiko 6619-8060 MACV-SOG you see here came up for sale. It was a straight up auction and it was clear that the seller didn't know what he/she had as there was no mention of Vietnam. The pictures were grainy, the watch looked extremely rough, the crystal was cracked, it was running for about 5-10 minutes at a time and came on a Speidel expanding bracelet. In other words, it was perfect! In the end, I think it sold for roughly $120 with a high number of bids, so someone else clearly knew that the watch had some significance. I should also mention that the watch came out of an industrial area in the Midwest of the USA (I lived in an area like this for over 10 years and it honestly felt like everyone was a Vietnam veteran or the bulk of their relatives were), so perhaps it even spent time in Vietnam. Yes, I should've asked the seller.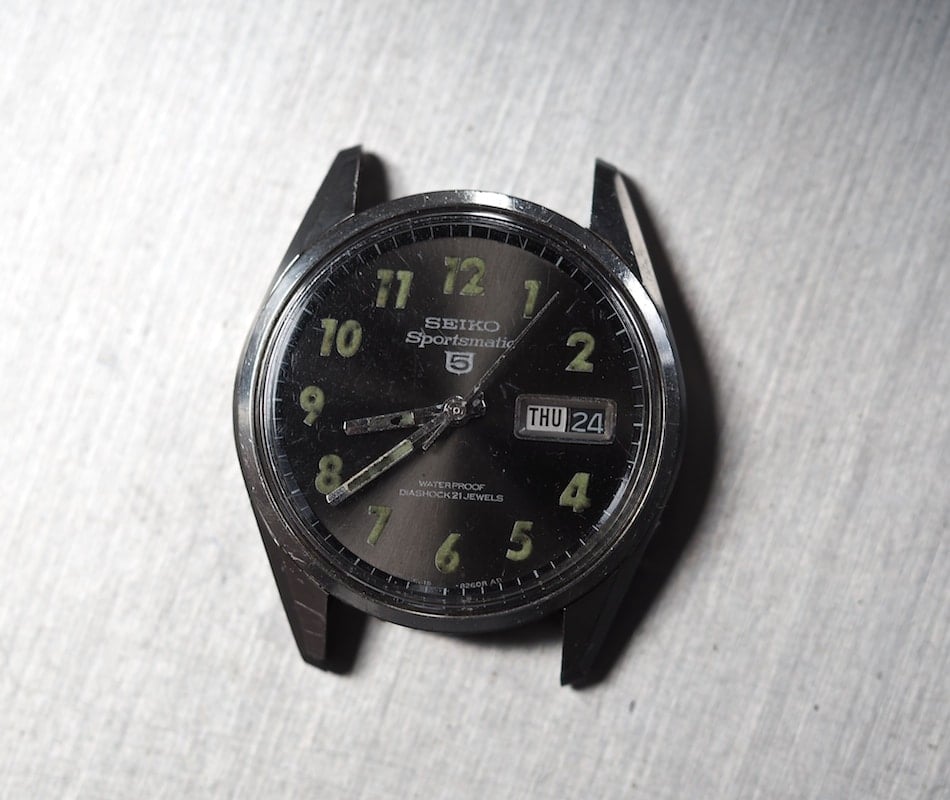 When I received the Seiko 6619-8060 MACV-SOG, it was definitely in rough shape and needed some work. In addition to the what I mentioned above, it was clear that the hands needed a bit of relume: a decision that I didn't make lightly. It also contained a little dent in the dial – all part of the charm! With other watches in need of work, though, the 6619 sat in my watch box for over 2 years until I decided to order a NOS crystal and send it into our watchmaker Paul. After Paul finished making a personal man-bag out of discarded watch straps, he enlisted a fellow watchmaker who specializes in Seiko to undertake the restoration. As you can see, the watch was thoughtfully restored and the case shows all its bumps and bruises. Frankly, it seems appropriate for a watch that may have spent time in some pretty tough situations.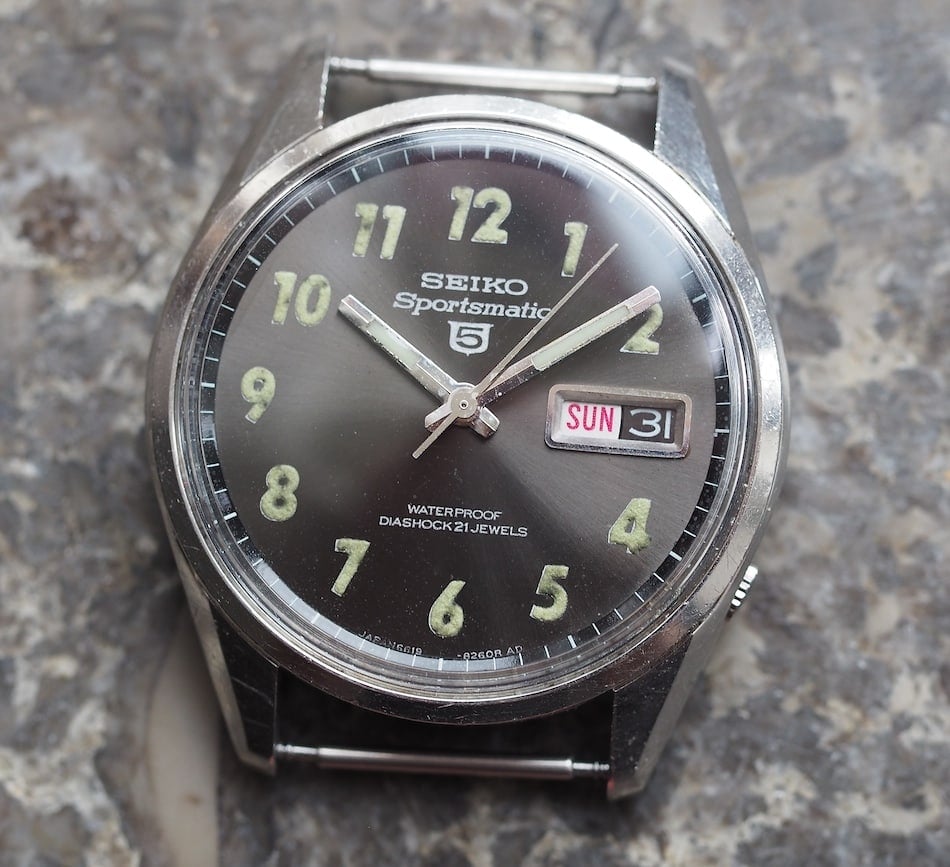 When looking at the Seiko 6619-8060 MACV-SOG, the first thing you notice is the use of luminous Arabic numerals on the dial. While that may seem like a relatively normal attribute found on many watches, this wasn't normal for Seiko. Scrolling through the Seiko catalog, and when looking through any Seiko collection, the brand used applied markers or shapes at the hours and rarely numbers. For sure, one can understand why a soldier would prefer the numerals, but it's interesting that amongst the simply ridiculous variety of watches produced by the brand each year, you'd be hard-pressed to find a civilian model with actual numbers on the dial.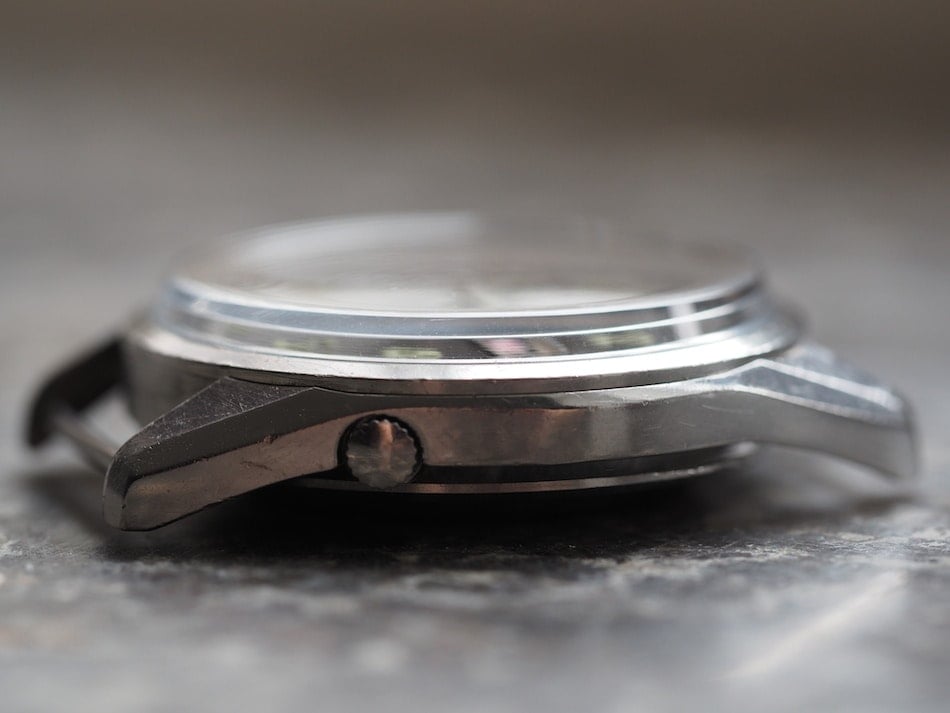 Yes, dials with numbers have traditionally been reserved for tool watches or military pieces, but it still strikes me as notable. Looking further at the dial, it has a grey/green sunburst finish that is unnoticeable in some lights, but serves as an odd touch of flair for such a stoic, "sterile" watch. The case is also simple with nicely shaped lugs and a simple steel bezel surrounding the sloped, flat acrylic crystal.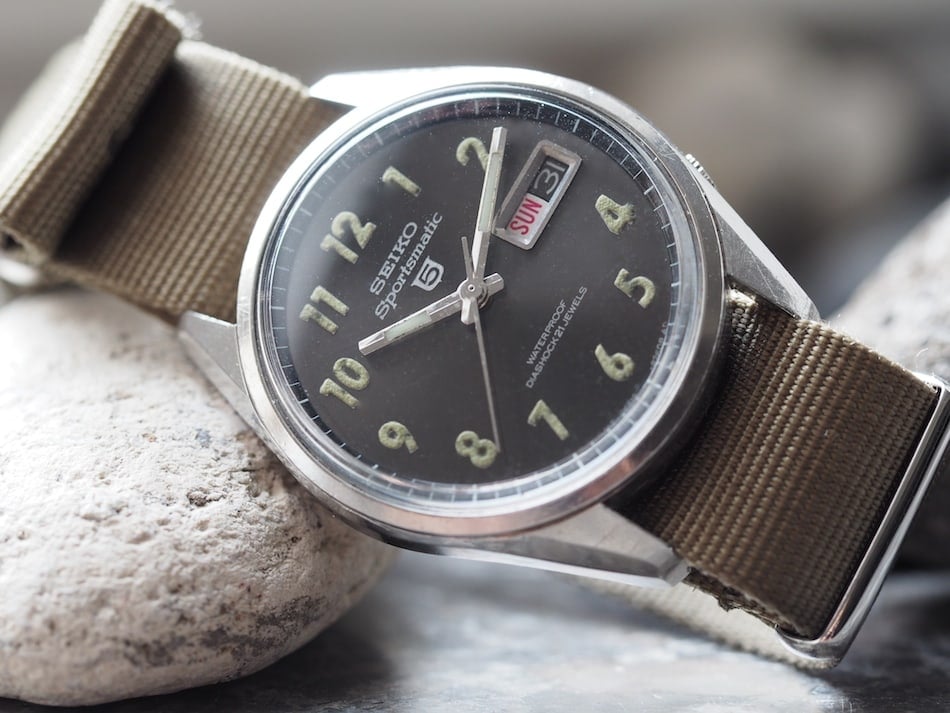 At roughly 36mm in diameter, 12mm thick and sporting an 18mm lug width, the stainless steel Seiko 6619-8060 MACV-SOG is in the same realm as a vintage Rolex Explorer size wise. With 50m of water resistance, doing time in a humid climate in a place like Vietnam was also possible. The movement inside is the 6619 caliber. It's a 21 jewel automatic with a quick-setting date (the day is manual) that's advanced by pushing the spring-loaded crown into the case. That crown, by the way, is small and not meant to be used frequently – one of Seiko's ideas that you should "set and forget" its automatic watches. You can see that I put the watch on an olive drab NATO-style strap, although it likely came with a steel bracelet. Soldiers apparently had to switch their watches to a fabric strap when going out to the field, so the look is at least semi consistent with the times. Honestly, I can't think of something more suitable to such a watch and I love the look. It also helps the watch wear a little larger than its size.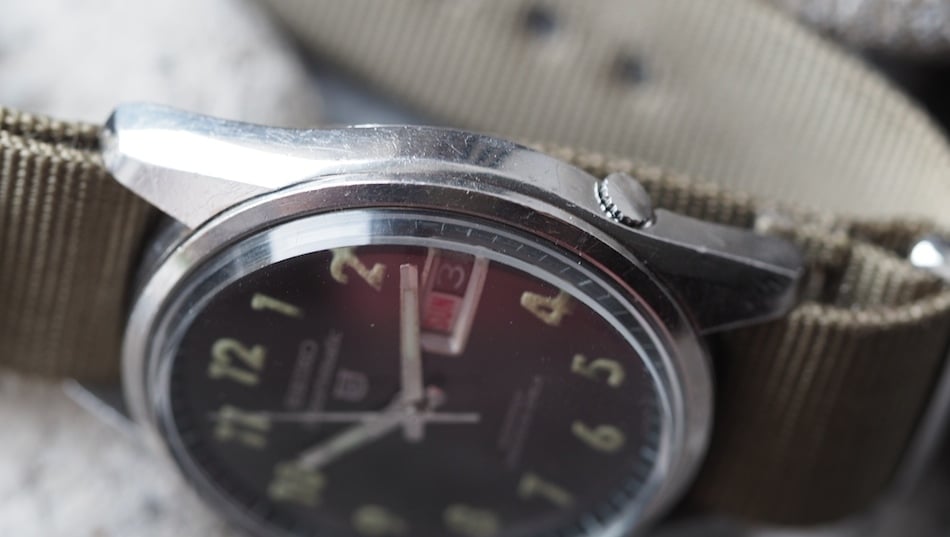 Finding a Seiko 6619-8060 MACV-SOG or any of the variants, for that matter, can be quite a chore. For the global set, it's best to look in the USA as this is where the bulk of these watches now reside. You can certainly play the condition card like with any watch, but if any of these watches were used for any period of time in the field, don't expect a prom queen. Again, I see it as part of the charm. For the 6619 itself, hands can be found on other Seiko's from the period and crystals are no issue. The movement was widely used as well and I believe even the case.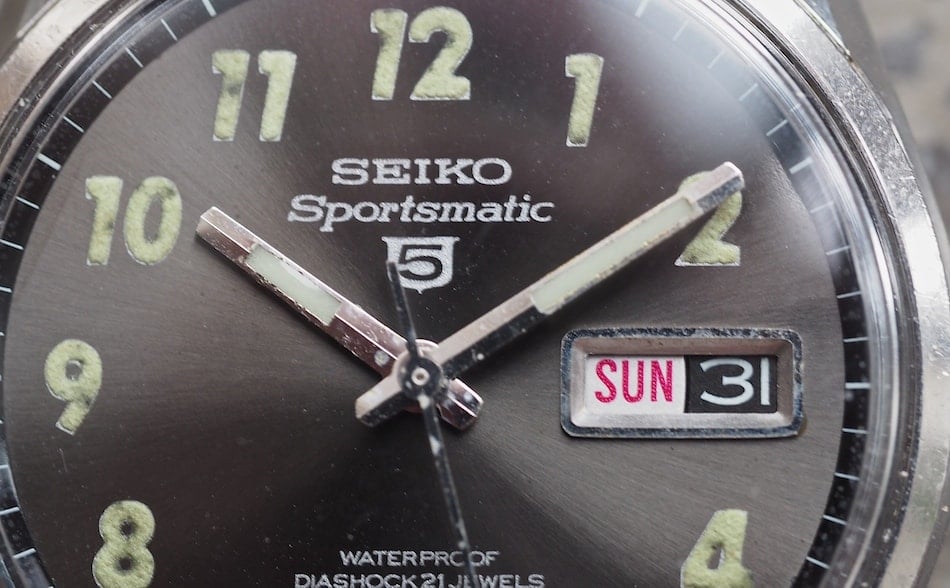 So, for once, we have a vintage watch that's relatively easy to repair. The same can be said for the 6119 and 7005 variants. I've seen people replace the cases on their 6119's when sweat and time have actually begun to eat away the metal – fact! Price wise, assume $400 and up for a decent 6619. The 6119's are in a similar realm, while the 7005 version commands the most as it was apparently made for the shortest amount of time. In all three models, we've seen values approach or exceed the $1,000 mark for supreme examples. Yes, history counts here.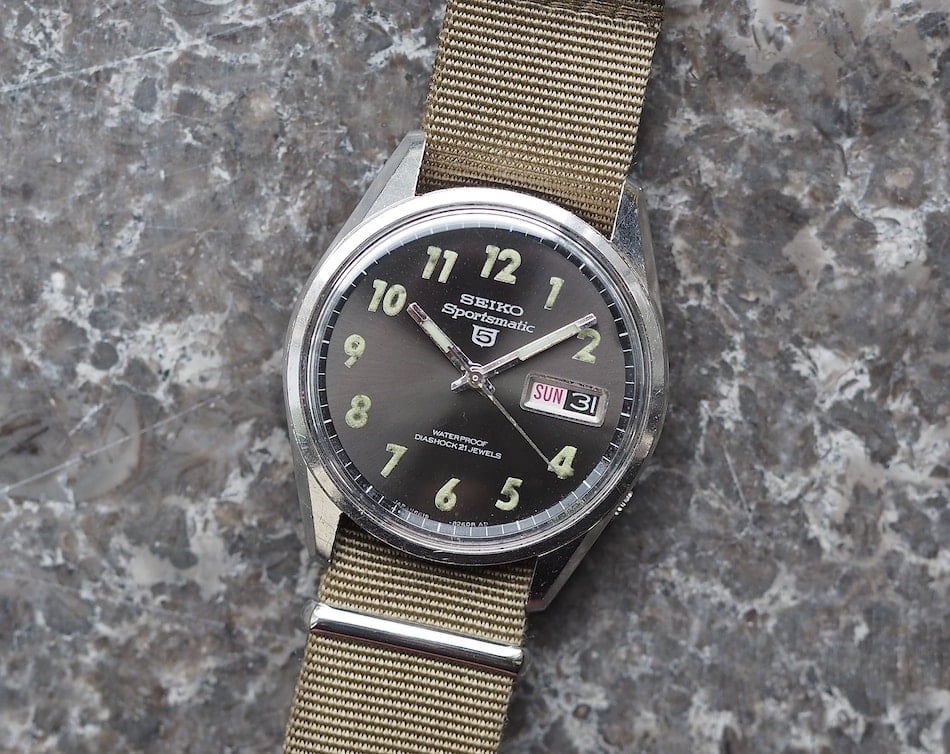 The Seiko 6619-8060 MACV-SOG is a unique watch within my Seiko collection. Even if it is considered as a "pre" model because it was not issued, it's amazing to think about the history of many of these watches and their reliable "participation" during such an extraordinary time period. I'd really invite you to read the posting on the SCWF as there are some fantastic stories of bravery and sacrifice aside from the general history alone. Because the post began in 2014, the evolution of information is also intriguing. Lest we forget, though, it doesn't hurt that the 6619-8060 also happens to be a pretty good-looking watch.