#TBT Stumbling Onto a Vintage Mulco Chronograph
Today's #TBT on a vintage Mulco chronograph, isn't so much about the watch. No, there's not much info out there on this very watch, but that's ok. Of course, I'll talk about the aesthetics and the mechanical heartbeat found within this piece, but there's a nicer, albeit short, story to this piece that's worth repeating. Hopefully, you'll walk away feeling that even in 2018, it's possible to stumble upon a real bargain within a vintage watch world that's gone quite mad.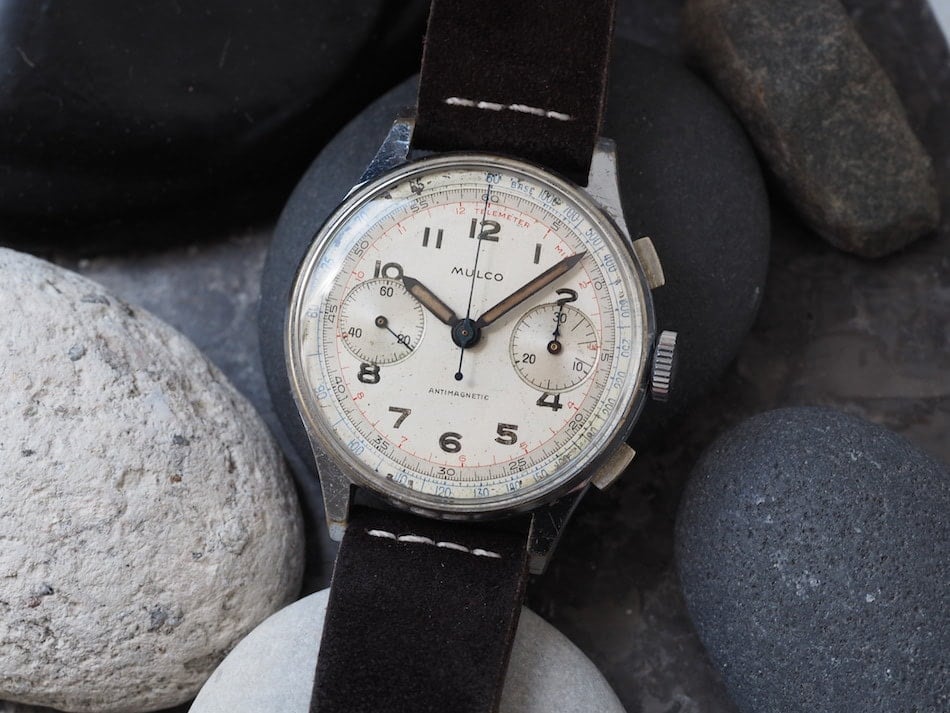 Back in late 2017, I was near the end of a several year daily search (read: many times per day) on eBay for "vintage chronograph". My not-so-creative efforts to pan for gold hadn't yielded much for at least the prior 12 months. Yes, there were watches worth a look, but they were no longer out for open bidding and often carried a very high "buy it now" price; you know the situation because it's pretty similar today. But back to the story – I came upon a listing for the vintage Mulco chronograph you see here and it was sitting with a paltry $120 buy it now price.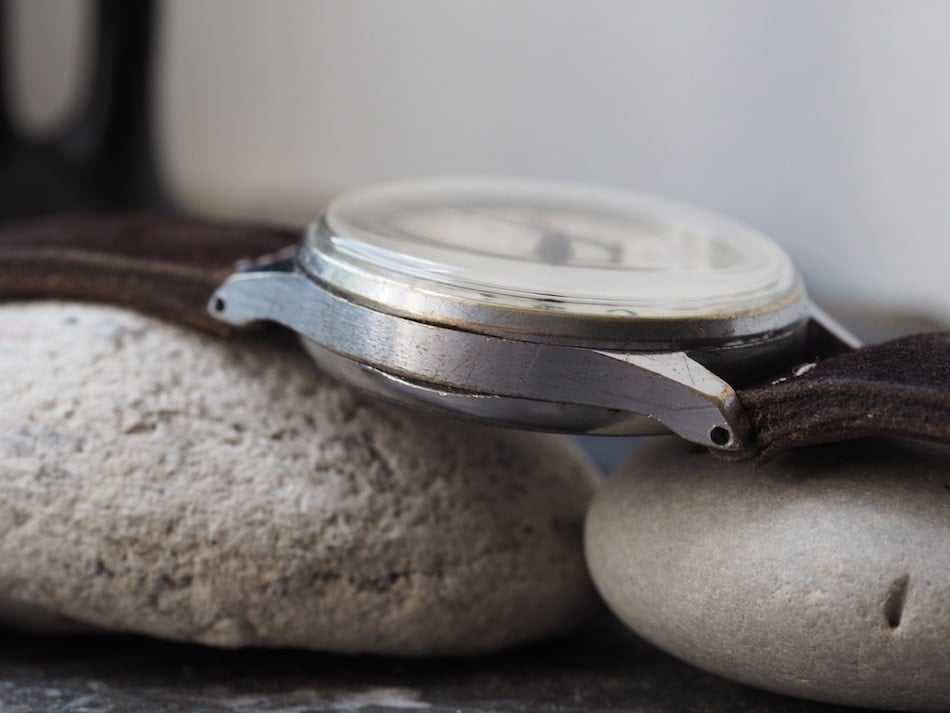 Now, the listing was pretty fresh, but it had been out there for at least a couple hours, so the instant buyers clearly weren't impressed. The pictures were dark, they weren't overly clear, and it was pretty darn clear that all of the lume had fallen out of the hands. The watchcase was chrome plated while the snap case back was stainless steel, but the yellowy pictures didn't show a whole lot of base material coming through the case. It carried a (not so) lovely gold crown and the chronograph wasn't working. Now, at this point, despite this being a vintage Mulco chronograph, it sounded like any old battered Landeron-powered Chronographe Suisse that often teases the eye on eBay. Inside, though, lurked a lovely column wheel movement Valjoux 22 and that right there caused my itchy mouse finger to go forward with a solid "click"!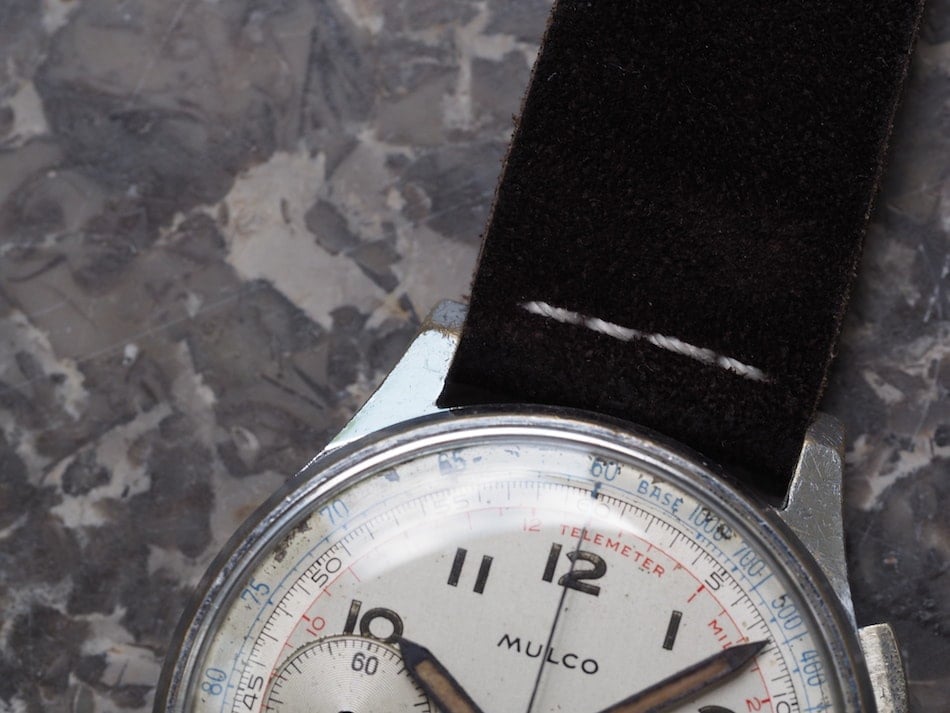 I received the vintage Mulco chronograph and I immediately knew that it was money well spent. Depsite 18mm lugs, the case comes in at roughly 38mm. Interestingly, the Valjoux 22 checks in at a massive 31mm in diameter, so you're virtually guaranteed to find a modern-sized case on any watch using it. The lug design on the Mulco, as you can see, features convenient drilled through lug holes and also a really nice design that breaks downward sharply. If you go and take a look at some other older Mulcos, many, including those housed in Spillman cases, feature a similar design.  The overall look from the side is slim and somewhat delicate and reminds me slightly of the Gallet Decimal that we reviewed previously.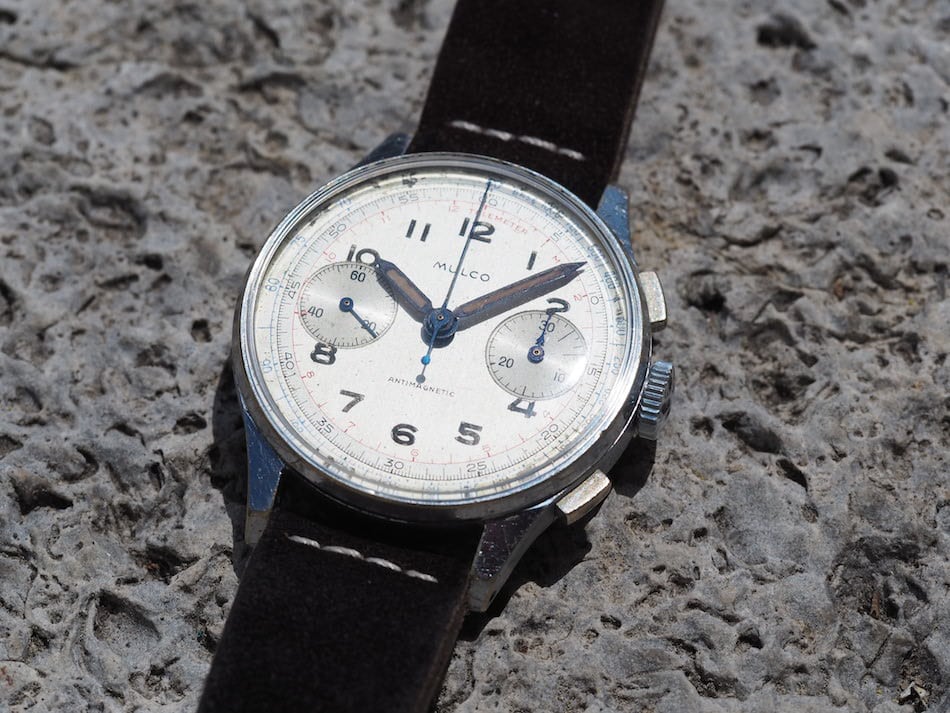 I asked our resident watchmaker Paul – who graciously took time away from stitching vintage Hermes ties into a quilt – to replace the crown, the crystal, fill in the hands, and to get the vintage Mulco chronograph up and running again. Normally, I'd leave the hands alone, but as Paul wasn't removing any original radium, adding some aged colorant seemed like the right thing to do. Plus, he did a great job in matching the hands to the lume on the dial. I think you'd agree, the watch came out very nicely.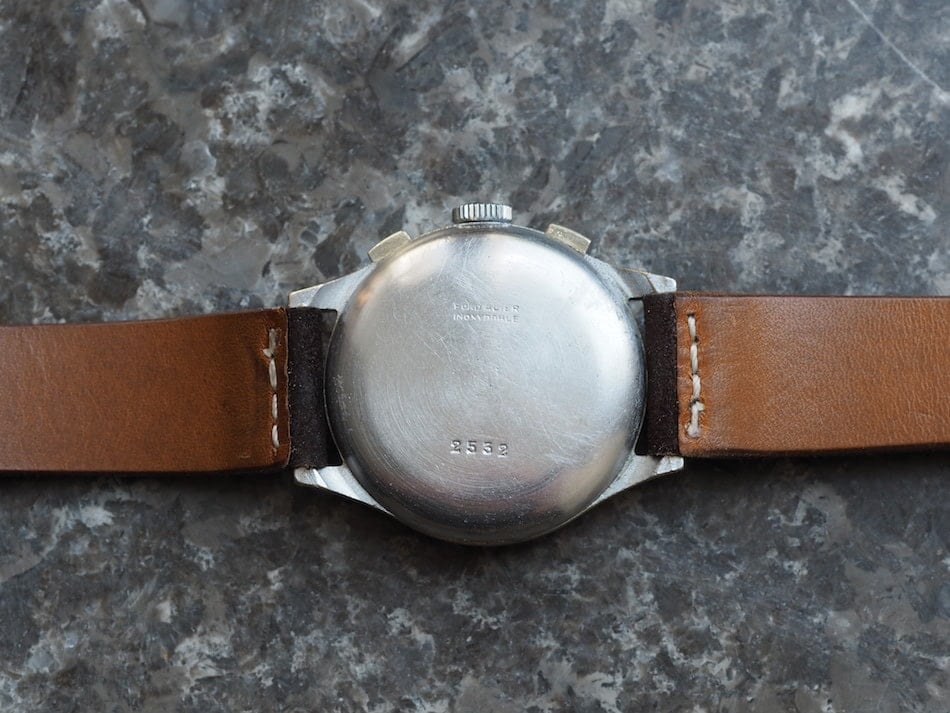 Taking a closer look at the dial of the vintage Mulco chronograph, you can see a well-used white background that certainly shows some signs of paint loss. However, it has aged attractively in my view. The blue tachymeter and red telemeter tracks add just enough pop to make things interesting as well. My look at other old Mulcos also points to all the hands being original, sans the lume on the main hands of course.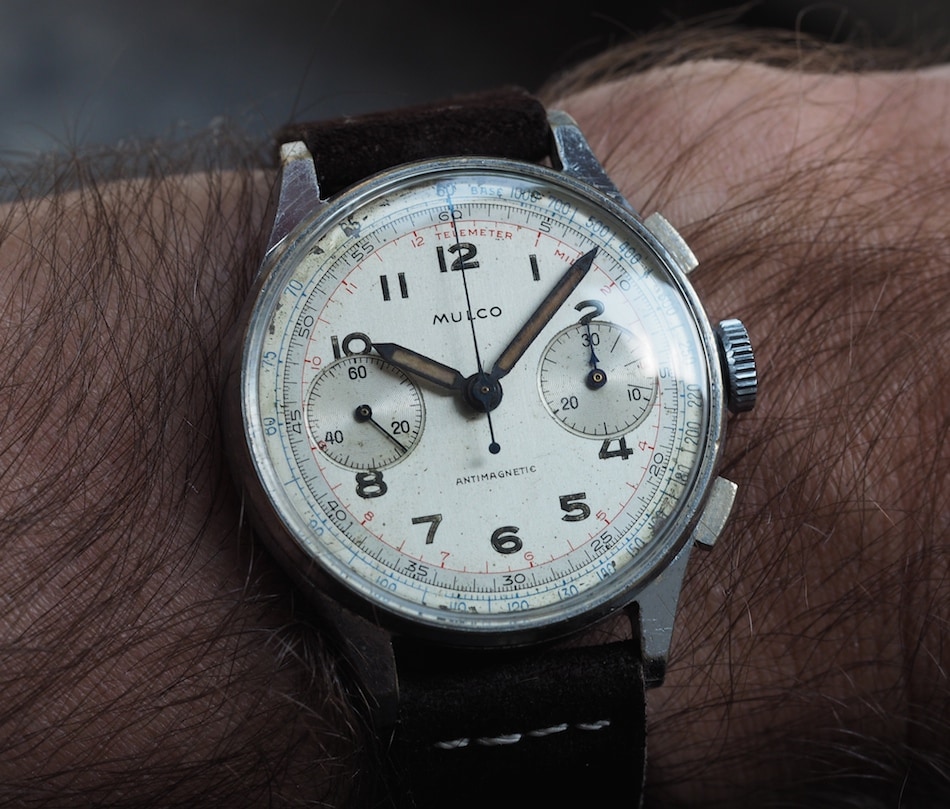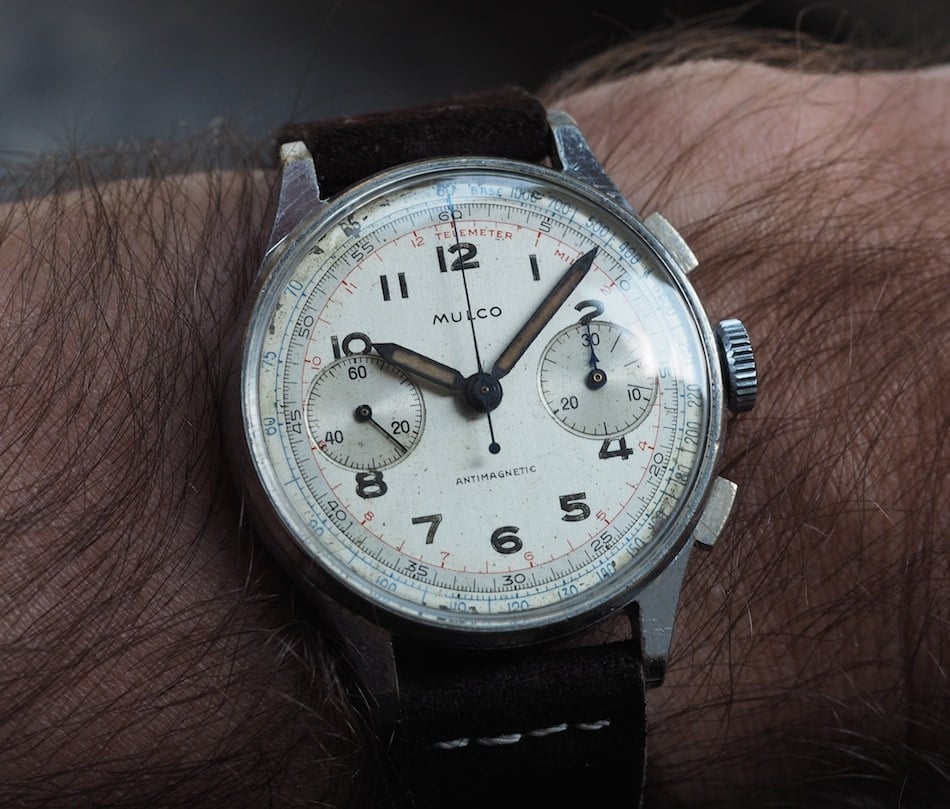 As you can see, this piece is just formidable enough on the wrist to find favor with most who decry anything less than 36mm. Most importantly, for me, rescuing a piece like this from its former condition instills a touch of pride when wearing it.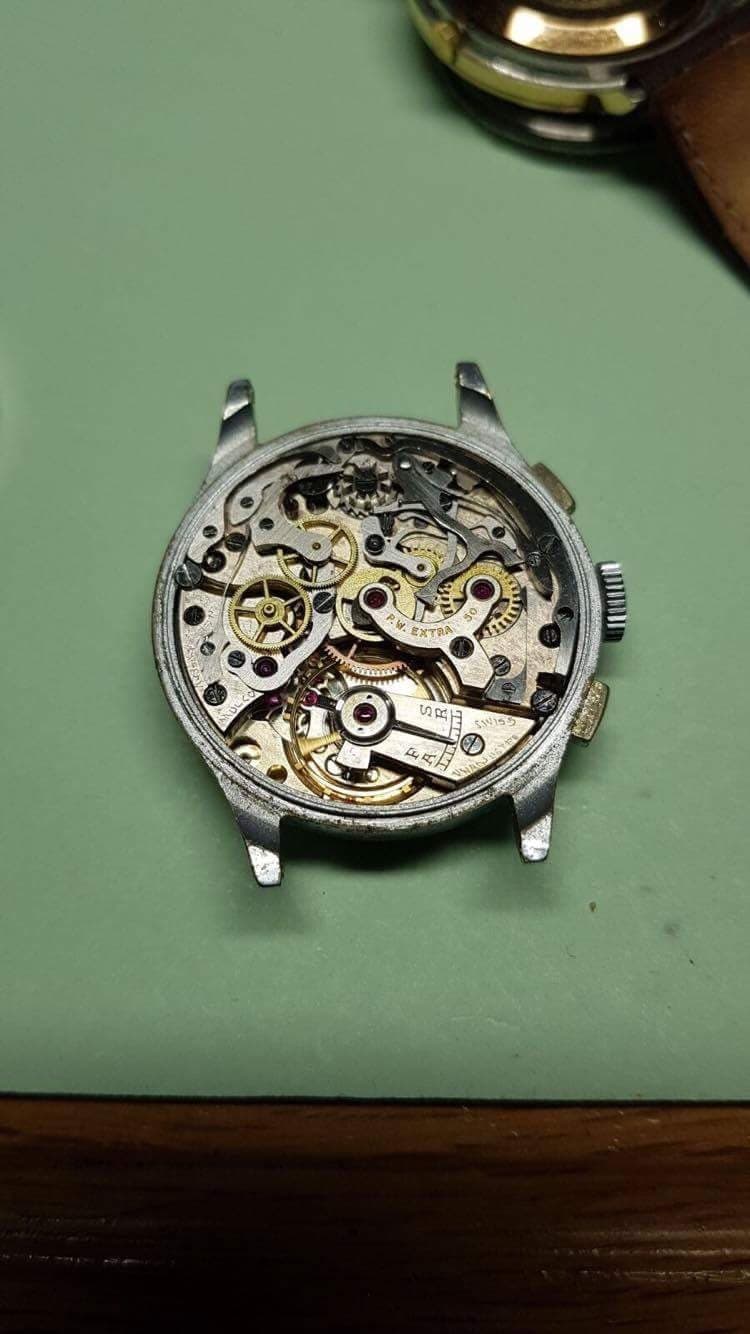 The Valjoux 22 found within this vintage Mulco chronograph, on the other hand, is a certifiable gem. The movement traces its roots back to the 1910's(!!) as a pocketwatch movement but really hit its stride in the 1940's. It apparently soldiered on until the 1970's and that makes one seriously long running movement. It's a smooth operator to wind and use and lopes along at a leisurely 18000 bph. As one who really enjoys Valjoux 72-powered chronographs, this is a nice addition. You'll note that it's signed P.W. Extra on the bridge and the only information I found about this leads me to believe that this was a contract house that built watches for various brands.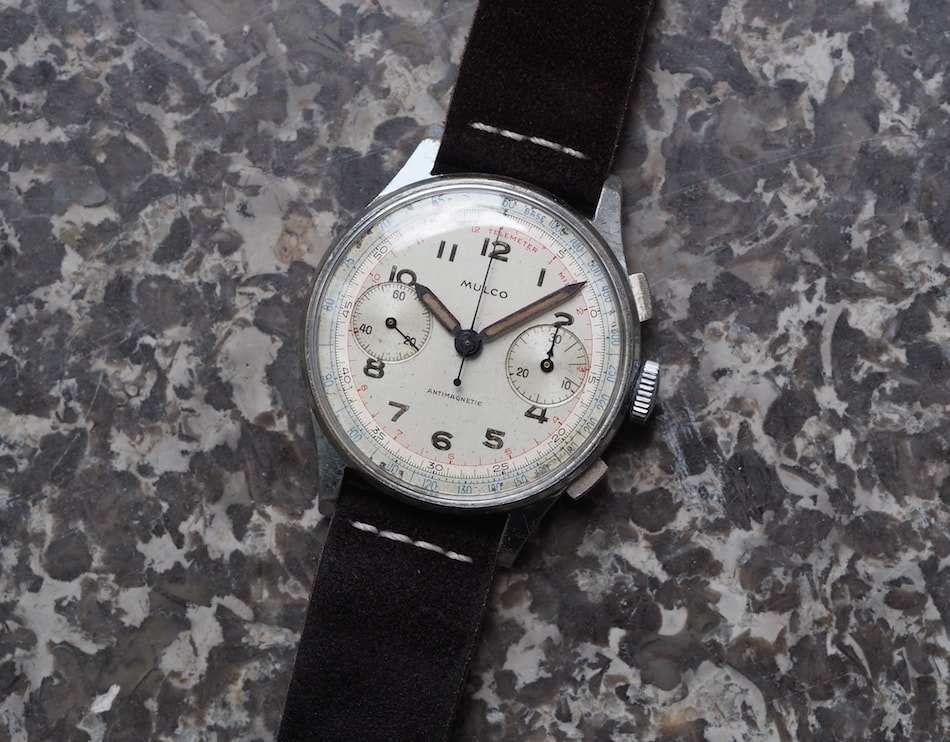 All told, this vintage Mulco chronograph cost about $350 including its sale price and the service. For sure, a certain level of patina needs to be in your wheelhouse when considering watches like this and you have to be willing to take a bit of risk if something is non-functional. In the end though, what it does show is that there are still some decent deals out there for those who search constantly. Perhaps I need to start my eBay searches again. 😉