#TBT The Return of the Gallet Multichron Decimal Chronograph
Ah, the sweet smell of victory – or perhaps that was Robert-Jan's Drakkar Noir cologne (or was it Kouros?) as he entered the lobby of a Frankfurt hotel lobby with gifts in tow. Let's be honest, it had nothing to do with his eau de toilette – although, now I think it was really Davidoff's Cool Water – and everything to do with the large bags he was carrying. In one was my first pair of klompen (Dutch wooden shoes for the neophytes out there…c'mon!) and in the other a copy of Moonwatch Only along with some SpeedyTuesday magazines. But there was something else inside… After exchanging pleasantries – despite being in Europe, no kisses were traded – we took the obligatory IAA wrist shot.   RJ had his newly acquired 90's Seamaster Professional Chronometer Chronograph with rose gold and tantalum and then there was me with my gold Rolex 16758 GMT Master. Our choices were apropos as we were surrounded by all sorts of Frankfurter schickeria. Returning to the bags, though, RJ pulled out something that I had been waiting to see for about 6 months, my resurrected Gallet Multichron Decimal.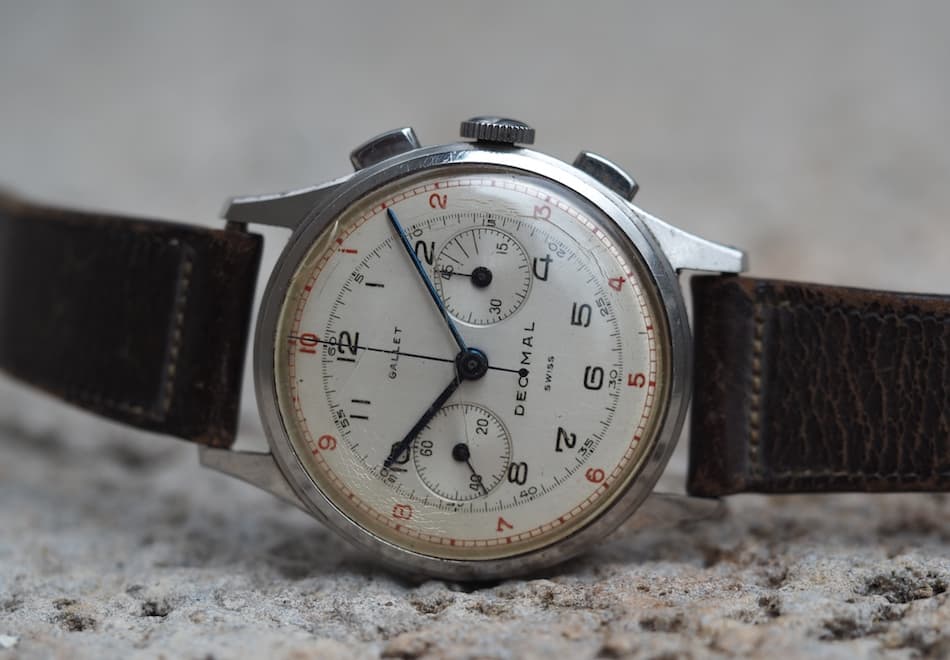 The Gallet Multichron Decimal Returns
You'll recall that I wrote a very brief article on the Gallet Multichron Decimal last November. Yes, that's nearly ten months ago so before you start shaking your head about diva-esque watchmakers and their lead times, that's not really the case here. Ok, Paul, our team watchmaker, does like expensive Scotch and, this is pure speculation, works on watches whilst donning fur-lined Gucci mules, but he's thorough and an all-out great guy. No, about 3-4 months of the delay is of my doing and due to my preference for hand carrying, via RJ, the watches back and forth to the Netherlands. I avoid the mail when I can and, after all, there are other pieces to wear in the meantime. Still, though, this Gallet wasn't straightforward and without challenges when it finally made its way to Paul's bench.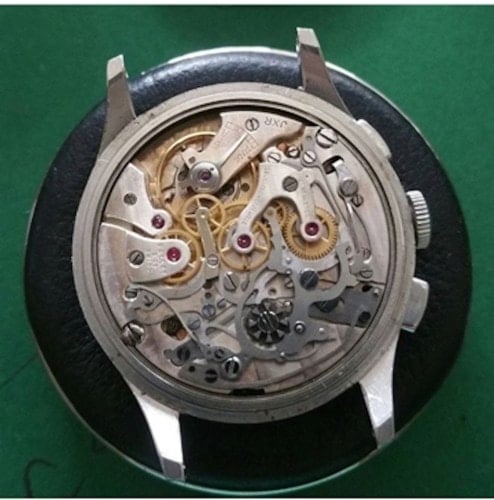 A Challenging Excelsior Park Movement
In an earlier article on a Gallet Torch Dial, I spoke about the rising difficulties of finding movement parts for Excelsior Park movements. On the Torch Dial, it was a winding pinion. With the Gallet Multichron Decimal, the watch needed a new mainspring. Reports have surfaced about the challenges of tracking down EP mainsprings as they used a riveted t-shaped end (a carryover from the pocket watch days) and this makes it virtually impossible to use anything but the genuine article. Well, Paul got lucky and found one quite quickly, but it's worth a brief segue into what is driving some of the scarcity in EP parts.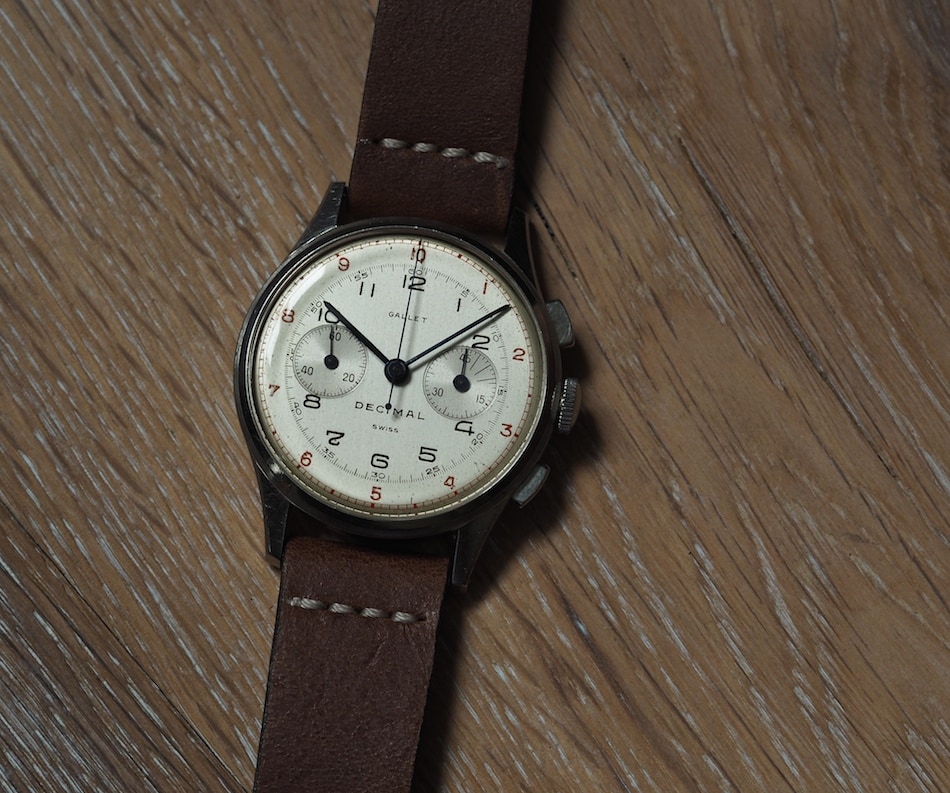 Excelsior Park made Gallets, Perregauxs and Zeniths…among others
The Gallet Multichron Decimal uses the Excelsior Park 4, which is a gem of a column wheel equipped, manual winding 2-register chronograph. It's as smooth as silk on winding and when using the pushers. It's essentially the 2-register version of the triple register EP40 that we've seen in many Gallet articles here on Fratello Watches. Historically speaking, what you should know is that Excelsior Park made movements and they also made watches. When making watches, they did produce pieces, although comparatively infrequently, with their own name on the dial. More often than not, though, they produced for companies such as Gallet, Girard Perregaux, Zenith, and even Sinn. The bulk of these chronographs, no matter whose names are on the dial, share cases with triangular chamfers on the lugs and near-perfect case, crystal to dial proportions. Because large vintage chronographs are all the rage right now and EP made some lovely 37.5mm cases with waterproof (read: round) pushers, these watches, no matter the brand, are hot right now; the Multichron 12's we admire so much are great examples. In any case, it's this popularity that has created a giant sucking sound when it comes to EP parts and there seemingly just aren't as many donors to pull from as, say, Valjoux 72-equipped watches. And finally, the EP movements do feel a bit more fragile than, say, their Valjoux or Lemania counterparts. Setting the time often feels a little gritty and, therefore, I wear these watches more sparingly. The hardships of being a vintage collector…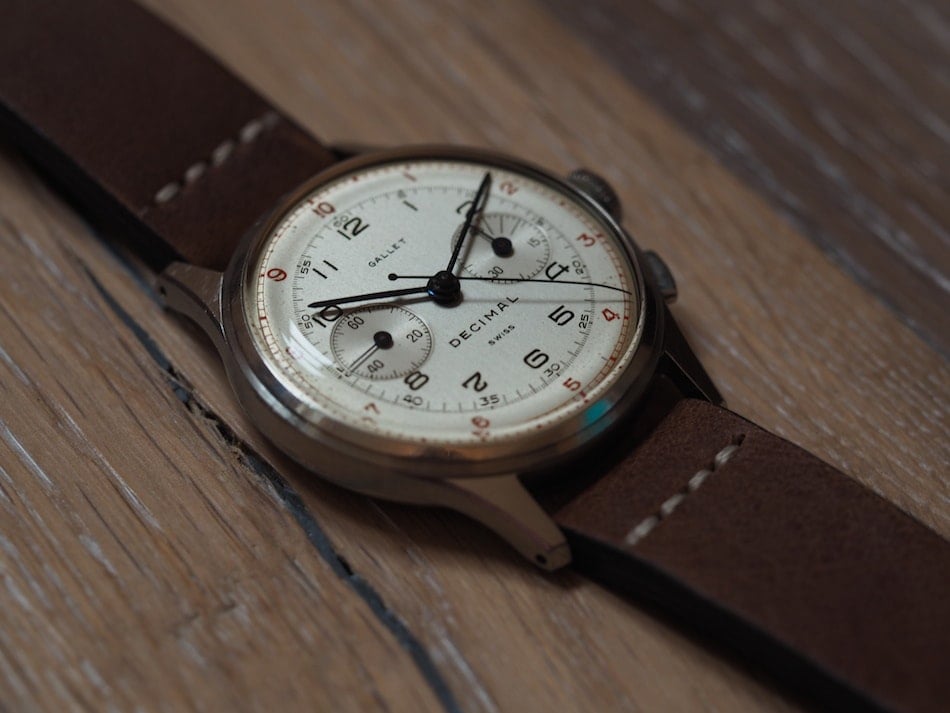 Getting back to the service… This Gallet Multichron Decimal also required a new crystal and this, thankfully, proved easy to find. The height even appears exactly the same as the original. With the mainspring inside and a full service complete, it took Paul some time to ensure everything was working correctly. Then there was the situation with the pushers. A lot of tweaking needed to be done in order to keep one from protruding far beyond the other. Do you think this is easy stuff for the DIY'er? Not on your life. And then he showed me the dial…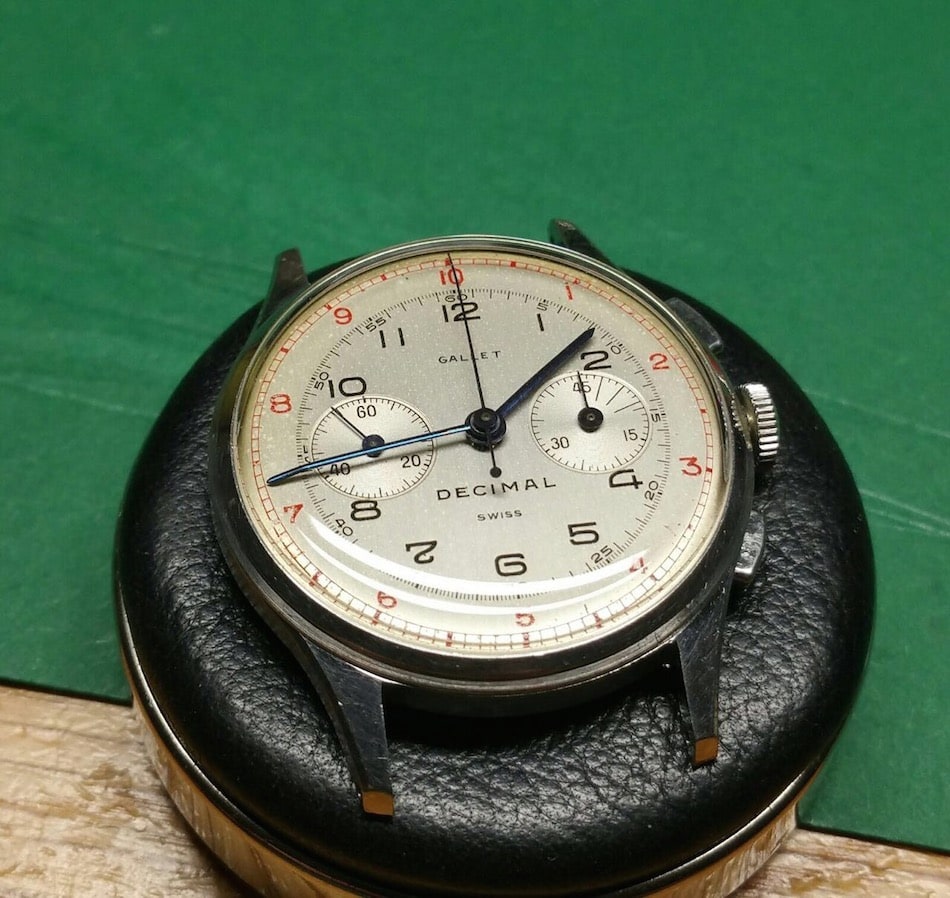 An Amazing Dial
When I first spied this Gallet Multichron Decimal on eBay, I could tell that there were excellent "bones" inside the watch. The case looked sharp, it showed no signs of abuse and the various views showed that anything wrong on the topside was more related to the crystal than the dial. Eventually, when Paul had the watch open, he shot me pictures of the dial and it's about 99% perfect with a touch of spotting.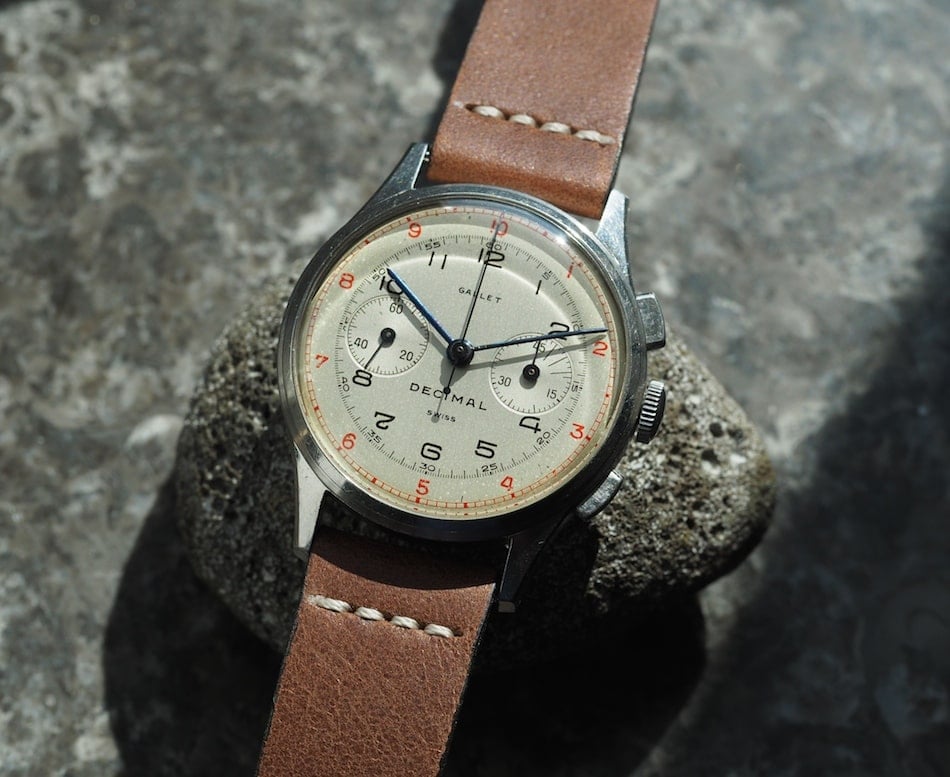 In fact, any flaws I see likely have more to do with shoddy printing than anything else. There's a fine graining to the dial and it seems that the outer portion of the dial has more of a glossy finish. Now, I like originality and I've kept some crazed older crystals on watches to keep things exactly as they were, but the results I'm seeing on the Gallet now have me rethinking that strategy!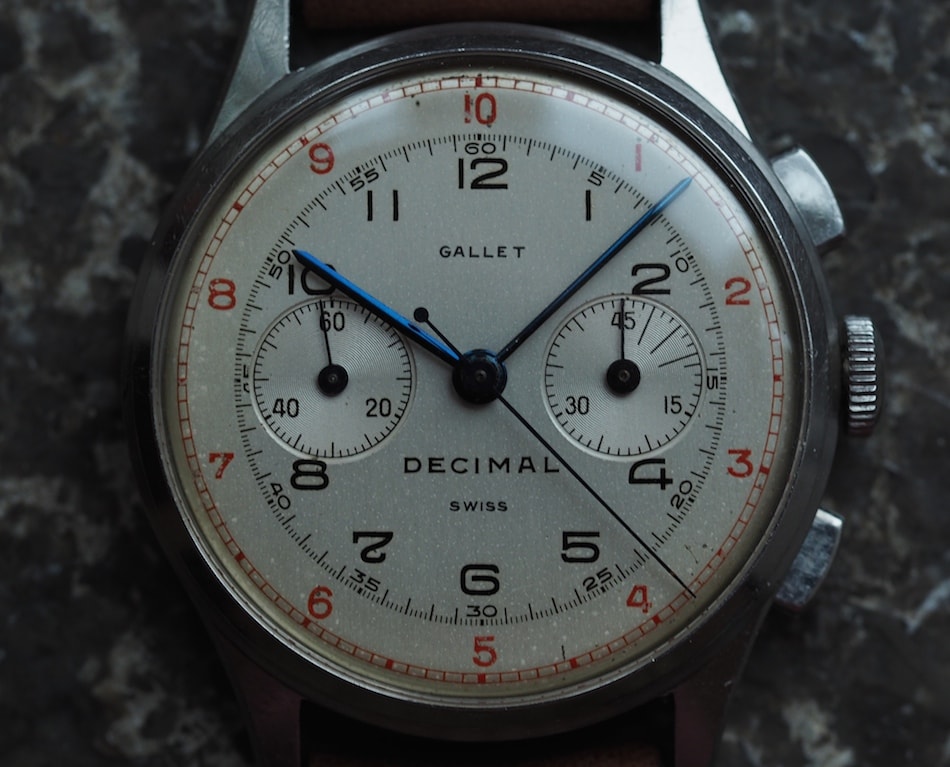 Also, cast a glance on the main hour numbers, as the font is glorious. Wrap the "4" and the "7" up and give them as holiday gifts because they're simply that special.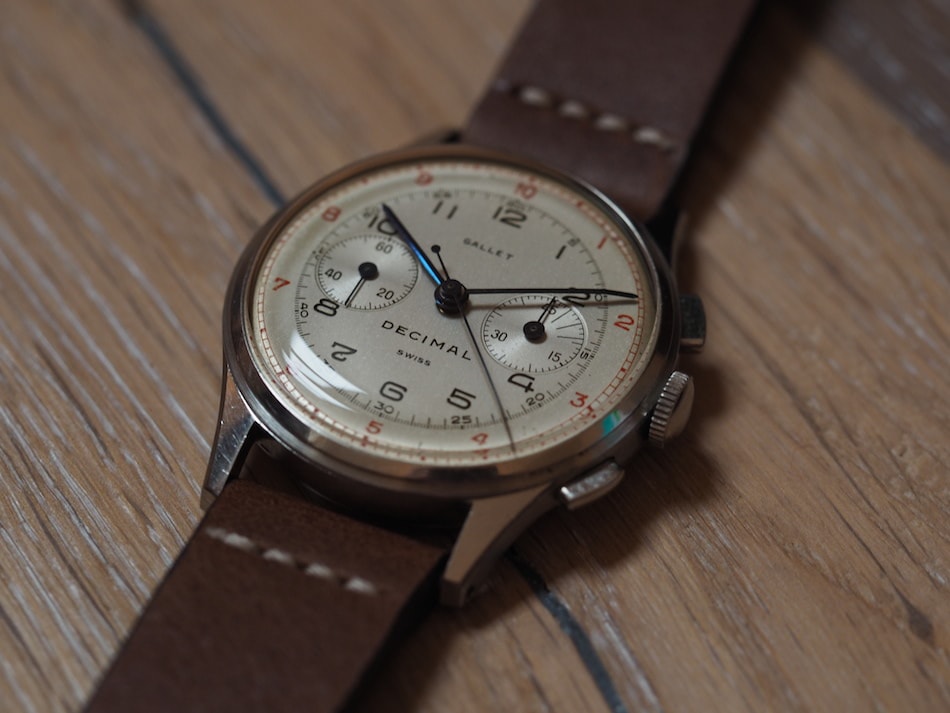 Interesting Hands and Dial Coloring
As far as other details, I find very few examples of the non-waterproof (the "tell" is in the use of rectangular pushers) 1st generation Gallet Multichron Decimal online. This one has some special attributes as well. First, I've mentioned that the long blued hands on this are a bit controversial as most I've seen have shorter hands. Since the last article on this watch, Gallet collectors have stumbled upon more 1940's and 1950's pieces with long hands that appear to be original to the watch. Was it use of existing parts or a custom order? We'll never know, but the hour and minute hands at least align with the hour track and the decimal ring respectively.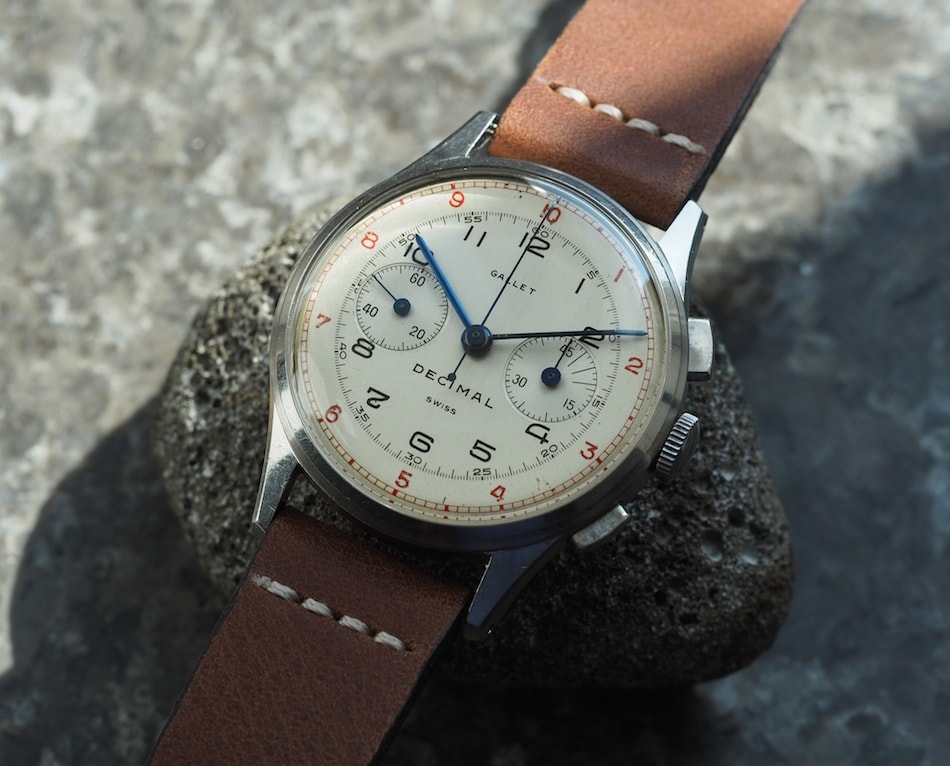 Then there's the word "Decimal" in black. Most other examples I've seen have it in red, so that makes for an aberration as well. Perhaps the dial was meant for another EP customer aside from Gallet and then it was changed at the last minute. Again, we'll never know.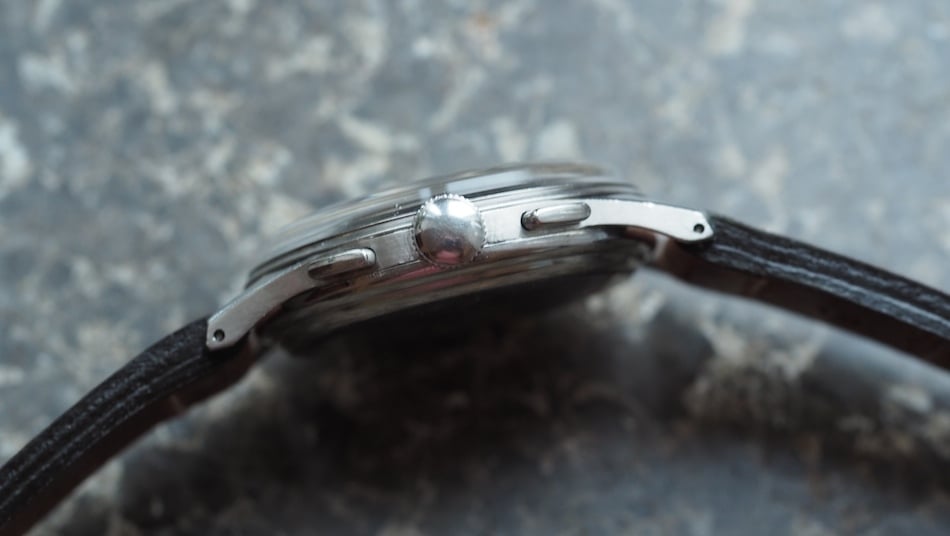 A Beautifully Crafted Case
Attaching a brown leather 18mm strap to the Gallet Multichron Decimal before trying it on for the first time also proved to be an experience in precision. Small, perfectly drilled lug holes made affixing the strap a breeze.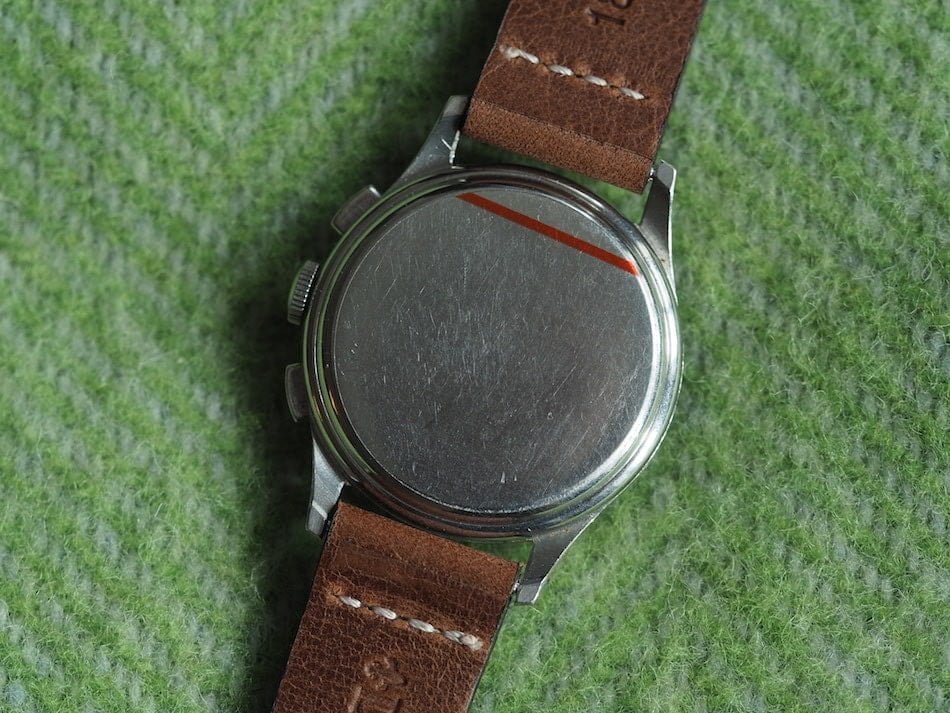 In doing so, I took the time to notice the thinness of the case, of the watch overall, and how nice it is to have a well executed 35-36mm chronograph as an alternative to the 37-38mm plus pieces that I normally wear. It sounds obvious, but miniaturization makes one realize that the finer details are harder to carry off than when seen on larger watches.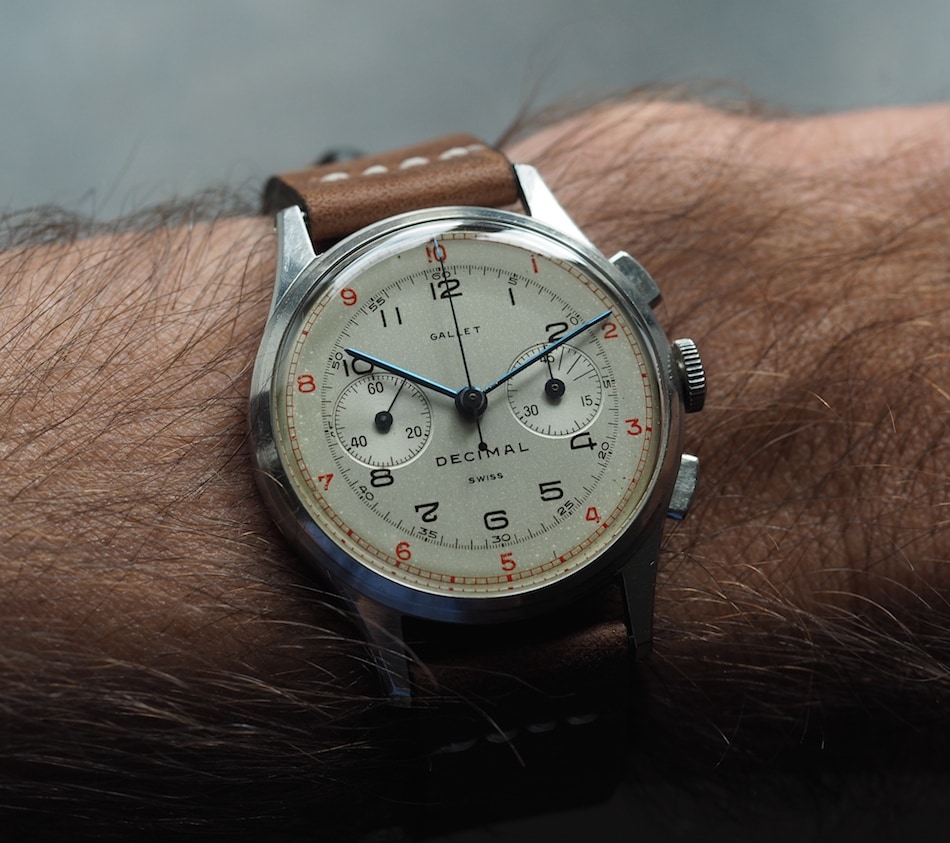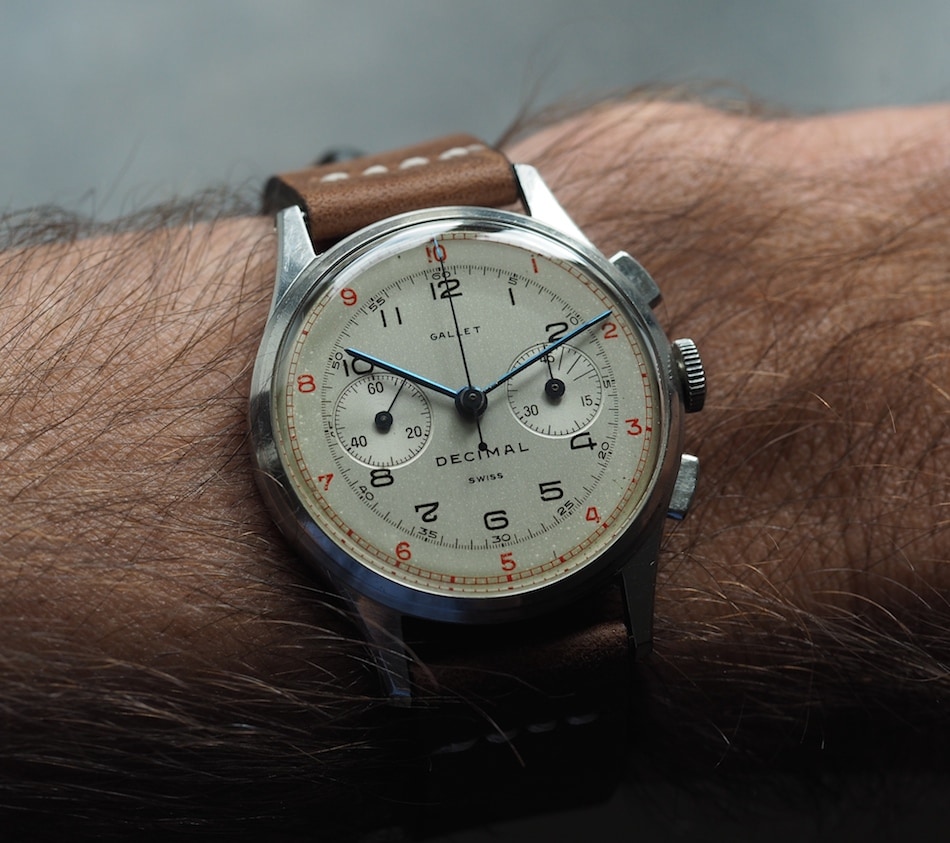 Gallet is Hot!
Gallet is a hot brand right now and while we haven't truly seen them make a grand entrance on the auction circuit, good stainless models perform very well on eBay and other online platforms.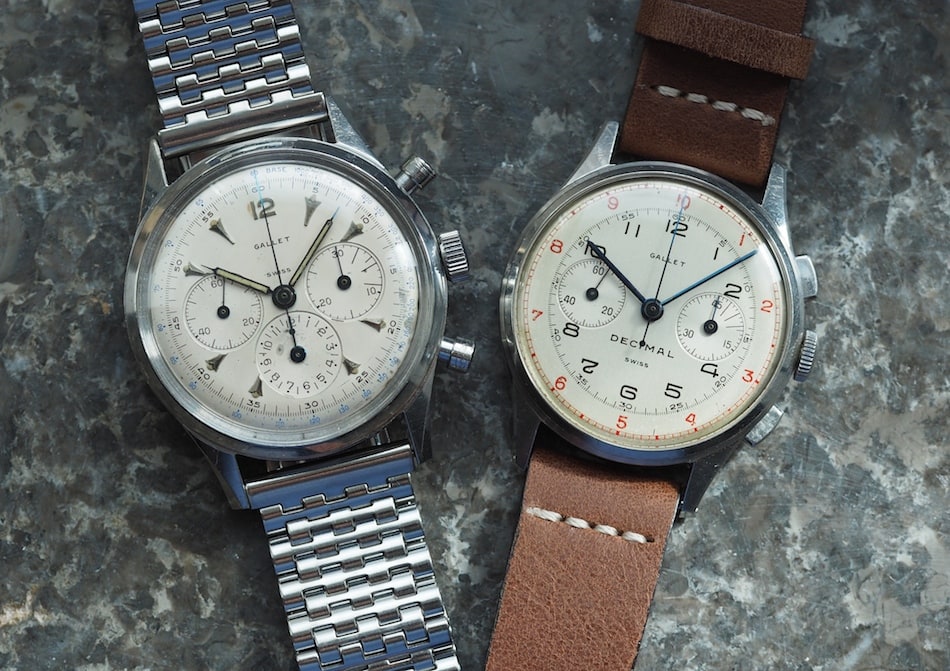 Models such as the Flying Officer, with its clamshell case, and the wide range of Multichrons have finally gained recognition and often appear alongside better-known brands within esteemed collections. When it comes to pieces like the Gallet Multichron Decimal and the Yachting, collectors look upon these as rare, specialty variants. They command high pricing and rarely find their way to eBay – another reason I jumped on this example (I wasn't the only one sending the seller messages).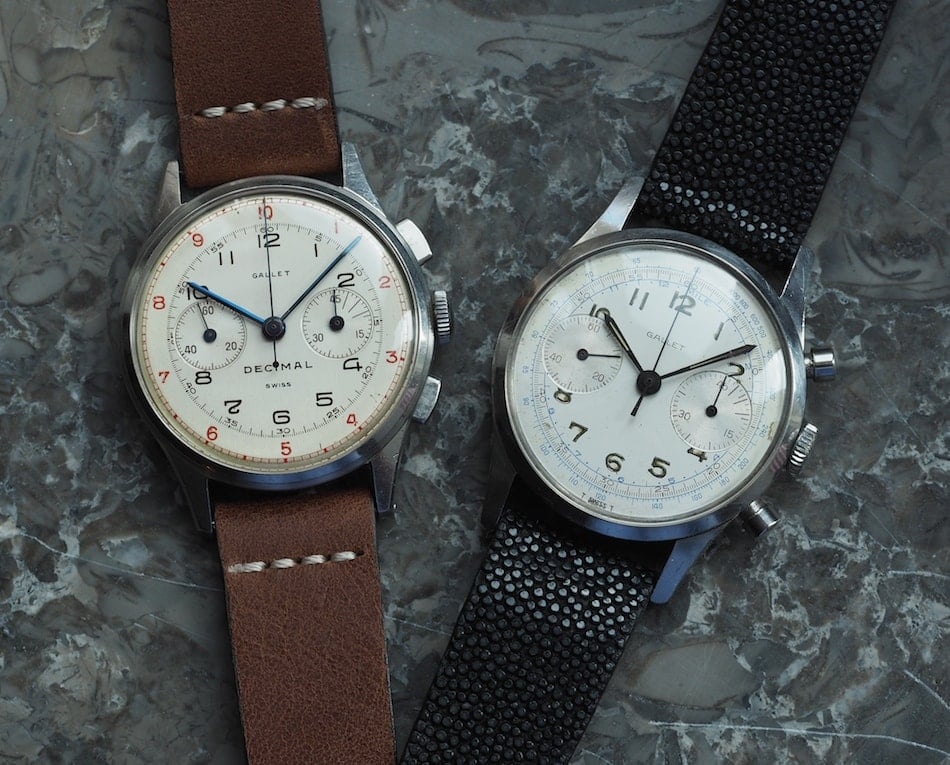 People have asked what this watch cost when I purchased it roughly a year ago and I'll come clean; the deal was done at $2,000. It was a risk, as I didn't know what it needed and parts were already a concern. In the end, though, after adding in the service, it was a good deal when compared to the current market – and that's if you are able to locate a nice example.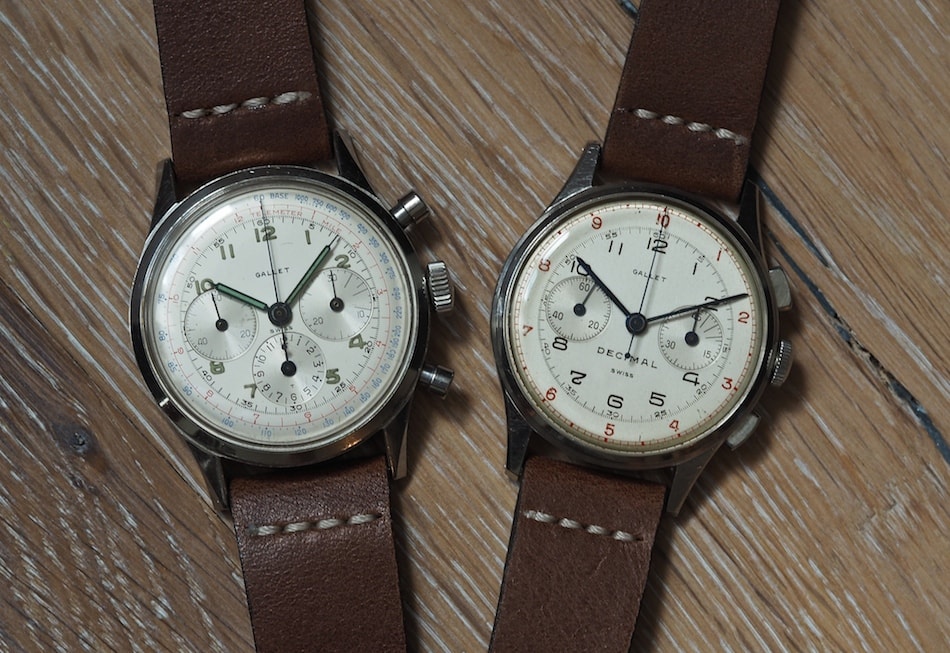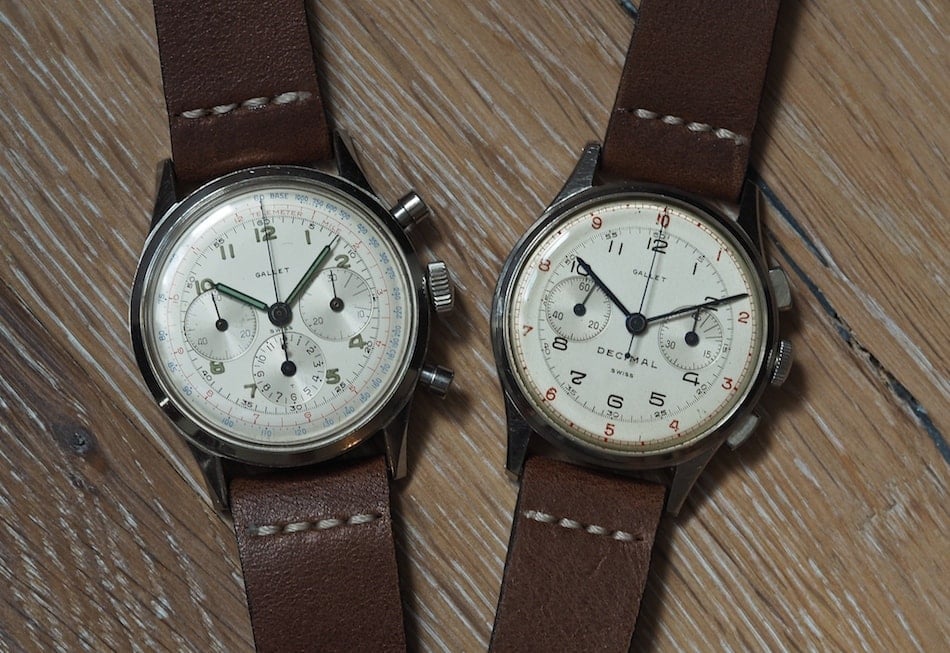 At any given time, I have about 5-6 watches out for various repairs. Some simply require service and others beg for more extensive work, but few rival this Gallet Multichron Decimal in terms of quality and potential. Good pieces are still out there. They simply require patience. Until next week…