#TBT Surprisingly fresh Alpina La Ronde
with automatic A. Schild caliber 1882/83
The most complicated part of shooting this watch was to find an old brick to match its vibrant indexes. Meet my lucky catch Alpina La Ronde.
There are watch brands and there are watch BRANDS. Brands and watches every collector knows, has or dreams about – holy grails, legendary models with hundreds of stories or famous ambassadors to talk about. Yet certain brands fall into a strange middle ground – every collector knows about them, but they don't bother paying much attention to it.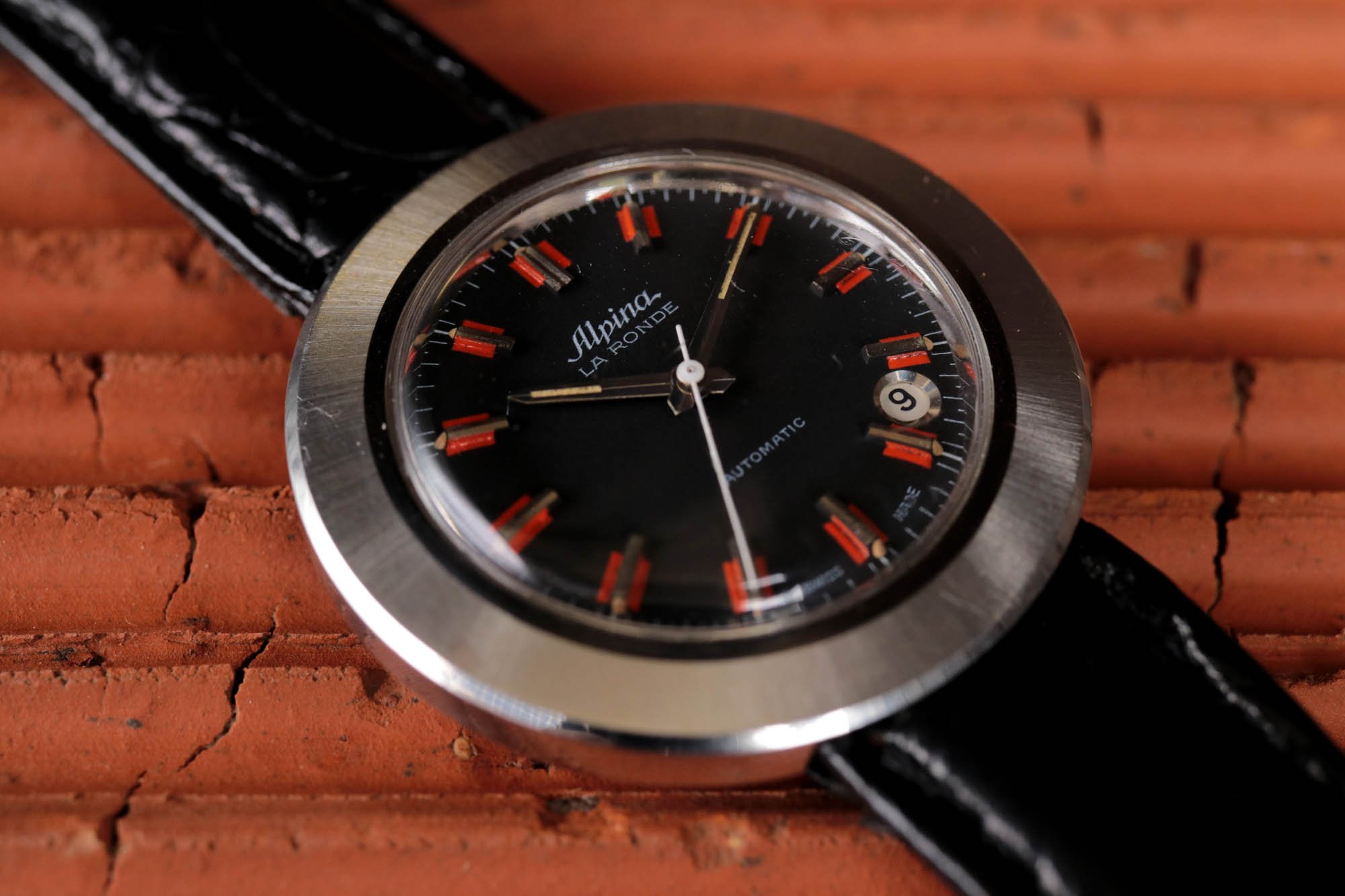 Abandoned pets
We all know collectors with a heavy weight set of timepieces that have developed a sweet spot for some "B-class" watch brand or model. I bet you have that too, don't you? From whatever reason, we grow some sentiment towards that brand, we admire the design, the novelty or we just like the fact that nobody else likes it. It is those enthusiasts that dig deep and make those watches visible for others. Ask Mike, he saw it happening. How Seiko grew from a fast-moving consumer good to a rising-on-value keeper on the vintage watch market.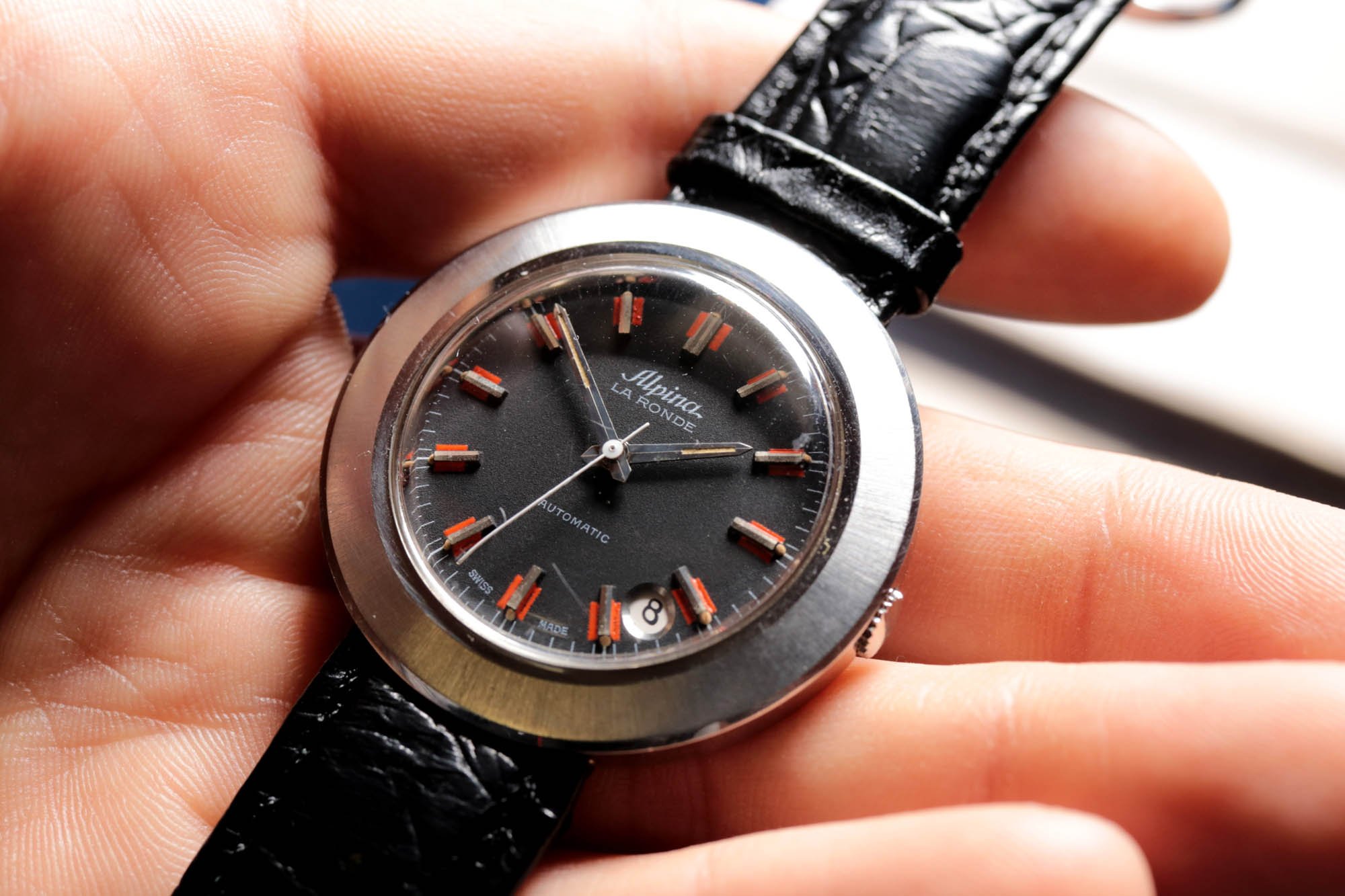 My sweet spot is Alpina
If there is one brand constantly growing in my collection, it is Alpina. Their current production is going in a slightly different direction than any other watch brand, keeping their innovative edge by combining classic designs and smart functions. We wrote about it here, here or here. It is strange for me to see the Alpina brand steering away from what I like to collect, but evolution can't be stopped. Just like nothing can stop me from exploring what else with an Alpina logo on it exists out there.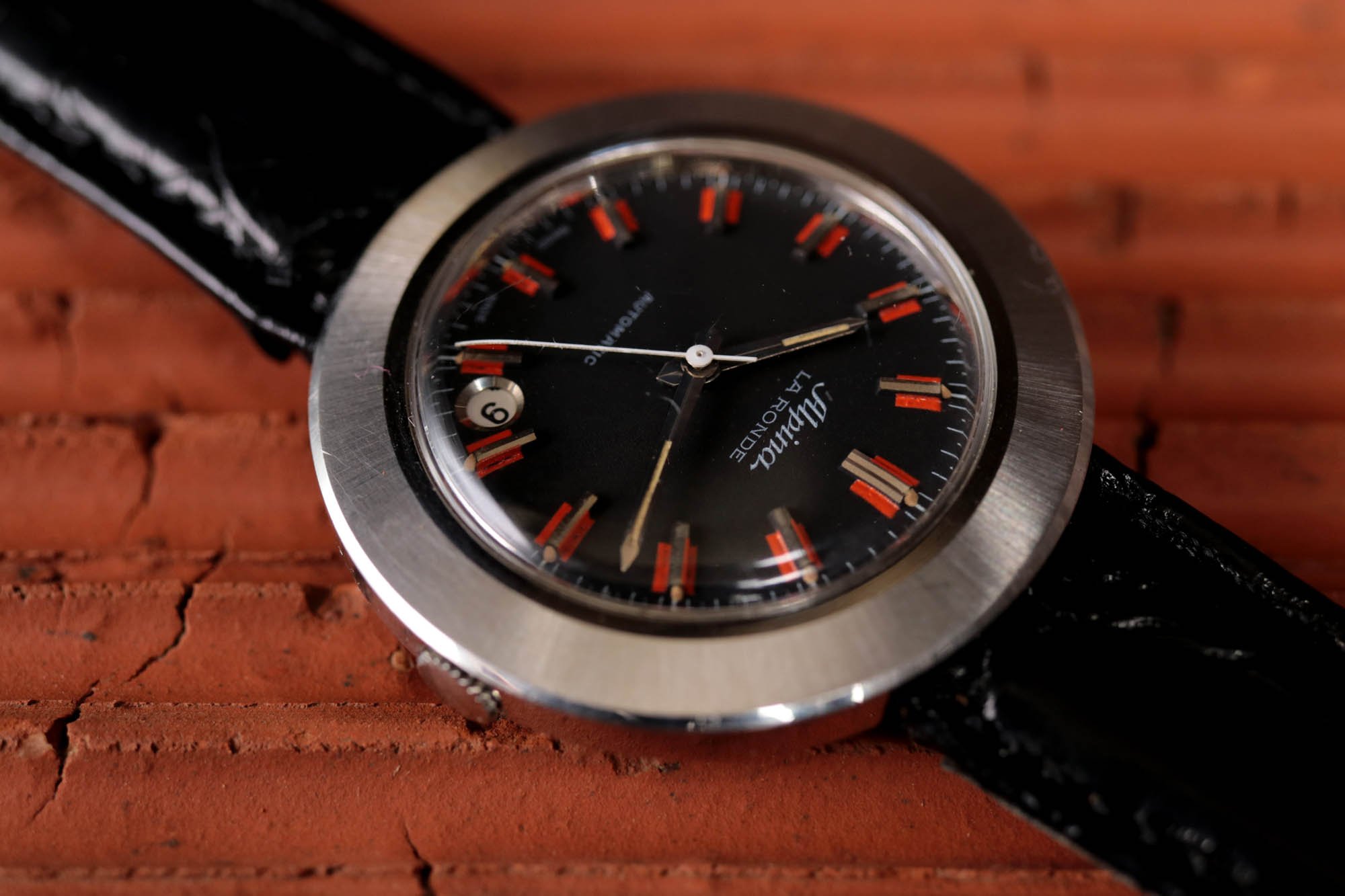 Bucket list
I keep a long list of Alpina models throughout its history I would like to put together. Next to the chronograph with modified Valjoux 23 or limited run with 592 movement for Ferrari there was always the La Ronde model. You don't need to be French to decode it refers to its perfectly rounded shape. Purists will argue a proper watch needs lugs. I would agree that most of the purely round watches I've seen look either cumbersome, fat or unfinished. Basically unwearable.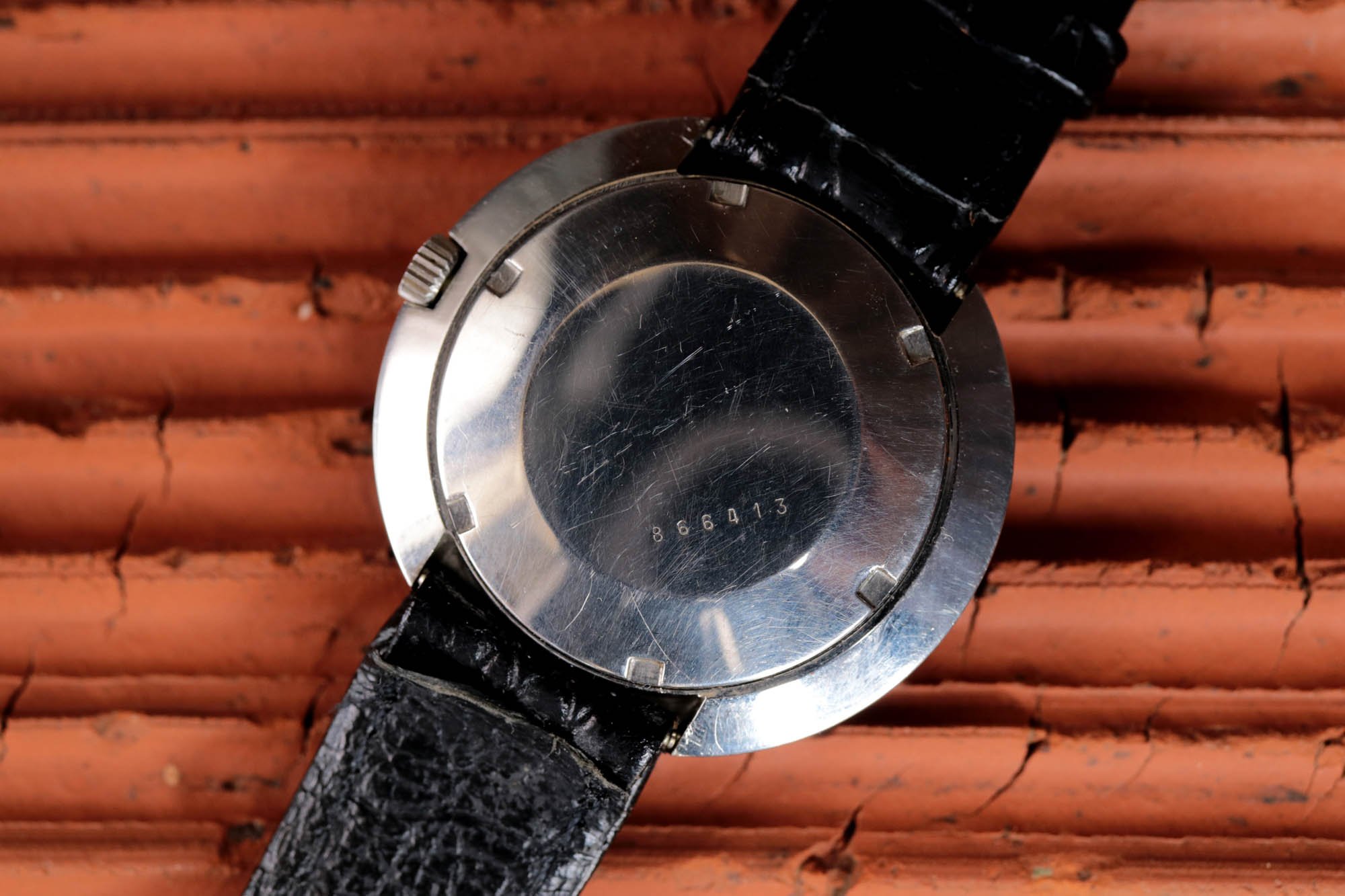 Alpina ad that started it all
I spotted the Alpina La Ronde in a generic black & white Alpina print ad from 1960s or 1970s. Here I do underline word black & white ad, because it was a hell of a surprise for me to find out that the hour indexes are printed in a vibrant brick-red color. I bet you if the ads would have been in color, watch sales would have been much better. Speaking of watch sales, I guess it was no miracle since as of today I have found only four pieces of the La Ronde out there altogether. Mine including.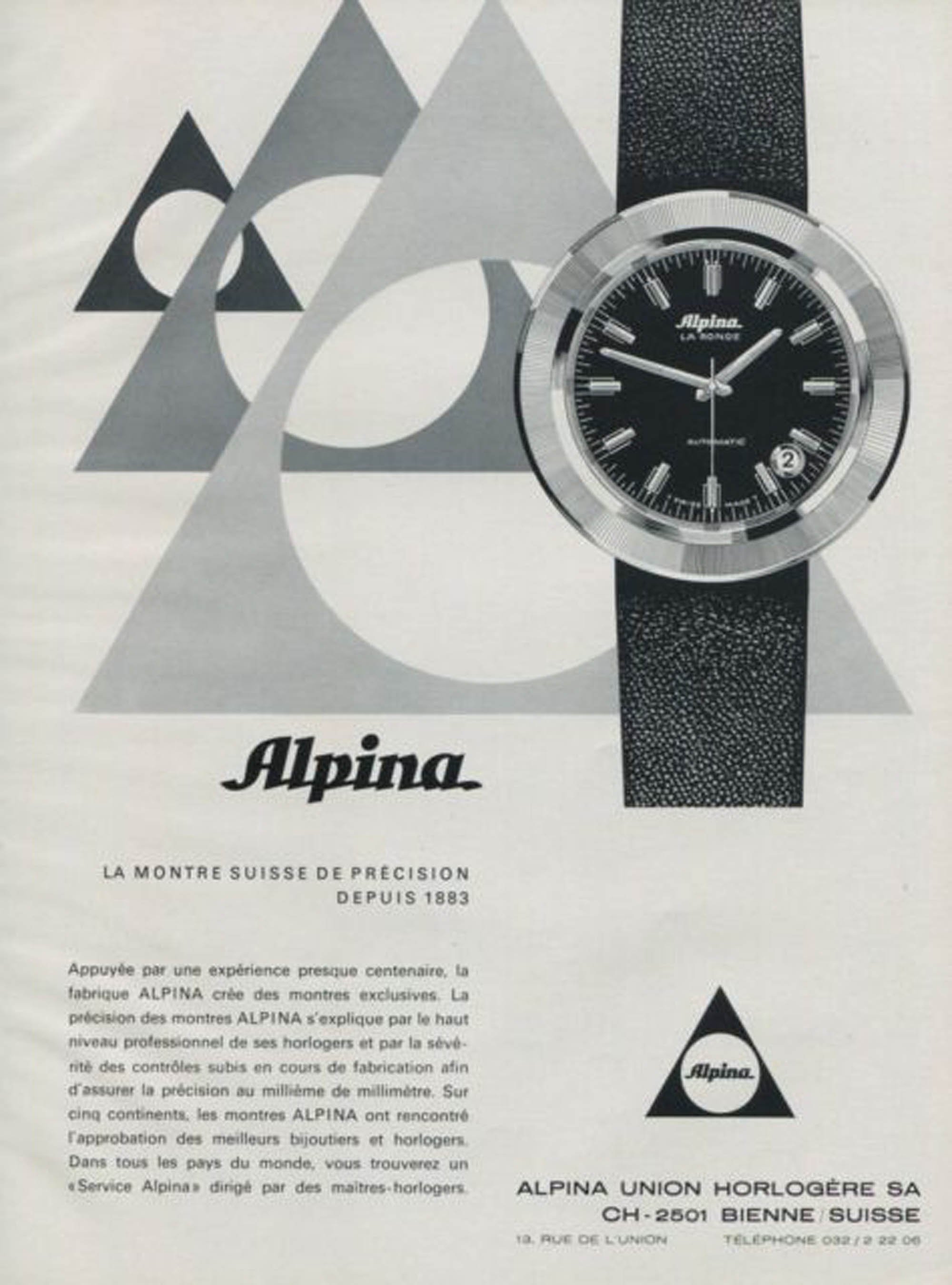 Bad timing
I don't have the precise date of release. To be honest I don't have much information on this watch at all. From all the watches I have, this is one of the biggest black holes. We are speaking of the unfortunate 1960s/1970s here and honestly, I can imagine the La Ronde was not the hottest attention candidate back then. Quite the opposite. A boring standard with a simple dial, three hands and a weird date position. Nothing lethal for the quartz watches climbing the throne.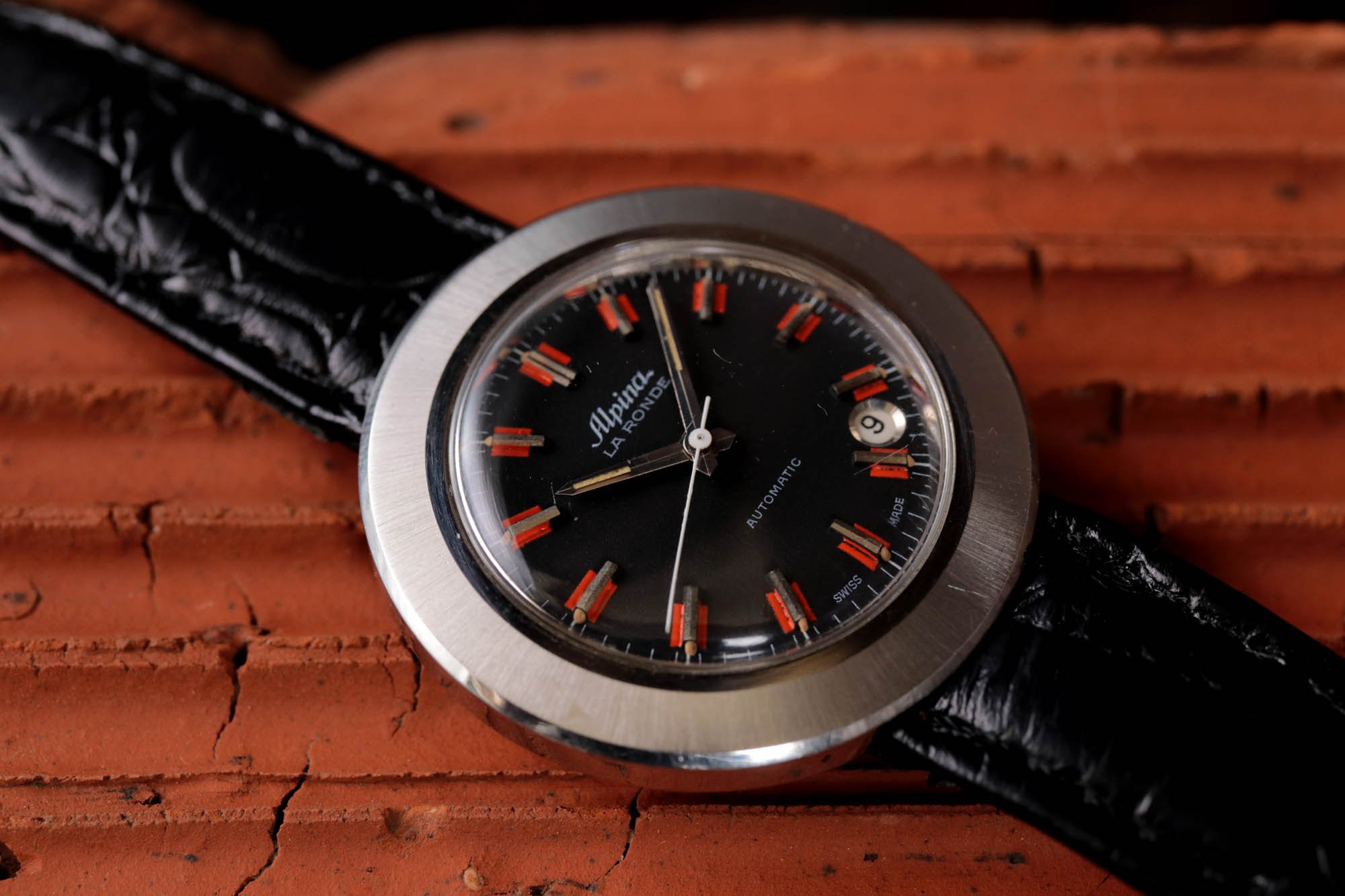 Balanced watch
The moment I unboxed the Alpina La Ronde I knew I had a perfect daily wearer on my hands. With or without the crown, the case comes at a quaint size of 37mm and fits just right. Advert shows no crown, but frontal view on all four La Rondes I saw makes it visible. I am sure all the crowns were original to the watches and it was meant to be so. The crown sticks out no more than one millimeter and it does not disturb the otherwise fluent design.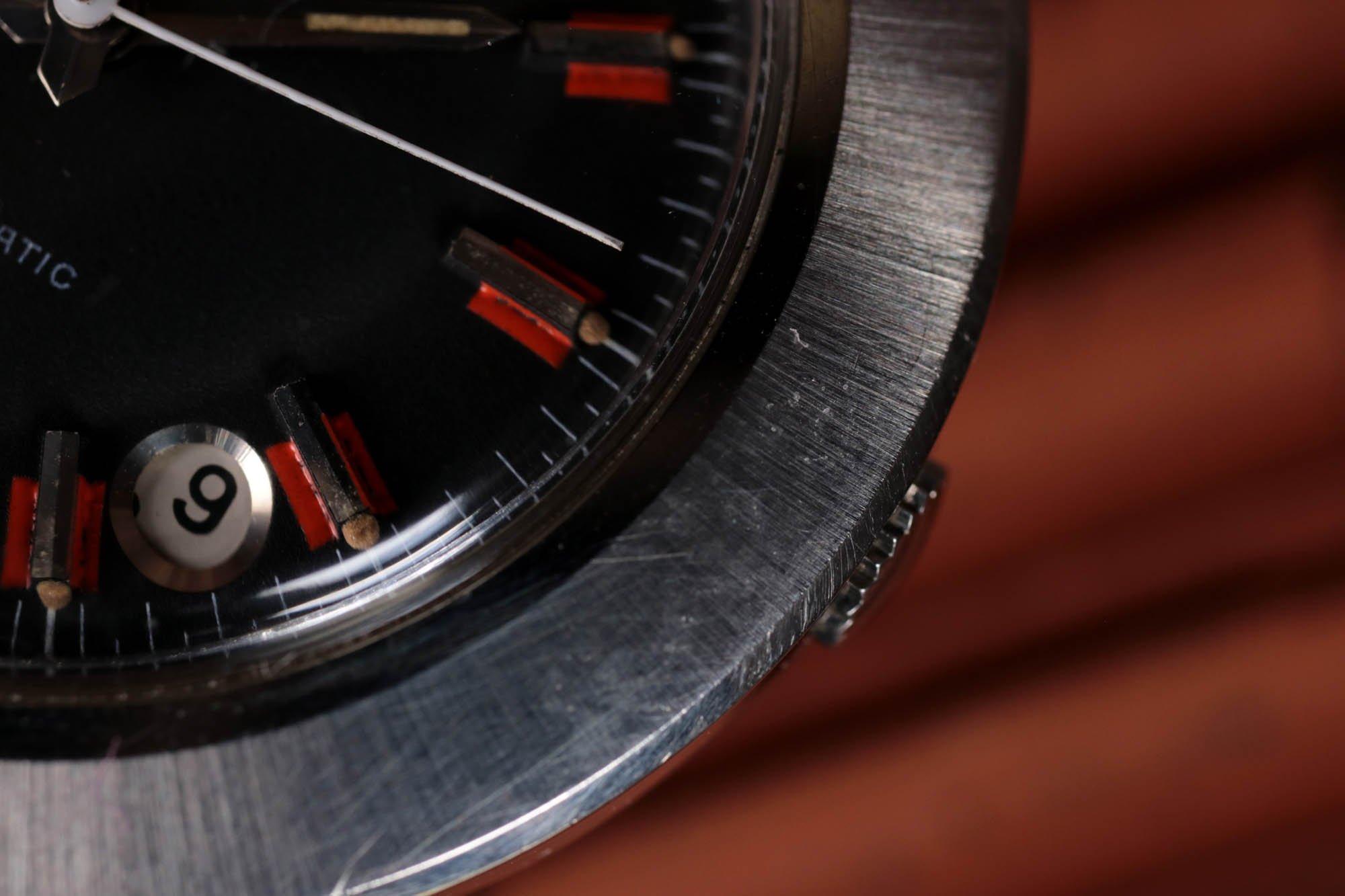 Sturdy and dressy
The case is very proportional to the dial size, finished off with a matt sunburst effect that contrasts with the flat polished edge around the dial. It is not so visible when looking from the front, but the case mass slopes down to the edge. All those tiny details make the robust monolithic case dressier for the eyes and easy to wear for the wrist. A brief look at La Ronde's back reveals spring bars integrated into the case. Notice that case is sloped on the back too.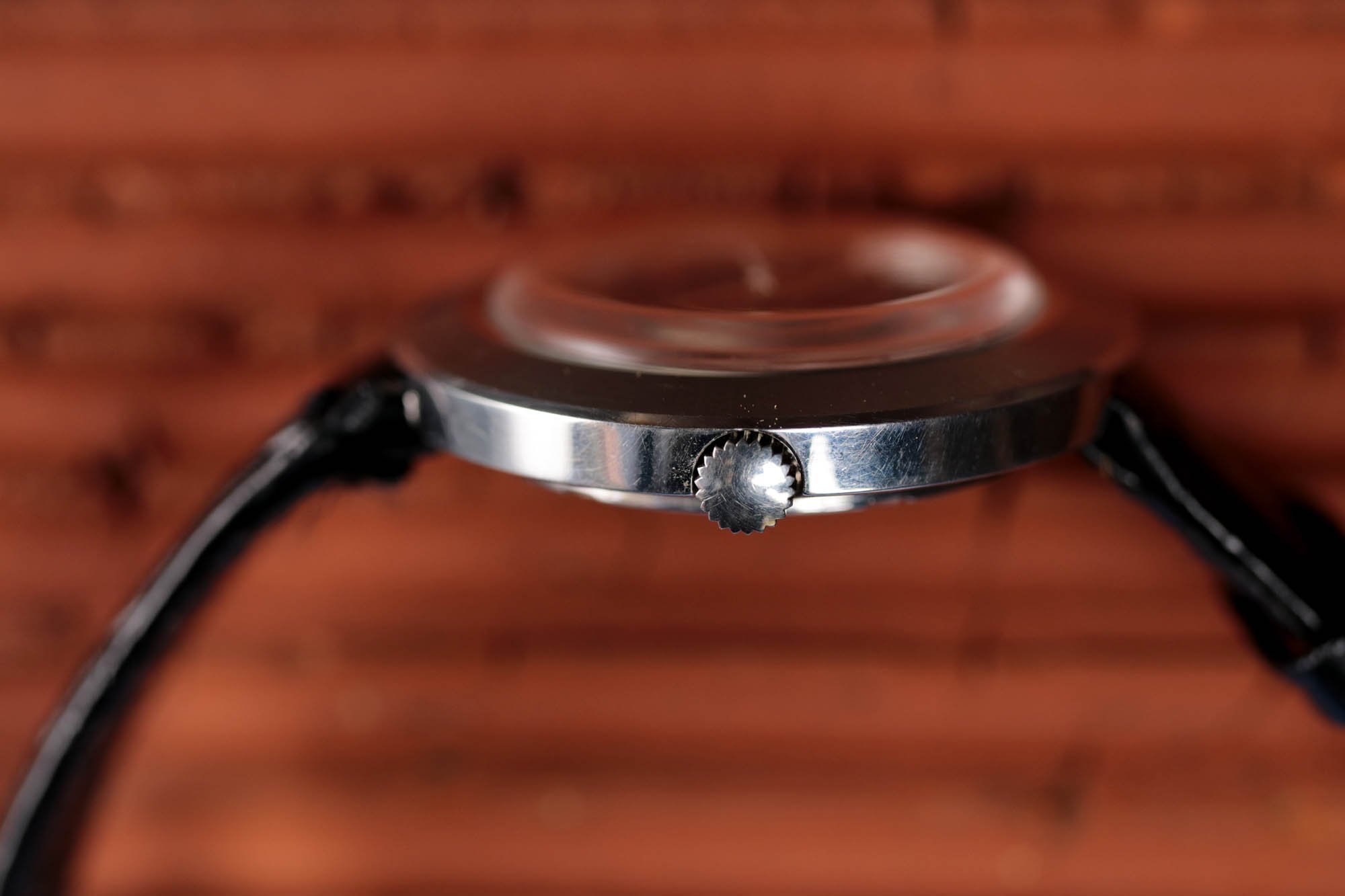 As I was very impressed by the case manufacturing, I gave it some more research. I still don't know the case producer, but for sure it was not unique for Alpina as I found it also on Jaquet Droz Superautomatic with 25 jewels and a date at six.
Honest crafting
It wasn't just a good first impression – after closer examination of the overall manufacturing, I feel satisfied as the job well done does not apply to the case only, but to the dial and hands too. I am particularly happy about the vintage Alpina logo. You have to admit it's gorgeous just for the idea of taking a vintage approach in the early 1970s. The effect is enhanced by the slightly thinner LA RONDE name printed in a more modern, contrasting capital font.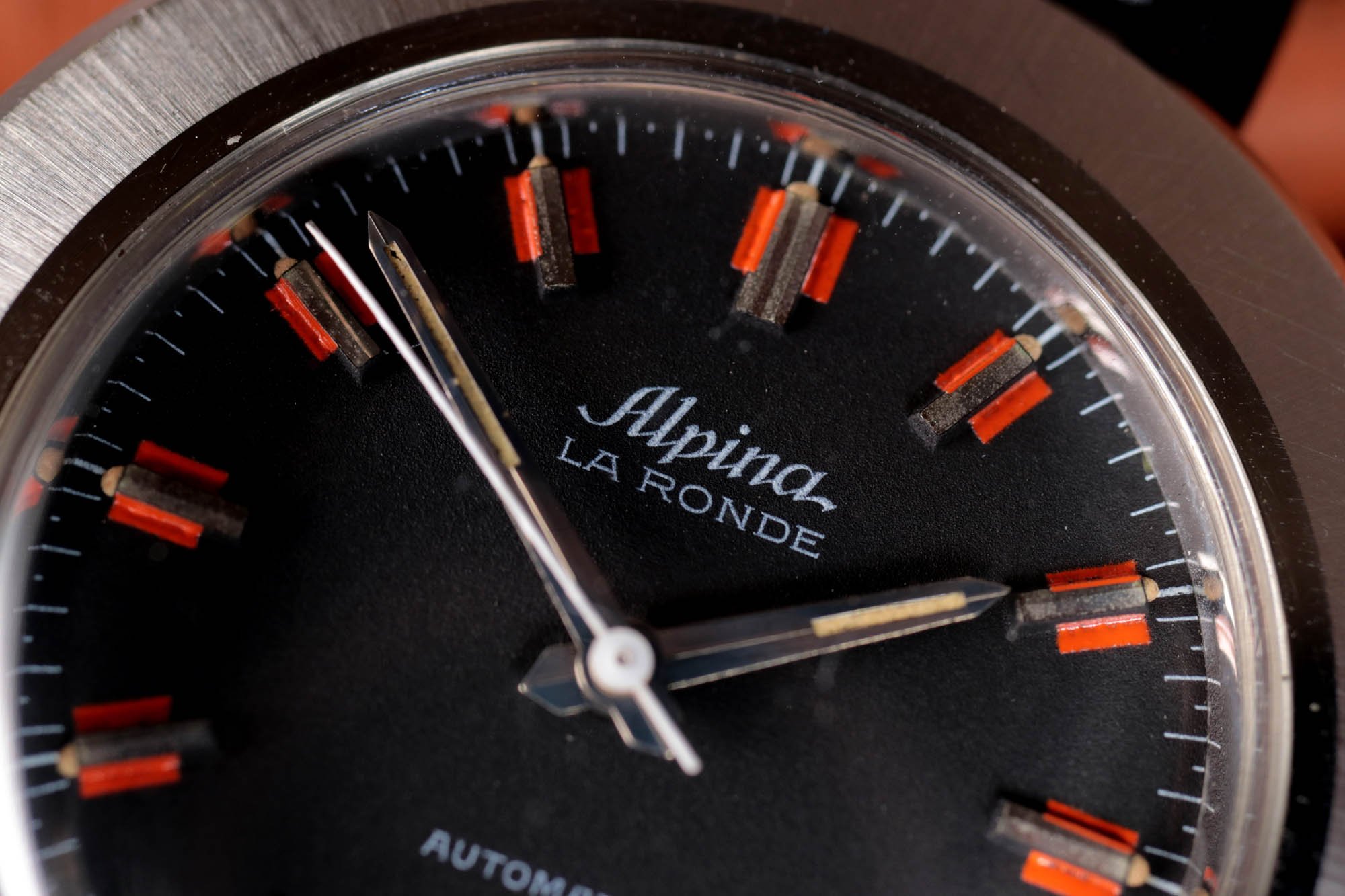 Hands
You don't see this hand style every day. They fit the dial and case perfectly. With the tip of the hour hand touching the hour indexes and the tip of the minute hand gliding along the minute markers, I would call the Alpina La Ronde hands length perfect. Luminous material still keeps the glow under UV and fit the color of the lume dots at the hour markers.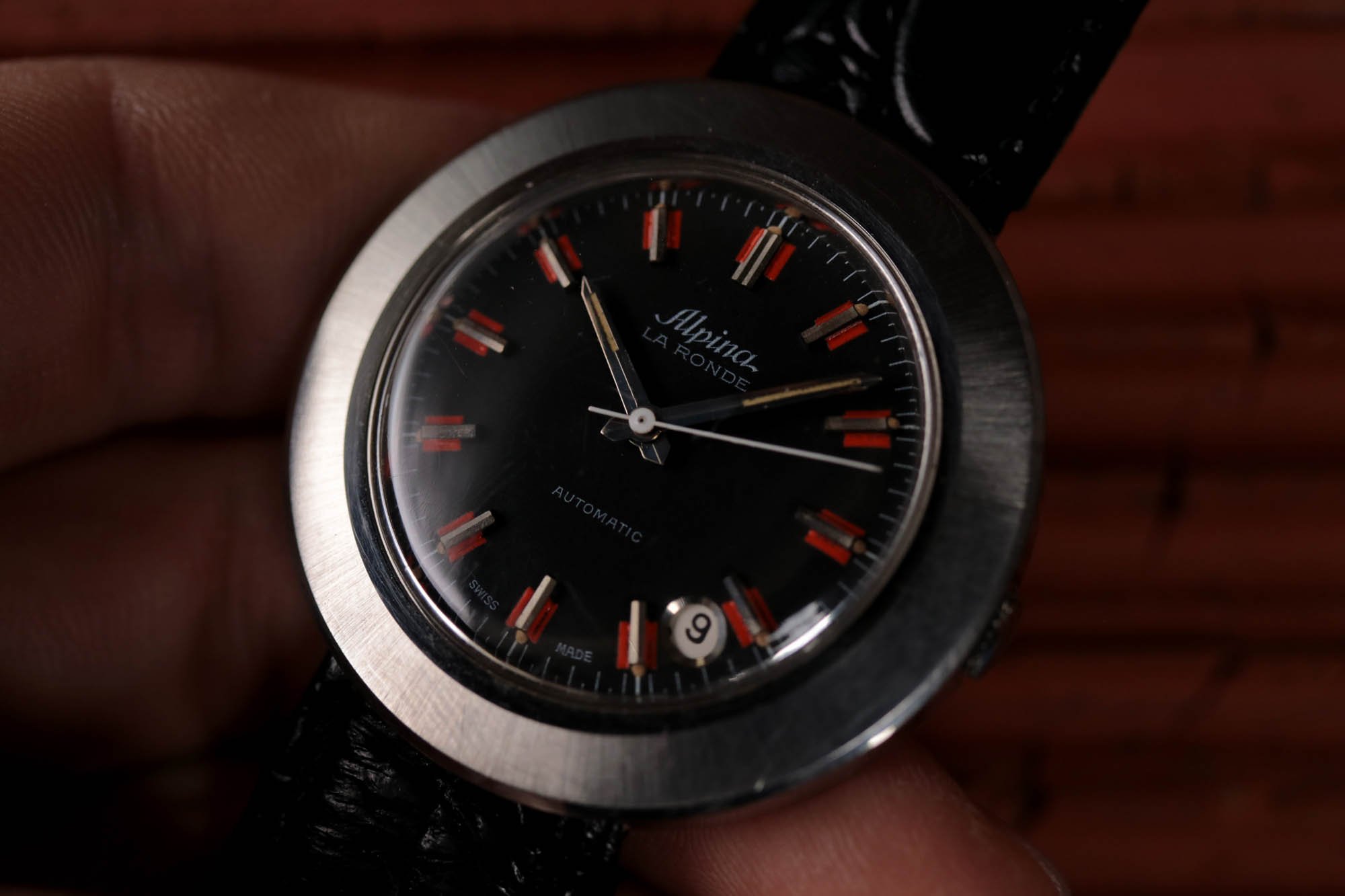 No date call
As a date guy you don't hear me saying this often, but in this case, the date annoys me a bit. It is nicely round with a sloped shiny edge similar to the case and white date background fits the central second, but I could do it without it. While we're on the topic of imperfections here, a closer look on the brick-red printing shows some flaws too. Those are thankfully nearly invisible to the eye.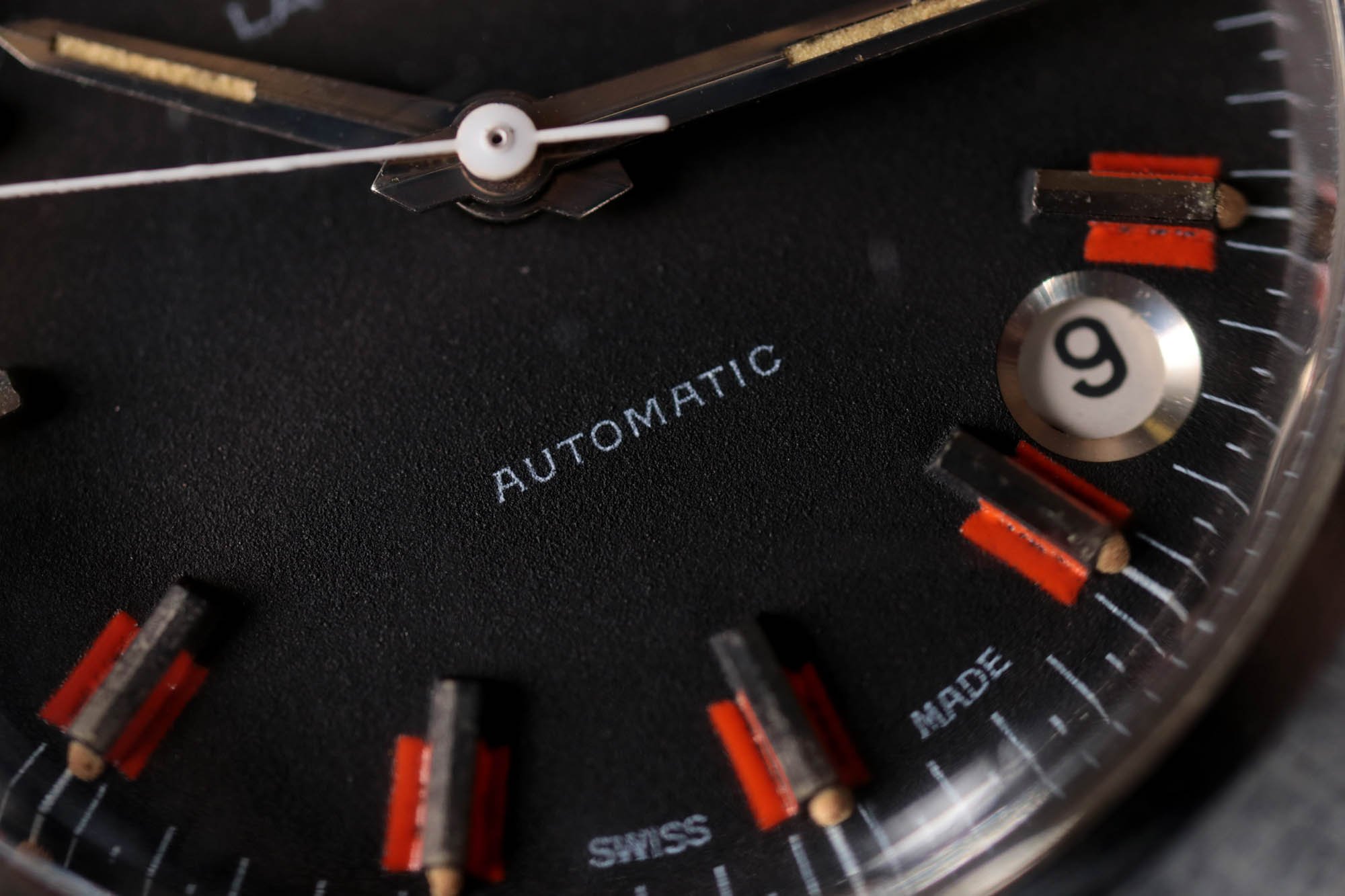 Look inside La Ronde
The screw down case back carries a serial number and has quite a big Alpina logo embossed on the inner side. When unscrewed you get a view of the automatic movement from A. Schild production with 21 jewels. A. Schild movements were used by many manufacturers in the 1950's through 1970's, including such more popular names as Enicar or even Jaeger-LeCoultre. A rotor is signed with the Alpina logo too. Together with the gentle branding on the dial too it makes for triple Alpina signage.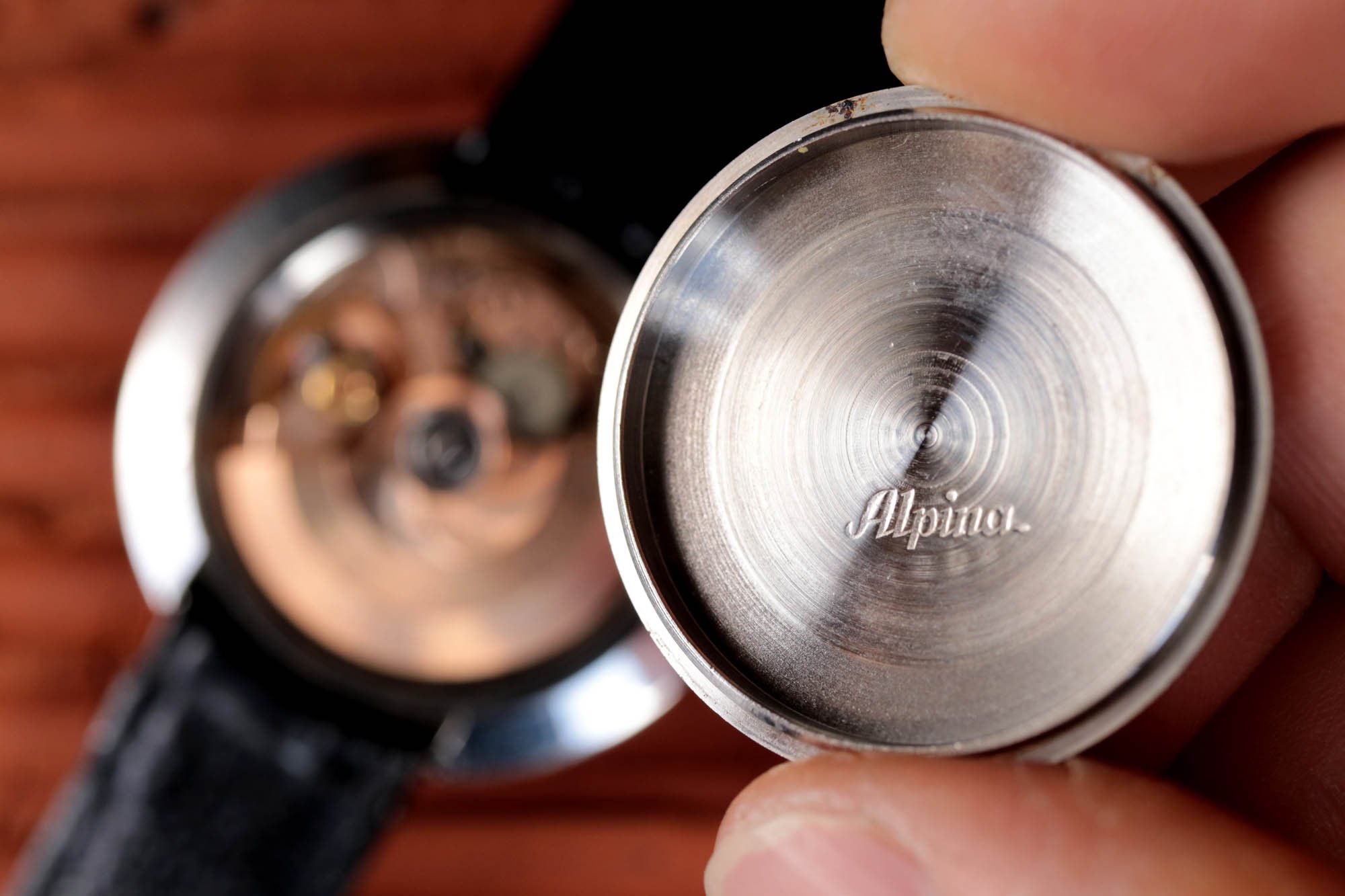 Verdict
Even something that seems to be super boring at first description turn out to be interesting. The devil is in the detail after all and it applied to this Alpina La Ronde, that found its way to me from Denmark for as modest price of 300 euros. After a few days on the wrist I was pretty sure it won't be any drawer king. Even though it didn't come with an original strap featuring a playful buckle, I would call it one of my best purchases made in the past couple of months.