#TBT The Great Gray Nivada Datomaster
Check. Done.
I seldom have stage fright when writing my weekly column. But this week's #TBT is quite special for me, and I want it to be a great article. It has been years since I put the Nivada Datomaster on my wishlist. Unfortunately, I just couldn't find one. Well, I did recently, and the timing couldn't have been any better.  
I joined Fratello four years ago, and I've been carrying the #TBT torch ever since. It was Mike's articles that revived my passion for vintage watches and put the Nivada Datomaster on my radar. I set all auction alerts possible, but besides two well-beaten pieces, I faced a big, black void when tracking down this gray beauty.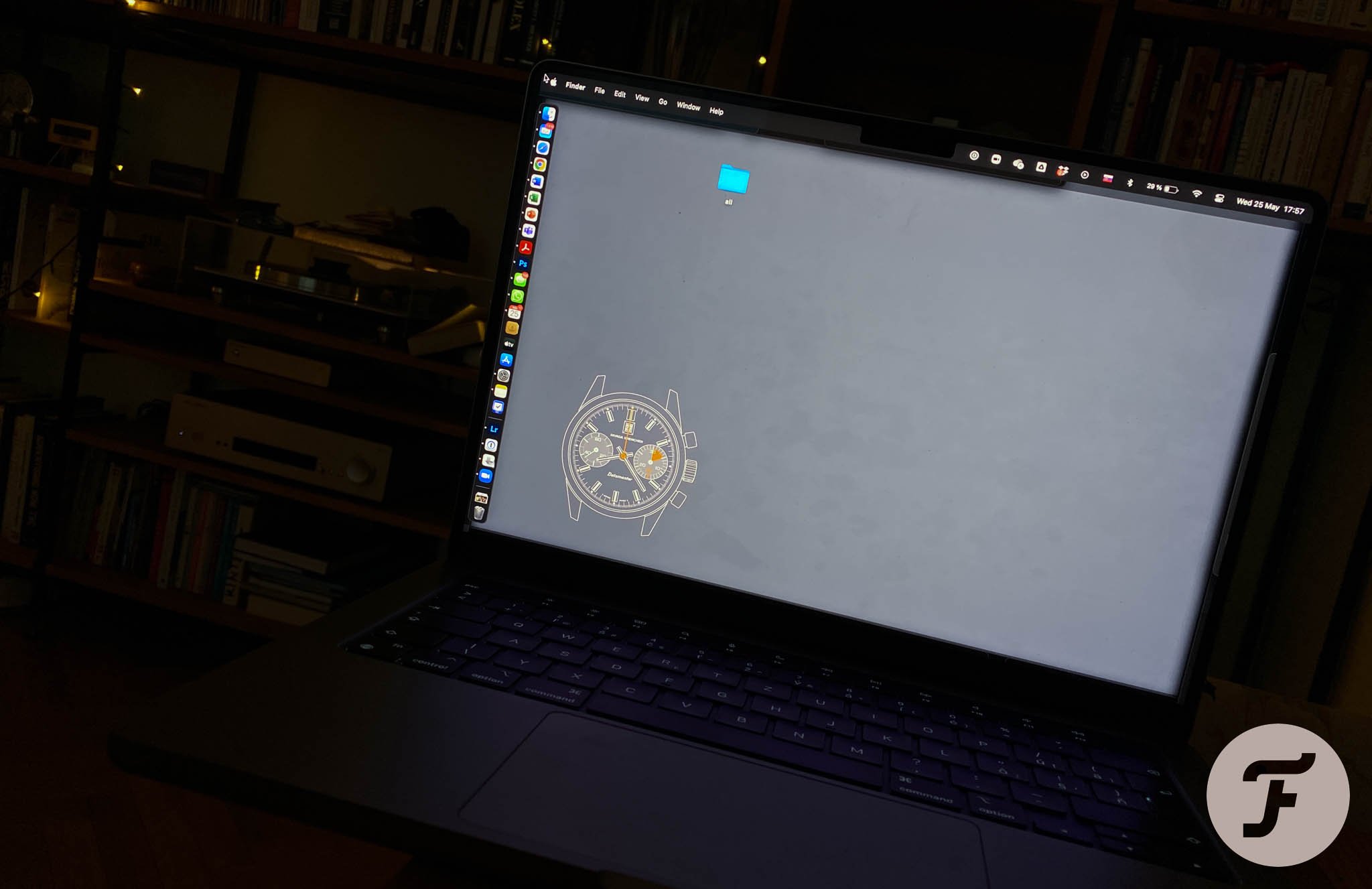 The power of Datomaster attraction
I know it might sound suspicious if you see the picture above, but I wasn't obsessed with the Nivada Datomaster. I have different grails with rare complications or impossible-to-find movements. Simply put, I just loved the Datomaster since I first saw it in Mike's #TBT article from 2015. I regularly checked for it online, but I had no luck. At some point, I put it as a background on my laptop screen. I was sure I would find one sooner or later, and this was just a part of my hunting strategy.
When I look back on how I profiled my watch collection and what's still on my wish list, it's funny that it was the Nivada Datomaster that made it to "premium spot" on my laptop screen. And it was there for a good three years in a row! By looking at it every day, I was sure it would cause one to present itself to me at an opportune moment. I decided not to change my background until I scored one. With the recent news that Nivada is planning to re-issue the gray-dial Datomaster, I was a bit skeptical and expected my hunt to be even longer. New re-editions always put their vintage counterparts in the spotlight. Surprisingly enough, the stars aligned in my favor, and I scored a solid piece a few months ago. I didn't change my background, though…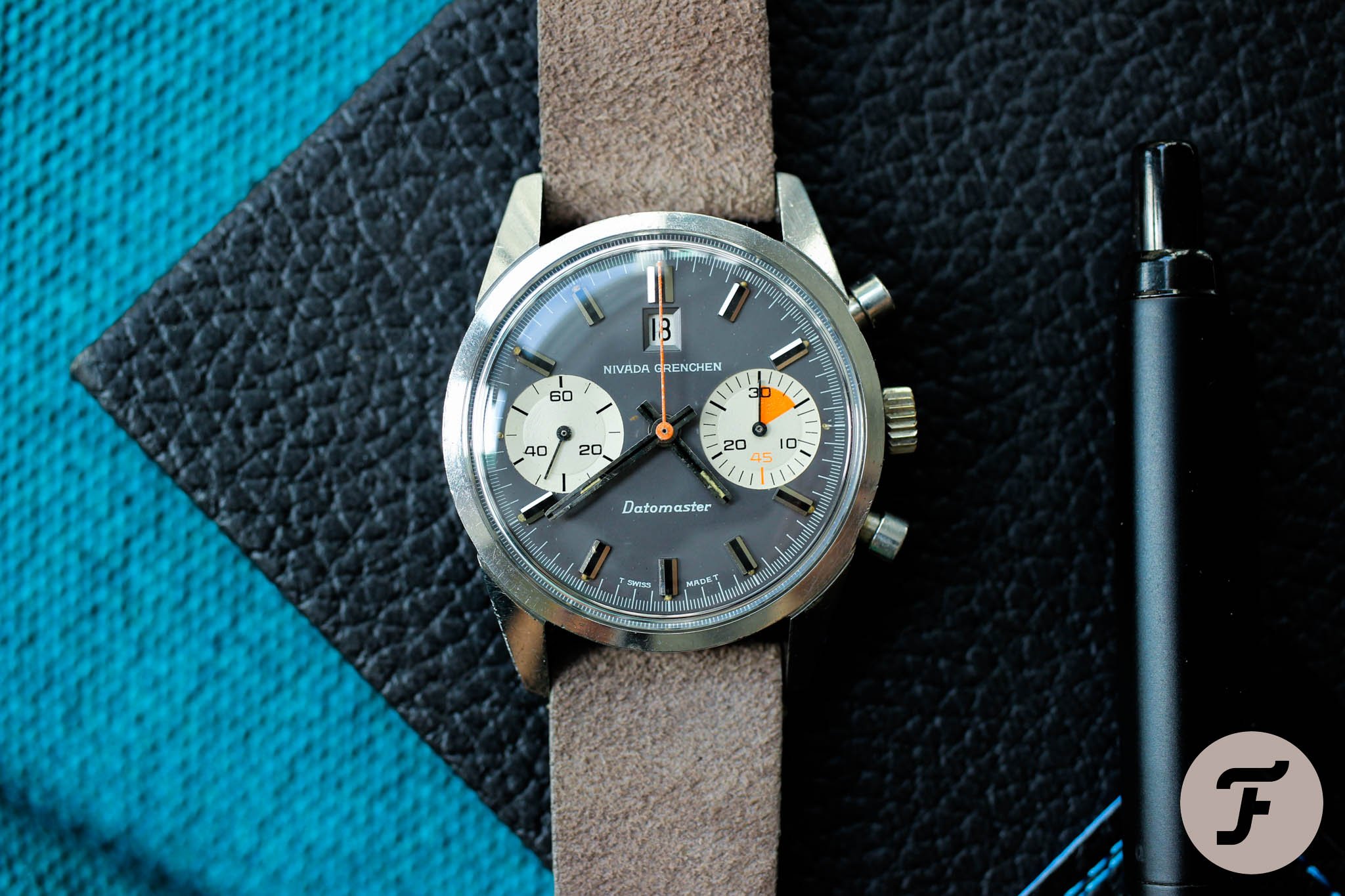 The Datomaster comeback on #TBT
I have many watches that Mike already wrote about on #TBT. I think I seldom (if ever) have written about a watch that we've already featured in this column. But the time has come to change that, and if any watch deserves it, I believe it should be the iconic Datomaster. It also has quite an interesting history that might inspire you to look for vintage watches in not-so-typical places.
Let's start from the beginning
Oddly enough, this one popped on Chrono24. I don't even remember setting the alert there, so I must have done so several years ago. I never got any results from Chrono24 on the Datomaster in past years, though. And to be honest, I don't even remember when I bought a watch from Chrono24 for the last time. So when I saw this, it surprised me in a positive way.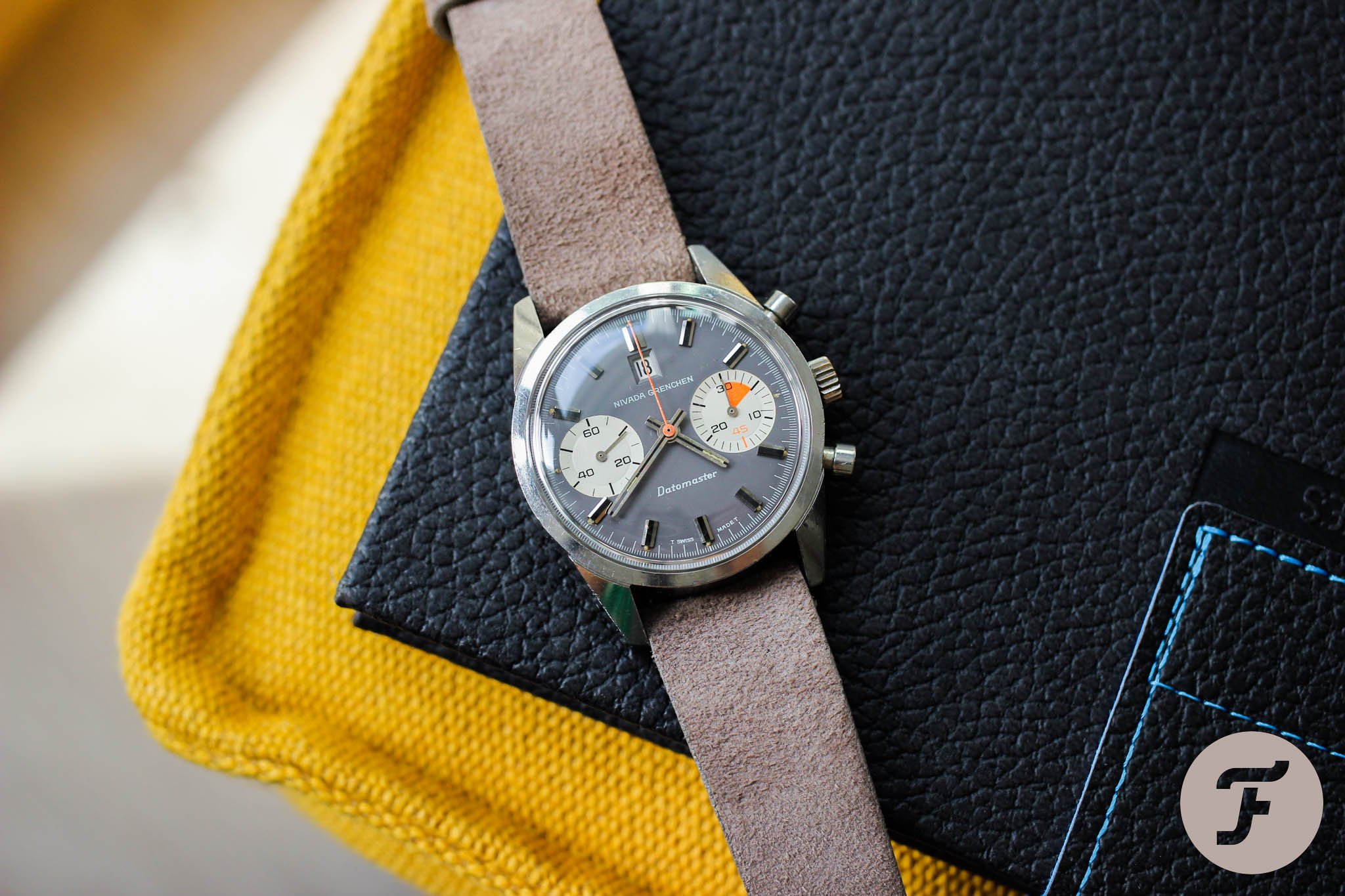 Before I paid for the watch, I did what I always do — ask the seller politely if he or she can share more about the watch's origins. Well, I usually get a negative response, which only shows how transactional watch collecting has become. First-owner stories have become rather rare. I was happy that Christian, the former Datomaster owner, was a bit more sharing.
"Four years ago, my family bought a house in Honduras from the owners of what used to be the best jeweler in the country. I found the watch in a box," Christian says, describing a collector's biggest dream. I had to read that sentence three times before I went on, and I imagined every detail of the story. "The jeweler was called Joyeria el Maxim, and it would serve different brands. After finding the watch, it got my attention, and I started reading about the company. I believe this was a trade-in. The house is from the 1980s, and the women who used to own the house passed away in the early '90s." It's funny to mention that besides finding the Nivada watch, Christian also found a white gold Patek Philippe watch. That's how I imagine the purchase of my next flat or house.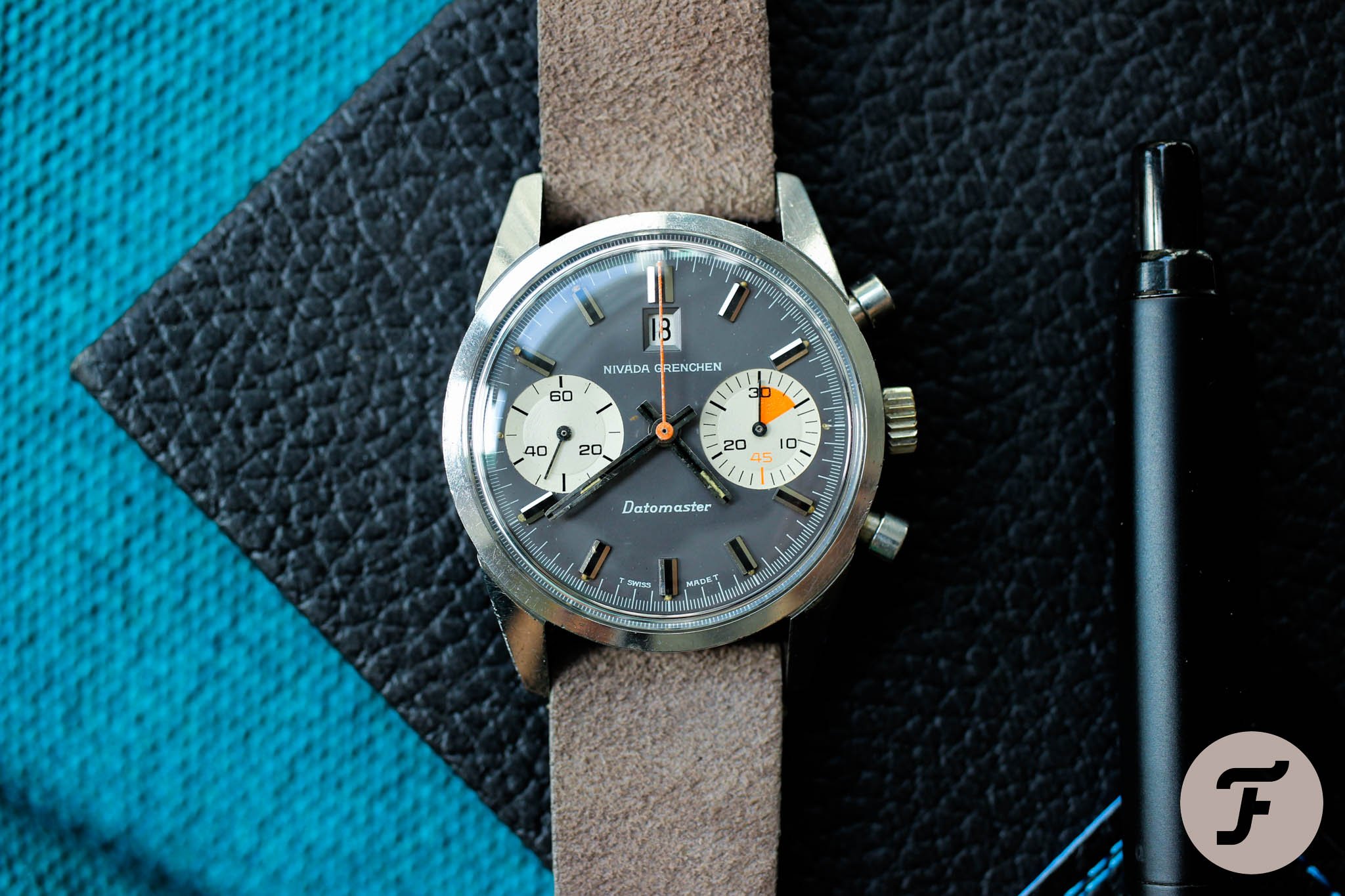 Description and the reality
Christian took the watch to a jewelry store in Miami to have it checked. He told me what they told him — that the watch was "internally" in very good condition. Well, the opposite was true. The Nivada Datomaster needed acute help. The pushers were stuck, and the movement was fixed with some eye-burning case clamps. The left-hand-thread screw on the zeroing lever was broken, causing the lever to jump off its position when resetting. It was enough to warrant an express ticket to my dear watchmaker.
Hard-to-beat visuals
I am growing out of my impatience, and usually, I don't chase my watchmaker anymore. Well, I can't say that I've totally grown up, because this time, I urged my watchmaker to get the job done quickly. That's something I used to do many years ago, but these days, I only do it very rarely. I've learned that everything needs time, but I was just super excited to see this watch on my wrist.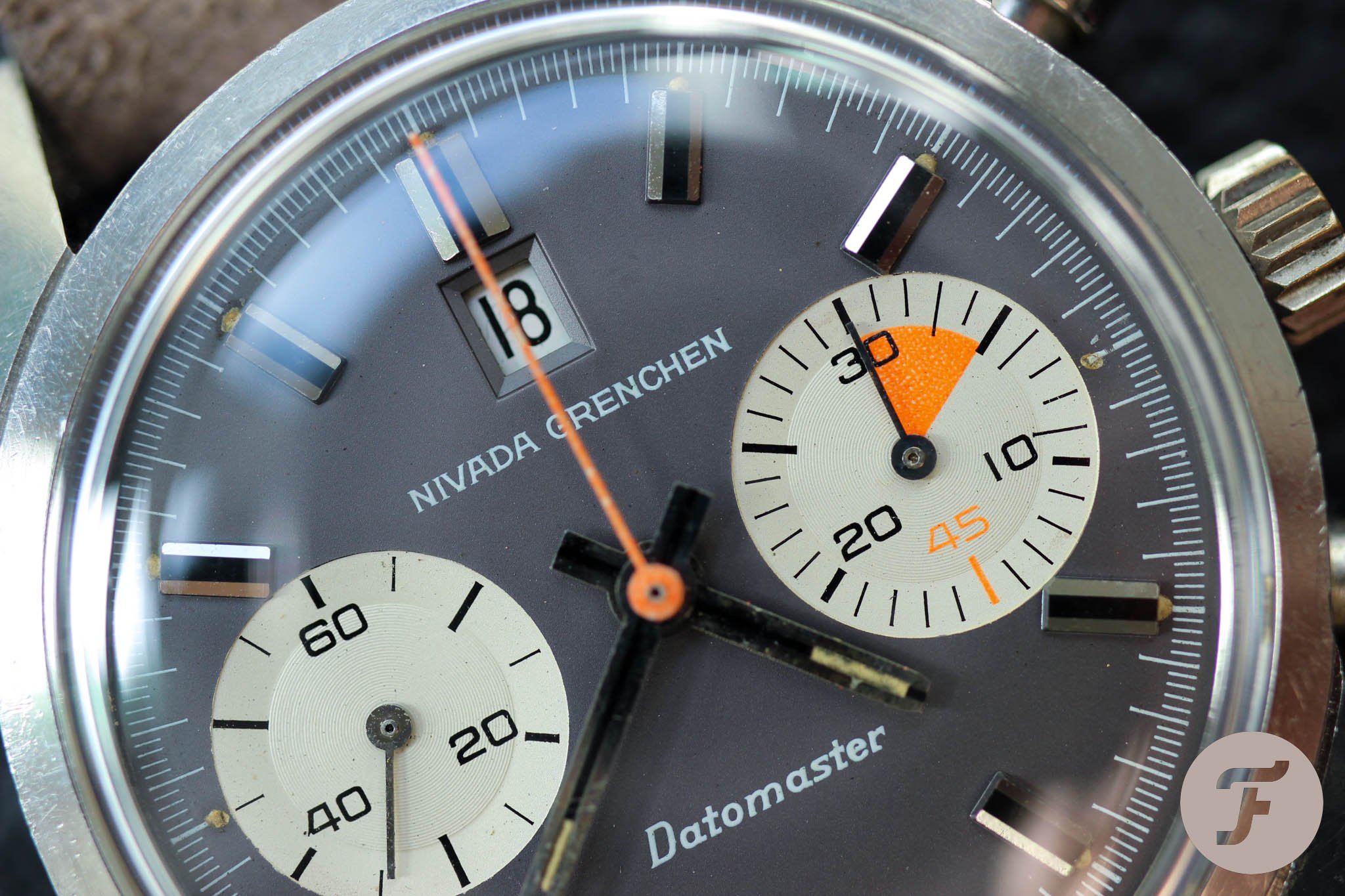 And on the wrist, it really is something. No wonder Chase Fancher from popular Chicago-based brand Oak & Oscar got one too. It's such an intriguing dial for me. Gray is pale, and well… gray is just gray. If you say "gray," I see a primer color for the fence in our garden. Only recently has gray made its comeback, and now we're even seeing it more often on cars. But however "default" or "emotionless" the color gray seems, this is so unusual and almost absorbing. It's my favorite "quattro formaggi" combination — a gray dial, white sub-dials and date disc, inevitably black markings on the registers, date, and hands, and some splashes of orange. Although there is a solid contender in the Tudor Monte Carlo, the Nivada Datomaster is the winner for me. It has way less black, hence, it's more gray.
Last thoughts
The color scheme and watch specs (which you can read about in Mike's article) make the Nivada Datomaster a really perfect summer beater. The case is pretty robust, so I am not afraid of throwing my hands wildly when playing with my daughter. I believe watches are to be worn, and my Datomaster is about to collect some tan this year, no matter how scarce the OG Datomaster is. Happy hunting.