#TBT Universal Geneve Polerouter – A Design Triumph
Welcome to 2019 as we kick things off with a review of a vintage favorite in the Universal Geneve Polerouter. Today's #TBT comes hot on the heels of yesterday's review of a pair of dress watches, the retro-inspired Hamilton Intra-Matics with smoked dials, so we're keeping on theme. The Polerouter is a far more famous name, though, and we'll take a look at what I think is a truly fetching example.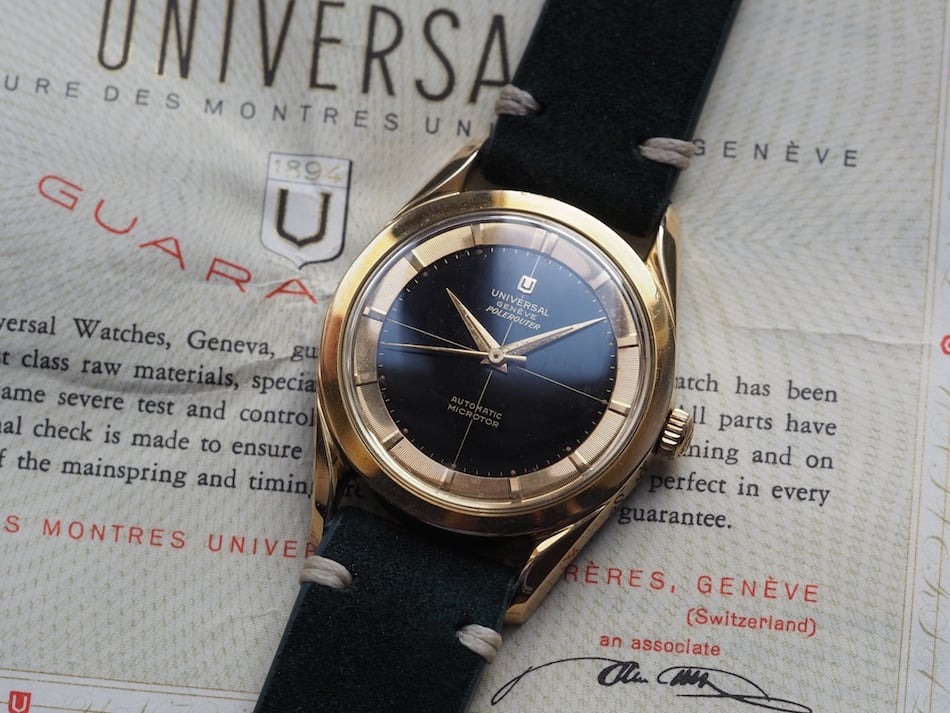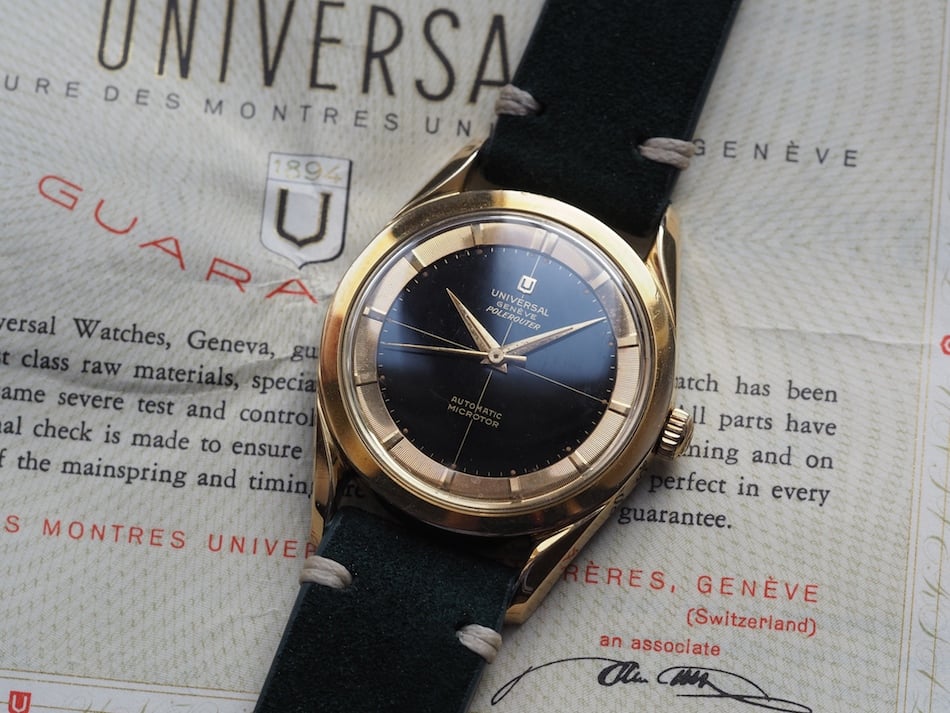 Nearly three years ago, we went hands-on with a stainless steel Polerouter Jet, a more angular and modernized offshoot of UG's flagship line. That watch featured a faceted case, slender lugs, a simple dial, and the novel Microtor movement. Our example today is a more typical Universal Geneve Polerouter and was designed by Gerald Genta. It's gold-capped, contains a lovely black gilt dial, and seemingly has seen little wear during its lifetime. This UG was well taken care of, though, as it saw multiple services that are indicated on the inside case back. Also, and you can see this in all of the pictures I've taken, the watch came with its original paperwork. By the way, this watch will celebrate its 60th birthday this year; it was delivered in 1959 to a shop in Geneva.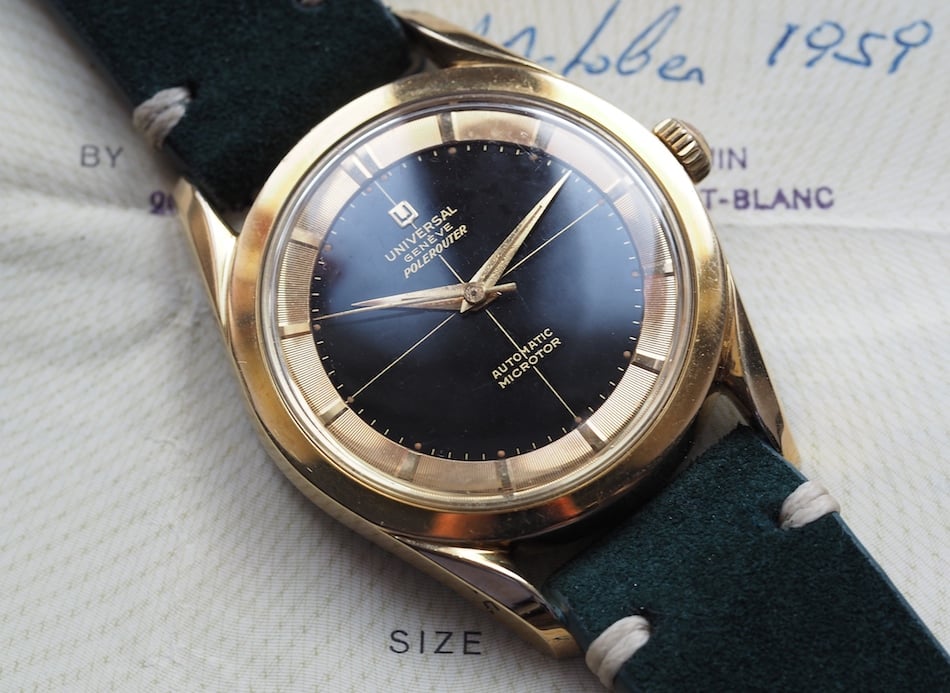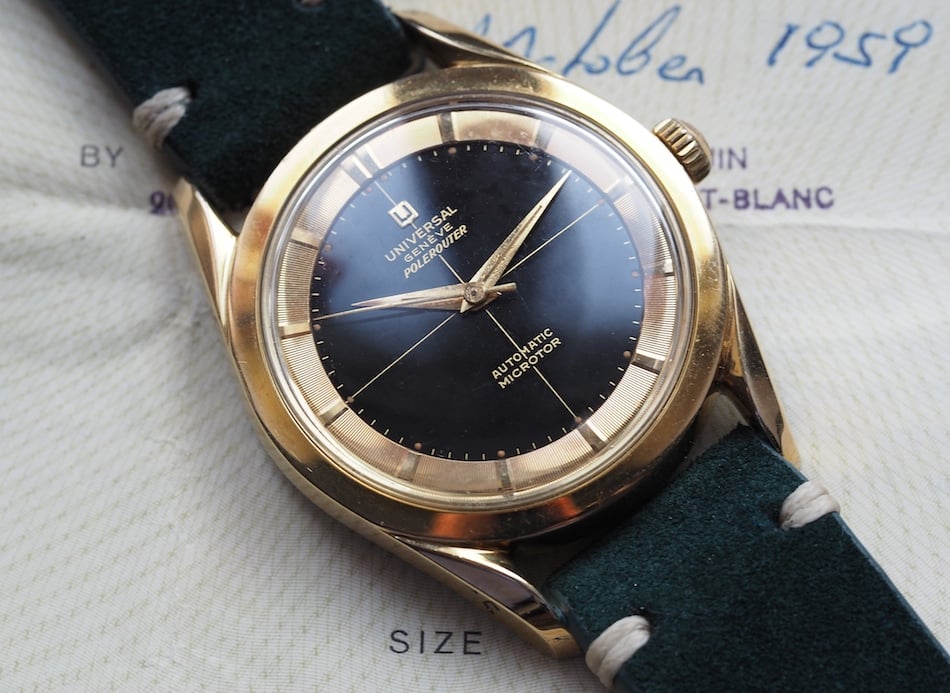 While I do enjoy gold watches, I normally steer clear of gold plated or capped pieces, but when friend and collector Wayne Puckett shot me a note about this particular Universal Geneve Polerouter on eBay, I took notice. Wayne knows a thing or two about these watches and he could tell, despite so-so photos, that this was a nice piece. He wasn't wrong and a couple weeks after I forked over a negotiated $600 or so, the watch arrived. Aside from some dust under the crystal – likely as a result of on of those prior services – the watch was in fantastic condition. I notice no gold loss, the dial is in great shape complete with its lume pips at the hours, the lumed hands look complete, and the original signed crown is present. So, it was great advice from Wayne.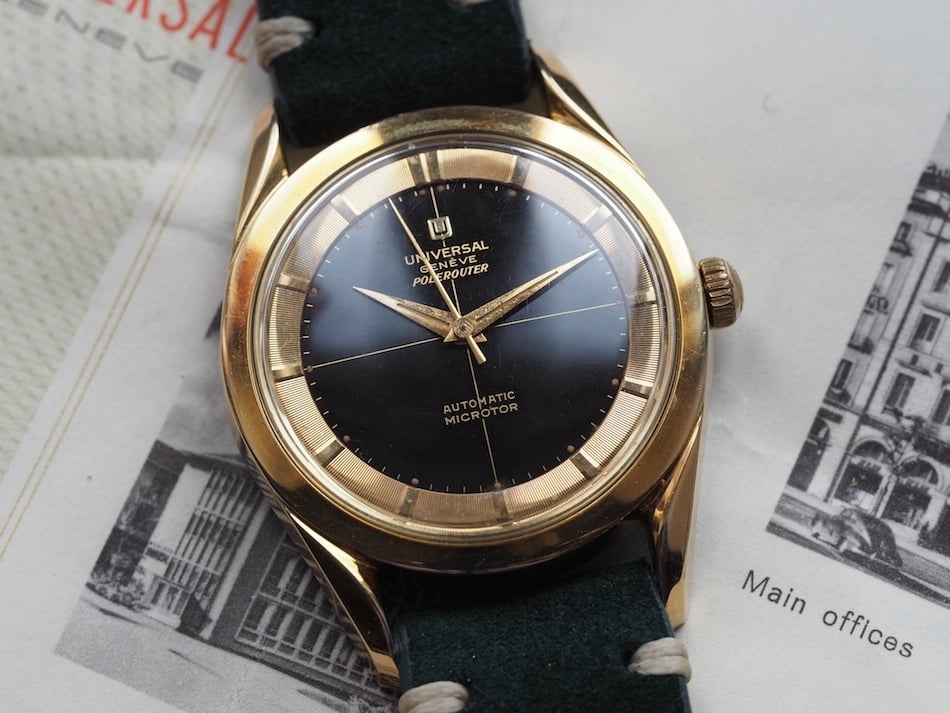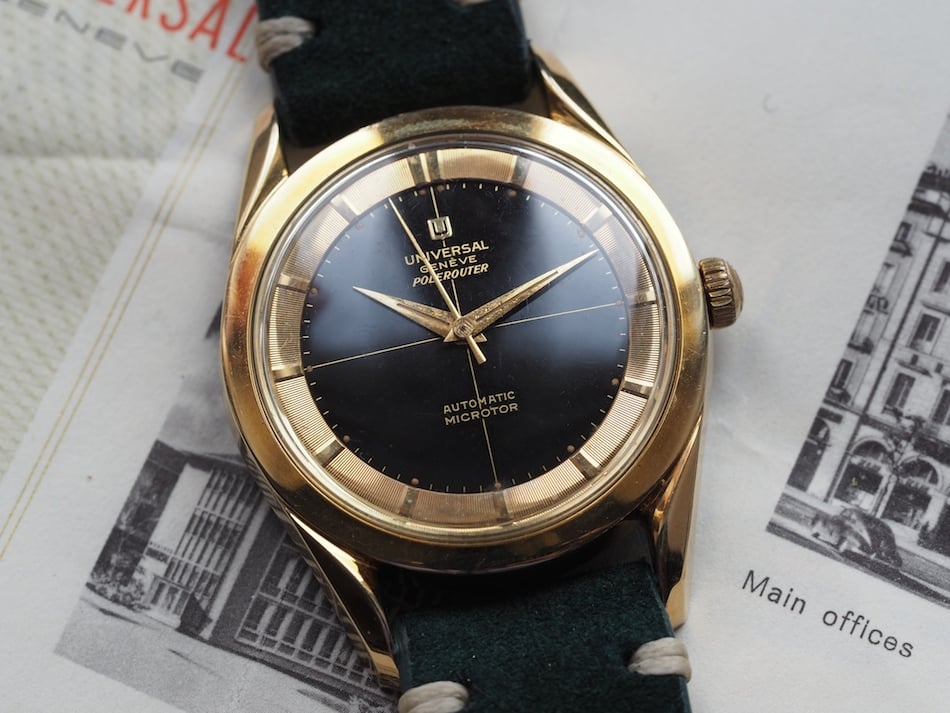 First introduced in 1954, the Universal Geneve Polerouter became famous for being worn by SAS pilots as they flew the Polar route for the first time in commercial air history. Offered in date and no date versions, the watches came in a variety of dial styles, in gold, steel, and capped. Movement wise, a bumper automatic led things off, but the Microtor cal 215 joined the fray in 1955 as an option. In many ways, I like to think of the Polerouter as a competitor to the Rolex Datejust and the Omega Seamaster. All the watches had some level of water resistance and were marketed as dressy watches that could survive the elements – or at least work as a tool on the arms of professionals such as pilots.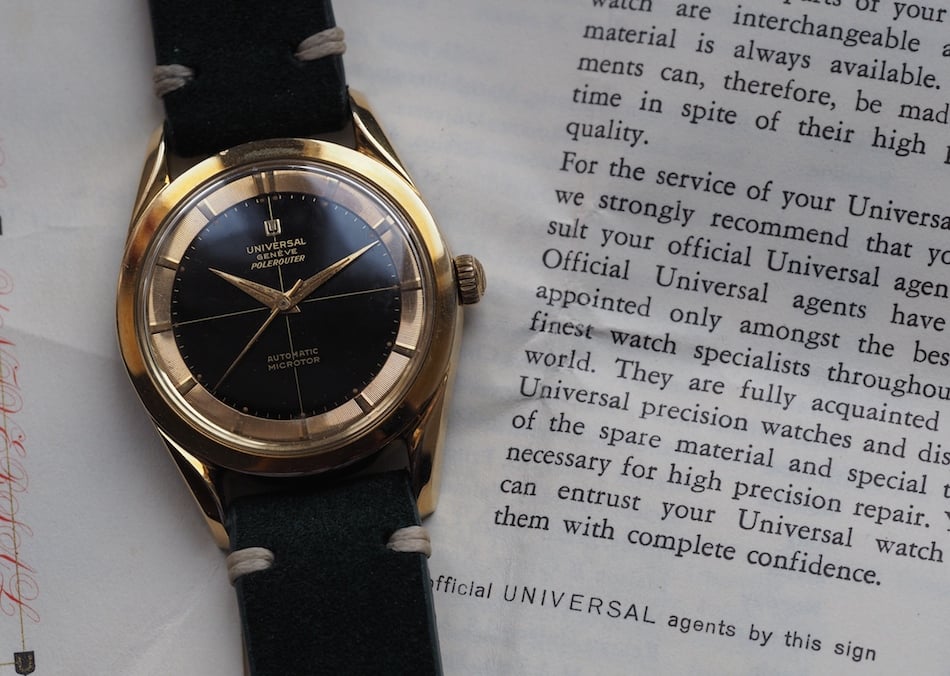 It's hard not to see the design of the Universal Geneve Polerouter as anything other than a masterpiece. Those flowing twisted lugs and the thick bezel come together to create a beautifully proportioned watch.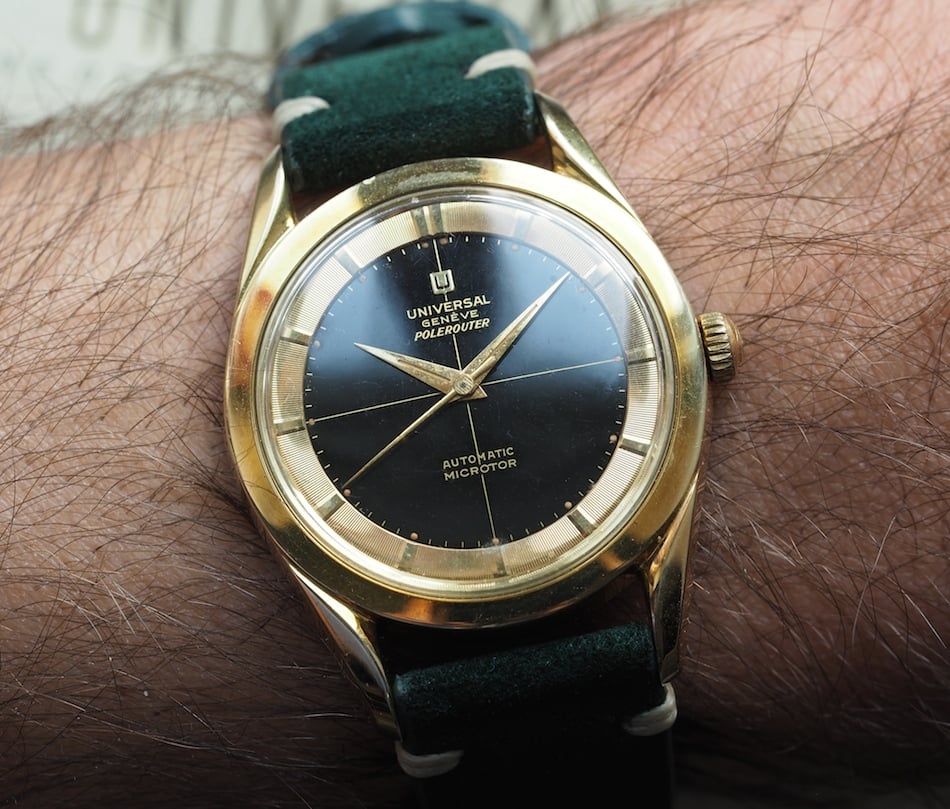 With 19mm lugs, the Universal Geneve Polerouter was also sized a little larger than most dress watches of the day despite a case size of 35mm. With a length of about 44.5mm, though, it wears much like a 36mm Datejust. Then there's the dial, which caps things off perfectly. It's restrained and simple, yet there's a real element of grandeur. With its detailed gold outer ring that evokes the machine age in combination with a cross-haired black main area, the dial is supremely legible and seriously classy. The applied logo is simple as are the dagger hands that contain just a stipe of luminous material. Even the gilt writing is kept to a minimum, but a nice touch is the italicized model name to provide a touch of differentiation.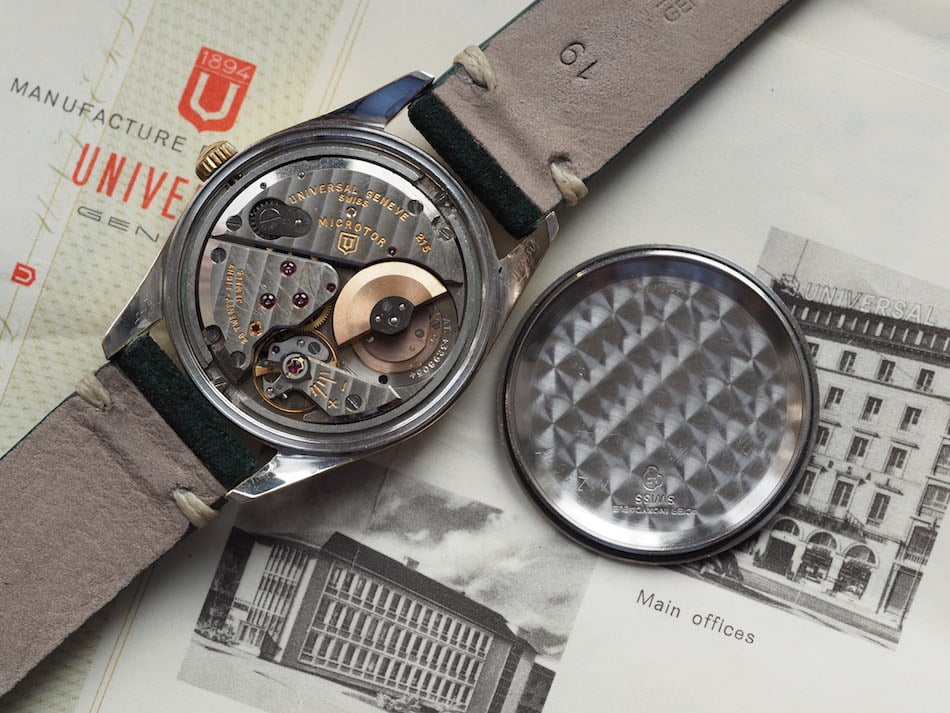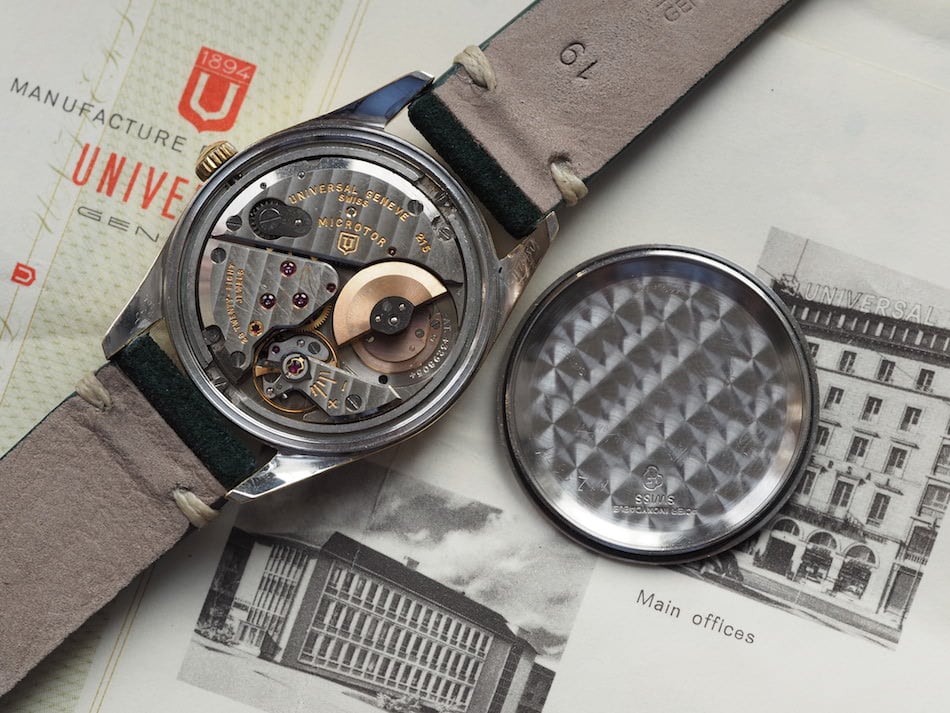 We've discussed the Microtor in the past and it's present here on this Universal Geneve Polerouter. You can see that it's an absolute gem inside and is beautifully finished. The gold-colored "micro" rotor, the turning on the plates, and the gold-filled inscriptions all speak to a watch that was carefully planned and highly thought of by Universal. Plus, with such a novel movement, it allows the watch to come in at a slender 11mm.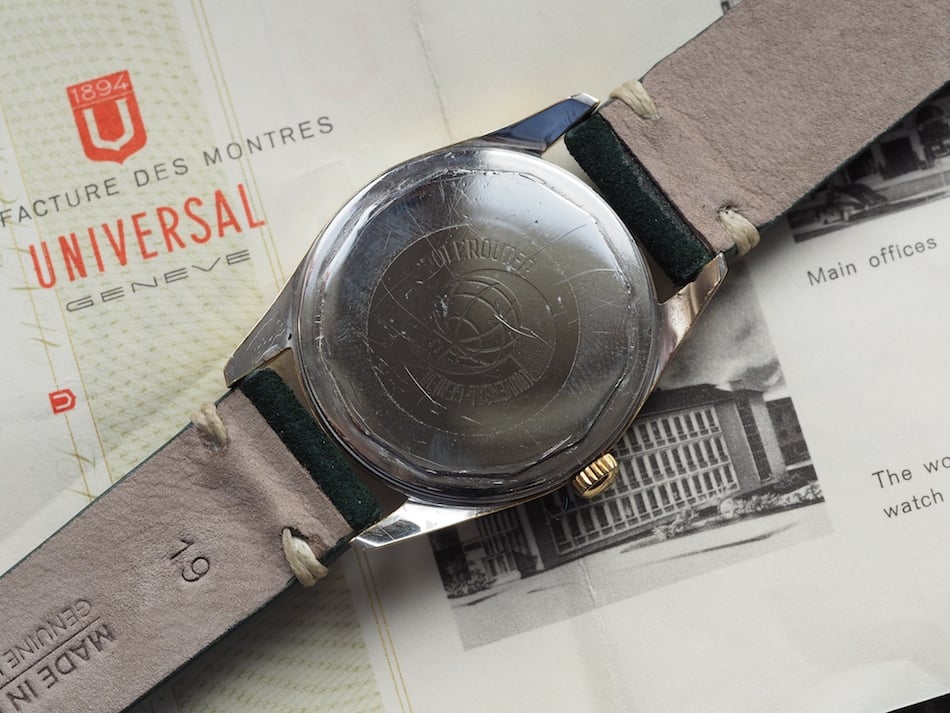 The Universal Geneve Polerouter starts up immediately when picked up and winds smoothly. As you can see, it's covered by a screw-down case back complete with the Polerouter symbol. As on so many UG's, these case backs are worn down and it takes a lot of work with a loupe to make out the serial number. Still, it's a good-looking logo indeed. Finally, when flipping over the case back, we can see that noted case maker Huguenin Freres constructed the case.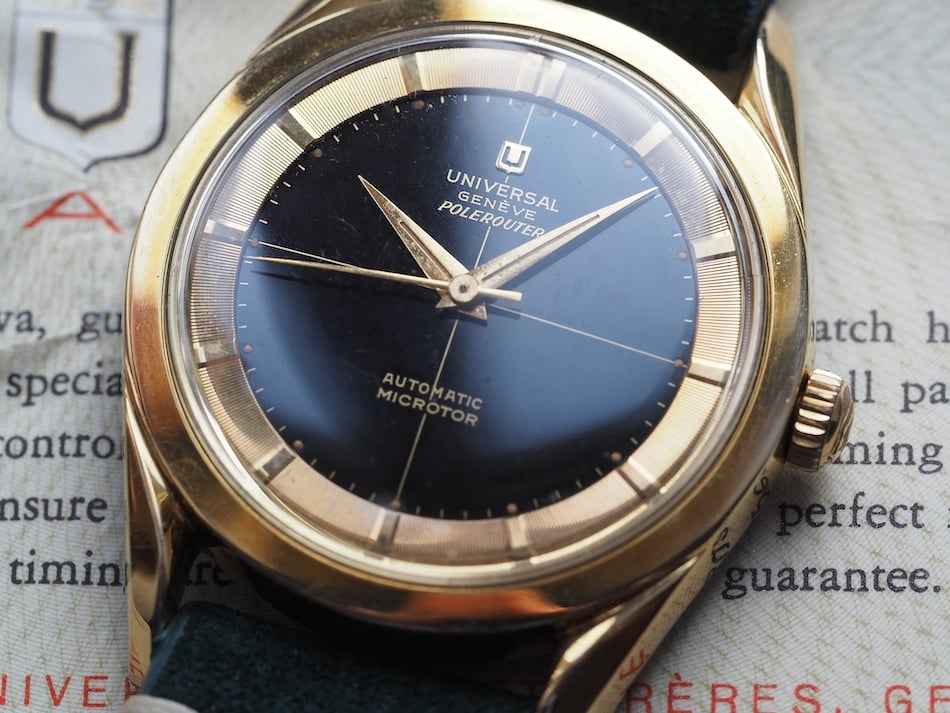 The Universal Geneve Polerouter has gone through periods of real interest over the recent past. Initial hype came about when the UG chronographs found fame around five years ago and then things went a bit quiet. Now, though, there seems to be renewed favor for these lovely watches and prices have followed. Polerouters, in general, aren't hard to find, but condition varies wildly. Furthermore, bumper movement pieces show up more frequently today on sale sites as well. Pricing is all over the map depending on the version, but figure on somewhere around $1,500 – 2,250 for a nice example like you see here. Fine stainless and solid gold versions obviously sell for more. All in all, at the price I quoted above, that's still relatively affordable money for what was a top-of-the-line dress watch that competed with all of the big names of the day. If serviced well, these watches can easily serve as part of one's normal rotation of watches.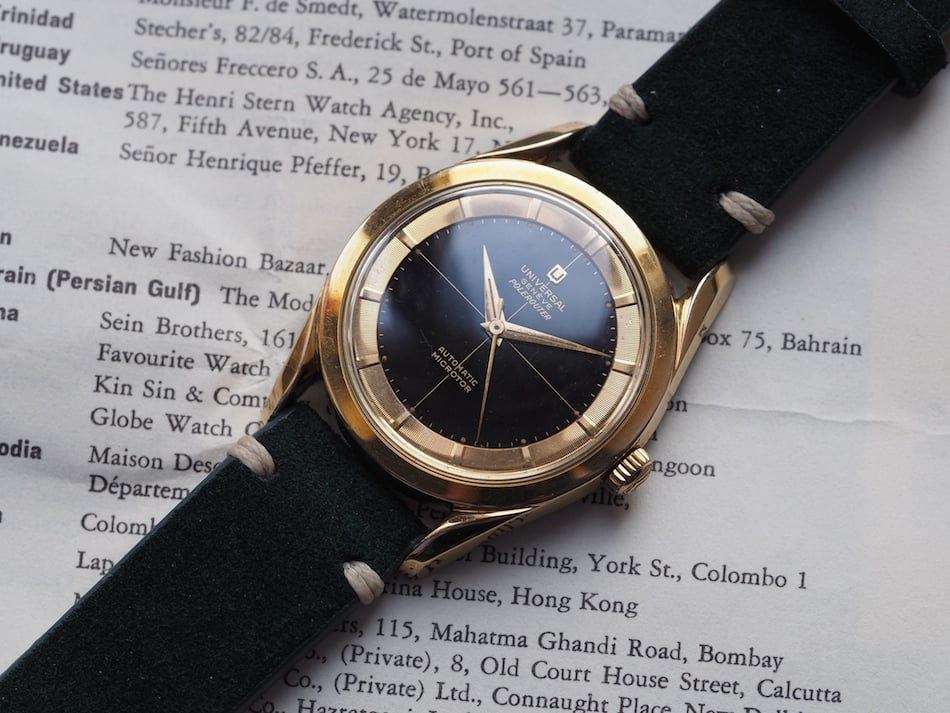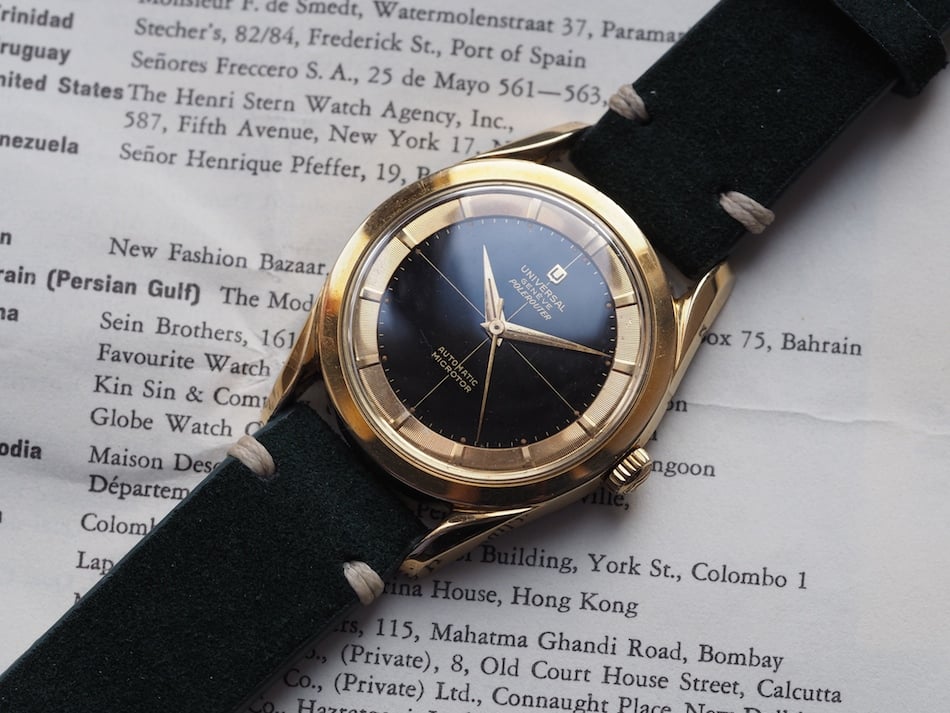 For certain, the Universal Geneve Polerouter has received a lot of adoration amongst vintage junkies. At one point, I felt this was a bit overdone and that so much of it was due to the association with Genta, but I've changed course. The Polerouter is a design triumph, but in Microtor form, it's also technically significant. Enjoy the start to your year – until next time…