#TBT Wittnauer 242T Chronograph and Some More Wittnauer
Hey wait, a #TBT on Monday?!?! Yes!!! I was in the air last Thursday on the way from the US of A and wasn't able to publish this story on the Wittnauer 242T. Big deal…why not wait until this Thursday? Well, there's a little thing going on called Baselworld. We know our vintage fan base is a ravenous one, so you get your fix early before we inundate you with new watch news! Enjoy!!
Karma can be a wonderful thing and it's really what brought me the subject of todays #TBT: the Wittnauer 242T Chronograph. You see, it was a Monday night several weeks back when I told my wife that I'd go to sleep relatively early and not troll the web for potential watches. The time was 10:27pm and I turned in. The next morning, at roughly 6:30am, I took a look at my phone and had a barrage of private messages from one @watchfred who was pleading with me to check eBay only ten minutes after I had gone to bed because a watch, the 242T you see here, had gone on sale at a ridiculously reasonable price. Well, I was asleep and I totally missed it. But did I? No, I didn't because Fred actually bought the watch on my behalf – more on the process later because it's amusing and very Fred – and let me squirm a little before telling me that it was mine. Now, the crazy thing is that Fred is a generous guy, but as a collector first and foremost, it would have pulled at my heartstrings to let the Wittnauer go  – his museum actually doesn't contain one – but he's a true gent. The next day, though, if there were any pangs of remorse, karma reared its head in a big way as he landed the Universal Geneve "Nina Rindt". So, now that you have a little insight into how this piece ended up on my wrist, sit back and settle in for an extended version of #TBT on Wittnauer and the magical 242T.
Was the Wittnauer 242T tested by NASA?
Ok, let's get something straight about the Wittnauer 242T. There's no proof that this watch was the reference tested during the NASA trials that ultimately saw the Omega Speedmaster Professional win out as the official astronaut's watch. It could be the watch, but I want to make the distinction clear because the 242T is always referred to as the Wittnauer-Longines entry in for-sale ads and as some have said, it makes for a good story that certainly aids pricing, but there's no proof. In fact, some have postulated that the actual testing watch is the earlier 235T, but I've not been able to find any real proof for this either. Perhaps the timing works out better as far as watch production and testing for the 235T, but the bottom line is that we don't know what models of any brand NASA tested aside from the ultimate winner.
Wittnauer was no second fiddle brand
Let's also set something else straight about Wittnauer the brand. Most people think of Wittnauer as the lower cost entry from Longines and while this may have ultimately become the case, it wasn't during the 1960's and earlier. Longines did ultimately come to own the brand in 1950, but prior to this, Wittnauer was a NYC-based importer of watches – including Longines and Jaeger LeCoultre – and seemed to utilize private brand labeling for their own Wittnauer watches. In 1950, when Longines bought the brand, they were kept as separate and Wittnauer utilized their own production facility.   While this likely changed at some point, the Longines ownership of Wittnauer remained until 1995 when the Swatch Group sadly sold off the Wittnauer name. As you can gather by looking at Wikipedia, Wittnauer did some significant things during its history from an aviation and military perspective; this brand wasn't second-rate. As a bonus to this article on the Wittnauer 242T, I've included some shots and brief commentary on some of the other fantastic looking vintage chronographs from the brand and you'll see there's plenty to like.
The Wittnauer 242T is a knockout!
Back on track now as we get into the Wittnauer 242T… The reason why I tracked an example of this watch for over a year is simple; it's gorgeous. One look at the mostly matte black dial explains the fascination because it is – well – fascinating. In fact, that dial is so detailed that it makes time setting and reading a real chore! When I received the watch, I even thought that it was running incorrectly but it was really because I mistook the outer track – decimal minutes – as the standard time minutes. You can see why, after 10 minutes, I had some concern. A quick word about the decimal timing found on this piece (we hit upon this in the recent Meylan article) because it comes back to the space argument for and against the 242T. I have no idea if NASA required a tachymetre bezel or not, but some felt yes. The more interesting response, though, was that a tachymetre is pretty useless at the speeds incurred during space travel.
Coming back to the dial on the Wittnauer 242T, it must have been an absolute bear to produce. I say this because I've seen certain versions that could likely be mistaken as redials, but I don't think they are. No, I actually think they're evidence of printing that blurred upon removal of the printing template. Aside from the beautiful busyness of all the white font that makes up the outer decimal track, the inner ring showing regular minutes, and various other writing designating the sub registers and model name, we're left with some amazing lume plots. These tritium dots are amazingly high in height and jump off the dial in orb-like fashion. If Wittnauer wasn't thinking of space, it's a surprise as the dial actually reminds me of a star or planetary chart. The other neat detail on the dial itself is the fact that all of the sub registers are ringed in glossy black. It's fairly subtle when viewed at some angles and adds a touch of elegance to a rather sporty dial.
Moving on, another trademark of the Wittnauer 242T is its hands. I think they're notable because a) they're often relumed and b) they're big and bold. Wittnauer chose to complement the big lume dots on the dial with hands featuring a strong dose of tritium. I'd say that these are arrow-shaped hour and minute hands are almost all-lume aside from a rather thin border of silver. It's this massive amount of lume, by the way, that often breaks apart after nearly 50 years and gives way to glowing green relume. And then there's the central chronograph hand that contains a large lumed lollipop (some alliteration for you) counterbalanced by a silver dot on the other end of the hand. Essentially, it apes the dial design with its abundance of circular shapes. Yes, the 242T is complicated, but it's wonderfully executed and so different than the bulk of chronographs from the same era.
When it comes to the specifications of the Wittnauer 242T, we have a recipe for the textbook classic vintage chronograph. The case is in stainless steel with a diameter of 38mm and it features some beautifully chamfered lugs. The triangular style is typical of Wittnauer but also of other watches of the day such as Heuer's Autavia and various Breitling's such as the Co-Pilot and Navitimer. The lugs are spaced at a convenient 20mm, which is a bit of a departure from most watches of the time at 19mm, but it makes finding straps easy. Other exterior aspects are a polished steel bezel that meets up with a heavily domed acrylic crystal. This crystal is wonderful, but it makes photographing the dial quite difficult!
A high-class detail on the 242T is a signed crown with the Wittnauer symbol. It's nicely sized, but I'd prefer something a little thicker or larger in diameter. Likewise, the pushers are nice little pumps and come off as a touch flatter than other pieces I own. Perhaps Wittnauer was looking to downplay the controls in order to allow more focus on the dial?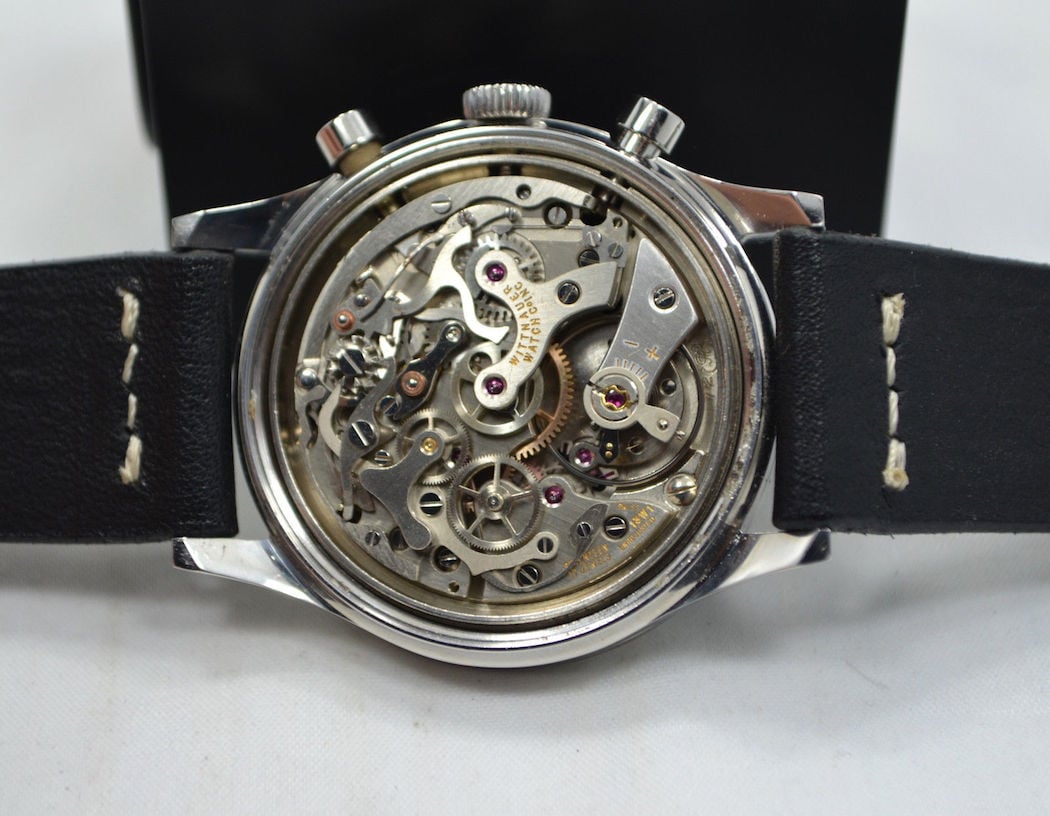 The Wittnauer 242T features a Valjoux 72
What's a classic vintage chronograph without the right motor, though? Well, we're not to be disappointed because inside the Wittnauer 242T sits the iconic Valjoux 72. It's signed but unadjusted as in so many other brands. I mention this almost every time, but here goes again: the V72 is found in everything from the Heuer Carrera to the Rolex Daytona. So, yes, the Wittnauer is in good company and as we shall see in the post-article gallery, the brand utilized these movements heavily.
A screw-down case back simply ordained with "stainless steel" protects the movement.
The Wittnauer 242T on the wrist
It goes without saying that I was pretty excited to receive the Wittnauer 242T. Beforehand, I chatted with Fred about strap selection and we ultimately came to black or charcoal as the right choice and likely with black stitching. I must say, though, the black strap with minimal white cross-stitching that the watch came with is pretty darn flattering. In fact, this is the strap that the watch was sold with two owners ago (I found the watch on Google images and it pointed to Matthew Bain's site) and it seems like it went unused. Anyhow, the watch wears beautifully and is everything I thought it would be. It's a great size and can really be worn with anything due to its dark color. The only "dislike" I have is that it is in such great condition that I fear scratching it!
The Wittnauer 242T Marketplace
I mentioned that Fred actually pulled the trigger on the Wittnauer 242T on my behalf, but what I should mention is that he had a little fun that evening during the period in which he thought I'd still check my phone. You see, this watch was listed with a very reasonable $3850 buy it now price on eBay and amazingly included a best offer caveat. Well, Fred is never one to not strike a bargain, so he fired off a lower offer and $3,500 was the settled price. Me? I would have hit the button, but perhaps I should go to sleep more often and put Fred in charge of negotiating on my grail pieces! Still, this was an excellent deal as these 242T's now seem play in the $4,000 – 6,000 range and, again, this one is in sublime condition. The only thing this piece is missing is the optional steel bracelet but those do seem to come around every so often. So, yes, if you're hunting a 242T, prepare to be patient as they seem to be relatively rare and get ready to pay a decent sum. Also, like most vintage watches, I'd refrain from incomplete 242's as I've never seen parts come up for sale. Do note, however, that some variations exist with less detail on the dials, less writing, and some even without the lollipop chrono hand. Little is known about these different variants, but they do seem to be accepted within the collector community. As mentioned, relumes are typical on the hands and you ultimately have to decide if they've been done with care. For me, it's probably the one watch where I would have willingly made the allowance, as I was so hungry to find one.
For me at least, the Wittnauer 242T is one of the more unique and desirable vintage chronographs in existence. It's dark and contains a wealth of details that add to the intrigue. Whether this watch has any tie to the space race is anyone's guess, but it really doesn't matter to me; it's a great piece. Stick around because, as promised, it's time to show you some more lovely Wittnauers. Until next week…
Other worthwhile Wittnauers
Wittnauer produced some highly compelling chronographs in the 1960's and 1970's. From what I can tell, every model contains the model number on the inside case back, which is a real benefit versus many other brands that leave you wondering for the designation. I've also found that most Wittnauers seemed to use the word "Professional" on the dial of all their chronographs during this period. Finally, note that Wittnauer favored the Valjoux 72 for its 3-register models: another advantage and a clue that the brand valued quality. Let's take a look at some mostly colorful models.  A big thanks to the various sources for the following photographs.
The 235T, as discussed before, is often mentioned as the "real" watch tested by NASA, but no one can confirm this. The 235T is probably the most common Wittnauer that one sees for sale and can still be found for less than $2,000. Earlier dialed versions lack the "Geneve" on the dial and it seems that later dials are often found as spares on the market in NOS condition. Service or overruns, I don't know, but they're nice looking watches. The Valjoux 72 is inside.
The red/orange model also features the Valjoux 72 inside. Unfortunately, I don't know the model designation, as it's a rarely seen variant. I did come across one in NYC this past holiday season with a price tag of $4,500. That's a hefty New York premium in my opinion, but the red/orange chapter ring is certainly eye-catching.
The 228T features a Venus 188 inside and brings some amazing colors into the fold. It reminds me a bit of the Universal Geneve "Exotics" with Valjoux 72 with their similar hues. Prices on these rare beasts seem to hover between $1,500 – 2,500.
The Wittnauer 8024 242T "Panda" is basically the same as the 242T reviewed in today's article aside from the wonderfully different dial. Check out the rightmost register for a little splash of color. The Valjoux 72 powers this rarity and pricing is in the $3,500 – 5,000 realm.
The Wittnauer 245T brings in a c-case design with Valjoux 72 and GMT function (724) and pepsi bezel. These are big chunky watches that can still be found for less than $2,500.
The Wittnauer 246T uses a similar c-case design as the 245 but features an amazing roulette style dive bezel. These pieces come up every so often on eBay and tend to sell for less than $3,500. This is a fantastic watch with great details and also features the Valjoux 72.
Probably the most famous Wittnauer is the 7004. This is a 2-register chronograph with a burgundy bezel. It's notable for sharing a case with the Nivada Grenchen/Croton Chronomaster. Also, this watch is notable because, like the Nivadas, it can be found with the Valjoux 7733, Landeron 248 and Valjoux 92. Pricing ranges from roughly $1,000 – 2,000 depending on movement. These pieces were once very common, but have become scarcer with the increase in popularity of the vintage market.