#TBT: Zeno Tennis watch
Quirkiness at its best in a 1970s sports watch
I wanted to call it a poor man's Richard Mille at first. After a week spent on my wrist though, I changed my mind. I would now call it a cool man's Richard Mille. After all, there were only 600 pieces ever produced.
Richard Mille did it!
It was truly glorious when Richard Mille signed Rafael Nadal, someone who always refused to wear a watch. It had never even occurred to him to wear one while playing. Nadal was reluctant, so Richard Mille had a lot of convincing to do before they sealed the deal. Debuted at the 2010 French Open, the RM 27 Rafael Nadal Tourbillon weighed a mere 18 grams. Since then, two more models were introduced – the RM 27-02 in 2015, followed by the current RM 27-03 model released in 2017.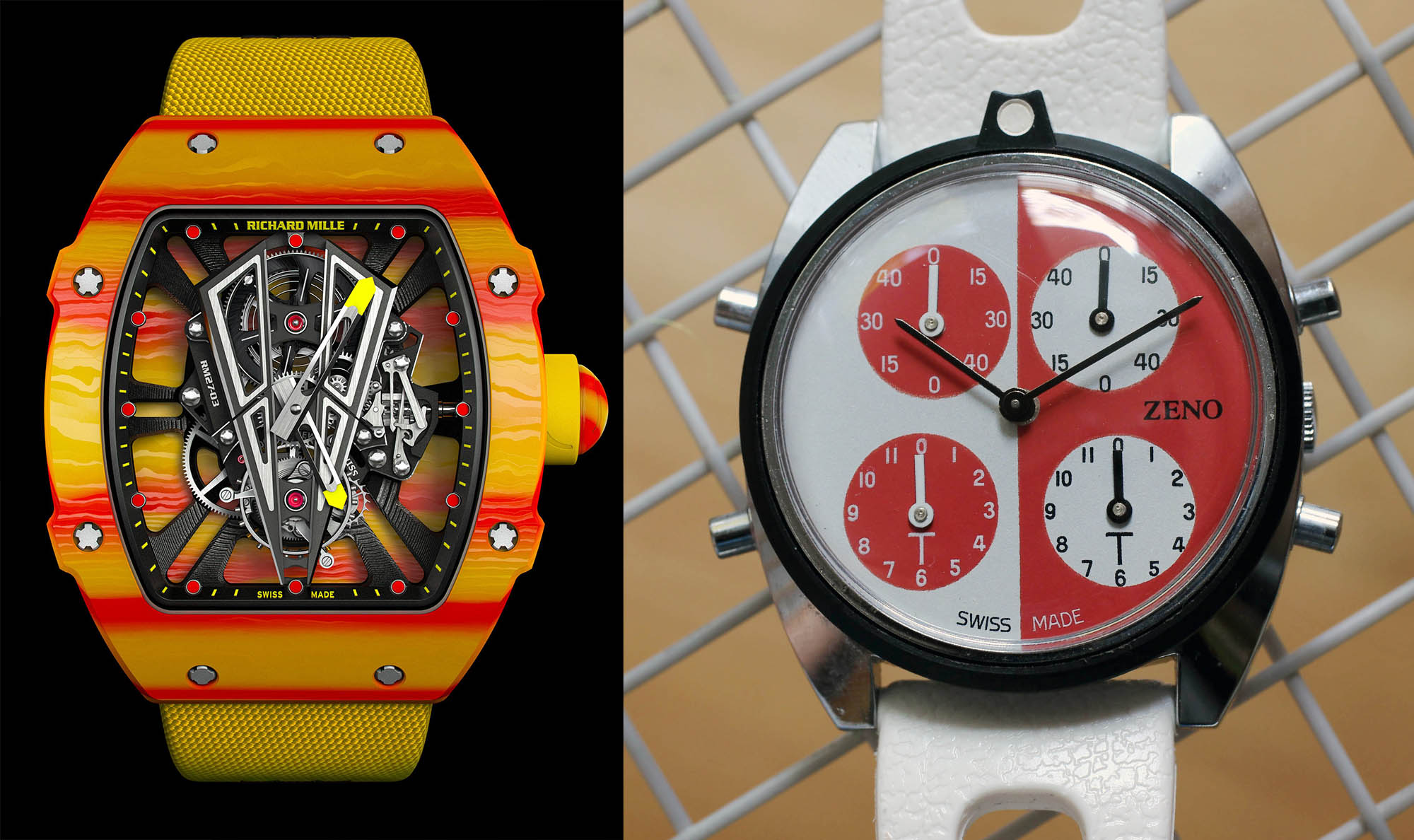 Naked truth brought me to Zeno
I love tennis. It is the only sport I play regularly. But from what people have said about my tennis skills, it doesn't look like I could go up against Rafa. What I don't have in skill though I make up for in enthusiasm for the game, so it didn't take me long to find a perfect tennis watch while browsing Google one night. One that not only matches the non-existent price money I get for my matches but also satisfied all my vintage, quirky desires.
Meet the Zeno Tennis watch
I could not believe what Google served me when looking at the Zeno Tennis watch for the first time. In front of my eyes, four imperfectly aligned sub-registers for counting games and sets, divided into pairs with an inverse design. Bottom sub-registers for counting sets up to twelve sit further apart from the central line than the upper subs. The result of technical necessity or imprecision? Well, as there is precisely zero information on this Zeno available online, I would only be speculating. It is as it is, time to move on.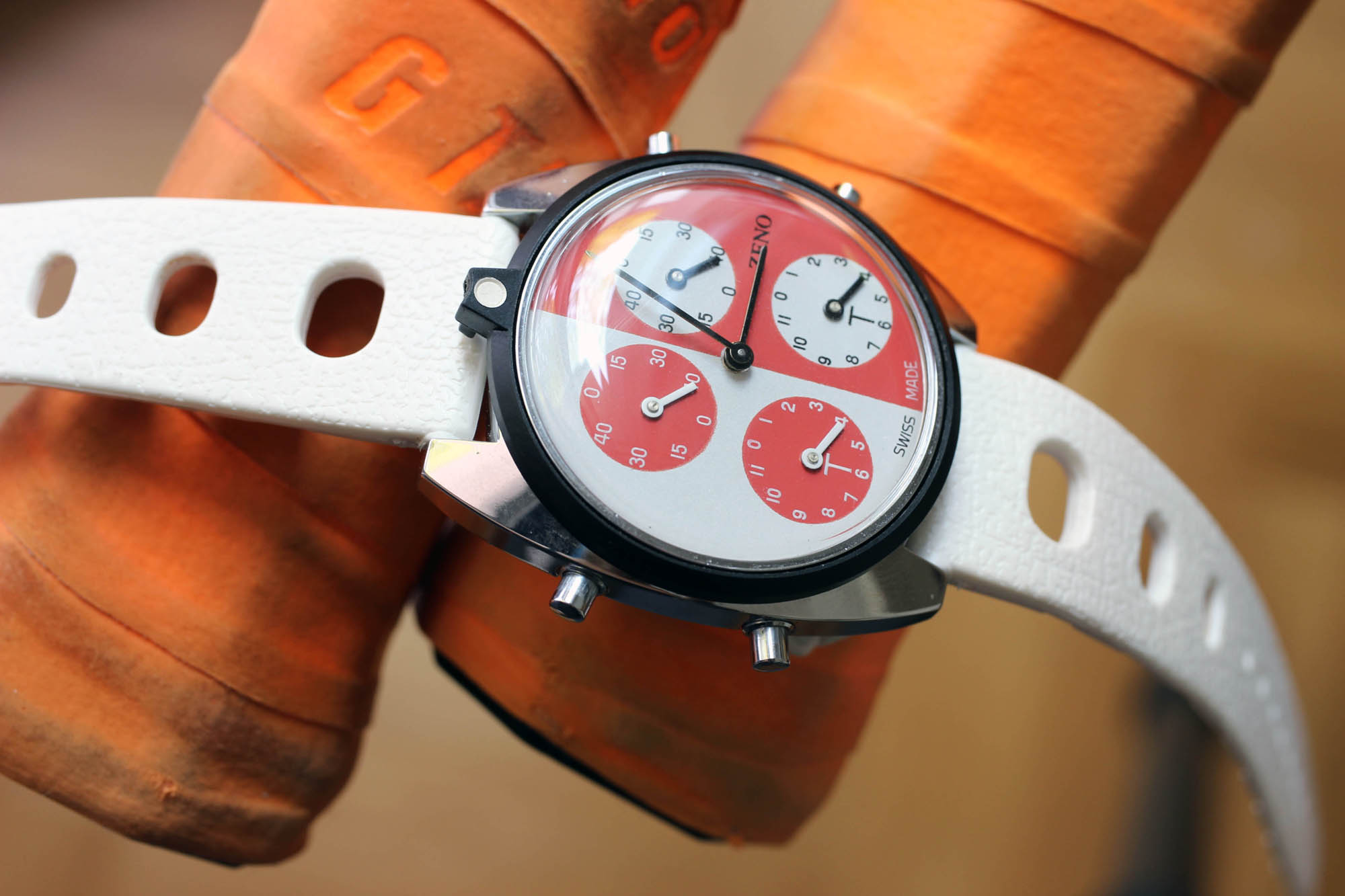 Time-reading problem
There is so much that the Zeno Tennis and Mille RM 27 have in common. Try to guess – which is precisely what you'll be doing each time when trying to tell what actual time it is looking down at the dials. I really cannot decide which one of them fails on time reading more. But I do admit, we all know that time-reading is not what is supposed to motivate us when buying either of these watches.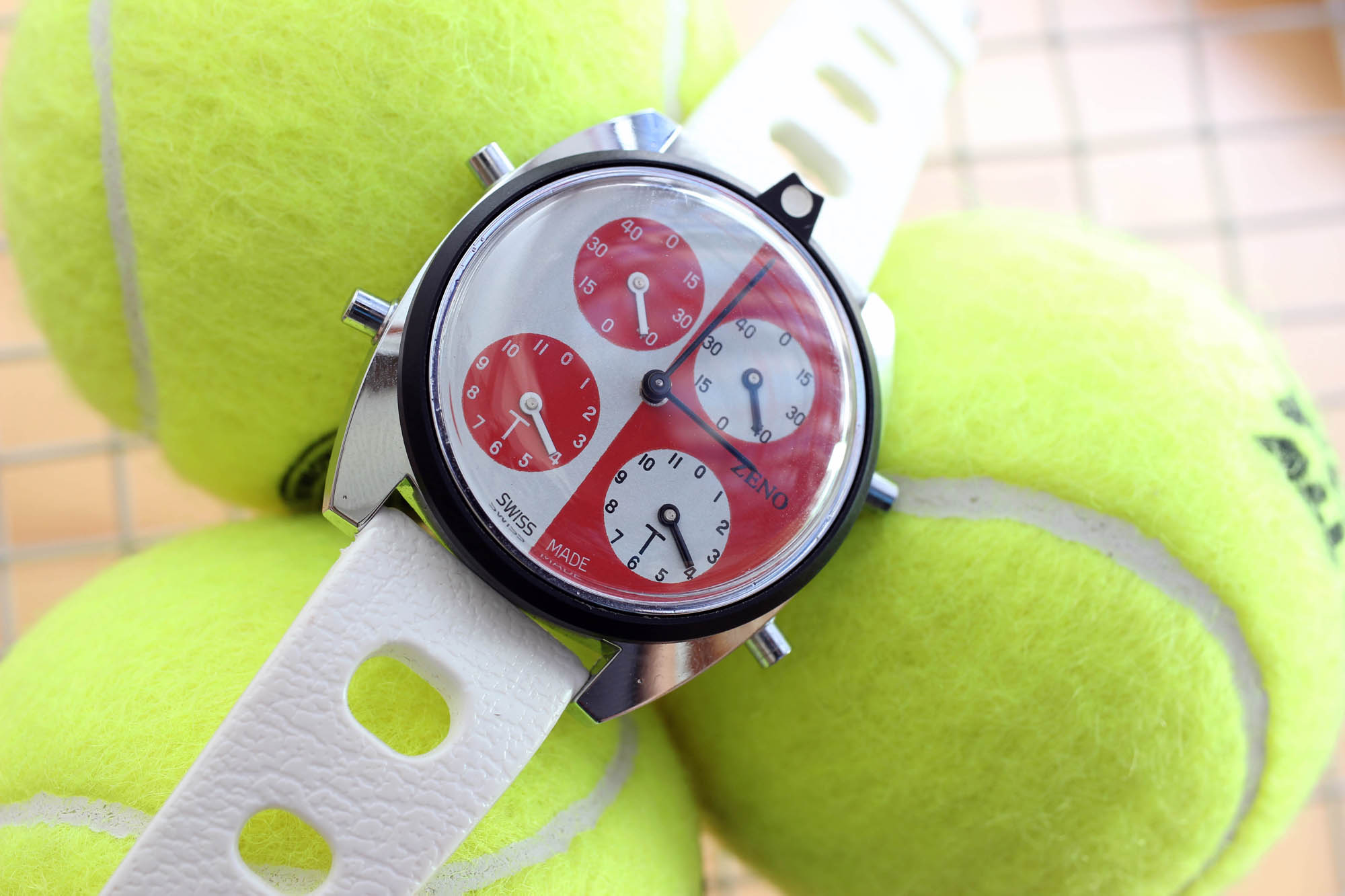 Zeno versus Richard Mille
Your second guess might be related to the price where similarities can once again be found. Both watches come with an unbelievable price tag. I first planned a side by side review, followed by a fantastic case by case photoshoot. I am kidding. I don't have $725K to fund Richard Mille's RM 27-03. But when I said the price tag is shocking on both watches, I wasn't lying. You can grab the sporty tool Zeno Tennis watch for a ridiculous price 100 to 200 Euros. Do not expect it to withstand shocks of up to 10.000 Gs, but it has some other super cool features.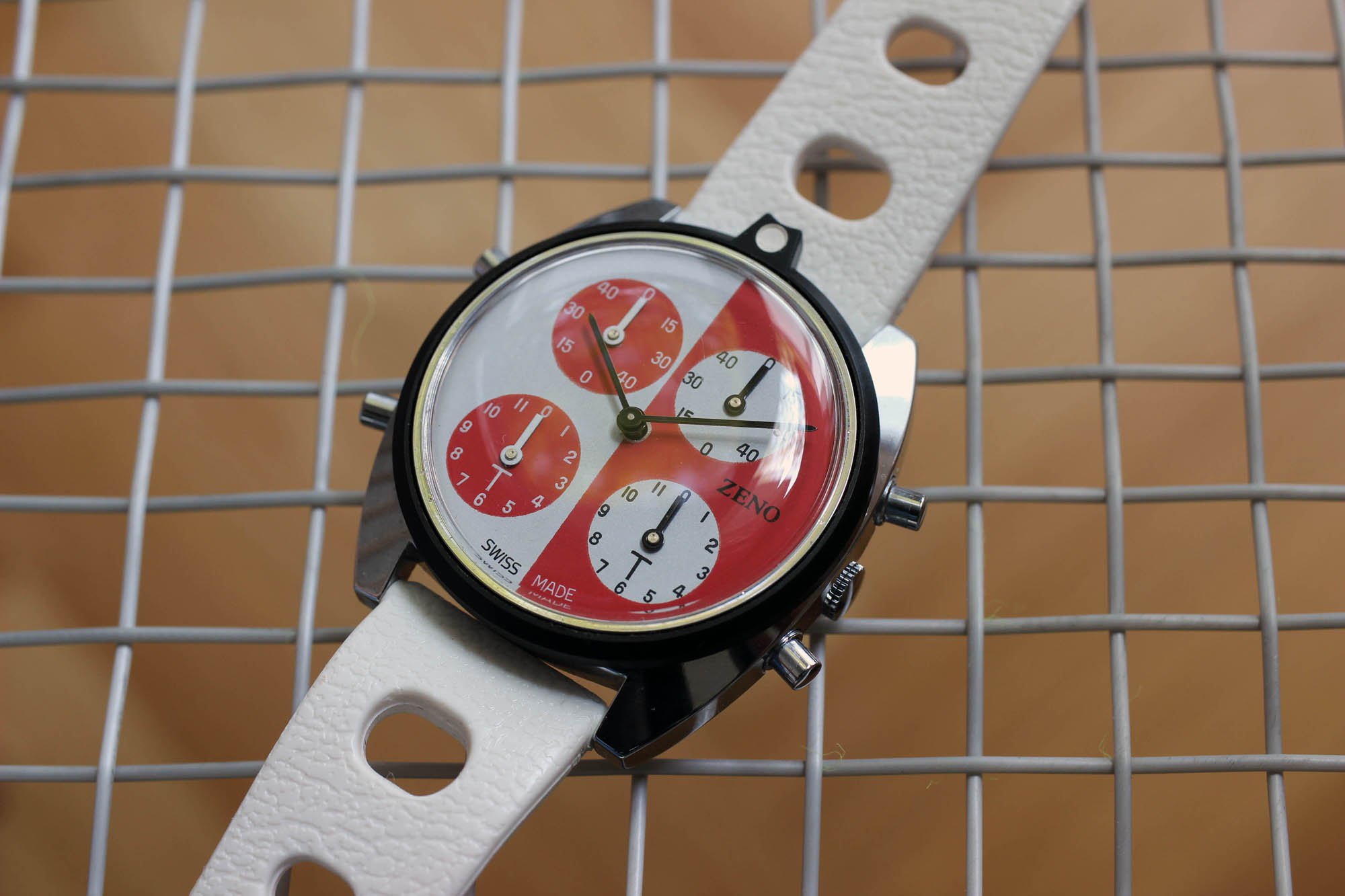 "We produced around 500 Zeno tennis watches in 1974 and around 100 in 1977, which was also the year when we ended its production," says Patrik-Philipp Huber from ZENO.
Playing tennis with the Zeno
Yes, you are not dreaming. I did it. I played tennis with a 1970s watch on my wrist. Before you call me a brutalist, I will call myself a believer. Trust me, I am not ignorant, but I had to do it. It would not feel right to write this article without the watch being adequately tested, right? The Zeno tennis doesn't look like the most durable watch you've ever worn, but it did make it through the one hour match. I am right-handed and play a two-handed backend, meaning the Zeno got quite the forty-year wake-up call. How was it to wear it during the game?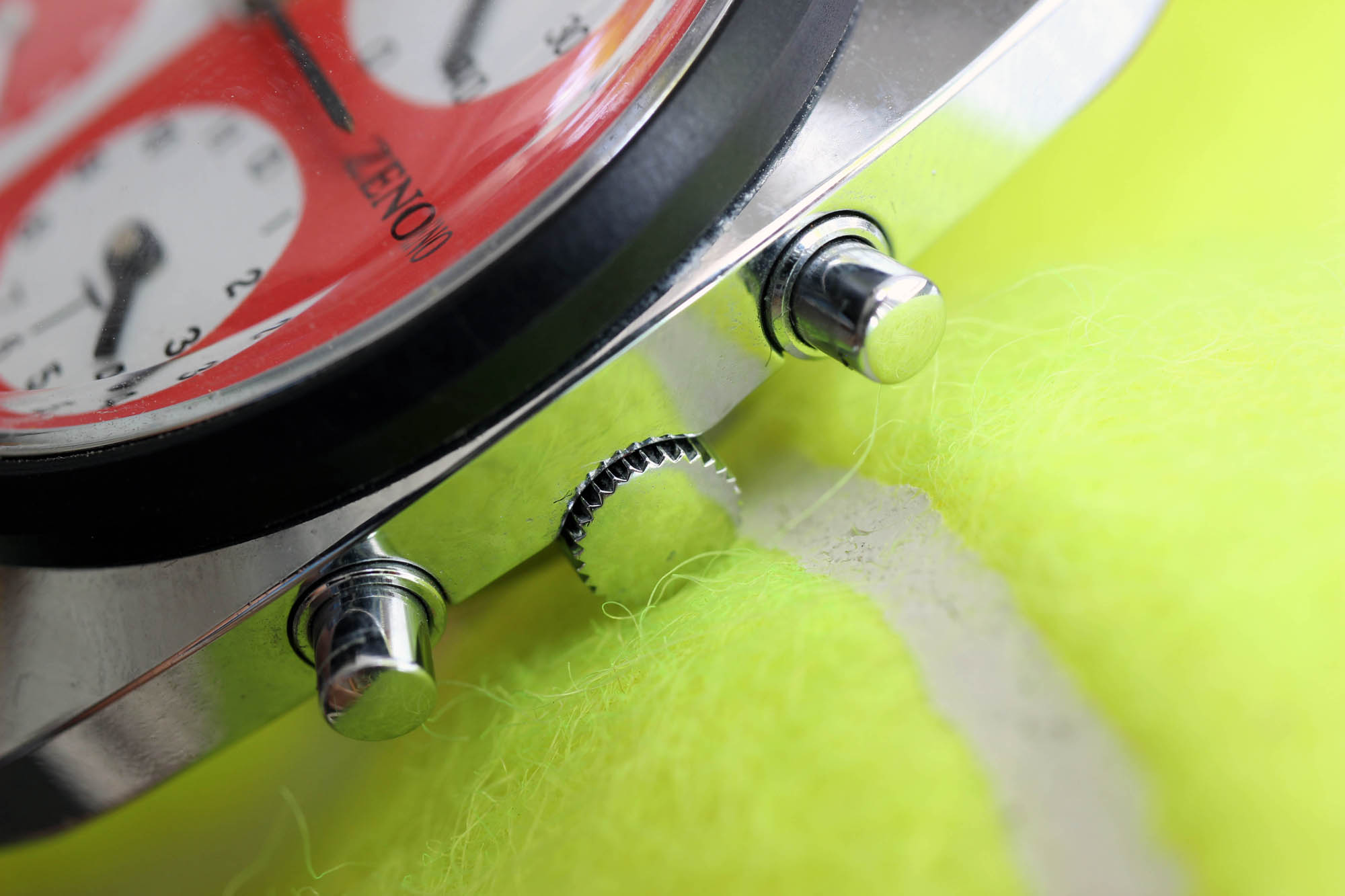 Pusher problems
The 20mm white "tropic-style "strap branded RK with a MOD. DEP. INT inscription is surprisingly soft and comfortable. I remember I re-adjusted the tightness twice during the game as I felt the pushers were hurting me during particular hand swings. I had the feeling the entire game, but I don't know if it is a watch case or player-related problem. I'd never worn the watch during a game before.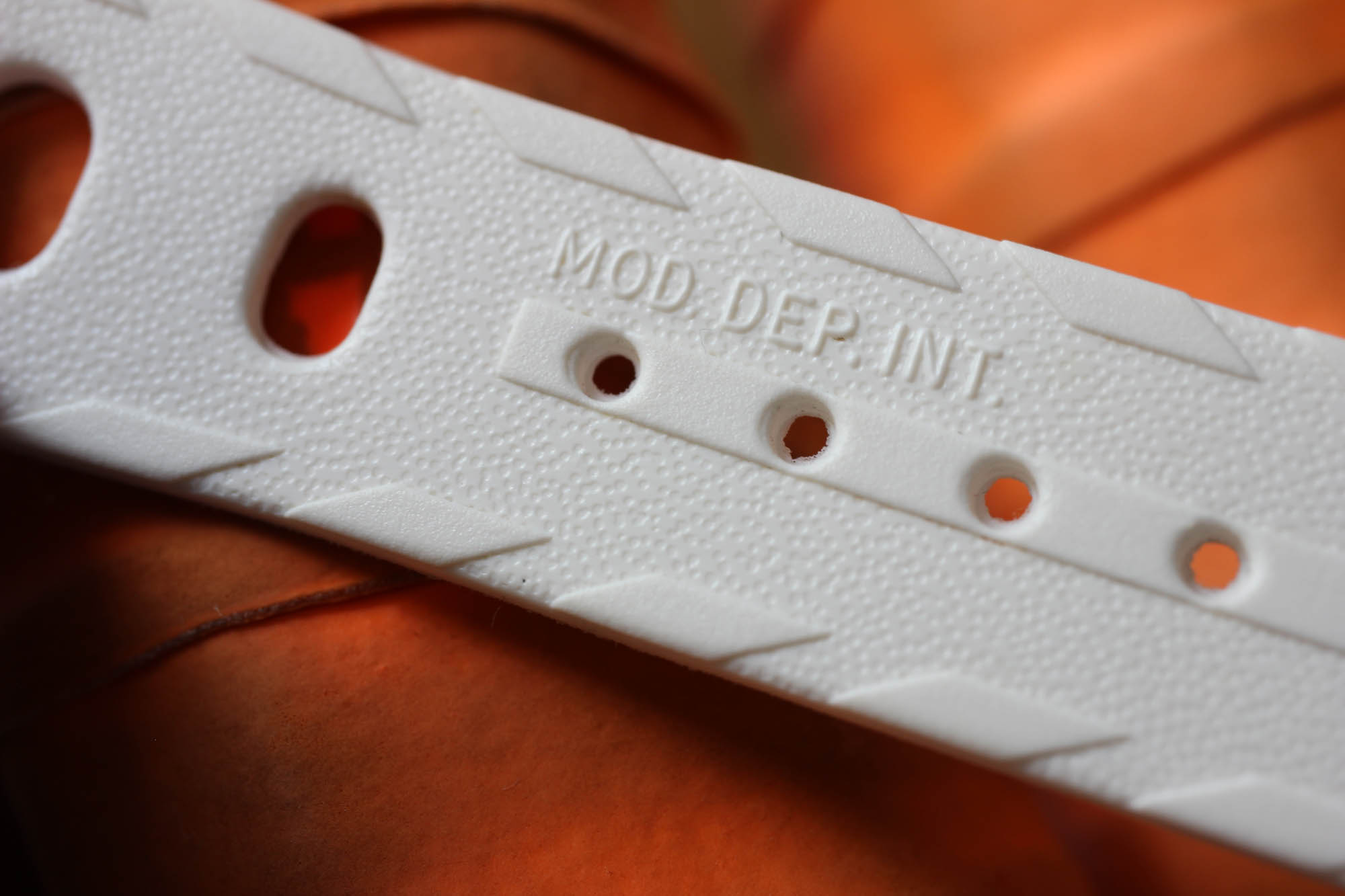 Focus on the Zeno
Before the game, I found it absurd, disturbing, and game-slowing to operate four different pushers and bezel. I could not imagine how I'd do that while trying to concentrate on the game. But I can tell you now that it was enjoyable to play with the watch during the game. One might argue it stole a lot of my focus, but well to reiterate, I am no Nadal. And there are no ball boys at our games. So when walking around collecting the balls, I had enough time to press the proper pusher.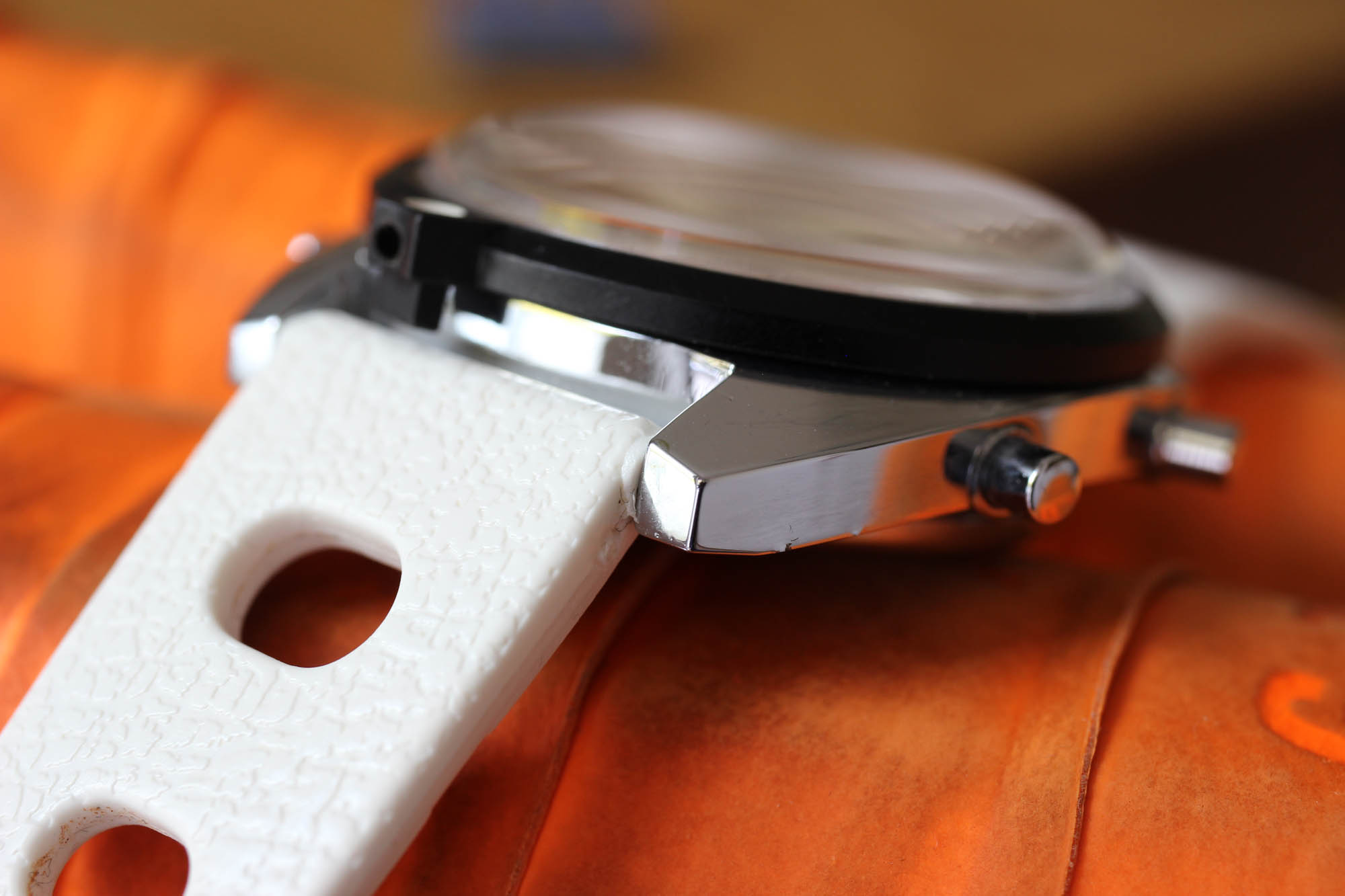 Beaten by Zeno
One observation. It is much easier to operate the Zeno Tennis if one player is beating the other one. In that scenario, you don't need to do much thinking, you press the same button again and again. I lost the second set badly, so I know what I'm talking about. During the hour-long match, I forgot to change the points only a few times but always fixed it after the next finished ball. The only weak spot of the watch is deuces. There is no way to set up an advantage so that you can lose track of games with a tie.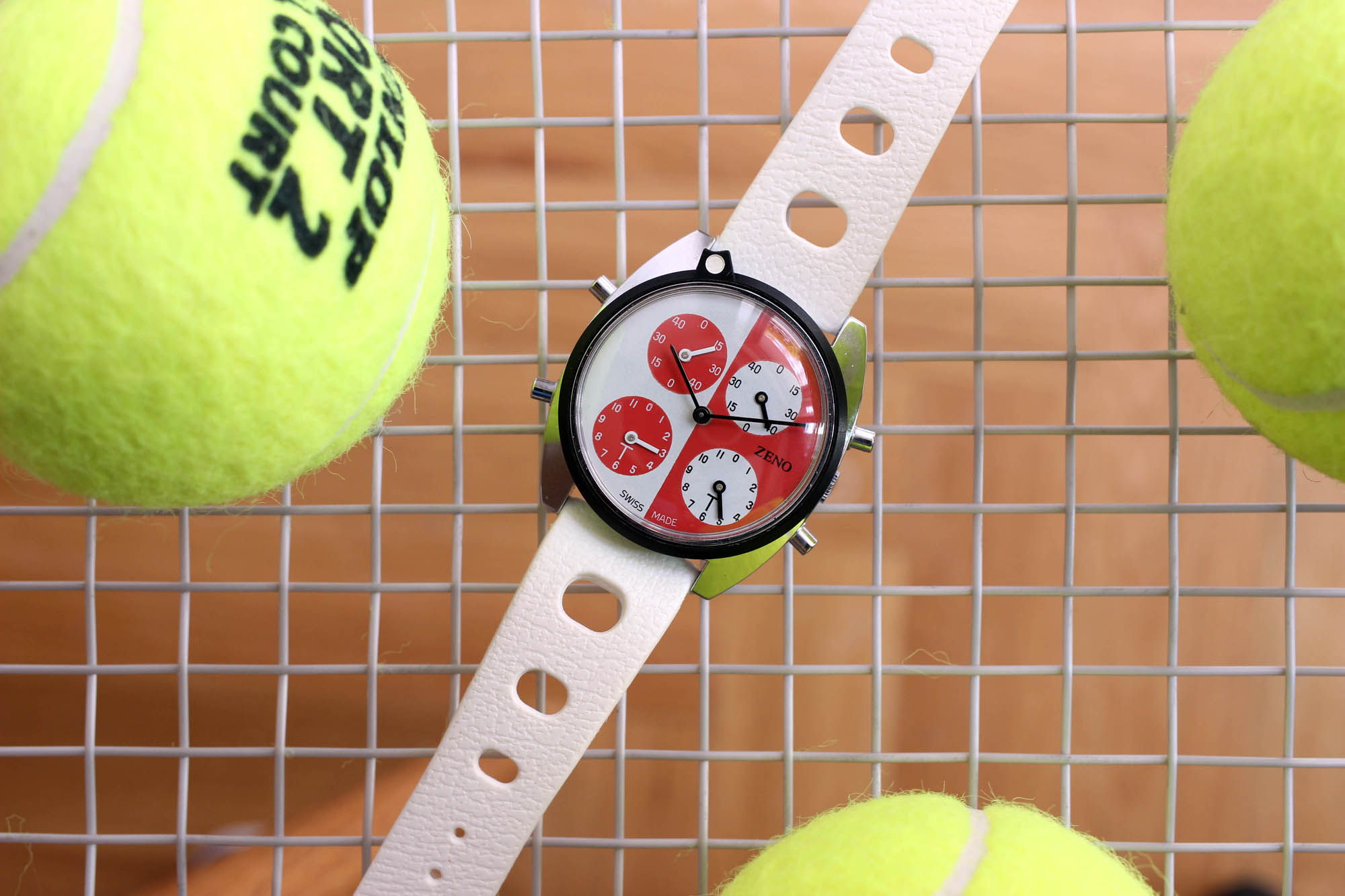 Before you call me a brutalist, I will call myself a believer. Trust me, I am no ignorant, but I had to do it.
Interesting pushers
An important detail. There is no reset function to the pushers as they always jump into the next position when you press them. So to reset, you need to make a full round. Another fun fact is that the top right and bottom left sub-hands jump when pressing the pushers, while the top left and bottom right sub-hands jump only when releasing the pusher. No idea why it works this way, and I didn't find any pictures with disassembled mechanics to explore it more in-depth.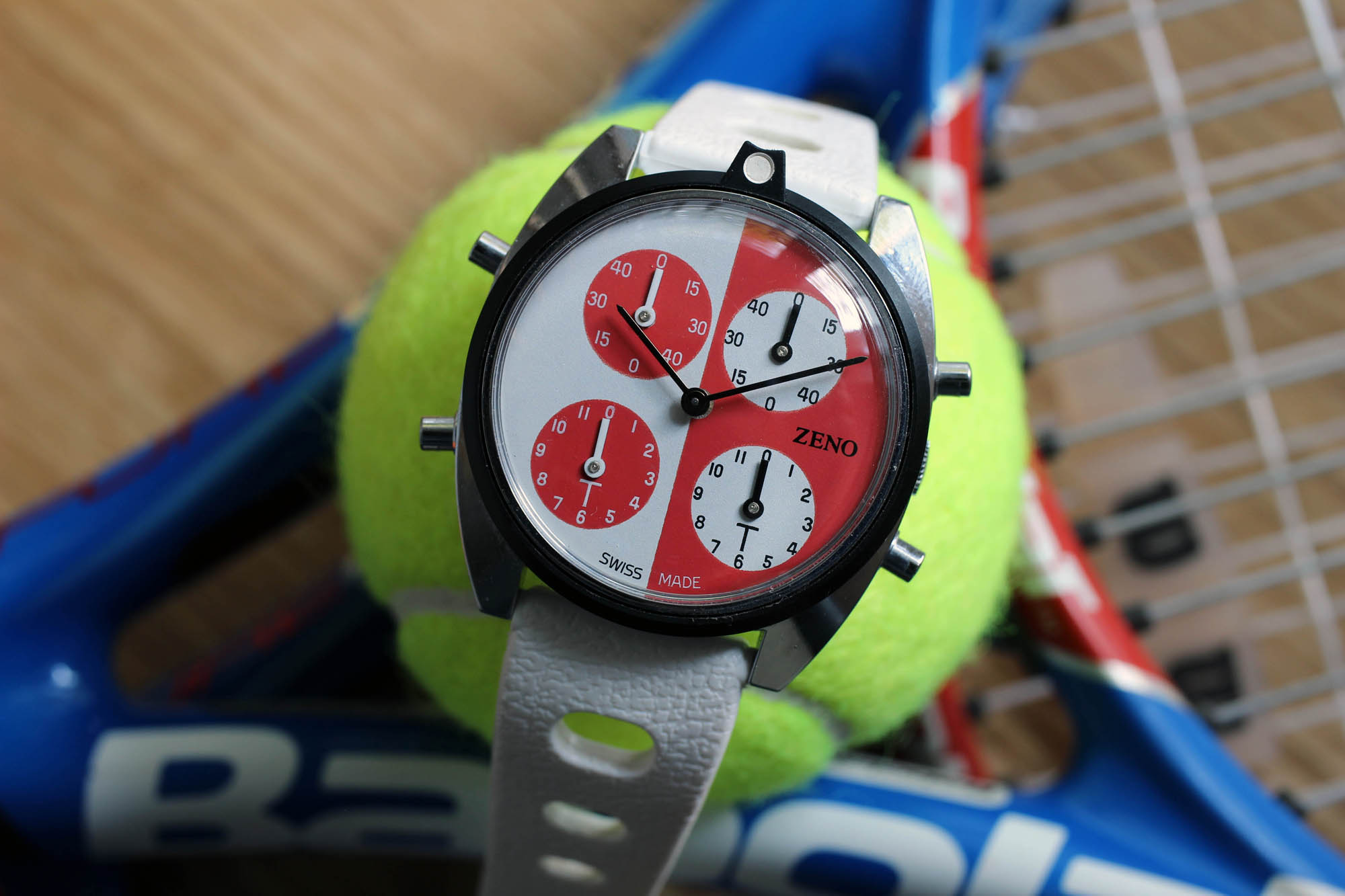 Counting games
If you study the game counting sub-registers a bit, you will see there is a zero not only at the 12 positions but also at the 6 positions. I first did not realise this and always zeroed the counter to the 12 position. After a few games, I accidentally found I can start counting games from zero at 6 while counting the opponent's game from zero at 12. It needs a bit of training, but after a while, it sets in.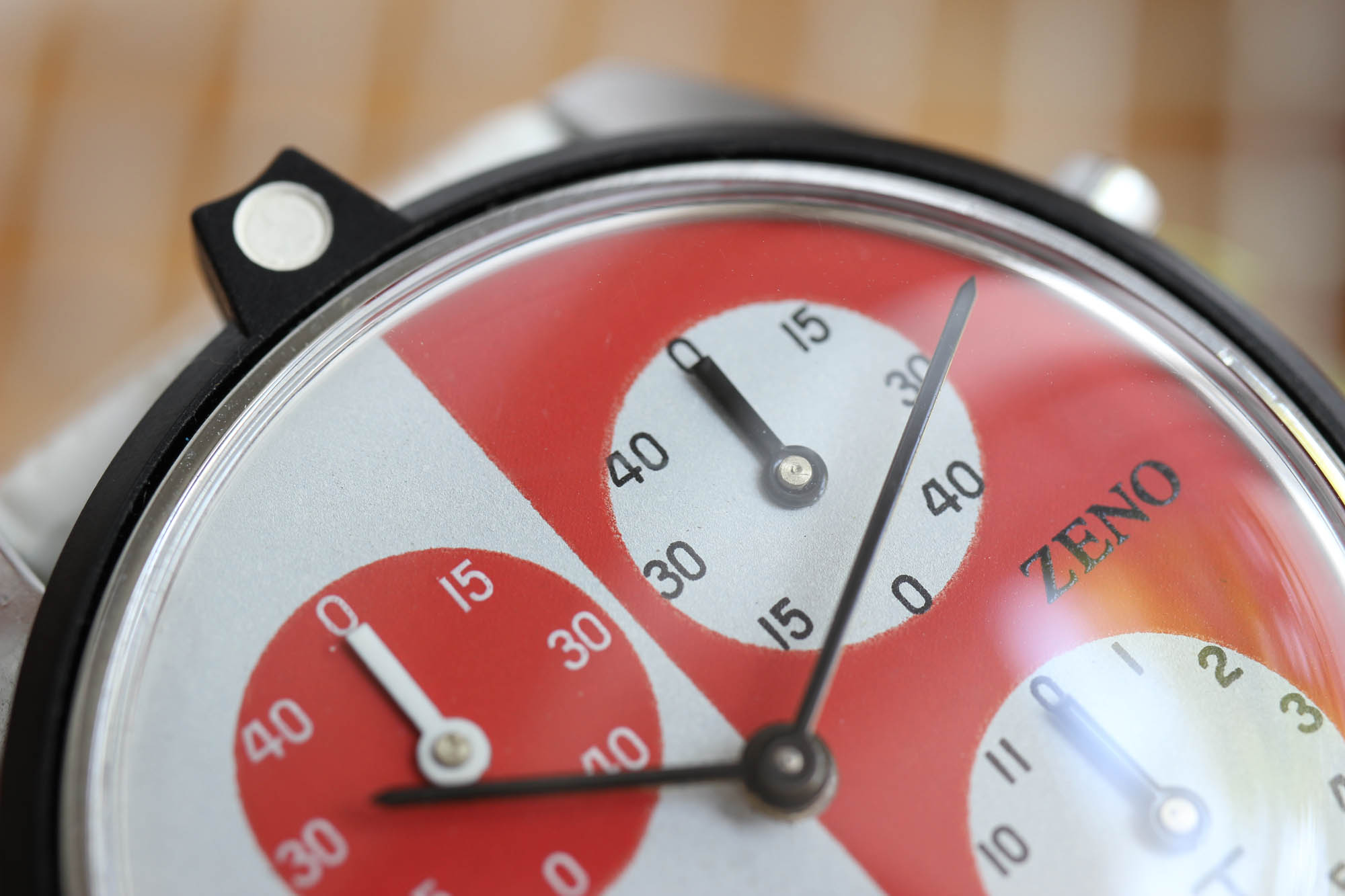 Witty bezel
I never saw the watch manual, but as a tennis player, I was naturally switching the top of the bezel from side to side after each game. The white dot in the middle of the bezel that swings to either side of the twelve is there to help players follow who is serving. A lot of dealers selling Zeno Tennis claim it indicates who is winning the game, but I don't think that's true. An adjustable bezel ring looks cheap and operates a bit shabbily, but is very smart in its simplicity. Think of other bezels and how you (or better how you don't) use them. This serve function was implemented perfectly into the watch design and gave the bezel a wholly new and fresh purpose.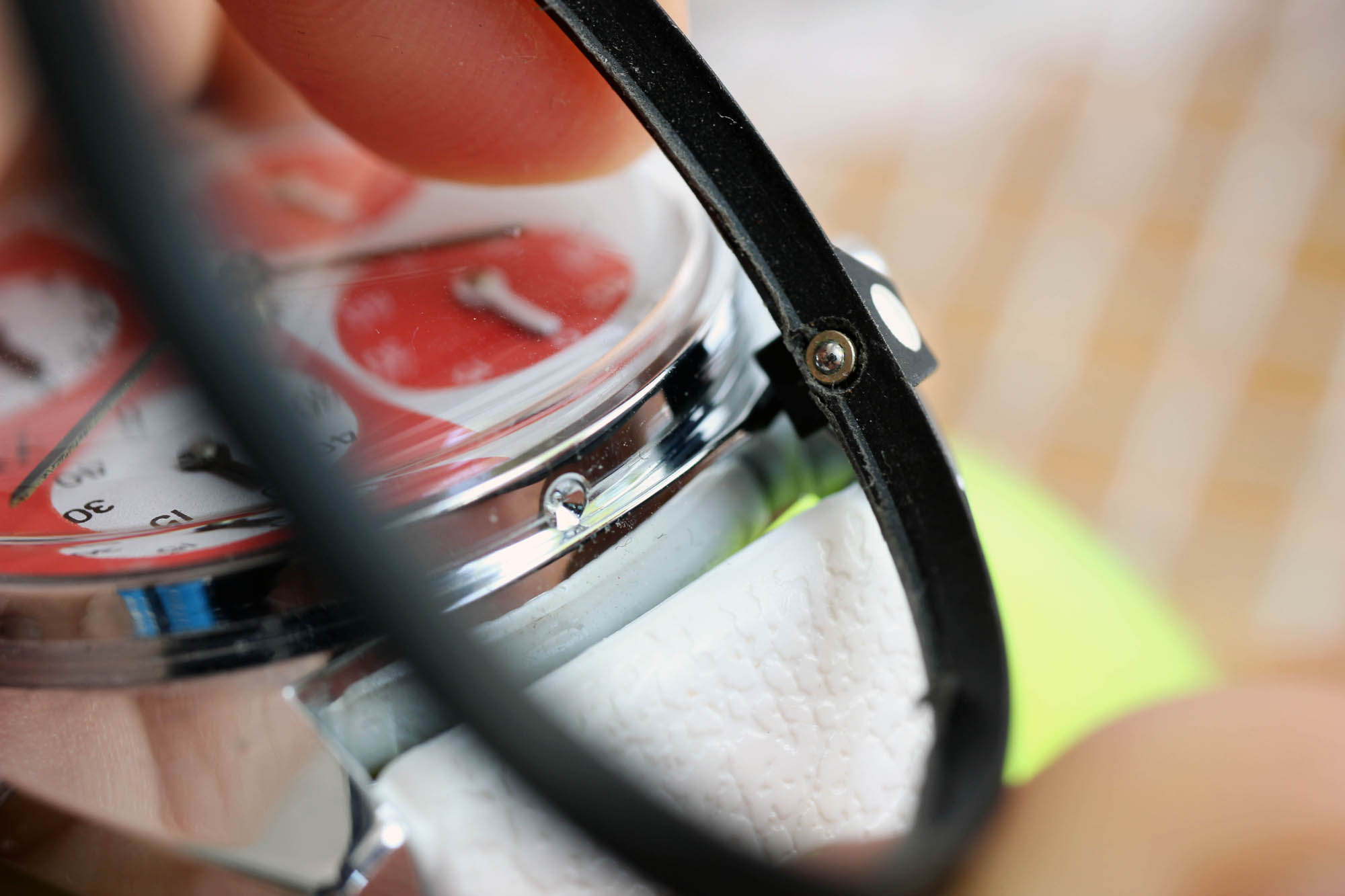 There is another detail I like. If you pop off the bezel with the finger, you will find a small hole in the watch case at 12. There is a small ball from the inside of the bezel as well. When you swing the bezel from side to side, you can feel the gentle click as the ball jumps into the hole. It is not always 100% precise reliable, but I consider it a nice feature.
Shotgun notes
There are four colour options available. Red, blue, black, and green. The diameter is nearly 39mm; lugs are 20mm. Miniature mechanical movement AS 1977-2 looks a little sunk when you open the case back. I confirmed the fact that no model name was given to the watch with Zeno representatives, so we will call it the Zeno Tennis. I am missing at least hour indexes on the dial. Double big T in set counters look unnecessary to me. The strap has a simple but beautiful unsigned buckle.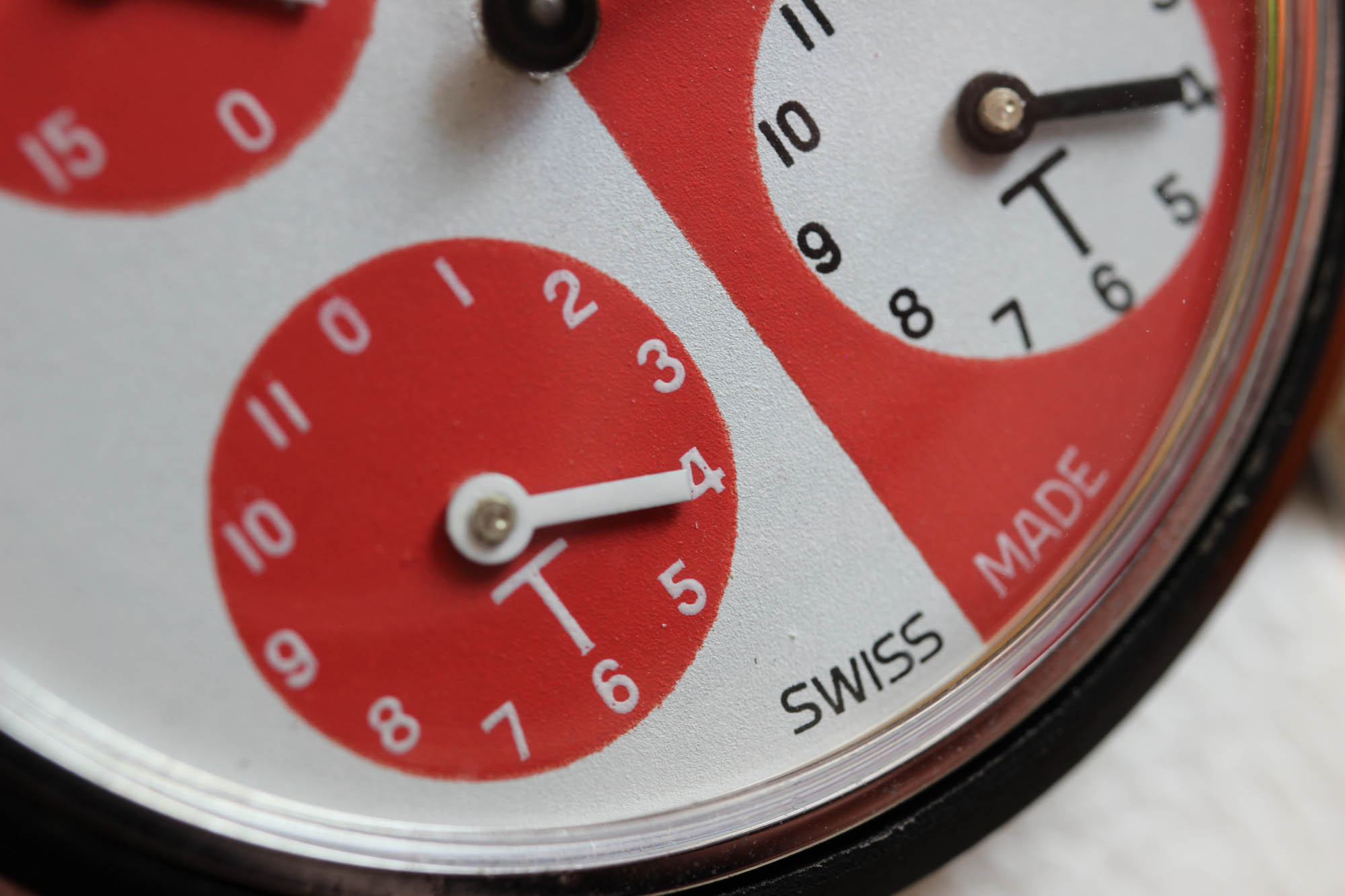 It is much easier to operate the Zeno Tennis if one player is beating the other one.
Low production
Patrik-Philipp Huber and his father Felix Huber, now an 80-year-old watch manufacturing veteran that has led ZENO for decades, gave me more background information on the watch. The model was introduced at the Basel watch and jewellery show in 1975. It had no instruction manual, just a guarantee card. "There was no special packaging; it came in a standard brown box. But when we moved in 1990, we disposed of all the old boxes. We produced around 500 Zeno tennis watches in 1974 and around 100 in 1977, which was also the year when we ended its production, "says Patrik-Philipp Huber, shedding more light on this quirky history.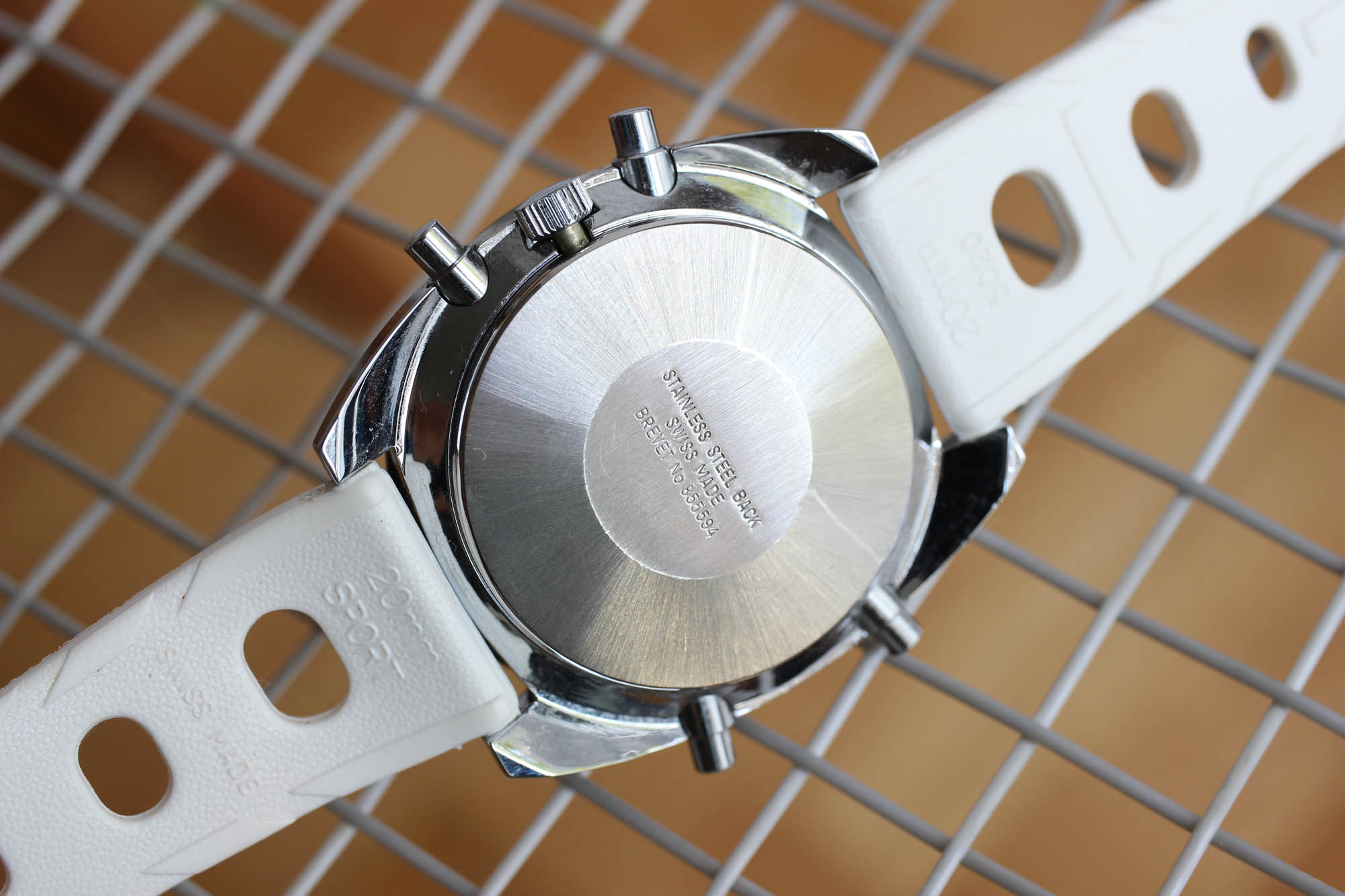 Rarity has some value too
The UK dealer I got my Zeno Tennis from bought around 200 NOS Zeno Tennis watches directly from the Huber family. "The watchmaker oils them and hates them. He has fixed a couple of the scorer buttons and says the mechanism is not the most robust. He also moaned about the lengths of the shafts for the hands if I remember correctly. But quality is not always what collecting is about. Rarity and desirability are what matters most. I sold quite a few, but I still have a few left in stock," Miklos explains. If asking about my experience, so far I had no problems with the watch, but let's see what the next decades have to say.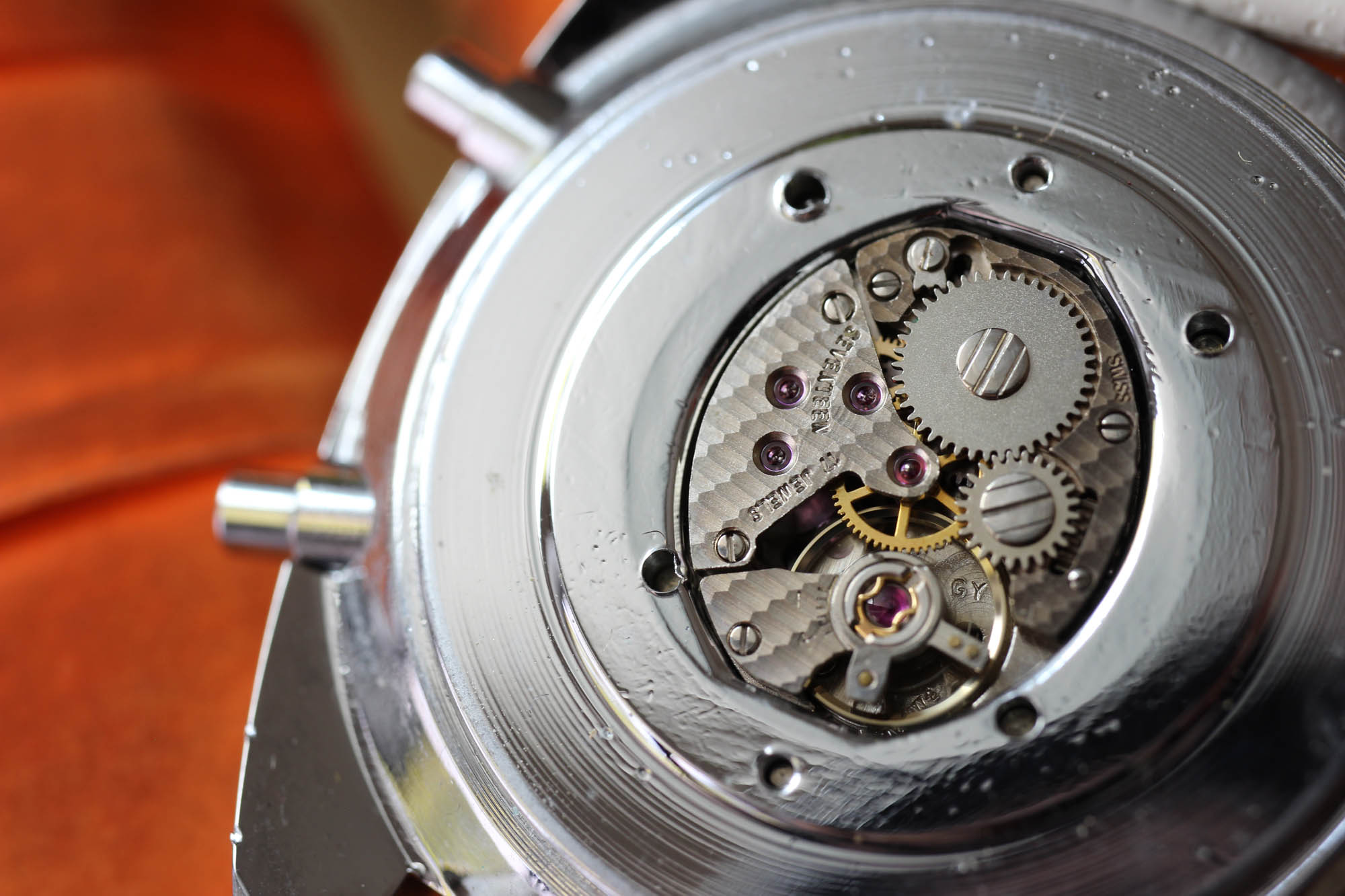 Snap your Zeno Tennis
Patrik-Philipp Huber discloses that at ZENO they have the last 70 pieces in different colours left in their stock. So help yourself until they are around. You never know. When Federer gets bored of all the Rolexes he has collected over the years, he might be spotted with this funky tool from Zeno at his next exhibition match with Nadal.
Watch specifications
Dial
Four subregisters for counting games, sets. Available in blue, green, red, black
Case Dimensions
38.5mm diameter
Movement
Manual AS 1977-2
Strap
Tropic style rubber, 20mm lug width
Functions
Movable bezel signaling who serves. Sub-registers for counting games and sets.
Special Note(s)
Only 600 pieces produced between 1974-1977