The Battle Of The Jumbos – AP RO 15202ST vs IWC Inge SL1832
Watch designer Genta designed a number of watches that turned into icons. Best example is the first stainless steel luxury watch he designed in 1972, the Royal Oak for Audemars Piguet. Later on, he repeated this with his Nautilus for Patek Philippe and the Ingenieur for IWC. All these watches are being referred to as 'Jumbo', as they were considered to be HUGE then. Today, we seem to be laughing at 39/40mm diameter watches. One of the readers of Fratellowatches, Martijn, has two of Genta's cult watches and sent me some photographs.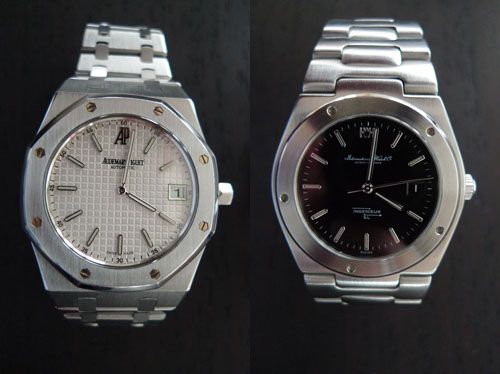 The IWC Ingenieur SL1832 'Jumbo' is part of Martijn's collection of IWC watches. Recently, he added a white dial Audemars Piguet Royal Oak 'Jumbo' that has been produced around 2004. Although 32 years newer since the very first model Royal Oak, it only has a few differences from the initial design (ref.5402). The first Royal Oak had a smaller 'Clou de Paris' design on the dial and the AP logo was at 6 o'clock instead of 12 o'clock. The case back was stainless steel instead of a display back and the clasp was a bit more simple than the current one. The IWC Ingenieur SL1832 dates back to 1976 (this pictured model is a 1979 watch) and came with a stainless steel case back as well. The movement inside is IWC caliber 8541B/8541ES and is a 'slow ticker' just like Audemars Piguet's caliber 2121.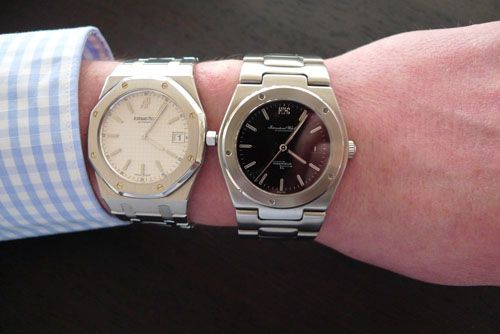 As you can see, these watches are clearly cousins. The IWC 'Jumbo' looks  bit bigger, although it is only a 1mm difference in diameter. Although Martijn is happy with both watches, the one below is the keeper.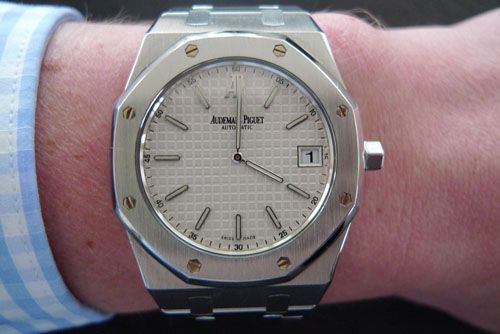 If you are interested in buying Martijn's IWC Ingenieur SL1832, leave a message using the contact form.