The Belt Driven TAG Heuer Monaco V4 Tourbillon
With a rich automotive history, the (TAG) Heuer Monaco has always been linked to racing. So if you're thinking of a special, haute horlogerie version of the Monaco, nothing beats incorporating components from the race industry in a watch! TAG Heuer came up with a new way to 'drive' their Monaco. After 5 years of hard work, the patented belt-driven Monaco V4 has crossed the finish line back in 2004.
10 years later, during the 2014 Baselworld exhibition, TAG Heuer presented us the evolution of this award-winning (including best design award and Red Dot award) watch, the belt driven Monaco V4 Tourbillon.
As we take a look at the front, the first things to notice are the two v-shaped bridges. These bridges are made from steel, bevelled by hand, fine-brushed and finished with a black coating. The largest one is holding the belt wheels. When you take a closer look at the belts, it shows how incredibly tiny these actually are, with a thickness of 0.07 mm only.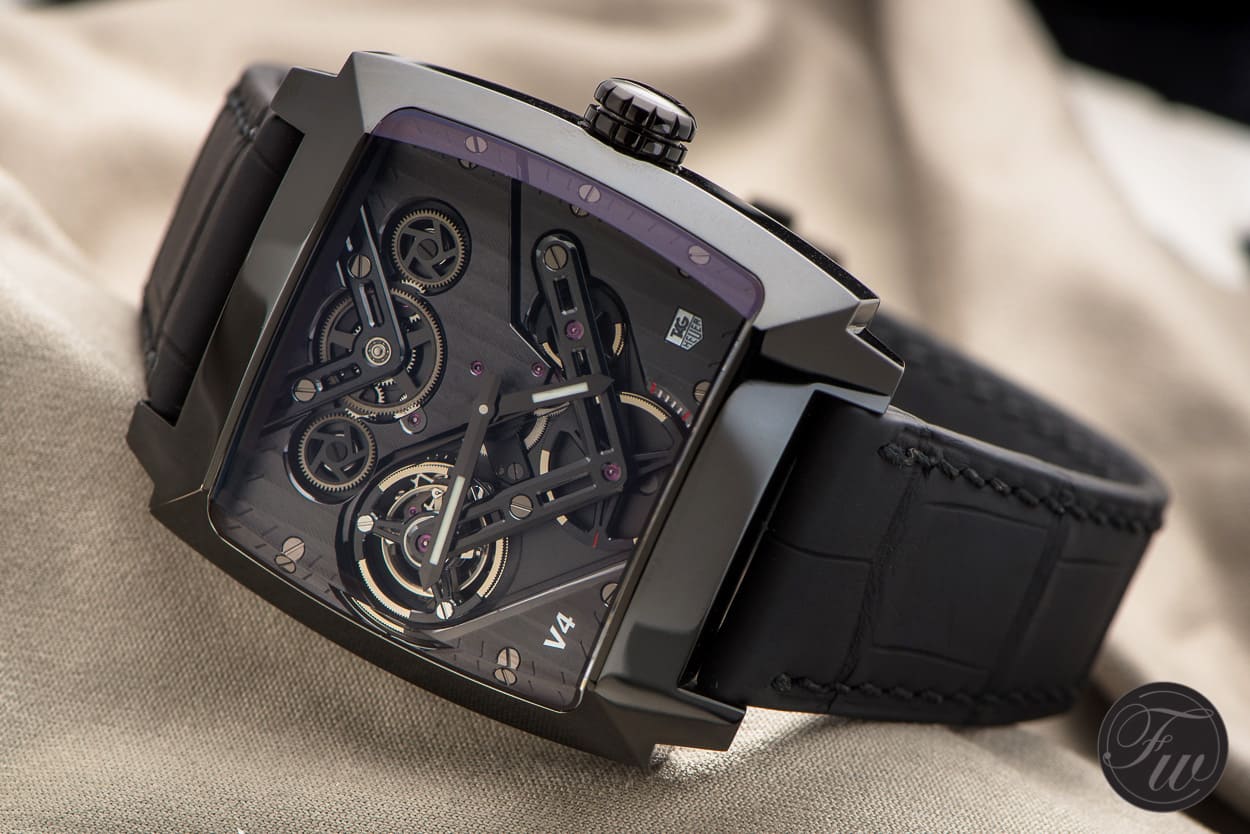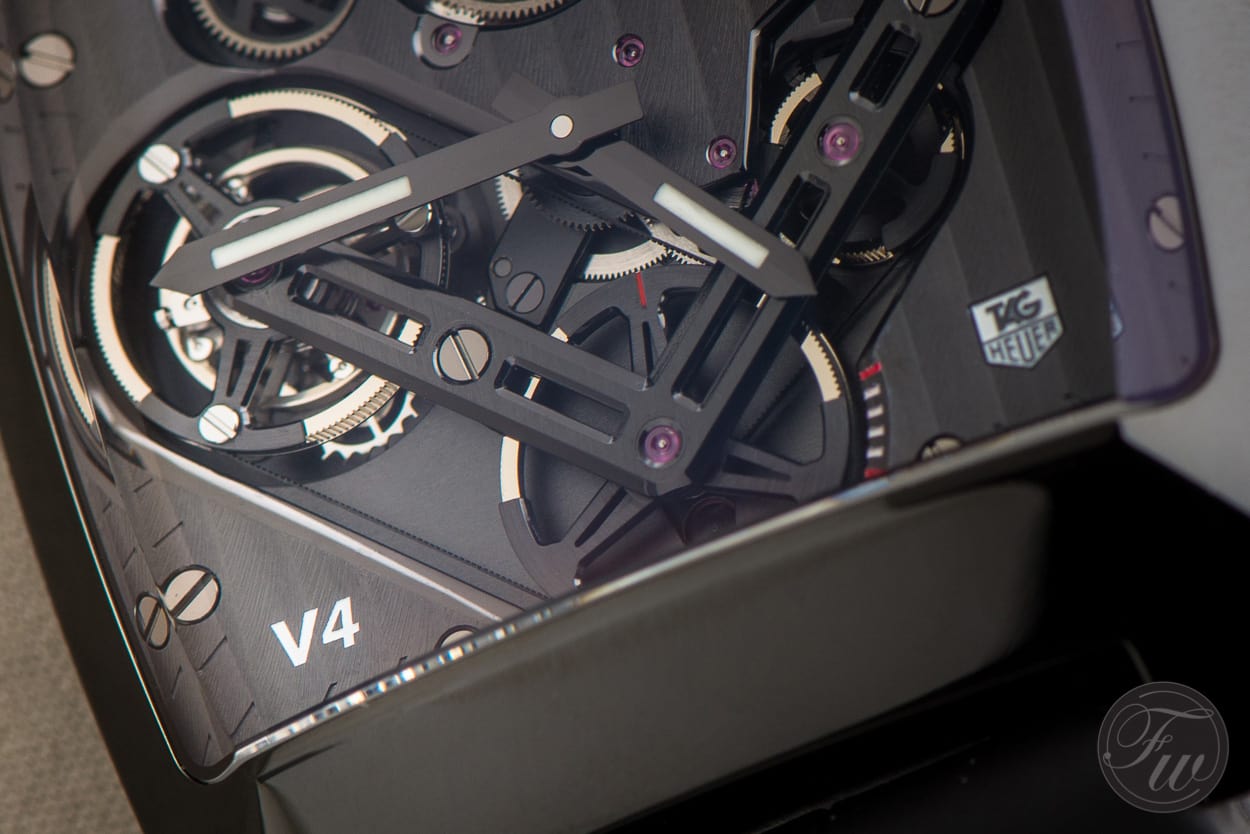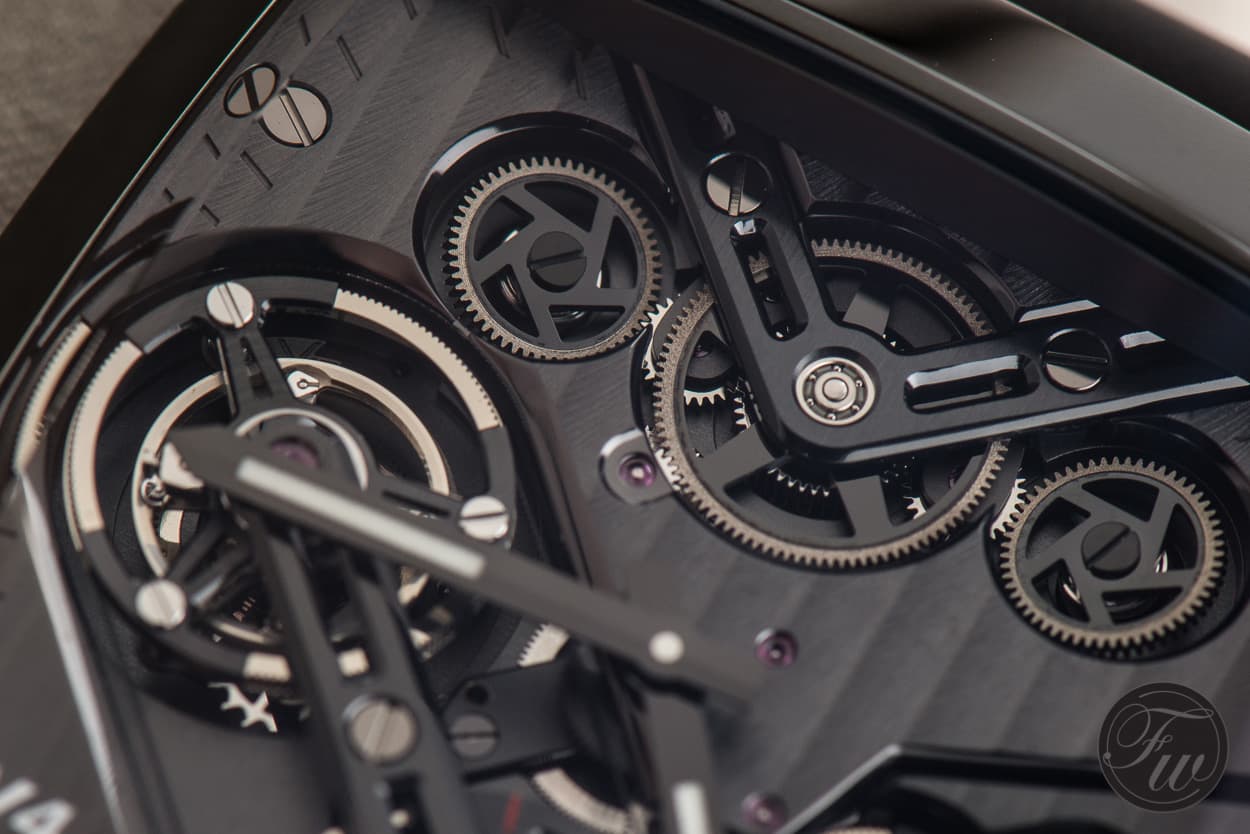 The tourbillon cage is located at the 9 o'clock position, placed underneath the belt wheel thus making it less visible. It makes a full rotation in one minute.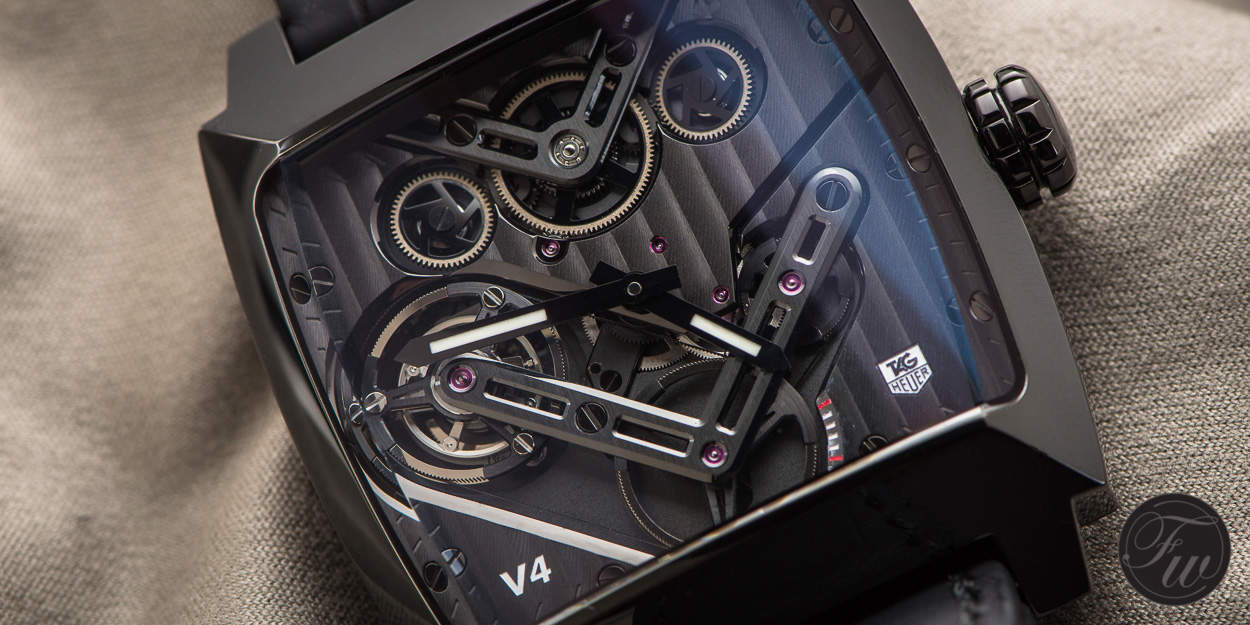 Unlike most automatic watches the V4 is powered by a (patented) linear mass, which is visible on the back side of the watch. Made of tungsten, a metal that is most known from it's use in light bulbs. This lingot shaped weight moves up and down on a rail  system, located between two pairs of barrels that are angled at ± 13 degrees, like the cylinder of a racing engine. Each set of barrels is linked by a single belt, with internal steel reinforcement wire.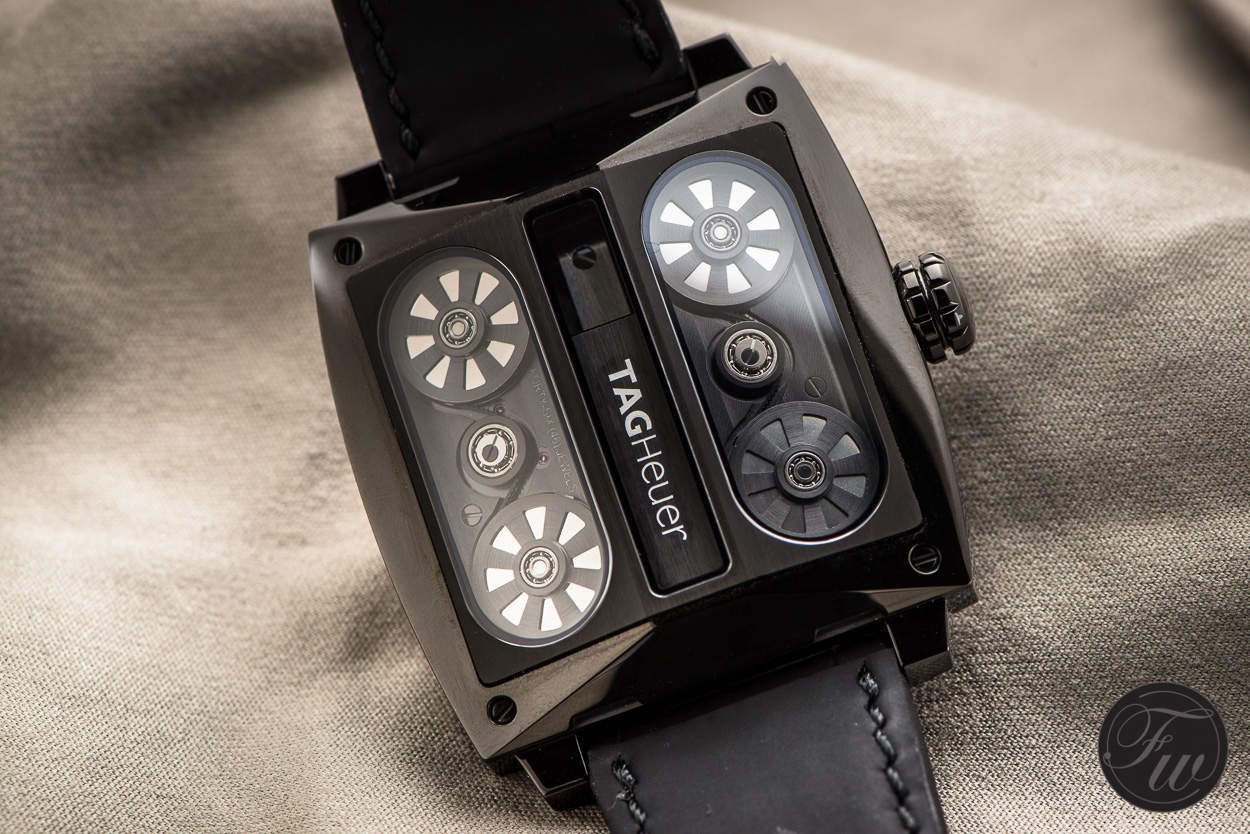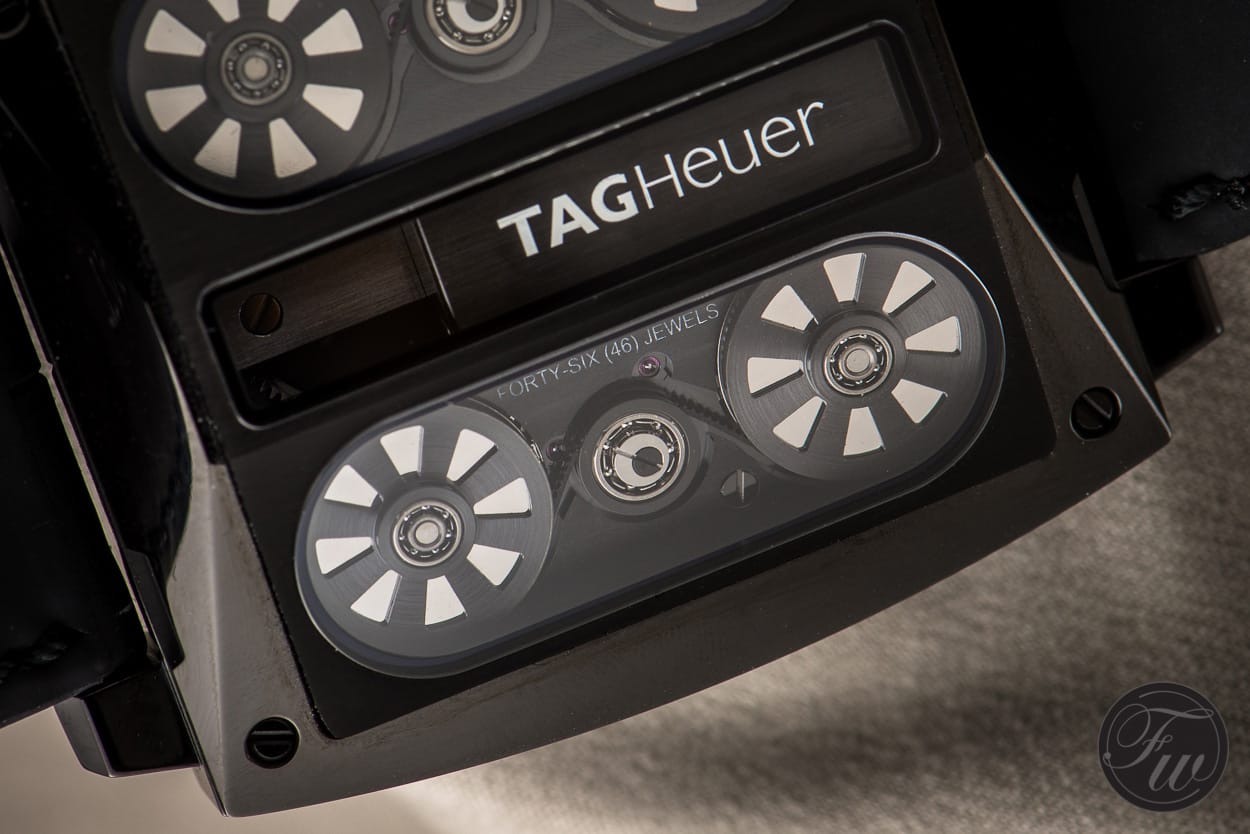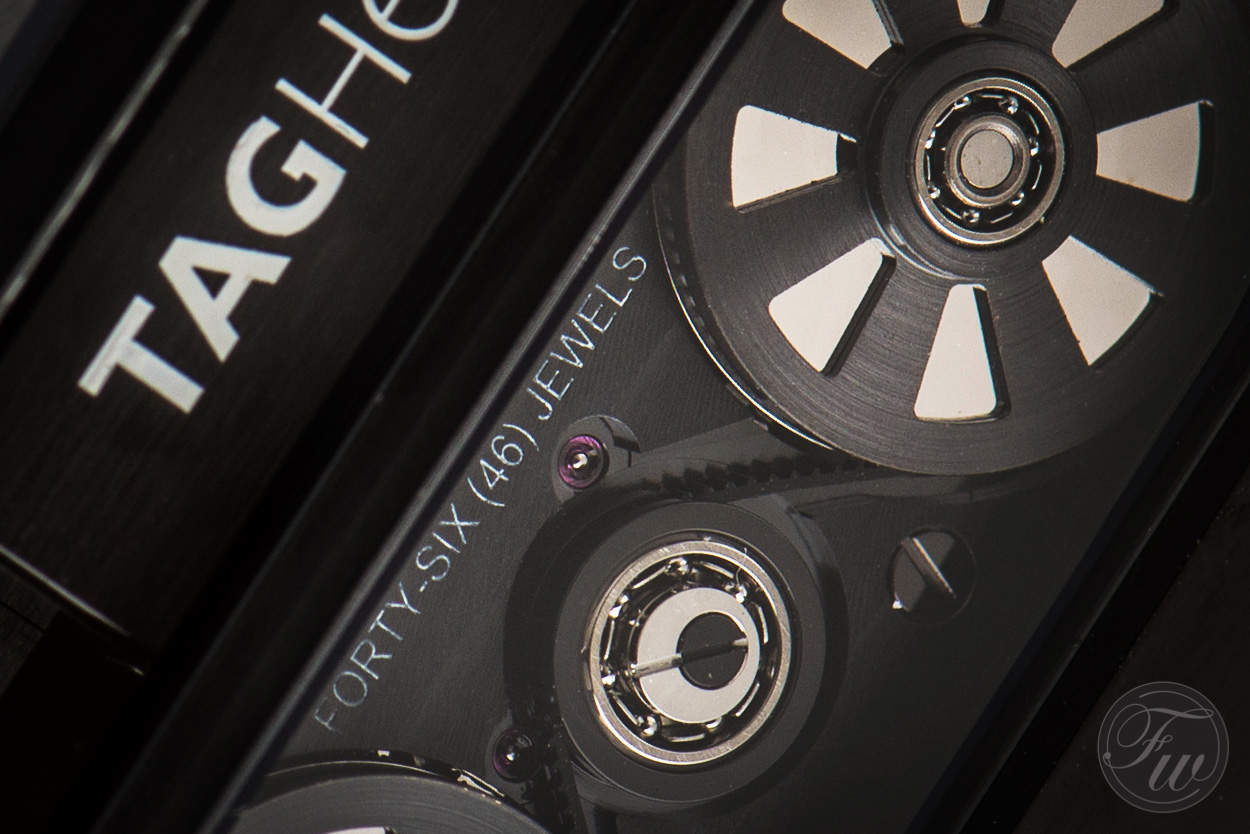 The movement is cased in a 41 x 41mm, polished (grade 5) titanium case with black titanium carbide coating. It also features a bevelled sapphire crystal on the front and three sections of sapphire crystal on the case back.
Price tag on this revolutionary belt driven TAG Heuer Monaco V4 Tourbillon is CHF 150,000 Swiss Francs. Reference number: WAW2081.FC6348. More information about the Monaco V4 and the history of these watches can be found on the official TAG Heuer Monaco V4 website.