Summer Splash: What Is The Best Summer Watch? Rob's Picks — Laco, Aquadive, And TOCKR
The Splash picks up where March Mania left off, and tries to find the answer to an often asked question...
Roll up, roll up! The summer has hit The Hague and Fratello is keen to celebrate. After the fizzing success of March Mania, we are back with the Summer Splash. A new knock-out competition conceived to find the very best summer watch out there, according to YOU, the Fratelli. And guess what? You can win prizes! No, there won't be a watch available this time but there WILL be some of the finest water-firing weapons money can buy: the Spyra 2 water cannon is reputedly the strongest of its kind ever made. Fancy getting your hands on one? Read on and take part in the comments section of this article.
This time around, eight writers will choose three of their favorite summer watches and pitch them to you. The rules? The watches must be under €5,000, water-resistant to at least 100 meters, and actually available to buy. That doesn't mean they can't be limited (I have a limited on my list, for example), but they can't be sold out at the time of writing.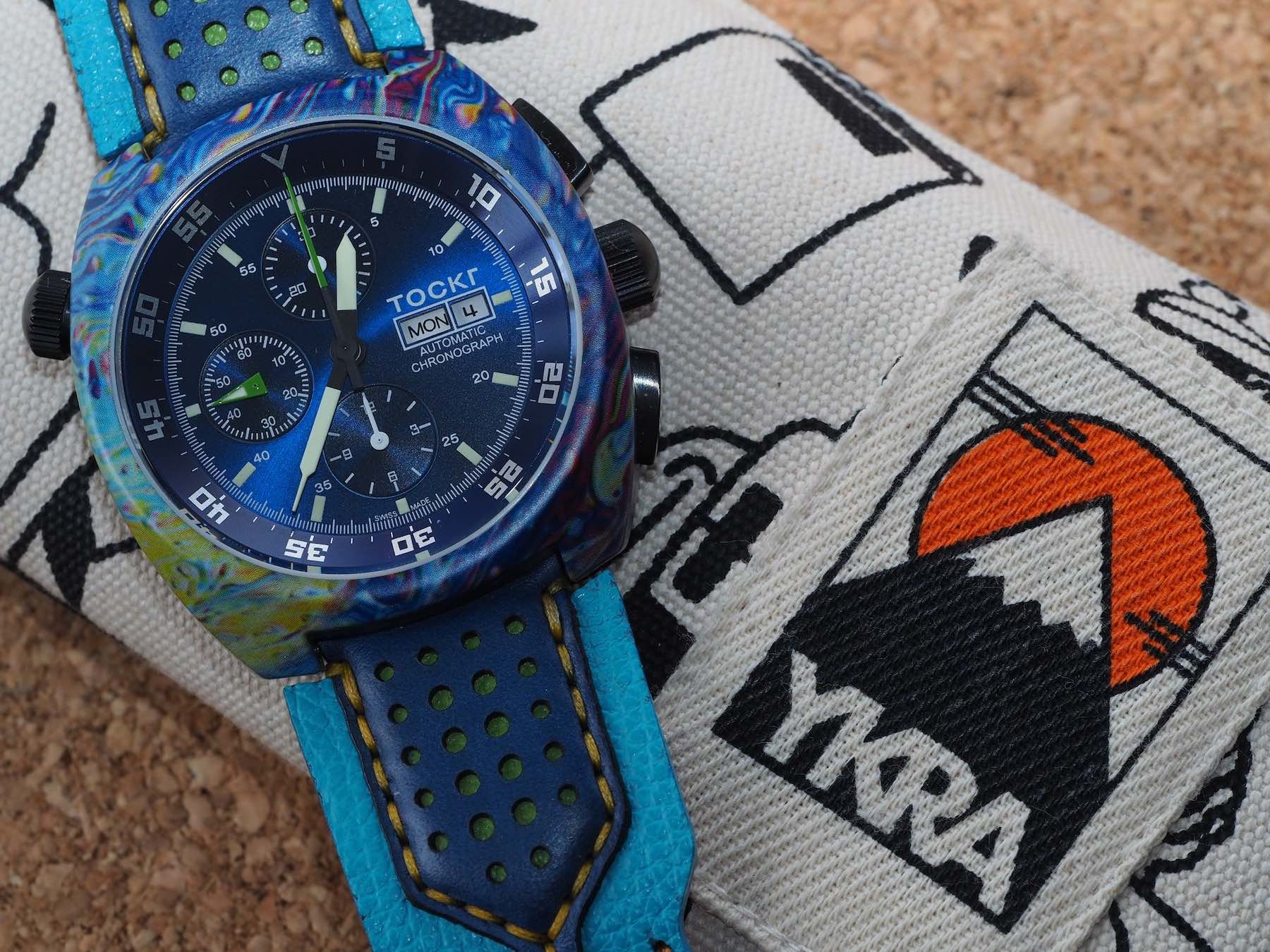 Why?
The logic? We want this to actually help people to decide what to buy. Crucially, therefore, whichever watch wins has to be in stock. For the sake of our consciences remaining clear, it has to be something that is able to stand up to the environments it's likely to meet as a summer beater. And while you might disagree with us here, we don't think that many people want a super expensive watch on their wrists when jumping into the pool, kayaking across oceans, scaling fearsome peaks, or getting so slamming drunk by the pool you are more likely than not to fall up the stairs as you stagger to your room.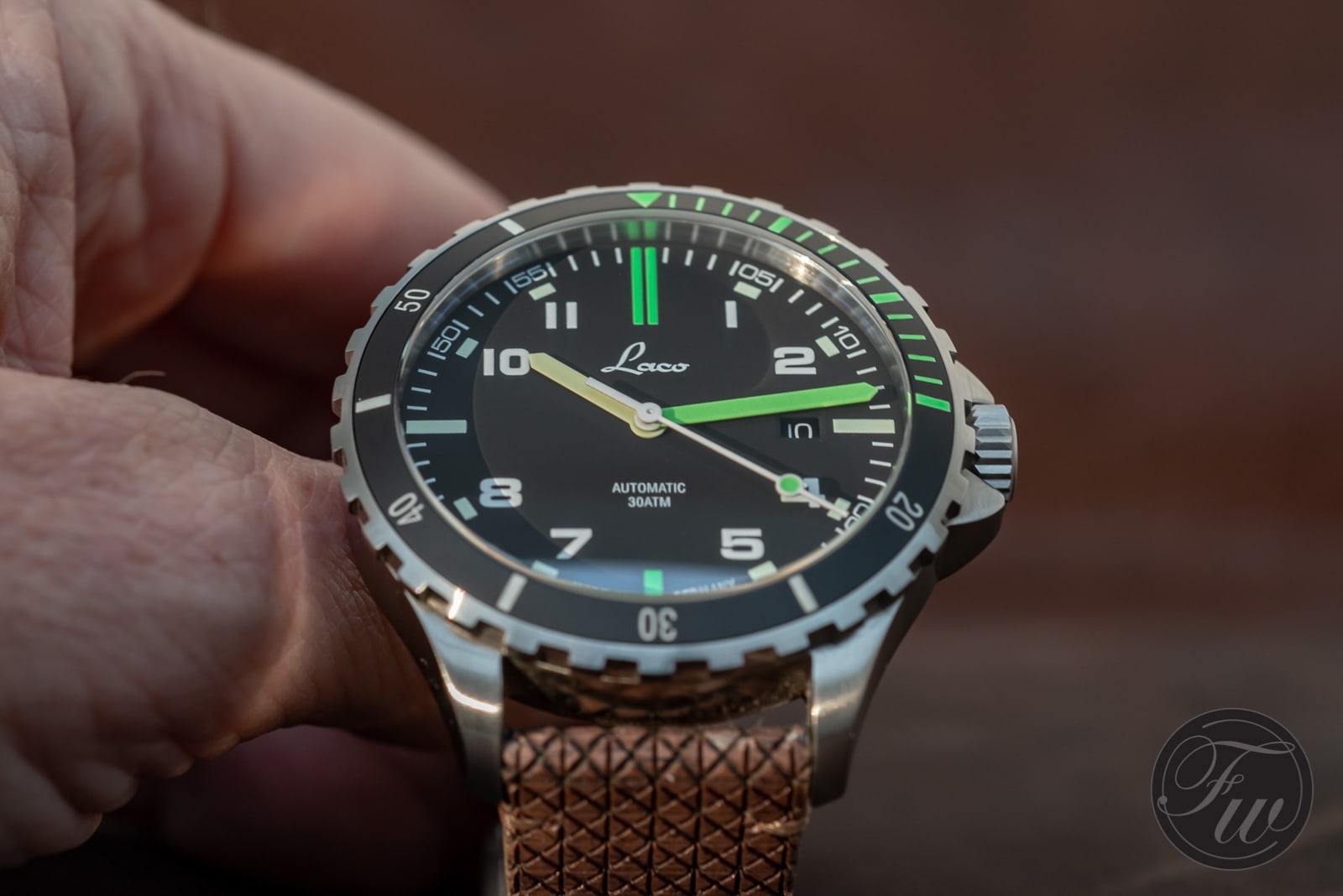 Look, we know "expensive" is all relative. Maxing out this budget would be a dream for many people, but we're just saying that as cool as it is, the MB&F HM7 Aquapod isn't going to feature on this list. And while you may be sad to see the absence of Haute Horlogerie this here is a contest to find the rootinest, tootinest, rough and ready rider to stick with you through the thick and thin of planet Earth's most bodacious season.
That's right, people: summer is here, my vernacular has morphed into a heatstroke-induced mishmash of 1897 and 1987, which means it must be time to grab the water wings and cool off. Get ready to SPLASH!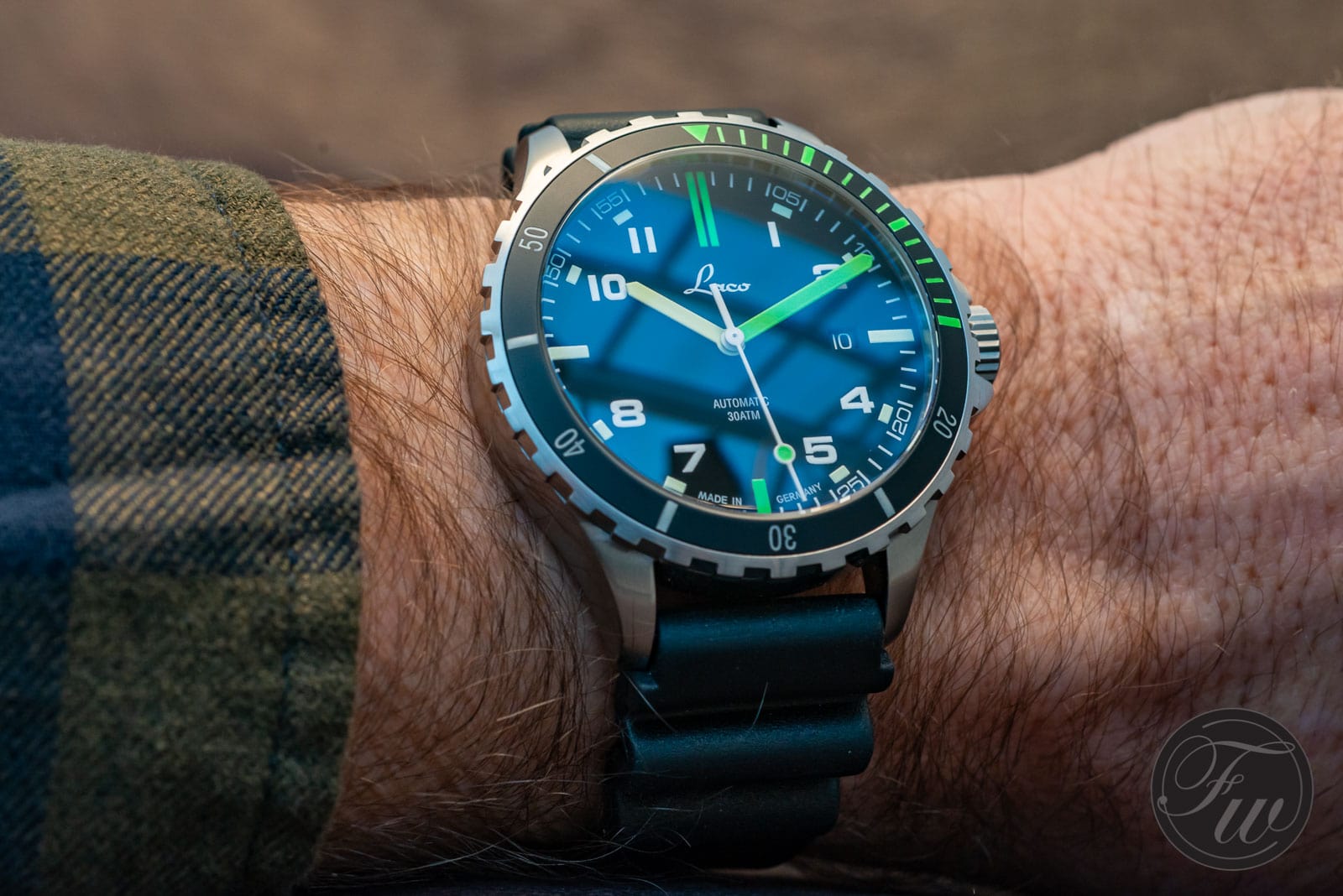 Laco Squad Amazonas
I've owned the Laco Squad Amazonas for a couple of years now and it has never disappointed me. It would be fair to say that it was not a watch on my radar before I had the chance to review it but it quickly became my favorite model from a brand far better known for its pilot's watches.
…its supreme legibility comes to the fore in even the slightest shade.
Firstly, I'm not actually a big fan of pilot's watches. Secondly, I'm a massive fan of anything well made. The Laco Squad Amazonas is definitely one of the best-constructed tool watches I've encountered, and while its goofy "multi-green" display may seem a bit basic or bodged together at first, its supreme legibility comes to the fore in even the slightest bit of shade.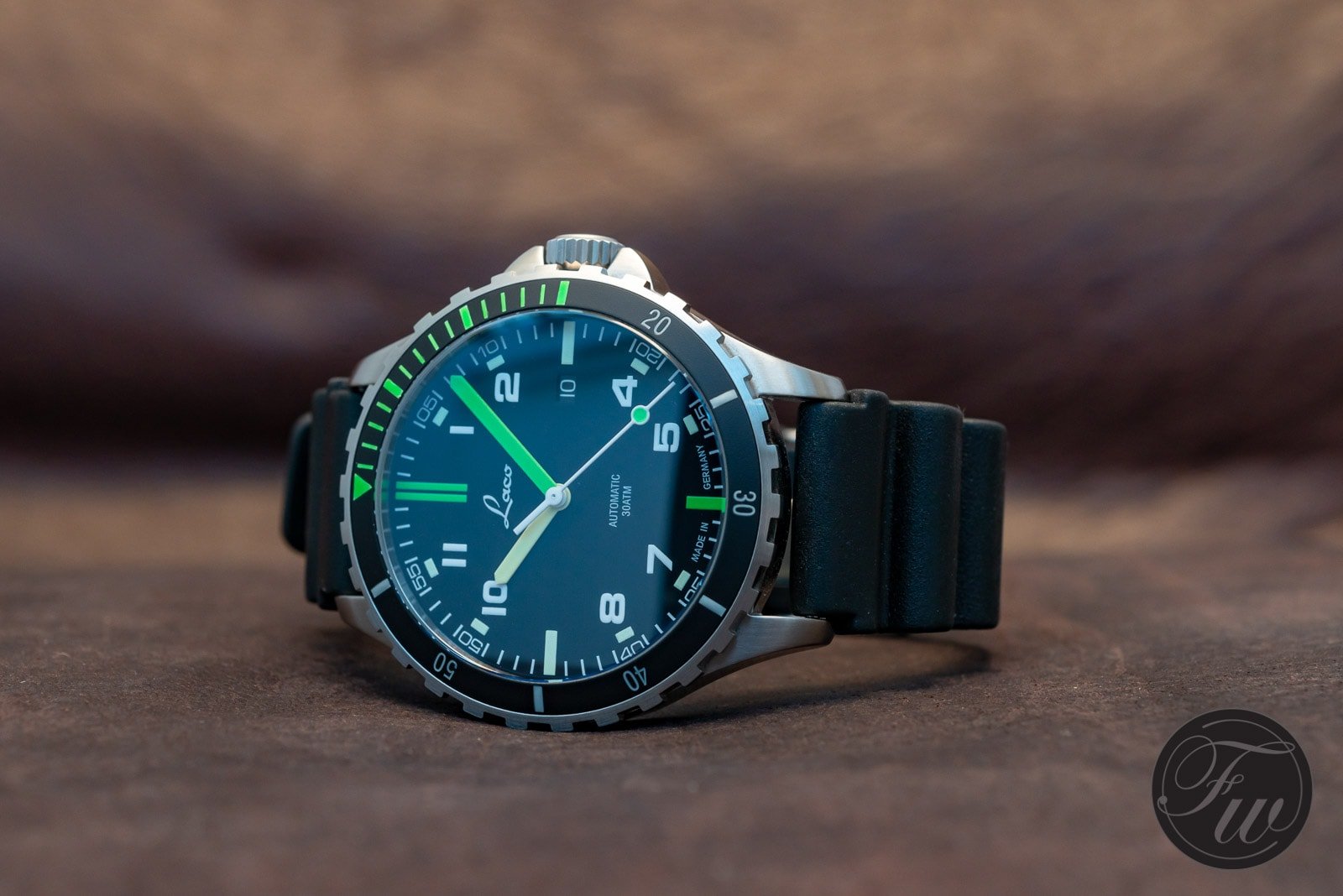 You see, that green isn't just luminous, it's fluorescent. It glows in daylight. It positively cuts through the gap between eyes and markers in dusk or twilight. The minute hand is the same color and thus has a binding relationship to the bezel scale. But it is the bezel itself that is the ultimate beauty of this brilliant beater. The "click" of the Laco Squad bezels is one of the most satisfying clicks you will find in the industry. Be it the blue, orange, or green colorways, be sure of this: the way this thing is built will not disappoint. It is a flashy watch? No. Is it a big brand? No way. But is it a faultless companion for under €1,000 that offers premium functionality at a budget, summer-friendly price? You bet it is.
Just give it the Summer Splash crown now…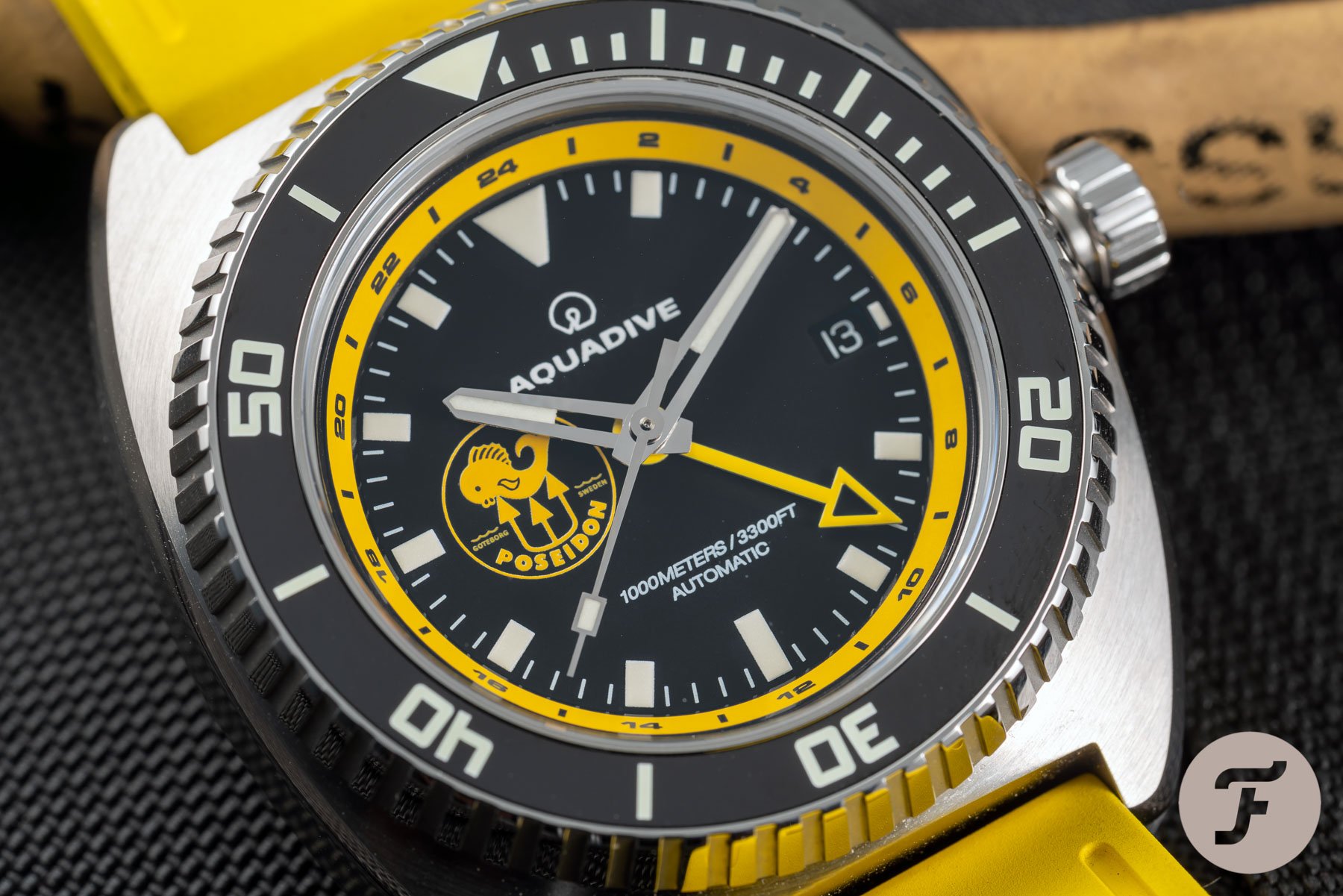 Aquadive Bathysphere 100 GMT
Okay, I'm sorry, the picture above is of my personal Aquadive Poseidon, which is long since sold out (the last of the 300 pieces was snapped up months ago). However, the Bathysphere 100 GMT is exactly the same watch without the (awesome) Poseidon branding. I was actually really surprised it took the Aquadive Poseidon as long to sell out as it did, given its limitation, incredible "historical ties" to Doxa, quite frankly amazing aesthetic, and the rampant popularity of the Poseidon brand, but there you go.
…a 1,000 (yes, one thousand) meter water resistance.
Maybe I expected too much from a brand I personally rate very highly. Maybe it somehow slipped through the net of attention. Or perhaps it simply ran into a lot of strong competition at the time of its release. Then again, the fourth possibility is that I'm barking mad and that this watch isn't anywhere near as good as I think it is for $1,990 (which is excluding VAT).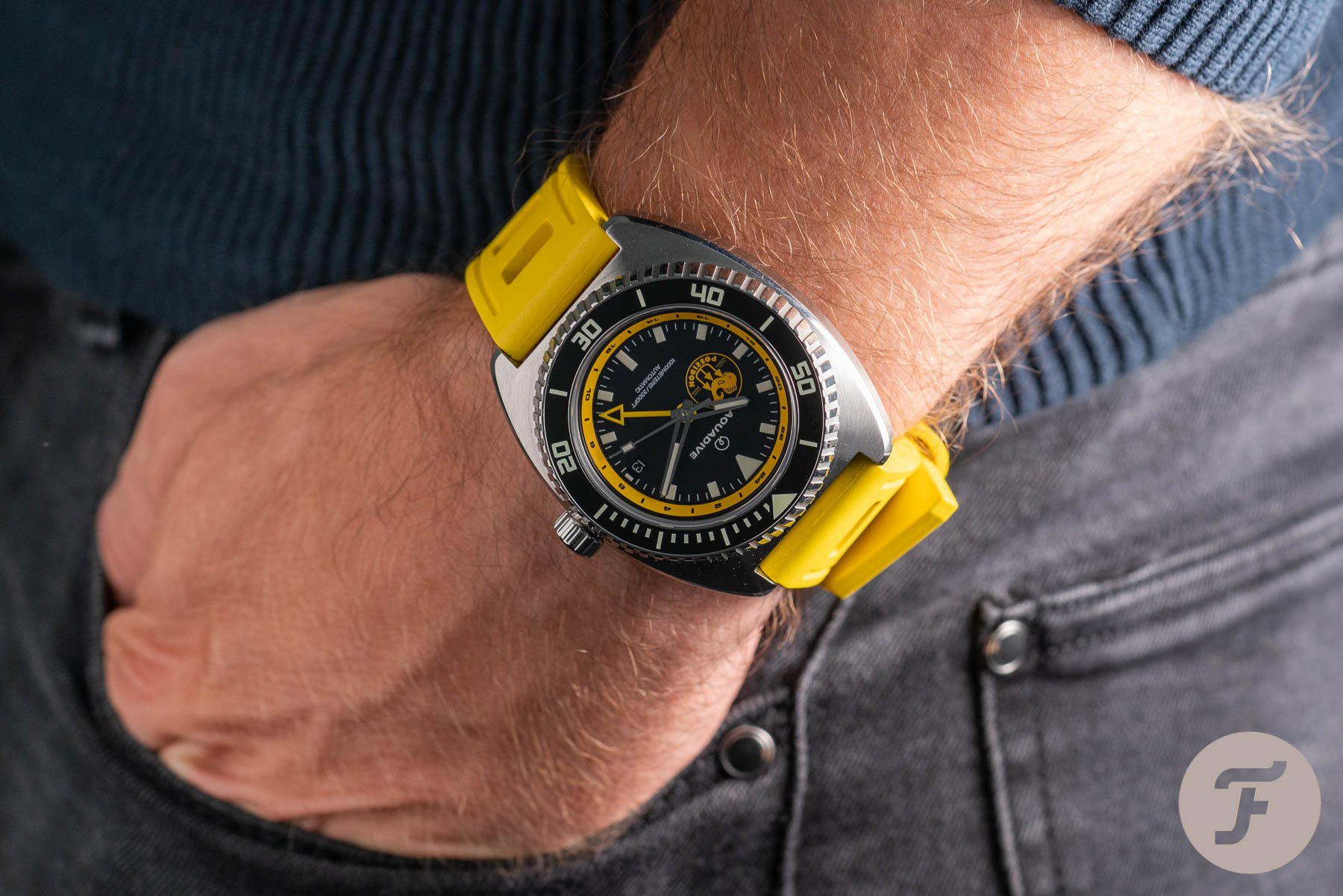 I'm pretty convinced I'm not crazy, though. After two decades in this game, I'm pretty confident that I know a good dive watch from a bad one. Sure, you need to get over the C-shaped case. You need to feel comfortable with the 42mm diameter, 49mm lug-to-lug, and 14.1mm total case height (including the lugs), but if those dimensions fit within your regular wheelhouse, what can you expect?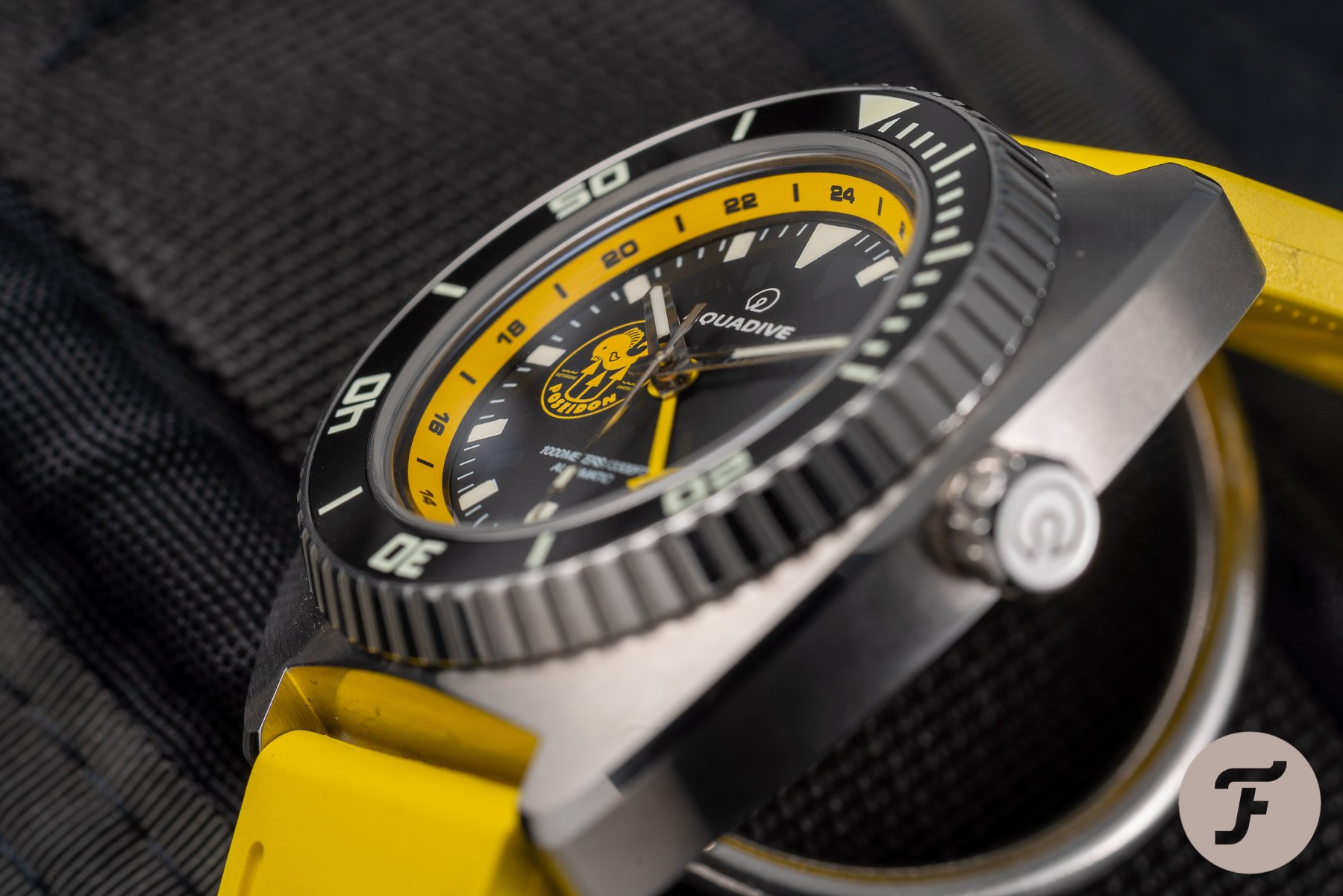 They should call it the Aquadive Bargainsphere 100 GMT
For less than €2.5K when taxes are accounted for, you get an ETA 2893-powered GMT watch with a 1,000 (yes, one thousand) meter water resistance. This thing comes on an ISOfrane strap, which will send some dive watch fanatics gooey at the knees, but it isn't for me. I wear my Poseidon on an Erika's Originals strap (with the buckle engraved with 1.000m in case I ever forget). It keeps what could be an otherwise unwieldy watch head (and that is not an understatement — this is a chunky piece of kit) firmly in place on the top of my wrist all summer long.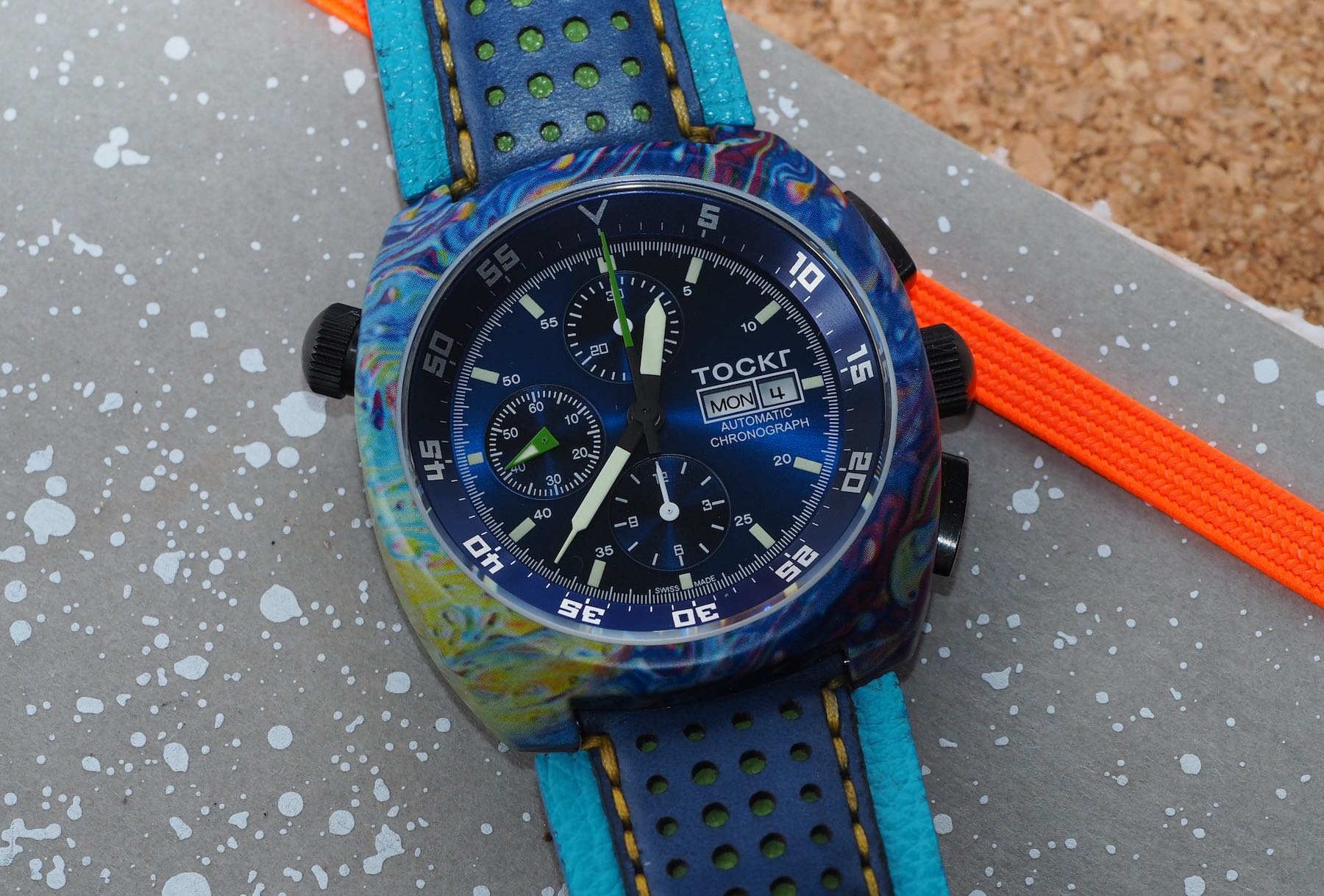 TOCKR Air-Defender Chronograph Hydro-Dip Tie Dye
I had a rare old day in Vallorbe a couple of years back with Serge from TOCKR, as we explored the process behind Hyrdo-Dipping. Let's be frank here, this kind of finish is not for everyone. In fact, it's probably not even for 10% of people. But TOCKR realized that in this evermore individualistic world, that doesn't matter. Everybody knows you're never going to please everybody all of the time. So why try? Zero-in on your audience and go all out.
Is this pick going to win me the competition? I would guess not. Will it garner a fair few votes in the poll below? I would guess it might, simply because it is a joyfully ridiculous watch. This model (now luminous) is available for $3,250 plus a few bucks international shipping. It's well within budget, water-resistant to 100 meters, has a sun-catching blue sun-ray dial, and the funkiest, most flip-flop-ready case color ever. A no-brainer for the Summer Splash shootout.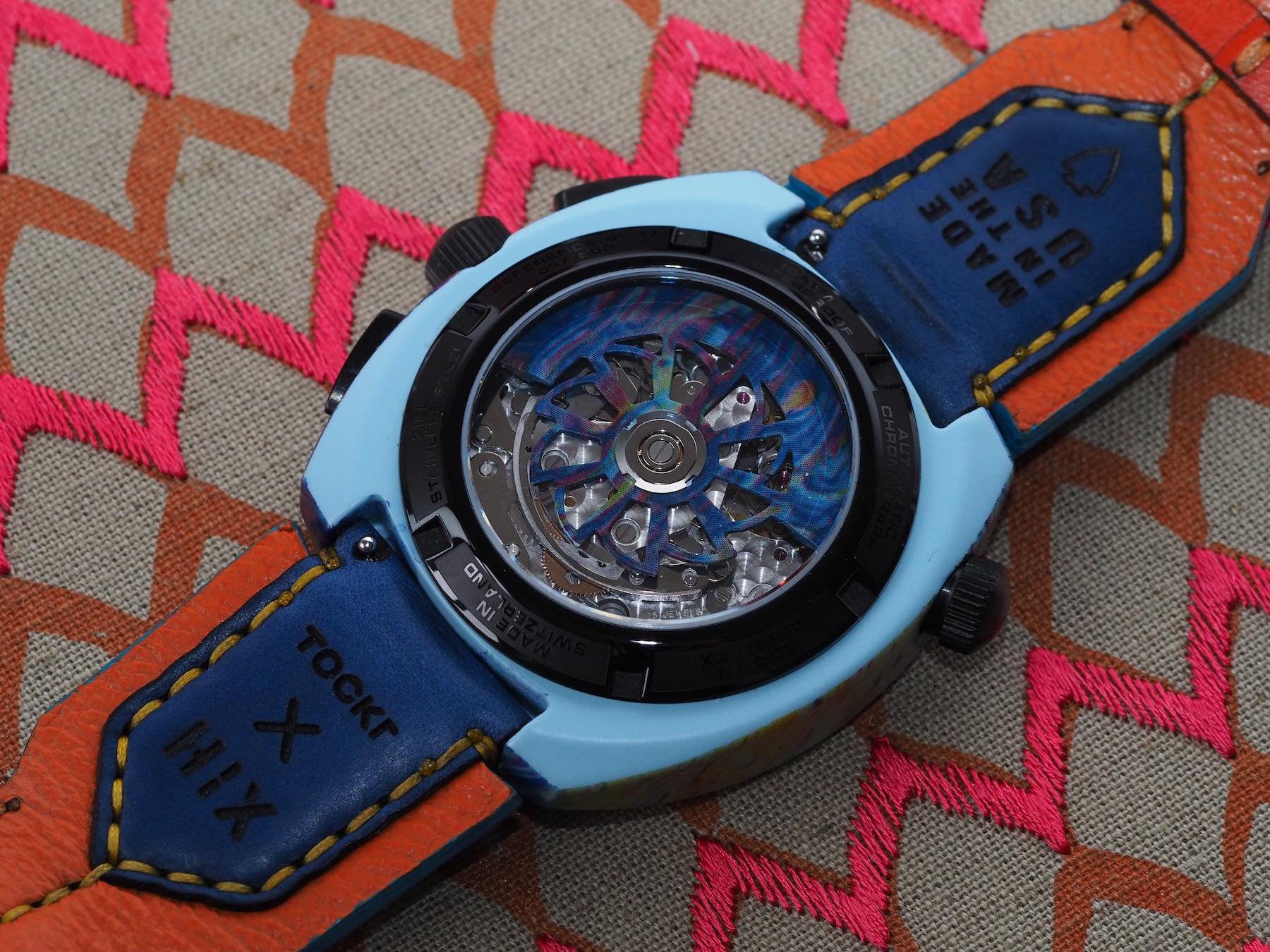 And the low-key best bit about this watch? The strap options from Hix in the USA are amazing. Honestly, it is one of the few watches in my collection that ends up on my wrist because of the strap before the watch head. They are that cool. Check out the company that makes them by hand in Oklahoma here. Once you've done that, it's time to vote. Which of my summery sensations makes it through to the head-to-head phase of the Summer Splash competition? Will it be the Laco, the unlimited Aquadive Bathysphere GMT, or the fearlessly fruity TOCKR Air Defender?
Summer Splash Round One ROB